In the bustling world of CRM, the jargon can sometimes feel like its own language. But fear not. This glossary is your trusty guide, your phrasebook if you will, to navigating the intricate landscape of CRM terminology.
From 'leads' to 'pipelines', 'deal' to 'workflow', we'll break down these terms, not just defining them but also explaining their significance in the grand scheme of your business operations.
Just as understanding the reasons behind a lack of leads can revolutionise your lead generation strategies, grasping these CRM terms can significantly enhance your business operations.
So, buckle up and get ready for a linguistic journey through the world of CRM. By the end of this glossary, you'll be speaking the language of CRM like a true native. Let's dive in!
Why do I need to know these terms?
Understanding these CRM terms is crucial for anyone involved in managing customer relationships, sales, marketing, or support. It's akin to learning the language of your industry. By familiarising yourself with these terms, you can effectively communicate with your team, understand industry trends, and leverage your CRM system to its full potential.
Understanding CRM language enables business professionals to effectively communicate, collaborate, and make informed decisions related to CRM implementation, customisation, and usage.
It allows them to comprehend and leverage the features, functionalities, and benefits of CRM systems, leading to better customer relationship management, increased productivity, and higher customer satisfaction.
Additionally, having knowledge of CRM language facilitates effective communication with CRM vendors, consultants, and IT teams, ensuring smoother implementation and support.
Moreover, these terms are not just jargon; they represent vital concepts and processes that can help your business grow. For instance…
Knowing what a 'lead' is and how it differs from an 'opportunity' can help you better manage your sales pipeline
Understanding the concept of 'customer segmentation' can allow you to tailor your marketing efforts more effectively
Recognising the importance of 'customer retention' can drive you to improve your customer service
CRM glossary: Every CRM term you need to know in alphabetical order
Account
In CRM, an account refers to a company or organisation that you have a relationship with. This could be a customer, a partner, or a supplier. Accounts can have multiple contacts, activities, and opportunities associated with them. Accounts are also usually taken care of by either an account manager, a customer success manager, or both.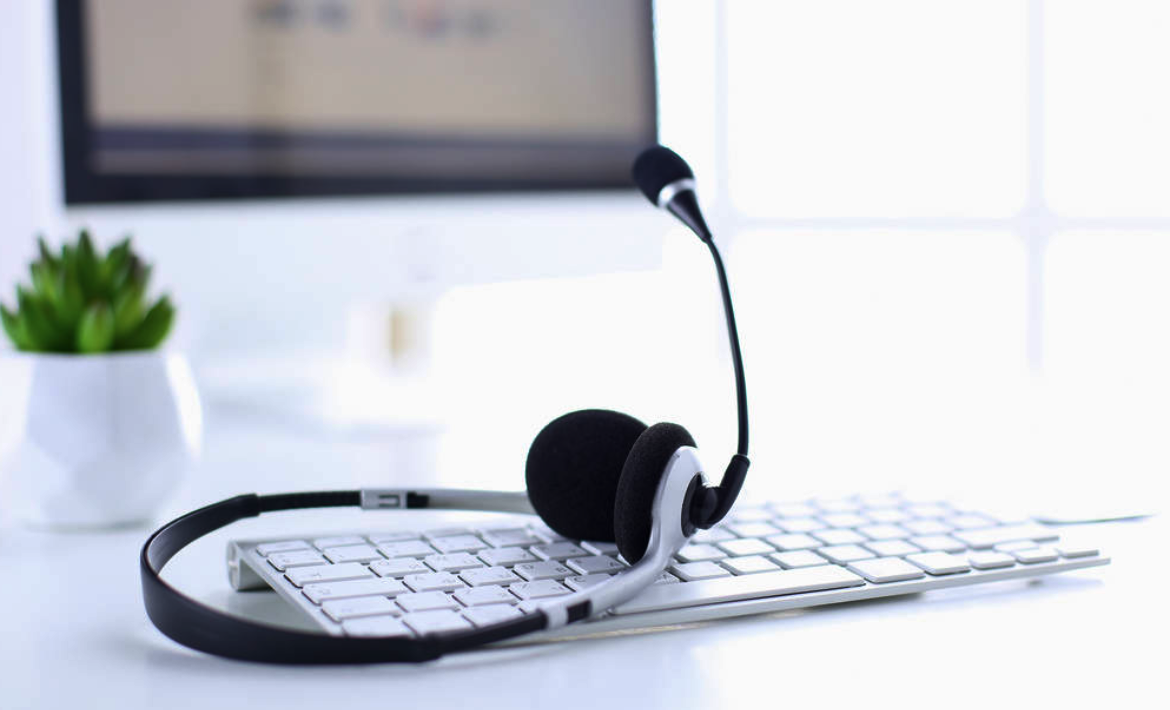 Action
In the realm of CRM, an action refers to a specific task or step within a workflow that is initiated after a certain trigger. This could involve sending an email, creating a task, or updating a record. Actions play a pivotal role in automating processes, enhancing efficiency, and managing customer relationships effectively. They are typically overseen by roles such as sales representatives, account managers, or customer success managers.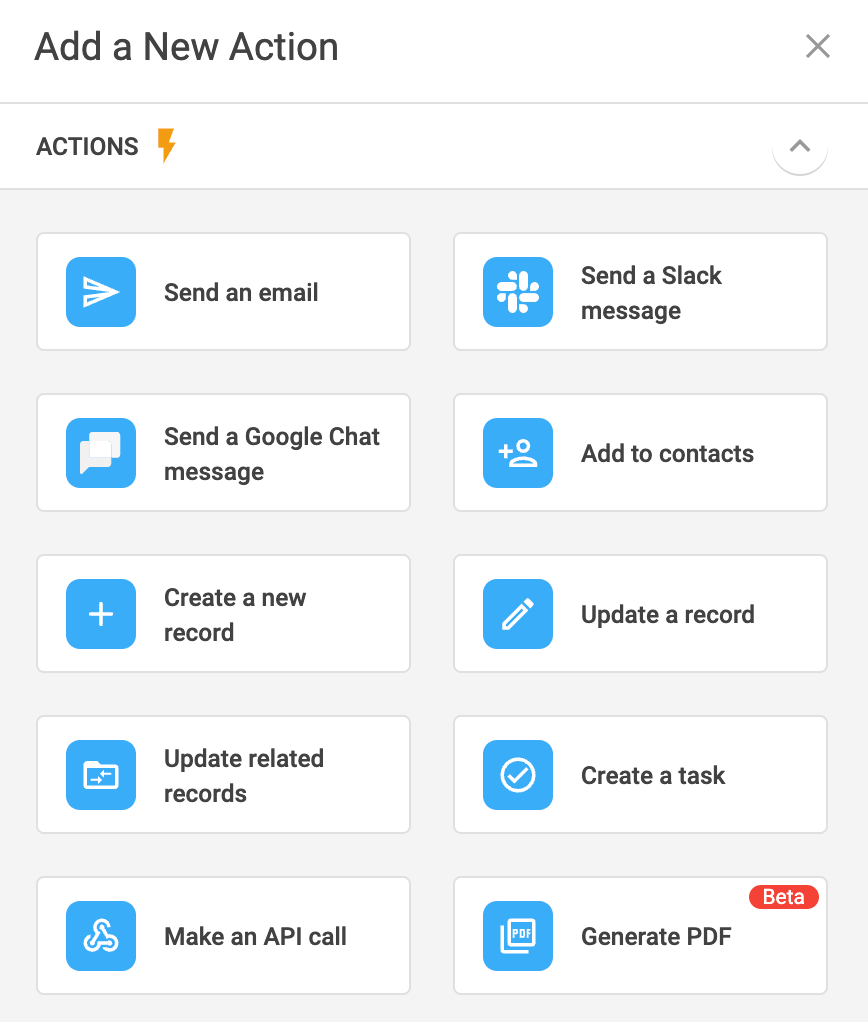 Activity
An activity in CRM is any action associated with an account, contact, lead, or opportunity. This could include phone calls, emails, meetings, or tasks. Activities help in tracking all interactions with a customer or prospect.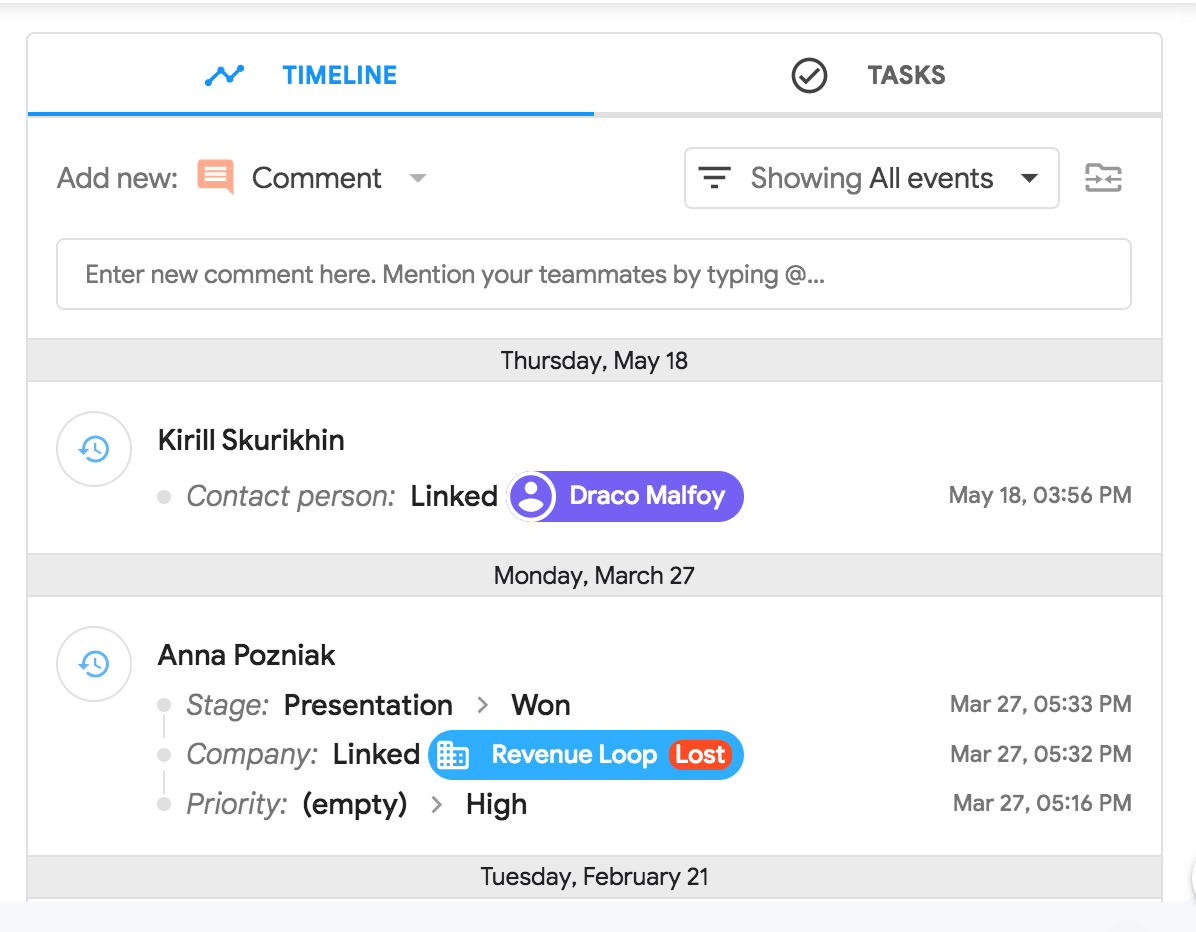 Campaign
A campaign in CRM is a marketing effort aimed at reaching a particular goal, such as increasing awareness of a new product or boosting sales. Campaigns can be tracked to see their effectiveness in terms of leads, opportunities, and sales generated.
Ticket
A ticket in CRM refers to a customer's reported issue or problem. Tickets are used in customer service and support to track the resolution of issues reported by customers. They can be associated with contacts and accounts.
Cloud-based CRM
Cloud-based CRM, also known as SaaS CRM (Software as a Service) CRM, is a CRM system hosted on the internet and accessed via a web browser. This type of CRM is typically subscription-based and can be accessed from anywhere with an internet connection.
Company
In CRM, a company refers to an account or business entity with which you have a business relationship. It can be a customer, a partner, or a supplier.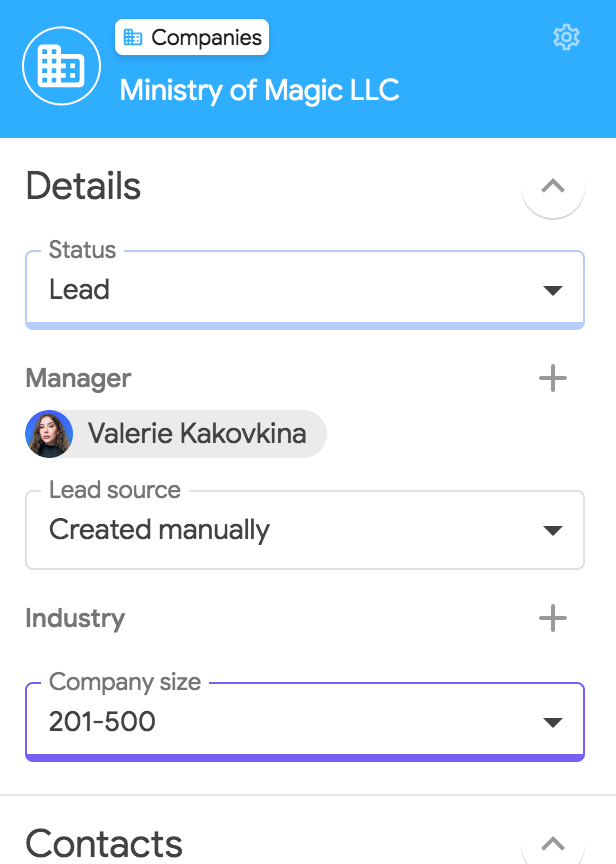 Contact
A contact in CRM is an individual who is part of an account with which you have a business relationship. This could be a customer, a partner, or a supplier. Contacts are typically associated with an account and can have sales activities and opportunities associated with them.
Check out our list of the best contact management software!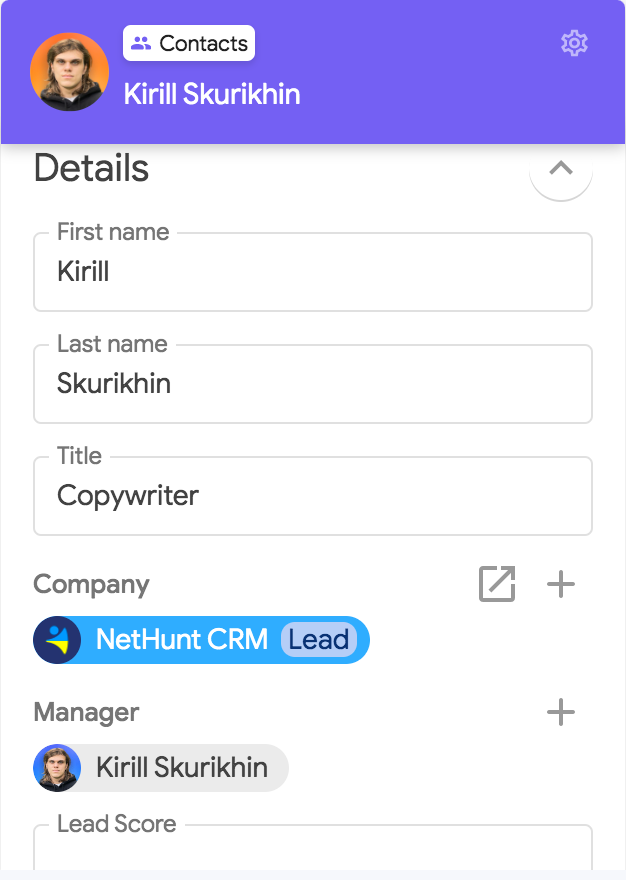 CRM Roles
CRM roles refer to the specific access levels and permissions assigned to users in the CRM system. Roles can be defined based on job function, department, or level of responsibility.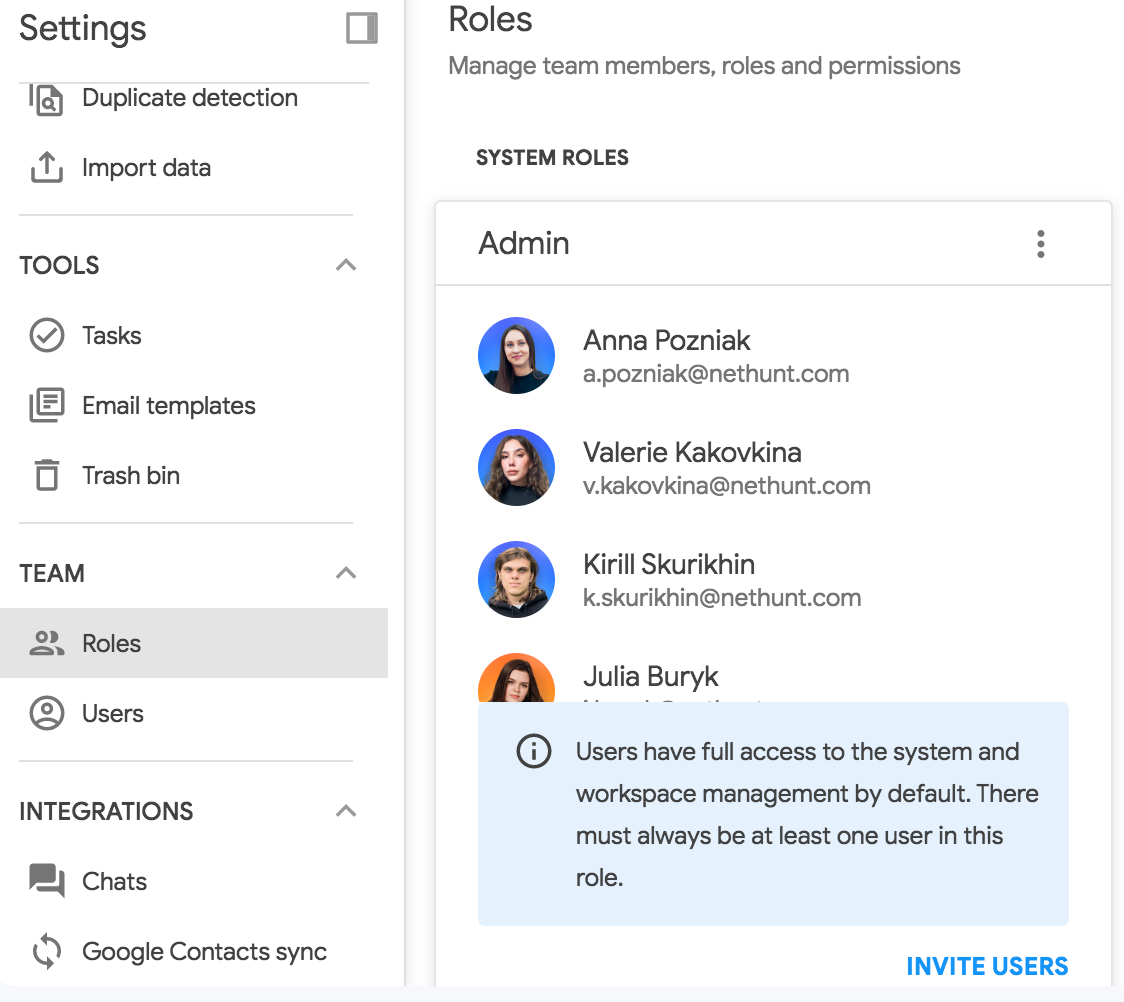 CRM System
A CRM (Customer Relationship Management) system is a technology platform used to manage all of your company's relationships and interactions with customers and potential customers. The purpose of CRM software is to improve business relationships, assist in customer retention, and drive sales growth.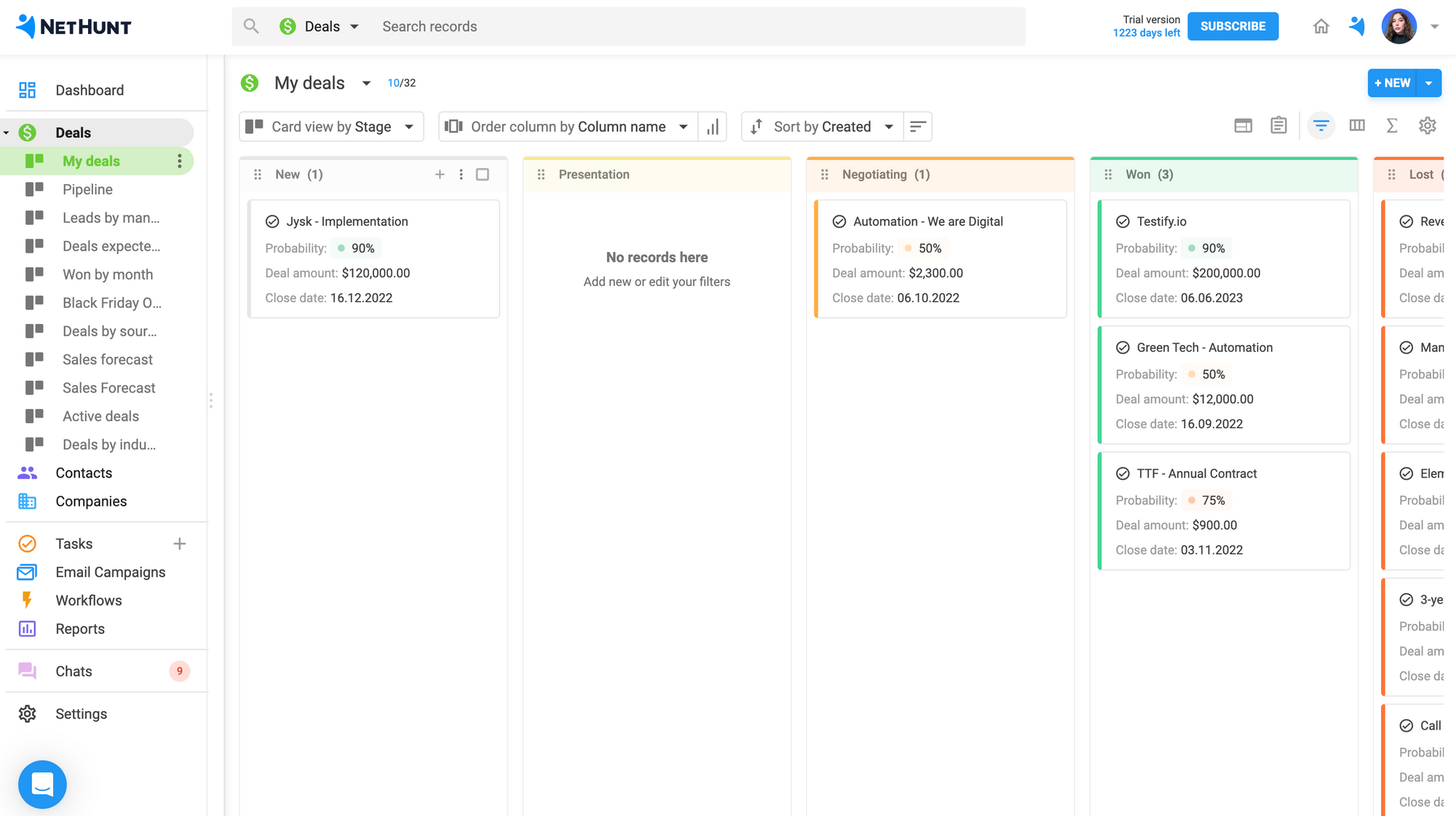 Customer
A customer refers to an individual or organisation that has established a business relationship with a company or brand. Customers are those who have made a purchase, engaged in transactions, or shown interest in the products or services offered by the company.
Customer journey
The customer journey in CRM is the process that a customer goes through when interacting with your company, from the initial contact, through the process of engagement and into a long-term relationship. It can also refer to the later stages of the journey, including advocacy and feedback.
Customer record
A customer record refers to a comprehensive and centralised collection of information and data related to an individual customer or organisation. It serves as a digital profile or snapshot that provides a holistic view of the customer's interactions, preferences, purchase history, and other relevant details.
A customer record in CRM typically includes both basic and detailed information about the customer, such as their name, contact details, organisation name, job title, communication history, transactions, support tickets, and any other relevant data points. It acts as a repository for storing and organising valuable insights that aid in understanding and managing customer relationships effectively.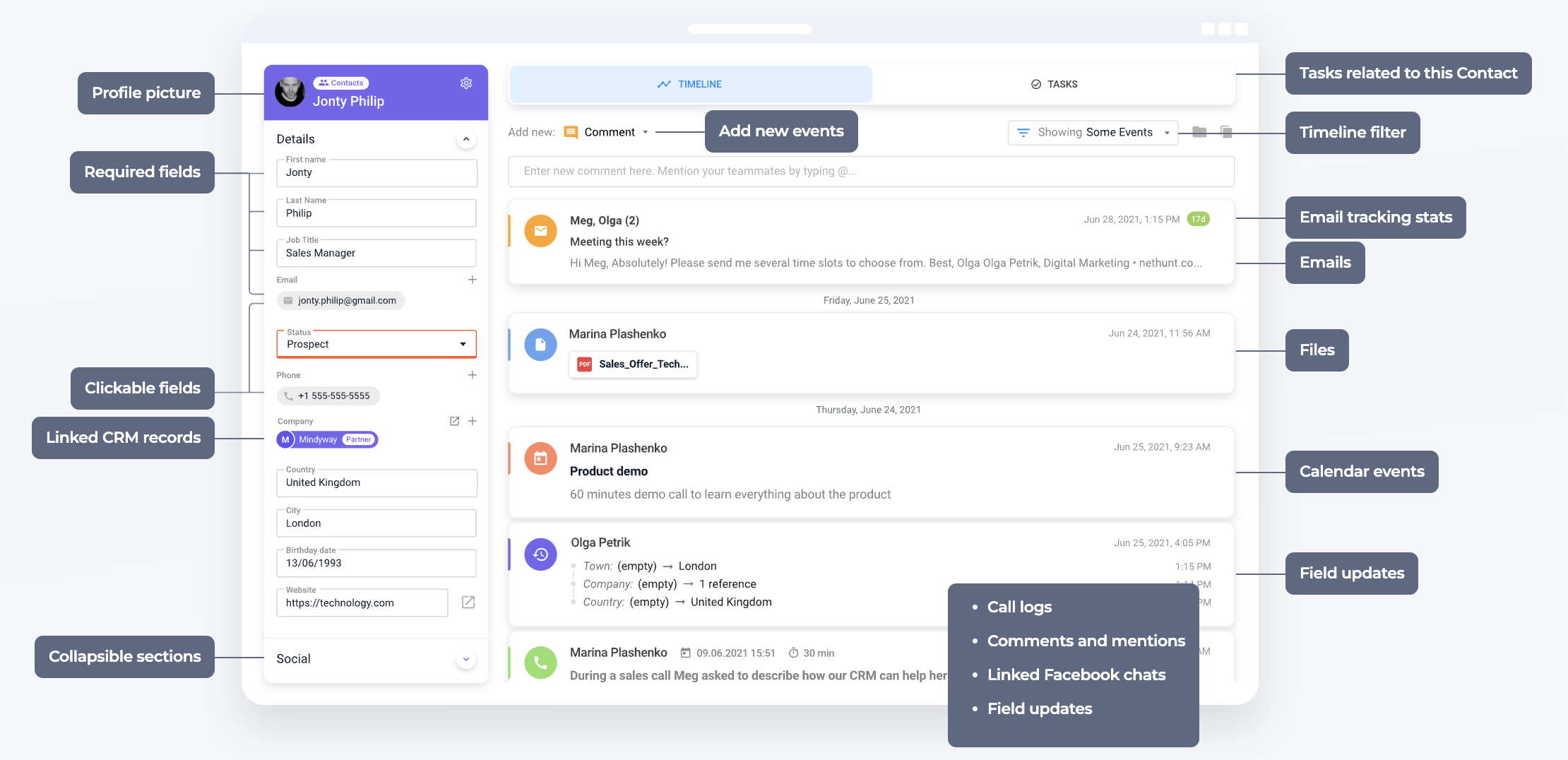 Customer retention
Customer retention in CRM refers to the activities and actions companies take to reduce the number of customer churn. The goal of customer retention programs is to help companies retain as many customers as possible, often through customer loyalty and brand loyalty initiatives.
Customer segmentation
Customer segmentation in CRM is the practice of dividing a company's customers into groups that reflect similarity among customers in each group. The goal is to tailor marketing efforts to each segment's characteristics, needs, and preferences. Segmentation can be based on various factors such as demographics, behaviour, geography, and purchase history.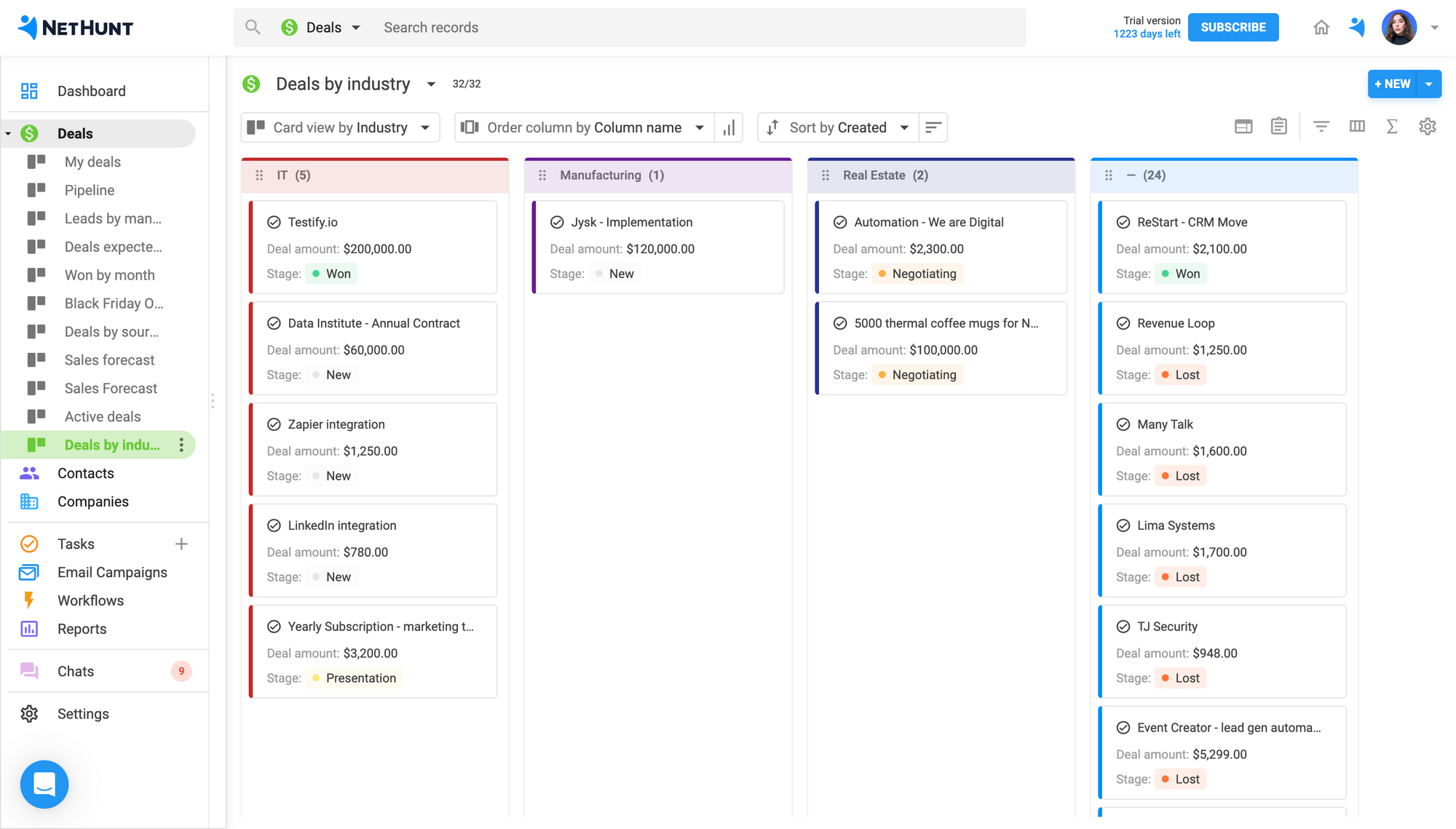 .csv File
A .csv (Comma Separated Values) file is a type of file that stores tabular data. In CRM, .csv files are often used for importing or exporting data.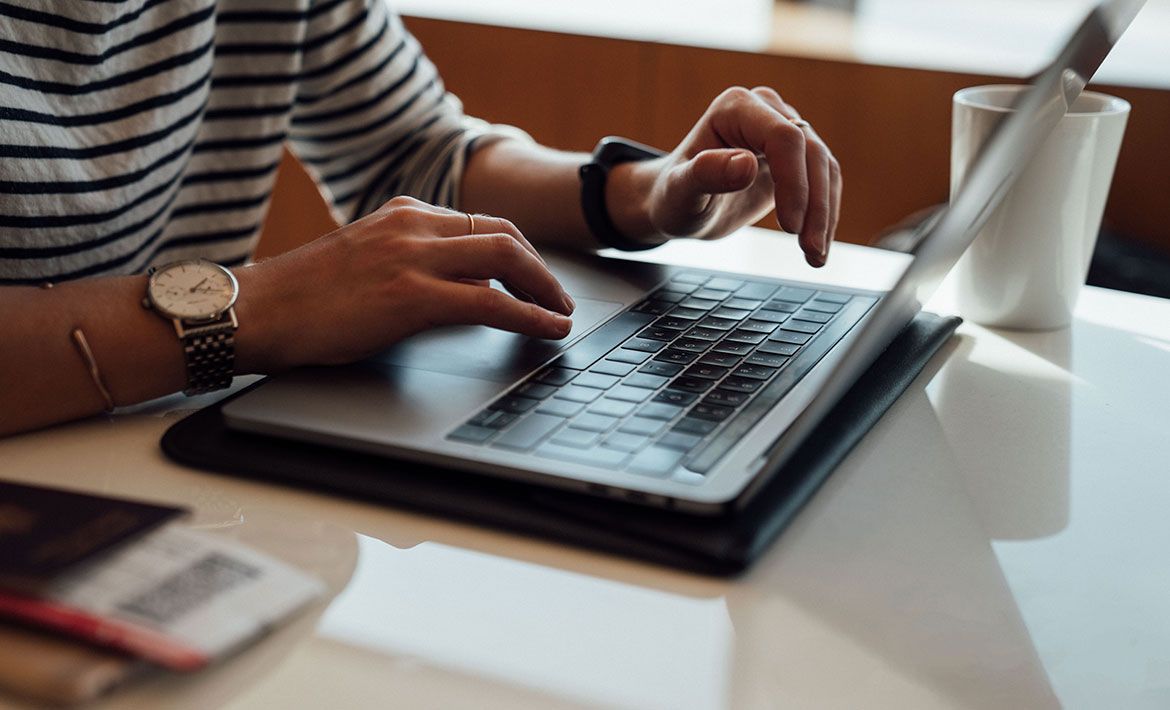 Dashboard
A dashboard in CRM is a visual interface that provides an at-a-glance view of key performance indicators (KPIs) relevant to a particular objective or business process. This could include data on sales performance, customer service efficiency, or marketing campaign effectiveness.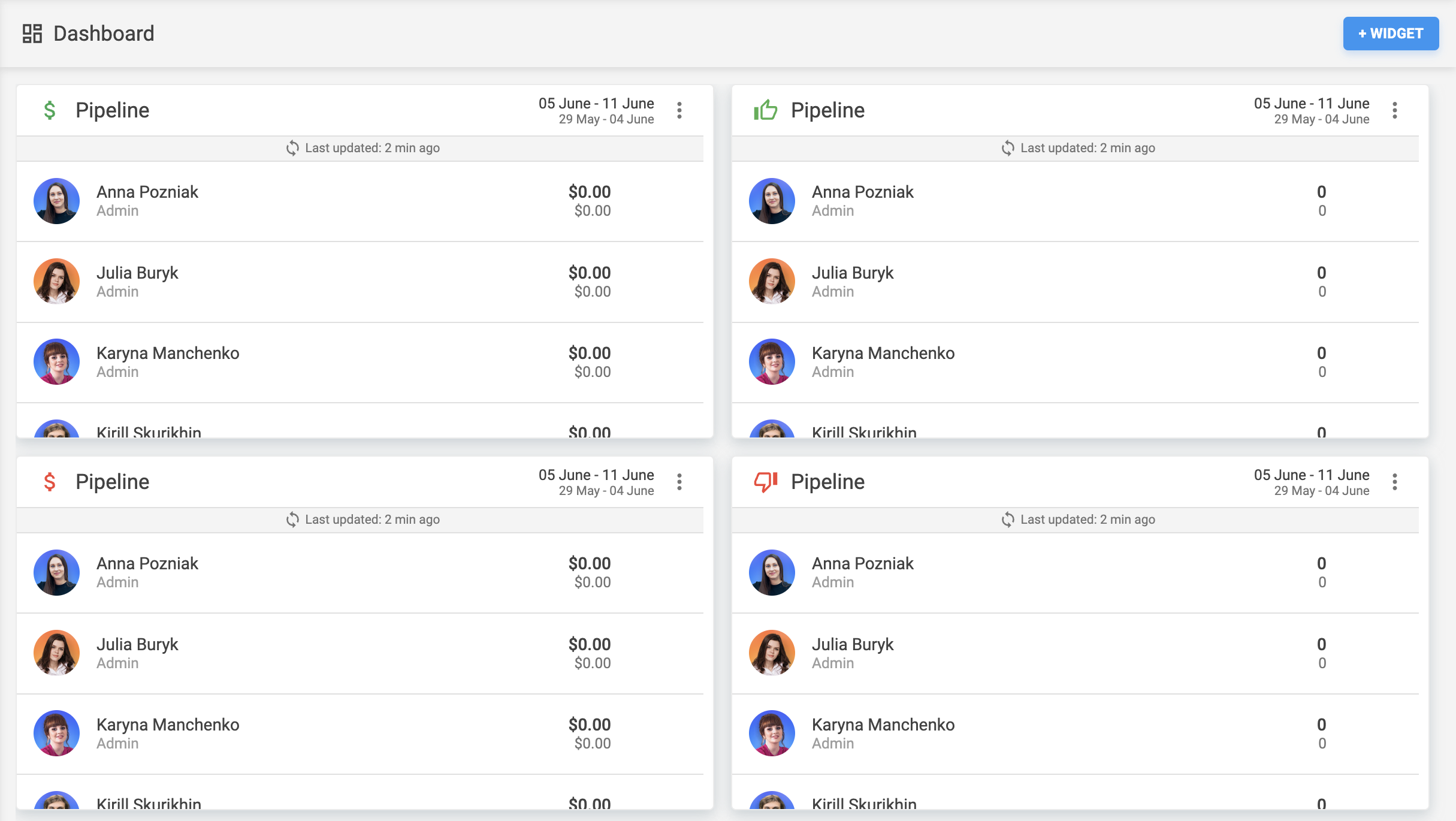 Deal
A deal in CRM is a potential sale or agreement you're tracking. It represents a sales opportunity that's been qualified and is expected to close successfully. Deals can be associated with contacts and accounts and have various stages, such as prospecting, proposal, negotiation, and closure.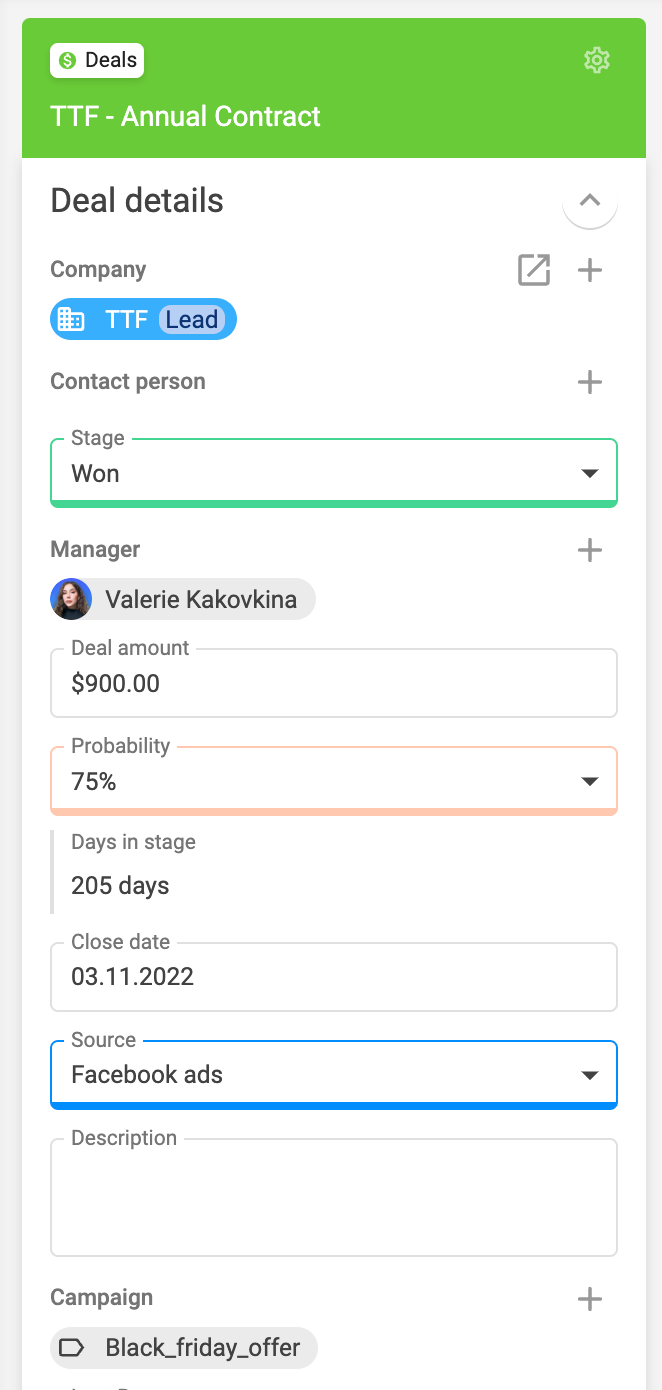 Duplicate
In CRM, a duplicate refers to a record that is an exact or very similar copy of another record in the system.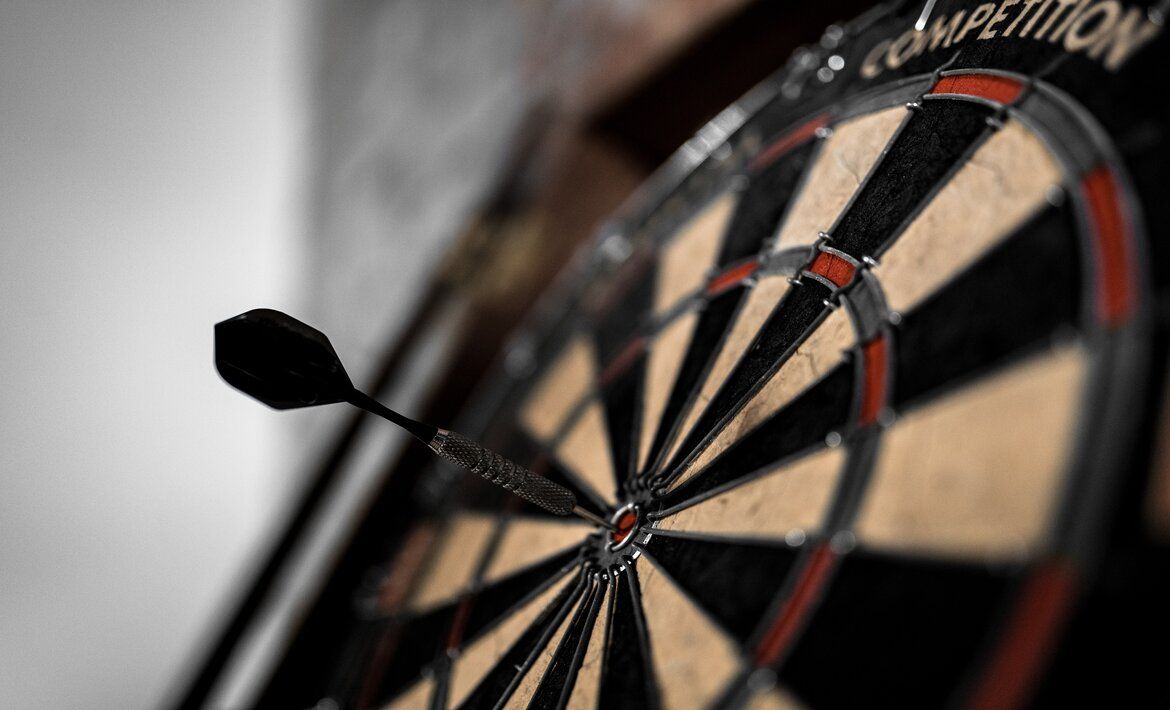 Duplicate detection
Duplicate detection in CRM is a feature that identifies and prevents duplicate records in the system. This CRM feature removes, merges or warns you about potential duplicates when you add new contacts to the database. It helps maintain data integrity and accuracy.
➡️ Learn more about NetHunt CRM's duplicate prevention feature here.
Email Campaign
An email campaign in CRM is a coordinated set of email marketing messages delivered at intervals and designed to escalate a persuasive argument to convince targeted recipients to make a purchase or agree to a certain action. CRM systems can help manage, track, and analyse the effectiveness of email campaigns.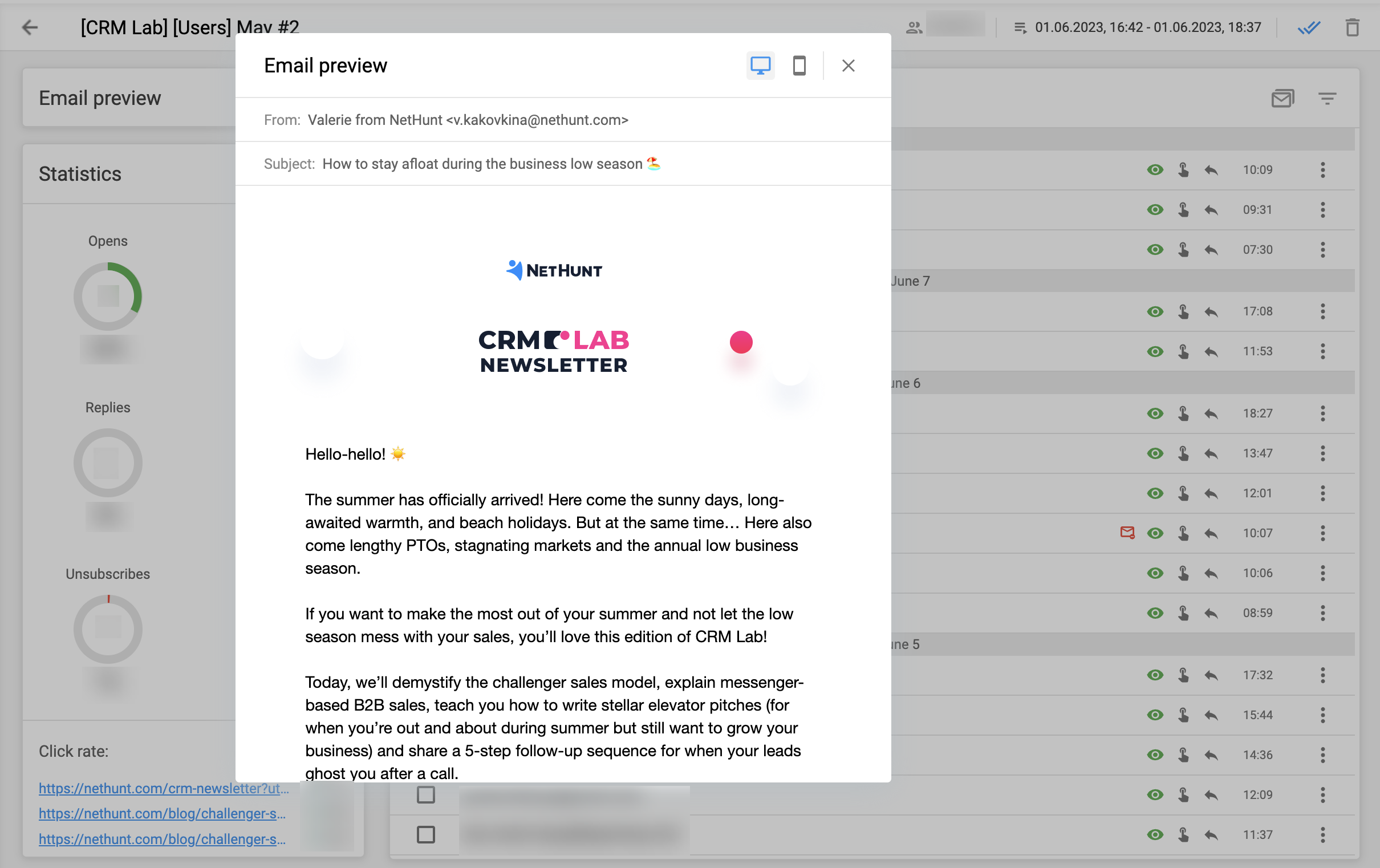 Field
A field in CRM is a specific data point for a record, such as a contact's name, email address, or phone number. Fields help in organising and categorising data effectively.
Depending on the CRM, there can be all kinds of different field types supported by the software:
Single line
Multi-line
Dropdown
Email
Number
Percent
Formula
User
Date
Checkbox
Statistic, etc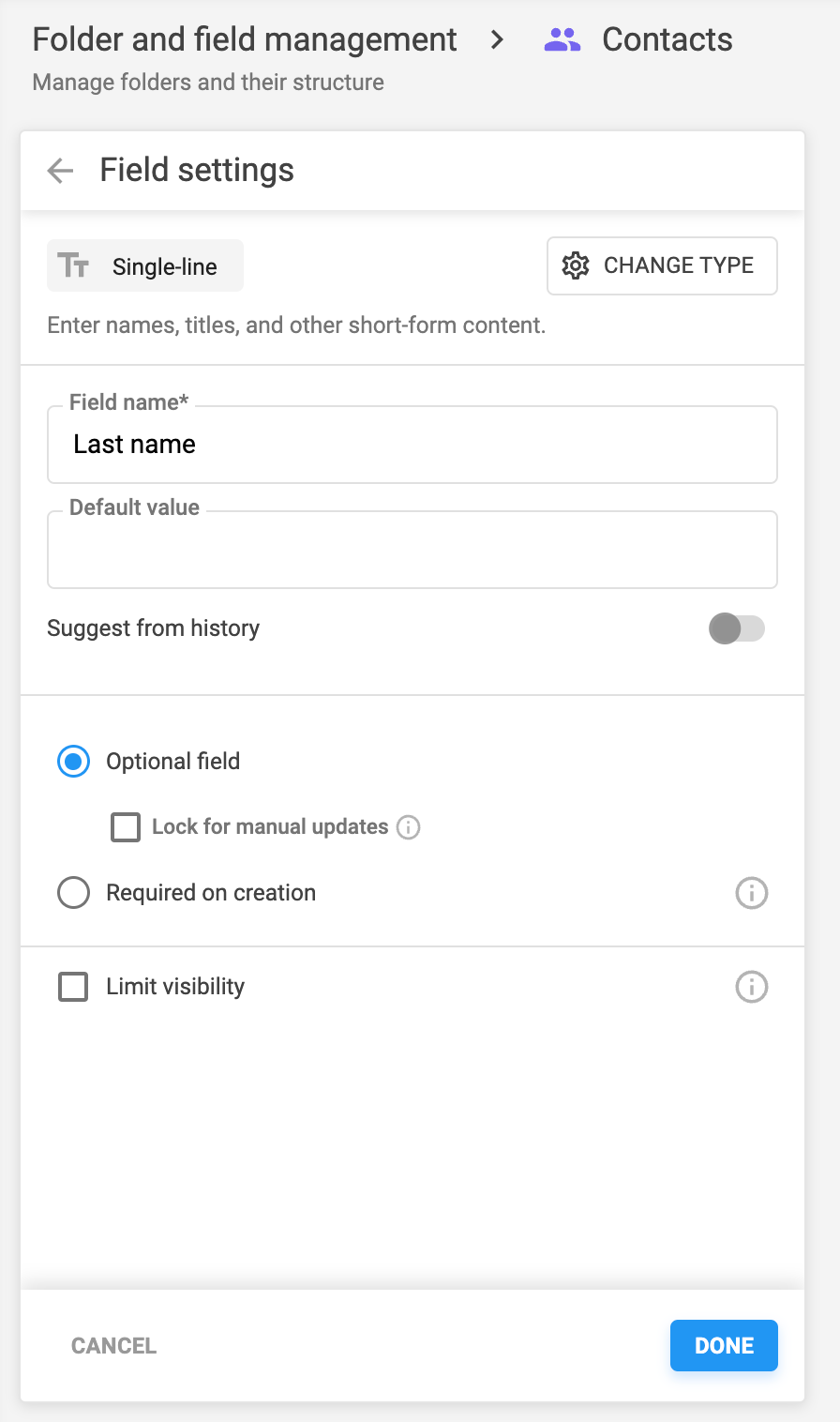 Folder
This is the space where you would sort your varied records in. For example, most companies have a "Leads" folder for individual customer records, and a "Companies" folder where they keep company records.
Gmail CRM
Gmail CRM refers to a CRM system that integrates directly with Gmail, allowing users to manage customer relationships and interactions directly from their email inbox.
➡️ Find the list of the best Gmail CRM systems in our article.
Helper
In CRM automation, a helper is a workflow component that follows a trigger or an action, guiding the workflow's progression.
This could involve filtering conditions, splitting paths based on different conditions, or setting wait times between triggers and actions.
Helpers play a crucial role in refining the automation process, ensuring that actions are executed under the right conditions, and managing the timing of tasks. They are typically configured by roles such as sales representatives, account managers, or customer success managers.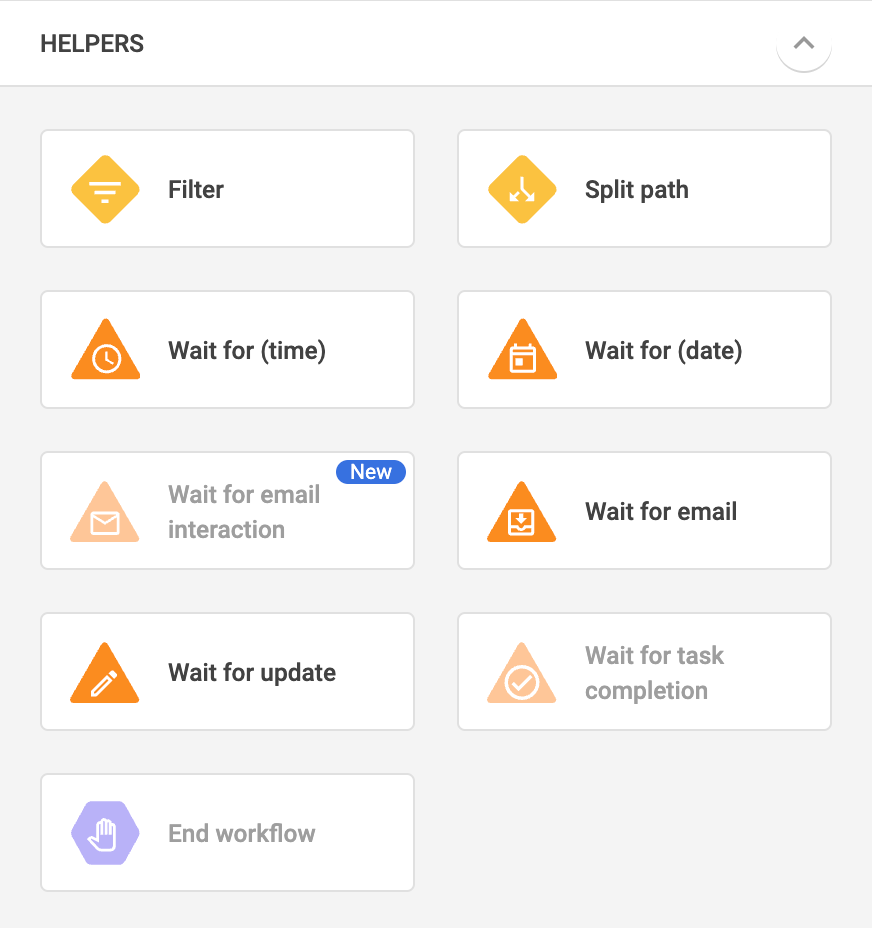 Integration
Integration in CRM is the process of connecting the CRM system with other software systems to streamline data exchange and workflow. For example, integrating a CRM with LinkedIn, Intercom, or WhatsApp.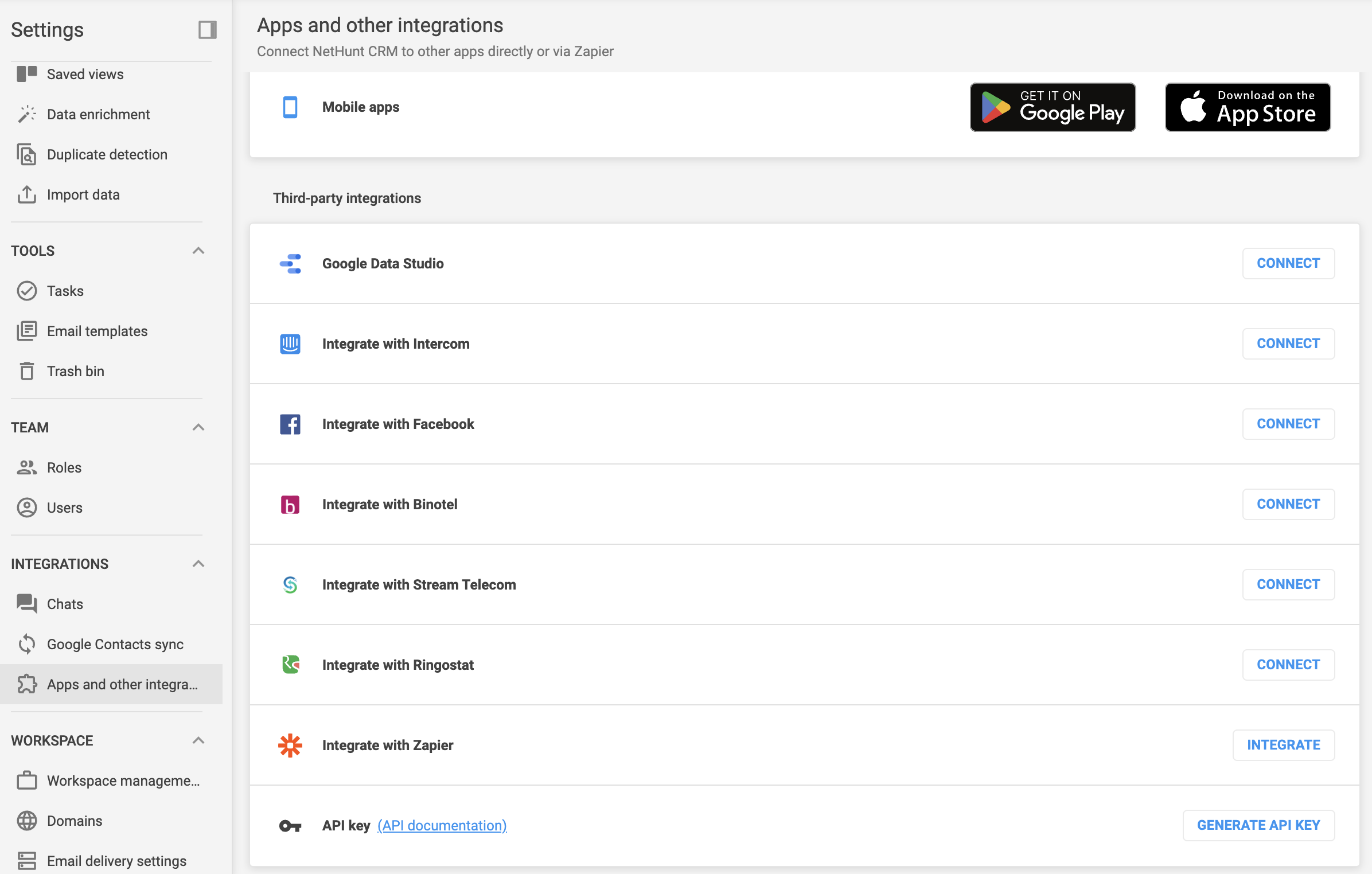 Lead
In the context of CRM, a lead refers to a potential sales contact, an individual or organisation that expresses an interest in your goods or services. Leads are typically obtained through the referral of an existing customer, or through lead generation processes.
Lead distribution (lead routing)
Lead distribution refers to the process of assigning and allocating leads or potential customers among sales representatives or teams within an organisation. It involves distributing incoming leads from various sources, such as website inquiries, marketing campaigns, or lead generation efforts, to the appropriate sales personnel for further follow-up and conversion.
CRM systems often include lead distribution functionality, allowing businesses to automate the process. Leads can be automatically assigned to sales representatives based on predefined rules, distributed equally on a round-robin bases, or dynamically routed based on real-time availability and workload.

More about lead routing (distribution).
Manager
In the context of CRM, a manager typically refers to a user with higher-level access permissions, capable of overseeing the work of other users, viewing reports, and making system-level changes.
Alternatively, a manager can be a sales rep responsible for a specific deal.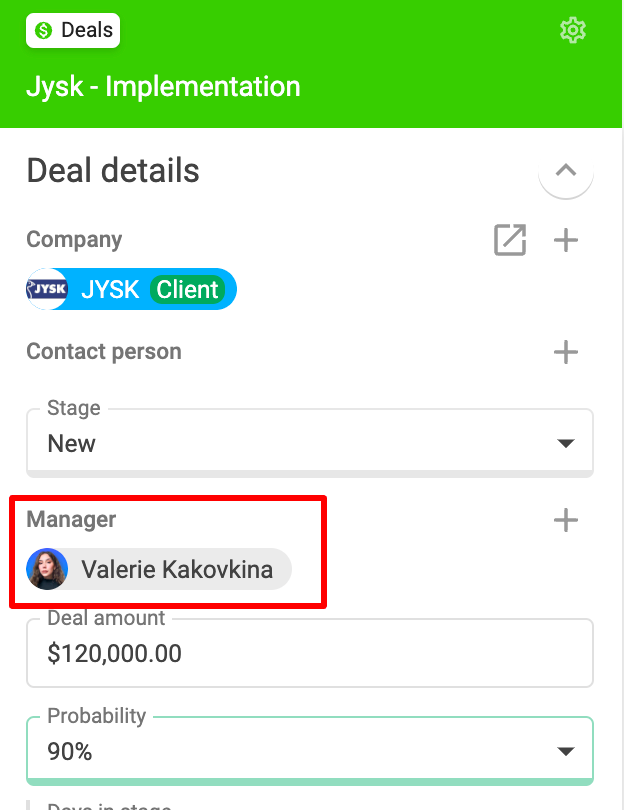 MQL (Marketing Qualified Lead)
A Marketing Qualified Lead (MQL) refers to a potential customer who has been identified and deemed more likely to become a sales opportunity based on certain predefined criteria and engagement with marketing activities.
An MQL is typically a lead generated through marketing efforts, such as website inquiries, content downloads, event registrations, or email subscriptions. These leads have demonstrated a level of interest or engagement with the company's marketing materials, indicating a potential readiness to move further along the sales funnel.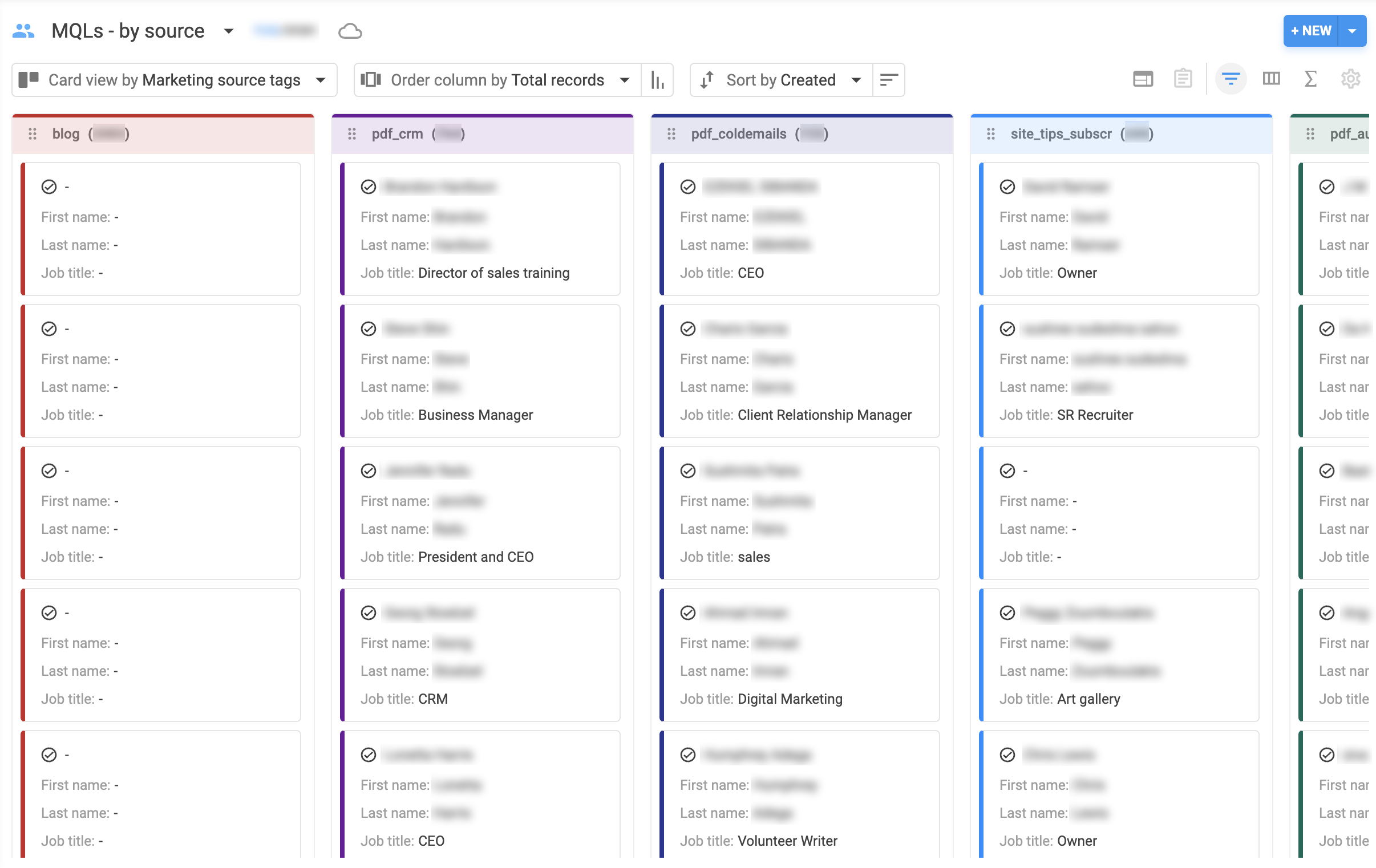 On-premise CRM
On-premise CRM is a type of CRM system that is installed and run on the computers within the premises of the organisation using the system, rather than being hosted in the cloud.
Opportunity
An opportunity in CRM is a qualified lead who has a high probability of becoming a customer. Opportunities represent a potential sale for a specific product or service. They are typically tracked through various stages (e.g., qualification, proposal, negotiation) until they are either won or lost.
Pipeline
A pipeline in CRM refers to the visual representation of the sales process, divided into stages. It provides an overview of various deals or sales opportunities in the sales process. The sales pipeline helps sales teams focus on actions needed to move a deal from one stage to the next and ultimately close the sale.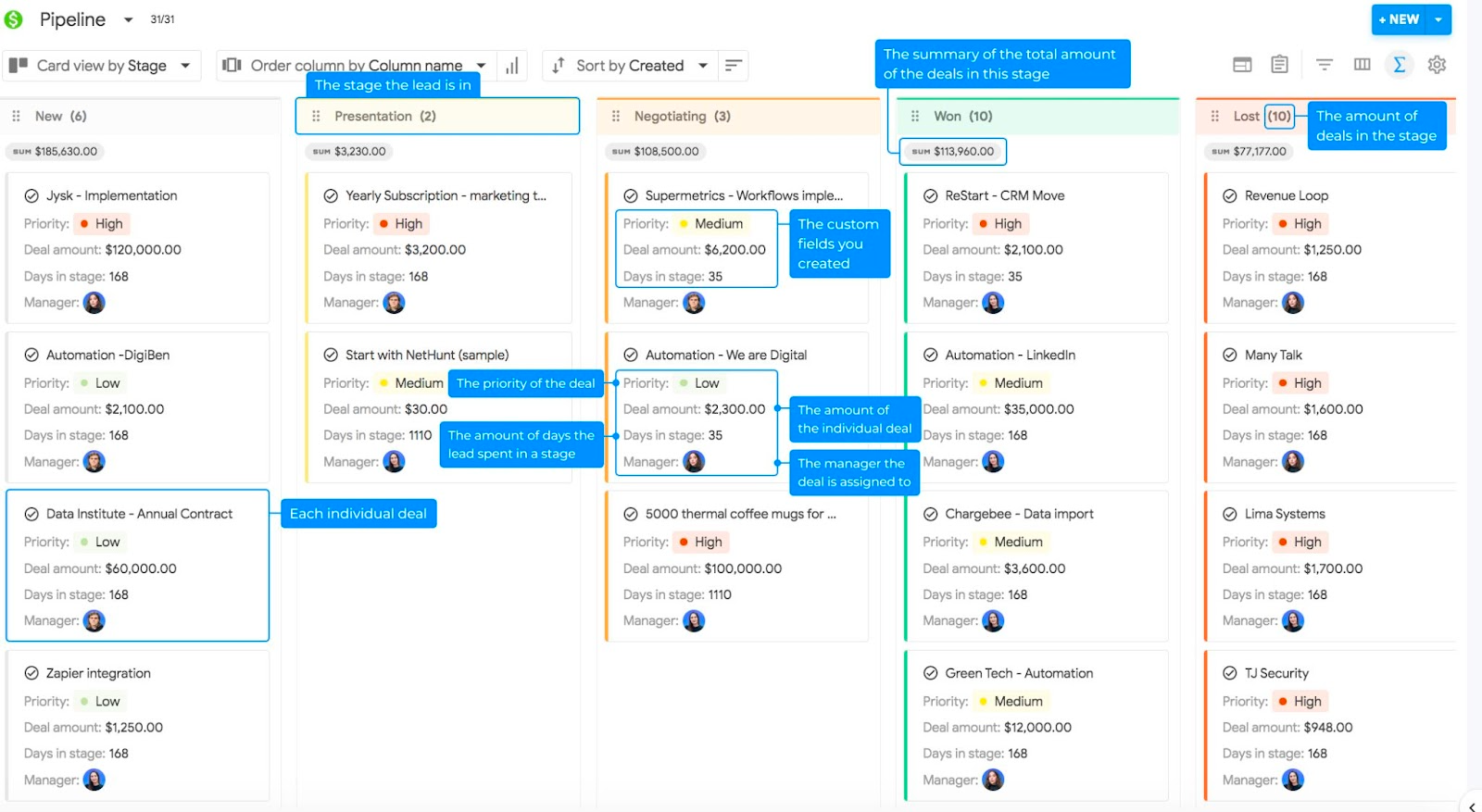 Priority
In the context of CRM, priority often refers to the level of importance assigned to a task, lead, or opportunity. The priority that is given to a lead or deal is a byproduct of lead scoring.

Quote
A quote in CRM is a formal statement of promise by a seller to a buyer that specifies the cost of goods or services being offered. Quotes can be associated with opportunities or deals, and they help streamline the sales process.
Related record
A related record in CRM refers to a record that is linked to another due to a relationship. For example, a contact might be a related record to a specific company.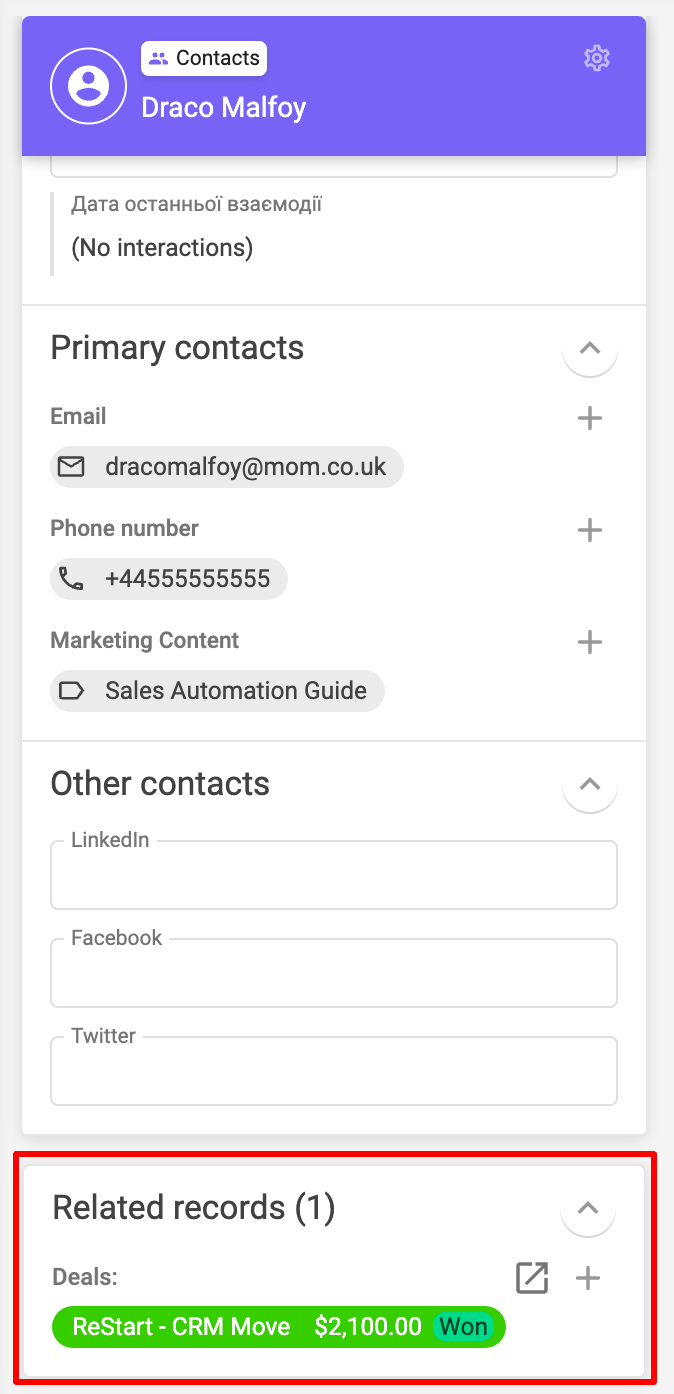 Report
A report in CRM is a document that presents data in an organised format for a specific purpose or audience. Reports can provide insights into various aspects of the business, such as sales performance, customer service efficiency, or marketing campaign effectiveness.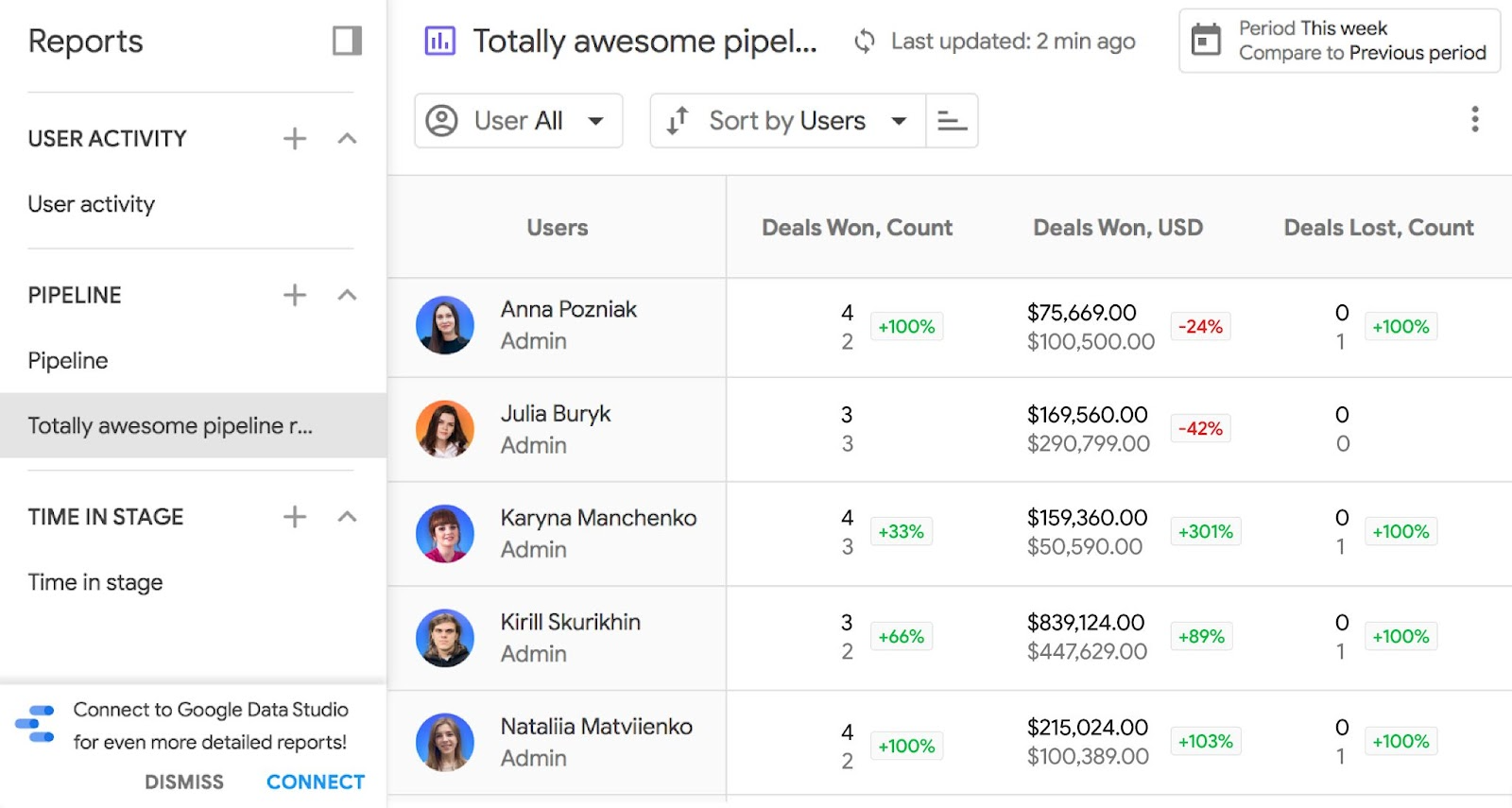 Sales cycle
The sales cycle in CRM refers to the process that your company undergoes when selling a product or service to a customer. It's often broken down into several stages: prospecting, initial contact, needs assessment, proposal, negotiation, and closure. The length and complexity of the sales cycle can vary depending on the nature of the product or service being sold.
Sales forecasting
Sales forecasting is the process of estimating future sales. Accurate sales forecasts enable businesses to make informed decisions and predict short- and long-term performance. CRM systems can provide data and tools to help with sales forecasting.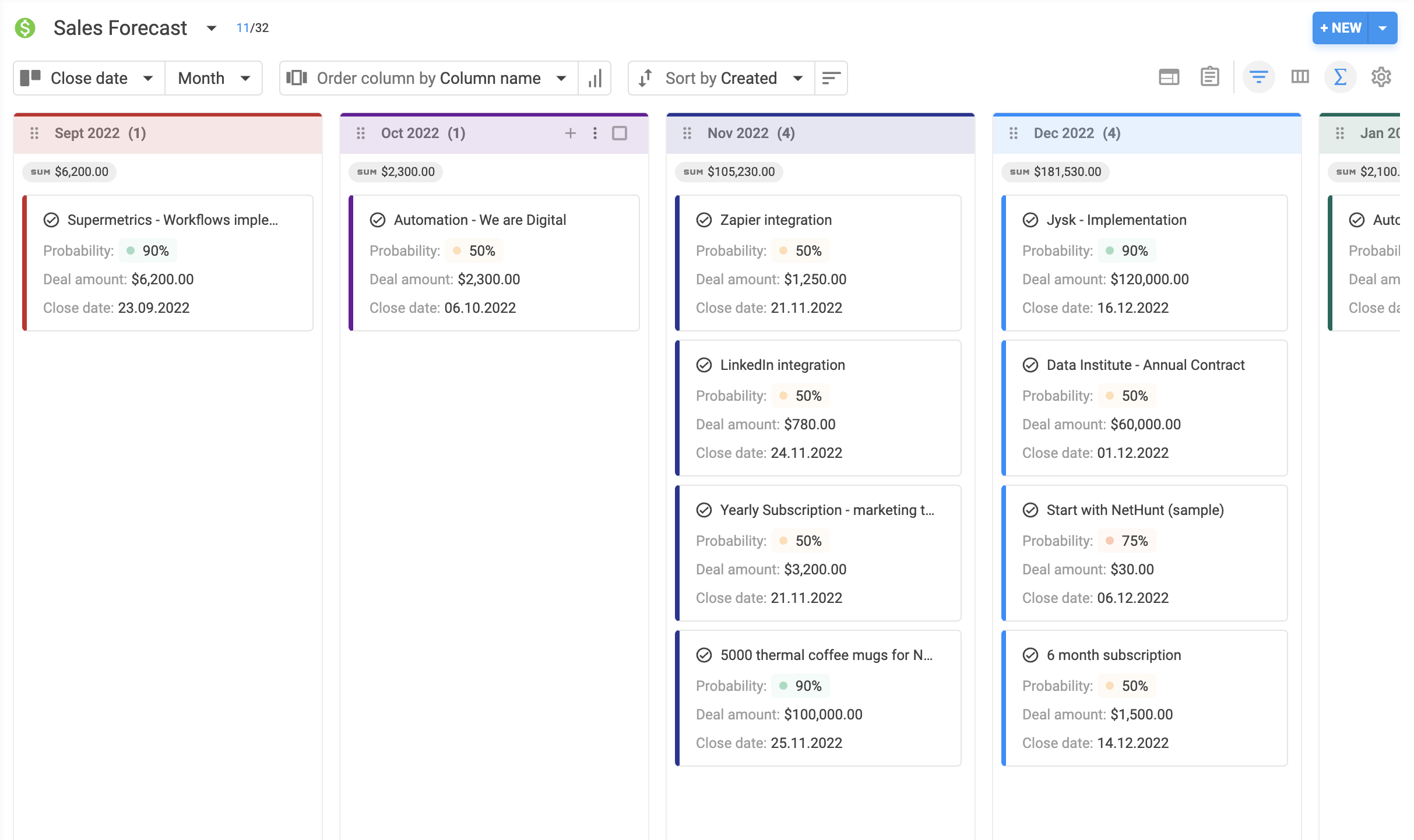 Social CRM
Social CRM is the integration of social media channels like Instagram into CRM platforms. It allows businesses to engage customers directly through social media platforms and track their interactions. It's a strategy for managing customer relationships and includes the capturing, storing, and analysing of customer interactions on social media.
SQL (Sales Qualified Lead)
An SQL is a prospective customer that has been researched and vetted — first by an organisation's marketing department and then by its sales team – and is deemed ready for the next stage in the sales process.
Stage
In CRM, a stage refers to a step in the sales process. For example, stages in a sales pipeline might include prospecting, proposal, negotiation, and closure.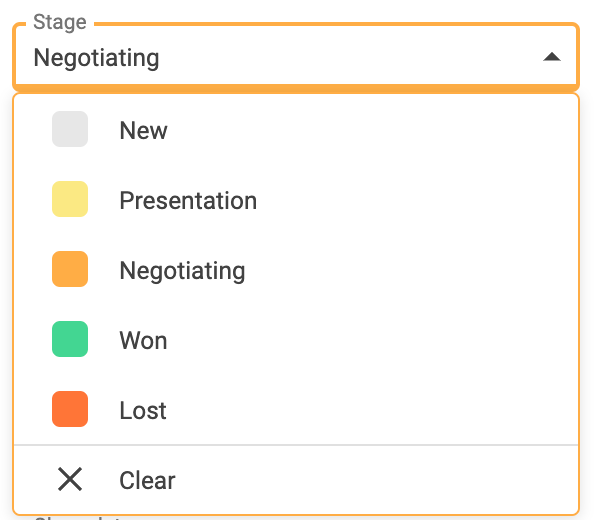 Task
A task in CRM is a specific action or work item that needs to be completed. Tasks can be associated with accounts, contacts, leads, or opportunities. They help in managing and tracking the progress of sales or customer service activities.

Territory
In CRM, a territory refers to the geographical area or specific set of customers assigned to a salesperson or a team. Territory management in CRM helps balance workload, track performance, and segment customers based on various factors like geography, industry, or product line.
Timeline
A timeline in CRM is a chronological display of an individual customer's interactions with your business. It can include phone calls, emails, meetings, purchases, and service requests.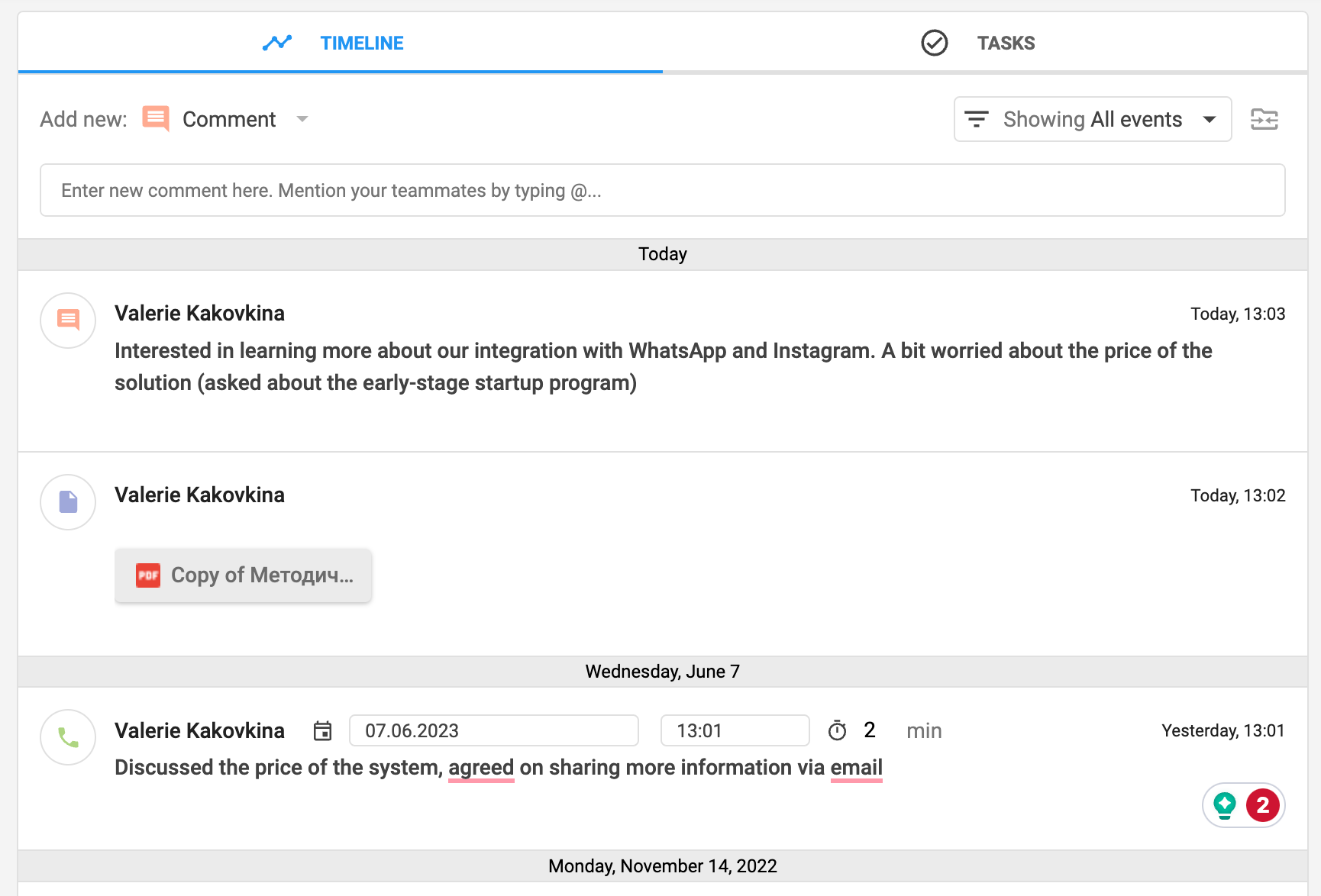 Trigger
In CRM, a trigger is a specific event that starts a particular process or workflow. For example, the addition of a new lead could trigger a welcome email.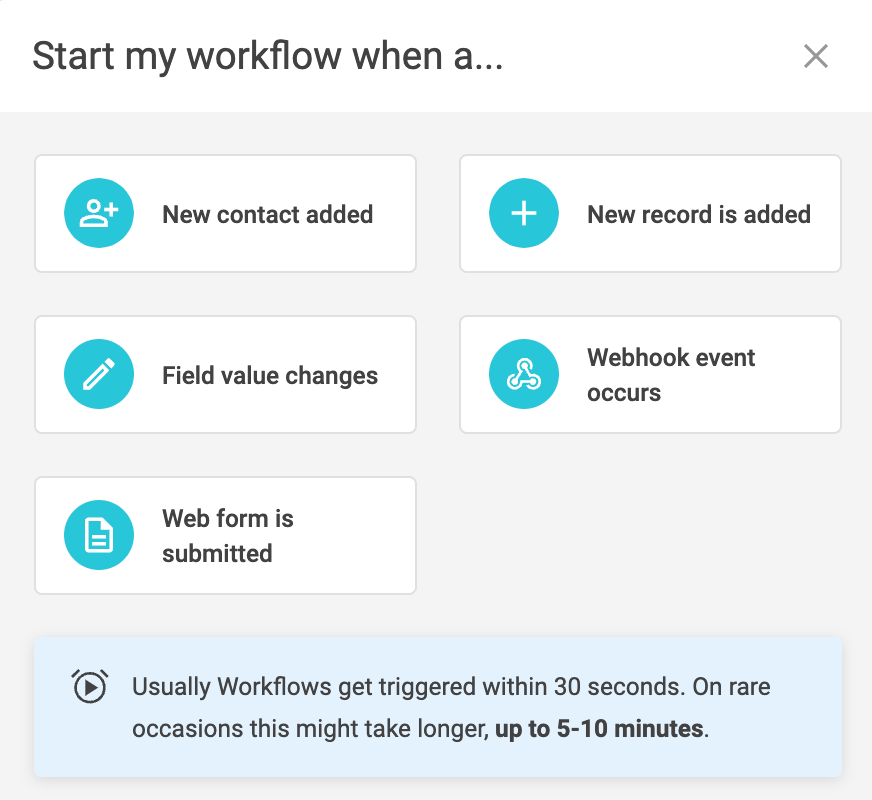 User
A user in CRM is an individual who has access to the CRM system. Users can have different roles and permissions based on their job function.
View (Filter)
In CRM, a view or filter refers to the functionality that allows users to segment and organise data based on specific criteria. For example, a sales representative could create a view for all leads from a specific region or industry. This helps to focus on a particular subset of data for more efficient and targeted communication.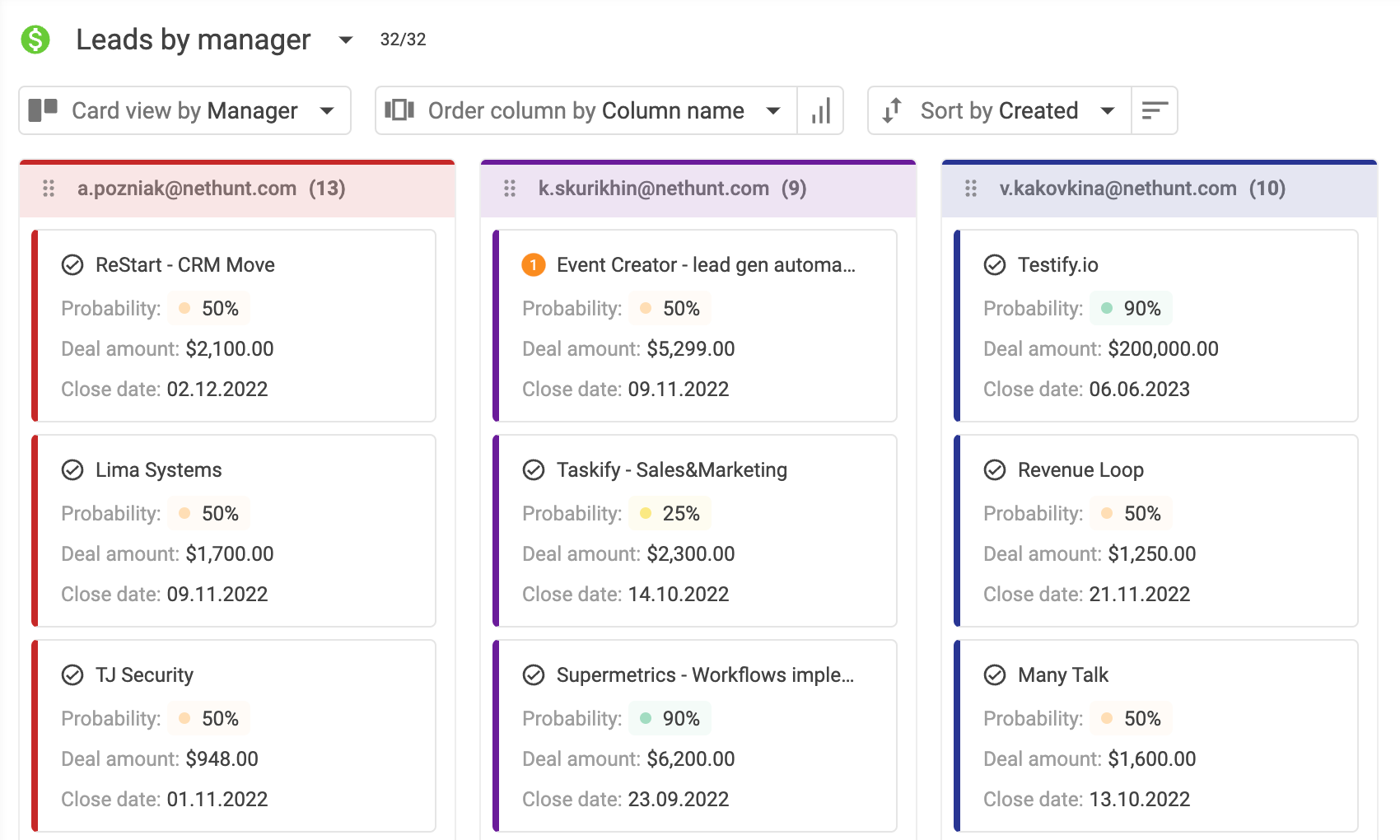 Workspace
A workspace in CRM is a customizable area where a user can view and manage related information. For example, a sales workspace might include views of leads, opportunities, and accounts.
Workflow
A workflow in CRM is a sequence of automated actions that trigger based on specific criteria. Workflows help in automating routine tasks, ensuring consistency, and improving efficiency. They can be used for various processes like lead assignment, task creation, or email notifications.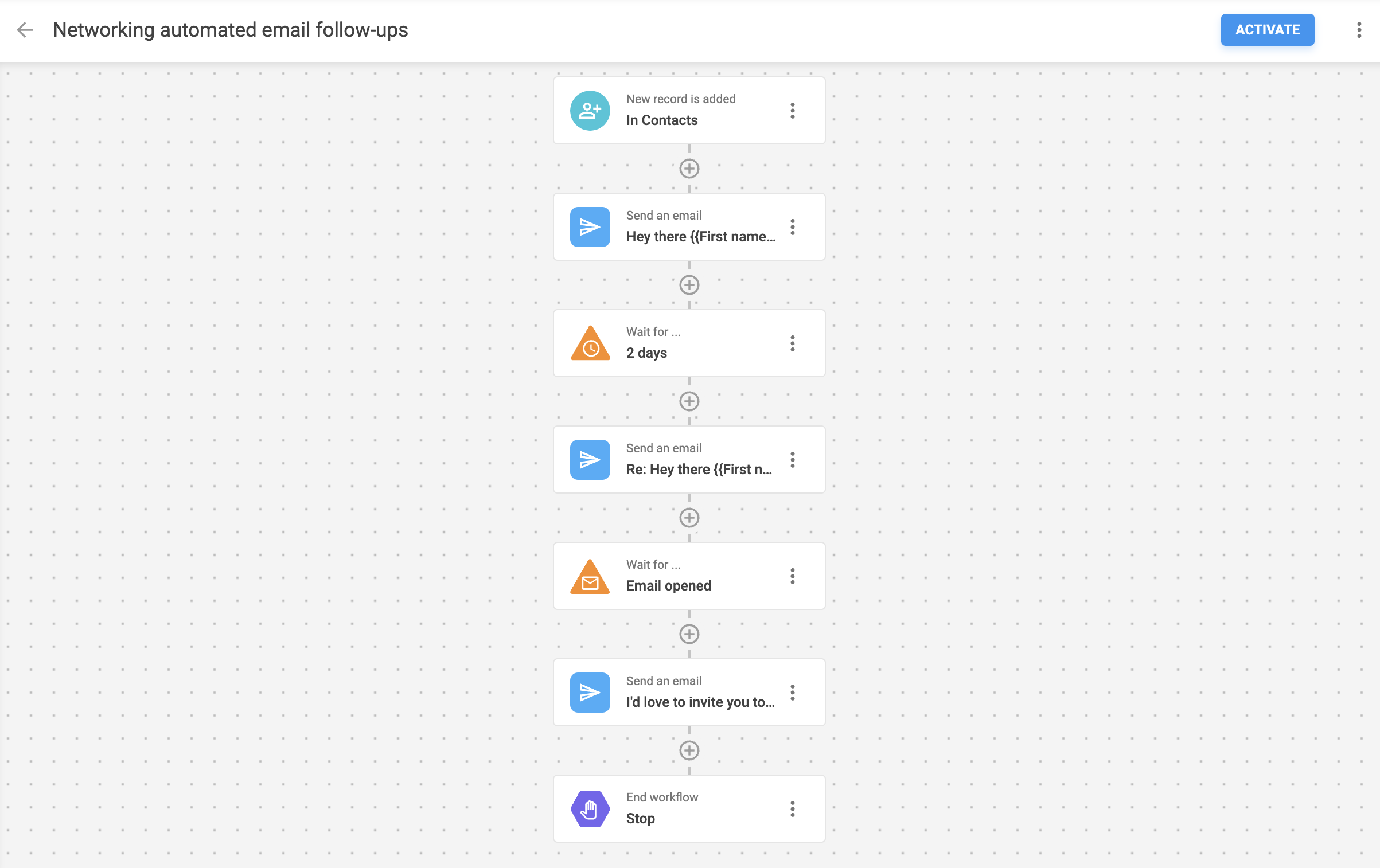 ➡️ Learn more about sales automation in our article.
---
And there you have it, the CRM glossary of your dreams to help you navigate the real world of CRM suites and processes. With these, you should no longer feel confused when you see one of these pop-up somewhere.
Good luck on your CRM improvement journey!
Table of Contents
Crack the sales formula with CRM Lab
Twice a month, receive actionable CRM content to your inbox.
Join the
Telegram channel NetHunt CRM
All about CRM and B2B sales.
Join