People are social beings - there's nothing quite like a good and engaging conversation. Indeed, we all love to speak and be heard. That's why it sucks so much to have your emails aired.
But you know what's worse? Not knowing whether or not you've been blatantly ghosted by the email recipient.
As an email marketer, you can't possibly improve your email marketing strategy if you don't know how your current one performs. There must be some sort of data to base your changes on. It doesn't matter whether you're competing against yourself, your competitors or the industry standards, you need to have a robust email tracking system in place to kickstart the process and make it data-driven.
What Is Email Tracking? How Does It Work?
Email tracking is the process of tracking and analysing the emails you send to your mailing list. You can use the data obtained from email tracking to make data-driven, informed business decisions.
There are a lot of things that can be tracked in emails, both directly and indirectly. For example, marketers employing email tracking software can find out the following information:
Whether the email was opened.
Whether the recipient clicked on any of the links in the email (this is particularly helpful when attachments are converted into links).
Whether the email bounced.
Whether the recipient unsubscribed from the email.
Whether the recipient marked the email as spam.
Whether the recipient replied to your email.
Sounds pretty exciting, doesn't it? The question is… Can something this good be legal? Surely, with so many marketers harnessing the powers of email marketing, it must be. However, a lot of professionals are still somewhat wary of this technology. There's a fairly reasonable explanation for this fear - at the end of the day, with the privacy laws getting stricter by day, email tracking can come across as a bit of privacy intrusion.
In reality, however, as soon as you understand how the mechanism works, you realise that it's absolutely safe and legal. So… How does it work then?
Nowadays, email marketing and, therefore, email tracking, is getting more and more popular. This means that the email software market is responding to the increase in demand with a respective increase in supply and offers more and more advanced technology. However, regardless of the mechanism used, the overall principle employed in the process of email tracking remains the same.
Open tracking: In order to track the number of email 'views', email tracking software uses 'tracking pixels'. The system adds a tiny, absolutely invisible to the human eye 1 pixel wide by 1 pixel tall image at the bottom of your email. As soon as the recipient opens the message, their provider makes a request to the server to retrieve this image. The information regarding this request counts as a 'view'.
Click tracking: To register the event of a certain link within the body of your email being clicked, the email system converts each link in the email to one that goes to their system first and then redirects to the actual link. The fact of link pinging allows to track clicks.
Unsubscribe tracking: Unsubscribe tracking is almost identical to click tracking as it uses the same technology. The only difference between the two is that the system knows it was the unsubscribe link.
Reply tracking: Reply tracking is the most diverse type of email tracking as it can be implemented differently across different email systems. The most popular methods include using the open tracking pixel and comparing email subjects.
The other two types of tracking, marked as spam and bounce tracking, are usually happening on the backend, behind the curtains.
The Many Benefits of Email Tracking
It's a known fact that marketers love to be in control of the situation, so you can already see the appeal of email tracking for email marketing professionals - it allows them to stay on top of their game and know exactly how their efforts are paying off.
However, there's more to email tracking than just the obvious benefits. Let's look at the other advantages of implementing email tracking into your email marketing strategy:
It allows you to stay on track with your emails. For some reason, this benefit of email tracking often gets overlooked by email marketers. Nonetheless, it's an extremely important one. Email tracking allows you to see how many emails you actually send out, which prevents you from stopping way too early and underperforming as a result.
It provides you with an invaluable insight that allows for better optimisation of your emails. When you know how your emails perform, you can estimate which types of content, which subject lines and which attachments are the most interesting for your target audience. Then, you can start crafting an email campaign that ticks all of those boxes and enjoy an increase in the desired metrics.
It provides you with context. More advanced email tracking systems allow you to not just see whether or not your email has been opened by the recipient, but also to see when and how many times it was opened. That way, whenever you notice that someone is coming back to your message, again and again, you can assume you're on top of their mind, which is a great time to reach out to them again. Similarly, if you've included an attachment in your email, you can check whether or not the recipient has viewed it.
It helps to send more impactful follow-ups to your prospects, leads and customers. Finally, with more context available to you, you get a chance to craft a more specific, appropriate and hyper-personalised follow-up that will convert better!
How to Write a Follow Up After Quotation [With Templates]
All in all, email tracking saves you a lot of time! Instead of shooting shots in the dark, you base your business decisions on actual hard facts.
How to Track Emails [NetHunt CRM Edition]
If numerous benefits of email tracking benefits have tickled your fancy and you're ready to act on it, it's time to think about all the ways in which you can enable email tracking for yourself and your business.
The success of your email tracking efforts relies largely on the software you use. You need to make sure that the tool you invest in is appropriate for your business workflows and delivers exactly the capabilities you need to keep track of your email campaigns.
Ahem, I guess I know a good one! Although NetHunt CRM is originally a tool for custom relationship management, it has always offered a pretty extensive stack of email marketing features, including email tracking.
All NetHunt CRM users can benefit from this functionality and bring their email marketing to the next level. You can easily configure email tracking within the CRM system in almost no time:
Start off by going to Settings>Preferences>Email Open/Click tracking and check if they are enabled and tracked by default:

NetHunt Pro Tip
Sometimes, you might want to not track certain links or domains by default. You can exclude those by indicating them in the following setting:

Once you've done that, you can move onto the next step, which is composing the email. In the compose window, you will see two icons: open (eye) and link (pointing finger) tracking.
When clicking on the pointing finger icon you will see how many links from your email are tracked. You can also disable some of them from tracking manually.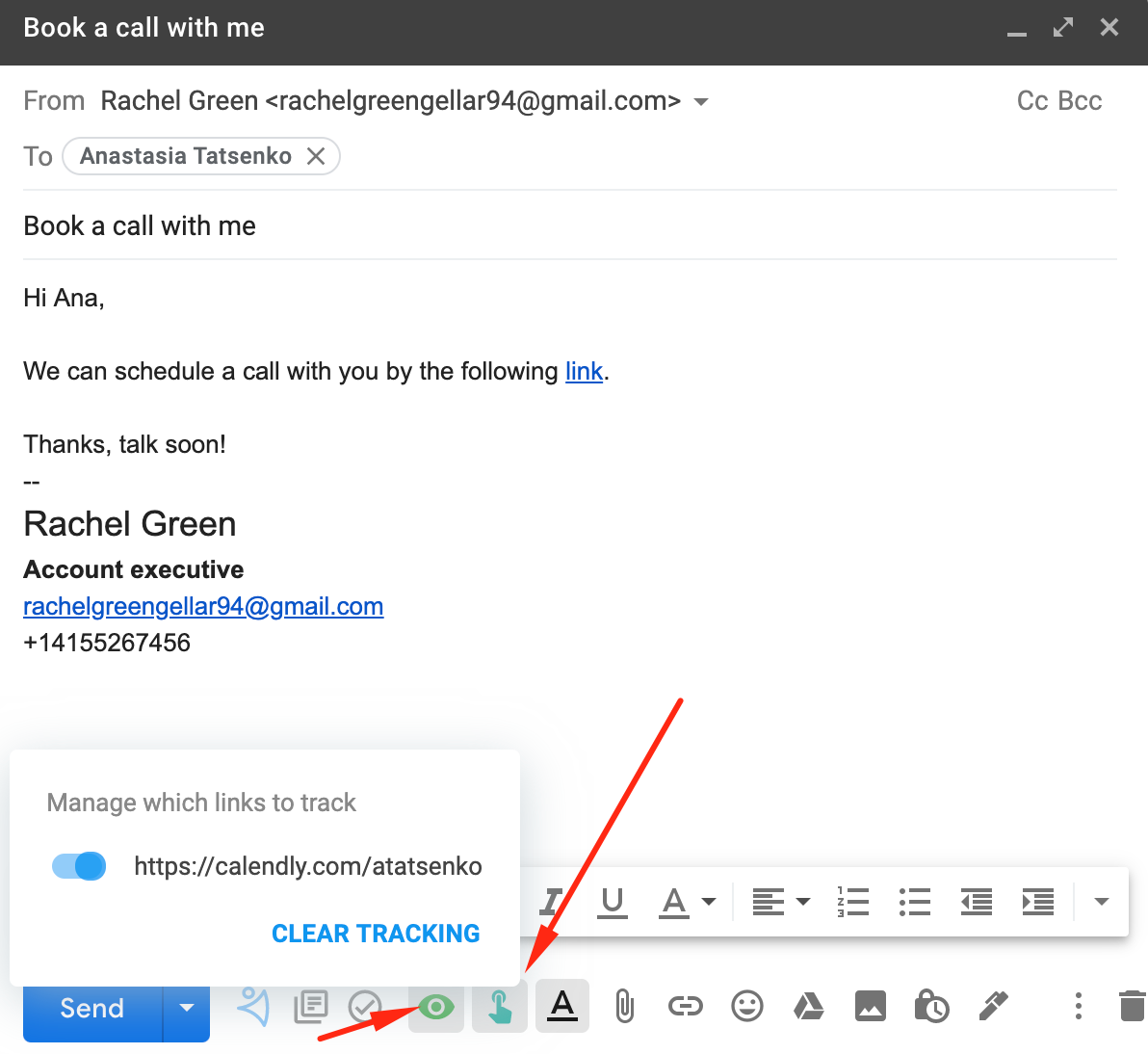 Done! You've just enabled email tracking and can now send out your campaign to the mailing list. As soon as they start opening your email, you'll see the stats on it roll right in. You can see the stats right in your sent box (e.g. if you haven't received the reply yet), and the icon will be showing when the email was open last:

If you click on the green icon, you can get more detailed info on that particular email's performance:
ALL - showing the aggregated stats by the LAST EMAIL in a thread open/click tracking;
OPENS - only open rate stats;
CLICKS - only click rate stats.
You will see the time and date and the exact links that were clicked on (if there are multiple) and from which device (desktop or phone):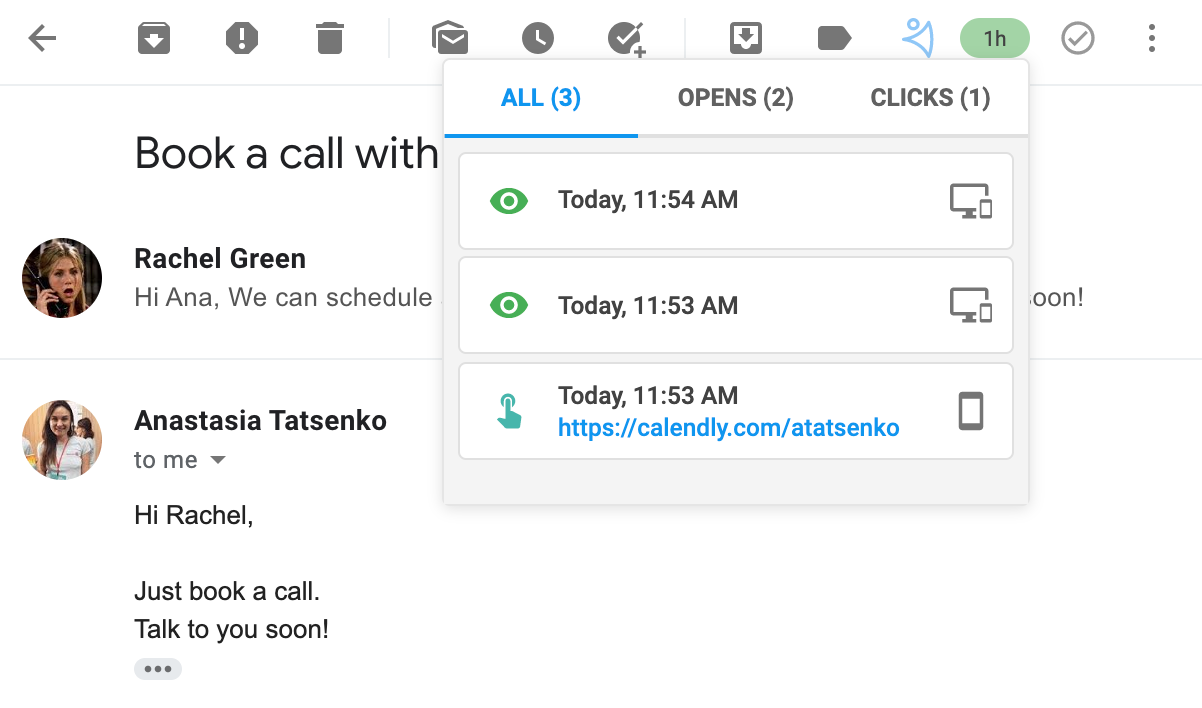 NetHunt Pro Tip
It's a good idea to establish company guidelines on email tracking practices. Make sure you set some rules regarding the use of the technology. Also, don't forget to include an explanation of how your business uses email tracking tools in your company's privacy policy and disclose the use of the technology when people sign up for email subscriptions.
There are lots of different ways in which you can use email tracking to boost the effectiveness of your business communication. Let's look at some of the most common and popular use cases:
Business Partners. If you're communicating with someone from outside the business, you can make your conversations more orderly and timely using email tracking. It provides you with a better understanding of your current position in the correspondence and can provide you with an idea of how to act next.
Customers. You can easily compare and contrast your email campaigns' performance to see which content works best and build your subsequent email marketing strategy around that.
Colleagues. You can use email tracking for better daily supervision of tasks and more interconnected communication within your company. By enabling email tracking.
---
With the right attitude and the right tools, email tracking can be straightforward and extremely effective. Seize the day right now!
Table of Contents
Crack the sales formula with CRM Lab
Twice a month, receive actionable CRM content to your inbox.
Join the
Telegram channel NetHunt CRM
All about CRM and B2B sales.
Join