So, you finally decided to give the best Gmail CRM ever a try. Congratulations!
But how do you build a sales pipeline that's genuinely insightful to your sales process, rather than just another confusing hurdle in your salespeople's path?
That's what we're here to help you with! This article has everything you need to build a sales pipeline that will work for you.
Buckle up! It's time to start setting up your sales pipeline with NetHunt CRM!
What is a sales pipeline and why is it important?
A sales pipeline is a visual representation of the sales process that a potential customer goes through before making a purchase. It consists of several stages or steps that are designed to push the prospect closer towards making a buying decision.
These stages may vary from business to business, but the fundamental idea remains the same.
Now, why is it essential to have a sales pipeline in place?
The answer is simple. A sales pipeline helps keep track of your prospects and ensures you don't miss out on any potential customers. By having a clear understanding of where a prospect stands in the pipeline, you can tailor your communication and outreach efforts accordingly to shorten the sales cycle.
If a prospect is in the nurturing stage, you can send them relevant content that addresses their pain points and needs. On the other hand, if a prospect is in the closing stage, you can send them an offer they won't be able to refuse.
For example, a real estate agency might use NetHunt CRM to manage their sales pipeline for property deals. The stages in their pipeline could be…
New lead (property inquiry)
Property showing
Offer submitted
Offer accepted or counter-offer made
Contract negotiation
Contract signed
Closing
The real estate agency could set up custom fields in NetHunt CRM to store property-specific information, such as property type, location, number of bedrooms, and listing price.

Custom views could be created to show properties at different stages of the pipeline, such as properties with offers pending or those that are scheduled for closing.
How to build an insightful sales pipeline with NetHunt CRM
Building a sales pipeline that works can be a daunting task.
Luckily, NetHunt CRM simplifies the process by providing the necessary tools and features to create customised sales pipelines that are tailored to your business needs.
Here's how you can build an insightful sales pipeline with NetHunt CRM…
Define your sales pipeline stages
You first need to define the stages of your sales pipeline. This involves breaking down your sales process into different steps that reflect the progression of a lead to a converted customer.
Here are some typical phases of a sales pipeline…
New. When you generate leads and add them to your sales pipeline
Qualification. This stage involves qualifying leads to determine whether they fit your ICP.
Meeting. This stage involves scheduling an appointment with qualified leads to learn more about their needs and requirements.
Proposal. Create and submit a sales proposal to the qualified leads.
Negotiation. This stage involves negotiating with your potential customers on the terms and conditions of the deal.
Won/Lost. Either win the deal and convert a lead into a customer or lose it and move on to the next.
The stages differ depending on each company's sales process.
NetHunt CRM allows users to create as many stages with as many different names as the company needs. NetHunt CRM adapts to your pipeline.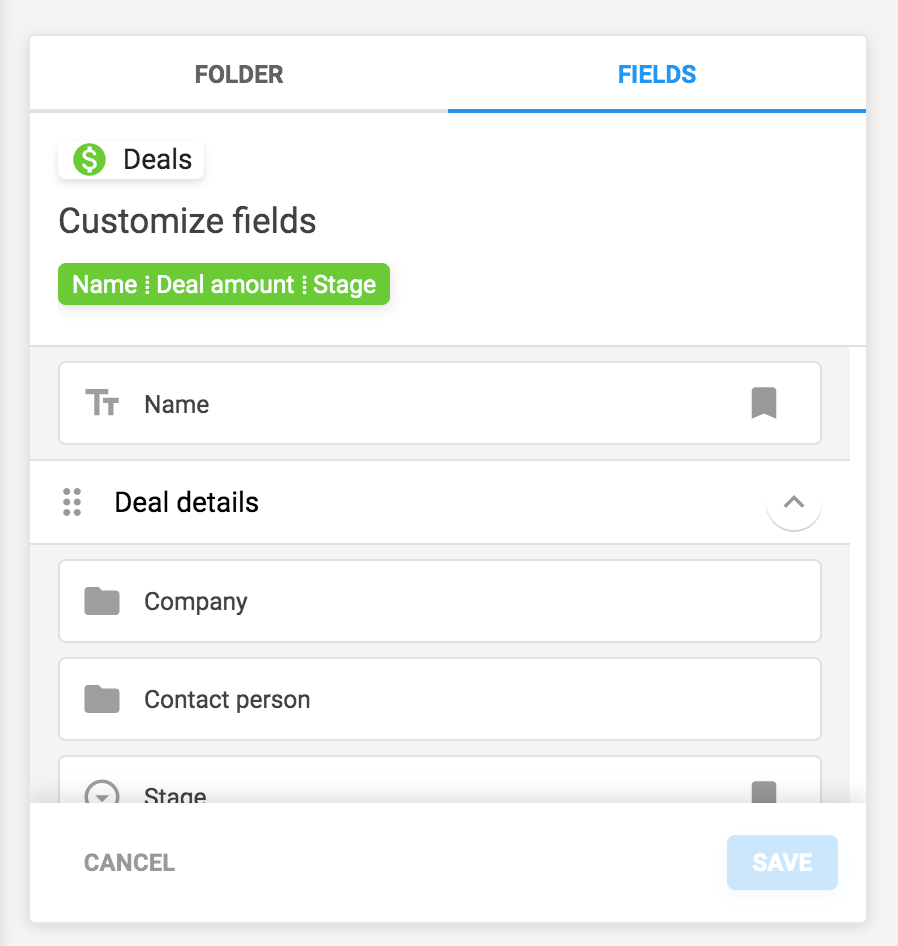 How to create custom stage fields
Follow these steps to create the stage fields in NetHunt CRM…
Go to the "Settings" tab in NetHunt CRM and click on the "Folder & Field Management" button.
Select the folder that you want to add a field to, or create a brand new folder.
Create custom fields based on your requirements, such as the stage field with different stage names.
When creating the stage field, you can also create field answer presets, like different stages for the stage field.
You should set fields to be required for completion before the customer card can be updated.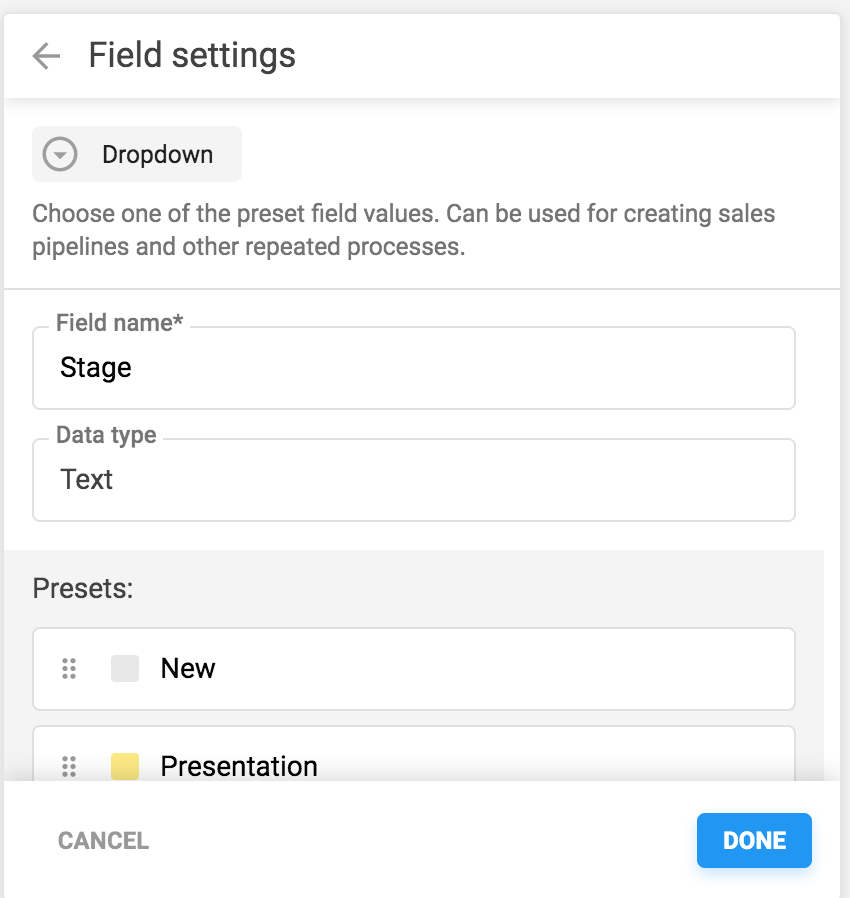 Set up the necessary custom fields and create the presets
NetHunt CRM allows businesses to add custom properties and fields to their sales pipeline.
These fields enable businesses to capture information about their prospects and monitor their sales progress.
How to create custom fields in NetHunt CRM
To add custom fields in NetHunt CRM…
Go to the "Settings" tab in NetHunt CRM and click on the "Folder & Field Management" button.
Select the folder that you want to add a field to, or create a brand new folder.
Create custom fields based on your requirements. For example, you can create custom fields like Deal Amount, Priority, and Reason Lost.
When setting up required fields, NetHunt CRM also lets you set up required field sequences, completing data further.
For example, if the lead stage is set to lost, the "loss reason" required field appears. If the reason selected is "lack of features", a new field gets added for "features missing".
Some of the fields that we recommend you create are…
Deal sum field, recording the expected deal sum, helping build pipeline forecasts.
Days in stage, letting managers know if there's a bottleneck in the pipeline, and whether any sales representatives need additional coaching.
Priority field, helping sales representatives identify which leads they should be focusing their efforts on; a must-have for lead scoring.
Set up the necessary views
NetHunt CRM allows you to create highly-customised views, helping you and your sales teams to view customer data from various angles, providing them with the most insight possible.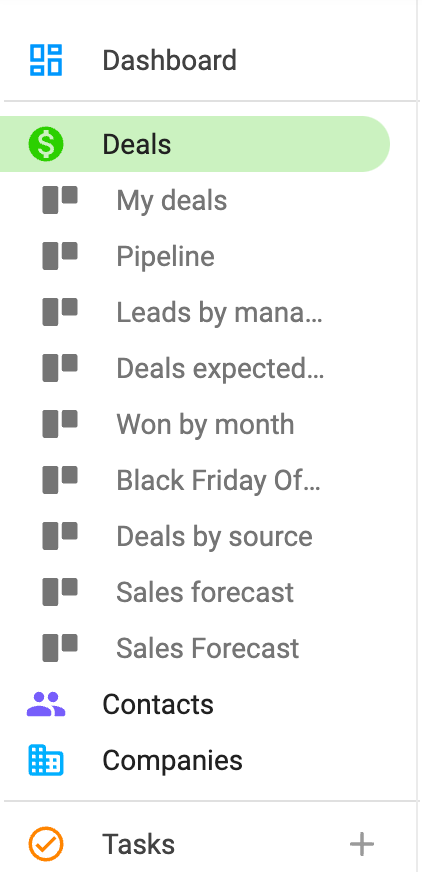 How to create a sales pipeline view in NetHunt CRM
The first view you should set up is the sales pipeline view.
The sales pipeline view assists the sales team, sales management, and team leaders in evaluating the progression of deals. It does that by helping identify those that are in the final stages of completion and those that may have encountered hurdles along the way.
To create the sales pipeline view, you need to…
Open the Deals folder
Select Card View
Choose view by Stage
Once the view is set up, here's what you'll see in front of you…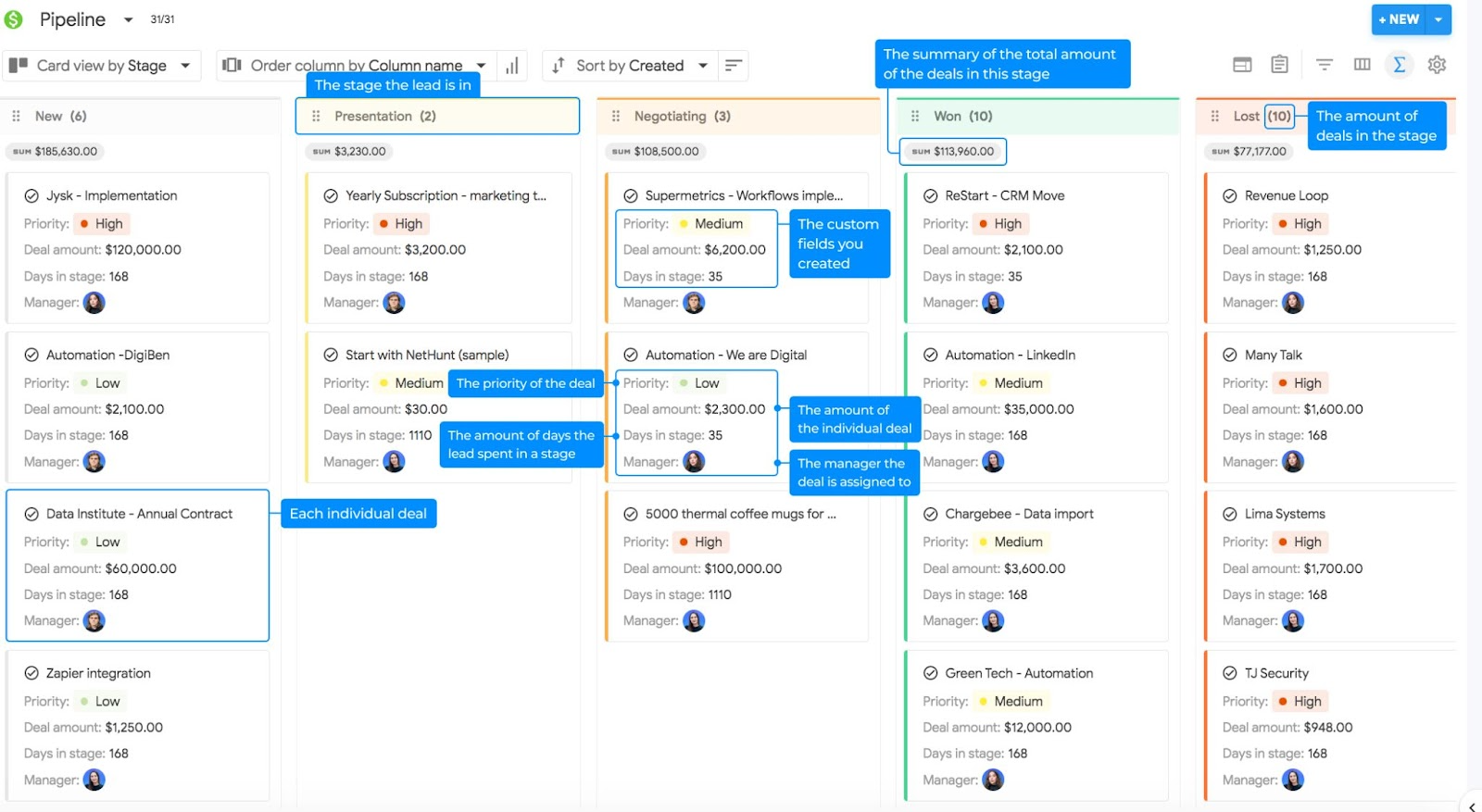 The information from the pipeline view comes in handy when your business is going through pipeline reviews.
A sales pipeline review is a regular assessment of potential deals in various stages of the sales process to gauge progress and optimise strategies. Conducting frequent reviews helps businesses identify bottlenecks, prioritise opportunities, and allocate resources efficiently.
Ultimately, this practice drives better sales performance, accelerates revenue growth, and improves forecasting accuracy.
Another view that could be of great benefit to your sales teams is the sales forecast view. It supports your business in making well-informed decisions, monitoring sales performance, and encouraging the achievement of targets.
How to create a sales forecast view in NetHunt CRM
To set up the sales forecast view…
Create a required Sale Sum estimate field in your customer card
Filter your records in the Companies folder by the Sales Negotiation status
Summarise your fields by the Sale Sum estimate field
And voila! You should see your sales forecast view displayed in your customer database like so…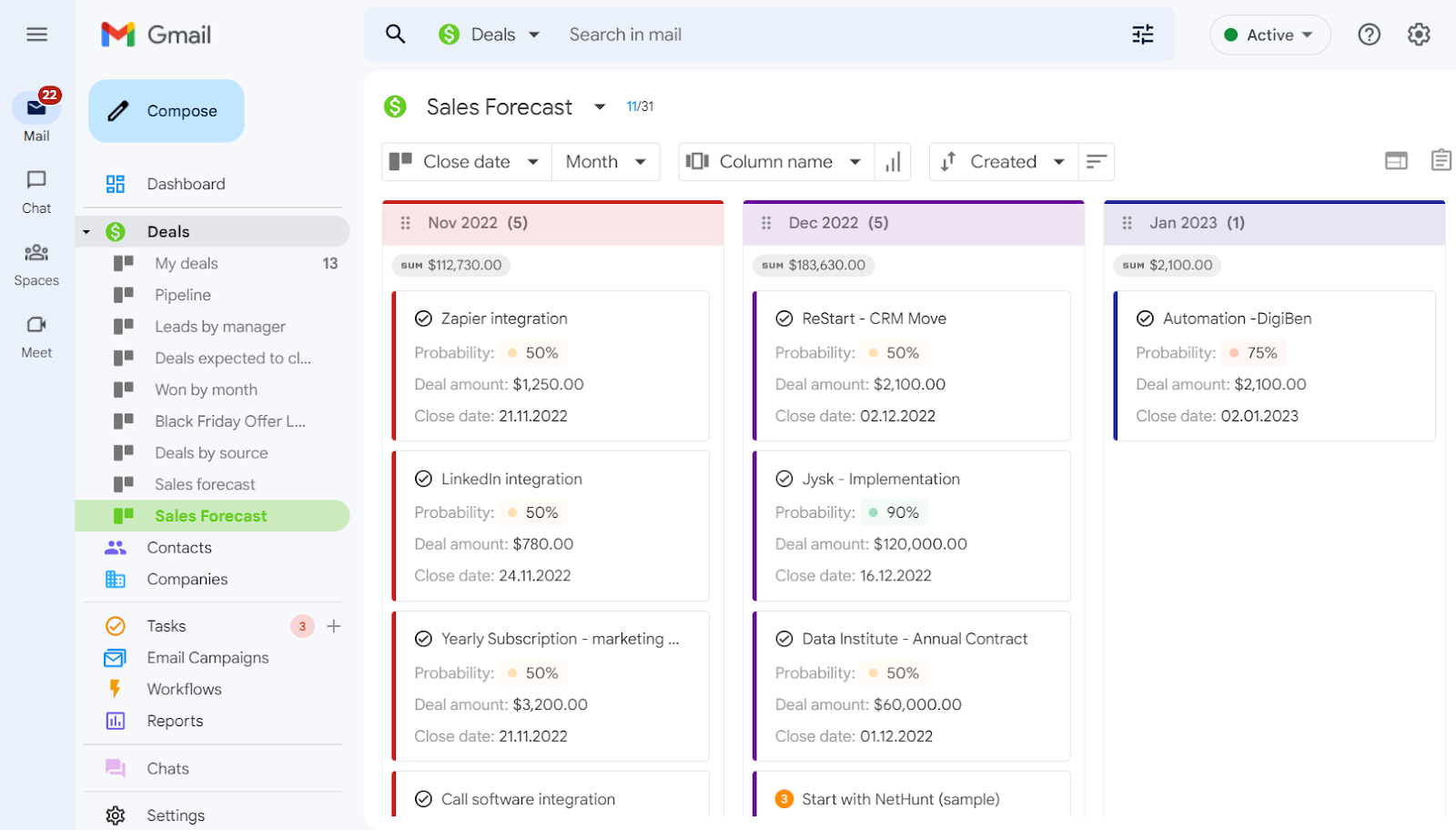 Other than the sales pipeline and forecast views, there are a couple more views that we think will help you truly maximise the insight offered into your pipelines by NetHunt CRM.
How to create a pipeline by manager view in NetHunt CRM
The first of those views is the pipeline by manager view, which shows you which manager is working with which leads at which moment. This could help identify managers that might need a little bit of extra sales coaching because they're not processing leads properly.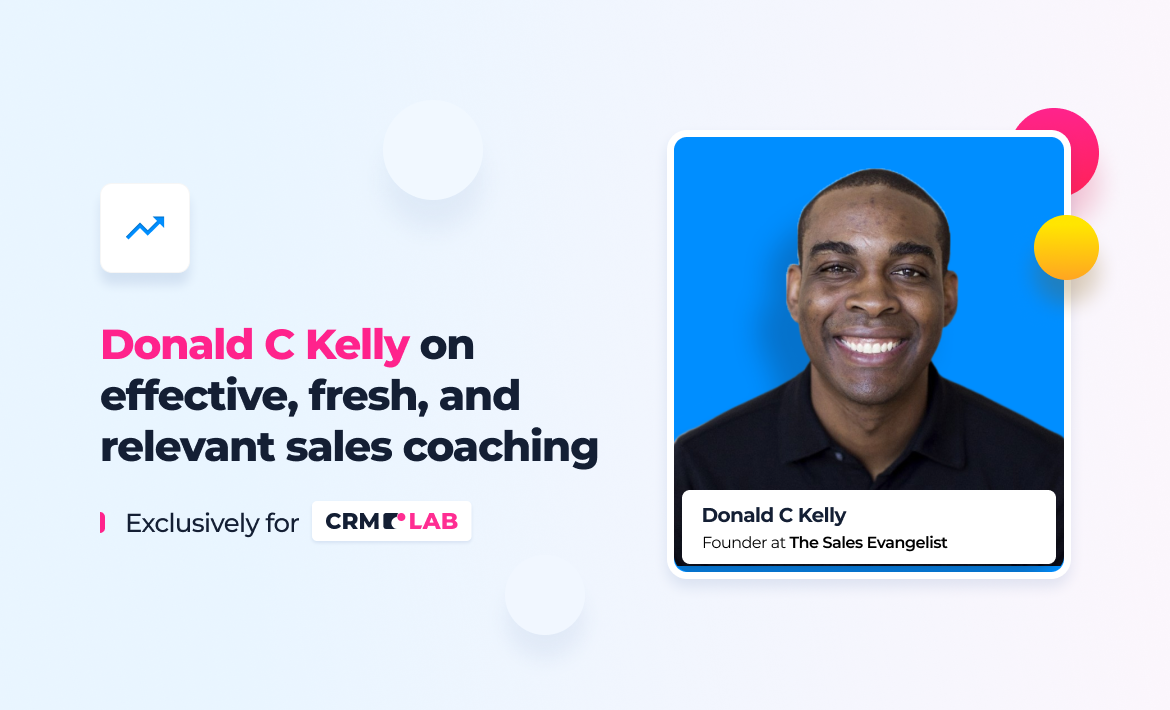 It also helps you generally stay up to date with who's doing what on your sales team.
To set up this view…
Open the Deals folder
Select Card View
Choose view by Manager
Once you apply this view, you should see your pipeline be structured like this…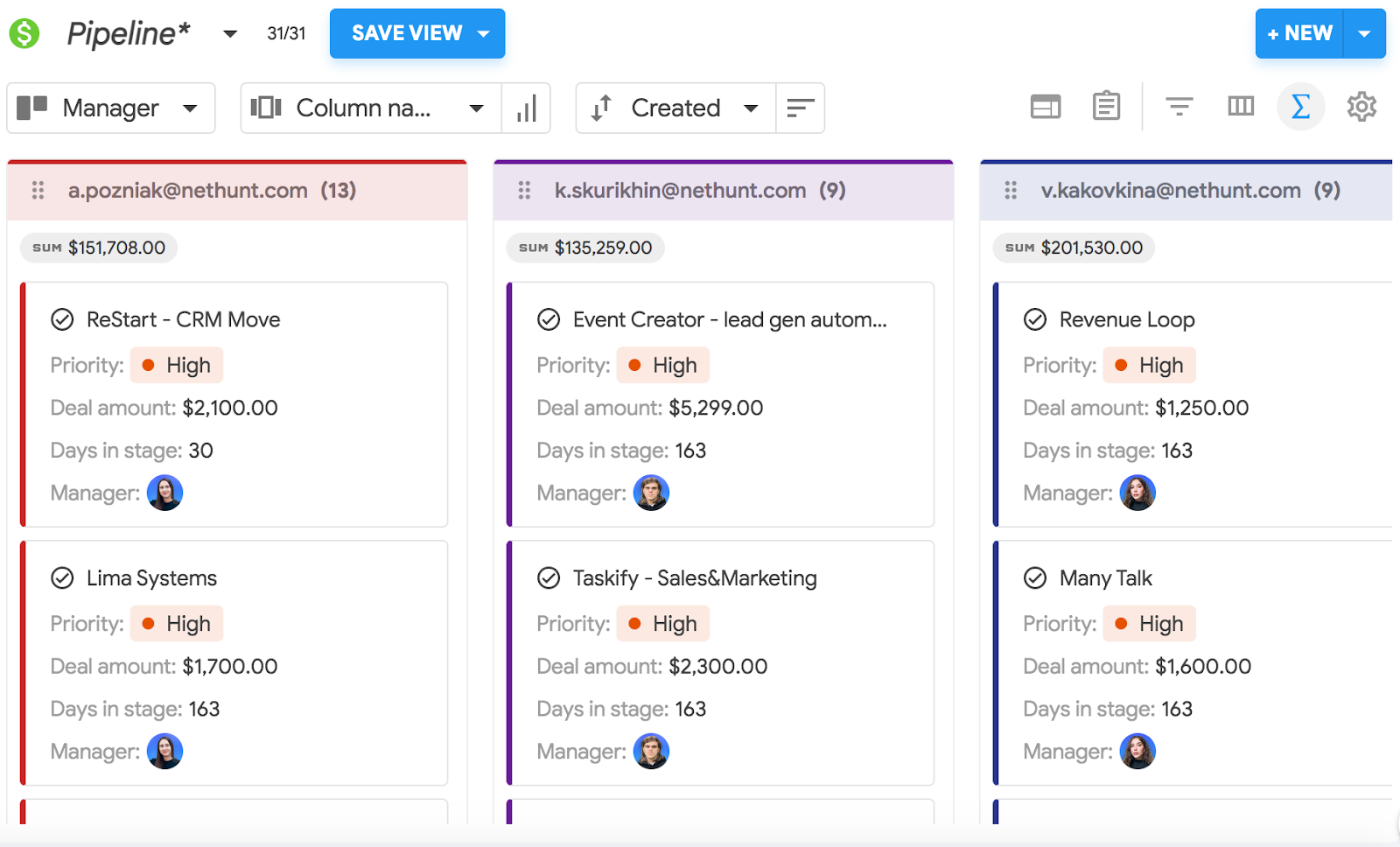 How to create an active leads pipeline view in NetHunt CRM
Another beneficial view to set up is the active leads pipeline. This pipeline view only shows leads currently being worked on by your managers, meaning leads won or lost won't get in the way of viewing your pipeline.
To set up this view…
Click on the "Show columns" button, which is right next to the summarise button and looks like three rectangles
Un-tick the "Won" and "Lost" stages, or their equivalent in your pipeline
Click on apply and watch these columns disappear from the view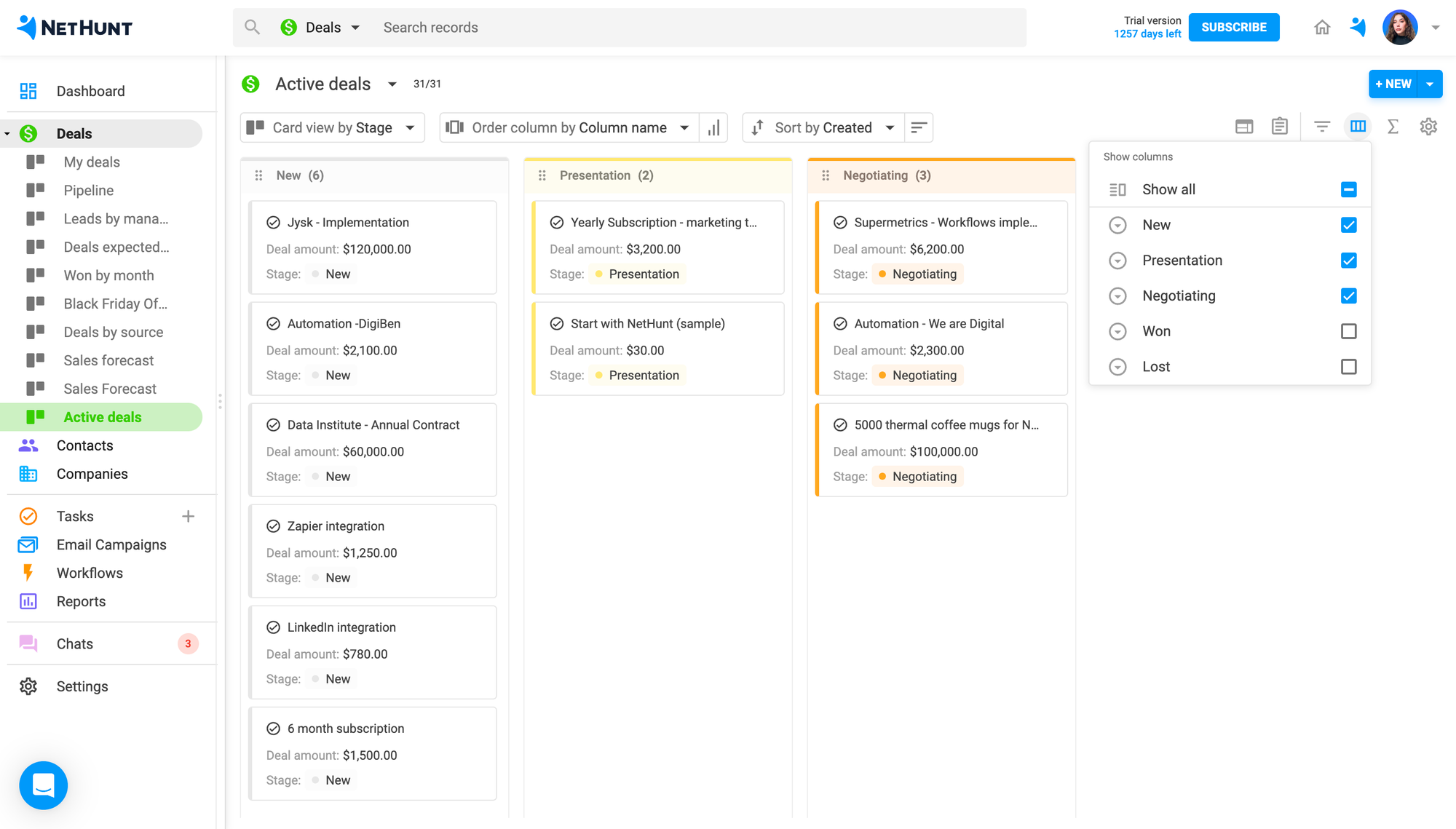 How to create an industry pipeline view in NetHunt CRM
If you're trying to analyse the industries that your clients are coming from, with NetHunt CRM you can create a pipeline filter that sorts your leads by the industry that they belong to.
In order to do this…
Open the Deals folder
Press on the card view icon
Choose to show the leads based on the "Industry" field
And you should see something along the lines of this…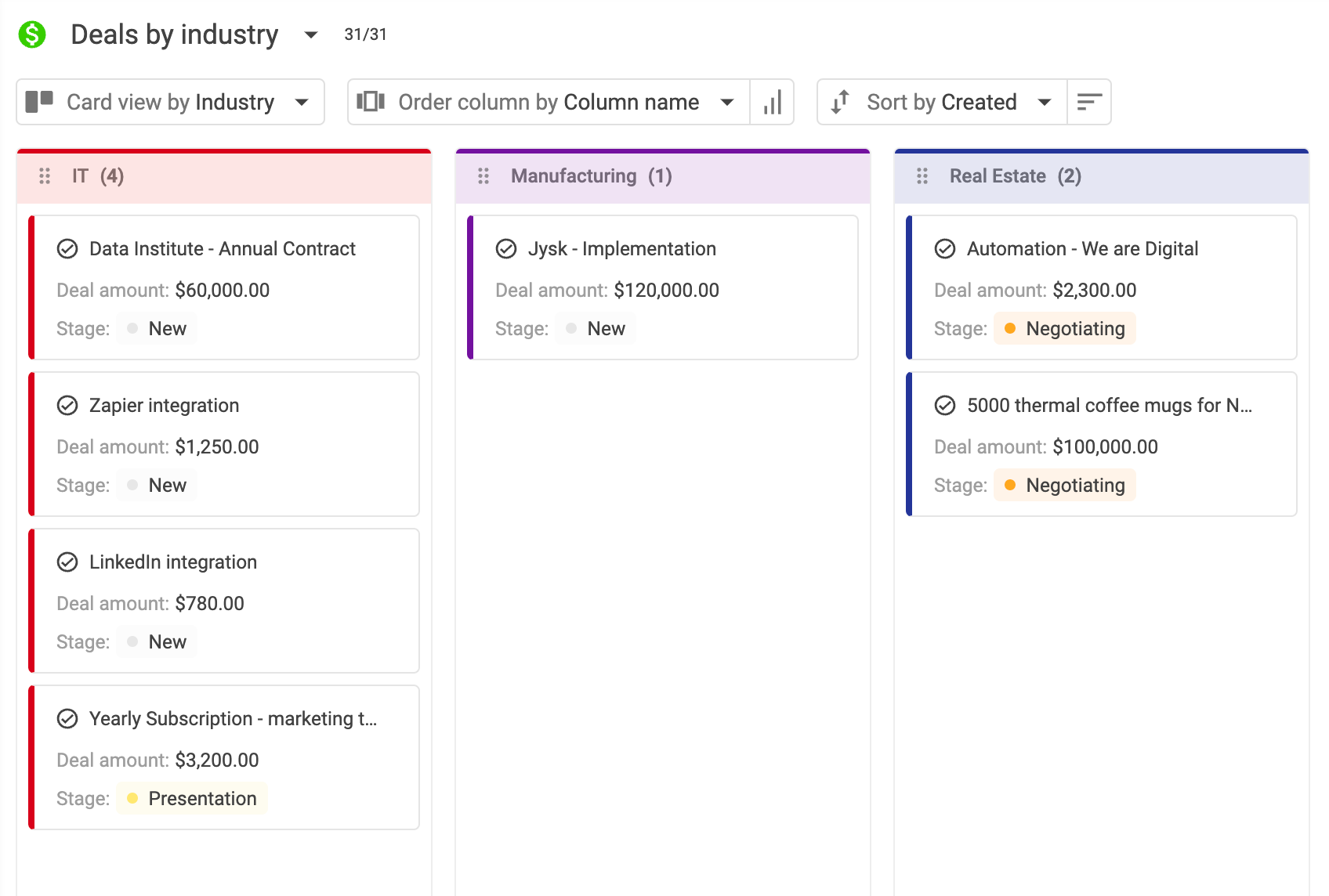 As you can see, NetHunt CRM is incredibly flexible and allows you to create views that suit your sales process individually.
We have a whole article on our blog dedicated to covering the 11 views that you should set up with NetHunt CRM, which provides even more views that could help you stay on top of your customer data. Be sure to give it a read!
Generate a real-time pipeline report
Creating an insightful sales pipeline is about more than just building the pipeline itself. It's also about making sure that you have quick and straightforward access to metrics you want to track in a pipeline.
NetHunt CRM's reports are updated in real time, so whenever you open the report the data within is as fresh as can be. Creating a pipeline report with NetHunt CRM is simple…
Go to the reports tab in the NetHunt CRM sidebar.
Press on the "+" button in the pipeline section.
Set up the pipeline report following the instructions in the card (pictured below).
Press save, and your report should appear in the reports section under the pipeline tab.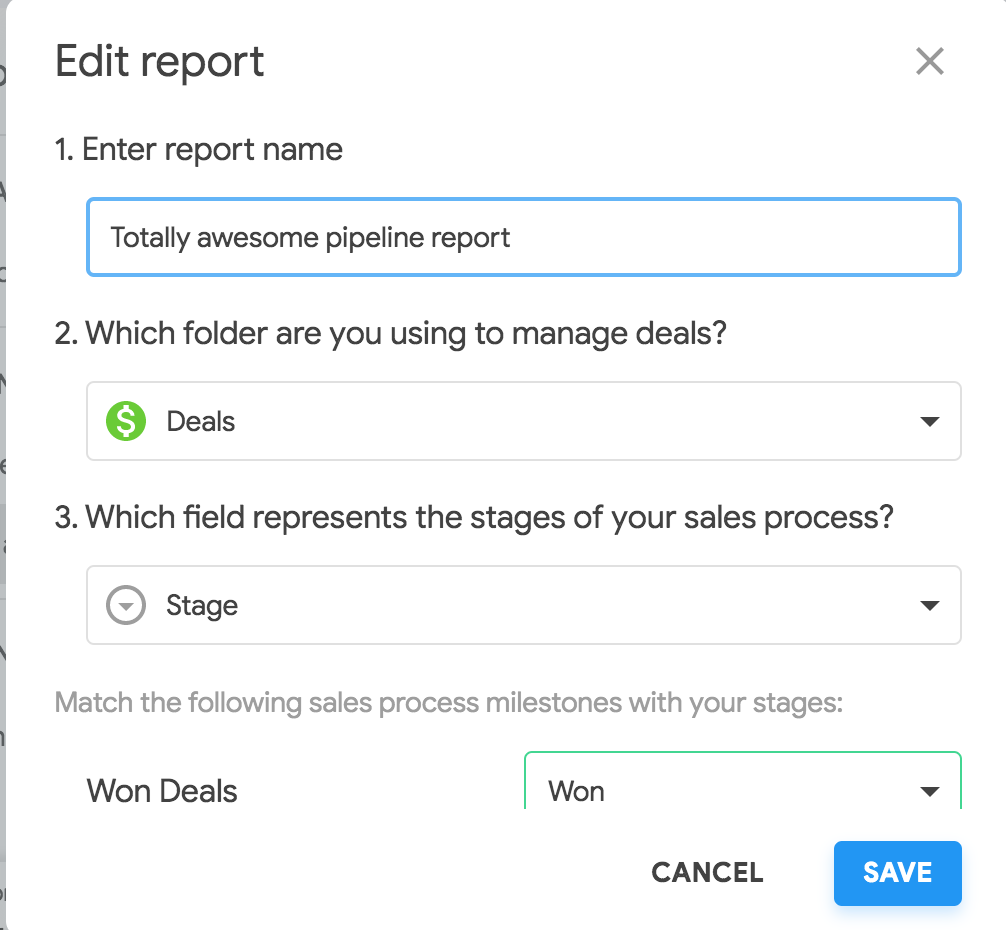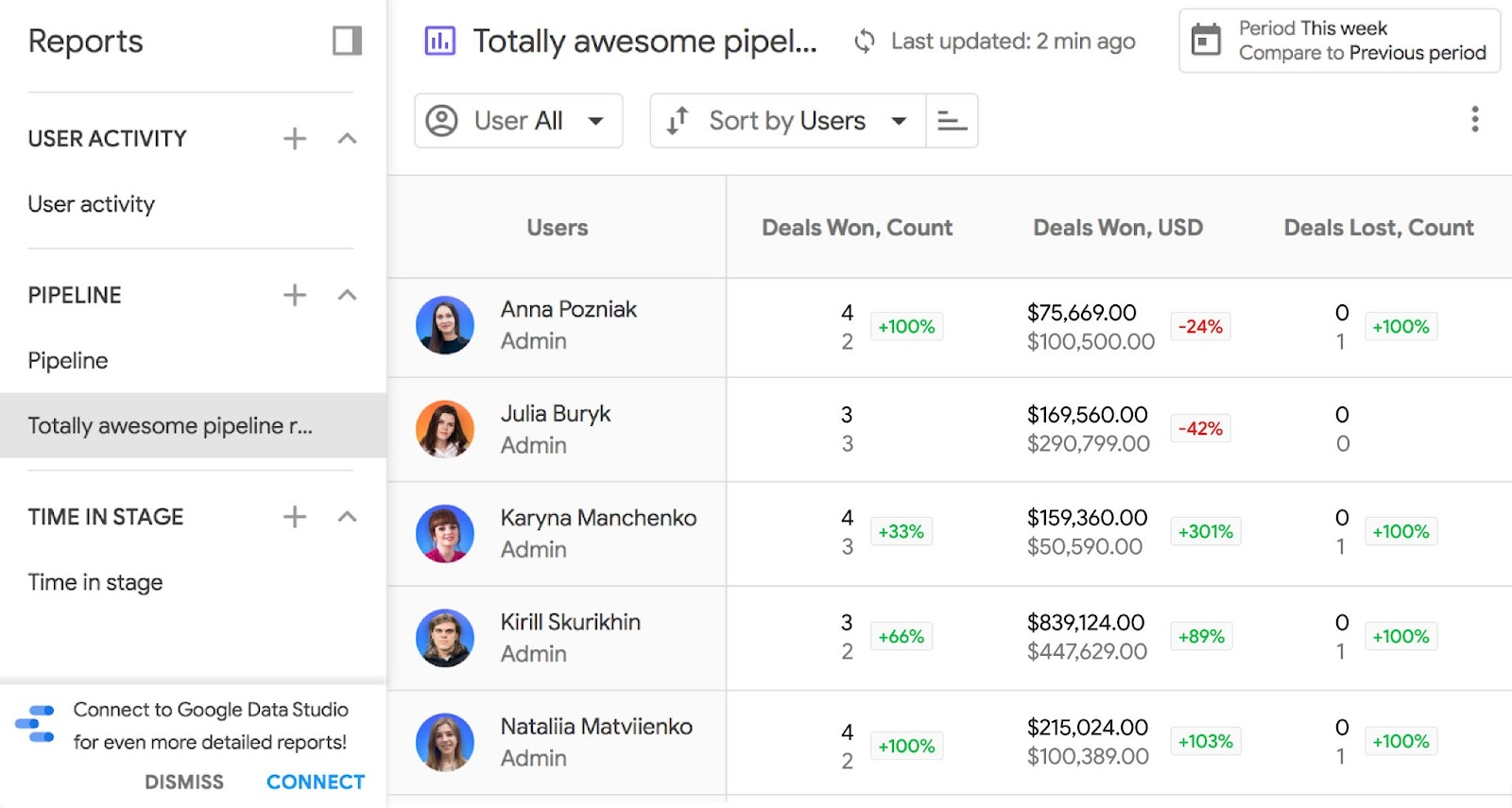 With your report at the ready, you're now able to identify the performance of your salespeople and make data-driven decisions when looking to improve your pipeline health.
---
There it is, everything you need to start building your pipeline (or multiple pipelines) with NetHunt CRM.
However, setting up your pipeline is the first step in creating a customer database that streamlines your sales representative's sales efforts.
We recommend you check out these articles on our blog to help you get set up with NetHunt CRM…
Table of Contents
Crack the sales formula with CRM Lab
Twice a month, receive actionable CRM content to your inbox.
Join the
Telegram channel NetHunt CRM
All about CRM and B2B sales.
Join