Time and energy are precious.
It goes without saying that your sales team shouldn't be wasting theirs, trying to close leads that don't have the potential to become customers.
Being able to qualify sales leads ensures sales representatives can put their effort where it matters, offering higher motivation for them and higher ROI per lead for your business.
What is lead qualification?
Lead qualification is the process by which a business decides which leads have the highest potential of making a purchase. It's one of the most vital parts of the sales funnel, which requires a constant flow of leads.
It needs to be said, a sales funnel only converts a fraction of the input pool.
There are multiple qualifications that leads could have. These are…
Information Qualified Leads (IQL) - also called "cold" leads
Marketing Qualified Leads (MQL) - the marketing department has evaluated these leads as the right customer to target
Sales Accepted Lead (SAL) - a lead that has already been nurtured and qualified
Sales Qualified Lead (SQL) - a lead that meets all criteria for becoming a potential customer
Qualification parameters are decided based on the buyer persona you have developed.
Some possible parameters that could be used during lead qualification are…
Age
Location
Job title
Company size and stage of development
Industry
Company funding
Amount of users using your product
The lead qualification process happens either during the initial cold outreach, during the presentation part of the sales funnel, or both.
Why is lead qualification important?
Lead qualification is crucial to the sales process. It helps you focus more of your sales team's time and energy on communicating with leads that are likely to purchase.
Qualifying a lead can help you discover information such as…
Whether the prospect has a need that could be fulfilled by your product or service
Whether the prospect has the budget or authority to complete the purchase
Whether Sales can outline value to your product or service over your competitors
Without lead qualification, your sales team would have no way of knowing whether the lead they're spending their time on has the potential to purchase. This leads to lost ROI due to missed deals and wasted time.
What is the process of lead qualification?
Below, we've broken down every step of the lead qualification process alongside detailed frameworks and strategies to implement during lead qualification.
Identify your ICP
Before qualifying someone as a potential buyer, it's essential to identify the potential buyer for your business. The established method for doing this is by developing your Ideal Customer Persona (ICP).
Whereas your buyer persona is the type of person your company primarily communicates with, an ICP is the type of company that would benefit the most from purchasing your product.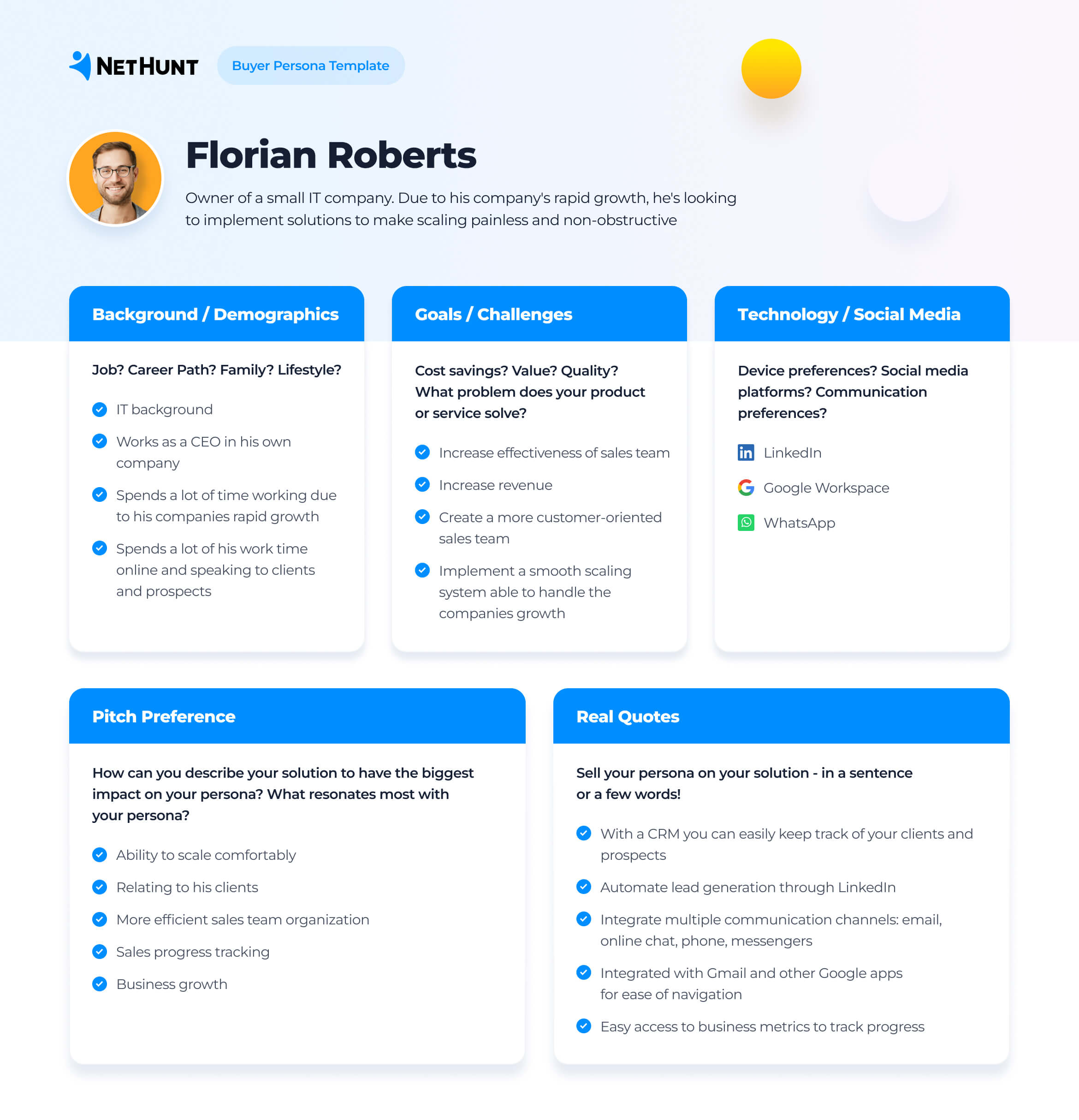 Having a clearly defined ICP is necessary for the process of qualifying leads.
Adjust to a lead scoring model
Lead scoring is assigning a value to each prospect your company generates.
The "score" that a lead receives is directly related to how well it matches the parameters pre-defined by your company.
Parameters for lead scoring can include…
Demographic
Website visits
Webform interactions
Email opens, clicks, or responses
Points are accrued to the lead throughout a set amount of time.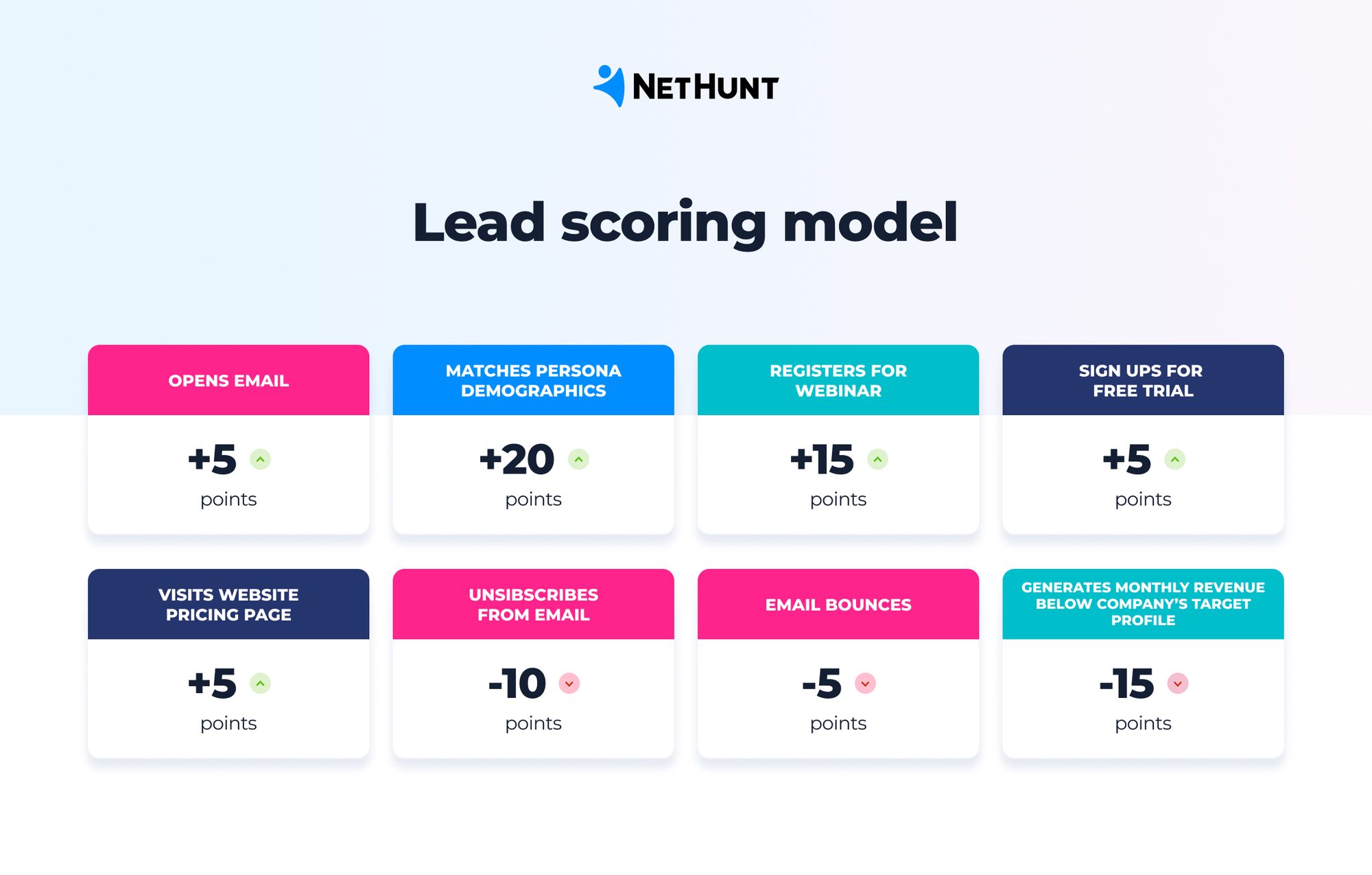 Conduct in-depth research
To better understand the prospects you're managing, search for more in-depth information about them.
A more detailed understanding of prospects helps sales teams understand things such as…
Whether the prospect needs that your product could fulfil
Whether the prospect is authorised to make a purchasing decision
Whether the prospect has recently reached any career milestones
An excellent source that you could use for information later used in qualifying a prospect would be to have a look through both their and their company's LinkedIn pages.
The in-depth data you receive about a prospect has to be carefully input into their card and shared with the rest of the sales team. Of course, this could be automated if your CRM, like NetHunt CRM, features LinkedIn integration.
Outreach
Some information is unattainable to sales representatives without first establishing contact with the prospect. Therefore, it is crucial to further flesh out your understanding of the prospect's situation during the discovery call.
This is best done by asking qualifying questions such as…
What problem are you hoping to solve?
Do you currently have another solution to solve this problem?
If not, why are you trying to solve this problem now?
What goals are you trying to achieve with this solution?
What is your ideal timeline for implementation?
Who is the person who would make the final decision about this purchase?
What is your budget for this solution?
These questions are centered around specific themes such as budget, timeline, and corporate hierarchy. This is done to facilitate the prospect sharing knowledge about their daily life and company operations with the Sales Development Representative (SDR), providing invaluable insight.
During outreach, don't forget to utilise SPIN
SPIN is an acronym first used by Neil Rackham in 1988. It stands for…
Situation: The lead's current situation
Problem: The problem you can help solve
Implication: The negative impact the problem will cause to the prospect
Need-payoff: The importance of implementing your solution
Asking questions about these points removes much of the ambiguity around the prospects' environment. It'll also help you, the sales rep, identify potential for finding common ground.
What are lead qualification frameworks?
A lead qualification framework is a formalised set of parameters that a company uses to determine which leads to qualify. They involve matching up the information you find out about the lead and ranking it based on the criteria that the framework focuses on. For example, if you're choosing the BANT framework, the way you qualify your leads will be based on how well they rank up against each other in the criteria mentioned by the framework.
There is no shortage of frameworks to use in lead qualification. The most popular are…
BANT
Developed by IBM in the 60s, this framework is one of the most popular qualification techniques.
BANT is the simplest and quickest way to qualify or disqualify leads. This framework is meant to give the salesperson the ability to identify how well the prospect matches IBM-set parameters as the most basic and vital characteristics.
BANT focuses on characteristics such as…
Budget
Authority
Needs
Time
CHAMP
This framework focuses a lot more on the challenges, pain points, and needs of your prospect. It was developed in direct response to BANT by InsightSquared.
The strength of this framework is that it focuses a lot more on addressing how your product or service can cater to the prospect's requirements.  
CHAMP takes into account the following characteristics…
Challenges
Authority
Money
Prioritisation
GPCTBA/C&I
This framework, developed by HubSpot, is, in essence, a more advanced version of the BANT framework. It focuses more on customer needs.
The GPCTBA/C&I framework proposes the following characteristics for lead qualification…
Goals
Plans
Challenges
Timeline
Budget
Authority
Negative consequences
Positive Implications
ANUM
Ken Krogue developed this framework as a slightly altered version of the BANT framework, however, he chose to focus more on authority and urgency.
The characteristics that Krogue has outlined for ANUM are…
Authority
Need
Urgency
Money
Lead Qualification process: the checklist
Taking the first steps towards efficient lead qualification can be scary, but don't worry.
We have a handy checklist that you can refer to during the early stages.
Take note of the lead's card in your CRM system. First and foremost, you should understand your prospects and whether their characteristics match those of your buyer persona. The main goal is to analyse your target audience and segment leads.
Identify issues and propose solutions. Determine the pain points of your potential customers and whether your products can benefit them. This can be done through checking out the LinkedIn pages of your prospects and their colleagues to find out what challenges they are facing. Alternatively, you can ask qualifying SPIN-based questions during outreach.
Determine who makes decisions. Find the stakeholders who are involved in purchasing decisions. Knowing them will assist you in generating buy-in.
NetHunt CRM allows you to view all the members of the same company that you have added to your database for ease. If the prospect in question is the only one that you have added to your database, you could get more information on who the decision makers are through LinkedIn or the prospects companies website.
Discover what your leads know about your business. Understanding your audience requires understanding your market position. To achieve this, track prospect interactions with your business. See whether they have interacted with any webforms, replied to emails, or engaged in any other way.
Utilise SPIN-based questions to gain the most insight possible into the prospects environment.
Select a lead qualification framework that suits you best.
---
Congratulations!
With the help of this article and the checklist above, you now know more about how to qualify your leads and distribute your sales team's time and energy more efficiently.
Now, all that needs to be done is to get to work!
Table of Contents
Crack the sales formula with CRM Lab
Twice a month, receive actionable CRM content to your inbox.
Join the
Telegram channel NetHunt CRM
All about CRM and B2B sales.
Join