Congratulations, small business owner… you're finally following your dream. No matter which line of business you're in, you're making everyone proud, working hard every day to fulfil a societal need, and not to mention you look so smart in your grown-up office clothes. You're growing your small business.
Growth, however, comes with its own challenges. One of these challenges is that the good ol' spreadsheet can no longer keep up with your business processes. It's understandable, considering spreadsheets are notoriously bad at scaling.
Still, that means it's time for you to upgrade your tech stack. There's no better place to start than implementing a small business CRM.
There are many small business CRM solutions on the market. Not all of them would be the right fit for your small business. We took it upon ourselves to create this list of the best CRM for small businesses.
The list contains what we think are the systems most worthy of being called the best small business CRM.
We also threw in some necessary information that we think you, as a small business owner, might find helpful on the topic of CRM for small businesses.
What is CRM for small businesses?
A CRM system is a single suite of software that aims to tie together a company's business processes. In a way, it's an organised repository of customer data with all the necessary tools to manage it is a part of the suite.
A CRM for small businesses is the number one tool to optimise their work.
By automating specific processes, a small business CRM system can make the work of salespeople and lead generation managers easier. Tools like email campaign management make it easier for marketing and development teams to send out updates to customers.
Why does a small business need a CRM?
In the modern world, the market is constantly in a state of fierce competition. Personalisation, effective communication, and instant support are essential for businesses to survive.
Implementing these seems demanding and challenging for many small business owners, and rightly so. With the right tools, these processes can be simplified significantly.
This is where a CRM for small businesses comes into play, providing small businesses with the functionality needed to keep up with the fast-paced market. Small businesses significantly benefit from having a CRM system. Implementing it frees up a lot of much-needed time and energy from employees.
Some benefits of a CRM for small business are…
And so much more! If you want to see more benefits that a CRM for small business brings to your business, check out this article on our blog!
What are the signs that you need a CRM for a small business?
You might need to look into getting a CRM, if you start noticing the following problems arise within your business…
You find it hard to keep up with the influx of leads
You find it difficult to locate your data
You've got more valuable, long-term accounts to manage
Your teams find it difficult to cooperate
Your customer support teams can't provide reliable service to your customers
It's getting more and more challenging to scale your business
These are prime symptoms that your small business is getting too big to perform effectively without a small business CRM. Start looking into getting one.
How to choose a CRM for a small business: Key features of a small business CRM
You might be asking yourself, "How do I choose a CRM for my small business?"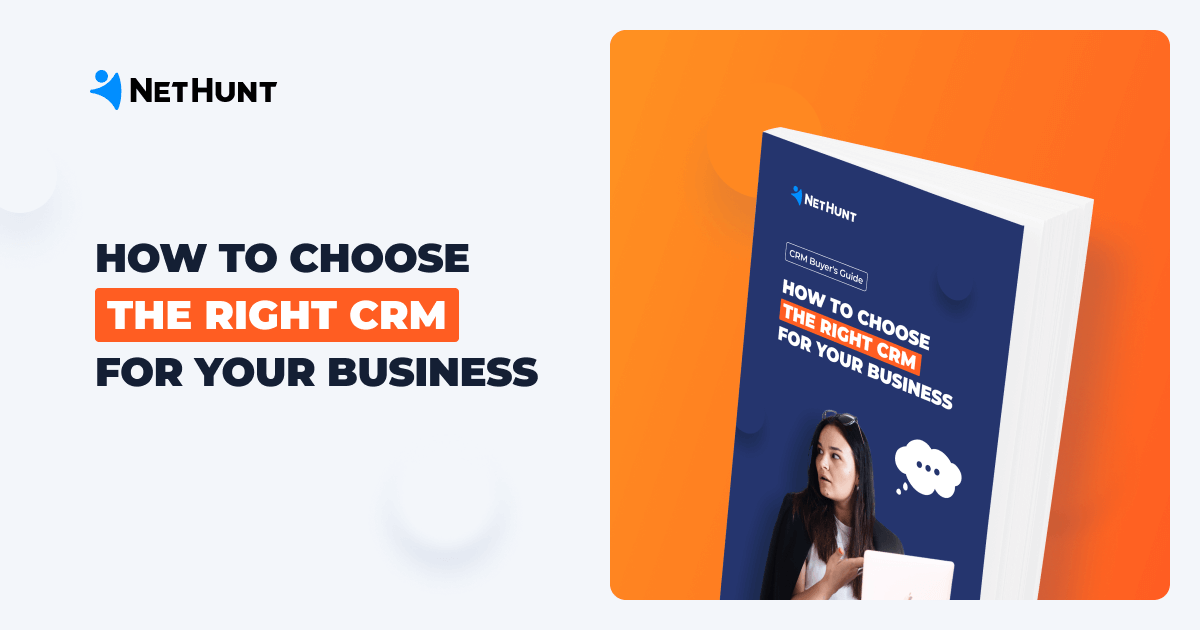 Many CRMs for small business are available on the market with different features that are streamlined towards specific industries.
Some features you should be looking for in a CRM system for small businesses are…
If you want the complete list, be sure to check out our blog for an article on the 14 key CRM features.
Besides...
A CRM for small business needs to be easy-to-use because you don't want to use something that's hard to use. In the absence of dedicated training sessions and a developed, formal working culture, it needs to be easy for new staff to pick up and start using as well. Basically, you want to have the feeling of knowing what you're doing… when you don't necessarily know what you're doing.
A CRM for small business needs to be flexible and scalable. Flexibility is provided when a system bends to fit your existing business processes, embedding those processes within itself. A lot of modern systems are modular and you can build your own dashboards and processes. Scalability comes from additional features, native or third-party, that you can add as your business grows.
A CRM for small business needs to be cloud-based. Most modern CRM systems are cloud-based. Some of the best ones integrate directly with your Gmail inbox to bring full CRM functionality to a tool that is an important part of your business. When you've not got an office space for big clunky servers, which are expensive to run, you should choose a cloud-based CRM for small business.
The 8 best CRM systems for small businesses
Below, we've compiled a list of the 8 best small business CRMs that offer all (or the majority) of the aforementioned features.
NetHunt CRM
NetHunt CRM is a true Gmail-integrated CRM suite.
It's more than just a button in the inbox or a sidebar add-on. It's a part of your Gmail suite. NetHunt CRM is a fantastic solution because it brings all of the lead generation, prospecting, nurturing, and conversion processes into a single tab with a comfortable and intuitive interface.
NetHunt CRM is a great CRM for small businesses because it maintains a smooth learning curve, a straightforward implementation process, and a wide range of customisations. It offers a robust selection of functions that will turn your Gmail into a powerhouse.
Try NetHunt CRM for your small business — the first 14 days are on us 👀
Pros of NetHunt CRM…
✅ A simple, easy-to-understand, yet customisable interface lets you organise your data the way you want it.
✅ Customisable customer cards and fields, including the ability to create required fields. This ensures data completeness, allowing you to focus on the more essential processes.
✅ Robust workflow automation functionality, including email campaign management, leaves more time for your teams to focus on tasks that require human attention. No coding is required.
✅ Highly customisable views (filters) that allow you to visualise your data entries, workflows, and pipelines in a comfortable and relevant way to your business.
✅ A large variety of integrations, tying together your tech stack.
Cons of NetHunt CRM…
❌ The built-in reporting functionality, although still providing great capabilities, isn't as in-depth as others on this list. However, the integration with Google Looker Studio takes care of this quickly.
❌ NetHunt CRM is on the pricier side of this list.
💰 NetHunt CRM is priced starting at $24 per user/ month.
To sign up and start your 14-day free trial, visit the NetHunt website, or click on the NetHunt logo in the top left of your browser.
Pipedrive CRM
Pipedrive CRM is, by design, a CRM for small businesses, with an interface that is remarkably easy to get your head around. Pipedrive requires minimal onboarding, allowing you to quickly add deals and move them through the pipeline. Pipedrive CRM visualises your data as a drag-and-drop pipeline. Easy.
Pros of Pipedrive CRM...
✅ A high degree of customisability allows you to structure your database how you want to.
✅ A wide variety of functions for most business-related processes, starting with generating a lead and going down the pipeline.
✅ The ability to access this small business CRM from mobile devices allows higher accessibility.
✅ An attractive price and a wide selection of plans, packed with features allow you to only pay for the features you need.
Cons of Pipedrive CRM…
❌ Limited customisable fields and reporting on most payment plans.
❌ No phone support other than for the highest tier plan.
❌ No free plan.
💰 Pipedrive CRM's pricing starts at $12.50.
To sign up, visit the Pipedrive CRM website.
Bigin by Zoho
Bigin is the small-business version of Zoho, a small business CRM system that's been one of the market leaders all the way since the 90s.
This CRM system offers a simplified version of all the tools that made Zoho so great. The developers of Bigin have done lots of work to remove most of the hurdles associated with CRMs.
Bigin is built around a visualised pipeline, transforming business processes into drag-and-drop activities as you move your prospects down the pipeline.
Pros of Bigin by Zoho…
✅ Amazing customer success experience
✅ Incredibly easy setup and implementation
✅ Amazing lead tracking functionality
✅ Comes at a great price point
Cons of Bigin by Zoho…
❌ The power difference between Bigin and Zoho CRM is quite significant
❌ Some features can't be removed completely for user, meaning hiding and masking work is needed when setting up databases
💰 Bigin starts at 9$ per user/ month.
You can find it by heading to the Bigin website.
Insightly
Insightly is a CRM suite that greatly benefits small businesses. Their main goal is to bring all work processes of a small business together under one CRM system. Insightly is very modular, meaning it comes with a high degree of customisation.
The dashboard is shown through a comfortable drag-and-drop interface. Insightly comes with a great suite of product management tools and other necessary CRM functionality.
Insightly is a great CRM for small businesses because it integrates with the most essential tools from the tech stack, has a low entry barrier, and scales incredibly well with time.
Pros of Insightly…
✅ Good scaling
✅ Low entry barrier
✅ Integration with a wide variety of tools such as Quickbooks
✅ It has a decent degree of customisation, allowing for flexibility
✅ A mobile application
Cons…
❌ Insightly seems to be priced on the steeper side compared to other CRMs
❌ Support is lacklustre; smaller clients are made to wait for extended periods of time
❌ Filters lack customisation options
💰 Insightly is priced at $29 per user/ month.
To give it a try go to the Insightly website.
Monday CRM
Monday is a sales CRM that attempts to centralise all of a business' sales-related operations and tools within a single place, Monday Work OS.
Monday CRM is easy to use, with an intuitive user interface and a high degree of customisation. It's straightforward to implement. This is what makes it one of the best CRM for small businesses to look out for when deciding on the right CRM system for you.
Pros of Monday CRM…
✅ Workflow automation
✅ Customisable dashboards
✅ Performance tracking capabilities
✅ Email sync
Cons of Monday CRM…
❌ Dashboard customisation options might not suit all businesses
❌ Some complaints also pointed out issues with implementation
❌ There is no automatic duplicate checking available
💰 The prices for Monday CRM start at $10 per user/ month.
To purchase it go to the Monday CRM website.
HubSpot
HubSpot is a CRM solution that is accessible and intuitive to use. With many integrations available to use with the rest of your tech stack, HubSpot offers a free plan to use with a low entry-level price for the product.
Pros of HubSpot…
✅ Sales Hub, with sales automations and prospecting tools
✅ Marketing Hub, packed with SEO tools and email campaign tools
✅ Customer Support Hub with the necessary tools for you to assist your customers
✅ CMS Hub with lead generation, content creation, and strategy creation suite
✅ An Operation Hub, providing automation capabilities and other operational functions
Cons of HubSpot…
❌ Each of these hubs comes at its own price tag as add-ons, rather than inclusions
❌ There is a limited level of customisation
❌ The learning curve is relatively steep for a CRM
❌ The integration with Gmail is only surface level
❌ Creating contacts inside each deal takes a long time
💰 HubSpot costs an average of $50 a month. However, pricing differs from company to company.
Freshworks CRM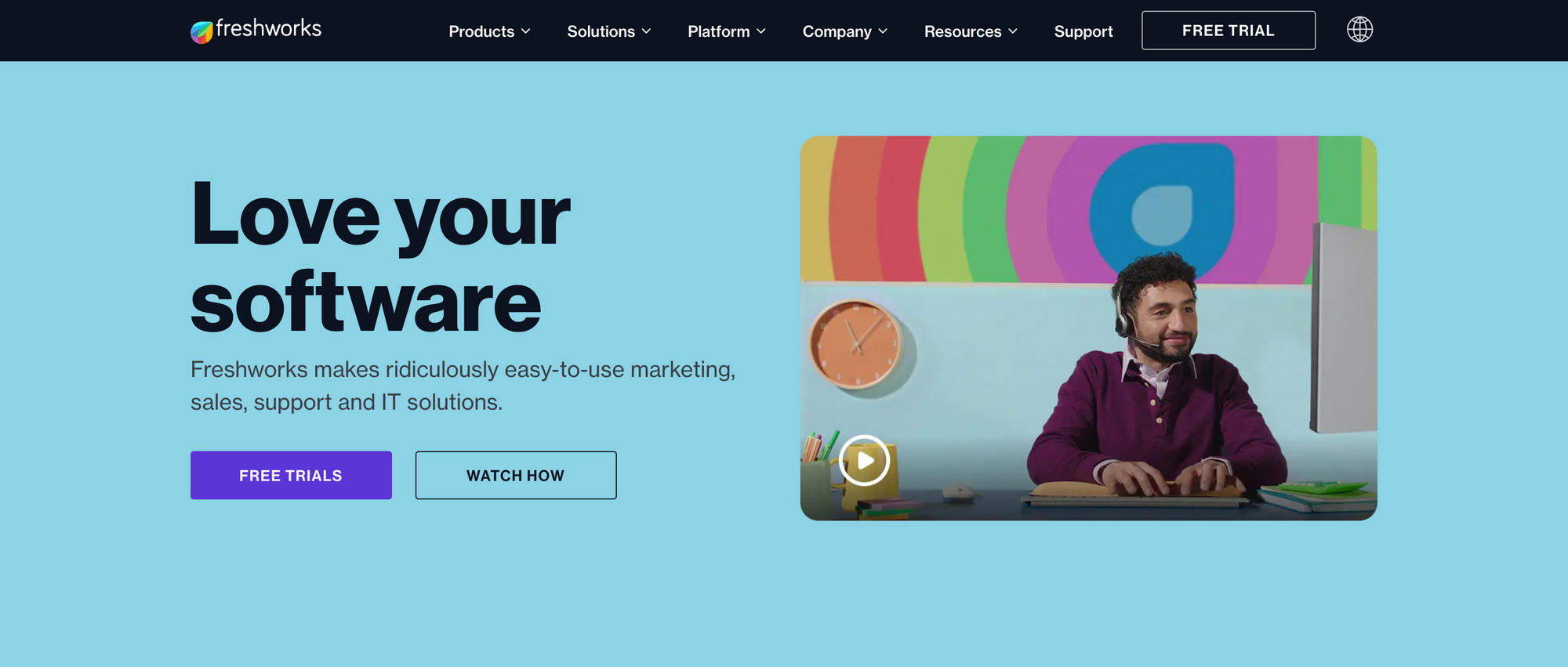 Freshworks is a CRM for small businesses that offers everything needed to provide a good-quality customer experience to any-sized business.
Pros of Freshworks CRM…
✅ Wide variety of available tools for the HR and IT service departments
✅ Filters for accessible data sorting and collection
✅ The Freshchat integration means businesses provide customer support as fast as possible
Cons…
❌ Automated workflows are challenging to set up
❌ Issues with email deliverability due to spam-filtering
❌ Customer support sometimes takes long to answer
💰 Freshworks CRM pricing starts at $15/ per month/ user.
If you want to give it a try, be sure to head to their website.
noCRM
noCRM is not a traditional CRM system. It can create leads "in seconds" and efficiently manage the entire sales funnel. noCRM was built as a small business CRM system, offering all of the tools small businesses need through the most accessible presentation. This makes it one of the prime candidates for small businesses to implement when looking for a small business CRM solution.

Pros of noCRM…
✅ Various integrations
✅ Customisable interface
✅ The ability to build sales pipelines
✅ An activities loop for SDRs to stay on track
Cons of noCRM…
❌ noCRM doesn't scale that well, so once the business gets larger the CRM might struggle with the volumes or tasks required of it
❌ Lacks a variety of features that competitors seem to provide as granted
💰 noCRM starts at $10 per user/ month.
It can be found on their website.
Less Annoying CRM
Often, small businesses don't need a high-tech CRM, filled with a million features that will never be used. Instead, they need something, well, less annoying. This is where Less Annoying CRM comes in. Clearly making its motivations known from the door, or rather, from the name, this small business CRM comes pre-packed with all the features that you might need to effectively manage your customer database.

Pros of Less Annoying CRM…
✅ Fast and detailed customer support
✅ Intuitive interface
✅ Great implementation for mobile users
Cons of Less Annoying CRM…
❌ There's a steep learning curve with the interface
❌ The reporting functionality is rather basic
💰 Less Annoying CRM starts at $10 per user/ month.
It can be found on their website.
Copper CRM
Copper is a CRM for small businesses that integrates with Google Workspace. It's a powerful tool for small businesses that use the Google Workspace as their primary work environment. Copper CRM comes packaged with tools you need to build long-lasting customer relationships, and hopefully stimulate the growth of your business.

Pros of Copper CRM...
✅ Great integration with Gmail and the Google Workspace
✅ Easy to use with a highly intuitive interface
✅ Great customer support
Cons of Copper CRM…
❌ In case of a mistake with a data input, multiple systems can spin out of control
❌ No drip email campaign automation
❌ Customer support is sometimes slow
💰 Copper CRM starts at $23.
It can be found on their website.
---
And there you have it - a list of eight of the best CRM systems for small businesses. You should remember that most of these CRM systems offer a free trial, allowing you to see if it's the best fit for you.
If you want to know what criteria you should follow when picking a CRM system and how to choose the best one for your business check out our guide!
And if you're confused what you should choose, ERP vs CRM, learn the difference between the two in our article.
Table of Contents
Crack the sales formula with CRM Lab
Twice a month, receive actionable CRM content to your inbox.
Join the
Telegram channel NetHunt CRM
All about CRM and B2B sales.
Join