Feel your territories are out of balance? Here's how to target right customers at the right time.
Success always starts with a plan. A territory plan is a blueprint that explains how you'll turn the region into a profitable venture for your business. Developing a comprehensive sales territory plan helps steer your business to success.
It's commonplace for a sales manager to learn how unbalanced their company's sales territories are. When territories are out of balance, too much effort is spent on low-potential customers and too little is spent on high potential ones - sending possible profits up in smoke.
Effective territory management is one of the most prominent pillars of sales success. Creating a balanced sales territory plan ensures you target the right customers at the right time; assigning the right accounts to the right reps. This allows you to allocate sales expenditure and effort on exactly what can help you achieve maximum success.
What is a sales territory plan?
First things first, sales territory planning certainly refers to a geographical area. However, it is based on other factors such as...
Account types - categorized by different criteria such as sales potential or sales funnel stage (e.g. leads or opportunities).
Audience segments - typically defined by characteristics like industry type or products sold.
Managers aim to set proper sales quotas, define strategic territories, decrease costs, and provide their team with effective processes to improve efficiency. This is all included in sales territory management.
How do you know where your sales team should focus their time if you don't have proper territory planning in place? Are there other untapped regions or verticals that should be getting more attention? How do you measure year-on-year performance in particular territories or verticals, without knowing where to measure in the first place?
The importance of developing a sales territory plan is clear; having a massive impact on your performance. With a clearly defined territory, sales teams work strategically to address the needs of their assigned market.
A strong sales territory plan allows you to:
Ensure your sales team's efforts are focused on the who, what, when, where and why that offers the strongest return on investment;
Align salespeople to regions, segments, and/ or verticals best suited to their background and expertise;
Collaborate with company teams to drive corporate objectives;
Optimise your customers' experience by aligning accounts with sales teams that know their unique challenges and opportunities;
Set the stage for strong, long-term customer and market relationships.
Sounds great. But can we make it happen?
Check out this one-stop resource for learning how to set up your sales territory plan and increase your sales territory quotas at a higher rate. Simply follow these five steps:
Step 1: Analyze your market and segment customers
The first thing to do when creating your sales territory plan is identify your business environment. Start with researching what is going on in your territory or vertical market.
Figure out which approach you can use to drive the most sales.
Discover key trends in your industry, customers' needs, and their pain points.
Understand what is unique to your business; why your prospects need to buy. Prioritize these reasons based on your market's demands.
Analyze the territory and review the current market situation before projecting future goals.
Learn why your market needs your product category to evaluate your competition. Think about the reasons your customers would choose your product instead. It's useful to see a competitor's product features compared to your own. Keep the following criteria in mind to evaluate the competition:
Positioning
Pricing
Reviews and testimonials
Use-Cases
The crucial step towards creating a sales territory plan is customers segmentation. Look deep into your clients' businesses, their challenges, and unique traits they hold. It's also important to identify what makes them unique and what sets them apart from each other.
Ask yourself...
Who are your most lucrative prospects and customers defined by industry, region, and product?  What type of customers are best to approach?
What do these customers have in common?
What industries and territories do you have success with? Which ones have you been less successful in?
Who are your top customers?
Which clients pain points can you solve?
Answer these questions and split your clients up into those who require more effort and those who require less. It's best to learn the reason behind your clients' purchases.
With this, you'll be able to understand the best approach to reach out to different types of customers; driving your sales up.
Step 2: Perform a SWOT analysis
The next step to identify your position in the market is to conduct a SWOT analysis. Whether you're building a startup or guiding an existing company, a SWOT analysis is an incredibly simple, yet powerful tool to help you develop your business strategy.
A SWOT analysis helps you to define the strengths and weaknesses of your company and to determine the opportunities and threats in your sphere. With this in mind, you'll be able to prioritise the work that most needs to be done to grow your business.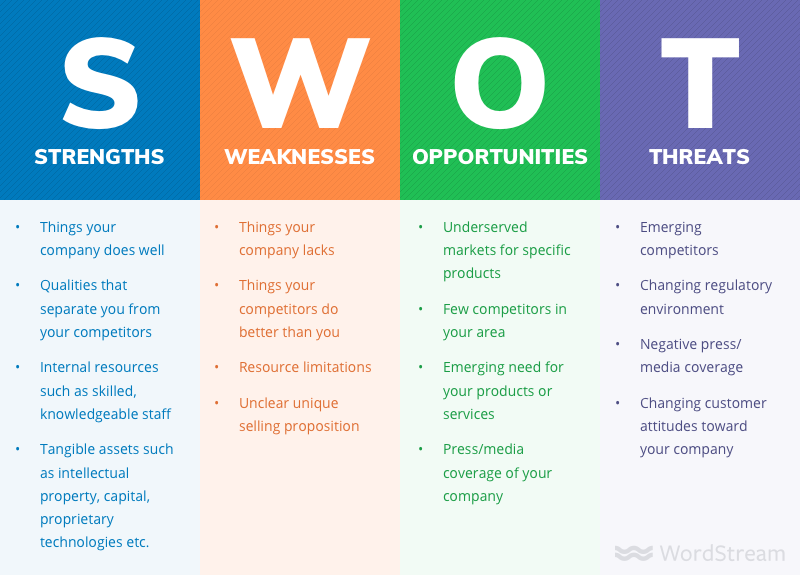 Strengths describe what your company excels in and what separates it from the competition. You want to take advantage of what you do well and build on it.
Ask yourself...
What does your sales team do better than anyone else in the market?
What strength does your product offer that competitors don't?
Do you have a unique sales process, product, or services that set you apart?
Understanding your  strengths helps you to decide which sales reps to assign to which territory.
Weaknesses are the areas in which your sales team needs to improve to remain, and become more, competitive.
What do your current customers see as a weakness in your sales style, product, or service?
When you look at your lost sales report, why did a prospect choose not to buy from you?
Is there a particular stage of the sales process where leads bottleneck or lose interest?
Opportunities are the external factors that could give your company a competitive advantage. Opportunity is all around us, but in the hustle of day-to-day business we tend to walk right past it. It can come when a competitor stumbles, or when a new technology or  demand appears.
What do you see as a good opportunity that could strengthen your organization?
In which segment of your market are clients consistently making purchases?
What territories are under-served, are there any untapped markets with potential profits?
Threats refer to factors that can negatively impact your sales. You should consider every potential threat in every territory.
What obstacles do you face in production, sales, the workplace environment, and other areas of your company?
Are there any competitors that beat you in terms of price and quality?
What changes in your industry should you be wary of?
Are there any practices that your sales team employs that could hinder success in the future?
Whether you're doing a SWOT analysis for a small business or a large corporation, you'll always gain a more comprehensive understanding of where you are in the market today. You may think that you already know everything that you need to do to succeed, but a SWOT analysis enables you to look at your business in new ways.
Step 3: Set growth goals and establish targets
Obviously, you want to drive more sales and strive for greater success. But without a solid plan detailing how to achieve a tangible set of goals, it's unlikely your team will hit their targets.
Setting sales goals for your team is not easy; sometimes it can feel like taking a shot in the dark. Many factors, both internal and external, come into play that can help or hinder your ability to hit targets. In order to set targets for your team, you first need to understand how to get there.
Start with what you know. Even if your business only has one year of experience under its belt, you have a general idea of how the next 12 months are going to be.
Take a look at the number of new customers who bought your product or service in the past year. Looking backwards is a good way to get a baseline idea of where you want to go in the future. Ask yourself the right questions.
How much money did they bring in on average?
How quickly is your customer base growing?
What's your best-case scenario? And worst?
Set smarter targets to achieve bigger goals. Rather than telling your rep that they need to close 50 deals this year to meet their quota, set them the goal of making 10 calls this week. There is nothing more frustrating than feeling out of control; empower your team to take charge.
Setting achievable goals that your sales team can control is pivotal to boosting motivation and confidence. This also helps keep your team on track throughout the year, enabling you to monitor their progress more effectively.
There are a number of ways to review customizable data using CRM software. This can help you target areas of interest and quickly identify opportunities to help your sales team decide where to dedicate their time and resources. CRM can automatically capture all your sales data and put it to work, assisting your team in scoring their goal.
All your goals should be SMART - Specific, Measurable, Achievable, Relevant, and Time-Based. Check out our video guide about how to set SMART sales goals.
Step 4: Develop your strategy map
With  your sales territories, targets, and goals defined, it's time to create a strategy to put everything in place. An effective strategy empowers sales reps to do their best work, providing your customers with value at every step of the customer journey. By establishing a strategy, you can assign your team members' skills and talents to specific territories.
A good way to build a sales strategy is to use the GSOT method: Goals, Strategy, Objectives, and Tactics.
A strategy map should be designed from the top down, starting from where you want to be. Start with a financial ideal; work your way to figure out how you can get there.
You should consider your position from these four perspectives, when developing a strategy map for your business:
1. Financial. For larger companies, it could be a goal aiming to increase value. For smaller companies, it could be something as simple as acquiring new customers.
2. Customer. In order to meet a financial goal, you need a customer value proposition, laying out how your product or service is different from the competition.
3. Internal. What kind of work needs to be done, and how many team members are needed to do it? Where do you need to improve? Which sales reps have the skills or connections you need?
4. Learning and Growth. Instead of hiring a bunch of people and then finding things for them to do, hire your workforce as you need them.
Step 5: Review and Track Your Results
Last, but not least, you need to regularly measure success in each territory and keep track of key metrics.
Regular metric reviews make it clear if a territory division brings favourable results or not. Like all parts of a strategic sales plan, a sales territory map's performance should be continuously analysed. Using sales performance tools, you can automate the sales territory mapping process which speeds it up and lightens the loads for your team.
You should use your plan as a guide to producing the intended results. This gives your sales reps clearer visibility of territory performance and the ability to proactively make changes before problems derail performance. With a plan in place, territories are always optimized, whilst performance and ROI are maximized.
Use CRM to create an effective sales territory plan.
CRM makes your sales process simpler by providing you with ready-made email templates, visualizing your sales funnel, and even automating your follow-up sequence. A proper CRM-system helps teams to stay up-to-date on customer needs and build effective relationships with clients. It helps you to schedule follow-ups more effectively, plugging any lead leak and decluttering any bottlenecks.
Whether your team consists of twenty people or just two people, CRM gives them the fuel to convert more.
Are you interested in implementing a CRM system to enhance your small business? Sign up for NetHunt CRM for free and find out how easy it is!
Table of Contents
Crack the sales formula with CRM Lab
Twice a month, receive actionable CRM content to your inbox.
Join the
Telegram channel NetHunt CRM
All about CRM and B2B sales.
Join