Black Friday SalesHUNT:
50% Off All Plans
Celebrate the holidays with NetHunt — powerful CRM in Gmail. Save 50% and make your sales team close deals faster this season!

Use this COUPON on checkout from Nov 29 till Dec 2 Promocode: BLACKNH
Get NetHunt with 50% Off
Maximize Gains from Your Sales
Native-like Gmail & GSuite Integration
NetHunt CRM turns Gmail inbox into a sales tool that helps you manage sales pipeline and deals. Collect, qualify, and convert leads in a familiar UI. Connect beloved Google apps - Calendar, Hangouts, etc - in a single app.
Applicable for Any Industry
From a tech startup to real estate — we fit your shoes. NetHunt brings extensive customization capabilities so that you could adjust every CRM aspect you need: from folders and permissions to client cards and pipelines.
Personalized Outreach Campaigns
Filter leads by stage, priority, deal value, and send bulk personalized messages. Gain insights into email performance with open and click tracking, link emails with the client's records and see the entire history of communication.
Synchronized Sales & Marketing
Create a unified ecosystem for the whole company to be on the same page. Drive extra revenue by evaluating the deals earlier, defining the best-performing marketing channels, and adjusting promotion strategies.
Save 50% and make your sales team close deals faster with NetHunt CRM! Use this COUPON on checkout from Nov 29 till Dec 2 Promocode: BLACKNH
Get NetHunt with 50% Off
Arm Your Salespeople With Insanely Customizable CRM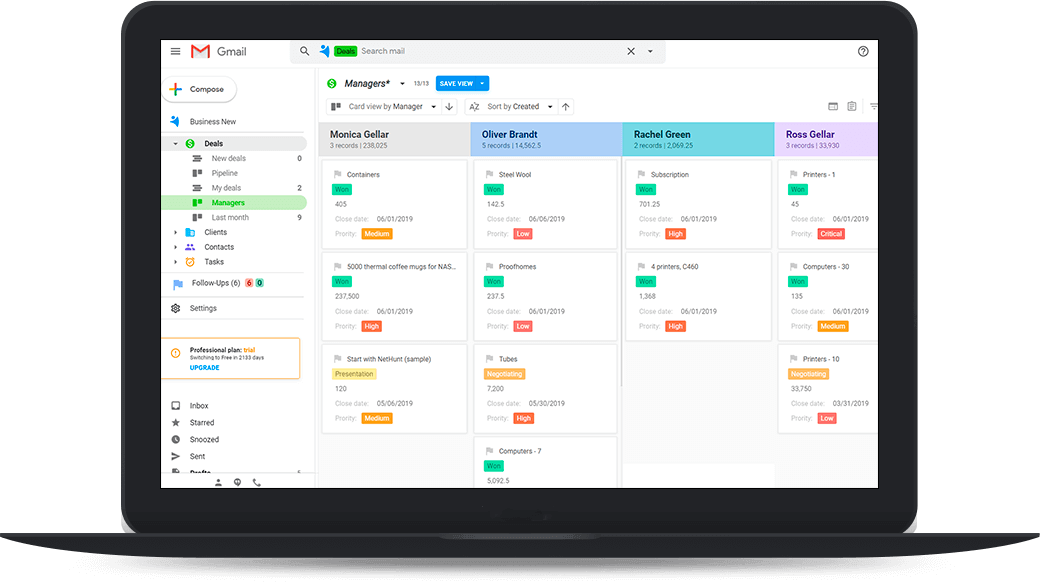 Start Your Hunt for Reduced Prices
Professional
$ 24
$12
$ 30
$15
per user/month
Get NetHunt with 50% Off
Powerful sales automation tool right in your Gmail with all CRM essentials included. Requires minimum setup and is an excellent solution for growing teams.
Professional Plus
$ 28
$14
$ 34
$17
per user/month
Get NetHunt with 50% Off
Maximize your productivity with workflow automation. Save time on manual tasks, optimize sales process and upgrade team performance with advanced automation tools.
Enterprise
$ 48
$24
$ 60
$30
per user/month
Get NetHunt with 50% Off
Ultimate control, flexibility, and scalability. Make use of custom development to adjust NetHunt to your workflows, work with the team, send unlimited email campaigns.
Gear up Your Gmail and Make Big Things Happen
Start your free trial — fuel your startup growth with a CRM.
Get NetHunt with 50% Off