NetHunt - email marketing tool in Gmail
Personalize your email campaigns with client details and reach out to thousands of customers in a few minutes.
Meet CRM + Email campaigns in Gmail
7 easy steps to managing your email campaigns effectively.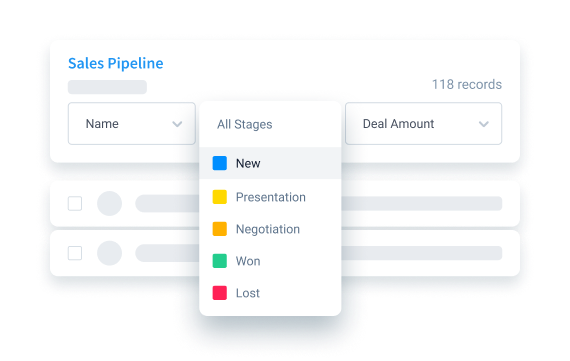 Segment your database
Use NetHunt Gmail CRM to filter, sort, and slice your contacts and subscribers in any way you need. Create multiple segments — they will be automatically updated with the new contacts that match your filters.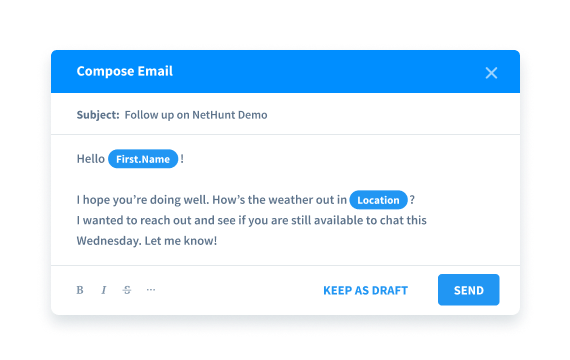 Compose and save email templates
Import, save, and share HTML templates or create new ones using native Gmail formatting. Personalize emails with subscriber's list membership, lifecycle stage, or any information in their contact records to automatically deliver the most relevant subject lines, content, and CTA's.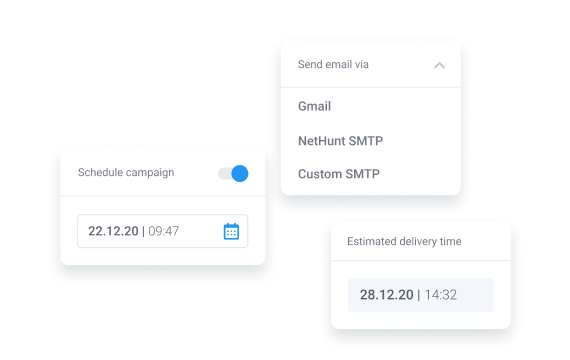 Send campaigns using Gmail or custom SMTP
Send small native email campaigns via Gmail or connect your account to a third-party SMTP service for larger campaign sizes.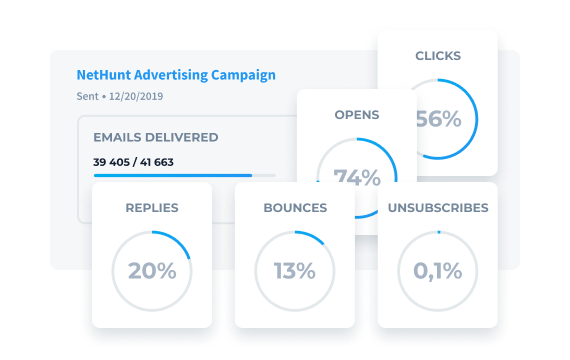 Track email campaign stats
Track all the key metrics to stay effective: email open rate and email click through rate; bounce rate, unsubscribes and spam reports. Know the second a lead opens your email and send a perfectly timed follow-up.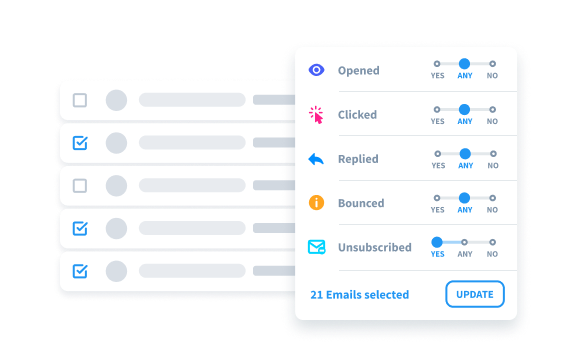 Mass update your contacts
Unsubscribe or update your contacts in bulk based on your email campaign results. You can assign them to a manager, move them to another pipeline stage, update their membership, etc.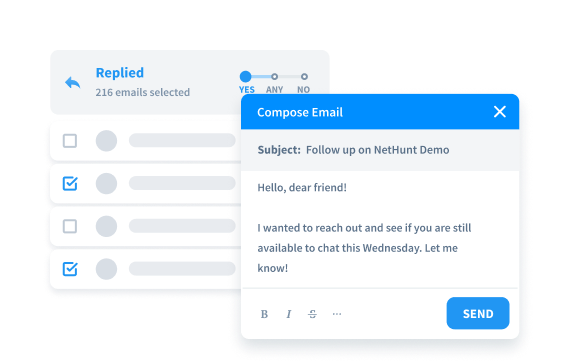 Send follow up email campaigns
Segment your contact lists based on the campaign results and send follow up campaigns to the most relevant leads in just a few clicks.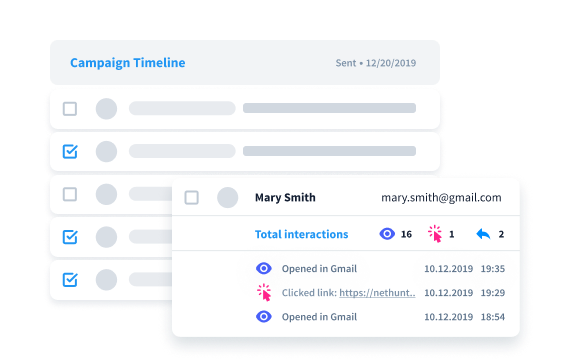 View history
See a lead's entire history at a glance: how many email campaigns were sent, which of the emails were opened/clicked/reported as spam, whether they completed the CTA, were moved down the funnel, etc.
NetHunt CRM email campaigns at a glance
See our bulk emailing feature in action
Why do you need a CRM with email marketing?
Aligned sales and marketing
Help both teams stay on the same page with a unified customer base and 360-degree overview on each lead. Map out the whole customer journey from inquiry to sale and track the effectiveness of all marketing channels.
Perfect segmentation
To craft the right message and target it to the right audience, use the CRM to segment mailing lists them based on demographics, industry, unique preferences, and campaign interactions.
Increased conversion rate
Make sure your leads are nurtured through several stages of marketing pipeline before passing them on to the sales team. This will ensure they're sales ready and increase sales conversion rate.
Get Started
No credit card required
Book a demo with us for a quick NetHunt walkthrough!
Book Demo
Pricing Options
Kick off with a 14-day trial for any plan.
Popular choice
$24
per user/month
Perfect for a freelancer or a team of two. Organize your customer base, build sales pipelines and send email campaigns.
Popular choice
$48
per user/month
Great fit for a small team.
Track team and business performance, collaborate with your colleagues, and automate your routine tasks.
Organize your database and send email campaigns with NetHunt CRM in Gmail
All the key features in a single system designed for sales and marketing teams.
Get Started
No credit card required