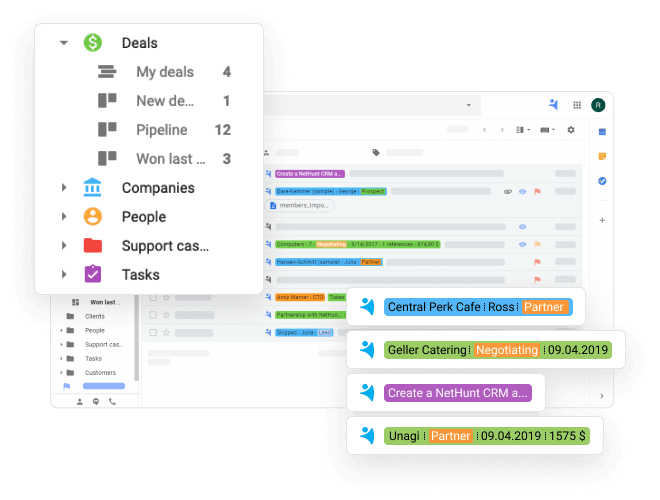 Why Does Photography Business Need a CRM?
The best way to monitor your work and predict results is to use NetHunt CRM for photographers. With this tool, you will be able to improve the effectiveness of your work at all its stages significantly, starting with the search for new customers and ending with the incoming calls from the landing page and paid orders.
The practical convenience of NetHunt CRM is the function of the contact list configuring allowing to separate business and personal communication. To organize the better processing of customers data like emails, phone numbers, and information about previous interactions with clients NetHunt integrates within Google applications family, in particular, Gmail mailing service. As most of the customers previously dealt with its interface, learning the NetHunt interface built in Gmail becomes to a big extent easier than starting learning how to use any other CRM system from scratch.
The user-friendly interface provided by NetHunt for photography business allows users quickly to immerse in the workflow process and maintain active communication with all the customers replying them and justifying their expectations. And finally, notifications sent to numerous company members right inside the NetHunt allow them to strengthen their collaboration and constantly remain on top of the latest news.