NetHunt CRM vs Streak
Which one is better for you?

A CRM for Gmail is a rare service. You can find many customer relationship management systems that partially integrate with Gmail as a sidebar or a toolbar. But there are little systems which completely live inside Gmail, not forcing you to use separate tabs to access the full spectrum of the CRM functionality. In fact, for a long time, there were no Streak alternatives available, making it almost the only CRM system of such type.
After we've released NetHunt CRM which follows the similar concept, we've been receiving a lot of questions about how NetHunt CRM and Streak stack up. It wouldn't be correct to ask "Which one is a better CRM for Gmail" as there are many differences in how the two systems work. Eventually, your choice might come down to personal preferences and tastes. So, the correct question is "What is the difference?".
| | NetHunt CRM | Streak |
| --- | --- | --- |
| Monthly subscription for 5 users with all features included | $150 | $295 |
| Unlimited folders | Yes | Yes |
| Unlimited records | 25 000 | Yes |
| Unlimited sharing | Yes | Yes |
| Unlimited custom fields | Yes | Yes |
| Saved views | Yes | Yes |
| Card-based UI | Yes | No |
| Advanced records search | Yes | No |
| Pipeline Stages aren't obligatory | Yes | No |
| Mass mailing | Yes | Yes |
| Email tracking | Yes | Yes |
| Automatic email filter | Yes | Yes |
| API Access | Yes | Yes |
| Import/Export capabilities | Yes | Yes |
| iOS App | Yes | Yes |
| Android App | Yes | Yes |
| | Get NetHunt CRM | |
Subscription plans
Both CRM systems have a similar approach to pricing and plans. NetHunt and Streak provide their users with a free plan and two paid ones (one for small business, another for enterprise customers). The free plan in both apps provides a rather similar set of features and limitations. The biggest difference is that in NetHunt CRM the Free plan is limited to up to 2 users, while in Streak the number of free users is unlimited, however, the number of boxes that can be shared between them is locked to 50.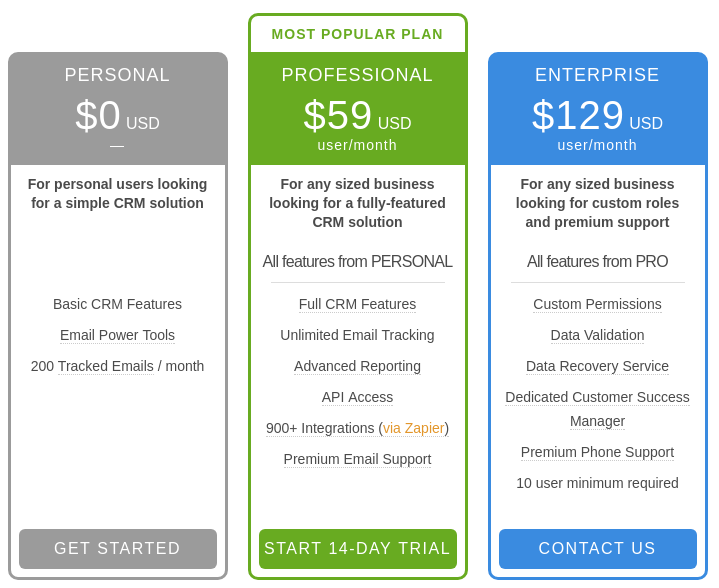 The paid plans work similarly. They unlock a number of advanced features and remove certain limitations (for instance, in paid plans you don't have a limit on the tracked emails). The key difference here is the price. While both systems provide an almost identical set of features, the most popular paid plans in Streak is $59 per user/month, while in NetHunt CRM it's $30 per user/month, basically making NetHunt CRM 2 times more affordable.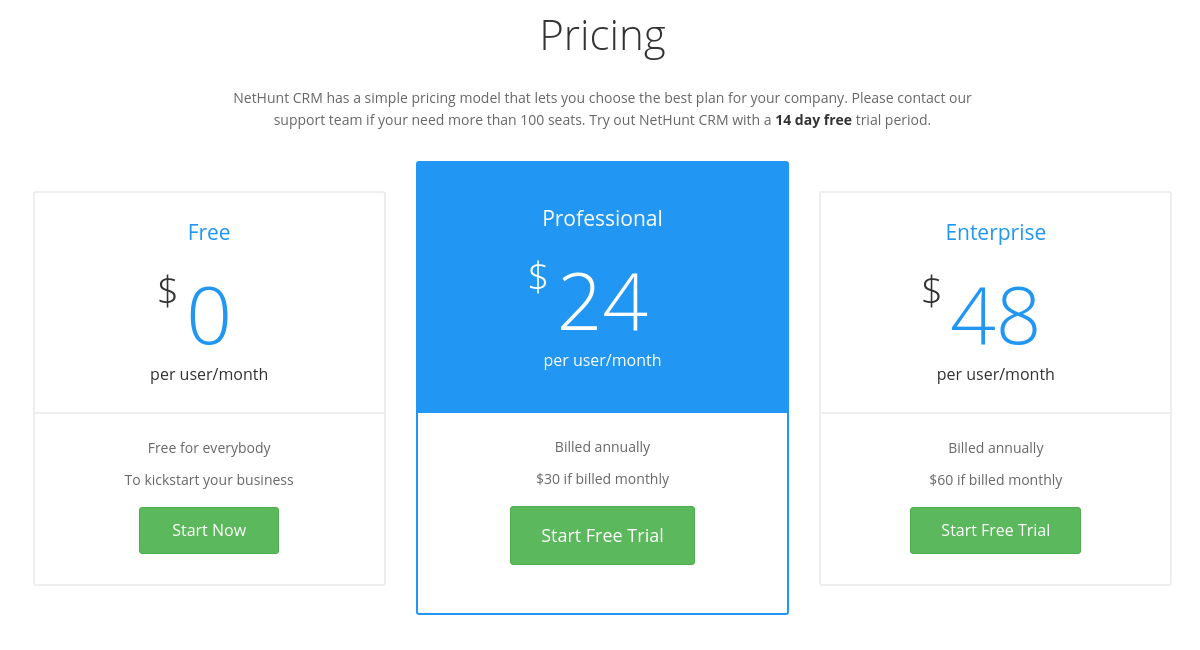 How it works
Both NetHunt CRM and Streak are browser extensions that add a number of CRM- and email-related features, change the layout of Gmail, and adjust Gmail so that emails can be shared between people, enabling them to work as a team. After integrating with Gmail, both services allow their users to create a digital representation of their business as a Pipeline (in Streak) or a Folder (in NetHunt CRM). Following this, you can turn emails into Boxes in Streak or Records in NetHunt, which are the client/case/deal cards.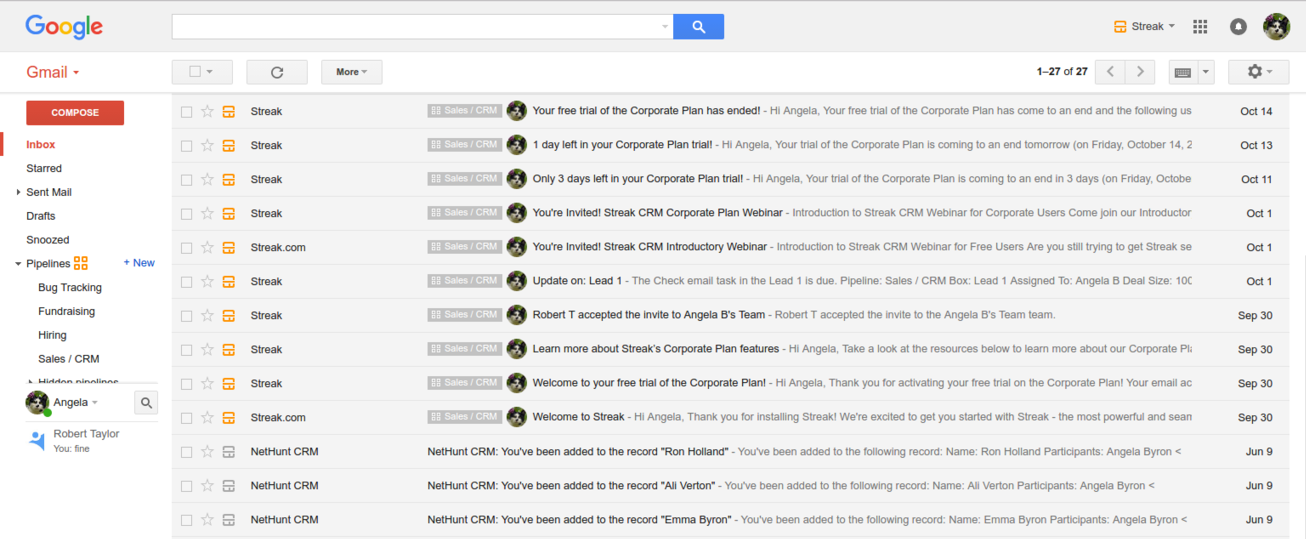 Here's where you might notice some differences. The Pipelines in Streak always have Stages, so they always represent a process. Stages in NetHunt are completely optional (yet, we advise you use them for standardized processes), leaning towards a sorted list and a grouped columns structure.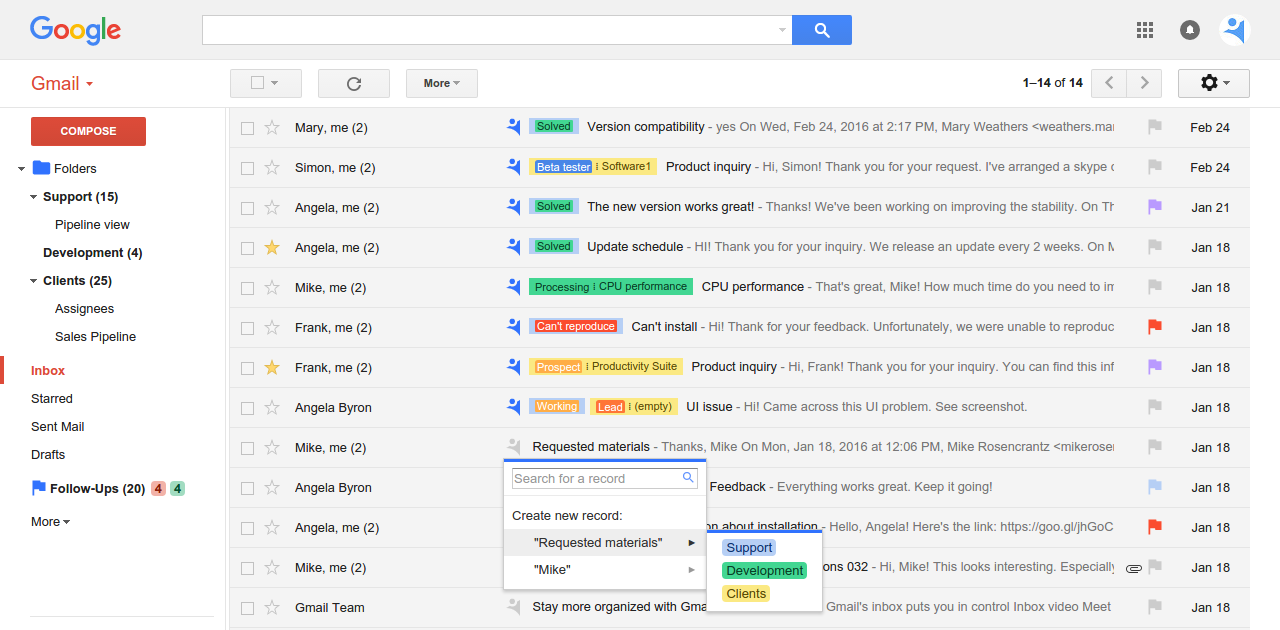 Records/Box management
The structure of Streak Pipelines is similar to spreadsheets: a table where Boxes are displayed as rows of data. Grouping is primarily by the pipeline stages. You can sort and group boxes by some other values, but the spreadsheet-like structure remains.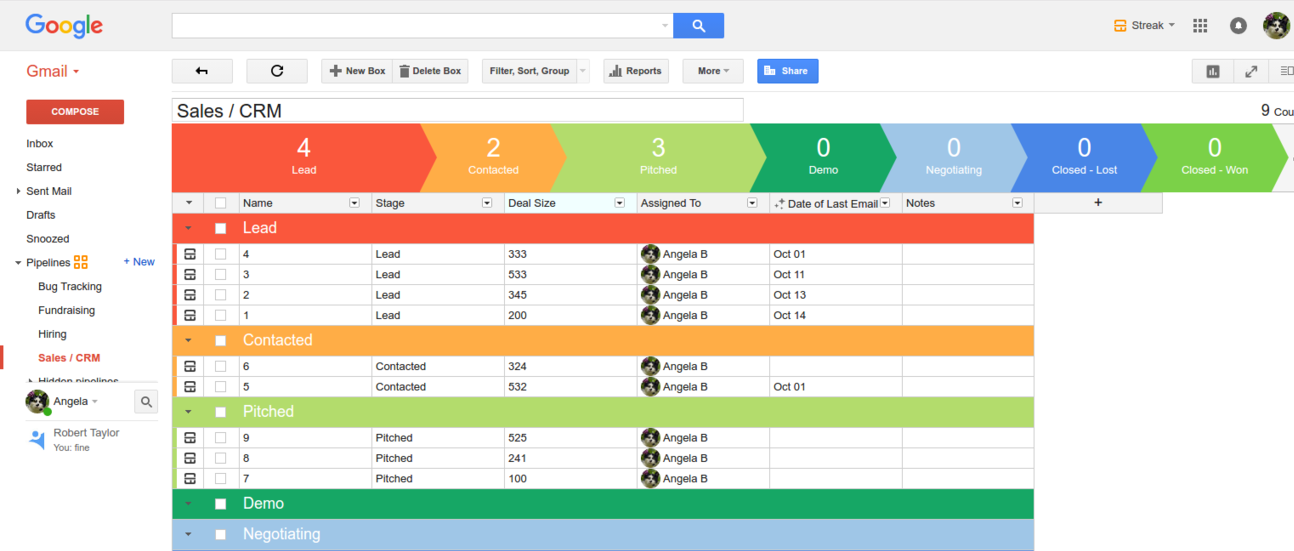 As there are no obligatory stages in NetHunt, records are first represented as a simple list. You can group this list by any fields that are available, representing records as card-based columns, which is closer to the traditional CRM pipeline.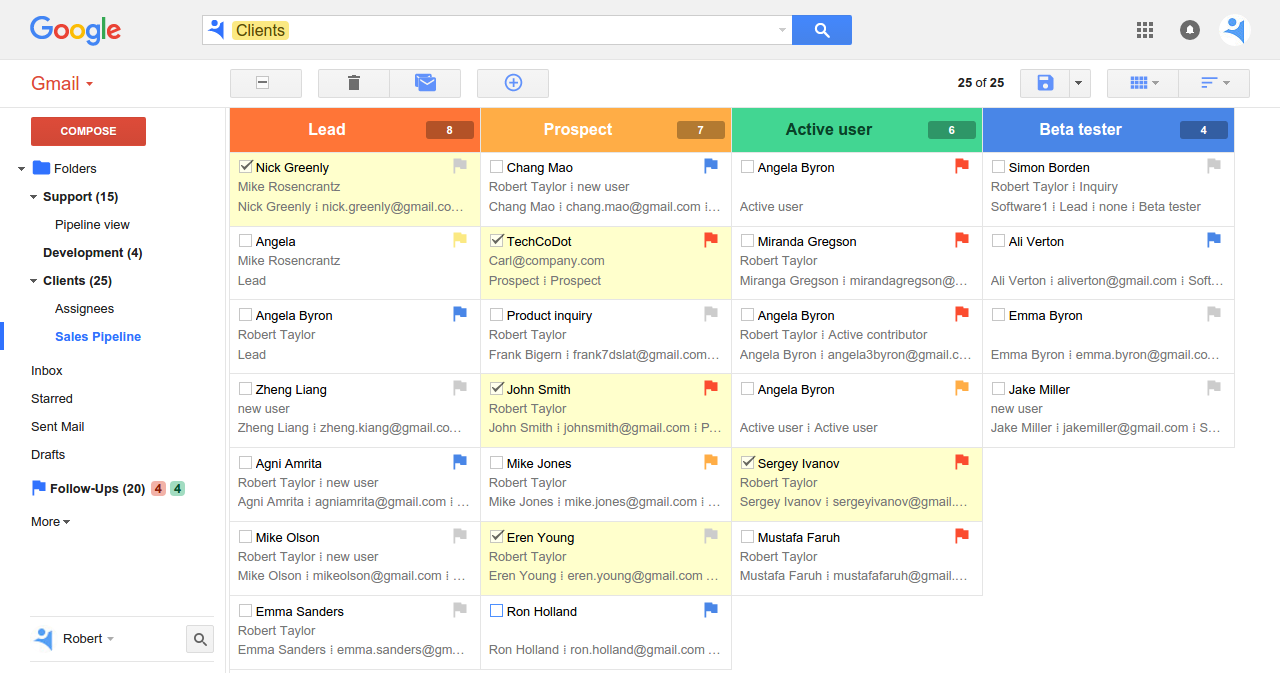 Features
This comparison is based mostly on the principles of how both services operate. Specific features aren't taken into consideration as that's something to be constantly added, updated, removed, or reworked. Both systems have similar features (as of February 1, 2018), although NetHunt might not have all of the features available in Streak. While the absence of a particular feature might be a deal-breaker for some, there are always workarounds and other solutions for your use cases.
NetHunt CRM as a Streak alternative?
While NetHunt CRM can be easily considered as an alternative to Streak, the choice does not come down to the set of available features. Consider your use cases, try both during the trial period and consider which one works for you better. Take into consideration how many teammates need access to the CRM data and if you plan on growing your team in the future. Try building your workflow in both systems and decide which one lets you reflect them more precisely and in more details. Eventually, don't hesitate to contact the support teams with your questions. They will help you explore the system better and adjust it to your business needs.
See how NetHunt CRM compares to other CRM system on a broader scale! NetHunt vs Streak vs ProsperWorks.