Christmas ornaments, Christmas trees, Christmas markets, Christmas dinner, Christmas gifts, Christmas carols… Christmas everything!
Every person has their own combo of Christmas traditions. For a lot of them though, a Christmas film marathon is among the holiday must-haves.
It's relaxing, fun, and lets you spend quality time with your family instead of thinking about work for once.
But what if we said that your favourite Christmas films are jam-packed with sales lessons? For instance, Home Alone teaches us to choose a good CRM system for your business. A Christmas Carol reminds us of the importance of sales reporting. Believe it or not, Fred Claus touches on the problem of effective lead scoring.
Never noticed? Keep reading!
To celebrate Christmas, we've compiled a list of the best Christmas films and the non-obvious sales takeaways they offer.
Home Alone (1990)
Top sales lessons: Bend your tools to fit your specific sales processes, stay creative, and plan ahead
Is it even a surprise to anyone that we're opening the Christmas film marathon with the film that brought Macaulay Culkin to stardom?
Home Alone is a world-recognised Christmas film you've likely seen a million times already. Without a doubt, you will watch it again this Christmas. It is a Christmas classic. But this time, when you follow the adventures of Kevin McCallister, try to think about it from a different perspective. The sales one.
Astonishingly, the holiday comedy offers a few takeaways for salespeople. They're not that obvious, but that's what we're here for — to highlight them!
Bend your tools to fit your sales processes, not the other way around
How did Kevin manage to protect his home and himself from the burglars and save Christmas?
The answer is simple. He knew his house like the back of his hand, including all its hidden spots and passages between the rooms. He used the assets available to him to set his intricate traps.
Now, imagine what would've happened if he hadn't evaluated the situation first. Would his tricks still be successful if he just went for generic solutions that didn't consider the layout of his house?
Just like Kevin, when choosing the tools for your sales processes, you need to consider the peculiarities of your specific workflows and find the ones that bend to fit your business. Not the other way around.
For instance, when you're looking for a CRM system, opt for a fully customisable solution that offers integrations with all the other tools in your tech stack. You need a system that allows you to streamline and enhance your processes, not reshape them completely.

Give a fully customisable CRM, NetHunt CRM, a try!
Stay creative
Another key to Kevin's Christmas success was his creativity.
Even though he had limited resources, he still managed to spin the situation in his favour. He thought outside the box and came up with alternative uses for household items. His readiness to take risks was one of the things that allowed him to overcome the crisis and beat (literally) his rivals as an 8-year-old.
This is something you need to do as a salesperson if you want to outperform your competitors.
According to the Global Entrepreneurship Monitor report, there are currently around 582 million entrepreneurs in the world. Considering the fact that entrepreneurship is on the rise, the number of businesses will continue to increase in the coming years.
The number of consumers, on the other hand, remains roughly unchanged. It's fair to suggest that competition is getting tighter.
If you want to hold a competitive advantage, you need to constantly innovate your sales processes, better your sales skills, and come up with unconventional ways to attract customers. In fact, creativity is one of the biggest sales trends this year.
Check out our articles for more guidance on creative sales:
➡️ How creativity helps to generate leads on LinkedIn and get a 38% response rate
➡️ How to get a prospect's attention in a cold email
Plan ahead
Finally, the last component of Kevin's luck was noticing he was in danger ahead of time.
Had he not registered that Harry and Marv were after him, he wouldn't have got a chance to prepare for the fight and set all the traps.
The same applies to salespeople. If you don't have a solid plan of action, there's a high chance you'll panic on the spot and lose a large chunk of your sales opportunities.
Develop a robust sales plan and regularly put together sales forecasts. Without them, your sales team won't have a clear sense of direction and will likely underperform. Even when it comes to these decisions, you still need to do your homework to feel more confident about yourself. For instance, when it comes to sales calls, you need to…
Establish the goal of the call in advance
Research the competition
Research the lead you're getting on a call with
Set the agenda for the call
Prepare a possible list of discovery questions
Anticipate potential sales objections and prepare possible rebuttals
➡️ Check out our guide to sales call planning for more tips and tricks that'll help you win your next call.
Falling for Christmas (2022)
Top sales lessons: Build relationships with your customers, get referrals
Netflix kicked off the 2022 Christmas season with a Hallmark-style rom-com, Falling for Christmas. Although its plot isn't likely to keep you on the edge of your seat — it's a classic Christmas story built on a series of Christmas film clichés — it's still a great film to add to your winter holidays watchlist. For a few reasons…
First, it's Lindsay Lohan's grand return to the big screens, and — for what it is — it's an admirable acting comeback! Second, in the true Hallmark fashion, this Netflix romantic comedy offers a few valuable lessons for salespeople and business owners.
Falling for Christmas's characters need to prevent a family-owned business, the North Star Lodge hotel, from closing.
Because of the new chain ski resort built nearby, North Star Lodge no longer gets any reservations. As a result, Jake, the hotel owner, can barely make ends meet and is worried this Christmas season will be North Star Lodge's last.
Luckily, Sierra (ironically, the daughter of the new resort owner — it's a long story!) comes to save the day and suggests Jake hosts a charity event to raise donations for North Star Lodge. Together with Jake's mother-in-law, she hits up past guests and invites them to celebrate Christmas at the hotel and reminisce over the time they spent there.
Everything goes according to plan, and the guests come through with generous cheques to thank Jake for his kindness and hospitality.
One of the past North Star Lodge guests, Howard, recalled that during his first stay at the resort with his family, Jack "took [Howard's] son under his wing and taught him how to ski".
Another couple reminisced about their honeymoon at the hotel. Back in the day, they couldn't afford a grandiose holiday, so Jake gave the newlyweds "the biggest suite in the place for the weekend and champaign, and didn't take a dime for it".
By the end of the night, North Star Lodge gets a fair share of donations, which teaches salespeople lesson number one…
Focus on building relationships with your leads and customers
This is something sales experts brought up a lot when discussing their contingency plans for the upcoming economic recession.
If you want your business to survive the hardships of an economic crisis that's glooming over the world, you need to make your business indispensable in the eyes of your customers. Become someone who they can't drop when the situation worsens; become their friend.
"Giving your customers a helping hand in the dark times can deepen your bond with them. Once the recession is over, your customer will return to their pre-crisis revenue levels and continue paying full price for your product or service. But after you helped them power through the recession, they'll be loyal to your brand and refer new clients to you."
🗣️ Andrei Petrik, CEO and Co-Founder of NetHunt CRM
Focus on providing stellar customer service and be genuinely interested in seeing your clients succeed. Remember, your success stems from your customers' success…
Sometimes, customer retention isn't enough to keep your business afloat. To successfully get through a crisis, your business must also ensure a steady influx of new leads.
North Star Lodge understood it too. Even with the newly-raised donations, the business was on the verge of collapse without new bookings.
But — guess what! — Sierra, once again, pulled through. After getting such nice treatment at the hotel, she praised it to millions of people on TV… she's kinda a big deal in the Falling for Christmas universe. Naturally, new reservations started rolling in as soon as the news episode aired. Christmas saved! ✅
This brings us to sales lesson number two…
Referrals can do your business a huge favour and bring in a heap of new leads
According to stats...
Leads from referrals have a 30% higher conversion rate and a 37% higher retention rate compared to customers gained through other marketing channels. They also have a 16% higher lifetime value (LTV).
🗣️ Ross
So, if you want your business to prosper, make sure you focus on getting referrals from existing customers.
Alternatively, focus on the following lead generation strategies…
➡️ 10 creative ways to find leads on LinkedIn
➡️ 9 creative web form lead generation ideas [+templates]
A Christmas Carol (2009)
Top sales lessons: Analyse your sales performance, offer guidance to your sales team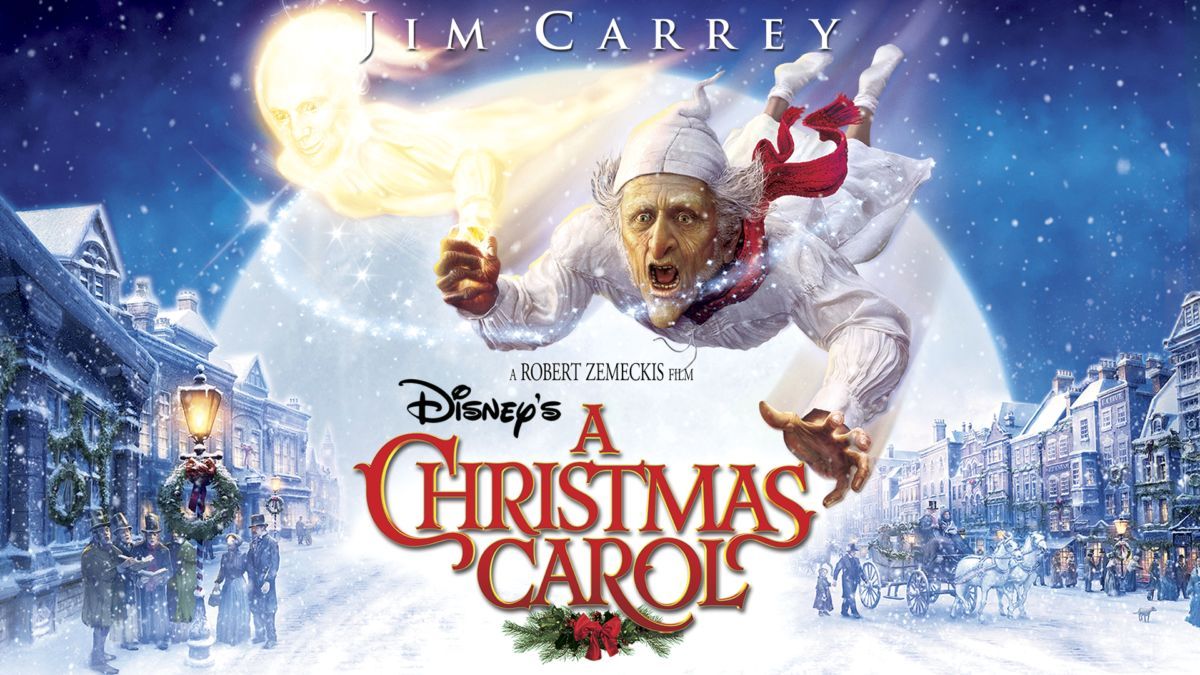 As a rule of thumb, Christmas films are lighthearted comedies. The rather gloomy and mystical story of Ebenezer Scrooge stands out from the list.
Based on Charles Dickens's novel, A Christmas Carol by Disney, tells the story of a greedy money collector that despises everything to do with Christmas, especially the benevolent and jolly spirit of this winter holiday. He doesn't see a point in being kind to people, rejects love and friendship, and — despite his wealth — doesn't want to give a helping hand to those in need.
Everything changes one Christmas when the three ghosts of Christmas come to visit the old miser, showing him what he's doomed to unless he fixes his attitude to life and the people around him.
The Christmas spirits take Scrooge on a trip down the memory lane and show him the impact of his nasty actions both on his life and the people he interacted with. After his supernatural adventure and a few objectively traumatising experiences, Scrooge becomes a better person and escapes the literal hell of an afterlife. The end.
But what does this dark tale have to do with salespeople?
Of course, we could say that the key takeaway is to establish a good work-life balance and make sure you don't get obsessed with money to the point you stop seeing the bigger picture. But that would be too obvious, right?
So, the key sales lesson from A Christmas Carol is to…
Turn sales reviews into a habit
That way you can see the impact different sales decisions have made on your bottom line. By looking back at your sales, you can easily pinpoint activities that stall progress to cease them and those that work well to scale them. It's essential to pay close attention to sales reporting and put together key sales reports on a monthly basis.
This helps to…
Successfully locate and remove bottlenecks in the sales funnel
Close more deals
Discover positive trends throughout specific territories
Mitigate the drawbacks of staff turnover
Provide the sales team with a better sense of direction and motivate them
Ideally, you should automate sales reporting with the help of a dedicated tool.
➡️ Check out our list of 15 essential CRM reports you can build for different teams.
Another big idea salespeople can borrow from this Christmas film is that sometimes people require a little help to see where they've been in the wrong.
As a sales leader, you need to...
Allocate enough time to coaching your sales reps
It'll help build a stronger sales team by…
Reducing sales team turnover
Cultivating a collaborative and supportive team environment
Improving the performance of every individual sales rep in your team
➡️ Find out how to use CRM data to coach your sales team in our article!
The Holiday (2006)
Top sales lessons: Stay flexible and open-minded to adapt to new realities quickly
The Holiday (2006) is a rom-com best known for its star cast and stunning visuals.
The story revolves around two women, Iris Simpkins, a society columnist for the Daily Telegraph in London, and Amanda Woods, a movie trailer producer in Los Angeles. They find each other online and, completely out of the blue, decide to swap lives (and homes) for the winter holidays.
Coming from two completely different backgrounds, both Iris and Amanda find it difficult to adapt to each other's lives at first.
And the viewer gets an important sales lesson: no matter what, you need to stay flexible and open-minded. Then, and only then, can you adapt to the new realities and overcome any difficulties your business faces.
This is particularly important as we move into the era of total business digitalisation overlapped with a global economic recession. Things are not going to stay the same; if you want to come out as a winner and continue making sales, you need to adapt.
"Inflexible companies that can't quickly adapt to new circumstances will fall short of revenue and suffer greatly from an economic downturn. They'll have to focus on surviving and won't be able to grow during this time."
🗣️ Andrei Petrik, CEO and Co-Founder of NetHunt CRM
Fred Claus (2007)
Top sales lessons: Implement a CRM system to organise and protect your data; automate your processes
Finally, what kind of a Christmas film list would it be without one film featuring the Claus family?
An American comedy film, Fred Claus, depicts the story of two Claus brothers, Fred and Nick.
One of them, Nick, is the modern-time Santa, who lives at the North Pole and delivers gifts to children every Christmas. The other one, Fred, is a repossession agent in Chicago.
The story begins with Fred trying to raise seed money for an illegal casino, for which he gets arrested. Nick agrees to pay the bail and give Fred the seed money, but only if he comes to the North Pole to help at the Claus Factory over the Christmas season.
That's where troubles — and sales lessons — begin.
Implement a CRM system to organise and protect your data
This holiday season, Fred isn't the only new addition to the North Pole. As the factory's performance had declined over the previous few Christmases, efficiency expert, Clyde Northcutt, shows up to investigate the issue.
⚠️ Spoiler Alert: Northcutt, as you might have deduced from the name, is a dark horse. A former top naughty kid of 1968, he feels extra vengeful and is looking to set the Claus factory up for failure. So, he sneaks into the workshop and shreds the children's letters, leading to a real Christmas disaster as there are no backups.
Wow, what a pity, if only the Claus factory had a CRM system in place, right?
CRM software is an irreplaceable tool for salespeople. It allows you to collect, organise, and store your customer data safely in a single place.
With the help of a CRM system, you can ensure all your customer data is complete, up-to-date, reliable, and relevant.
For instance, in NetHunt CRM there's a special Duplicate Prevention that warns you about potential duplicates when you add new contacts. Moreover, you can structure your data in the CRM to maximise its impact by customising your customer card, creating new folders, and customising views.
Moreover, proper access management of CRM data can protect you from data leaks and prying eyes.
Organise your data better with NetHunt CRM
With a CRM in place, Northcutt would have never gotten his hands on the sensitive data!
➡️ Learn how to make sure your CRM data is secure in our article.
Develop a reliable framework for lead scoring
The process of putting kids on the Naughty or Nice lists is similar to lead qualification. Both processes require a well-developed set of rules to assess leads (and kids).
In the film, Nick and Fred struggled to come to an agreement regarding which kids were considered nice and deserved a gift from Santa, and which did not. Fred believed that every kid is inherently good; some are just "naughty" because they go through bad situations. So, he decided to assign every child as "nice".
Failing to distinguish between naughty and nice kids led to a collapse at the factory. Unable to produce enough gifts for every good child, the North Pole falls far behind schedule.
The same goes for sales.
You need to score your leads to identify the most valuable ones and focus your attention on those. To do that effectively, you need to…
Decide on assessment criteria
Lay down lead scoring rules
Decide the score that defines a lead as qualified
Without this, you risk pursuing low-quality leads that aren't likely to convert, which will have adverse effects on your sales efficiency.
Automate your sales processes
When you have the whole world of kids and just one Christmas night to deliver gifts, you can't possibly survive without process automation and optimisation.
Similarly, as a salesperson with numerous leads to nurture, calls to make, and emails to send, you need sales automation. It has plenty of benefits…
Sales automation helps to create a clean and reliable database
Sales automation helps to manage your sales pipeline more effectively
Sales automation helps to standardise the sales process
Sales automation offers sales reps more free time
Sales automation provides more visibility into sales processes
Since you're on our Nice list, here are some resources on sales automation:
➡️ How to automate your sales process
➡️ The dos and don'ts of sales automation
➡️ Sales Automation Playbook (with 28 ready-made sales automation recipes to set up in CRM, with triggers and actions)
Merry Christmas! 🎁
Table of Contents
Crack the sales formula with CRM Lab
Twice a month, receive actionable CRM content to your inbox.
Join the
Telegram channel NetHunt CRM
All about CRM and B2B sales.
Join