Imagine the following scenario…
Your sales team isn't gaining new skills; don't make any progress and continue to make the same mistakes. Your sales performance suffers, and you can't do anything about it.
Or maybe you can?
That nightmare of a situation is easy to avoid with the simple practice of sales coaching. Read this article until the end and find out what sales coaching is, how it can benefit your business, and how to effectively coach your sales team using CRM data.
---
What is sales coaching?
Sales coaching refers to ongoing, individualised teaching of sales reps by sales managers to improve sales performance.
In the process of coaching, sales leaders guide their team to discover how to achieve their objectives, correct behaviours that don't have an impact, strengthen successful practices and develop the skill set of each team member.
Why should you coach your sales team?
According to data, 73% of managers spend less than 5% of their time coaching their sales teams (the TAS Group). Why? Let's take a look at the most common reasons...
The majority of sales leaders ignore sales coaching simply because they don't know how to train their teams. The rest neglect this process because they don't see the value it can bring or can't make time for it (which is, frankly, the same point). Considering the multitude of benefits sales coaching can bring, it's too big of an opportunity to overlook. Sales coaching plays an essential part in increasing your company's sales and, subsequently, the bottom line.
It helps to...
Reduce sales team turnover.
Cultivate a collaborative and supportive team environment.
Better performance of every individual sales rep in your team.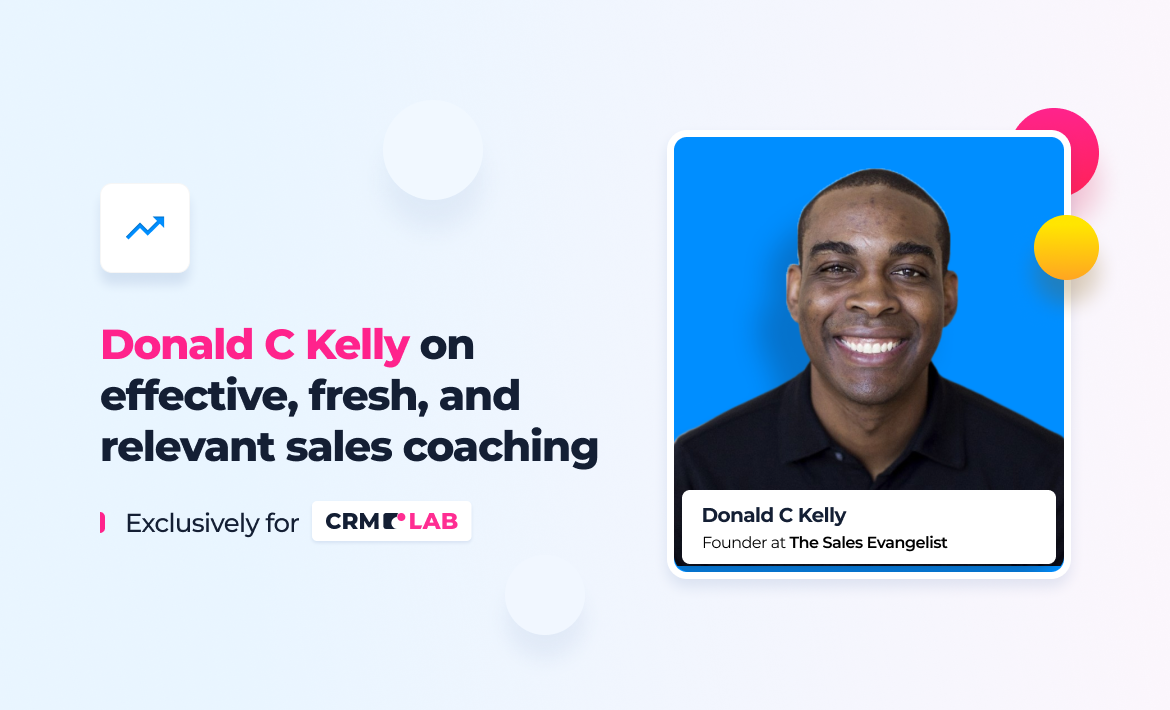 Sales coaching vs. High sales team turnover
According to statistics from the Bridge Group the average sales rep turnover rate is 34% per year, which is three times higher than the average for other professions.
High sales team turnover rates have a severe negative impact on the bottom line of a company. It costs a small fortune to cover the expenses that come with an employee loss. According to Gallup, 'the cost of replacing an individual employee can range from one-half to two times the employee's annual salary - and that's a conservative estimate'. The loss of a colleague leads to an increase in workload.

This can lead to a loss of morale and productivity amongst existing employees.
Many factors contribute to high turnover rate. The most common are lack of connection between sales reps and the C-Suite, inadequate training and mentorship, little room for growth, and insufficient compensation. The thing is, three out of four of those problems (apart from the mismatch in salary expectations and factual compensation) can be solved with consistent and extensive sales coaching of the sales team.
Further read: checklist for effective onboarding of a new sales hire
Sales coaching vs. Poor team environment
For better team productivity, you need to create a mutually respectful, friendly environment. This means ensuring that all the processes within your company are transparent and every member of the team including yourself is ready to give a helping hand to those in need.
Sales coaching acts as an opportunity for sales managers and sales reps to learn together and, as a result, grow together. Instead of being a monologue from a sales manager, the process of coaching the sales team should play out as a conversation. A sales coaching session is a collaborative exercise. It allows sales reps and sales managers to establish a more robust relationship, discuss all areas of concern in a friendly setting, and improve their skill set.
Sales coaching vs. Deficient sales performance
Sales coaching allows sales leaders to enhance the performance of their sales team by affecting several aspects of their work at once.
It helps to better the employees' set of hard sales skills.
It boosts sales reps confidence by recognising sales obstacles they face.
It helps to set accurate, attainable targets to improve morale.
All the benefits of sales coaching above work towards achieving one common goal of increasing the company's sales and revenue.
How CRM data can help you coach your sales team
The key to effective sales coaching is consistency through a data-driven approach. You need to focus on the areas that require attention and with a tangible impact on your team's performance. So, direct your efforts using real-time data instead of giving your team a vague, generic set of instructions that come from guesswork or gut feelings. The best source of sales data is your CRM system. Here are the main CRM reports and metrics you can utilise for a sales coaching plan.
Team activity report
If you notice that your sales reps made fewer sales in the current period compared to the previous one, start your sales coaching session by generating a team activity report. Team activity reports give an insight into what your team is doing at all times and how their actions contribute to your company's sales performance.
When preparing for a sales coaching meeting, look at the activities your sales team members performed since the last meeting. The most important metrics to pick up on are the emails sent, email campaigns sent, calls logged, their recorded calendar events and demos conducted. Pay close attention to the number of each of these activities and the results they generate.
The best way to organise this data is to bind all the activities into an 'action pipeline'.

That way, you can identify the weakest links where the biggest lead leakage occurs and work on improving those steps.
Bear in mind that a team activity report is only helpful for sales coaching if your sales reps are logging their activity in the CRM consistently and fully. Otherwise, the picture won't be an accurate reflection of the current sales situation.
Another insight a team activity report can give you is the average time your sales reps take to reply to leads. There's a direct correlation between response time and close rate – the longer it takes to reach back out to a prospect, the less likely they are to make a purchase.
"When the sales rep replied to a prospect's inquiry within four hours, that prospect was far more likely to be able to convert as a customer."
- Ouriel Lemmel, CEO of WinIt
Ouriel Lemmel shared that they track the average response time for each of their sales employees at his company and have coaching conversations with employees who consistently take longer than four hours to reply to inquiries. He also pointed out that it's important to make the conversation educational. After all, you're trying to coach your employees, not blame them for underperformance.
During the course of the coaching session, you need to address the issue, explain why it's essential to reply in a timely manner, and provide your sales reps with all the necessary tools like email templates and prompts to help them write the messages quicker. You should also figure out why their response time isn't meeting the company standards to truly get to the root of the issue. Their feedback can arm you with the best practices to share with them and eradicate the problem.
Email campaign metrics
Invest in CRM software that offers email marketing functionality such as email templates, mass emails, and - most importantly - email tracking. This data can give you an insight into how well-skilled your sales reps are in copywriting, highlighting areas that call for improvement.
The key email campaign metrics for you to analyse when designing an agenda for your next sales team coaching session include...
The number of email campaigns sent.
Open rate.
Engagement rate.
Reply rate.
Target actions such as sign-ups, demos booked, etc.
Unsubscribe rate.
Bounce rate.
Depending on the metrics that are lacking, you can build training around the following topics...
Sales pipeline report
A sales pipeline report can provide you with invaluable information about what's going on with leads that enter the sales funnel and act as a focal point for your sales team. First things first, analyse the number of opportunities generated in the pipeline. If only a few new opportunities enter the pipeline, you need to review your sales team's lead generation practices.
Look at the sources that your sales reps use to generate leads. If there's a disparity in the usage of different sources, educate your team on alternative lead generation methods and strategies. For instance, if your sales reps are only using cold email outreach, you should introduce them to LinkedIn prospecting and web form lead generation.
Finally, you need to determine the overall health of your sales pipeline and troubleshoot reasons for stagnation. You may notice some opportunities receive more attention than others and some of them appear to be stuck in one stage for the rest of their lives. This comes down to the prioritisation of deals.
"Every salesperson has a limit to how much work and resources they can devote to closing each deal. They only have a certain amount of time in each day, month, or quarter. As a result, prioritising opportunities and focusing on the most significant and urgent ones is critical. However, salespeople may not be working on the priorities that you believe they should be. That's when you can begin mentoring them to focus their attention on the more fruitful prospects."
- Nathan Grieve, CEO of Impersonate Me
Review your lead scoring system and, if possible, automate lead qualification in the CRM.
Use relevant pipeline KPIs like conversion rate per stage, churn rate per step, and the time leads stay in a stage without progressing to identify the stages with the biggest lead drop-off. Then, coach your sales team on how to move the leads down the funnel more effectively. By comparing individual sales rep stats to the team average, you can determine what exactly each rep requires special assistance with.
Win rate analysis
Finally, use your CRM data to analyse Deals Won or Lost both by the sales team and by each individual rep.
An analysis of the win rate will help you better understand what is the main driver behind successful deals and what causes deal losses. Then, you can coach your team to minimise the number of leads that never convert as paying customers and increase the value of deal that sales reps close.
Some of the key areas to examine and act on include...
Deal size. If the deal size is small, you should focus on coaching the team to find more valuable leads as well as upselling and cross-selling. You also need to agree on guidelines for giving discounts when negotiating the price.
The sales objection handling technique. If a lot of deals don't close, you should test your sales rep's ability to rebuttal objections. Go over the best sales objection handling practices and compose the most effective ready-made templates for common objections.
The number of follow-ups. Examine the number and frequency of your sales rep's follow-ups to make sure are persistent with their outreach. Then, go over the common follow-up mistakes and share how to write better follow-ups.
The use of different outreach channels. See whether the rep utilised several channels to get through to the lead. If not, explain the importance of the omnichannel approach.
---
Et voila! Four practices later, you can bring your sales team to the next level and improve your business sales performance.
Table of Contents
Crack the sales formula with CRM Lab
Twice a month, receive actionable CRM content to your inbox.
Join the
Telegram channel NetHunt CRM
All about CRM and B2B sales.
Join