We bang on about LinkedIn. All. The. Time. Why? Because it's the best place to gather and nurture leads, of course. It's literally built for people and businesses to find each other. There are countless ways of finding and nurturing new leads on LinkedIn; we've put together a list of our favourites.
No nonsense with this one. We've already told you everything you need to know about LinkedIn and it's potential as a lead generation platform. Let's get down to business.
Here are 10 of the most prolific ways of finding and nurturing leads on LinkedIn.
View who else is viewing
The 'People Also Viewed' section is fertile ground for finding new leads and helping users increase their visibility of LinkedIn. It displays 10 potential prospects that are very similar either to yourself or the profile that you are already looking at. The best thing is, this feature is updated multiple times each month to maintain a steady flow of fresh faces to reach out to and engage.
The only catch is that you need to be a first-degree connection to the profile you're looking at to access their 'People Also Viewed'. If you're using the desktop version of LinkedIn, you'll find this section on the right-hand rail of the user's profile you are looking at. If you're using the mobile app, you'll need to scroll down to the very bottom of the profile you're looking at to find it.
One prospect becomes 10.
Find out who viewed your profile
You can even turn something as simple as a profile view into new business. Most LinkedIn users are probably familiar with the 'Someone has viewed your profile!' email from LinkedIn, not least because they're probably sick of moving them to trash. The truth is, these emails can be very beneficial for your business; if somebody is looking at your profile, they could be keen on what you've got to offer.
On top of the semi-annoying emails, you'll be able to see who has looked at your profile on the LinkedIn dashboard. LinkedIn Basic allows users to see up to five people who have viewed their profile; premium users receive an unlimited view of who has been sniffing around, as well as trends in viewership and industry representation. Check out this red-hot content to find out more about the differences between LinkedIn Basic and Premium.
If somebody's having a look at you, have a look at them.
Endorse
Endorsements are a way of recognising somebody's professional ability in a certain area. You'll find it slap, bang in the middle of a prospect's profile. This section is a golden opportunity for both lead generation and lead nurturing.
In terms of generation, you'll be able to find prospects by looking at the endorsements of your existing connections. Hopefully, there'll be a few names from common industries in there that you haven't reached out to yet.
Endorsements can also be used to nurture leads. Maybe you haven't connected with a prospect for a while, and a compliment by way of endorsement can relight some fires. If you're feeling extra cheeky, you can endorse a new connection as a way of breaking the ice and getting your name in their notifications.
Everybody loves a compliment.
Check out Lead Recommendations
As far as lead generation goes, this is the cat's pyjamas. This feature offers lead recommendations that are based on your sales preference, your search history, and your interactions with different profiles. These leads are probably, exactly what you are looking for; an unlimited source of potential customers for your business.
The only thing is... you need to be a Sales Navigator user to access it.
Utilise your own content
LinkedIn's publishing platform is one of its most powerful features. Every time you post an update to LinkedIn, you get featured on your connections' news feeds. This is a fantastic opportunity to grow awareness of yourself and your brand and to establish some industry expertise.
There's no need to write a letter, an essay, or an industry-defining article every day. There's no need to try your hardest to sell your product. Spend 60 seconds crafting an update, and supplement it with some existing content. Make sure your status is relevant to industry news, SEO optimised, and tagged with its specific categories and you'll get more clicks than you know what to do with.
Publish regularly, keep it catchy, and promote, promote, promote.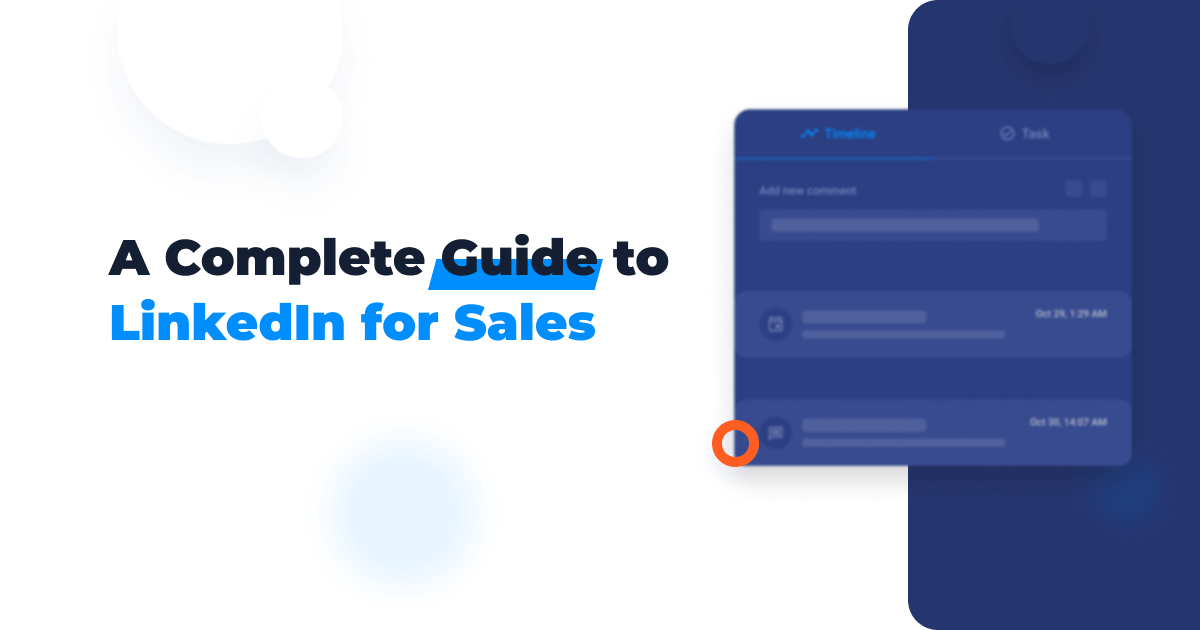 Utilise everybody else's content
The key to success on LinkedIn isn't just posting your own content, but looking at everybody else's content and putting your name about in the comment sections. Sure, you can read content that is relevant to your industry and learn from it, but why not take it one step further and find new business from it.
Focus on making comments that open up discussion, try to come across as the nice person you are, and be on the ball with further replies whilst the content is still hot. It's all about establishing your name as an expert within your LinkedIn sphere. People will start to take notice.
On top of that, have a little nosey at who is commenting on statuses of other industry experts and influencers. There could be a few prospective customers waiting for you.
Join groups
There are likely thousands of LinkedIn groups that could be relevant to you or your company. Professionals use these groups to gain insight into their industry and to interact with other members. Jackpot. Because all groups are private by default, you can expect to find a higher quality of lead in them.
You could create your own group and build it from nothing, but that might be a bit difficult. The best way to take advantage of groups is to find a relevant, ready-made one. These groups are the ones where your buyer persona is and are closely linked to the industry you operate in. Small groups limit your lead potential, but big ones mean your message can get lost. It's best to target both.
Use the 'Discussion' tab at the top of the group's homepage and post questions, comments, or statements to get your voice heard. Your messages should be tailored to each group, and you should understand exactly who you are writing to so they can make the most favourable decision possible about your company.
Give and get referrals
Referrals are, without a doubt, one of the most effective ways of drumming up business. As your 1st-degree connections grow, you should introduce yourself to each new one. This breaks the ice of making the first comment, opens up the possibility of collaboration, and makes it less weird when you eventually ask them to be referred to somebody else.
Have a browse through a recent customer's connections and see which of them might be suitable for your business. If you feel comfortable enough with your connection, forward them a list of the people and ask if they would mind sending a quick introduction of you to them. The worst thing that can happen is that they say no.
As a sales team knows who and how to ask for referrals, they don't need to worry about finding out who decision makers are, getting past the information gatekeepers, or proving that they can be trusted. They get decision-makers in one call, outrun the competition, and build relationships that can drive sales.
Search through advanced filters
There's a strong argument for the advanced search filters that are available to Sales Navigator users are worth the money alone. I tried to find the words to explain all of these filters, but failed. So, I'll just show you instead.
Individual
Company
Company size
Company type (public, private, non-profit, etc.)
Company (current/past/past or current/past not current)
Exclude contacted leads
Exclude saved leads
Exclude viewed leads
First name
Function
Group membership
Industry
Last name
Leads following your company
Leads mentioned in the news
Leads with recent job changes
Leads with recent LinkedIn activity
Leads with shared experiences/commonalities
LinkedIn member since
Location by region/state
Location by postal code radius
Posted content keyword
Profile language
Relationship (1st, 2nd, 3rd degree, group member)
School
Search within my accounts
Seniority level
TeamLink connections
Title (current/past/past or current/past not current)
Years at current company
Years in current position
Years of experience
Company headcount growth
Company revenue
Company size
Department headcount growth
Department size
Fortune (listed on Fortune 50/100/500)
Headquarters location (by region/state)
Headquarters location (by postal code)
Hiring on LinkedIn
Industry
Job opportunities
Number of followers
Recent senior leadership changes
Relationship (companies where your connections work)
Look at all of those flipping filters. You can tailor your search for leads down to the keywords they post in their updates. Search filters are sent from the lead heavens, saving desperate sales teams from scrolling through LinkedIn all day.
Find templates of LinkedIn prospecting messages
Integrate with NetHunt
Ahh, we got ya! You thought you were going to get the whole way through this article without us mentioning our super simple, fully customisable CRM system, didn't you? Well, we tried. But NetHunt and LinkedIn work together so well that it was impossible not to bring it up.
Want to Generate Quality Leads on LinkedIn in One Click? Try NetHunt for free
Our integration is out now and doing bits on the Chrome Web Store. Like everything else NetHunt, its beauty lies in its simplicity. The integration adds a button to LinkedIn profiles you visit. With a click of that beautiful little button, you can add to or enrich your contact files within NetHunt CRM. As simple as that!
Milk and chocolate; salt and vinegar; NetHunt and LinkedIn.
*Mic Drop*
Table of Contents
Crack the sales formula with CRM Lab
Twice a month, receive actionable CRM content to your inbox.
Join the
Telegram channel NetHunt CRM
All about CRM and B2B sales.
Join