As the old saying goes, the customer is always right.
That might not necessarily be true; after all, if they were always right, what would be the point in a customer support or success department?
The customer is always there, though. They're always curious, asking questions, and running into issues. Your job as a customer support rep is to feed that curiosity, answer those questions, and tear down those issues, no matter whether that customer is right or not.
The problem was, customer support used to be a manual form of work, sitting by the phone and waiting for customers to call.
These days, customer service processes can and should be automated to save support rep nerves and to get to the bottom of customer curiosity quickly.
In this article, we'll talk about the importance of customer service automation and give you the examples of the workflows you can set up in a CRM system for better customer service.
---
What is customer service automation?
Customer service automation is the practice of placing the weight of customer support processes onto dedicated software such as CRM, chatbots, or AI.
However, this isn't employing a robot to answer all your customer's questions, relieve their curiosities, and tear down issues. It's the process of automating the organisation of customer support requests, automatically providing supportive content so questions don't need to be answered, and the harnessing of business data to get to the bottoms of issues with more precision and accuracy.
Customer service automation boosts the efficiency of customer service processes, ensuring businesses are able to engage and retain their clients.
The benefits of customer service automation include…
Less change of human error and misinterpretation
A better customer experience across the whole journey
Quicker response times and better precision in customer support answers
Ability to do answer more customer support queries with less time and resources
It's incredibly cost-effective; automation helps other business departments
Examples of automated processes for customer service
Different prospects, leads, and customers in your CRM system require different approaches, depending on their pipeline stage, their product usage, and their general characteristic. Let's divide the examples of automated workflows for customer service into three categories: Prospects and Leads, New Customers, and then Existing Customers.
Ah - you're thinking - I thought this was an article about automation in customer support. It is, you're right, but at NetHunt we don't subscribe to the traditional customer support models. We practice customer success. It's something similar to support, but a bit more salesy. Read all about it!
For prospects
Automate welcome emails
After a lead turns into a customer, it's important to welcome them to the company and explain how the product works, sending them training emails. You can easily create a workflow specifically for onboarding new clients. Generally, this helps them get acquainted with your business and product.
Welcome emails ensure a product or service sticks for users, educate users around functionality and guide them over the onboarding period, and ensure users understand how to use a product and reach that "aha" moment. A very basic Welcome email automated workflow looks like this…
So, what's going on here?
A new lead in our CRM system triggers the workflow
We immediately send an email welcoming them to the company
We wait for a day and send an onboarding, educational email
We wait for three days before the next onboarding email
We wait another two days before we send the final, third onboarding email
Follow up within three days of signing up
Following up is one of the biggest jobs in customer support and success. It's also one of the jobs that success agents neglect to do. Within a pre-set period of time after a lead or customer has signed up for content, a free-trial, or for your product outright, a success sales rep should follow up with them to touch base, make sure that they have everything they need, and potentially cross- or upsell.
It's basically lead nurturing but instead of sending an automatic email campaign, we should remind a customer success rep to follow up manually for that personal touch.
To this end, we'll create an automated workflow in our CRM system of choice.
So, what's going on here?
Our trigger is whenever a new record is added to our Deals folder
We wait for a three day grace period before following up
After three days, we create a task for the relevant sales rep to follow up and remind them through email
Similarly, we might have high-value, high-priority leads entering the pipeline. If the deal amount in the particular case is bigger than usual, or a lead needs extra attention from your representatives, a CRM lets you create tasks to check and outreach manually.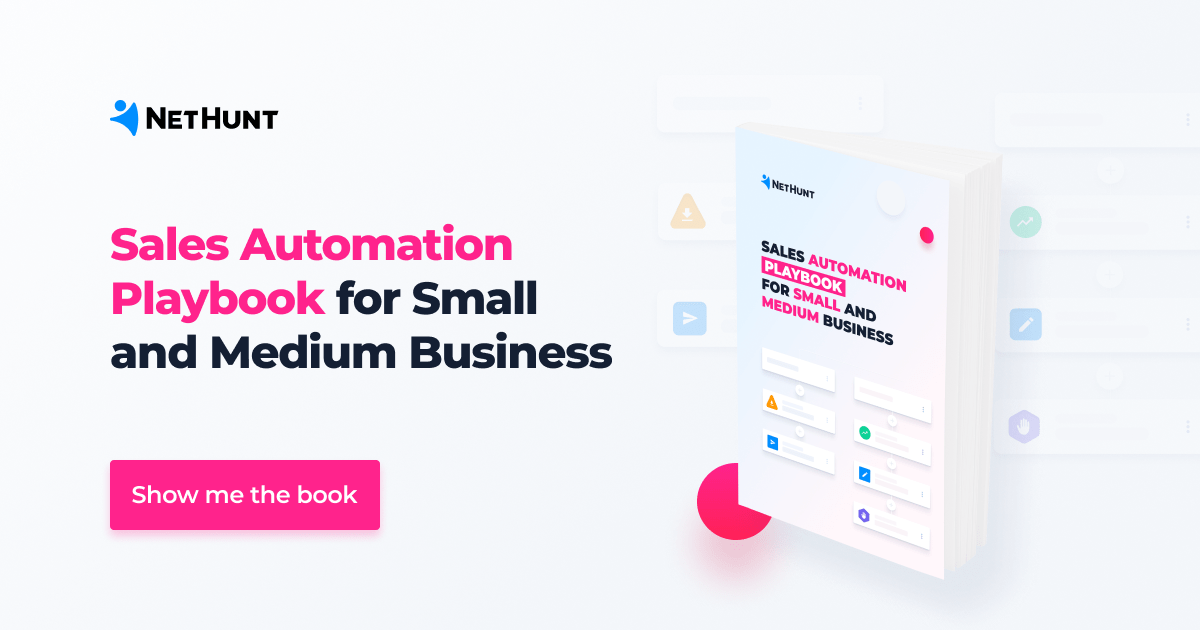 For new customers
A sequence of emails with training on product usage
A cornerstone of the customer success model of customer support is through continual education and re-education of both leads and customers. It makes sense, because a lead is only a lead because they don't know how much your product can help them, right? A customer is a customer because they want to use your product to its fullest potential; they need to know how to use every feature they need.
An informational email sequence is invaluable to this end. It's a non-invasive, free, and effective way of educating leads. It's a great way to improve blog metrics for all that red-hot content that your marketing team sweats over every day, and it prevents a lot of customer support queries when it comes to more simple, avoidable questions.
So, what's going on here?
This is a post-sale email campaign, our trigger is a won deal
The welcome email is always standard; learn more about it
We wait for two days so it's not an email bombardment
We send an email outlining the basic features of our product
We wait again for two days
We send a list of FAQs and answers
We wait for another two days
We send an email with deeper, more advanced product usage
The workflow ends
Remember! It's important to maintain a human touch throughout the whole customer onboarding process; no customer should be left to learn your product with blog articles and videos alone. Nothing can replace a demo held by a knowledgeable customer support representative.
At the end of each of these emails, we remind our new client that we are always available to speak to them through whichever platform is comfortable for them.
Send product satisfaction survey after X days of using the product
After a customer has been using your product for some amount of time, it's important to gauge their thoughts on it and assess whether they need any changes, whether they need better education in how to use it, or even to understand whether they're likely to continue using it or not.
In NetHunt CRM, there are two features that'll help you achieve exactly this.
Web Forms by NetHunt CRM is completely free and absolutely beautiful. It's a simple, modular platform for building webforms, sharing them through whichever way is necessary, and aggregating the results under the same tab. There are a bunch of templates and styles to choose from, making web form building as easy as it could possibly be.
Did we mention they're completely free? No sign-up!
They integrate beautifully with Workflows by NetHunt CRM, acting as a trigger for any workflow you need. As you can see, an automated workflow doesn't need to be multi-stepped and complicated.
So, what's going on here?
We created a web form with simple feedback fields such as how likely a user is to recommend our product to a peer
Upon submission a task is created for a support rep to check the feedback and take action
The workflow ends
Here are some of the processes you can automate for sales reps and sales managers
For existing customers
Schedule regular account reviews for all accounts
Like most of the other processes in this article, it's essential to maintain regular account reviews to keep up to date on where different customers are in their product journey.
This isn't just to find out whether a customer will continue their journey with you, but helps feed your plans as a company in the future - acting on feedback and knowing what's good and bad about your service.
It's never a bad time to check in with a customer. Every new customer should be subject to the same review at some point in their journey; maybe even every few months. An automated workflow will keep you up to date and in the loop without having to actually remember or know when it's a lead's anniversary using your product.
So, what's going on here?
A won deal is our starting trigger; the customer starts their product journey
We wait for 30 days (1 month) and create a task for a rep to check in
We wait 152 days (5 more months) and create a task for a rep to check in
We wait another 182 days (6 months) for our yearly check in
We send a happy anniversary email to our customer and create a task to check it
You might also want to schedule your yearly check in as a contract review with a client, making sure each side has met the terms of the pre-agreed contract, whether there's any fluff that needs removing, and whether the payment plan is the correct one for their particular use case.
A couple more customer service automation ideas…
Send automated email for a client's birthday
Send automated product updates based on features they use or have requested
Send automated payment reminders for outstanding bills
… But really, the possibilities are endless. If you wanna learn more about automation for your business; for marketing, sales, and customer support all together. Go download our Sales Automation Playbook - put together with love by people who really love automation and believe in what it can do for your business.
Why wouldn't you? It's free!
---
A recap
Customer service automation is using dedicated software for customer success processes
It has many benefits, including eliminating human error and improving customer satisfaction rate
You can automate customer service processes depending on the stage in the sales pipeline
Try  NetHunt CRM for free with a 14-day free trial. Create customer service workflows and experience how they make your life as a customer service specialist easier!
Table of Contents
Crack the sales formula with CRM Lab
Twice a month, receive actionable CRM content to your inbox.
Join the
Telegram channel NetHunt CRM
All about CRM and B2B sales.
Join