Customer Relationship Management (CRM) software is the holy grail of successful sales, but only if you choose the right platform for your business.
With ever-more offerings on the market, the choice is difficult to make. To land the right solution for your business, wrap your head around all the existing options and create a list of must-have CRM features that are important to you personally.
We've put together the ultimate list of CRM features. Add the ones your business needs to your checklist, and head over to our article with the best sales CRMs in 2022 to pick the tool that matches your business best.
What is a CRM?
CRM software allows businesses to manage their relationships with customers. It stores all the customer information a business has at its disposal, helps to bring order to the pool of contacts, and promptly logs every interaction between the customer and the company.
CRM software can also bridge the gap between sales and marketing, automate processes, and ultimately help your business win more deals.
For more in-depth information regarding what is a CRM, check out our article.
Why does your business need CRM?
CRM is one of the fastest-growing software markets. More CRM vendors continue to enter the market, offering brand-new functionality and niche solutions.
In the past, CRM software exclusively served the sales departments of large enterprises. That's not true anymore. Modern CRM solutions can bend to fit your business's needs, regardless of the size of your company or the industry it operates in. Still, the advantages your business can leverage from using a CRM vary depending on your needs.
Modern CRM solutions aren't just useful for the sales team but customer service, marketing, product development, and even the C-Suite. CRM software is focused on helping businesses increase and scale their sales, a win-win situation for every employee involved.
Learn how CRM can streamline different aspects of sales and marketing in our article
Just to name a few most common benefits of CRM software for businesses…
Improve the quality of your lead nurturing activities
Database segmentation groups leads together in different categories based on a variety of factors. This helps businesses hit them with better-targeted, more personalised offers. Moreover, lead nurturing automation ensures timely follow-ups without forgetting a single lead waiting for your attention.
Work collaboratively while working remotely
Collaborative functionality is one of the core CRM features. It allows businesses to bring different departments closer together — everyone in the company has access to real-time, up-to-date information about leads and customers. It also helps teams work on projects together even when they're not physically together.
CRM minimises the amount of time wasted on moving from one tab to another. Everything is there, ready to be used and integrated with the existing tech stack.
All of the aforementioned benefits result in the biggest advantage of using a CRM system — it helps to increase sales.
Reduce customer churn and increase the maximum customer lifetime value
CRM software is an irreplaceable tool for moving away from reactive customer support and towards proactive customer success. Instead of rushing to fix problems, Customer Success reaches and prevents those problems from happening in the first place.
CRM automates onboarding and assessment call scheduling so that you regularly reach out to customers to make sure your product meets their expectations.
Finally, CRM software gives its users a chance to track customers that are showing early signs of churn. For instance, you can create a separate view of contacts that haven't logged into your product in a while, haven't responded to your emails, or haven't returned your calls in a certain period of time. Once you spot those customers, you can act on them.
CRM doesn't just help you prevent customer churn, it can also increase the customer lifetime value (LTV). It's a perfect tool for upselling and cross-selling.
Improve the quality of your lead nurturing activities
Database segmentation groups leads together in different categories based on a variety of factors. This helps businesses hit them with better-targeted, more personalised offers. Moreover, lead nurturing automation ensures timely follow-ups without forgetting a single lead waiting for your attention.
Improve productivity by streamlining and automating processes
If you delegate tedious tasks such as lead capture, data enrichment, early-stage lead nurturing, task assignment to software, sales reps have more time to spend on money-generating activities that require human creativity and skill.
With or without a CRM system, you'll need to find a way to manage your customer database. Building a solution from scratch costs a lot of money and effort. Investing in a cloud-based CRM system from a trusted vendor is an instant money-saving move.
Implementing such a CRM platform can save you IT costs and eliminate the need for version control and scheduled updates. Moreover, most CRM vendors offer a cost-effective, user-based subscription model, which means the pricing of the solution directly correlates to the number of people using it.
Help you make better data-driven decisions
CRM software is often enriched with sales reporting and analytics functionality, making it easier to keep track of all the sales processes before comparing figures from different periods. As a result, you can adequately assess which bits of your strategy work, identify sales bottlenecks, and choose an alternative route towards development.
Moreover, CRM sales forecasting functionality can help your business predict your business performance in future periods and allocate your resources accordingly.
All of the aforementioned benefits result in the biggest advantage of using a CRM system — it helps to increase sales. Learn more about the benefits of using a CRM system in our article!
But remember! Not every CRM system can benefit and boost your business growth. All of the advantages listed above rely on each particular CRM system's functionality.
We've put together a list of core, standard, and additional CRM features to look for in a solution for your business. Whip out that notebook — digital or physical — and start jotting down a checklist of must-haves for your company.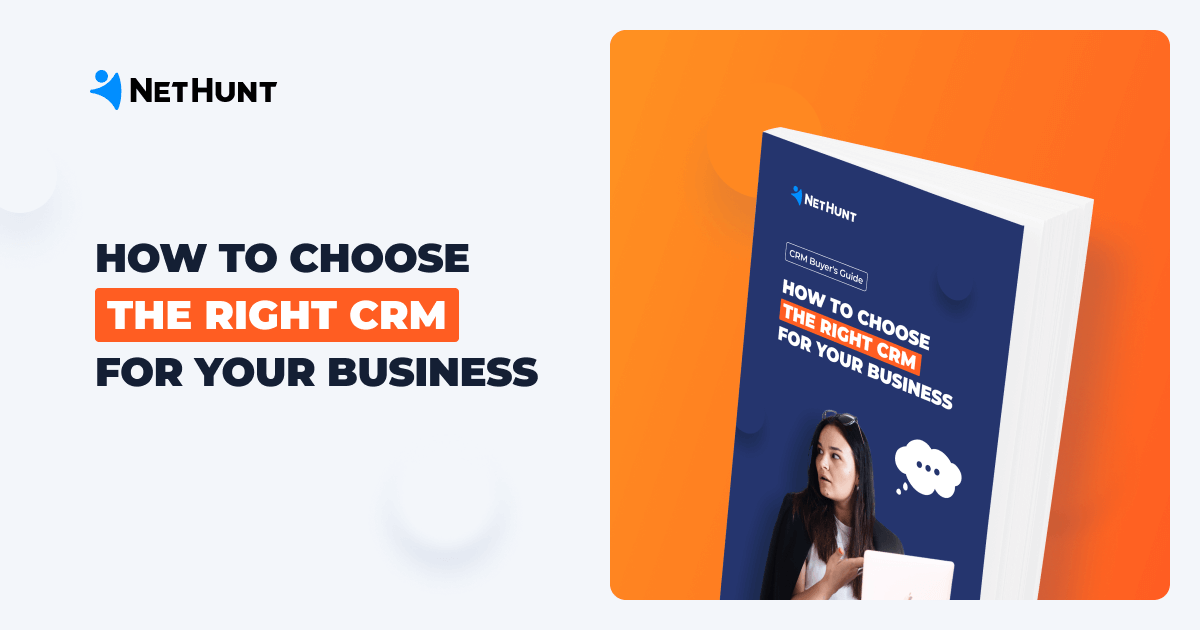 Most important CRM features for your business
Depending on the nature of your business, your needs will vary; so should your list of must-have features in a CRM system. Here are the options for your CRM key features…
Contact management
Contact management functionality lays the foundation of any CRM system as it allows you to collect, store, and structure your customer database.
The effectiveness of your subsequent actions relies on the quality of your customer database. Ensure that your CRM has all the necessary features to keep the database squeaky clean and well-organised.
For instance, NetHunt CRM offers an advanced Duplicate Prevention feature that removes, merges, or warns you about potential duplicates when you add new contacts to NetHunt.
To ensure excellent contact management, you need to look for a system that offers a 360-degree overview of your contacts. Choose a CRM system that provides a wide variety of field types for you to store all the information you need. NetHunt CRM offers primary fields, such as first and last name, job title, social media handles, email address, location, company, birthday, and more advanced fields such as expected value, formula fields, associated deals fields, and more.
All of this data can be used for subsequent customer segmentation.
Key considerations
Does the layout of contact records make sense to you?
Is it easy to customise contact records?
Can you change the order of fields and group them?
Is there a duplicate prevention feature?
Can you merge duplicate contacts?
Is it easy to search for contacts in the database?
Lead management
Lead management is an integral part of the sales process that includes lead capture, lead qualification (lead scoring), and lead nurturing.
The most significant benefit of any CRM system with advanced lead management functionality is automated lead capture. Look for a system that lets you capture leads from various sources, including your website, social media, and email.
NetHunt CRM is capable of it all. When a potential customer visits your site and fills out a web form, NetHunt CRM immediately picks this information and pops a new record in your CRM. Web forms capture important lead details for your business and help you effectively follow up on the lead's request. On top of that, thanks to the numerous integrations NetHunt offers, its users can also find and capture leads from Facebook Messenger, LinkedIn, Intercom chats, and incoming emails.
As soon as new leads are added to NetHunt CRM, you can assign them to your team or add them to an automated nurturing email sequence.
A great CRM system should also enable lead scoring. You should create rules to score all the leads entering your sales pipeline and identify those that need your immediate attention. Finally, you should be able to automate lead nurturing so that the system handles ToFu leads while you focus on the essential deals that require your immediate attention.
Key considerations
Is it easy to capture leads?
Does the CRM offer automated lead scoring functionality?
Is it easy to nurture leads and move them down the pipeline?
Email marketing functionality
No matter how potent your email marketing tool is, it won't be as helpful in determining the impact your email campaigns have on your sales pipeline as an email marketing CRM.
Learn more about the difference between email marketing tools and email marketing CRM systems in our article!
A CRM system that offers email marketing functionality holds several advantages over the solutions that don't...
Compose and save email templates, import, save, and share HTML templates, create new with native Gmail formatting, and mail merge
Send emails in bulk using Gmail or custom SMTP
Segment your database — use CRM to filter, sort, and segment your contacts and subscribers whichever way you need
Get access to advanced email tracking and see all the critical metrics for your email campaigns, including open rates, click-through rates, bounce rates, unsubscribes, and spam reports
Mass update your contacts — bulk-unsubscribe or bulk-update your contacts based on email campaign results
Trigger emails automatically
Key considerations
Does the CRM offer email marketing functionality?
How advanced is it?
Is it integrated with an email marketing platform or a built-in feature?
Can you send emails in bulk?
Is there a maximum number of emails you can send per day?
Can you track the results of your email campaigns?
Can you use macros to personalise your campaigns
Pipeline management
Effective pipeline management is your cure for a stagnant sales pipeline. If your business tends to have a longer sales cycle, you might benefit from a CRM system that allows you to have a snapshot of the whole sales funnel and spot bottlenecks quickly.
Make pipeline management functionality your priority when choosing a CRM for your business.
Here's an example of a sales pipeline in NetHunt CRM…
Ideally, you want to be able to customise your sales pipelines and the different stages that make them up. You might also want to choose CRM systems that allow you to create multiple pipelines for various purposes. If you're selling several different products or services or have your business set in different locations, you'll want to have different pipelines for those deals.
Alternatively, you might want to create a separate pipeline for your marketing efforts, a pipeline for different channels, or a post-sales pipeline to manage relationships with existing customers.
Key considerations
Can you visualise your sales pipelines?
Is it possible to create multiple pipelines or just one?
Is it possible to customise the stages within the pipeline?
Can you create custom views with leads in a specific sales funnel stage or a particular location?
Sales automation
The more processes your CRM can help you automate, the better. Modern CRMs offer fully-fledged sales automation functionality for you to take all the complicated, repetitive tasks out of your sales team's everyday work. By using rules, you can automatically set your CRM software to perform a specific action based on triggers or events.
For example, Workflows by NetHunt CRM allows you to do the following…
Immediately capture web form leads and pop them in CRM
Set drip campaigns to nurture leads
Automatically link email conversations to client profiles
Have an algorithm move a lead to the next stage based on the lead's response
Set alerts and stay in the loop for when something happens
Automate data entry
Automate task distribution
Key considerations
To what extent can you automate your business workflows?
Is the workflow automation functionality only available as an upgrade?
Is the benefit worth the extra cost?
Reporting and analytics
Look for a CRM system that offers a wide range of different reports, whether they're monthly reports or real-time pipeline metrics. You want to track as much of your sales activity as possible and translate it into critical metrics to base your business decisions on.
For instance, NetHunt CRM allows its users to create many different reports to fuel their business growth…
Sales pipeline report
Total sales report
Sales by customer report
Sales by owner report
Sales by source report
Sales forecast
Lost reason report
Sales goals report
Time in stage report
Time in stage by owner
Lead source report
Marketing pipeline report
Check out the extended list of CRM reports
Key considerations
How many different types of reports can you create using your CRM?
How accurate are those reports?
How detailed are those reports?
Employee management
Choose CRM software that offers employees a personal space to individually track their hours, tasks, meetings, sales numbers, goals, and other items.
But remember, an excellent CRM system is of use not only to the sales reps and marketing specialists. It also helps managers and the C-Suite keep track of their employees' activities and day-to-day accomplishments.
For instance, you can create custom views to see all the deals associated with a particular sales rep and see the progress they make every day. Moreover, you can also access employee contact records in CRM and see all the emails they send and receive, how quickly they respond to requests, and how many new events they add to the calendar.
Key considerations
Can you create custom views for different employees?
Is it possible for managers to access the activity history of every employee they manage?
Interaction tracking
To better understand your leads and customers, you need to have full access to your history of communication with them. Therefore, you should seek a CRM solution that offers interaction tracking functionality.
You should be able to link every incoming and outgoing email, chat message automatically, and call between a sales rep and the lead or customer. Moreover, there should also be a space for employees to add notes to contact records with important information received from conversations throughout the relationship.
Key considerations
How often will contact be reassigned to someone else within your organisation?
How many channels do you use to communicate with your leads and customers?
Quote management
Look for a CRM system that can help you streamline quote/ proposal creation and distribution. An ideal CRM system features extensive quote management functionality that…
Helps to build quotes with drag and drop reordering
Offers proposal exporting functionality
It gives an ability to sell globally with multi-currency support
Key considerations
Is sending contracts back and forth between parties a large part of your business?
How many different types of quotes do you need?
Is it vital for you to store proposal templates within the CRM system?
Customisation
"You shouldn't bend your business to fit around a CRM. Instead, the CRM should be customisable enough to bend around your business needs"
🗣️ Andrei Petrik, CEO of NetHunt
Indeed, a CRM is meant to make your business life more manageable, streamline sales processes, and not add more tasks to your workload. Every bit of NetHunt CRM is highly customisable…
Change the appearance of your dashboard
Change the stages within your pipelines
Change the contact record fields and their order
Create as many custom views as you need
Sort your contact folders
Key considerations
Who at your company will be using CRM?
Which features do you need now?
Which features would you need later?
Is it easy to add new users to your account?
Mobile app
As more people choose their mobile phones over stationary computers or laptops to do work, you need to look for CRM software that works well on mobile devices. It should either have a mobile version or offer a separate iOS or Android app.
For instance, NetHunt CRM is available both on Android and iOS devices.
Key considerations
Are you often out of the office?
Do you need to log customer information when on the go?
How much of the CRM functionality would you like to be accessible via mobile?
Integrations
It's likely that you already have a stack of business tools that you use for sales and marketing. Implementation of a new tool, a CRM, shouldn't stay in the way of you using your old, trusted technologies. On the contrary, you should integrate existing apps into CRM. We can do this in a couple of ways…
You should look for a CRM vendor that offers a lot of native integrations with third-party apps.
You should consider a CRM that provides integration with Zapier so that you can integrate with other apps using API.
NetHunt CRM offers several useful integrations for you to get more out of the tools you already love…
If you don't find an app you want to integrate your NetHunt CRM with, you can do it with a single line of code via Zapier.
Key considerations
Which apps are you currently using to run your business?
Which tools do you want/need to integrate with your CRM?
Does a CRM offer integration with Zapier?
Collaborative functionality
CRM is a tool that can bring different departments within your company closer together and put them all on the same page. Seek a CRM system that offers extensive collaborative functionality and allows people from other teams to work on the same projects in real-time.
For example, NetHunt CRM offers a wide range of teamwork features for your business to close deals faster…
Tasks
Mentions
Shared communication database
Calander sync
Formula fields
Key considerations
Who within your company needs access to CRM data?
Do you have alternative means of communication between co-workers?
How many people work on a single deal?
Security
Finally, with multiple people accessing CRM data, you need to ensure your CRM solution is well-protected. No vengeful employee or skilled hacker should threaten the wellbeing of your customer database. Here are some of the fundamental CRM security criteria to look for…
You should own the data you enter into the system
Access permissions
Two-step authentication
Privacy compliance
Data encryption
Deletion protection
Moreover, it would be best to look for a CRM that regularly gets third-party security tested. For instance, NetHunt passes Google Security Assessment to confirm our compliance every year!
Learn more about securing your CRM data in our article!
Key considerations
Does your business collect and store any sensitive information?
Will this role need to frequently work with the data in the CRM to get their job done?
Table of Contents
Crack the sales formula with CRM Lab
Twice a month, receive actionable CRM content to your inbox.
Join the
Telegram channel NetHunt CRM
All about CRM and B2B sales.
Join