Sales CRM is the monkey's nuts, and the whole industry is on an exponential rise of innovation and large-scale usage. If you're not using CRM, 2023 is the time to do it, and this article is the perfect place to start CRM shopping.
We've put together one list; one list to rule them all.
Our list looks at the top 10 high-flyers in the sales CRM industry.
It outlines a little bit of background about the company behind each platform, the key features users can enjoy with a focus on more unique features of each one, the pros and cons of each system, how to gain access, and how much it's gonna cost you.
We've covered all the bases so you don't have to.
---
Why do you need a sales CRM?
CRM provides a centralised, organised platform for sales, marketing, and support teams to quickly access customer and business data. That might be a very simplistic view; it might even be a little outdated.
The CRM industry has developed leaps and bounds in recent years, and there are countless providers all trying to get your attention. They innovate, market, and innovate again.
As a result, there is a growing list of reasons as to why your company needs a sales CRM system.
Organise and visualise customer data for a data-aligned company
Automate mundane but necessary tasks to free up employee time
Prospect, generate, nurture, and close more leads at the same time
Personalise and segment outreach for better conversion rates
Improve customer retention with automatic post-sales processes
Forecast, report, and know what your teams do
Standardise your sales process and spot sales funnel bottlenecks
Improve and speed up customer service processes
Scale business growth and keep on top of it
I'll stop there, but the list goes on. And on. And on, and on, and on…
Further reading: What is a CRM? The Complete guide.
Key features of a sales CRM
With so many systems out there, there are a lot of features out there too. Each CRM provider tries to fit in a specific niche, leaving me in a position where I've got to write an article about 10 different systems with hundreds of similar features and dozens of not-so-similar features.
No problem, I've done this a million times before.
Let's figure out the absolute foundation of key features that your brand new CRM system should be built upon, and we'll climb up from there.
*Being key features of CRM in 2023, you can assume each platform in our list provides all these features.
Sales CRM for sales pipeline management
A sales pipeline is a visual snapshot made up of the different deal stages a lead goes through before they become a buyer. It's a simple tool to help businesses get organised, prevent any leads from falling through gaps, and maximise profits. It's essential for salespeople as they juggle multiple deals at one time; it gives them an overview of all their leads, which concrete actions need to be completed, and how valuable that lead is for their business.
A sales pipeline standardises and visualises your sales processes, and is the main hub your sales team work from on a daily basis
Sales CRM for workflow automation
A recent trend in sales CRM functionality is workflow automation. It's something beautiful, relieving tired employees' shoulders from the mundane, but necessary tasks. Data entry is too easy to be done by your smart, funny, and beautiful sales team. You've got a growing list of leads and it becomes difficult to nurture them all manually. Choose a CRM system with native workflow automation where you can build automatic sequences of triggered actions.
Choose workflow automation that's easy in implementation, but powerful in execution.
Sales CRM for team collaboration
One of the key advantages of a well-implemented sales CRM system is that it puts departments of a business on the same page, no matter which department they're in. Sales, marketing, and support teams are all working with the same leads and customers, so why shouldn't they have access to the same customer data? The more users subscribed to a CRM system, the more users you have on the same page working for your company; singing the same songs and scratching each others' backs.
Look out for collaborative features such as mentions, notifications, internal chat applications, and tasks.
Sales CRM for sales and marketing reporting and analytics
Reporting offers an insight into the overall health of your business; analytics are a crystal ball into the immediate future of your business. Both are essential for building your business strategy and making sure everything is floating, and your business isn't going to die tomorrow. You might do reporting and analytics in a spreadsheet right now - you'll know that it's hard work and very manual. But with so much data coming in and out of CRM, it's the perfect place to automate reports.
Look for a system with automatic, neat, and easy-to-export reports and analytics.
Native integrations
You shouldn't be expected to bend your business to fit a sales CRM. Upon CRM implementation, you'll do a lot of your daily business out of your CRM workspace. Still, that doesn't mean that you won't use the tools that make your company your company. Native integrations are those that your CRM providers build to blend effortlessly with the tools you use. For example, NetHunt CRM integrates with Gmail, LinkedIn, Google Data Studio, and loads more.
A sales CRM should bend to fit your business.
As if that wasn't enough, have some more. Your future CRM should…
Be based in the Cloud, rather than on a clunky office server
Have access to mobile apps for access on the move
Integrate with your email client for automatic data generation
Be fully-customisable and modular to fit your business
Feature omni-channel communication support
Be driven by a lovely customer support team who are ready to help
Best CRMs for sales to choose from
Best Sales CRM: NetHunt CRM
NetHunt CRM lives in the cloud and lives in your Gmail inbox.
In fact, it doesn't just live in your Gmail inbox - it was born and bred there. It's Gmail through and through, helping users create new client records and deals from incoming and outgoing emails and featuring CRM for sales context next to everything in there. The learning curve is smooth and shallow, but if you're ever having trouble getting to grips with the system, NetHunt's customer support team is lovely, ready, and waiting to show you the ropes.
Start your free NetHunt CRM trial today!
NetHunt CRM features
Full native integration with Gmail, sitting in your inbox
Multiple sales pipeline management and visualisation
Collaborative functionality such as tasks, mentions, and notifications
Workflows by NetHunt CRM
Bulk emails, email tracking, custom SMTP, templates, and reporting
Lead generation integrations with LinkedIn, Messenger, and Intercom
Zapier integration to connect NetHunt CRM with tools you love
Automated lead capture, nurturing, and pipeline management
Drip campaigns to nurture leads automatically
Reporting functionality to create different types of reports
Web Forms by NetHunt CRM
Integration with Google Contacts, Calendar, Drive, and more
Feature Focus: Workflows by NetHunt CRM
Workflows is NetHunt CRM's native workflow builder. Launched last year, Workflows has already helped thousands of NetHunt customers trim the fat off their day, eliminate mistakes through automation, and ensure sales and marketing teams around the world have more time in their day for a cup of tea and a good think about what to do next.
There's no prior coding experience required - all users need is a hand to move the pointer and a good idea of what their sales processes are. It all starts with a trigger, which is something that sets off your automated workflow. From there, you'll be able to complete actions such as send emails, ping chat notifications to your team, and manage your sales pipeline automatically. It's completely intuitive and wonderfully flexible, fitting perfectly into your existing and future workflows…
… Oh, and there's loads more to come from this feature.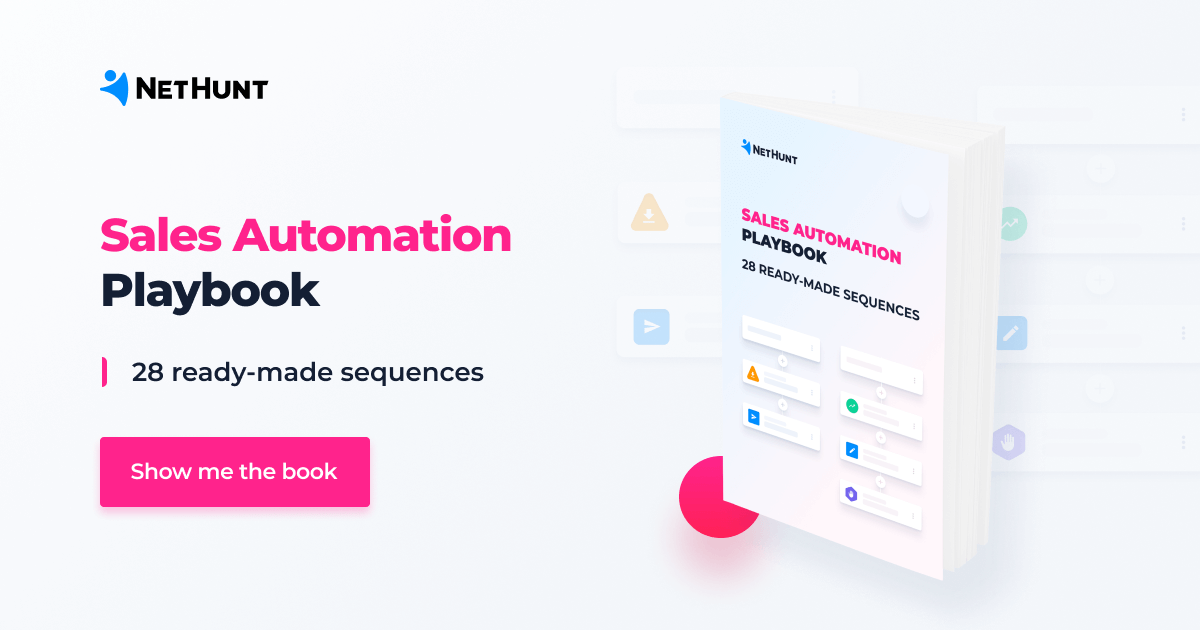 Positive aspects of NetHunt CRM
✅ A fully-fledged CRM system that integrates with Gmail seamlessly
✅ Active devs and a jam-packed schedule of updates and releases
✅ Modular and extremely customisable interface
✅ A short, shallow learning curve with excellent support and materials
✅ Email marketing; bulk, tracking, templates, drips, and SMTP
Negative aspects of NetHunt CRM
❌ Mobile app with limited functionality compared to desktop
❌ Some features only available to Business and Enterprise users
❌ Currently only seven native integrations with more planned
❌ Basic native reporting functionality

NetHunt CRM pricing
🆓 All NetHunt users receive a 14-day free trial of the system
🌱 Startups can check if they're eligible for the Early-Stage Plan
💰
Basic
: $24 per user per month, billed annually
💰
Basic Plus
: $34 per user per month, billed annually
💰
Business
: $48 per user per month, billed annually
💰
Business Plus
: $68 per user per month, billed annually
💰
Advanced
: $96 per user per month, billed annually
Check pricing
How to get NetHunt CRM
Head over to NetHunt's website and sign up for the 14-day free trial of the system, then download the Chrome extension from the Chrome Webstore and place the CRM at the heart of your Gmail inbox.
Book a demo with the Customer Success Team to learn how best to use the system for your exact business!
Looking for a CRM built in Gmail? We've prepared the list of best of them.
CRM Lab says… this Gmail CRM is for everybody and anybody; they've got big plans going forward, including a complete UI overhaul. NetHunt is something to invest in and they're known for their world-class support!
Best Sales CRM: Pipedrive CRM
Founded in 2010, Pipedrive has spent the last 12 years on an exponential rise to become one of the most recognisable names in the sales CRM industry.
It's an intuitive sales software "built by salespeople, for salespeople". Pipedrive CRM is a sales-focussed CRM system, offering users value for money with a simple, user-friendly interface. All the basic CRM features you'd expect are there, such as contact management, sales pipelines, and automation. Pipedrive also offers a bunch of unique sales-centric features for all you sales reps.
On the surface, Pipedrive offers good value for money.
Pipedrive CRM features
Sales automation
AI-powered sales mentor with on-the-spot insights
Collaborative features
Customisable sales pipeline
Open API to connect with any software and develop custom features
Email marketing features: sync, tracking, scheduling, and reporting
Phonecall app and automatic call logging
Activity calendar
Insights, forecasting, and reporting
A strong list of native integrations
Web forms
Smart Docs: Accounting and invoicing
Feature Focus: SmartDocs by Pipedrive CRM
As a sales rep, you're all too familiar with the paperwork that comes with your job. Taking the handling of monotonous sales work one step further, the Pipedrive CRM devs have developed SmartDocs to take care of paperwork for your business. It's a nifty little feature, and it'll come in useful for B2B - especially SaaS providers - who dish out paperwork from a distance.
SmartDocs helps sales reps template and send quotes quickly without having to laboriously copy-paste different information. This feature uses existing CRM data to auto-fill documents with necessary data about both a client and a product. Trackable documents mean you receive a notification whenever that document is opened, helping understand when the best time to follow up is. Tidy.
Positive aspects of Pipedrive CRM
✅ Contact management
✅ Task management
✅ Affordable
✅ Niche sales features
✅ Gmail extension works in any browser
Negative aspects of Pipedrive CRM
❌ Lack of email marketing functionality
❌ Limited Gmail integration features
❌ Workflow automation could be better
❌ Slow customer service response reported
❌ Lack of phone or video call support
Pipedrive CRM pricing
🆓Pipedrive offers a 14-day free trial period of the platform

💰Essential: $12.50 per user per month, billed annually
💰Advanced: $24.90 per user per month, billed annually
💰Professional: $49.90 per user per month, billed annually
💰Enterprise: $99 per user per month, billed annually.
How to get Pipedrive CRM
Visit Pipedrive's website and sign up for the free trial, then download the Gmail extension for your browser.
CRM Lab says… if you're looking for a sales management platform with excellent document management capabilities, Pipedrive might be the tool to try!
Best Sales CRM: HubSpot CRM
You might have seen the name HubSpot CRM knocking around the internet. Lord knows I have.
HubSpot are content marketing kings and a major CRM provider. Their main draw is that HubSpot CRM is forever free for unlimited users and up to one million contacts on a basic level. The HubSpot CRM is built for smaller teams. As that team grows, they may want to pay for access to HubSpot's other features that offer further opportunities for growth. Surely HubSpot can't be free forever - they've got a business to run!
We've got a sneaky suspicion that free HubSpot is designed to offer a taste of their meatier Sales, Marketing, and Service Hubs.
HubSpot CRM Sales Hub features
Reporting dashboard
Automatic sales CRM notifications
Predictive lead scoring
Deal tracking
Call logging app
Pipeline management
Prospect tracking
Meeting scheduling
Live chat
Email tracking, templates, sequences, scheduling
Document management and tracking
Sales process and workflow automation
Feature Focus: HubSpot CRM call logging app
Because despite emails and social media, a lot of sales rep time is still spent on the phone to clients.
The HubSpot call logging offers the ability to set meetings up and record them before automatically logging them in the HubSpot CRM platform. The app offers a bunch of different data from each call, such as engagement data, call logs, and the ability to store conversational details through notes. Users can manage the call logging app from their desktop or from the mobile apps available for iOS or Android. It's a must-have for those sales reps who spend a lot of time on the phone.
Positive aspects of HubSpot CRM
✅ Free, limited version for unlimited users to 1,000,000 contacts
✅ Dozens of integrations with third-party apps
✅ Strong sales automation and workflow builder
✅ Integration offers a HubSpot CRM sidebar in your Gmail inbox
✅ Advanced reporting functionality
Negative aspects of HubSpot CRM
❌ Free version is extremely limited
❌ Limited opportunities for customisation
❌ Steep learning curve reported on review websites
❌ Gmail integration is just a sidebar, rather than full integration
❌ Contacts take a long time to create, as reported on review websites
HubSpot CRM pricing
🆓 HubSpot is free forever for unlimited users

💰 The Sales Hub is $45 per month for two users, billed annually
How to get HubSpot CRM
Create an account through the HubSpot portal Sign in to your HubSpot account through that same portal Download the Gmail extension here.
CRM Lab says… HubSpot is a well-established name in the CRM industry. That free version is surely worth a shot, but does it have the necessary features for a growing business?
Best Sales CRM: Zoho CRM
Zoho CRM has been around since 1996. Did we even have computers then?
Quite rightly, things have changed; things have developed. From AdventNet, a dream cooked up by Sridhar Vembu in his bedroom, to Zoho Corporation - a multinational company with a physical presence in 12 countries and a buffet of online tools for users to take advantage of. In all that time, hundreds of developers have tagged new features onto the system for all departments of a business. There are so many features.
In fact, there are more than your business could ever really need.
Zoho is a benchmark for the sales CRM industry, and their success is down to constant innovation and passion for what they do.
Zoho CRM features
Workflow automation
Canvas CRM designer with templates
Blueprints process management - definite the sales process builder
Omnichannel support - email, telephony, socials, customer portals
Reporting and analytics
Quotes and finance
Partner portals to control and enhance partner access
Zia - conversational assistant and on-the-spot suggestions
Google Ad integration
G Suite and Office integration
Forecasting
Gamification of sales metrics
Feature Focus: Canvas CRM designer
Sales CRM customisation is important to ensure a smooth user experience in a tool that you and your team are going to work out of every single day. Comfort and usability drives usage, which is important because sales CRM drives growth. Zoho CRM features the most radical customisation feature out of any provider on the market today. Canvas designer lets users design this sales CRM however they want.
Canvas is a simple-to-use drag-and-drop editor - kind of like a workflow builder. Users can create the Zoho experience they want, either from scratch or by using one of the beautiful templates provided. If you want some advice - keep it minimal, a maximum of three colours, and don't go crazy with the font. Oh, and have fun.
Positive aspects of Zoho CRM
✅ Great customer support available via email and live chat
✅ A vast selection of features
✅ Affordable
✅ Scalable
✅ Free version available
Negative aspects of Zoho CRM
❌ Customisation is necessary for usability
❌ Complaints about too much functionality; overwhelming
❌ Impossible to remove fields that aren't used
❌ Clunky with a steep learning curve
❌ Some features are clearly not as developed as others
Zoho CRM pricing
🆓 Zoho users can take advantage of a 30-day free trial
🆓 There is a free version of Zoho CRM with limited functionality

💰 Standard: $12 per user per month, billed annually
💰 Enterprise: $35 per user per month, billed annually
How to get Zoho CRM
Sign up for a free Zoho trial on the Zoho website, then download the Zoho CRM Gmail extension from the Google Workspace Marketplace.
CRM Lab says… Zoho is an old man in the sales CRM industry. Over the years, this platform has added new, niche functionality and perfected its most basic features.
Best Sales CRM : Keap CRM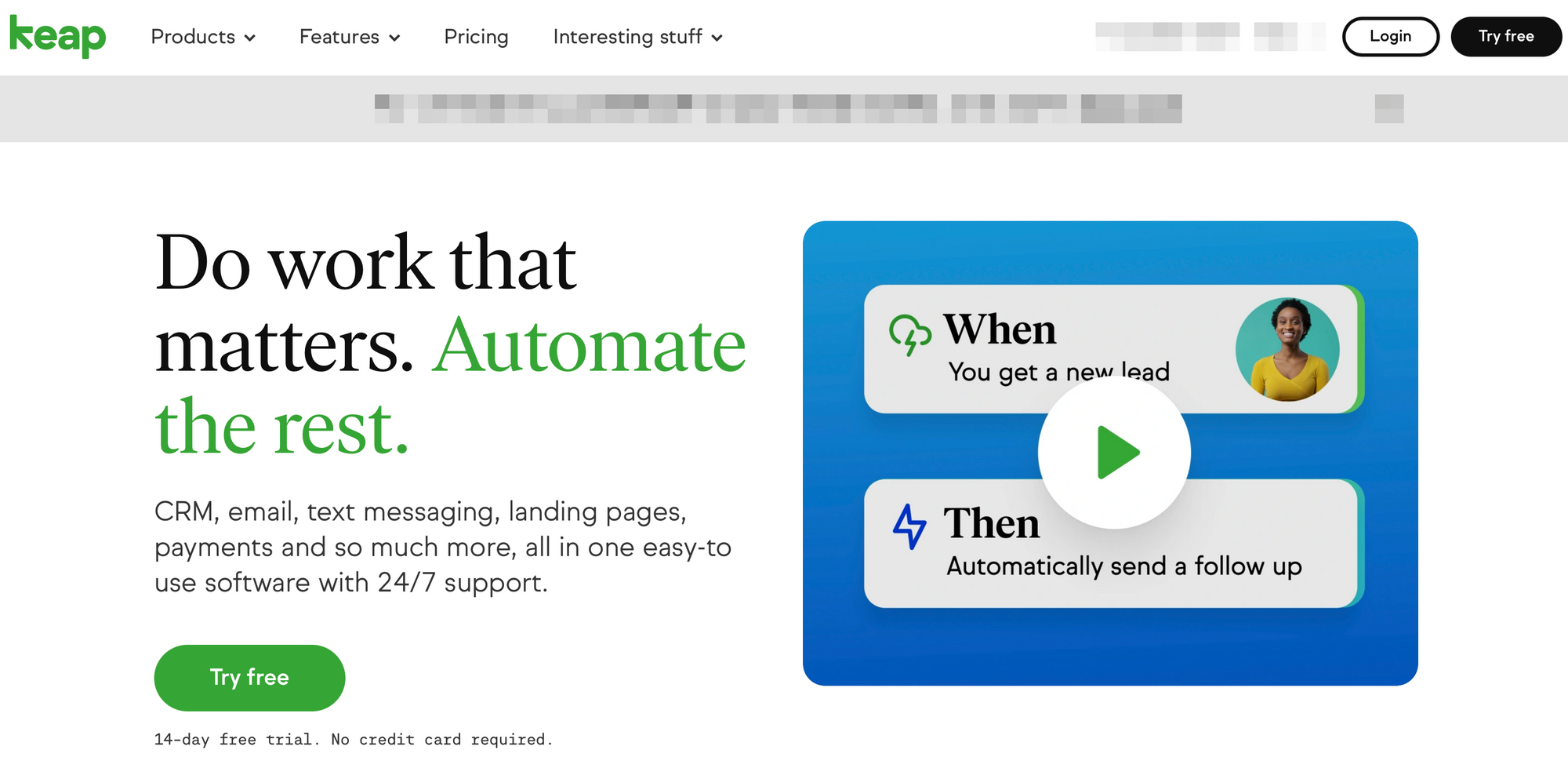 Keap might sound like a new name on the block… and it is in a way. Infusionsoft was founded way back in 2001, becoming Keap in 2019.
I like the new name better.
Keap (pronounced Keep) is a platform that primarily markets itself as an automation software - encouraging users to focus on the stuff that matters and automate the rest. Alongside all the as-you'd-expect sales CRM features such as contact organisation, automation workflows, and lead and customer nurture features, Keap offers a bunch of other features such as invoice management, checkout forms, and other accounting features.
Yep, Keap CRM sounds like something we can get behind.
Keap CRM features
Centralised database
Integrations with Shopify, quickbooks, hellosign and more
Sales and marketing automation
Workflow builder
Appointment reminders for automatically scheduled appointments
Email marketing
Text message marketing
Reporting and analytics
Invoicing and payment management
Email templates, segmentation, and drips
1:1 CRM coaching
Unlimited 24/7 expert support
Feature Focus: Keap CRM text message marketing
In the world of Whatsapp, Instagram, Facebook, and email… is there any room for text message marketing?
Well, the guys at Keap reckon there is. They reckon text messages secure a whopping 94% open rate, which is way higher than email or any other kind of communication medium. Keap CRM helps B2C users take advantage of this, with automated text messaging - either in bulk or as part of an automated workflow - via a Keap business line. Yep, Keap'll provide a phone number for you.
Each Keap plan has a certain amount of text message credits, but each message after that will be charged at $0.04 per message.
Positive aspects of Keap CRM
✅ Segment clients and email them directly from Keap
✅ Tag feature is useful to organise contacts
✅ Supreme marketing functionality
✅ eCommerce compatibility for B2C customers
✅ Customer support go above and beyond
Negative aspects of Keap CRM
❌ Lack of recurring invoicing
❌ Some of the integrations can be a little undercooked
❌ Fields stay visible even if they're empty; cluttered
❌ Not as intuitive as some systems
❌ Quite expensive
Keap CRM pricing
🆓 Keap CRM users can take advantage of a 14-day free trial.

💰 Lite: $79 per user per month +$30 for every additional user
💰 Pro: $169 per user per month +$30 for every additional user
💰 Max: $199 per user per month +$30 for every additional user

How to get Keap CRM
Sign up for a free trial and get started!
CRM Lab says… Keap CRM apparently came out of nowhere to provide a cool, functional CRM that works for either B2B or B2C companies.
Best Sales CRM: Salesforce CRM
Alas, it's hard to work in the CRM industry and not be in awe of Salesforce CRM. Widely regarded as the world's leading CRM system, the fact that the tallest skyscraper in downtown San Francisco is called the Salesforce Tower tells you everything you need to know about this company.
Salesforce CRM's success is reflected in the dozens of awards it won from respected industry outlets such as CRM Magazine, ZDNet, and Destination CRM. This success is also reflected in the fact that Salesforce provides services for 99 out of 100 companies on the Fortune 100 list. Forgive me, but my SEO keyword dashboard is telling me to say Salesforce CRM just one more time.
Salesforce's Sales Cloud works well for businesses of most sizes, despite all the glamorous names. This is thanks to a special tiered delivery system. Salesforce CRM offers enterprise features such as opportunity tracking, lead scoring, pipeline management, email marketing, and an email template library; customisable dashboards, and huge integration capabilities. Functionality everywhere.
Salesforce Sales Cloud CRM features
Seamless social integration for customer context centralisation
Reports and customisable dashboards
Records as customisable list views
Built-in quoting capabilities
Validation rules to ensure data meets a certain criteria
Realtime deal update notifications via the mobile app
Automated deal approvals
Data loads helps import, export, update, and delete records
File sync and share
Flow by Salesforce workflow builder
Supreme sales forecasting
Picklists to maintain data consistency for multinational businesses
Feature Focus: Salesforce CRM sales forecasting
As part of the Salesforce Sales Cloud, users can access a real-time picture of their team's teams forecast - both individually and collectively. Salesforce sales forecasting has been tuned down to a tee, visualising the entire sales pipeline to take action where and when necessary. It gives management the snapshot they need to make essential decisions quickly when things are moving fast. It also allows them to track their top performers with leaderboards.
A feature called Overlay Splits helps break down forecasting for the most complex sales organisations, and they're essentially advanced sales forecast filters. Neat.
Positive aspects of Salesforce Sales Cloud CRM
✅ World's most famous CRM system, so must do something right
✅ Tag feature is useful to organise contacts
✅ Supreme marketing functionality
✅ Massive list of integrations
✅ Customer support go above and beyond
Negative aspects of Salesforce Sales Cloud CRM
❌ Being so large, Salesforce is a one-size-fits-all solution
❌ Difficult to scale to a smaller business
❌ Complaints about load times within the heavy system
❌ Dashboard can be overwhelming at first
❌ Anything above the Small Business plan is rather expensive
Salesforce Sales Cloud CRM pricing
🆓 Salesforce Sales Cloud features a free trial

💰Small Business: $20 per user, per month billed annually
💰Complete : $60 per user, per month billed annually
💰Deeply Customisable: $120 per user, per month billed annually
💰Unlimited: $240 per user, per month billed annually
Head to salesforce.com and hit that green 'TRY FOR FREE' button in the top-right corner.
CRM Lab says… Big, big CRM provider for big, big business deals
Best Sales CRM: Freshsales CRM
Freshsales is a dedicated sales CRM, helping users close deals faster with a full, complete picture of their prospects, customers, and leads.
Freshdesk launched their bespoke CRM platform, Freshsales, in 2016. Since then, it has established itself as a trusted, recognisable name on the CRM market. Freshsales markets itself as a context-driven sales platform, offering a full 360-degree view of those contacts in your database. It promises to power up the sales team by streamlining sales processes, offering conversations with context and automation to get rid of mundane legwork.
Increased adoption, reduced costs, and morale boosted.
Yep, sounds like a CRM to us. So what sets Freshsales apart from the rest?
Freshsales CRM features
AI-powered chatbot to meet website visitors
Web forms
Track website visitor clicks and journeys
Auto-assign sales reps by matching them with customer criteria
Sales automation workflows
Create and edit email templates
Freddy the AI CRM-assistant
Visualised sales goals for the team to meet
Schedule and join Zoom meetings straight from CRM
Analytics and reporting
API access and plenty of native integrations; Zapier and Slack
Multiple sales pipeline management
Feature Focus: Freddy the AI assistant
Freddie is an AI dog who wears glasses, but don't let that put you off.
He's a good lad, and he helps Freshsales users manage their business by offering on-the-spot information about deals, subscribers, and website visitors alike. He recommends, predicts, and delivers insight that wouldn't otherwise be available. The long and short of it is that Freddy's deal insights offer sales and marketing teams the opportunities to make better decisions. He analyses historical sales data, individual activities and engagements, and helps those teams get to know leads before they have even had a chance to speak to them.
AI is the future of CRM and essential data-backed decisions that businesses should take.
Positive aspects of Freshsales CRM
✅ Continual enhancement and upscaling of functionality
✅ Easy to use with easy access to customer accounts
✅ Free support
✅ Easy onboarding and setup
✅ A cheap CRM option
Negative aspects of Freshsales CRM
❌ Sales and Marketing CRM differs from Sales CRM
❌ Complaints around billing communication
❌ Complaints about support waiting times
❌ Advanced features like reporting on the higher plans
❌ Needs more integrations
Freshsales CRM pricing
🆓 There is a free version of Freshsales with limited functionality
🆓 Freshsales starts with a 21-day free trial

💰Growth: $12 per user, per month billed annually
💰Pro: $29 per user, per month billed annually
💰Enterprise: $55 per user, per month billed annually
How to get Freshsales CRM
Go and sign up for your free Freshsales trial, then log in on the Freshsales web app and start CRMing.
CRM Lab says… Freshsales CRM is a sales-centric CRM system with lots of unique features, including up-and-coming AI capabilities.
Best Sales CRM: Zendesk Sell CRM
Founded in Copenhagen, Denmark in 2007, Zendesk has established itself as one of the most recognisable providers of customer service software and CRM.
Now based in San Francisco, off the back of their customer support software success, Zendesk offer a sales CRM solution called Zendesk Sell. Contact management, sales pipeline management, and sales automation capabilities - this platform features the sales CRM basics alongside powerful email marketing tools and sales call technology. As the final CRM vendor on this list, Zendesk has an uphill task to persuade you, brave reader, who got all the way to the end.
The Zendesk Sell feature list isn't as explosive as some of the others on this list.
Zendesk CRM features
Mobile
Calls - dashboard calls, log and record, scripts and notes, texts, calls
Loads of integrations
Prospect, generation, nurture tools
Sales pipeline
Clean interface, easy user experience
Sell Reports: Extensive reporting capabilities
Cloud-based, web-based
Predictive analysis
Lead prioritisation
Document storage
GPS logger for website visits
Feature Focus: Sell Reports
In the absence of any specific features that need explaining, let's look at one feature where Zendesk Sell is particularly strong.
Sell by Zendesk features a good handful of reporting options for sales pipelines and overall performance. Look at total sales, funnel metrics, where deals are in your pipeline, deal sources, rep analytics, goal tracking, and loads more. By my count, there are over 30 different reports that Zendesk Sell users can track and over 20 chart types to visualise that data and get to the bottom of it in your next sales meeting.
Positive aspects of Zendesk Sell
✅ Attractive layout and customer fields easy to add
✅ Powerful and simple sales management-specific tool
✅ Document and image storage in records
✅ Microsoft office link and sync
✅ Excellent mobile app
Negative aspects of Zendesk Sell
❌ Reported problems with integration capabilities
❌ Complaints about support team taking some time to reply
❌ Lacks standout, niche features to set apart from others
❌ Leads and contacts are separate, creating a duplication problem
❌ Loading times compared to other software
Zendesk Sell pricing
🆓 Zendesk users can take advantage of a 30-day free trial

💰Team: $19 per user per month, billed annually
💰Professional: $45 per user per month, billed annually
💰Enterprise $79 per user per month
How to get Zendesk Sell
Make sure you've selected the right product and start your free Zendesk trial and then log in and start using Zendesk CRM.
CRM Lab says… Zendesk is a simple CRM system with basic CRM functionality. It doesn't do much, but what it does do it does well.
---
If you're not using CRM for your business by now, maybe you should be. There are thousands of different providers out there with millions of different features - one of those providers is bound to work for your business. Every CRM provider on this list offers either a free trial of their product or a free version of it.
Experience real business growth in 2023 with a sales CRM.
Table of Contents
Crack the sales formula with CRM Lab
Twice a month, receive actionable CRM content to your inbox.
Join the
Telegram channel NetHunt CRM
All about CRM and B2B sales.
Join