Google Workspace has Contacts, Drive, Documents, but do you know what it's missing? A CRM!
If your primary work environment is Google Workspace and you're looking for a CRM, you're in the right place.
CRM software helps you streamline customer data, automate tasks, and improve customer engagement. With the right Google CRM, you can significantly boost sales and build strong customer relationships.
This article looks at the 10 best CRMs for Google in 2023. We'll discuss their features, benefits, and pricing to help you make an informed decision.
Ready to discover the best Google CRM for your business? Keep reading to find out more!
What is a Google CRM?
A Google CRM is a CRM suite that integrates natively with Google Workspace, meaning it doesn't just link to your Gmail Inbox and the rest of the G Suite but becomes a part of it.
A CRM for Google links with tools such as Google Contacts, Google Drive and the rest of the Google apps that Workspace offers.
As a result, implementing a CRM for Google turns your Google Workspace, not only into a powerful collaboration tool to be used by your teams, but into a customer relationship management powerhouse.
Who needs a Google CRM?
In short… If you use Google Workspace as your primary work environment, you need a Google CRM!
But why?
Without a Google CRM, you're unable to utilise the full potential of the G Suite, leading to an immense workload on your teams. They'll need to do tasks that a CRM for Google can simplify down to the click of a button.
The modern B2B sales environment requires you to provide customers with lightning-fast support and a clear, value-based proposition. Both are difficult for smaller companies to keep up with. However with a Google CRM, being there for existing customers, building meaningful business relationships with prospects, becomes more accessible than ever.
Benefits of a Google CRM
A Google CRM impacts your business in several ways. All of them are sure to significantly boost your performance in both the short and long term.
Some benefits of a CRM for Google Workspace are…
With a Google CRM, your contacts database becomes more organised and easy to navigate.
A Google CRM helps increase customer loyalty, and better customer relations.
Implementing a Google CRM creates better team alignment.
A Google CRM helps you keep a finger on the pulse of your business performance.
A CRM for Google Workspace can help you automate routine tasks.
Can you just use a CRM in Google Sheets?
Of course!
You can always use Google Sheets as a CRM, but that would be like riding around on horseback instead of riding a car. Sure, horseback looks more heavy metal, but cars are more efficient. The same goes for CRMs, it's not about how heavy metal you look or how old-school it feels, it's about the results it brings to your processes.
In that regard, any proper Google CRM blows Google Sheets out of the water.
So the next time you think about just using spreadsheets as a CRM, think to yourself…
Why would I?
Key features of a Google CRM
Google CRMs come with many features that vary from system-to-system. There are some features that you should always look out for when choosing your CRM for Google Workspace.
The critical features of a Google CRM are…
Contact management
Contact management refers to storing, collecting, and structuring your contact database. It is the core functionality of any CRM system, representing the fundamentals of what the other systems are based on in a CRM for Google.
Lead management functionality
Capture, qualify, and nurture leads. A good Google CRM captures leads from various sources, such as websites, social media, and your Gmail inbox.
Email marketing functionality
Email marketing functionality is crucial for creating, managing, and tracking email campaigns. A sound Google CRM system should allow you to create email templates, comfortably sort your mailing lists, trigger automatic email responses, and track your email campaign performance.
Pipeline management functionality
This allows you to monitor your leads throughout their customer journey. Ideally, your CRM for Google should also allow you to create multiple pipelines for different purposes. For example, a separate marketing and sales pipeline.
Sales automation functionality
This functionality allows teams to focus on tasks that require human attention to complete. Any business-related activity requires routine work, such as sending reminder emails or moving leads to a different stage.
These tasks can be handed off to a machine, allowing employees to focus time and energy on tasks that require a human.
Reporting functionality
Keeping a finger on the pulse of your business is vital.
Most CRMs for Google come with built-in report generation functionality, often allowing you to see the updates to the reports in real time. This ensures you never miss out on an essential change in the metrics you track.
Some Google CRM systems, such as NetHunt CRM, also come with a Google Looker Studio integration. This allows  you to visualise data and create smooth, dynamic visual charts. Data becomes all the more impressive.
Employee management functionality
A good CRM for Google offers employees a personal space to individually track their hours, tasks, meetings, sales numbers, and goals.
A great Google CRM system also helps managers and the C-Suite keep track of employee activities and day-to-day accomplishments.
Interaction management functionality
You must have complete access to your customer and lead communication history, if you want to understand them better. Look for a CRM for Google program that includes interaction tracking capabilities. Most do.
Every email sent and received, every chat message sent, and every conversation made between a sales representative and a lead or customer should be linked. There should be a notes feature within contact records to scribble important information.
Customisation
A Google CRM should simplify sales procedures and reduce workload,rather than add new tasks. Therefore you must be able to tailor your Google CRM to fit your specific needs and processes best.
NetHunt CRM, for example, allows you to customise your CRM to a large extent…
Change the appearance of your dashboard
Change the stages within your pipelines
Change the contact record fields and their order
Create as many custom views as you need
Sort your contact folders
Integrations
You probably already have a collection of business tools that you use for marketing and sales. Utilising your established, reliable technology shouldn't be hindered by implementing a new CRM. Instead, you ought to incorporate current apps into your CRM for Google.
Collaboration-enabling functionality
CRM is a technology to align all of your organisation's departments and bring them closer together. Look for a CRM system that has robust collaborative features and enables real-time collaboration between members of different teams working on the same projects.
Security
Your CRM solution must be secure because many people within the company have differing access to CRM data. The security of your customer database shouldn't be in danger from a spiteful employee or a knowledgeable hacker.
10 best CRMs for Google in 2023
To make your search of Google CRMs easier, we've compiled a list of the ten best CRM systems for Google.
NetHunt CRM: Full Google integration
NetHunt CRM is a popular Google CRM that is fully integrated with Google.
Being highly regarded in the CRM industry, it's recognised by badges, awards, and positive reviews. NetHunt CRM boasts a 4.8 rating on Capterra, which is proof of these claims.
It's a powerful, yet very flexible CRM that's able to suit every customer's needs.
NetHunt CRM has a seamless two-way integration with virtually every tool within the Google Workspace, transforming Gmail into your primary communications hub and placing your VoIP dialers, previous communication history, customer data and files into your Gmail inbox.
The events on your timeline also get automatically synced with your Google Calendar, and all files received from clients are uploaded to the Google Drive. This means that at no point during the sales process do you need to leave the Google Workspace ecosystem. No NetHunt CRM feature is locked away behind menus and there are no integrations to install — it's all just there.
You could also utilise the integration with Looker Studio to create visualised reports, allowing you to track important metrics in real time.
NetHunt CRM is an excellent tool for every department in your business. You can mix and match various features to get what's right for you…
Contact management functionality to store and segment contacts
Multiple sales pipeline management and visualisation
Collaborative functionality such as tasks, mentions, and shared databases
Email marketing functionality like bulk emailing, email tracking, custom SMTP, email templates, and reporting
Integrations with LinkedIn, Facebook Messenger and Intercom for lead generation
Zapier integration to connect NetHunt CRM with tools that you love
Sales automation functionality such as automated lead capture, automated task assignment and distribution, and notifications
Drip campaigns to nurture leads automatically
Reporting functionality to create different types of reports
The developers, management, and customer success work fast to make sure your NetHunt CRM experience is always at a high standard.
Pros of NetHunt CRM
✅ A full-power CRM system that integrates seamlessly with Google Workspace
✅ Robust sales automation capabilities
✅ Email marketing capabilities such as email automation and email campaign management
✅ Contact management functionality
✅ Creation and management of multiple sales pipelines from within Gmail
✅ Various integrations that tie your tech-stack together
✅ You're able to customise NetHunt CRM to a high degree, making the system truly your own
✅ Intuitive navigation
✅ Stellar customer service
Cons of NetHunt CRM
❌Basic reporting functionality
❌Some advanced features are only available for Business and Advanced subscribers
NetHunt CRM's prices start at $24 per user/month. To start using NetHunt CRM, go over to the website.
Streak: Full Google integration
Streak is another CRM system with full integration with Google; there aren't many of those.
This CRM offers 11 pre-made project templates, but if they don't seem like your cup of tea, you can always just make your own.
This CRM for Google is definitely one you'd want to keep an eye on…
Contact management capabilities
Email marketing features like view tracking, merging and thread splitting
Full and seamless Google Workspace integration
Sales pipeline management features with search, filter, group, and sort functions that can assist navigation
Various input types in a wide range of formats, from numbers, to text, to lists, and even down to formulas and contacts
Task management functionality
Pros of Streak CRM
✅ There's a free version available
✅ It's really easy to use, with a gentle learning curve
✅ Full, seamless Google Integration
✅ A mobile-friendly interface
✅ A Zapier integration for tools that it doesn't integrate with natively
✅ Sales reporting functionality
✅ Automatic task reminders
Cons of Streak CRM
❌ You can only merge 400 emails a day
❌ A limitation on the amount of sales pipelines
❌ No sales or email automation capabilities
Streak CRM starts at $15 per user/month, and can be found here.
Copper CRM
Copper CRM is a Google CRM that is meant to look and feel just like the rest of Google's interface. Thanks to this, you won't have trouble getting used to the CRM's interface — even though the majority of Copper CRM's functionality is located outside of your Google Workspace tabs.
Despite only offering a partial integration with Google, Copper CRM is still considered to be one of the top players in the Google CRM software market. Managing leads and contacts, visualising the sales pipeline, and assigning tasks can all be done from within the suite.
For instance, you can keep track of everything going on in your inbox and find previous communication history using the Copper Gmail sidebar. Every interaction with customers is kept in one place.
The key features of Copper CRM include…
Lead management capabilities
Sales report generation capabilities
Sales pipeline management functionality
Sales automation functionality
Collaboration enablement features
High degree of customisation
Email marketing toolkit
Another noteworthy detail is that Copper CRM comes in a large variety of languages.
Pros of Copper CRM
✅ Has a sales automation toolkit
✅ Customisable to a high degree
✅ Intuitive to use
✅ Greatly facilitates collaboration
Cons of Copper CRM
❌ The bulk email functionality is limited to 200 recipients at a time
❌ Unless you're using one of the more expensive packages, you're limited to 2500 contacts
❌ The same as above can be said for email marketing, with the functionality only available to business and advanced plan clients
Copper CRM starts at $25 per user/month, and can be found here.
Hubspot CRM: Gmail sidebar integration
HubSpot is used by millions of users worldwide, making it an important part of the CRM market. HubSpot offers Google integration, but it is far from native.
The HubSpot Chrome extension only allows you to use certain features. For the rest, you'll have to switch tabs to the main suite.
The HubSpot Google integration's primary features reflect the above statement…
Sales pipeline management
Automated email outreach
Customisable email templates
Simplified meeting scheduling
HubSpot and its Google integration are so popular because a large part of the functionality is accessible for free as long as you have an account. The other features, however, are locked in different packages.
Pros of HubSpot CRM
✅ Offers a free version of the product
✅ The reporting functionality is incredibly robust
✅ Contact management toolkit
✅ Email marketing and campaign management toolkit
✅ Sales automation capabilities
Cons of HubSpot CRM
❌ A fairly steep learning curve
❌ Only offers basic level of customisation
❌ Creating new contacts within each separate deal might quickly become tiresome
❌ The integration with Google is only surface level, so if you're looking for a full integration you're in the wrong place
❌ The free version is very limited
HubSpot has a free version. Still, prices for the advanced version start at $45 for two users/month. HubSpot can be found here.
Zoho CRM
Zoho CRM is not only one of the oldest names in the CRM industry, but it's also one that's still highly regarded today.
The vast majority of features this Google CRM provides still look and feel fresh even in this age. Besides, Zoho receives a lot of public love on platforms like Capterra and G2, which is another indicator of them knowing exactly what they're doing.
Zoho CRM's features aren't just robust, they're also various. One could argue that Zoho has more features than a small or medium business could require.
Pros of Zoho CRM
✅ Really affordable price
✅ Packed with features for companies both small and enterprise.
✅ Stellar customer service
✅ Very robust report generation functionality
✅ Integrations with the rest of your tech-stack
✅ Has a free version
Cons of Zoho CRM
❌ Very limited in customisation
❌ Most of the integrations are surface-level
❌ A very steep learning curve, meaning this Google CRM will take a while to get used to
Zoho CRM prices start at $15 per user/month, and can be found here.
Pipedrive
Pipedrive is up there with the market's most well-known and established CRM vendors. Having been in the game for a while, Pipedrive has successfully cracked the formula of a likeable and easy-to-use Google CRM.
Nonetheless, it might not be an ideal option for someone interested in a CRM that integrates with Google Workspace seamlessly.
The problem elm is, Pipedrive's primary function is as a sales management tool. Therefore, it lacks some essential marketing features, such as email marketing functionality. As a result, Pipedrive users only enjoy a Gmail sidebar integration and not a potent Google integration.
But for what it is, the Pipedrive Gmail add-on is pretty good. It serves as a calendar and tasks list — all the tasks and activities planned for the day are left front, and centre.
Pros of Pipedrive CRM
✅ Task management capabilities, meaning no deal falls through the cracks
✅ A very compelling price point
✅ A free trial is available, allowing you to try before you buy
✅ Integrations with third-party tools are also available
✅ Intuitive interface
Cons of Pipedrive CRM
❌ No email marketing functionality available, prompting you to look at other tools.
❌ Customer service isn't always fast, meaning you could have to wait before you get your issues resolved
❌ Sales automation capabilities aren't as robust as could be expected
❌ The Google integration is very limited
Pipedrive starts at $12.50 a month, and can be found here.
Insightly
Insightly is one of today's most prominent Google CRMs. It offers a decent level of integration with Google Workspace and along with a varied list of other features. However, it is much more an enterprise-size Google CRM than a small- or medium-business sized one.
Although it's only partly integrated with Google, the Gmail sidebar application is still robust enough to place it as a strong Google CRM solution. It works well for managing contacts, generating leads, and managing tasks.
Pros of Insightly CRM
✅ Works great with Gmail
✅ All modern contact management functions are included
✅ Free for companies with under 3 accounts
✅ Sales pipeline management capabilities
✅ Lead capture and enrichment
Cons of Insightly CRM
❌ The process of customising Insightly is quite difficult
❌ The platform has an outdated feel, although this might be a benefit for the fans of all things vintage
❌ Insightly is definitely on the more expensive side of the CRM market
❌ Falls short when it comes to email marketing, meaning you'd have to get another system to handle email marketing campaigns
Insightly is priced at $29 a month and can be found here.
Salesmate
Salesmate is a well-known and relatively feature-rich Google CRM solution.
This CRM solution is packed to the brim with features. Every department imaginable can find something useful for them within this Google CRM. Many third-party applications are also integrated into this CRM for Google solutions.
One of the most notable integrations of Salesmate is its integration with Gmail. Transforming your Gmail inbox into an extension of your CRM.
Pros of Salesmate
✅ Salesmate automatically syncs with your Gmail, essentially moving your emails to the CRM
✅ A 15-day free trial is available
✅ Email marketing automation and managing functionality is also a part of this suite
✅ A really affordable price point
✅ Several native integrations are offered to Salesmate users
✅ One of these is a Quickbooks integration that can significantly increase the efficiency of how accounting is done within the sales department
✅ Zapier is available to integrate with Salesmate, in case a part of your tech stack doesn't integrate natively with Salesmate
✅ Contact management functionality is included
Cons of Salesmate
❌ The Gmail extension causes a significant strain on your inbox, leading to a slower experience overall
❌ There is a daily send-limit for emails, meaning you might have to get a plan that comes with features you don't need to use
Salesmate is priced at $12 per user/month, and can be found here.
Nutshell
Nutshell CRM serves hundreds of users, and is a pretty neat Google CRM solution.
Nutshell is really easy to get your head around, and yet still offers a sizeable degree of power.
Nutshell CRM offers extensive functionality for both departments, feeling pretty well-balanced between sales and marketing, making it a good Google CRM solution.
Pros of Nutshell CRM
✅ Very intuitive in the systems usage
✅ It's very light on the budget, meaning it's an affordable option for teams regardless of size
✅ A Free 14-day trial is also available
✅ Fast and professional support from the customer service department
✅ Very advanced email marketing capabilities for a Google CRM this size
✅ Workflow automation, sales automation and marketing automation are all offered by the suite
Cons of Nutshell CRM
❌ There is very little customisation
❌ There are no products that Nutshell CRM integrates with natively
❌ Mobile app is very limited
Nutshell is priced at $20 per user/month, and can be found here.
Capsule CRM
Capsule is definitely worthy of your attention, although its only a newcomer to the industry.
It's easy to navigate, powerful, and packed with features. It shines best with start-ups and small businesses with no need for "the most" specialised solutions.
Additionally, it has a variety of integrations that can make the CRM more sales or marketing focused. And it wouldn't be on this list without having a Google Integration
Pros of Capsule CRM
✅ Intuitive in design and usage
✅ Has a free version and a 30-day trial, which is longer than most competitors
✅ You can access Capsule CRM through the Gmail application
✅ Dedicated customer support team
✅ Subscribers to the more expensive tiers have access to powerful integrations
✅ The CRM is very mobile friendly, allowing you to take advantage of the features even on the go
✅ A lot of customisation options are available
Cons of Capsule CRM
❌ The free version is capped at a certain number of contacts, meaning you'll have to upgrade eventually
❌ You cant integrate any of your tech stack into the free version
Capsule CRM is priced at $12 per user/month, and can be found here.
---
Choosing the right Google CRM for your business is a crucial decision you simply can't make without doing a lot of research and considering various points.
Although there are many great Google CRM products on the market, it can be hard to choose which is best for you.
Luckily, we have an in-depth guide to help you understand what to look at when choosing a CRM!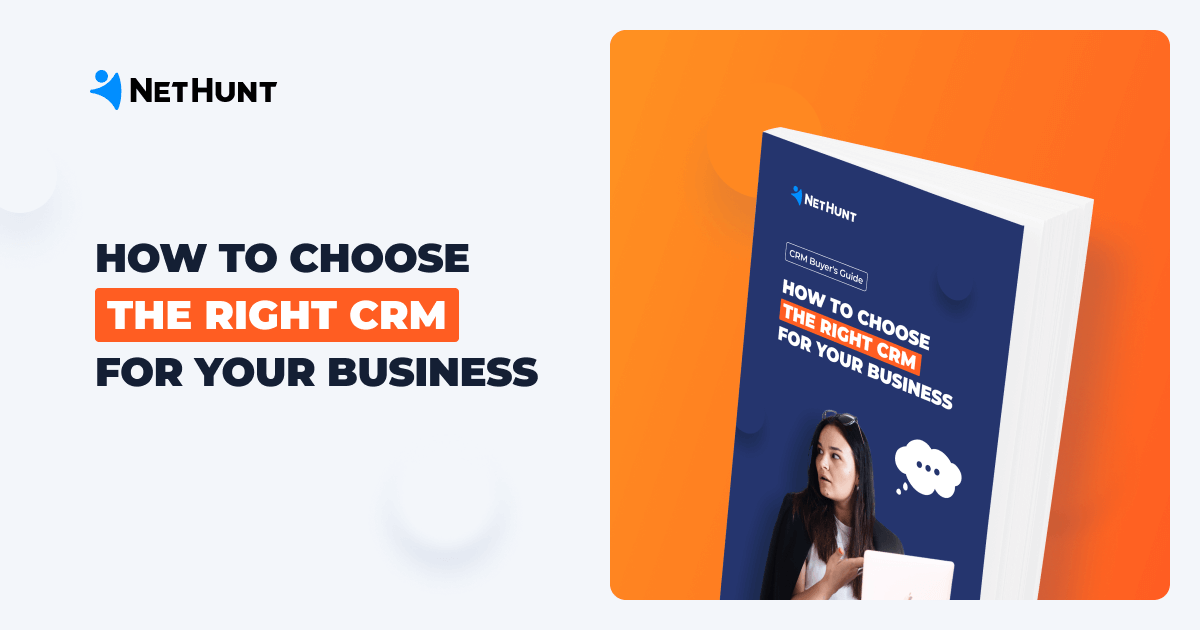 With this article, and the buyer's guide to choosing a CRM, you'll have everything you need to pick the CRM that suits your business needs!
And if you're interested in a Gmail CRM, we have a list of CRM solutions for Gmail specifically — check it out!
Table of Contents
Crack the sales formula with CRM Lab
Twice a month, receive actionable CRM content to your inbox.
Join the
Telegram channel NetHunt CRM
All about CRM and B2B sales.
Join