Navigating the bustling SaaS landscape without a reliable CRM system is like sailing the high seas without a compass. It's not just about keeping track of customer interactions anymore; a top-notch CRM is your secret weapon for automating tasks, understanding process bottlenecks, unearthing customer insights, and identifying areas for growth.
But with a sea of options out there, how do you chart a course to the perfect CRM for your SaaS venture?
Fear not, sea-worthy sailor! We've done the heavy lifting for you.
In this guide, we're unveiling a list of the best SaaS CRMs, dissecting their features, weighing their pros and cons, and breaking down their pricing structures. Whether you're a fledgling startup setting sail or a seasoned SaaS captain considering a new course, this guide is your treasure map to CRM gold.
But before we embark on this voyage, let's anchor down some basics: What exactly is a SaaS CRM? Why does your SaaS business need one? What are the must-have features that should be on your radar?
Here, you'll also find the list of reliable SaaS CRM systems to organise customer base, automate processes, and scale your SaaS business.
What is a SaaS CRM?
SaaS CRM plays a vital role in helping SaaS businesses effectively manage customer relationships. It's a CRM system specifically designed for SaaS businesses, providing the necessary tools to streamline and optimise their customer relationship management processes.
By utilising a SaaS CRM, these businesses can efficiently organise lead data and customers, track customer interactions in a single CRM record, build sales pipelines, manage customer activity and anticipate churn, and manage other essential aspects of their customer relationships.
As a result, SaaS CRM helps manage the effectiveness of the team.
The best SaaS CRM systems come equipped with a range of features, including sales pipeline management, workflow automation, team collaboration, and seamless integrations with other sales and marketing tools.
These functionalities enable SaaS businesses to make data-driven decisions, enhance efficiency, and deliver exceptional customer experiences.
In the era of digital transformation, adopting a dedicated CRM system tailored to the specific needs of SaaS businesses is crucial. If you haven't already embraced a SaaS CRM, now is the perfect time to leverage this specialised tool to drive your SaaS business growth.
Why do SaaS businesses need a CRM?
In the highly competitive SaaS industry, a CRM system is not just a tool, but a strategic asset that fuels business growth.
SaaS businesses operate in a unique environment where customer retention is as vital as customer acquisition. The recurring revenue model of SaaS businesses means that customer churn can significantly impact the bottom line.
A SaaS CRM system, like NetHunt CRM, helps businesses manage and analyse customer interactions and data throughout the customer lifecycle, improving customer service, reducing churn, and generating more leads.
SaaS CRM systems enhance lead management by automating key processes.
They  capture leads from various sources, automatically creating a new record in your CRM database for each lead. CRM records are automatically enriched with available data when creating CRM records from LinkedIn, email, or web forms. This automation reduces the time of initial response and the overall sales cycle, increases revenue, and ensures customers move through the pipeline steadily.
Moreover, SaaS CRM systems provide robust analytics and reporting features. These tools enable SaaS businesses to track key metrics like CLTV, MRR, and churn rate. By leveraging these insights, SaaS businesses can make data-driven decisions to optimise their sales and marketing strategies.
These features serve to greatly streamline  internal processes; this efficiency allows SaaS teams to focus on what truly matters — delivering value to their customers and growing their business.
In a nutshell, an SaaS CRM system is a strategic investment that drives customer satisfaction, retention, and, ultimately, revenue growth.
Must-have features of a SaaS CRM
As a SaaS business, your CRM needs to be more than just a contact database. It should be a dynamic tool that adapts to your unique business model, helping  track customer usage and handle renewals efficiently.
Here are the specific features a SaaS business should look for in a CRM…
Contact management functionality, allowing you to build an organised and segmented database.
Duplicate management to keep data clean and reliable.
Multiple sales pipelines for different industries/ customer tiers/ processes.
Lead generation and management functionality that allows you to generate leads from web forms, social media, messenger apps, and email.
Email campaign functionality for keeping your customers in the loop, building rapport, and improving retention.
Integrations with other tools from your tech stack, allowing you to tie all of your sales processes together.
Workflow features allow you to automate routine tasks; lead nurturing, pipeline updates, notifications and reminders, task assignment, etc.
A high degree of customisation to mould your SaaS CRM system to your needs.
Reporting functionality allows you to keep a finger on the pulse of your business and make data-driven decisions.
Team management, such as activity tracking and task assignment.
Team alignment and collaboration via shared databases, viewing permissions, "@" tagging, and real-time reports.
10 best CRM systems for SaaS companies
Here they are, the crème de la crème of SaaS CRM systems.
These CRM systems are all outstanding tools with the potential to take your business to the next level: The ten best CRM systems for SaaS companies…
1. NetHunt CRM: A powerhouse that lives in your inbox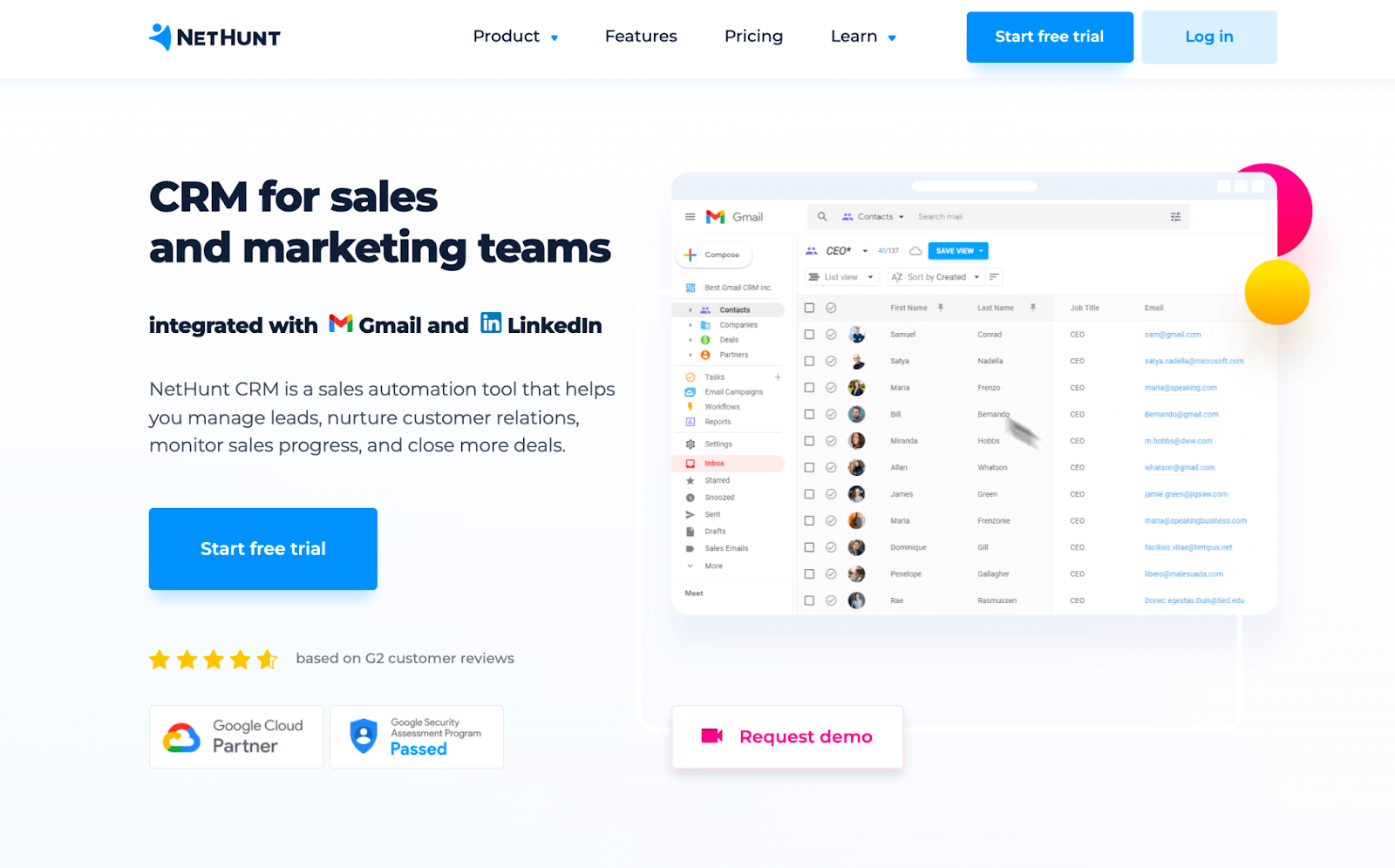 NetHunt CRM is a cloud-based SaaS CRM that is based right inside your Gmail inbox. It's the perfect choice for Google Workspace users.
Launched back in 2015, NetHunt CRM has quickly become a user favourite. It's recognised by awards, receiving 39  from G2 in Winter 2023; badges, and bundles of positive online reviews – the lot!
NetHunt CRM also passes the Google Security Assessment every year, so your data is in safe hands!
NetHunt CRM is not just a tool, it's a solution designed with the unique challenges and needs of SaaS professionals in mind.
Unlike other CRM systems, NetHunt CRM doesn't just cater to generic business needs. It's built to address the specific challenges faced by SaaS teams, from Sales to Customer Success, Customer Support, and Marketing. It understands the importance of reducing churn, increasing customer lifetime value, and managing a recurring revenue model.
The system's adaptability allows you to create a workspace that aligns with your SaaS business's unique workflows and processes. With NetHunt CRM, you're not just getting a CRM, you're gaining a partner that truly understands the SaaS landscape and is committed to helping you navigate it successfully.
NetHunt CRM for SaaS key features
Contact management functionality allows you to store and segment contacts based on their subscription level, usage patterns, and other criteria.
The ability to create, visualise, and manage multiple sales pipelines for the different types of clients that a SaaS product might attract.
Collaboration-enabling functionality like tasks, mentions, comments, and shared databases. Perfect for distributed, rapidly-scaling teams.
Bulk emailing, email tracking, email templates, and reporting make up NetHunt CRM's email marketing functionality to help you activate and retain customers better.
Integrations with other tools from your tech stack, such as LinkedIn, Facebook Messenger, WhatsApp, Instagram, Intercom, and others for lead generation and multichannel communication.
Zapier integration allows you to connect NetHunt CRM with other tools from your stack.
The sales automation functionality of NetHunt CRM allows you to automate the entire pipeline – automated lead capture, status updates, automated task assignment and distribution, and notifications. It's a lifesaver in streamlining the process of managing subscriptions and renewals.
Drip campaign functionality that allows you to nurture leads automatically.
Reporting functionality to track sales progress and forecast revenue as well as monitoring team performance.
Integration with Google services like Gmail, Google Contacts, Data Studio, Calendar, Google Drive, and Chat.
NetHunt CRM's team is always hard at work to bring new features to their product. The team is always open to suggestions and strives to fulfil users' requests. If you're a SaaS professional grappling with the complexities of customer lifecycle management, the need for actionable insights, or the desire for seamless integrations - NetHunt CRM is the one for you.
Pros of NetHunt CRM
An SaaS-optimised CRM system.
Automations with lead capture, task assignment, and notifications transform your subscription management into a seamless, efficient process.
Bulk emailing, tracking, templates, and drips for user engagement and retention.
Advanced contact management functionality to help manage and segment contacts based on subscription level and usage patterns.
Manage separate sales pipelines for each product, buyer persona, or tier.
You can tailor NetHunt CRM to fit your SaaS business by creating custom fields, folders, answer presets, and filters
User-friendly and intuitive UX
Comes with an incredibly short learning curve
Amazing, super-responsive customer success team
Omni-channel communication functionality
Native Gmail integration to save time and improve productivity
Cons of NetHunt CRM
❌ Limited functionality of the mobile app
❌ Bulkier features are only available to Business and Advanced subscribers
NetHunt CRM pricing
💰
Basic
: $24 per user per month, billed annually
💰
Basic Plus
: $34 per user per month, billed annually
💰
Business
: $48 per user per month, billed annually
💰
Business Plus
: $68 per user per month, billed annually
💰
Advanced
: $96 per user per month, billed annually
Check pricing
If you're an early-stage startup, you can apply for a Startup Plan and use NetHunt CRM for free for three months and continue on a cheaper price plan after that. Apply here!
How to use NetHunt CRM
Head over to NetHunt's website and sign up for the 14-day free trial of the system.
2. HubSpot CRM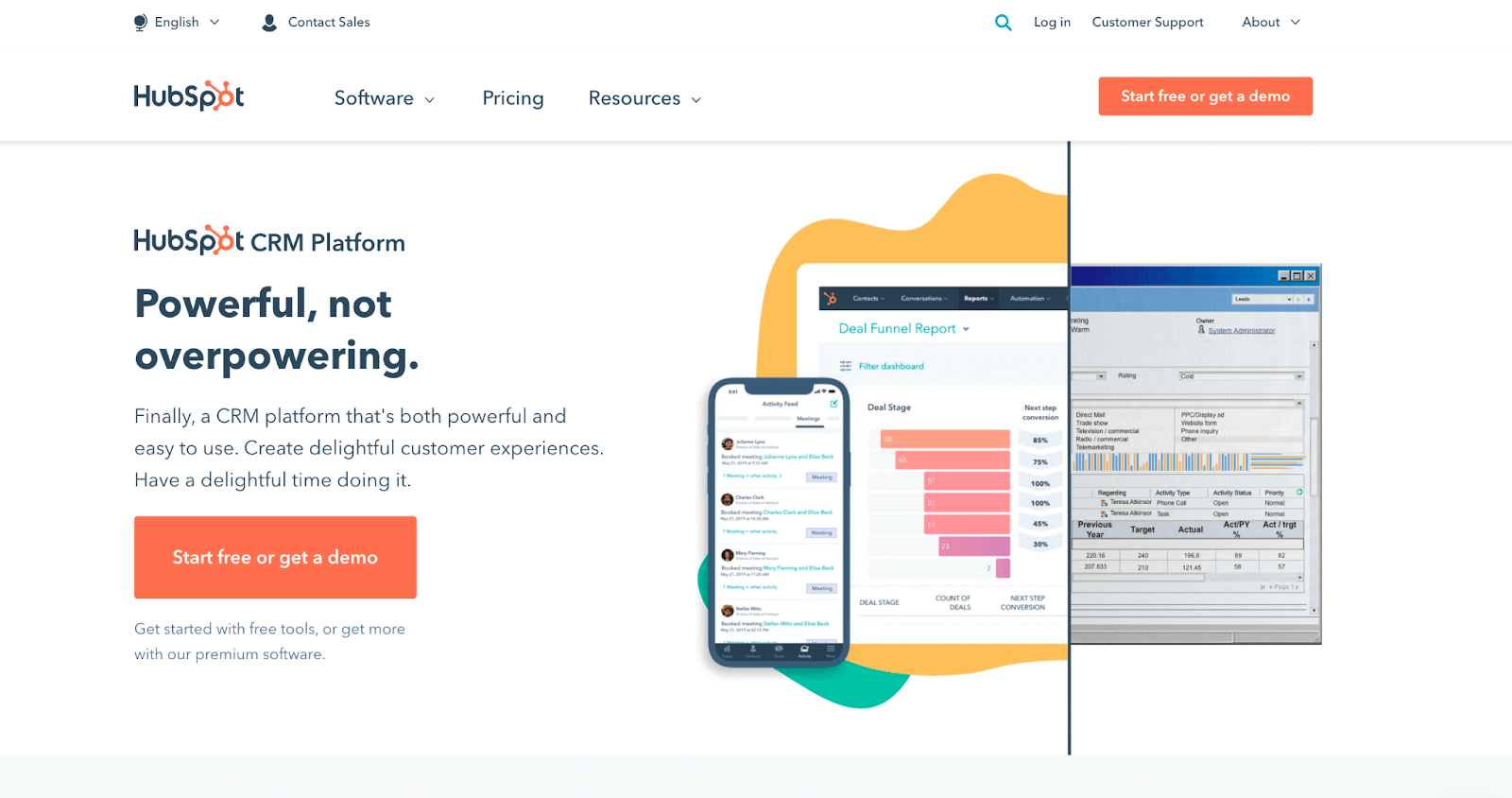 Unsurprisingly this list includes HubSpot CRM, a common name in any CRM listicle.
HubSpot CRM has a free plan. Yes, really free forever. However, you'll find yourself having difficulty scaling your business with the accessible version of this CRM. The free version is very basic.
As your SaaS business grows and evolves, you will find yourself needing more advanced features and considering an upgrade to HubSpot's paid plans. HubSpot CRM isn't going to come cheap once you decide to upgrade, but the value it provides is immense.
HubSpot CRM shines in its ability to scale with your business. It offers robust features that are particularly beneficial for SaaS companies, such as detailed customer segmentation, behavioural event tracking, and integrations with other HubSpot tools for marketing, sales, and customer service.
Moreover, HubSpot CRM's focus on inbound marketing aligns well with the SaaS model, helping  attract, engage, and delight customers. It also provides detailed analytics that can help track key SaaS metrics and make data-driven decisions.
HubSpot CRM's key features
Reporting dashboard
Automatic sales CRM notifications
User behaviour tracking
Predictive lead scoring
Deal tracking
Pipeline management
Live chat
Email tracking, templates, sequences, and scheduling
Sales tracker
Pros of Hubspot CRM
✅ A basic free plan is available
✅ Lots of integrations with third-party tools and apps
✅ Robust sales automation functionality
✅ Email marketing functionality like tracking, templates, and bulk emailing
✅ Canned snippets
✅ Contact management functionality
✅ Reporting functionality
Cons of Hubspot CRM
❌ The free version is very limited in functionality
❌ Customisation is rather limited
❌ Creating contacts inside deals is fidgety according to some user reviews
❌ A steep learning curve
HubSpot CRM pricing
Yes,we did say HubSpot CRM is free forever to use for as many users as necessary. However, you're going to quickly find yourself growing out of the free plan and looking to purchase one of the following plans...
Professional plan, which is priced at $1,600 per month and comes pre-packaged with the following HubSpot add-ons...
Marketing Hub Professional
Sales Hub Professional
Service Hub Professional
CMS Hub Professional
Operations Hub Professional
Enterprise plan, which comes at a cost of $5,000 per month and comes with the following add-ons…
Marketing Hub Enterprise
Sales Hub Enterprise
Service Hub Enterprise
CMS Hub Enterprise
Operations Hub Enterprise
How to use HubSpot CRM
HubSpot CRM can be found on the Hubspot website.
3. Zoho CRM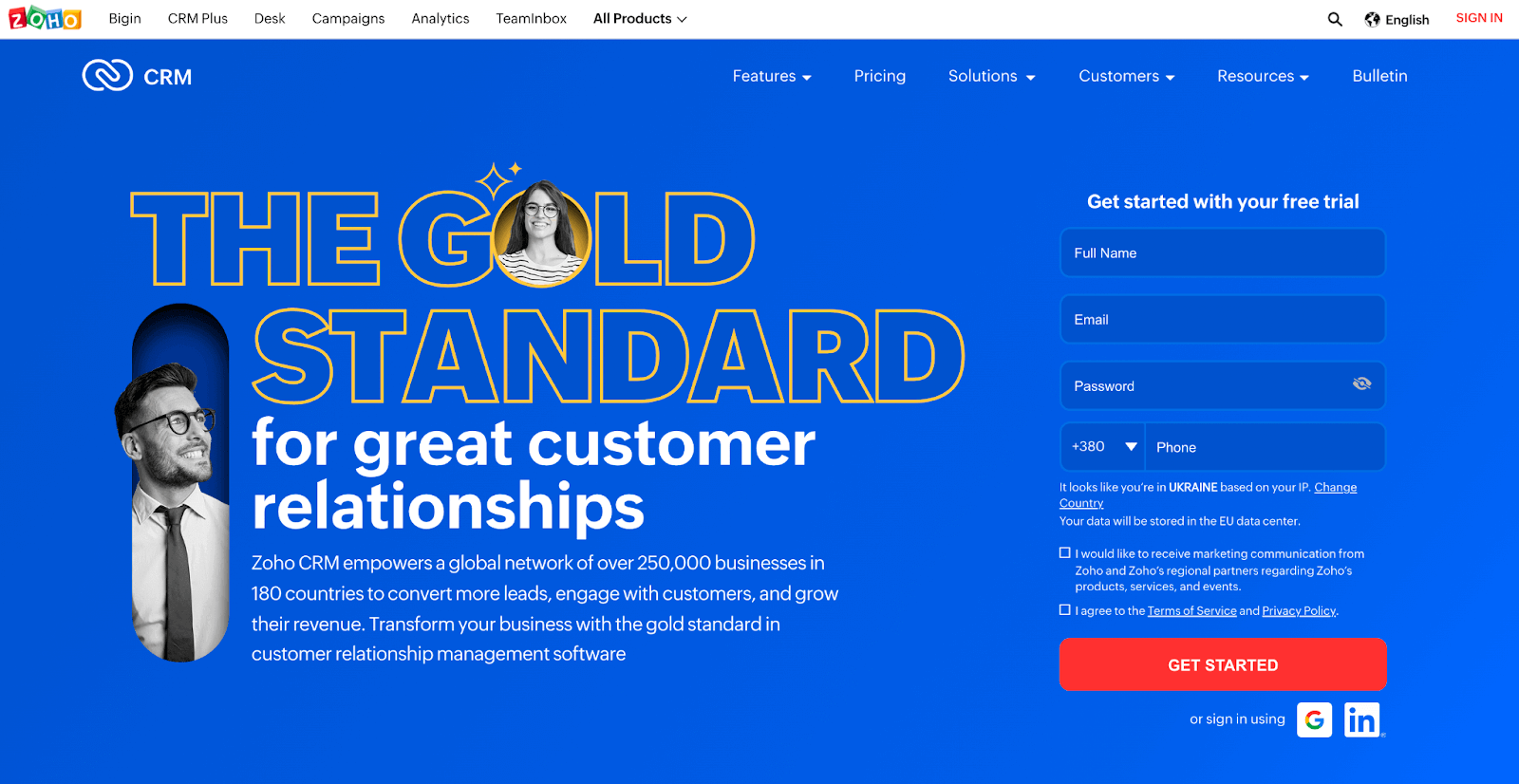 Zoho CRM is a real veteran of the CRM game, founded back in 1996 and establishing as a household, or rather, an officehold name ever since.
Luckily, Zoho CRM is one of those SaaS tools that age like wine. This SaaS CRM is still one of the best systems to look into when choosing a new SaaS CRM. Tech review platforms like Capterra and G2 regularly name Zoho as one of the top performers in the market.
Zoho CRM comes with a broad selection of different sales, marketing, and customer support functionality. Some users even go as far as to say Zoho CRM offers more than most SaaS businesses will ever need.
Key features of Zoho CRM
Sales automation
Process and task management
Omni-channel communication
Sales enablement
Performance management
Customisation
Marketing automation
Security
Built-in AI features under the umbrella name "Zia"
Pros of Zoho
✅ Amazing customer support available 24/7
✅ Some features are AI-driven
✅ A selection of features so vast you might not use all of them
✅ Very affordable
✅ Scales great
✅ Reporting functionality is robust
✅ Integrations with third-party tools from your tech stack
✅ Has a free version
Сons of Zoho
❌ Customisation is lagging behind the times
❌ Level of integration with some essential tools is more limited than competitors
❌ Some users report the interface being confusing
❌ A steep learning curve
❌ AI features are only available to advanced tiers
Zoho pricing
There's a free version of Zoho CRM available for those looking to get started with it. However, you need to invest in a subscription plan for advanced features. Luckily for you, unlike an aged fine wine, Zoho CRM is pretty affordable even after all these years of vintage!
💰 Standard: $15 per user per month, billed annually.
💰 Professional: $25 per user per month, billed annually
💰 Enterprise: $45 per user per month, billed annually
💰 Ultimate: $58 per user per month, billed annually
How to use Zoho
Download Zoho CRM on the official Zoho website.
4. Pipedrive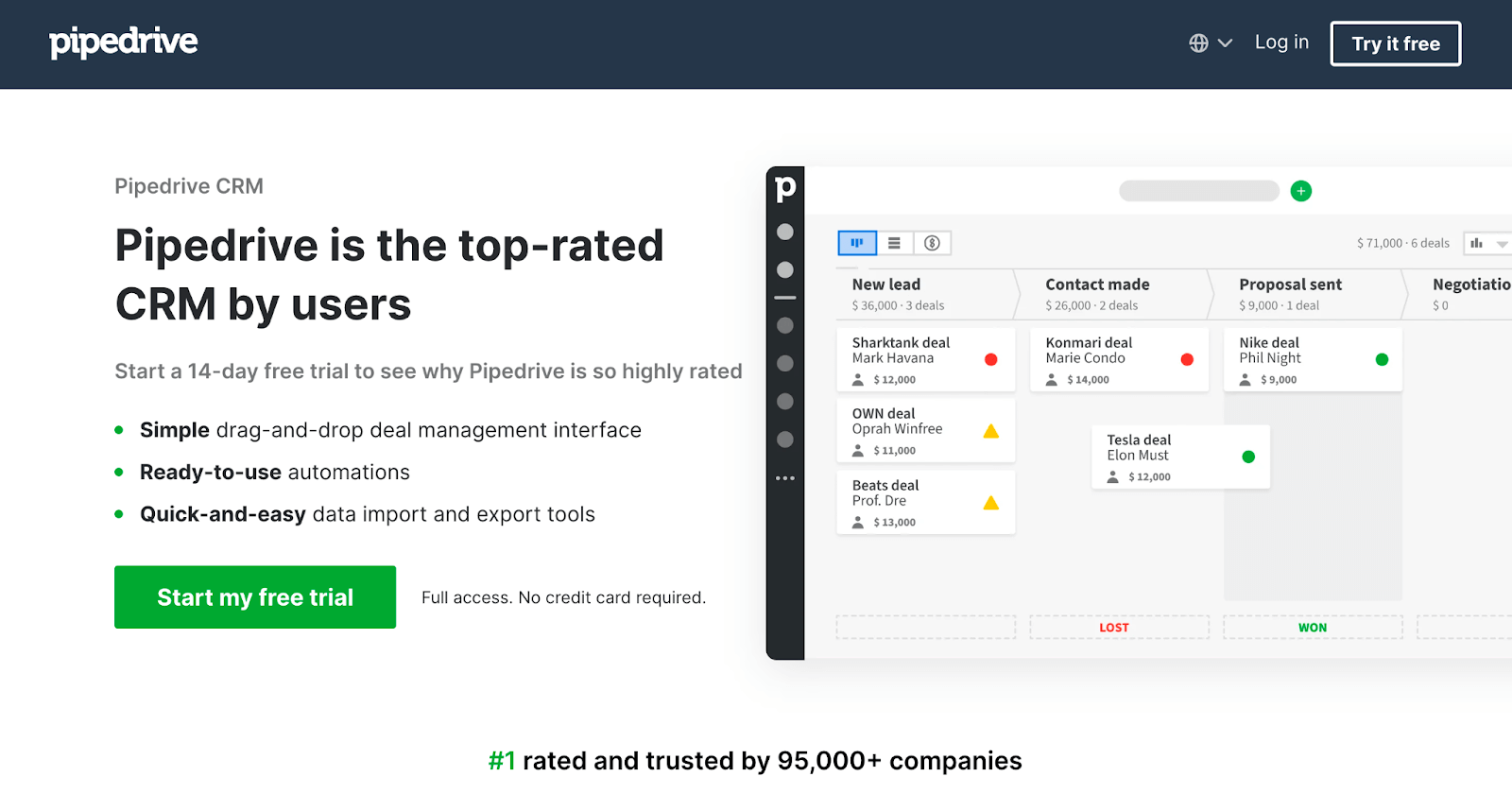 Pipedrive is yet another key player in the CRM market; it's become one of the most user-friendly and robust platforms.
At its core, Pipedrive is a sales management tool. This focus on sales makes it a powerful ally for SaaS businesses, where sales cycles can be complex and require careful management. Pipedrive excels in visualising your sales pipeline, making it easy to track deals from initial contact to close. It's particularly beneficial for SaaS businesses dealing with subscription-based sales and recurring revenue.
While Pipedrive might lack certain common features such as email marketing functionality, a range of integrations is available. You can connect Pipedrive with your favourite marketing, customer service, or project management tools, creating a tailored tech stack that fits your SaaS business needs.
Key features of Pipedrive CRM
Automation
Duplicate prevention
Project management
Caller
Scheduler
Smart docs
Smart contact data
AI features
Pros of Pipedrive
✅ Affordable
✅ Offers a free trial
✅ Several third-party integrations
✅ User-friendly, intuitive interface
✅ Short learning curve
Cons of Pipedrive
❌ Only has sales-based functionality
❌ Lack of integration with email providers
❌ Lacking workflow automation functionality
❌ Customer support responses are sometimes relatively slow according to reviews
Pipedrive CRM pricing
Pipedrive is among the more affordable solutions that offer a SaaS CRM. There's a 14-day free trial that doesn't require you to enter your card details.
💰 Essential: $12.50 per user per month, billed annually
💰 Advanced: $24.90 per user per month, billed annually
💰 Professional: $49.90 per user per month, billed annually
💰 Enterprise: $99 per user per month, billed annually
How to use Pipedrive CRM
Head over to Pipedrive's website and sign up for the free trial!
5. Monday CRM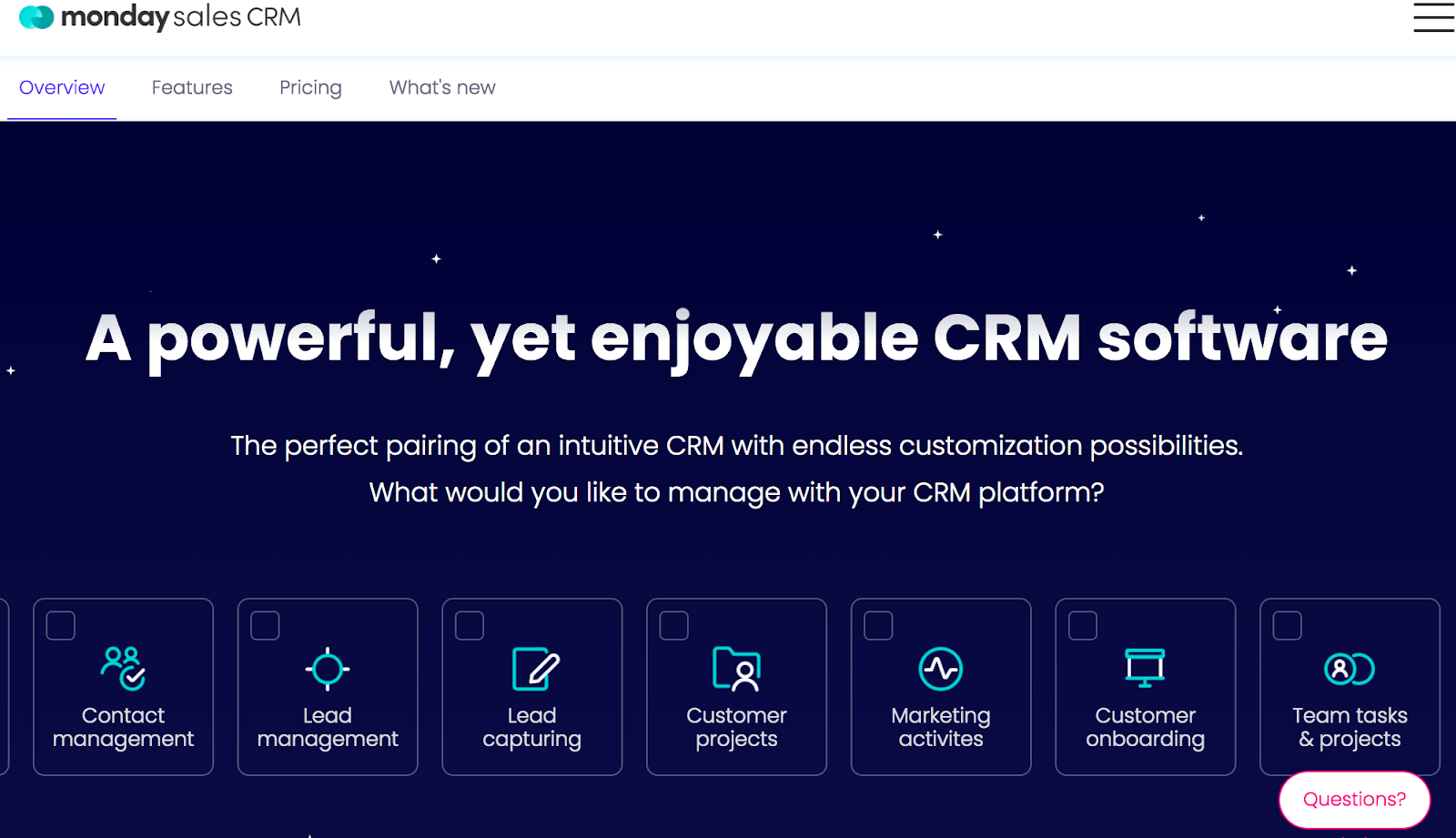 Monday is a SaaS CRM that aims to unify all your business's sales operations and tools in a single environment called Monday Work OS. Monday is a fairly new entry in the CRM market but packs quite a punch.
Key features of Pipedrive CRM
Lead management
Interaction tracking
Team activity tracking
Analytics and reporting
Sales automations
Project management
Mobile application
Email marketing
Lead scoring
Pros of Monday CRM
✅ Easy to use and easy to implement
✅ Intuitive user interface
✅ Offers a high degree of customisation including customisable dashboards
✅ Performance tracking capabilities are second-to-none
✅ Great workflow automation functionality
Cons of Monday CRM
❌ The file management system seems unable to open certain file formats
❌ Dashboard customisation options might not suit all businesses
❌ Lacks some basic contact management features like duplicate management
Monday CRM pricing
Monday CRM is a very affordable CRM for SaaS businesses priced at...
💰 Basic: $11 per user per month
💰 Standard: $15 per user per month
💰 Pro: $26 per user per month
How to use Monday CRM
Monday CRM is found on the official Monday website.
6. Insightly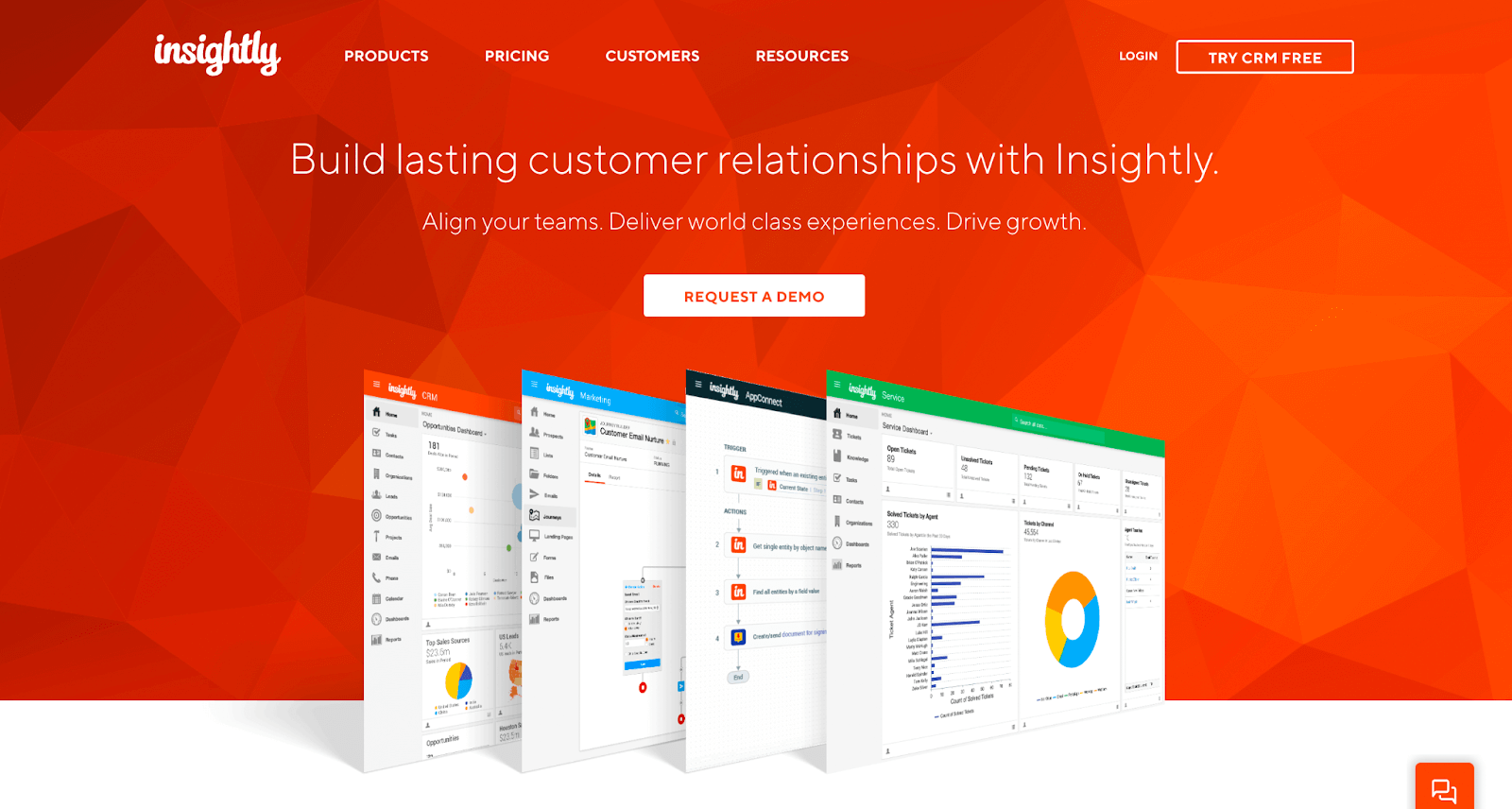 Insightly is amongst the most popular CRM software with SaaS businesses, with over 1.5 million customers worldwide. It's best suited for enterprise-level companies rather than SMBs based on its feature set.
Nonetheless, Insightly offers a free plan up to two users, meaning some small businesses can still benefit from this tool.
Pros of Insightly CRM
✅ Powerful integrations available
✅ Organised pipeline management
✅ Robust contact management
✅ Lead capture and enrichment functionality
✅ Automated workflows
Cons of Insightly CRM
❌ Customisation is complicated and limited
❌ The UX/ UI might come off as outdated
❌ Lacks email marketing functionality
❌ Rather pricey
Insightly CRM Pricing
You can try Insightly CRM for free with Insightly's no-frills plan for two users.
💰 Plus: $29 per user per month, billed annually
💰 Professional: $49 per user per month, billed annually
💰 Enterprise: $99 per user per month, billed annually
How to use Insightly CRM
Sign up on Insightly's website.
7. Salesmate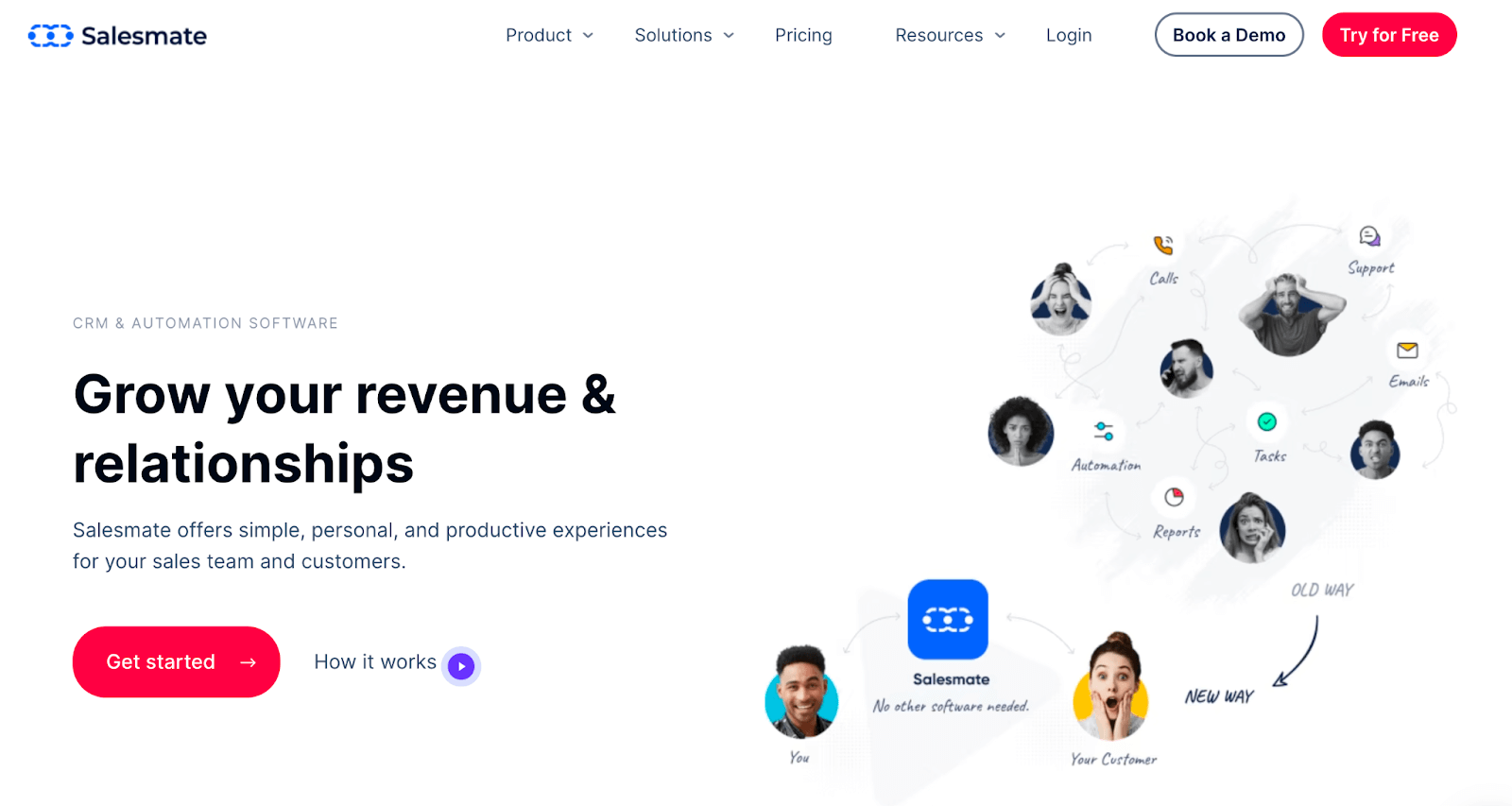 Since its launch in 2016, Salesmate has developed quite the following in the CRM industry.
Salesmate devs have paid attention to all the latest and greatest CRM trends and created a SaaS CRM that offers a robust set of features. This SaaS CRM helps automate business processes with feature suites for every department in a SaaS business. Salesmate also features multiple integrations with other tools from your tech stack.
Key features of Salesmate
Contact management functionality
Custom filters
Lead routing
Workflow automations
Sales activity tracking
Email marketing functionality
Several integrations with third-party apps
Automatic profile enrichment
Pros of Salesmate
✅ 15-day free trial
✅ Affordable pricing
✅ Several native integrations with third-party apps
✅ Zapier integration
✅ Quickbook integration helps keep up with accounting
Cons of Salesmate
❌ Reports are sometimes difficult to interpret
❌ Daily send limit for email campaigns
❌ No mobile app is available
Salesmate CRM pricing
Salesmate offers a 15-day free trial for both their plans.
💰 Starter:  $12 per user per month, billed annually.
💰 Growth: $24 per user per month, billed annually.
How to use Salesmate CRM
Go to Salesmate's website to set up an account.
8. Capsule CRM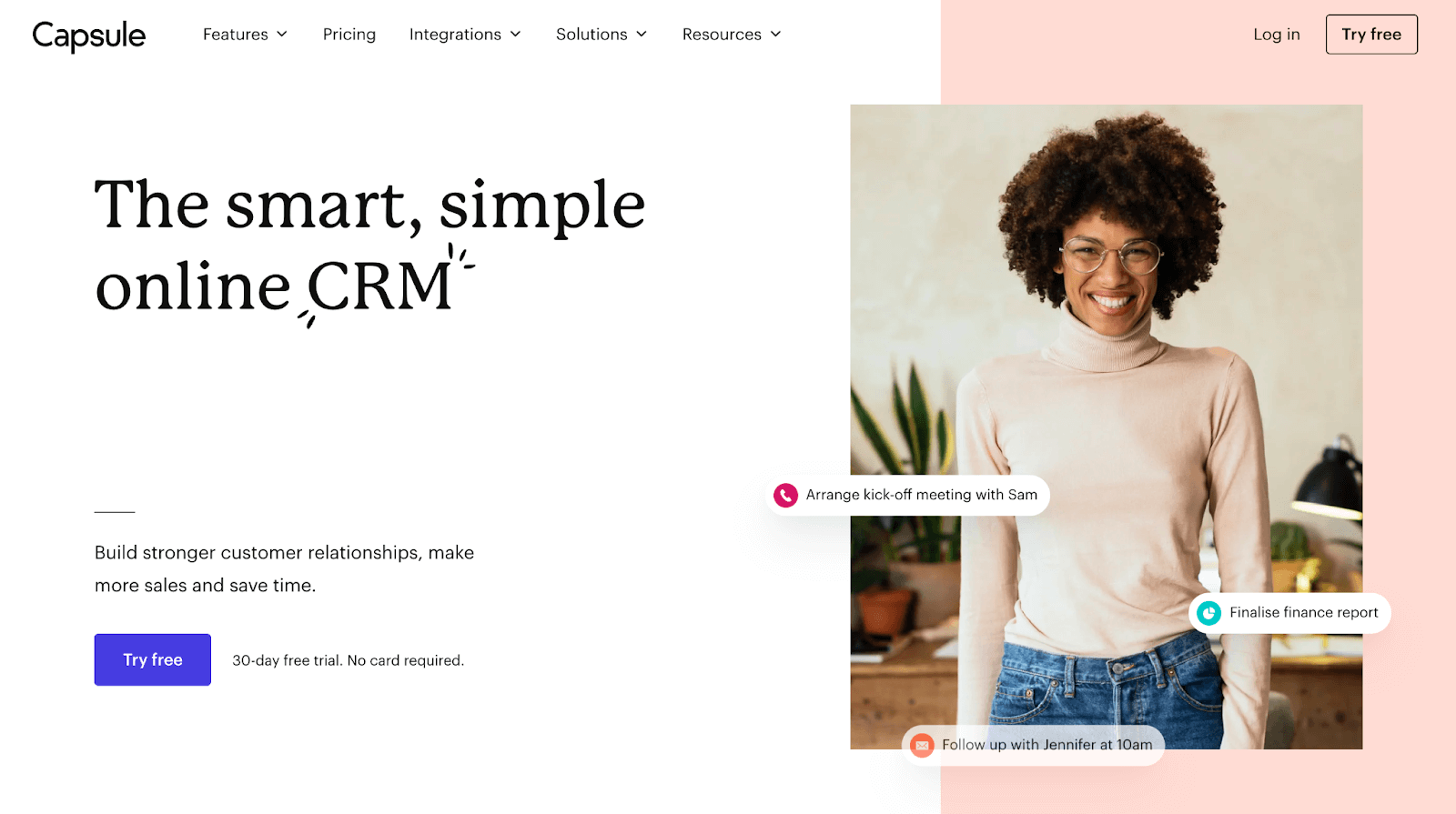 Capsule CRM is a recent entry to the CRM software market, yet it has already scored a spot as one of the best SaaS CRMs. It's a simple yet versatile SaaS CRM system without losing out on affordability.
Capsule CRM is a perfect CRM system for startups and small businesses who want to invest in a highly customisable CRM system.
Key features of Capsule CRM
Sales pipeline management
Task automation
Activity reporting
Third-party integrations
Project automation
Transpond, a marketing tool
Shared inbox capabilities
Pros of Capsule CRM
✅ Simple, yet robust interface
✅ Dedicated customer support team
✅ Pro subscribers can access integrations with Zapier, Mailchimp, and Zendesk
✅ Very affordable pricing
✅ Highly customisable
✅ Comes with a 30-day free trial
Cons of Capsule CRM
❌ Free version is capped at a maximum of 250 contacts
❌ Integrations aren't included in the free version
❌ Can't bulk-add data-tags
Capsule CRM pricing
Capsule CRM comes with a no-card required 30-day free trial.
💰 Professional: $12 per user per month, billed annually.
💰 Teams: $24 per user per month, billed annually.
💰 Enterprise: $36 per user per month, billed annually.
How to use Capsule CRM
Head over to Capsule's website to create an account and start using Capsule CRM.
9. Nutshell CRM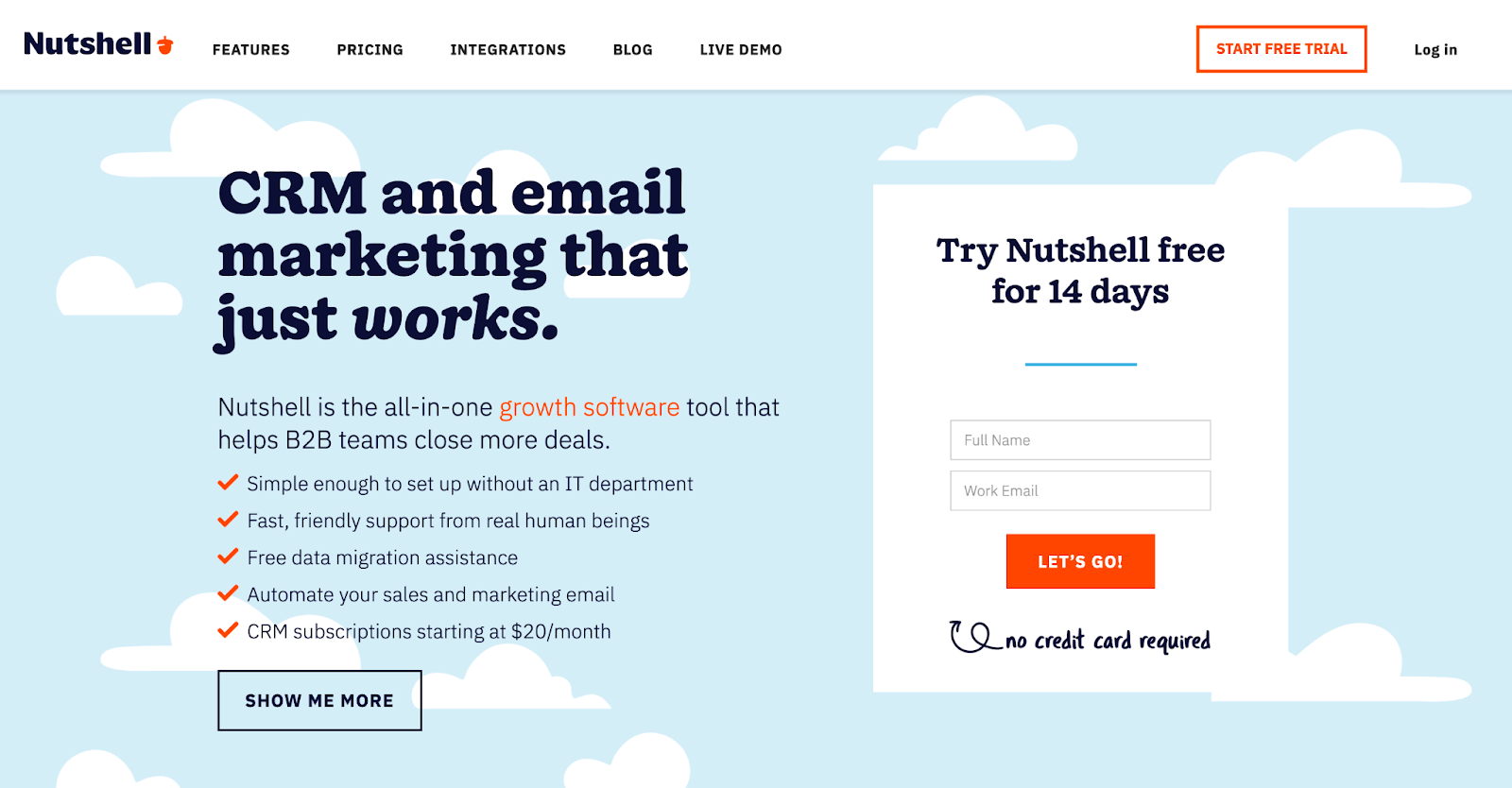 Since its launch in 2010, Nutshell has developed a significant user base with thousands of businesses worldwide. It's consistently recognised as one of the top CRMs, earning numerous G2 awards since autumn 2020.
Such a track record of excellence speaks volumes about its reliability and effectiveness, making it a trustworthy choice for SaaS businesses.
Nutshell CRM is renowned for its intuitive, powerful interface, a characteristic that is particularly beneficial for SaaS businesses where efficiency and user experience are paramount. The platform strikes an ideal balance between sales and marketing tools, offering extensive functionality for both departments. This dual focus is a significant advantage for SaaS companies, where sales and marketing often must work closely together to attract, convert, and retain customers.
One of Nutshell's standout features is its advanced email marketing capabilities. For SaaS businesses, where much of the customer journey happens online, effective email marketing is crucial. Nutshell offers robust email tools that can help  nurture leads, engage customers, and reduce churn.
Moreover, Nutshell's ability to integrate with other tools means it can fit seamlessly into your existing tech stack, reducing the need for disruptive changes to your workflows.
Key features of Nutshell CRM
Contact management
Activity tracking
Activity dashboard
Collaboration tools
Email campaign management
Report generation
Lead generation features
Customisation templates
Pros of Nutshell CRM
✅ Easy to navigate; intuitive interface
✅ Has a short learning curve
✅ Budget-friendly Gmail CRM option
✅ Advanced email marketing functionality including bulk emailing, sequences, segmentation, and tracking
✅ Fast and professional support from the customer service department
✅ Free 14-day trial
✅ Sales automation
Cons of Nutshell CRM
❌ Lacks native integrations
❌ Not as customisable as competitors
❌ No bulk contact deletion
❌ Limited mobile app functionality
❌ Can't create new records from emails
Nutshell CRM pricing
Nutshell offers a 14-day free trial.
💰 Starter: $20 per user per month, billed annually.
💰 Pro: $42 per user per month, billed annually.
How to use Nutshell CRM
Head to Nutshell's website to start using this tool.
10. Streak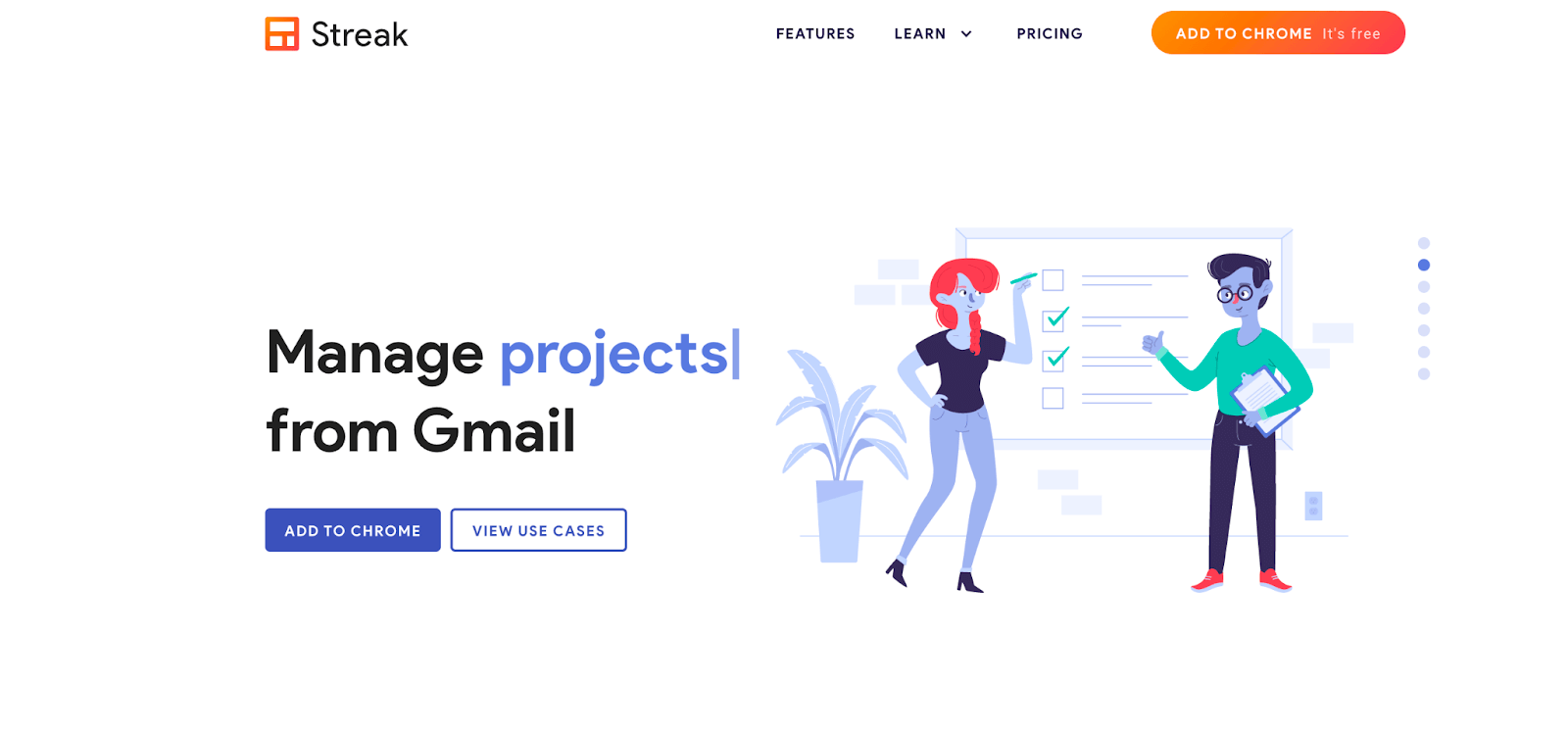 Streak is the second SaaS CRM on this list that boasts full-scale integration with Gmail. Streak can handle various business processes like sales, deal flow, partnerships, and hiring. Streak has 11 ready-made templates to get you started.
Key features of Streak CRM
Sales pipeline management
Contact management functionality
Email marketing functionality
Smart input types that support all formats
Email campaign management
Task management functionality
Native Gmail integration
Pros of Streak CRM
✅ Offers a free version
✅ Native Gmail integration
✅ Amazing email marketing functionality
✅ Smooth learning curve
✅ Works on mobile
✅ Integrates with Zapier
Cons of Streak CRM
❌ Doesn't allow you to import data directly
❌ Mail merge is limited to 400 emails per day
❌ One sales pipeline per project limit
❌ Doesn't offer automation
❌ Doesn't offer integrations with LinkedIn and WhatsApp
❌ Missing lead generation features
❌ No lead nurturing features
Streak CRM pricing
A limited-functionality version of Streak is available for free.
If you want to access the advanced features of this Gmail CRM, you'll have to pay for either the Pro or Enterprise subscription plans.
💰 Solo: $15 per user per month, billed annually
💰 Pro: $49 per user per month, billed annually
💰 Enterprise: $129 per user per month, billed annually
How to use Streak CRM
If you want to give this SaaS CRM a try, check out the official Streak website.
---
Land ahoy, brave navigators of the SaaS seas!
We've charted the vast expanse of CRM solutions for SaaS, delved into the depths of their features, and surfaced with a treasure trove of information. From the bustling hub of NetHunt CRM to the intuitive simplicity of Streak, we've explored the crème de la crème of SaaS CRM systems.
Remember, choosing the right CRM is like choosing the right ship for your voyage. It must be sturdy, reliable, and equipped with the right tools for your unique journey. It should empower your crew, streamline your operations, and guide you towards uncharted territories of growth and success.
May the winds of fortune guide your sails, and may your CRM be the steadfast compass leading you to prosperous shores. Here's to smooth sailing and the thrilling adventures that await in the vast ocean of SaaS. Bon voyage!
Table of Contents
Crack the sales formula with CRM Lab
Twice a month, receive actionable CRM content to your inbox.
Join the
Telegram channel NetHunt CRM
All about CRM and B2B sales.
Join