Tried and true influencers outreach strategy (with convenient tracking)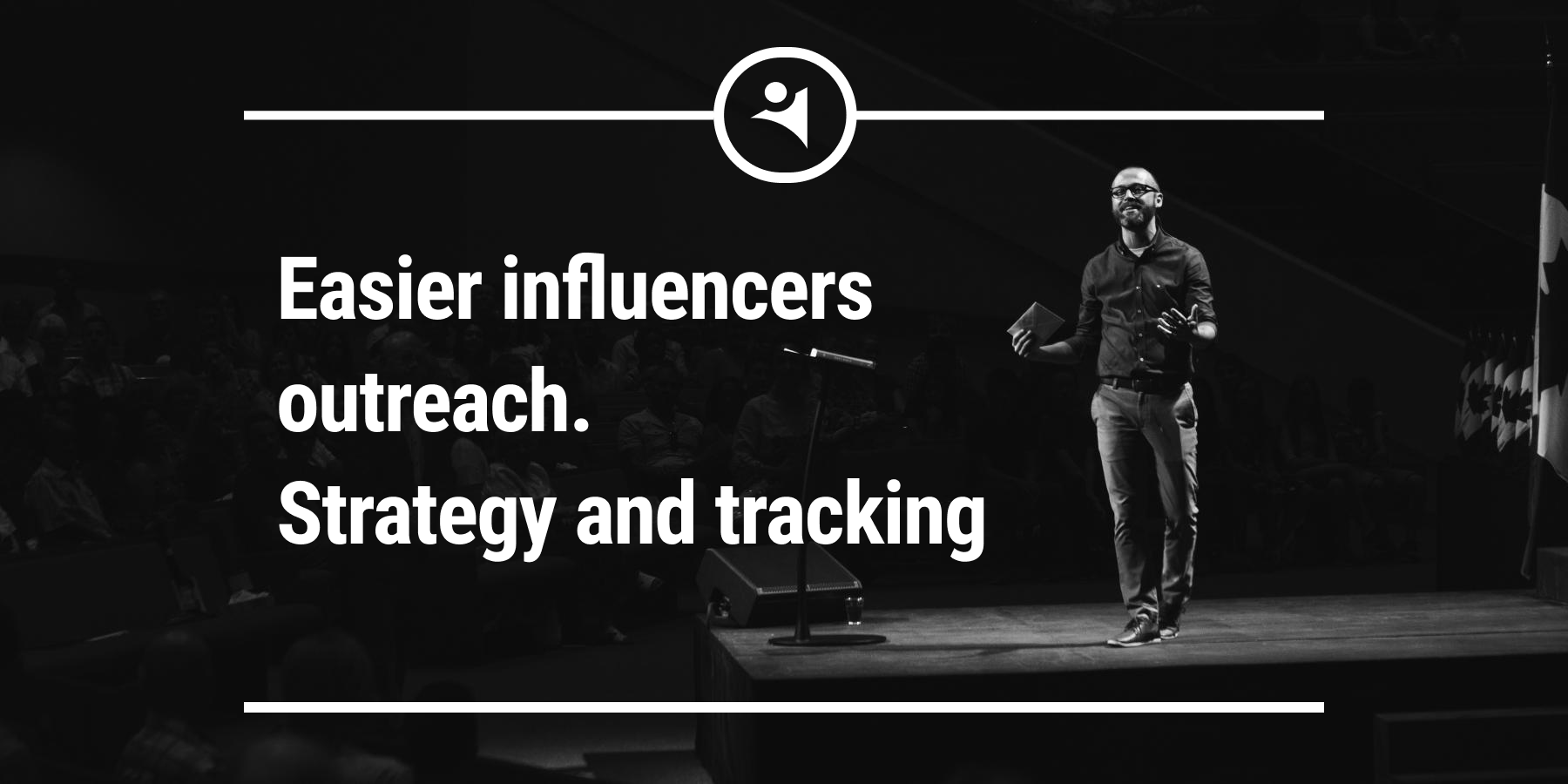 1. Why work with influencers
Amanda Blau via Moz claimed: "Important people with an engaged following can amplify the reach of whatever idea, content or brand they choose to share. If you only weave influencers into your content strategy when your finished product is ready to be promoted, however, you're missing out on the full potential of having respected experts on your team." Today in 2018 we can admit that constant work with influencers increases your brand awarenesses, brings relevant traffic to your website and delivers more qualified leads to your sales team.
To learn more about how to earn the amplification of influencers, check out this video by Rand Fishkin:
In his blog post, Fishkin admits, that influencers have two special powers. Number one, they can amplify social reach to your audience. Well, if you share something on a Twitter, a Facebook, a LinkedIn, a Pinterest, a Reddit, an Instagram, whatever network you might be using, the influencers on those networks have the ability to help amplify that reach. You can reach your audience of a few hundred. But influencers help to increase your content engagement and reach thousands, many thousands, potentially hundreds of thousands.
Secondarily, "they can provide links, mentions, and other kinds of signals that search engines use to rank sites higher. Meaning that even in the rare case where your target audience is not following anyone, is not paying attention to any of these influencers and search is the only channel that they use to discover information, influencers can still help you by helping you achieve these signals that will help your site, your content, your pages rank better in search, which means your target customer will find them".
2. Influencers engagement overview: best practices and strategies
Today you can find some "best practice strategies" to work with influencers. We want to introduce some of the useful tactics to learn. Shane Barker in his article outlines 5 influencer marketing steps to boost conversion.
Come up with a defined campaign goal
He offers some of the most common goals that influencer marketing can help you achieve:
Boost brand awareness/visibility – If you're planning to build awareness about your brand, or boost your visibility, you can measure the campaign's performance based on the increase in following, number of social media impressions, etc.
Increase engagement – If you're trying to get more people to engage with your brand, you can measure the campaign's performance through the number of likes, shares, and comments on the sponsored content. You can also measure this based on the number of link clicks and article views.
Drive Conversions – If your campaign is aimed at driving more sales, you can directly measure the number of sales generated by each individual influencer for the campaign. For this, you'll ideally need a unique landing page or unique discount code for each influencer, which will make tracking easier.
Build a list of potential influencers to connect with
Shane defines this step as one of the most challenging steps of influencer outreach marketing. He says: "with a clearly-defined goal, you will have a better understanding of which types of influencers you need for your campaign. There are four main types of influencers you can choose from:
Celebrity influencers
Top influencers/macro-influencers
Power middle influencers
Micro-influencers
Build a fitting compensation model
Shane insists that is important that you first determine which compensation model will work best for you, and your goals before you even begin your outreach. According to Shane, one of your best options are:
Cost-per-engagement – This type of compensation model involves paying influencers based on their ability to engage. You can determine the value of payment to offer based on the likes, shares, retweets, and comments on the sponsored post. With cost-per-engagement, you're paying for results instead of simply paying a fixed price for unknown outcomes.
Cost-per-click – This type of compensation model involves paying influencers based on the clicks they drive to your site, or landing page. According to a study conducted by Linqia, cost-per-click and cost-per-engagement seem to be the most effective pricing models for marketers.
Cost-per-acquisition – Cost-per-acquisition is when you pay influencers based on their ability to convert. You offer a percentage, or a fixed sum for the number of sales, or sign-ups they drive through their content. You can track this by providing them with a unique landing page, and/or a unique discount code.
Pay-per-post – Some influencers may charge a flat rate for the sponsored posts they create. In this pricing model, you pay the influencer for each piece of content – whether it's a tweet, Instagram picture, blog post, or video. The cost may vary according to the influencer type, with top influencers likely charging more than $1000 per post, and micro-influencers charging somewhere between $100 and $500 for one post.
Find influencers' contact info
The next step to begin your influencer outreach marketing is to find the influencers' contact info. You can connect with influencers on social media, but there's nothing more effective than email outreach.
Begin your influencer outreach campaign
You could try the following tips:
Share links to their posts, and make sure you mention them so they notice
Tweet a question to them to make way for a friendly conversation
Comment on their blog posts on a regular basis until they notice you
Contact with influencers
It's important to remember that these influencers may not always respond initially, but if you keep this up for a couple of months, they may notice your name. And once your name pops up in their inbox, they will hopefully feel more compelled to open it. Or you could send them a reminder message on social media after sending them an email.
3. Influencer tracking matrix — theory, stages, goals, and tools
The other crucial question about influencer marketing is organization and tracking. Which steps of communication with influencers to choose. OK, we've got our list of bloggers, journalists, writers to act with but we still need some step by step activity schedule. Here in our article, we want to share our view on this topic.
Activity phases
After we gathered influencers, we've planned how often we'll be interracting with them and what exactly we'll going to do on that day.
Day 1: Like
Day 3: Like
Day 6: Like/Share
Day 10: Like/Share
Day 12: Like/Share
Day 22: Like/Share/Comment
Day 25: Comment
Day 31: Contact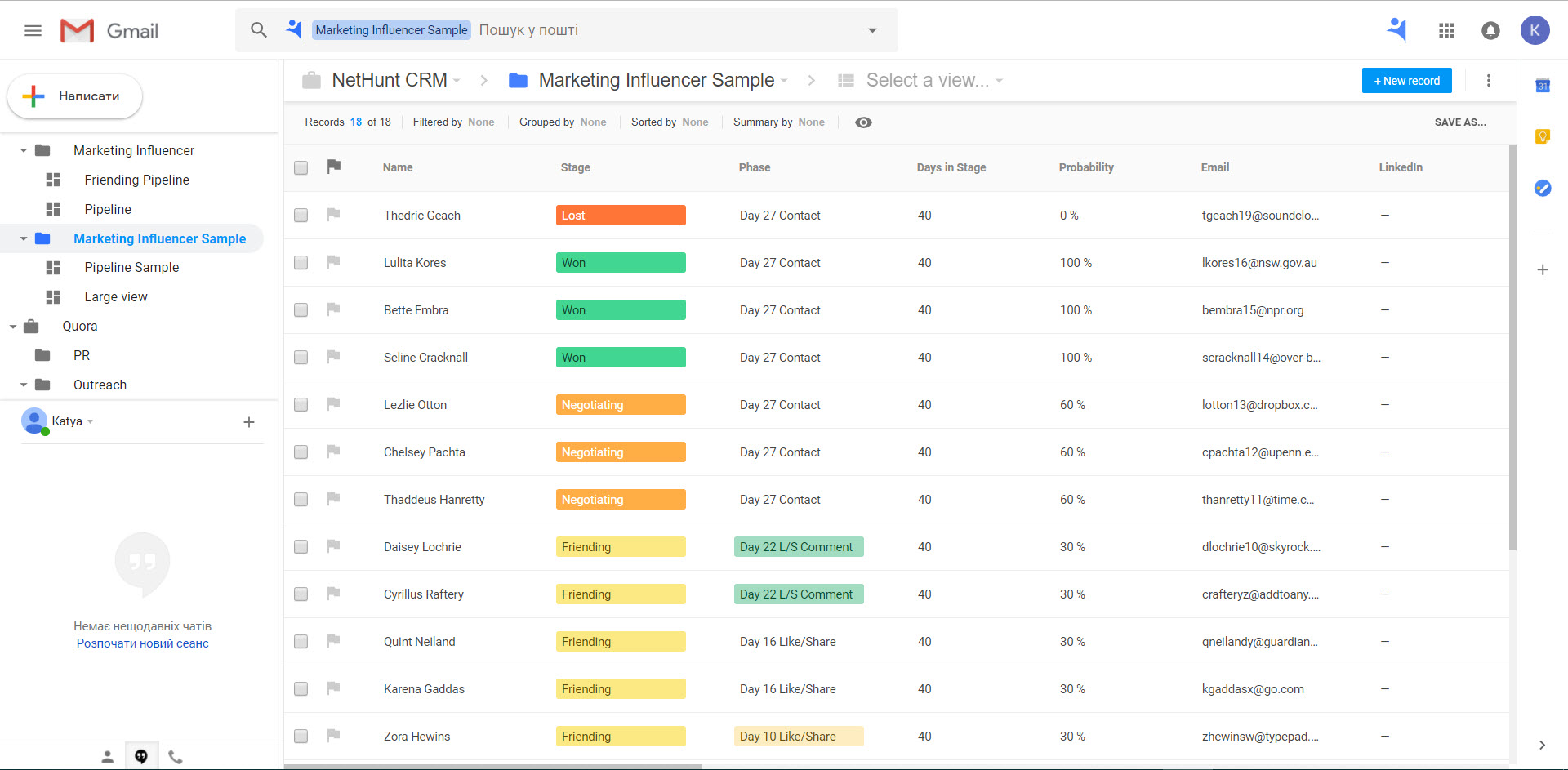 Define stages to track
Basically, we can define four main stages of our influencer activity:
New: this is the first stage after we created an influencer recording. We follow and send friend requests to influencer from social accounts
Friending: here starts the magic—we begin to communicate with likes, shares, and comments.
Negotiating: sending a message or email with a collaboration request
Win/Lost/Postponed: this stage is basically a result of our communication. The influencer can accept, reject or postpone your offer.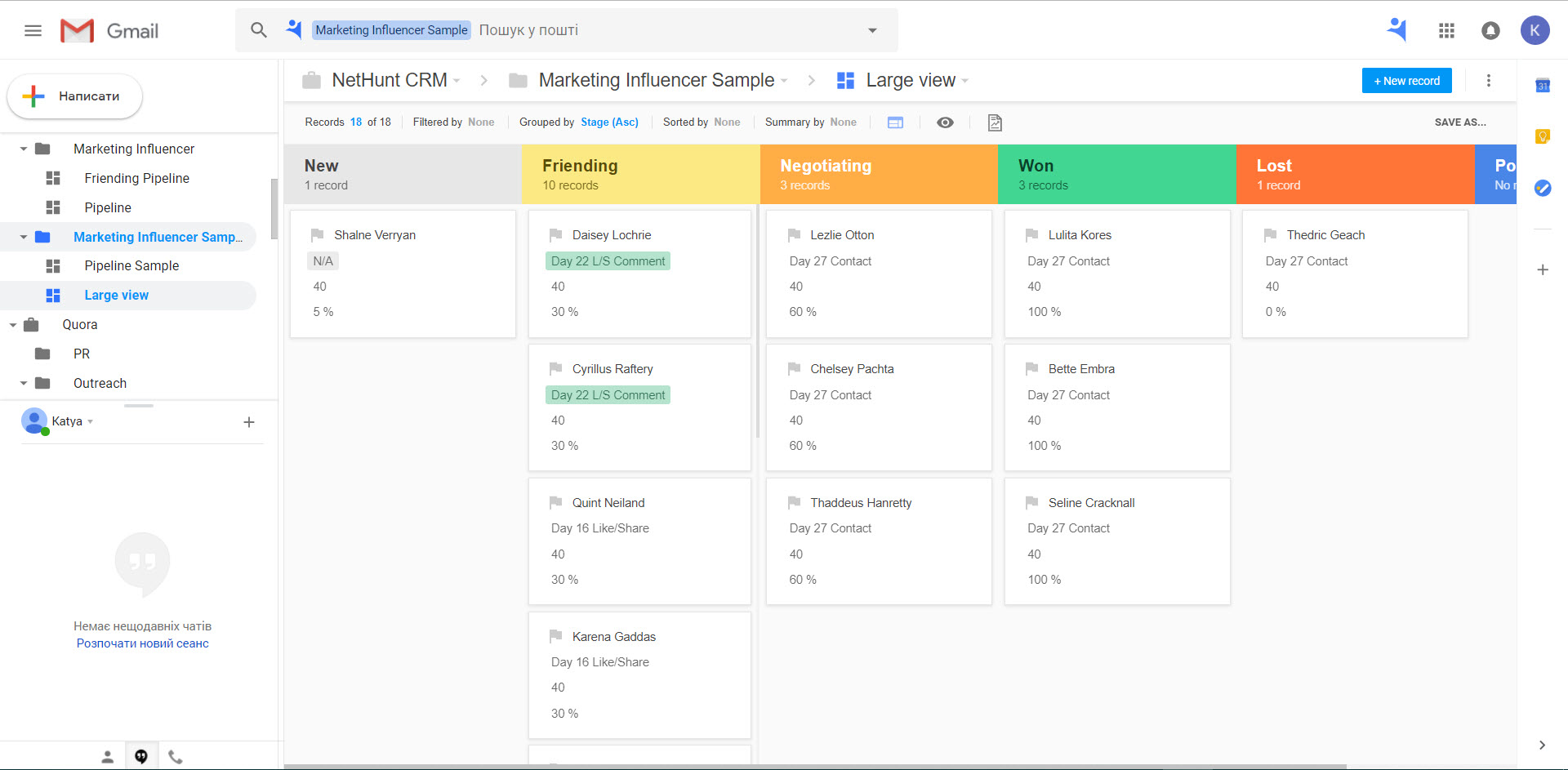 4. Do you want to learn more and start your influencers marketing today?
If yes, probably your next step might be downloading our "Definitive Guide to Marketing Influencers Management".
Why read this Guide:
We'll give you detailed instructions on how to create and manage influencers marketing campaigns
We'll share with you our video instruction
We'll create for you full cycle influencers marketing test funnel
And YES, we'll share with you free NetHunt MI online template