Last year was tumultuous, creating many challenges for salespeople, marketers, and execs. Different challenges opened new doors for discussions, innovation, and community-based problem-solving. As a result, salespeople are looking for the best events and gatherings worldwide to do just that, discuss current challenges in their market and strive for innovation in their industry.
Lucky for you, the NetHunt CRM team has created a handy list containing the crème de la crème of sales and marketing events to visit this year. This list is extensive, so everyone should find something that fits them.
Why is attending these events a good idea?
If you're serious about enriching not only your own skill set, but also the skills of the employees under your management, you'll eventually run into relevant events. These events are like mass forums, with hundreds of other professionals ready and willing to share their knowledge and experience. An exchange experience like this helps you avoid challenges you might not have even known existed.
Such networking opportunities are a big driver in moving respective industries forward.
Must-attend sales and marketing events in 2023
Here it is! The list of the best sales and marketing events to attend in 2023, all presented in chronological order. This list spans most of the year, so you're sure to find an event that you can attend at some point in the year.
If you think we missed an event in this list, be sure to let us know on LinkedIn.
MWC Barcelona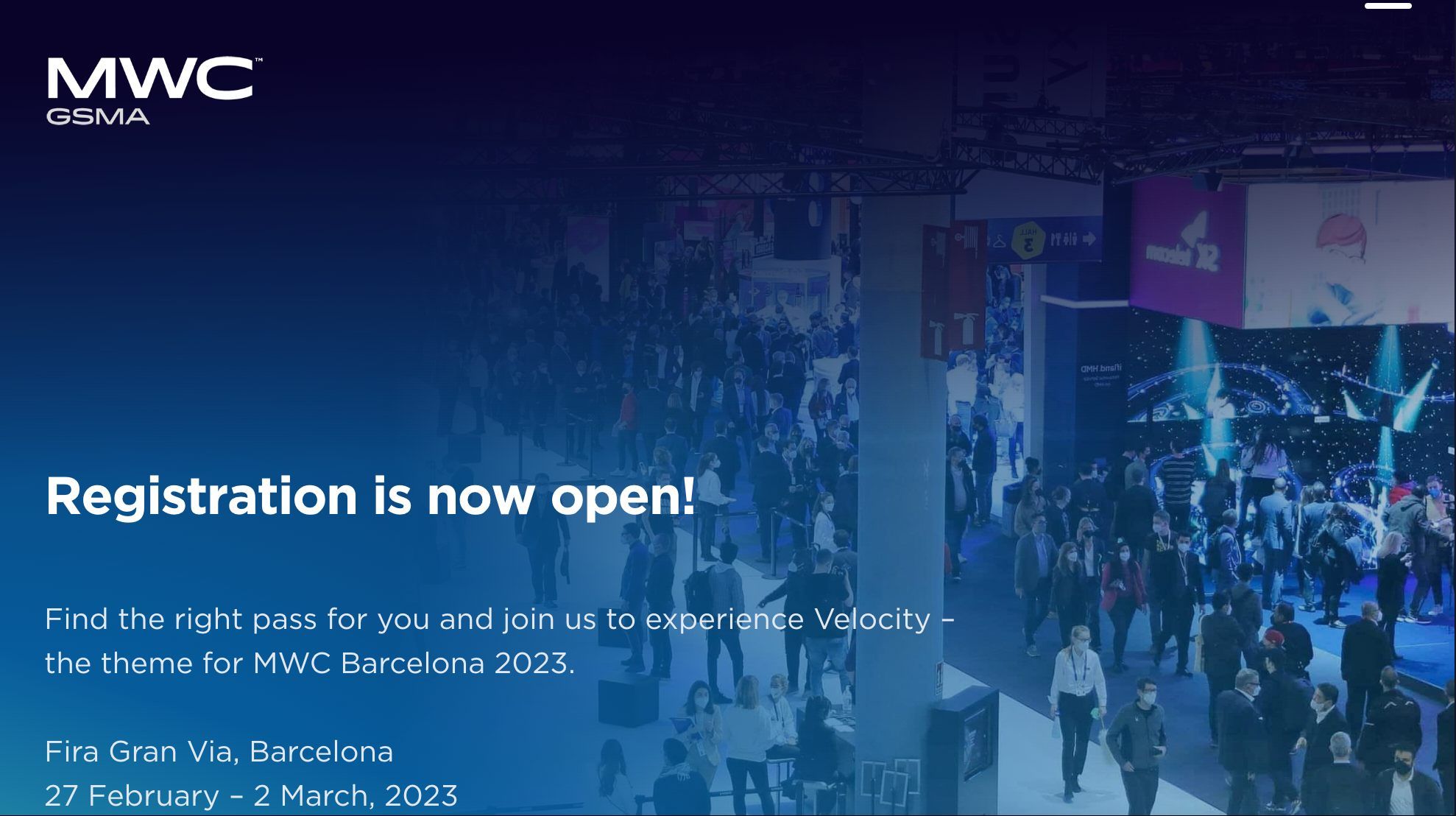 📅 27th February – 2nd March, 2023
📍 Fira Gran Via, Barcelona
MWC Barcelona is the largest event in the tech connectivity ecosystem, bringing thought leaders, innovators, and tech vendors from all over the world together in the hopes of moving technology forward.
MWC presents itself as a networking event, providing an excellent opportunity to find partners and clients to help build technology of the future together.
This year, MWC Barcelona will host speakers such as Vincent Clerk, Raymond Dolan, and James Taiclet. They're all renowned speakers in the tech industry, and they all represent various fields of technology.
On this year's agenda for MWC, you can attend talks on topics such as…
The future of 5G
Leveraging ecosystem technology to boost startup growth
Developing leadership skills in tech
The Metaverse
AI
And more! This is just a sneak peek of what's to come!
To participate: Book your ticket on the MWC Barcelona website.
Business of Software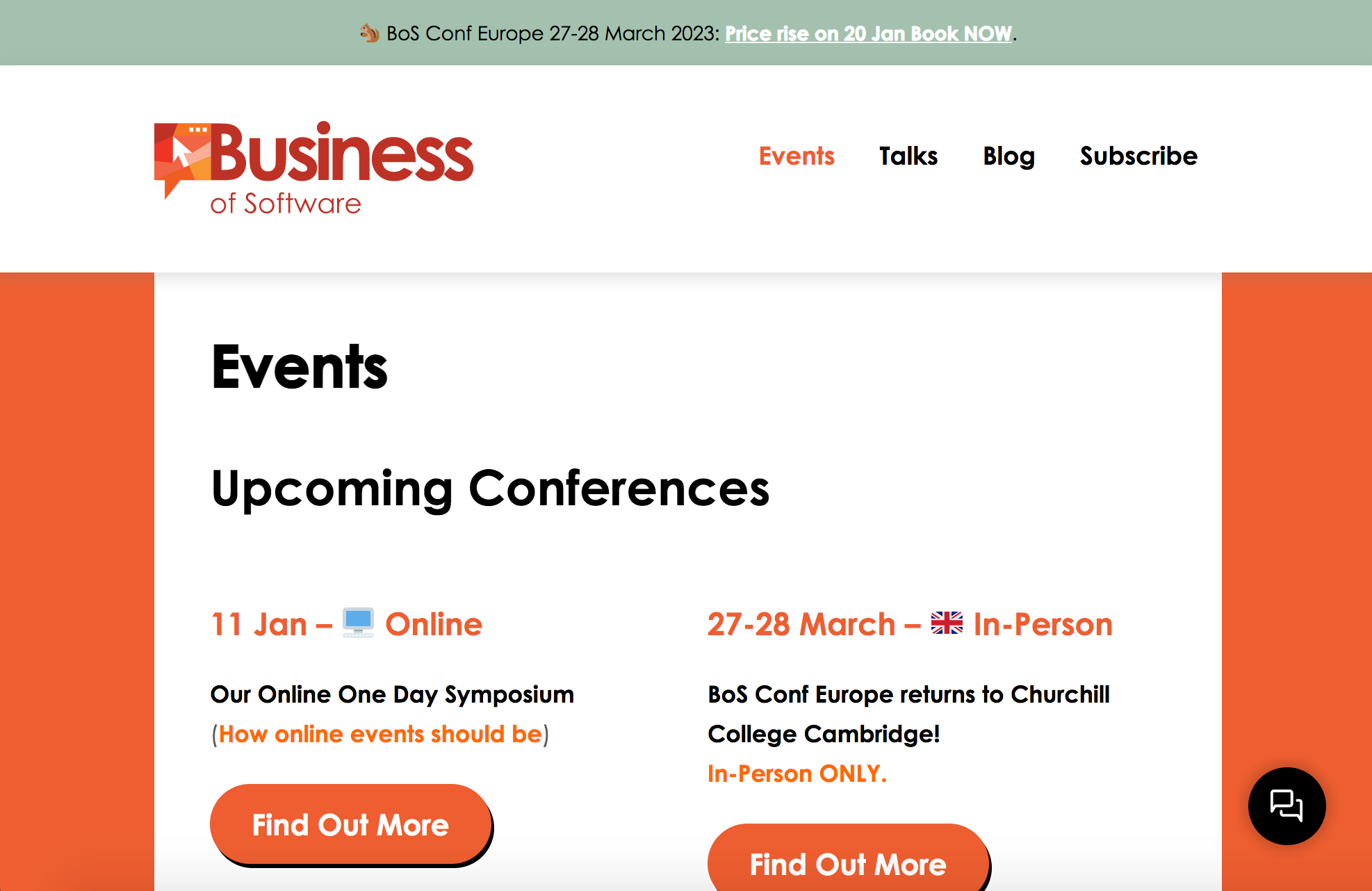 📅 March 27th - 28th, 2023
📍 Churchill College, Cambridge, UK
The Business of Software Conference is a two-day in-person event that attracts leaders, C-level managers, and other industry leaders in the SaaS field.
This event prides itself on bringing together experts and working professionals from the SaaS field that are eager to learn and to share their knowledge with others
The event will feature speakers such as Bill Spruill, Dharmesh Shah, and Tiffani Bova.
The event will have many talks. Here's a sneak peek…
Sally Foote's 'Should you listen to your customers?'
Kevin Boyle's 'Engineering your way to $30m ARR'
Chris Spiek and Ryan Singer's 'Shipping what matters'
To participate: Book tickets on the BoS conference website.
Lead Generation World London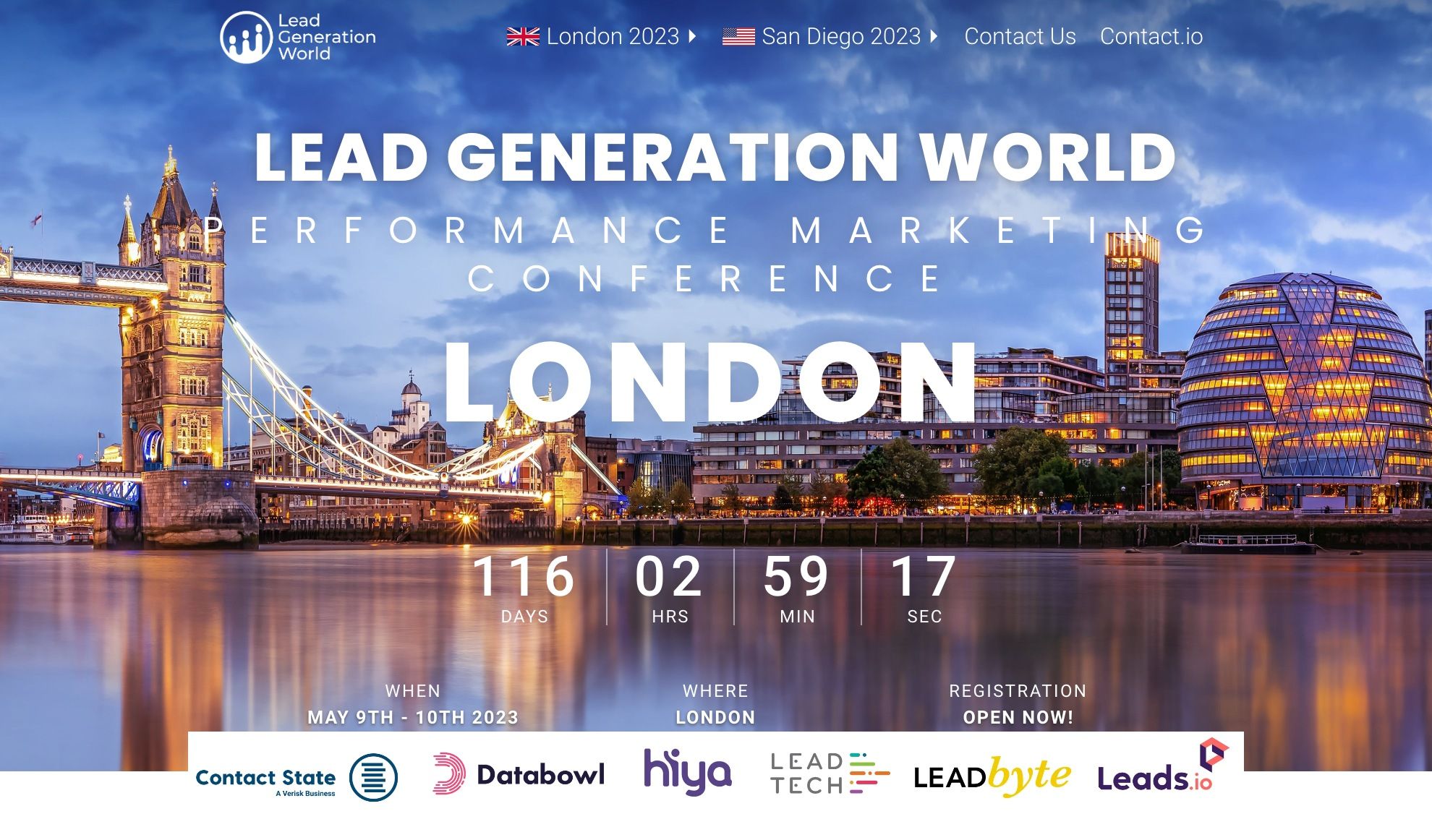 📅 May 9th - 10th, 2023
📍 London, UK
Lead Generation World London (LGWL) is the place to be for lead generation managers, performance marketers, and service providers striving to boost lead generation campaigns. LGWL's primary focus is to facilitate knowledge exchange between the brightest minds in lead generation and performance marketing to help build a better lead generation ecosystem worldwide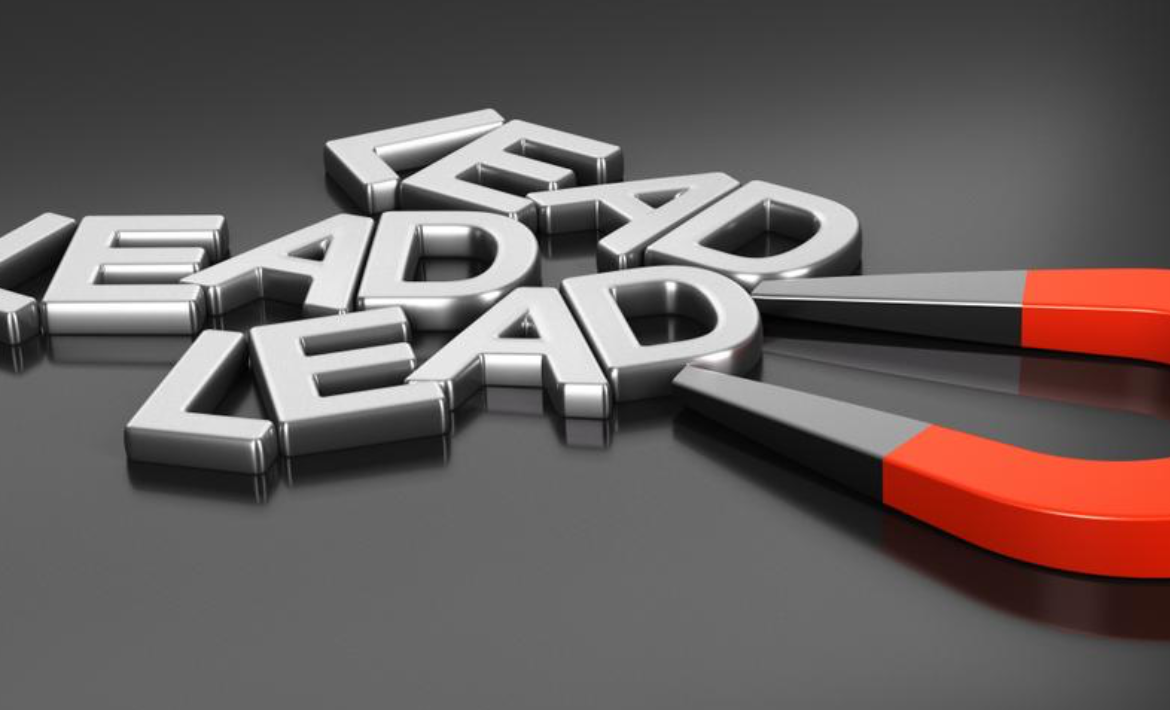 LGWL covers the A to Z of everything lead generation and performance marketing, so if you're looking to boost conversions, you'd be going to the right place.
LGWL will have talks on topics such as…
Post-pandemic online marketing
Avoiding fraud in lead generation
The importance of real-time feedback
How to build a killer landing page
And so much more, including a bunch of networking talks to exchange knowledge with other industry pros!
To participate: Book your tickets on LGWL's website.
Gartner CSO and Sales Leader Conference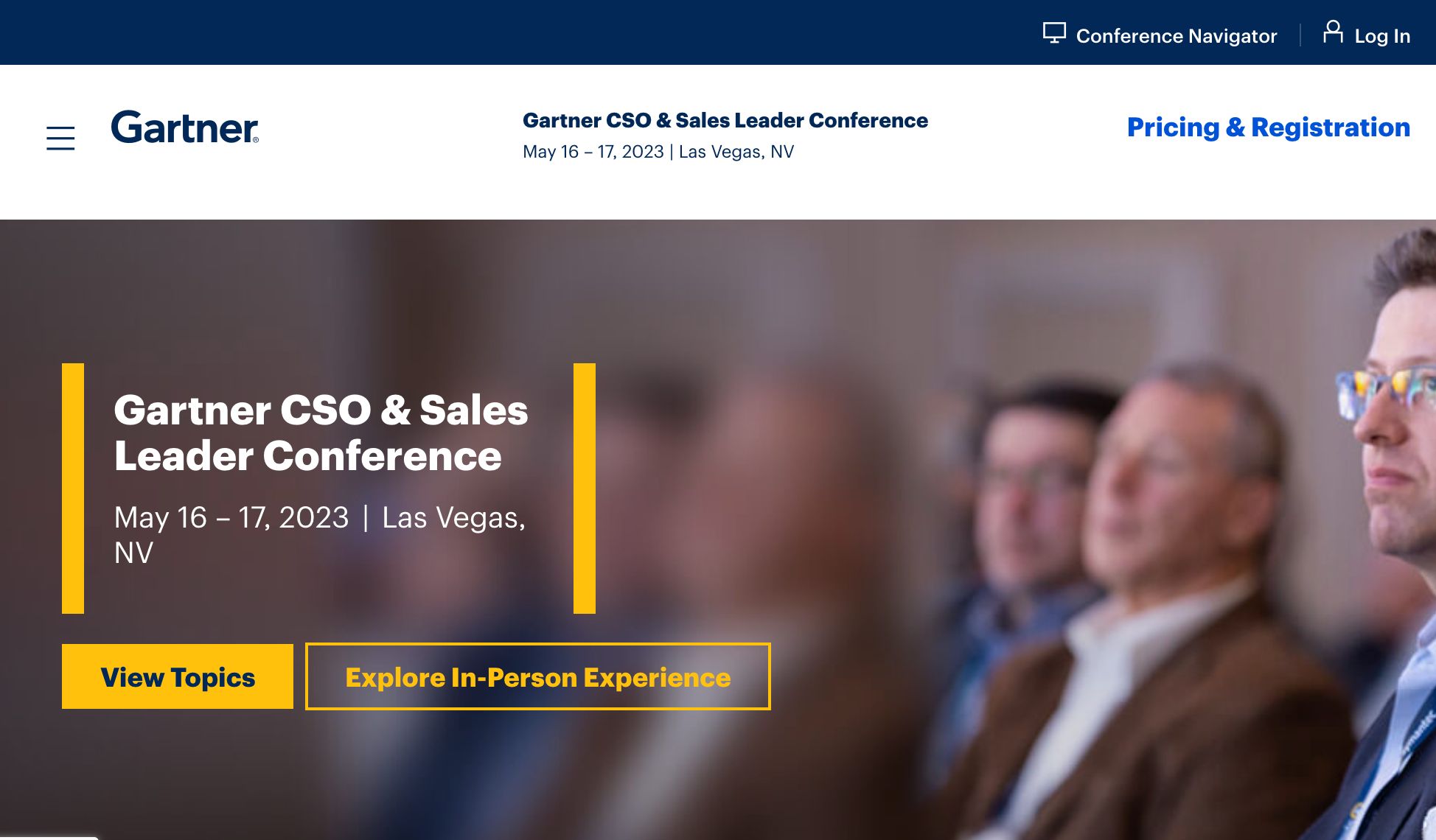 📅 May 16th - 17th, 2023
📍 Las Vegas, USA
The sales industry is fast-paced, as constant skill development and strategy revisions are a must-do for any CSO looking to bring revenue to the company. The Gartner CSO & Sales Leader Conference 2023 brings together CSOs in hopes of solving existing challenges and innovating industries.
The topics of discussion this year are…
Compensation design and management
Digital transformation
Emerging revenue technology trends
Enabling and reinforcing effective learning
Sales analytics
Revenue enablement
And more! The full agenda hasn't been published yet. However, the speakers for this event include…
Dan Gottlieb
Greg Hessong
Robert Lesser
Steve Rietberg
To participate: Register on Gartner's website.
Sales Enablement Summit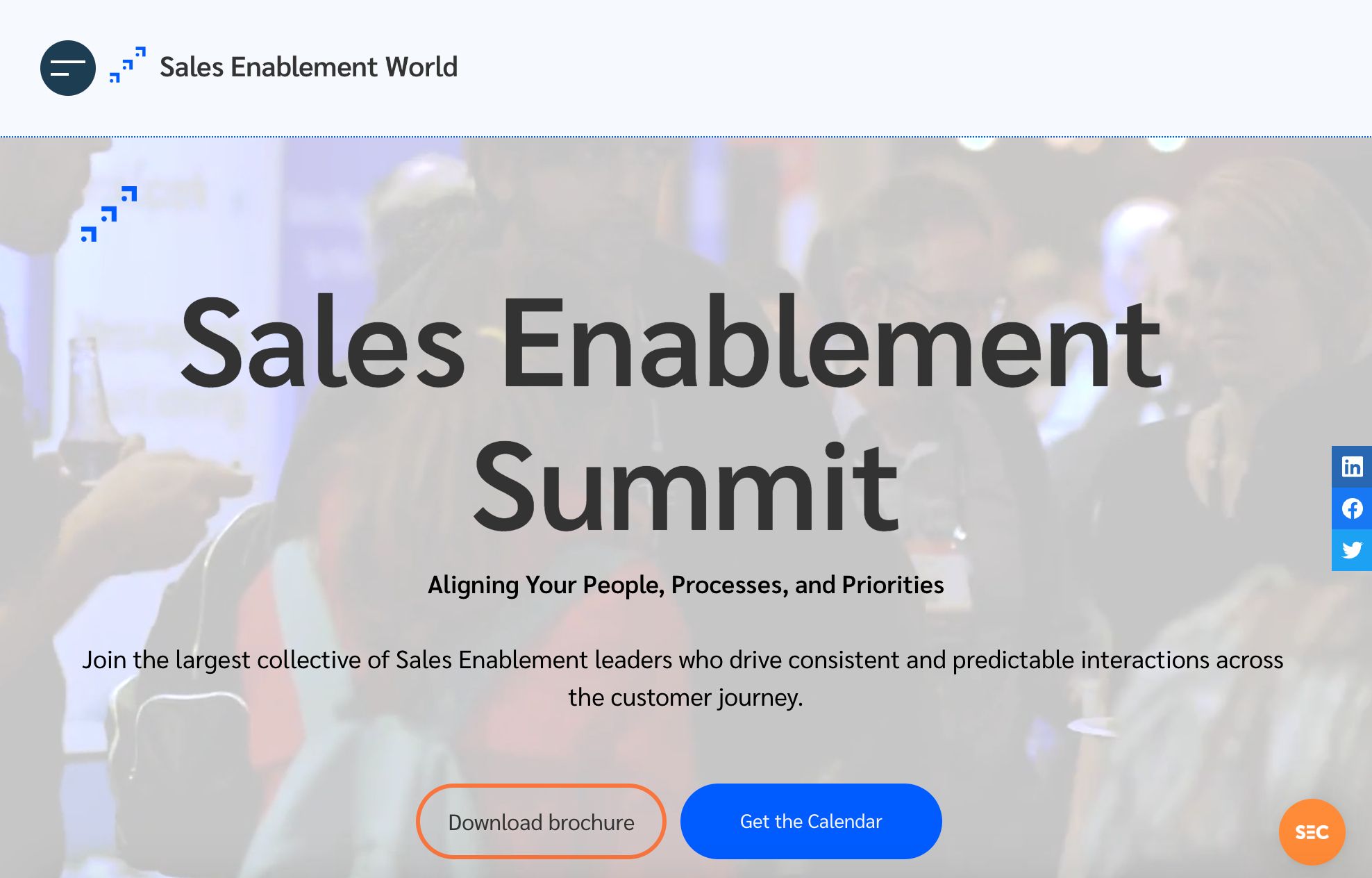 📅 May 24th - 25th, 2023
📍 Las Vegas, USA
The Sales Enablement Summit is one of the largest sales enablement conferences in the world. It brings together hundreds of sales professionals with the goal of experience exchange. The idea is to solve big challenges the industry is facing, and develop the world of sales further.
Although the agenda for this event is not yet available, the speakers are sure to provide you with industry-moving knowledge. These speakers are…
Sheevaun Thatcher
Don Lopez
Sarah Fricke
Rita Floyd
Elay Cohen
John Lysy
…And more!

To participate: Register on the sales enablement collective website.
Dublin Tech Summit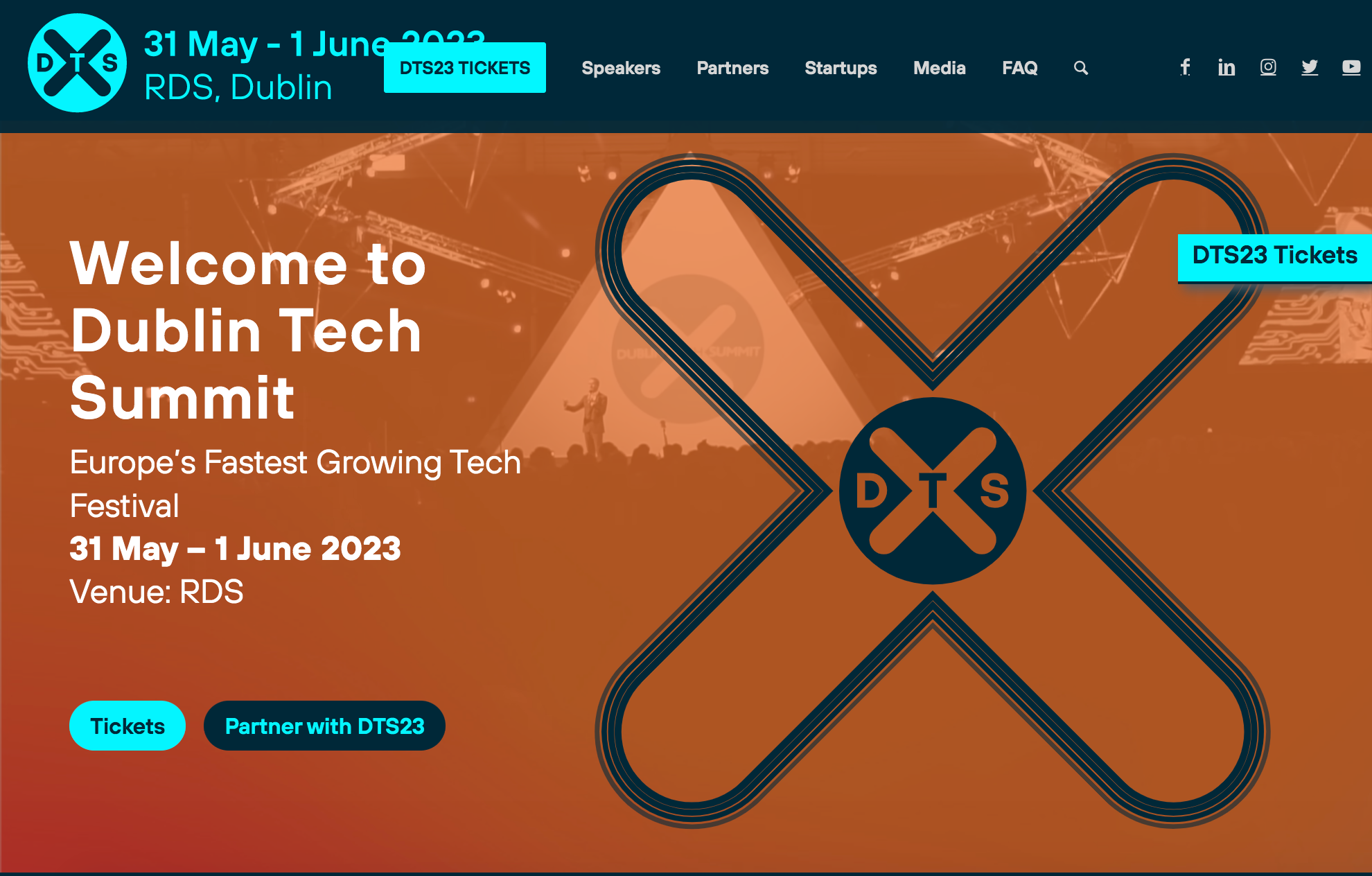 📅 31st May - 1st June, 2023
📍 Dublin, Ireland
Dublin Tech Summit (DTS) is a two-day conference that has become an EMEA base for industry-leading tech companies worldwide. DTS is one of the fastest-growing conferences for B2B tech in the world at the moment. Not only is DTS a great place to connect with like-minded industry professionals, it is also an event that promises to teach you how to work smarter rather than harder.
DTS will feature industry-renowned speakers such as David Singleton, Cassie Kozyrkova, and the Cambridge Analytica whistleblower Christopher Wylie.
DTS will feature talks on topics such as…
Analytics and Dataification
Enterprise software solutions
Digital business transformation
AI machine learning
Future of the workforce
…And more!
To participate: Book your tickets on the DTS website.
SaaStr Europa 2023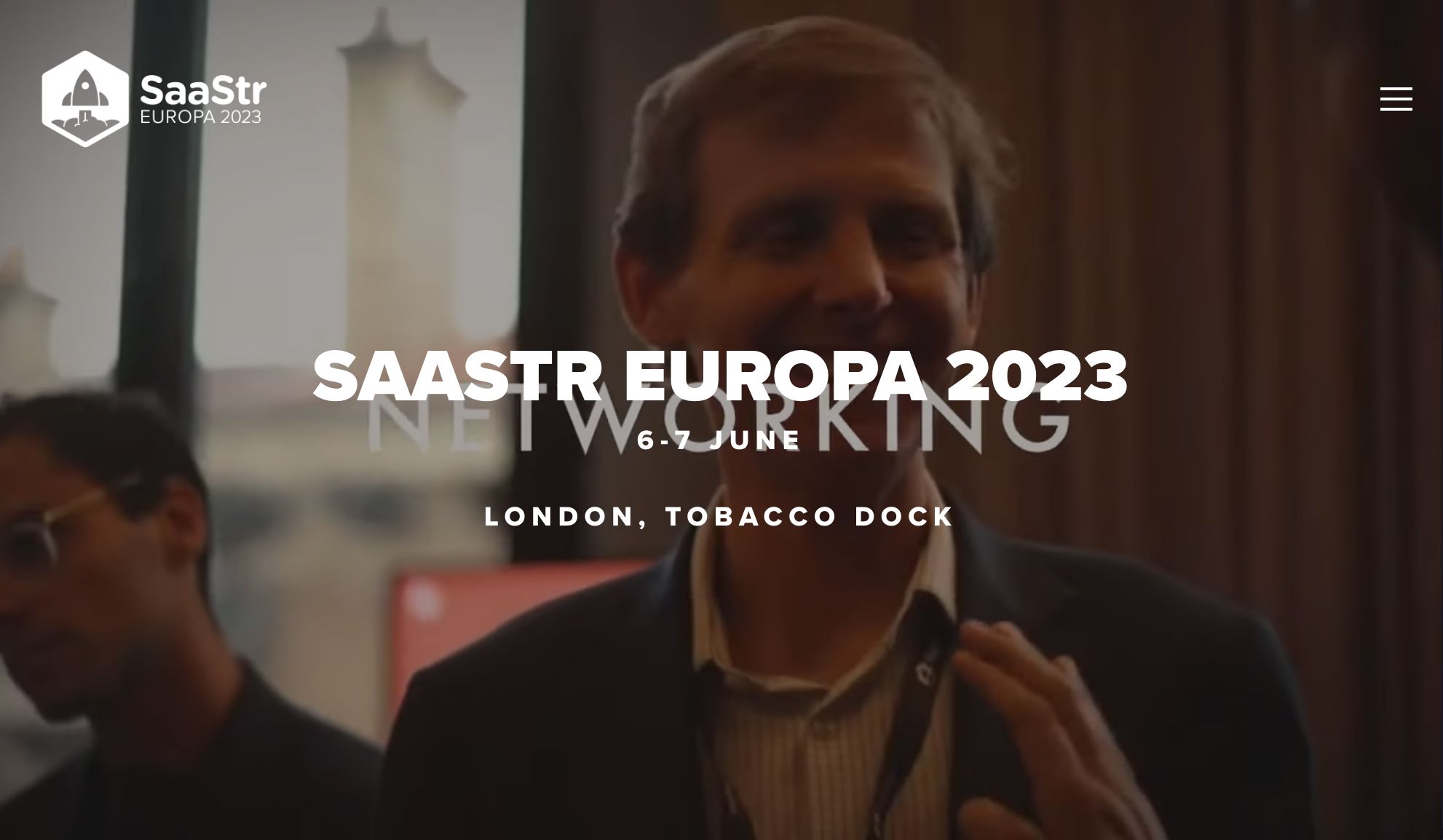 📅 June 6th - 7th, 2023
📍 London, UK
SaaStr is an event that aims to bring together thousands of SaaS founders and execs from all over the world to discuss the changes to industry climates, sharing knowledge and progress gained throughout the year.
Boasting a wide range of sponsors, hundreds of workshops, and industry-renowned speakers and attendees, this conference is sure to provide valuable knowledge in improving your company.
Although the list of speakers and talks for 2023 is not yet available, so we'll all just have to wait and see what exciting speakers SaaStr 2023 will bring us.
To participate: Book your tickets on the SaaStr Europa 2023.
Digital Marketing World Forum Global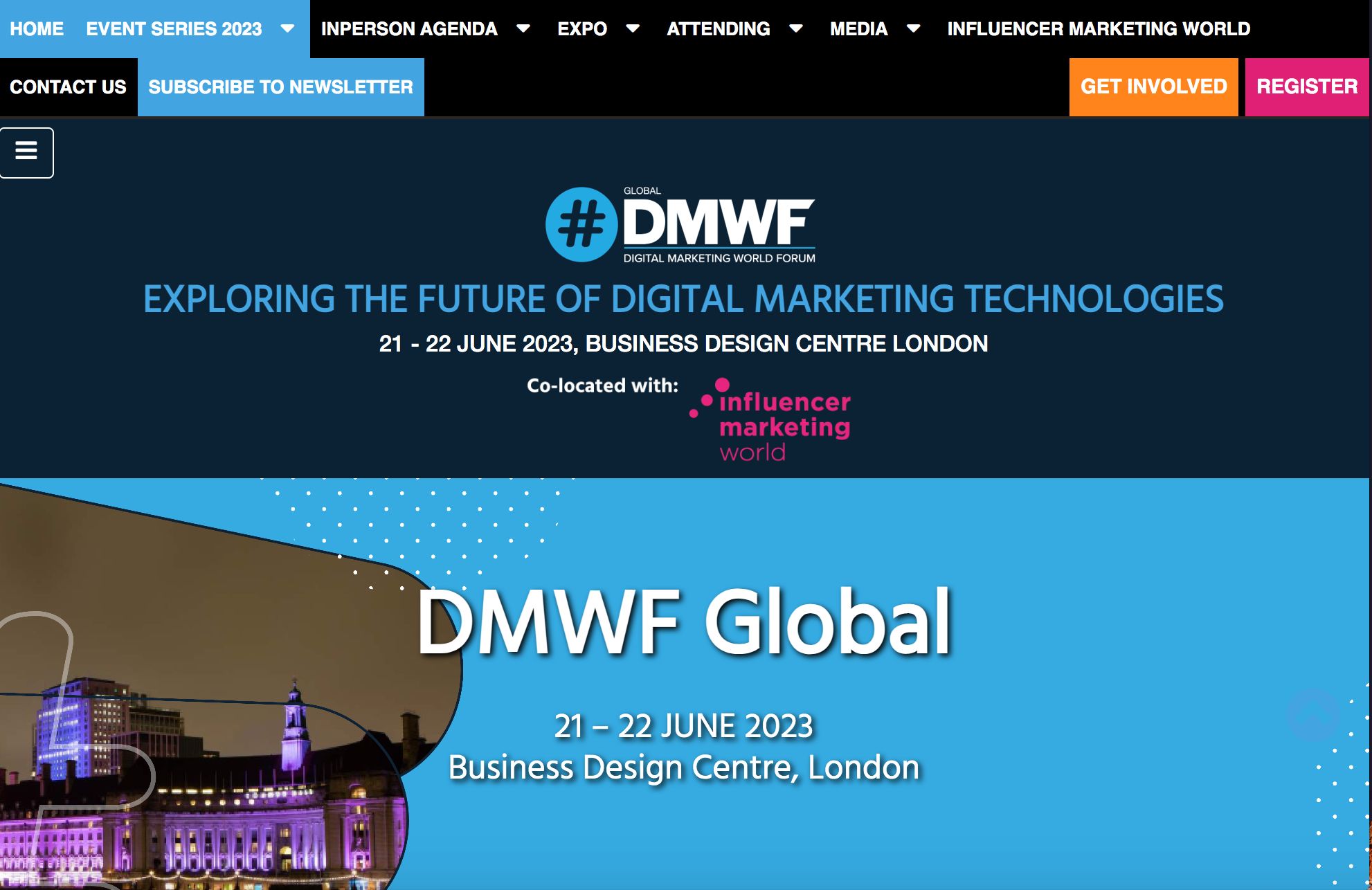 📅 June 21st - 22nd, 2023
📍 London, UK
The Digital Marketing World Forum (DMWFG) seeks to tackle the challenges of the digital marketing world by…
Exploring top-level strategic content and digital marketing insights,
Networking,
Discussion from leading global brands.
DMWFG will look at the trends and strategies of topics such as…
Digital Marketing and Digital Marketing Technologies,
Virtual Reality
Artificial Intelligence
Influencer Marketing
UX
CX
Content Marketing
Data and Analytics
Although the speakers for the 2023 event are still unknown, past speakers include names such as…
Abhi Juneja
Harriet Dunford-Smith
Paul Randall
Mike Buick
Unfortunately, the agenda for this year's conference hasn't yet been made public.
To participate: Register for the event at the DMWFG website.
Growth Marketing Summit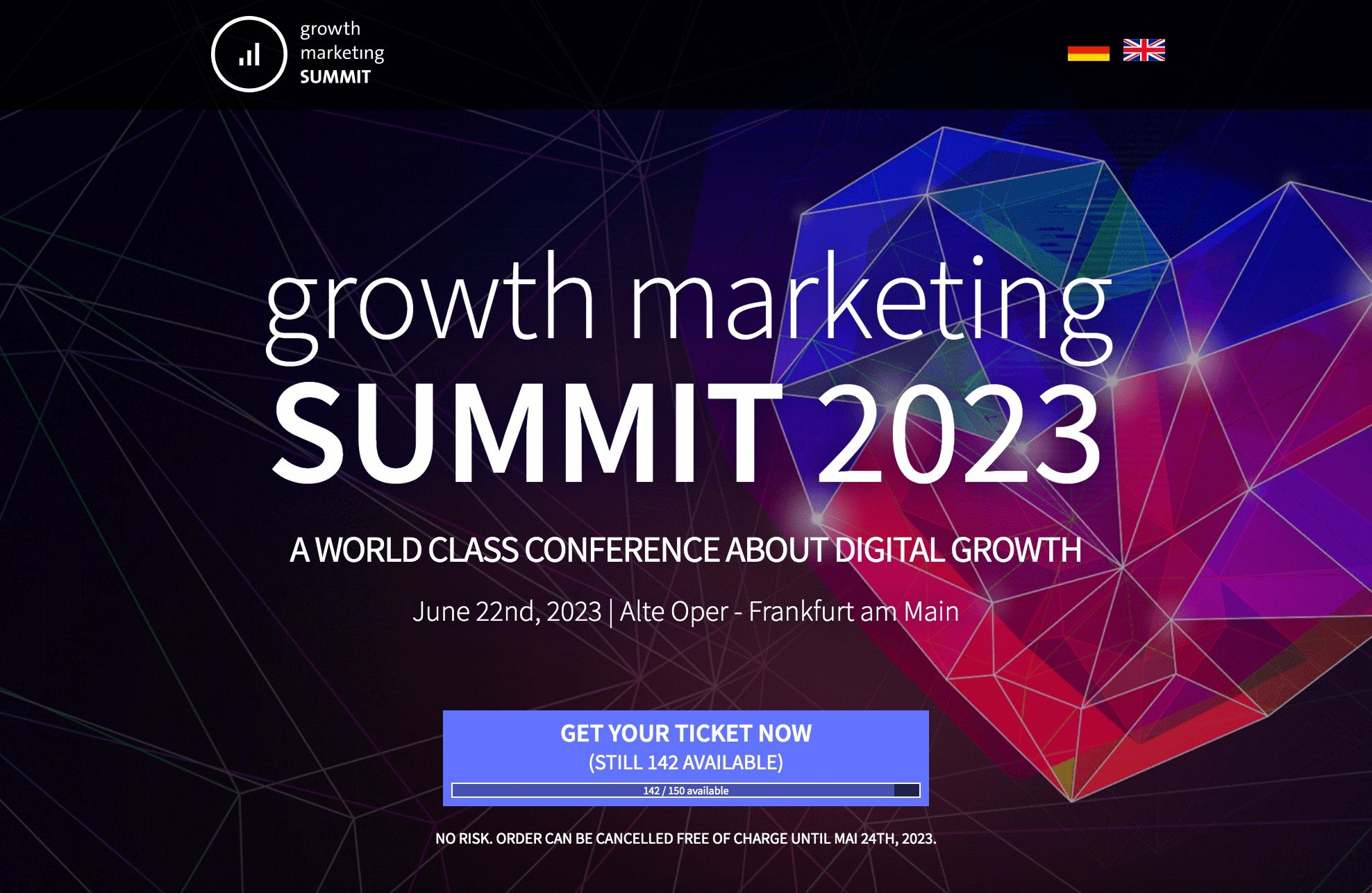 📅 June 22nd, 2023
📍 Frankfurt, Germany
The growth marketing summit is one of Europe's leading events in the digital growth and innovation sphere. The summit prides itself on being an environment that stimulates a data-driven, customer-oriented approach to sustainability in growth marketing.
Speakers at this conference include…
Daphne Tideman
Colin McFarland
Morgan Brown
Marianne Stjernvall
The talks at this conference will focus on anything digital growth, with captivating talks all over the agenda. Some that we'd like to highlight are…
Data-Driven copywriting for brand-spanking new products
Stakeholder management: How to turn HiPPO's into BIRDS by being a CAT-person
How to energise & motivate your growth team to unleash their full potential
To participate: Book your ticket at the Growth Marketing Summit website.
Techspo 2023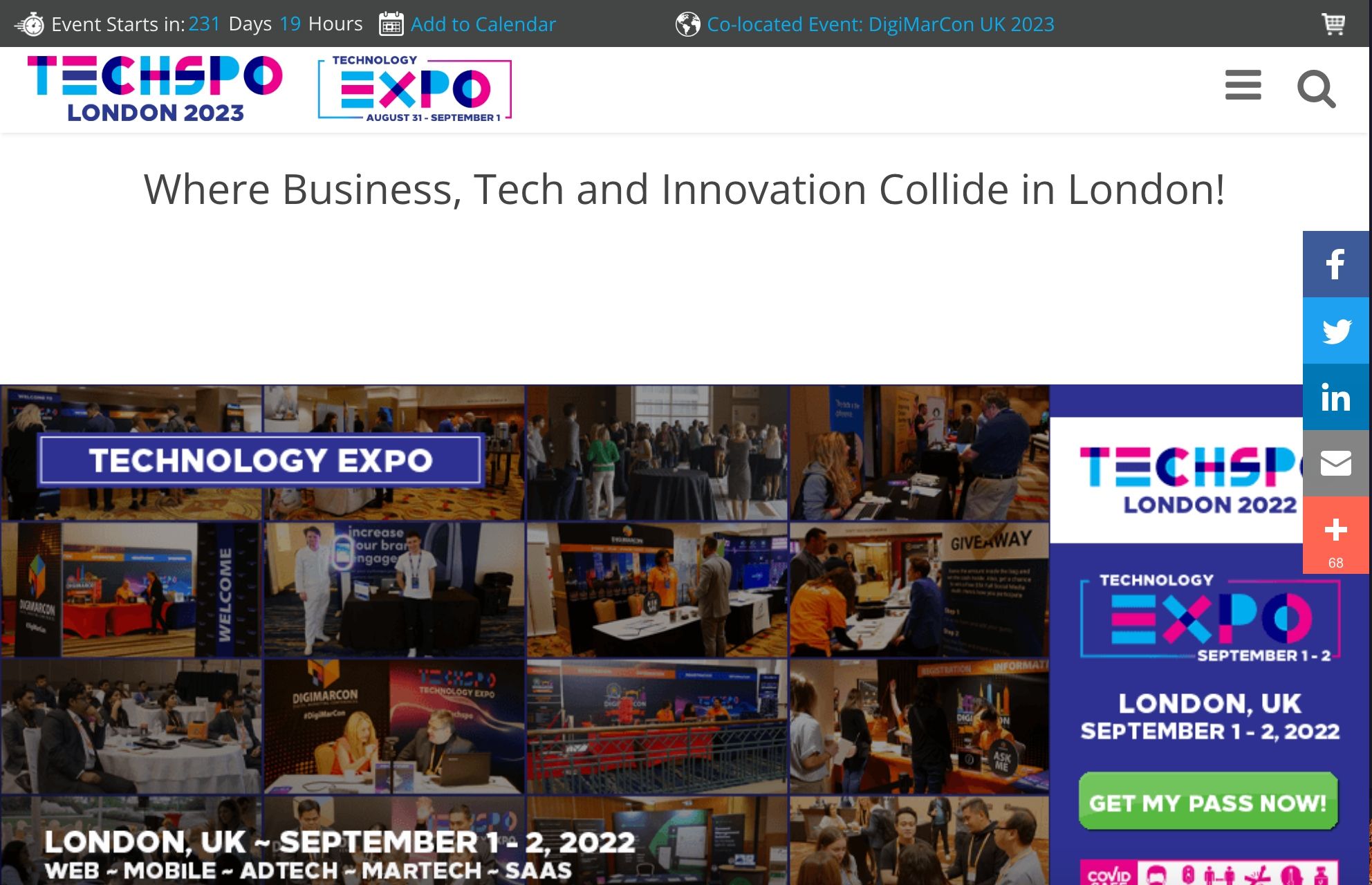 📅 August 31st - September 1st, 2023
📍 London, UK
Techspo is a technology expo that is really easy to attend as long as you can get to the UK, considering it's at a hotel connected to Heathrow Airport.
Techspo brings together developers, brands, marketers, technology providers, designers, and innovators from all over the world. This event looks to set the pace in the modern tech world.
The agenda and speakers list for this event is not yet available, but we're sure it'll be to your tastes.
To participate: Book your tickets on the Techspo website.
Digital Marketing Exposition and Conference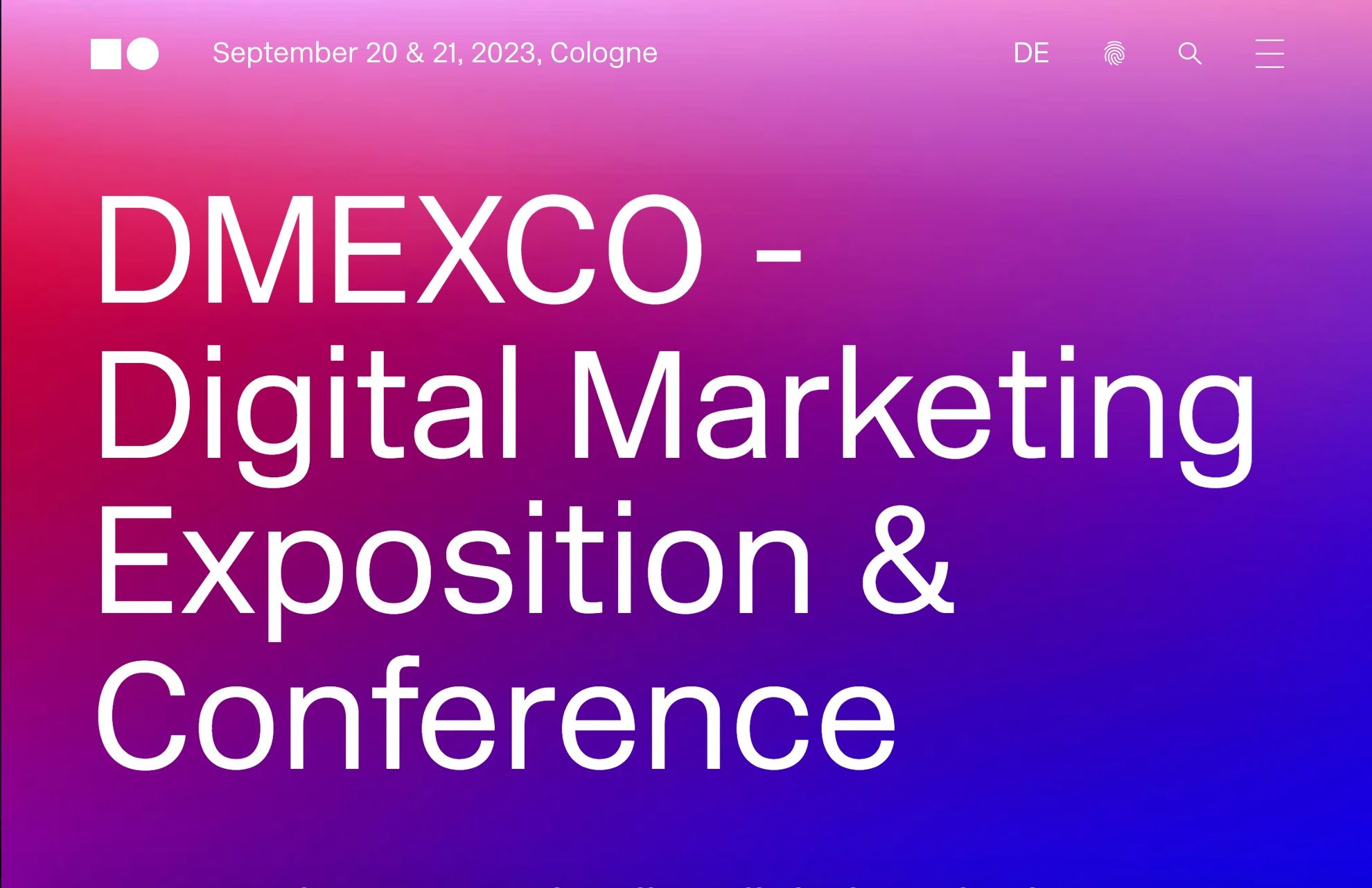 📅 September 20th - 21st, 2023
📍 Cologne, Germany
The Digital Marketing Exposition and Conference (DMEXCO) is one of Europe's leading digital marketing conferences. This event is globally informed and focused by nature, aiming to bring together key players in digital business, marketing, and innovation. This is done in hopes of setting a new digital agenda.
DMEXCO provides attendees with a whole ecosystem that's filled with expositions, pioneering keynotes, debates, and informational masterclasses outlining the future of the digital economy and driving market value.
Although the agenda and speakers for this event are not yet known, some of the exhibitors for this year's conference are…
DHL
Snap Inc.
Content Square
Epoq digital services
Fiverr
Freshworks
If this sounds like your cup of tea, you can follow the event through their social media or by downloading their app.
To participate: Book your tickers on the DMEXCO website.
SaaStock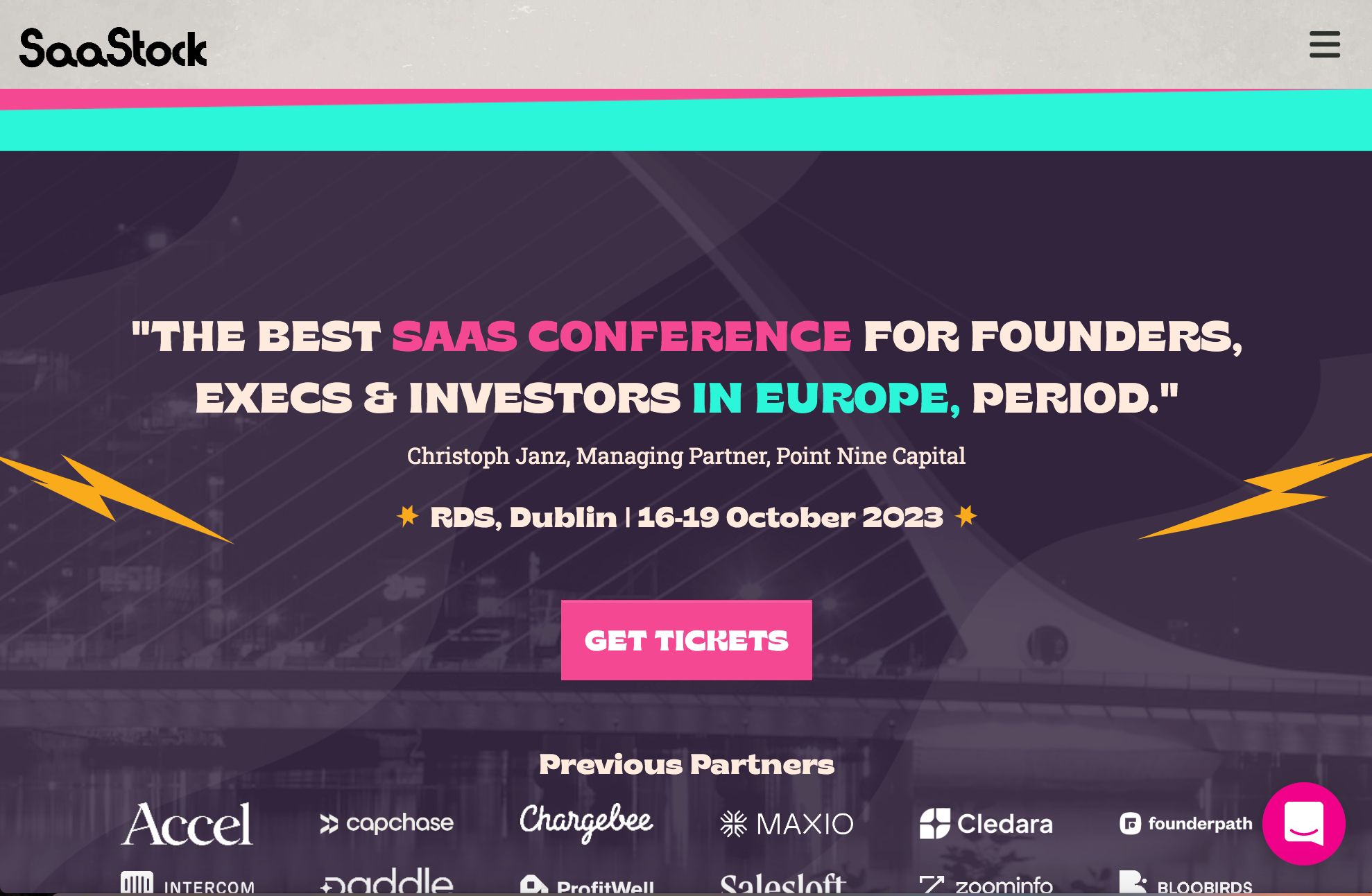 📅 October 16th - 19th, 2023
📍 Dublin, Ireland
If you're a SaaS exec on the path to $10M+ ARR, then SaaStock is the conference for you.
The SaaStock conference boasts 68% of their attendees being in leadership positions. SaaStock 2023 is built to facilitate human connections. With 100+ hours of networking opportunities, you can have back-to-back meaningful conversations with fellow SaaS founders, future customers, or find investors who want to fund your SaaS.
The speakers at this conference are all industry-leading trendsetters in the field of SaaS, striving to deliver actionable information and workshops to help you become the next industry disruptor.
As SaaStock is happening at a later time this year, the agenda and list of speakers is as yet unknown. You'll have to check in on their website at a later day to see whether it's been updated. If SaaStock 2023 was anything to go by, you don't want to miss it.
To participate: buy tickets on the SaaStock website.
World Business Forum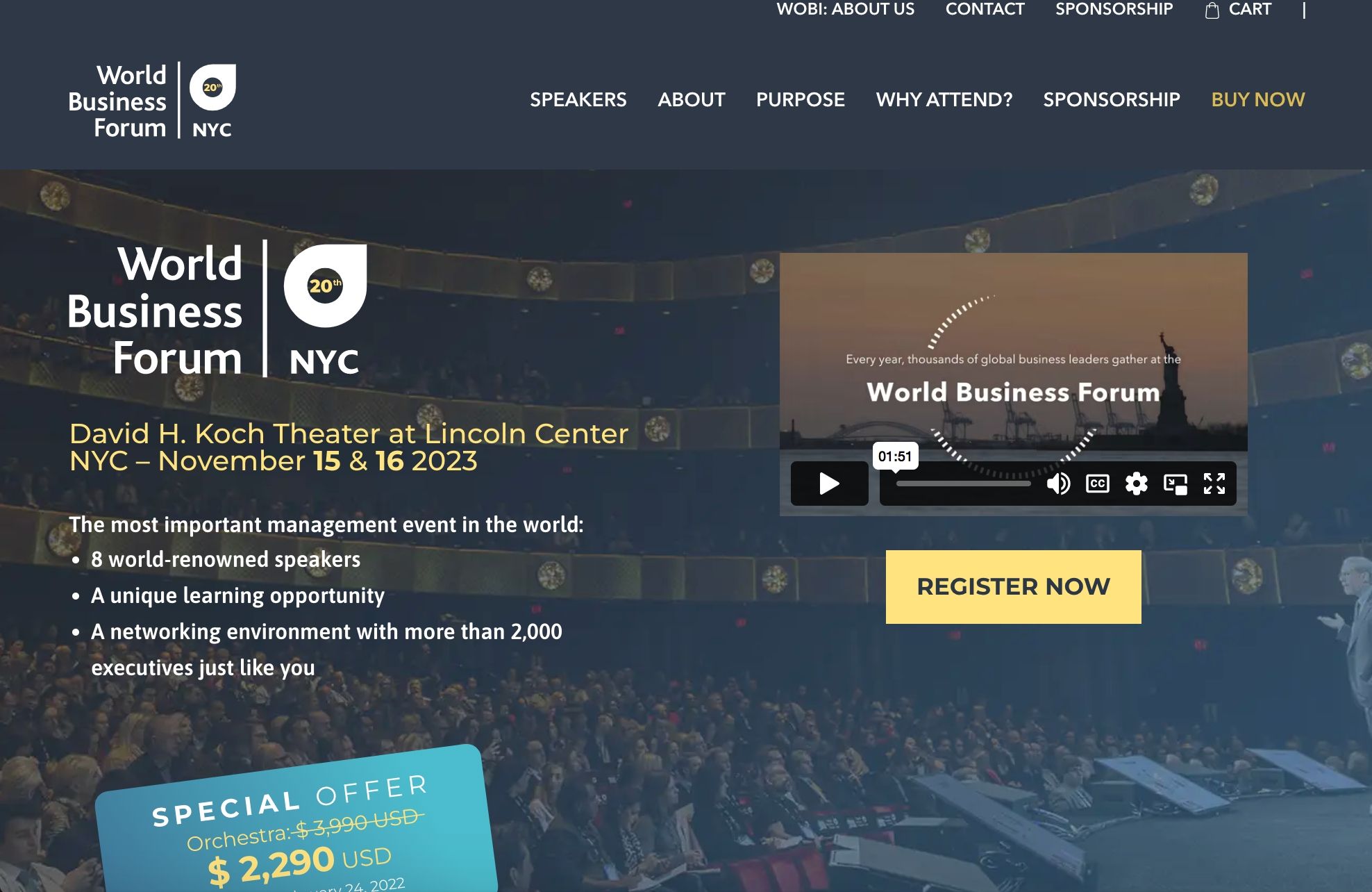 📅 November 2nd - 3rd, 2023
📍 New York City, USA
The World Business Forum is, as they call themselves, the most important management event in the world. Bringing together industry-disrupting speakers.
This conference was built around providing world-class knowledge and hoping attendees leave with ideas on how to grow their business and develop their industry as a whole.
Let's not forget about the networking aspect of this conference. More than 2,000 high-level executives, decision makers, leaders, entrepreneurs, managers of the most important companies in the world all come together to attend.
As with previous events, the agenda for this conference is not yet available. Stay tuned to the World Business Forum's social media to be the first to know when it's posted.
To participate: Book your tickets on the WOBI website.
Web Summit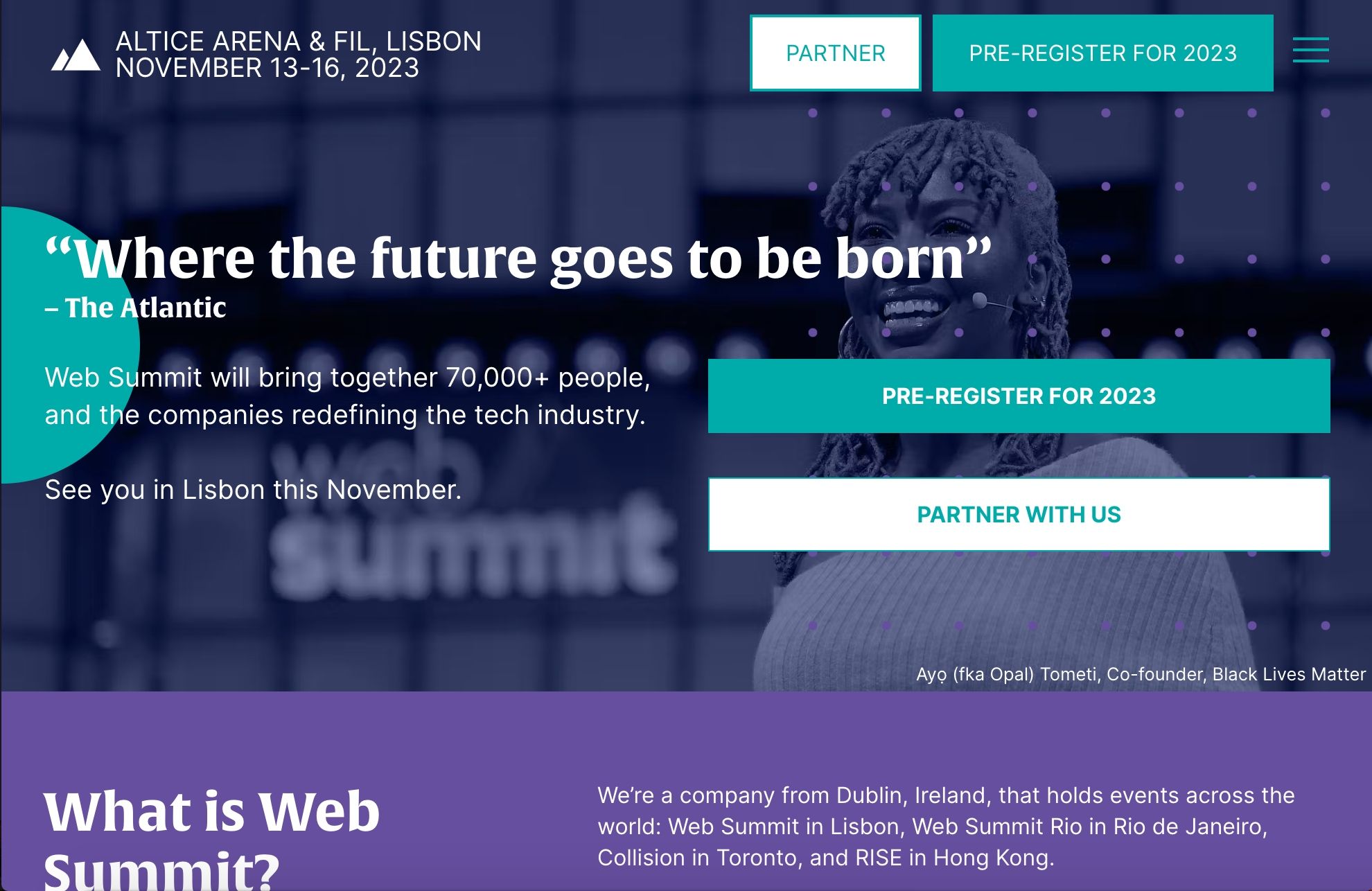 📅 November 13th – 16th, 2023
📍 Lisbon, Portugal
Web Summit is a conference for people looking to help nurture ideas that will redefine the tech industry. Politico has called this conference "the world's premier tech conference" and "where the future goes to be born".
At a time of global turmoil, the Web Summit is the place to go if you want to figure out what's next for the world of tech.
Some previous speakers at this event include…
Changpeng Zhao
Barr Moses
Toto Wolff
Lisa Jackson
Noam Chomsky
Since this event will be held later in the year, the agenda is not yet available.
To participate: Book your tickets on the Web Summit's website.
Sales Innovation Expo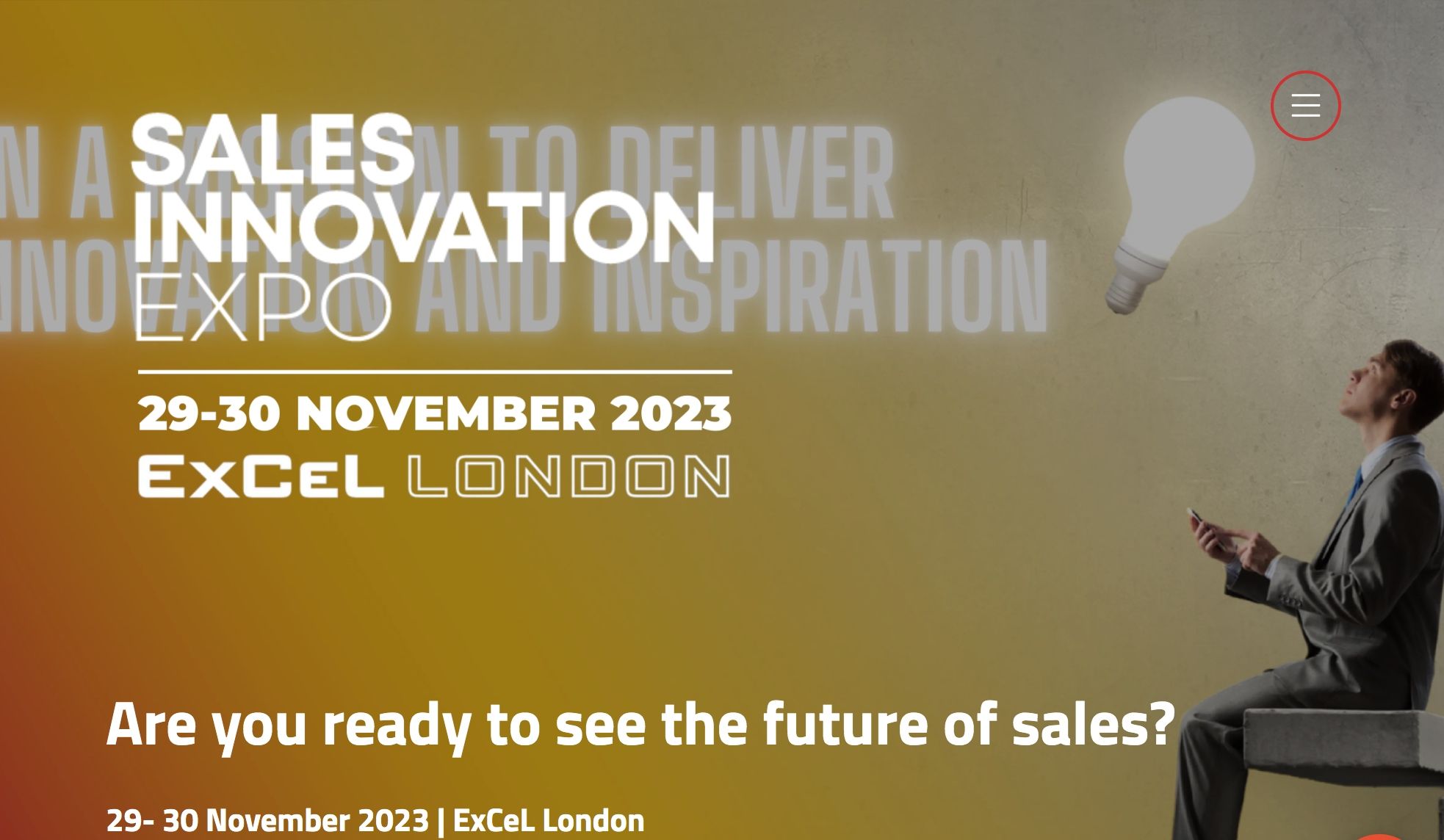 📅 November 29th - 30th, 2023
📍 London, UK
Sales Innovation Expo says that their mission is to deliver innovation and inspiration to sales professionals. This event is packed with expert speakers, industry-leading exhibitors, and live demos that will leave you buzzing with ideas to take back to your business.
The Sales Innovation Expo also provides incredible networking opportunities, facilitating the perfect environment to meet other sales-minded colleagues from your industry.
This event features sessions on everything from sales engagement, enablement and intelligence, to leadership and sales techniques, along with chances to experience some truly cutting-edge technology first-hand.
The agenda is not yet available.
To participate: Register on the Sales Innovation Expo's website.
---
Out of all the events announced so far, these are the ones we would recommend. If you think we missed an event that is worthwhile? Be sure to reach out and tell us! Let's all work together for innovation in sales this year!
Table of Contents
Crack the sales formula with CRM Lab
Twice a month, receive actionable CRM content to your inbox.
Join the
Telegram channel NetHunt CRM
All about CRM and B2B sales.
Join