How to sell homemade products on Amazon (for beginners)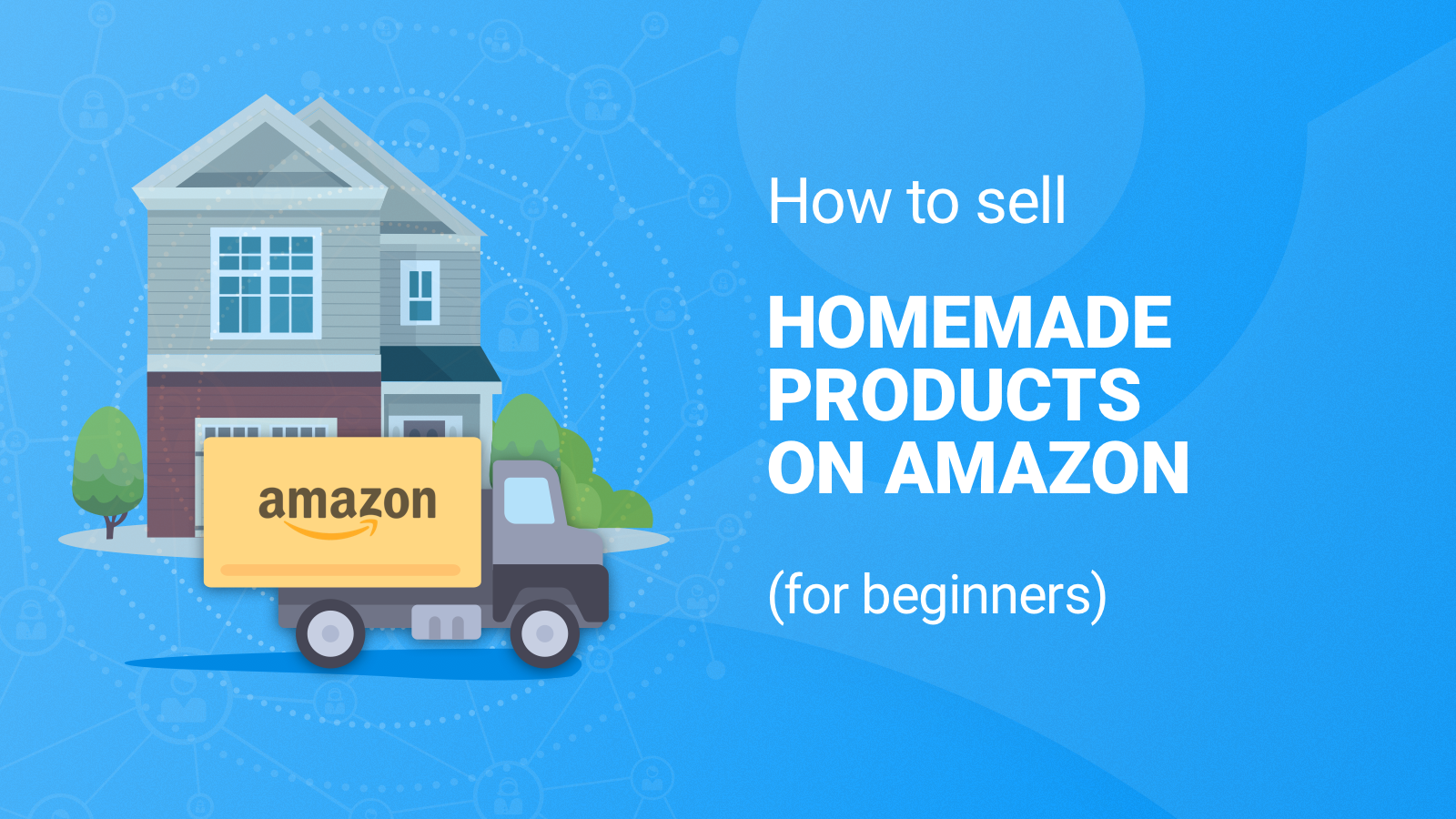 The commercialization of the world is at its peak. It is hard to find a product that is not factory built. For this reason, items produced by humans rather than machines are gaining more popularity in modern days. However, to create a homemade product and sell on Amazon handmade are two absolutely different activities. Since the Internet has become an integral part of a life of a modern person, let's review the selling opportunity on the one of the most famous trading platforms – Amazon, and how to sell on Amazon Handmade.
Table of contents
Pros and Cons of Selling on Amazon
Amazon has a special section for the sale of handmade products. This marketplace is introduced as the best alternative to another famous trading platform named Etsy. So, the following advantages and drawbacks of selling handmade items on Amazon are introduced.
Pros of selling handmade on Amazon
The main advantage of Handmade at Amazon is a large customer base – over 250 million users.
An extensive review of the products. Handmade at Amazon attempts to limit the wholesalers and resellers, as well as mass production. The main emphasis is made on the real handmade items.
Free shipping and prime shipping options are available.
Comparing to the other trading platforms, Amazon provides less competition due to the smaller amount of products and sellers.
The interface of Handmade at Amazon is designed for the sale of custom items and is very usable.
No difficulties with the tax paperwork because Amazon makes everything for its users.
Seller support is available by phone.
Cons of selling homemade items on Amazon
Unfortunately, Amazon is a rather pricey service. You have to pay 12% fee for each sold item. Nevertheless, the listing is free and non-expirable.
Collectives of sellers are available on Handmade at Amazon. This option is widely used by the resellers to grasp the market.
Due to the large size of Amazon handmade marketplace, any changes made to a listing require up to 15 minutes to take effect.
The audience of Amazon is not used to the handmade items but to the cheap ready-to-sale products.
Amazon Handmade vs Etsy
Since Etsy is the main alternative and competitor to Amazon, it is essential to know the differences between these two trading platforms.
The main flaw of Etsy is the fertile ground for selling mass products. Unlike Etsy, Amazon focuses on its audience that produces custom handmade items. Thus, a number of the listed products at Etsy increases 30 million.
Nevertheless, the pricing policy of Etsy is much more attractive. Although you have to pay $0.2 per each listing, the selling fee is $3.5 compared to $12 at Handmade at Amazon. At the same time, Etsy does not provide a tax accounting i.e. you must control your taxes by your own.
The interface of each marketplace is a matter of taste and habit. Someone can claim that Amazon is more usable and convenient while the others will oppose.
In general, the main distinction of Amazon to Etsy is the limit of resellers. Handmade at Amazon is aimed more at custom-made and handmade products, while Etsy is overfilled with the wholesalers and resellers.
How to Apply for Handmade at Amazon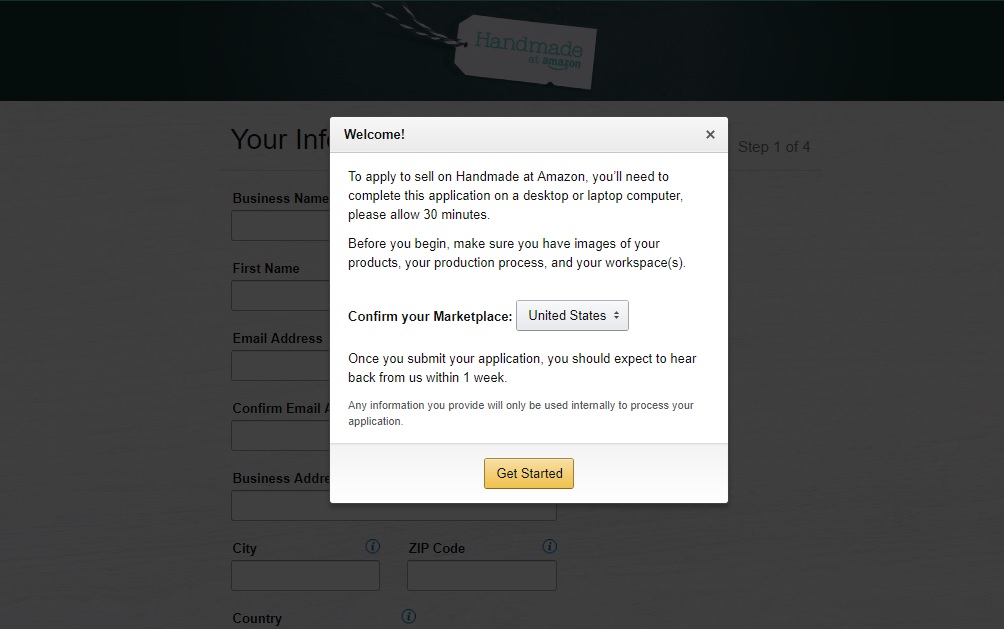 The process of registration as an Amazon handmade seller is rather serious and strict. Unlike other trading platforms, a simple registration is not enough to start your sales. However, it does not mean that it will take much of your time and pain to apply for Amazon handmade. All you need is to answer some questions and provide personal details and data about your products.
An important point is that Handmade at Amazon supports the latest versions of the following browsers including Chrome 36+, Safari 7+, Firefox 31+, and Internet Explorer 10+. The verification process is facilitated for those who have already been engaged in the online sales. It may take a couple of days to a month to receive a confirmation of your application.
How to Start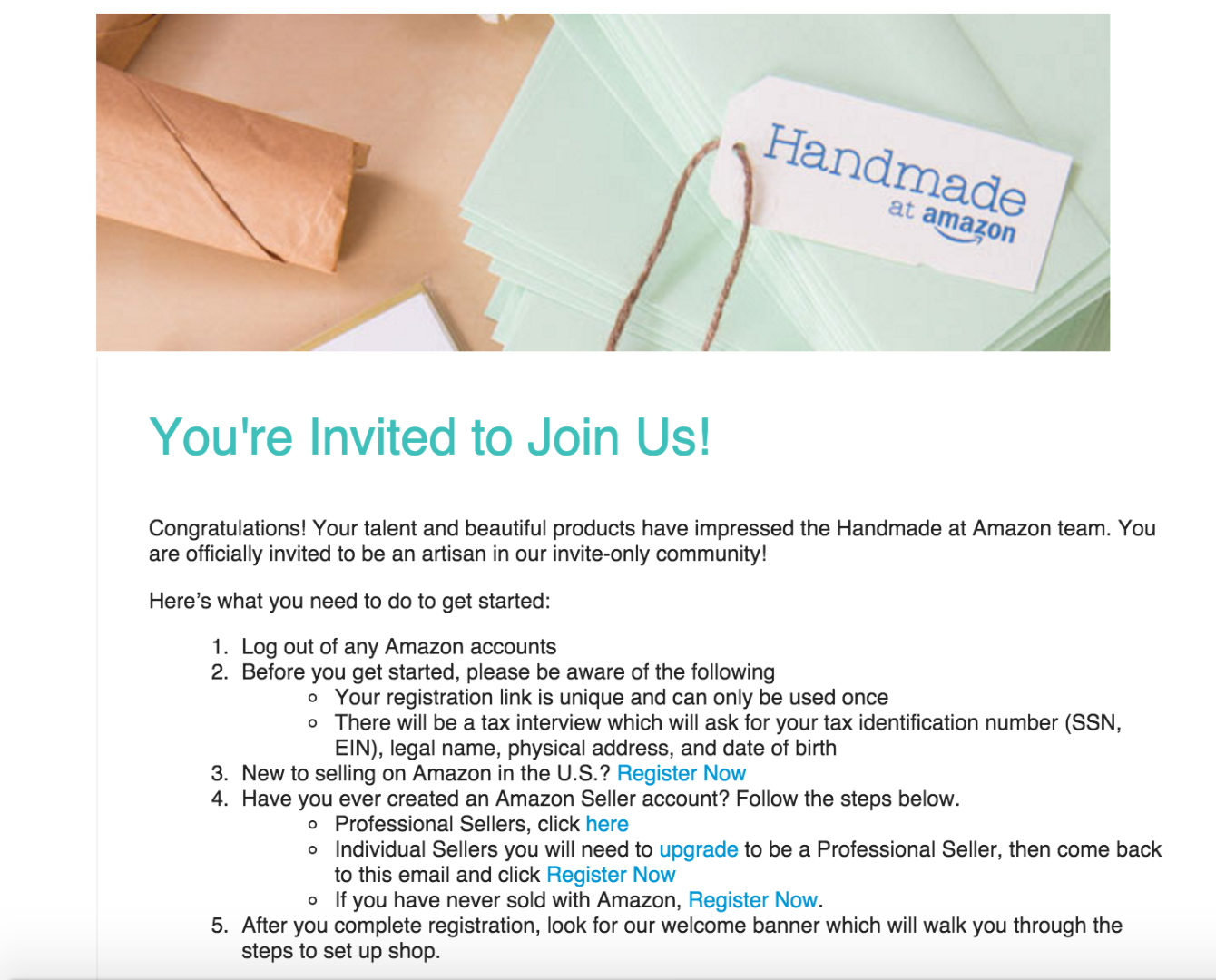 If you are successfully verified, an email with a detailed explanation of setting up your account will be sent. All the essential steps will be noted in the email, and be prepared to fill out the numerous forms.
The key element to start your sales at Amazon is a seller account. There are two types of them - individual and professional. The last one costs $39.99 a month and is designated for the sellers, which exceed the sale of 40 items per month.
As soon as you perform all the steps, you will see your main seller page.
Review the Handmade at Amazon Style Guide and Getting Started Guide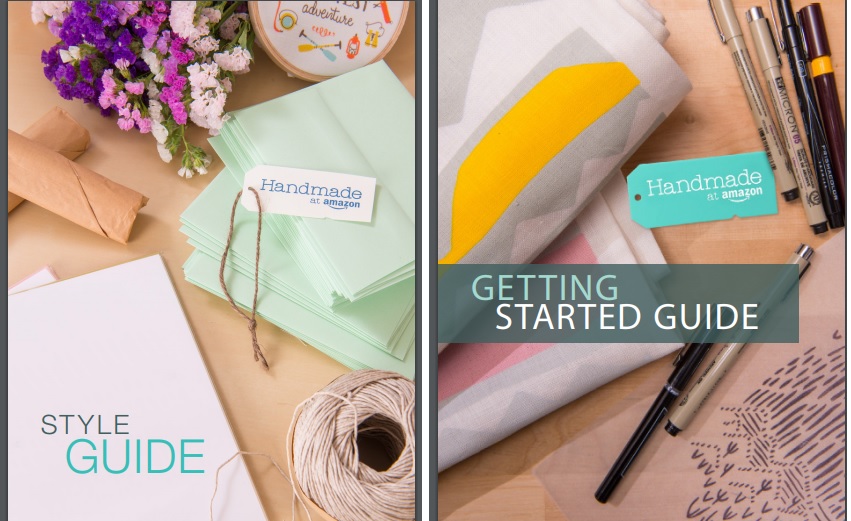 Amazon is focused on its users and makes everything to contribute to your business. Thus, on the main seller page two PDFs are available - Getting Started Guide and Style Guide.
The first document is designed to help you manage your business at Amazon, namely communication with customers, management of orders, and a lot of other useful information. All the essential data about selling at Amazon is provided in this PDF file.
Style Guide offers advice and tips for the successful sales on Handmade at Amazon. This PDF file contains the information about the products listing, finding customers, creating an artisan profile, setting up a shop, making photos of your items etc.
Create a Profile
The process of creation of an artisan profile is the first step. The link for this action is on the homepage of your Seller Central account. This profile is carte de visite of your handmade products at Amazon. You will need to upload your profile photo, images of your items, store, working process, and fill out some text sections including the store name, description of your craft, as well as provide some information about you.
The process will not take more than 15 minutes and is rather simple. Upon the completion, you need to click the "Save & Publish" button. This information, as well as cover photos, can be edited at any time later.
Analysis of Your Niche: Prices, Competitors' Items etc.
Before creating listings, you need to be prepared to plunge into the world of sales and trade. It is not as easy as it seems. Do you think that your marketing process ends at posting an item and setting the price? When you get to this step, the questions like "What description?" or "What price?" will come to your mind. Hence, it is advised to make yourself ready to these challenges.
First of all, you need to analyze the market. It is not as difficult as it sounds. Browse the similar products and learn the prices, information, images and other things that can be useful for your trading activity. Your aim is to find and understand your niche. The price range is also an essential factor to be considered since each artisan sets a certain price for own reasons.
Such information as a product description, decoration of a store or images of items should not be neglected too. Perhaps, you will find a peculiar feature, which will promote your sales, in the details of your competitors' items.
Create Listings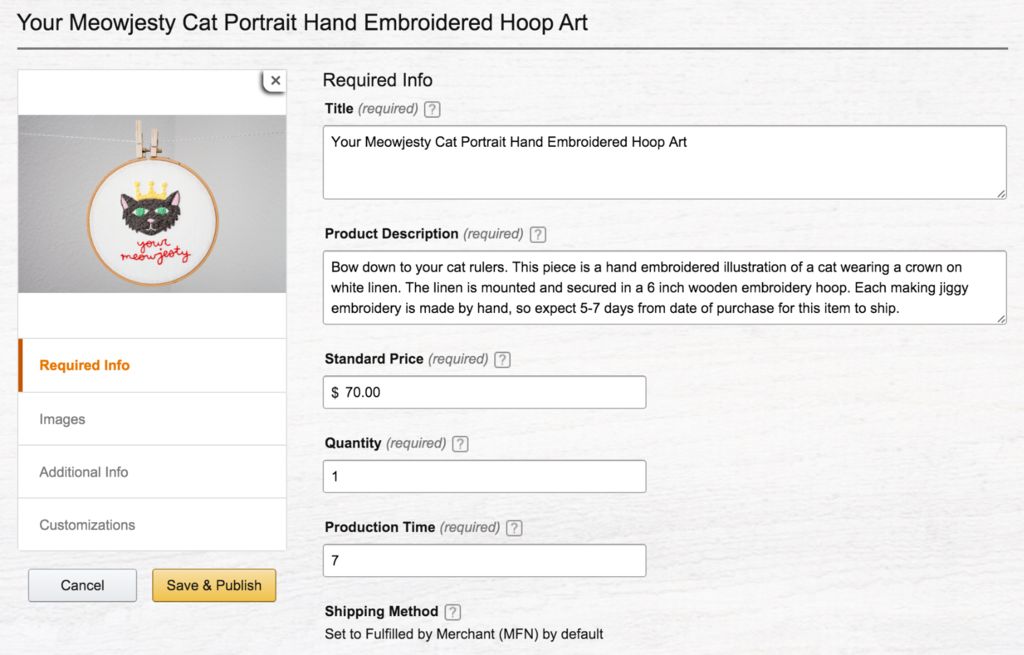 If you have created listings at Etsy, you might find this process a bit easier at Amazon. Besides, both these trading platforms allow copying a listing for posting similar items.
The number of categories on Handmade at Amazon is not as extended as on Etsy. Sometimes it can be rather difficult to find an appropriate section for an item.
The text on the listings has no styling options, which is a flaw. However, such features as the customization options and a Production Time for a listing are a peculiarity of Handmade at Amazon.
The process of posting a listing is free of some difficulties. You need to fill out such sections as Title, Product Description, Standard Price, Quantity, Production Time, and Shipping Method. It is recommended to get more information about creating listings in the Getting Started Guide.
Setup Shipping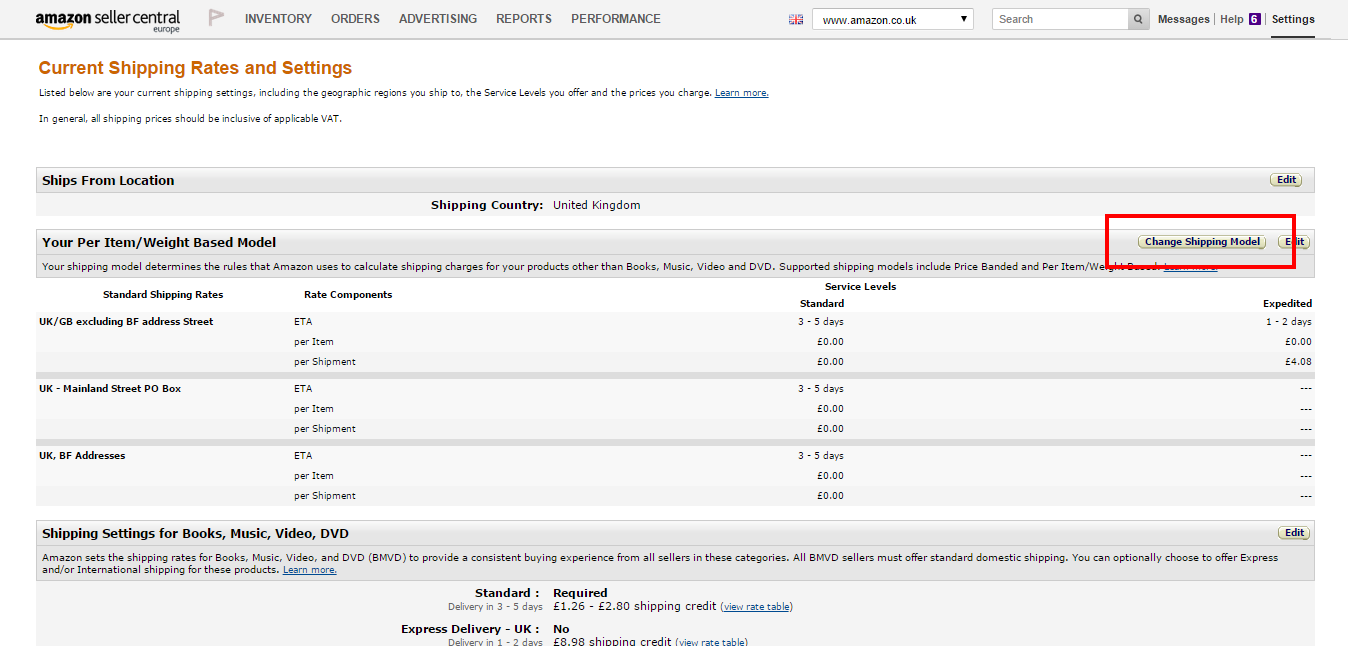 The "Shipping Settings" button is located at the bottom of the main seller page. Start your settings with choosing the location.
The "Change Shipping Model" button offers you to choose the shipping based on item/weight or the shipping according to the total cost.
Clicking the "Edit" button enables you to select the desired shipping regions and speeds. Click "Continue" to see a list of shipping prices for each region. To save your changes click "Continue" once again.
It is recommended to find out the shipping prices on the official website of the chosen carrier. Packaging should be also taken into account of the shipping cost.
How to Advertise Your Handmade Products on Amazon
Once you have decided to sell handmade items on Amazon, you need to promote your sales in order to obtain the best return on investment. For this reason, it is advised to pay attention to the function named Amazon Sponsored Products. It is a simple way to advertise your listing without any additional difficulties (similar to Google Shopping).
For example, you are selling crafts on Amazon namely the handmade dolls. The ad function resizes your listing with the first 35 characters specified in the title. The ad for the items out of stock will not run. Two targeting options are available – automatic and manual. The last one allows you adding keywords according to the exact, broad and phrase match types.
If you sell handmade on Amazon, you are offered with another benefit for a seller - an advertising campaign. There are three campaign types – Sponsored Products, Headline Search Ads, and Product Display Ads.
The ads of Sponsored Products appear below the search results. These ads can be targeted only with broad keywords.
The Headline Search ads are located above the search results. These ads can lead to any page on this famous trading platform.
The third type of ads is not targeted with keywords. You select the place of your Product Display Ads. It is possible to target the competitors' products or complementary items.
Selling handmade items on Amazon provides various advertising options to be used to increase your sales and ROI.
How to Write Titles & Bodies
A good SEO work can significantly increase your results and bring fruit. So, you should not neglect to create a title and a description. A title should explain the product's purpose. However, it should not be large and bulk. Besides, a good title should contain a certain keyword to be focused on. The main attributes of a product should also be listed in the title.
The other essential keywords should be used for the description of the item. Try to avoid single words but use phrases like "hand embroidered doll" instead of "doll". Besides, a description should contain the essential data including color, dimensions, weight, materials, and special instructions if applicable.
Manage Orders Using NetHunt CRM
If you are asked "How to sell handmade on Amazon?" now you will be able to answer this question. Nevertheless, it is time to learn how to communicate with clients on Amazon. Currently, there is a plenty of various customer relationship management tools like Salesforce or Pipedrive.
It is important to choose a proper CRM tool since most of them are designed for large projects or teams. However, some software can be a perfect solution for both small and medium-sized business. NetHunt CRM is a great choice for those who use Gmail to communicate with the customers and manage orders. Due to this service, your inbox will turn into an advanced CRM tool with numerous useful features including the mass emailing, unlimited records, unlimited folders, and follow-ups, as well as email tracking. Besides, NetHunt supports integration with the calendar and other applications by Google.
You can choose the "Sales" built-in workspace for your undertakings. Three other workspaces (Real Estate, Support, and Hiring) are also available for other types of activities. Nowadays, a CRM tool is an integral part of the trading activities.
How to Get Real Positive Reviews? How to Ask Clients about Reviews?
To get a positive review you need to satisfy the customer's needs. If a customer has no complaints about the quality of an item, its compliance with the description, as well as other essential things, you are likely to obtain an accolade.
Meeting the customer's expectations is not an easy thing. For this reason, the communication with a customer plays a distinctive role in the sales activities. If a customer showed its interest in your handmade craft, do not be rude or concise. Demonstrate your concernment and provide all the required data like adding photos of the item or a highly detailed description of the used materials.
It is quite important to show your concern about the customer's satisfaction upon the receipt of your item. Do not be shy to ask the customer whether he or she likes the product and whether the item is satisfactory. If it is, ask to write a positive review and maintain good relations with all the customers.
How to Be #1 in Search
We have already mentioned the meaning of a proper advertising and namely Amazon ads campaigns. In order to extract all the good out of them, you need to use the proper keywords targeting in the most effective ways.
Cross-sell or upsell advertising
If your product is associated with another item or is marketed as an accessory, it is advised to bid on the major product rather than an accessory. This gives you a chance to catch a customer before entering the market of your products.
Competitor's terms advertising
If your product is cheaper or in some way better than the competitor's one, bid on the competitor's brand. This tip is great to compete with the known brands in the market. Lesser price or more attractive offer can draw away a significant share of customers from a well-known competitor.
Generic terms advertising
Unlike the previous tip, this one envisages a complete refusal of brands. Use specific terms that are used by the audience and you will win success. Try to be as specific as possible in your keywords.
Now you are aware how to sell handmade items on Amazon and to make your sales activities effective. We would like to wish you the best of luck in your undertakings and more positive feedbacks.