Your sales team is underperforming, your database is cluttered with duplicates, someone deleted a prospect's info, analysts have a hard time gathering data for the quarterly report, and worst of all, you can't find out what the root cause of all of these problems is.
If this reads at least a bit familiar to you, then maybe it's time to upgrade your tech stack.
A rapidly growing company needs a system that can handle the influx of data. Maybe it's time to lay off the Spreadsheets and implement something that was made for sales?
Keep reading to find out how implementing a CRM helps to…
Cleans your database
Automates components of the sales funnel
Ensures your sales machine is running smoothly, no matter how big it gets
---
Cross-refer records
Successfully cross-referencing records involves being able to click from a specific lead onto, say, his company and see what other leads in your database also work for that company.
Creating detailed records you can cross-reference is vital to optimising your sales funnel and your sales team reaching its full potential.
With a spreadsheet, it's impossible to create company records to comfortably see other members of your prospect's company that you have in your database. Nor, people from the prospect's company with which your colleagues have already interacted and started conversations.
On the other hand, a CRM system allows you to view information about any respective lead in an easy-to-interpret way. This information is stored alongside other members of their company that have already been added.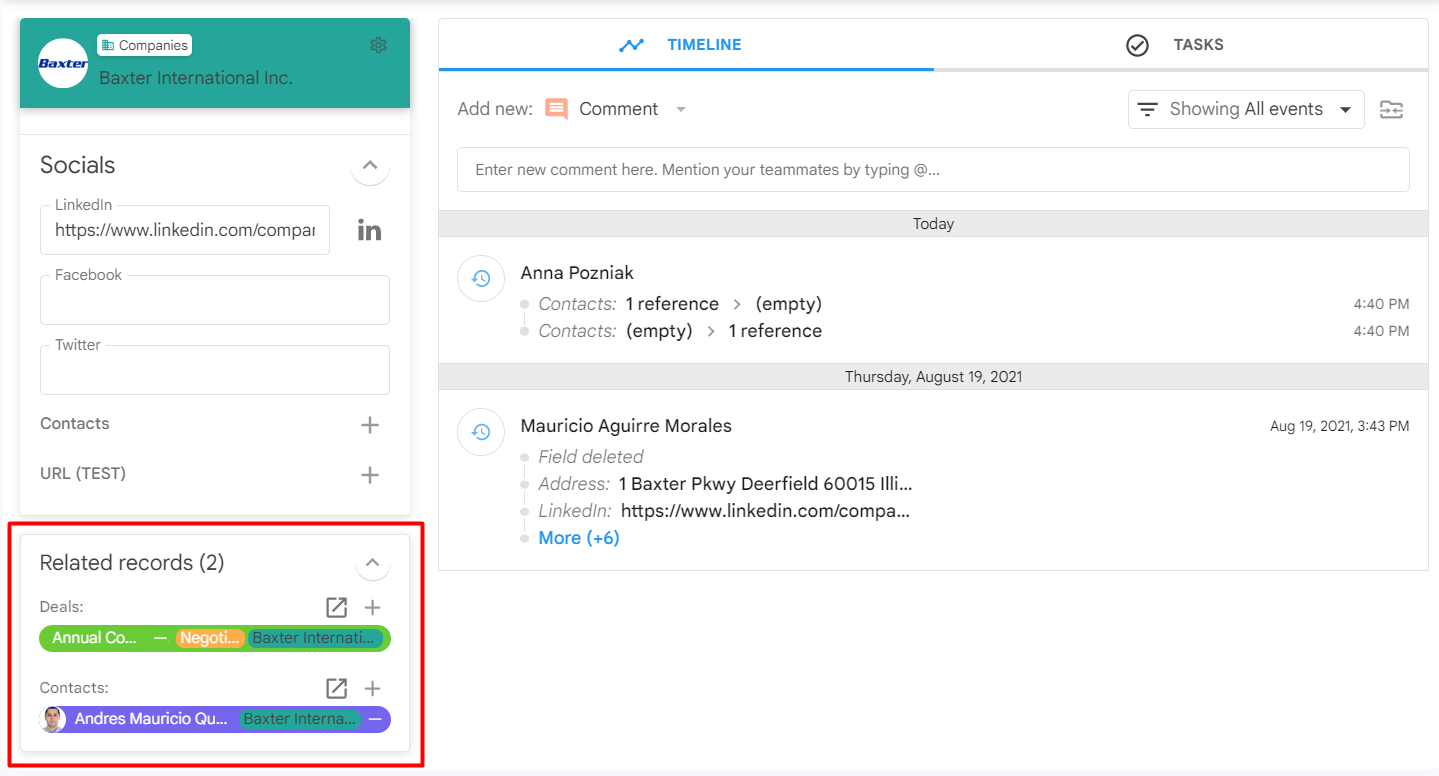 This allows sales representatives to easily track conversations with the company that are already ongoing. This eliminates  duplicating contact with different departments about the same issue, and also lets them discover who precisely within the prospect's company would be the most effective to contact.  
Your CRM lets you track all the other managers involved in the deal.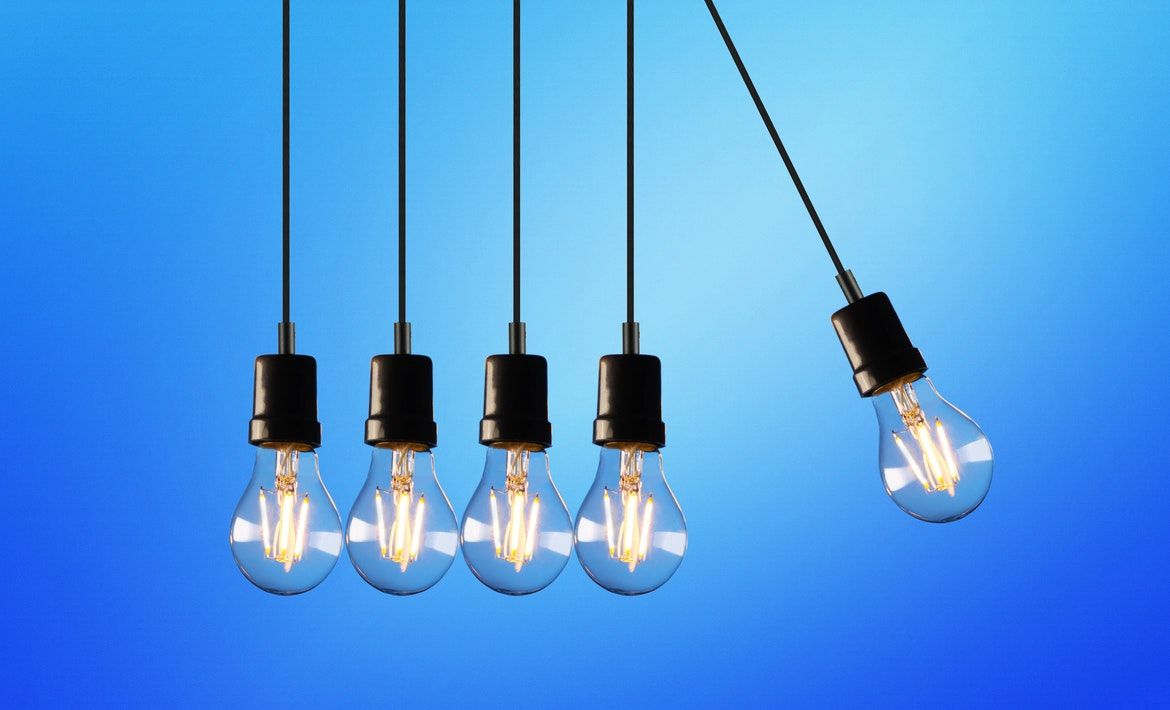 Maintain clean records
Keeping your data clean ensures easy navigation for your sales team.
However, it's not just that easy with spreadsheets. Someone will always have to manually check that every bit of data in your document is unique and correct. Otherwise, the same prospect might be contacted by multiple people. That'll affect your company's reputation.
Spreadsheets also allow the sales managers to fill in the data however they want, leaving fields blank, using different fonts or text sizes, making the spreadsheet hard to navigate.
This comes down to the most simple mistakes leading to issues.
Your sales representative could accidentally make a typo when registering a lead in the database, making that lead challenging to find in the future.
CRM simplifies processes to eliminate these common errors…
Duplicate prevention features
Contact stats, such as last time client was contacted
Mandatory CRM fields at the data input stage
Visualisation of data input and simple searching through filters
Keeping your customer base clean becomes easy with the right tools at hand.
Keep audit trails for data changes
As a manager, you want to see the progress your sales and customer support agents make with leads. It's understandable you want to keep track of every update made with a prospect. It's your job.
Although it's easy to see when the last update was made in a spreadsheet, it's difficult to check what exactly gets updated and who added the data.
Especially when you're pressed for time by your other managerial duties.
Having a CRM system where every update is attached to a name, timestamp, and specific record means you can easily track the progress metrics that matter to your business….
How many deals are in each stage
How many outreach emails have been replied to
How many cold calls have led to a successful conversation
The information a sales representative has collected about the prospect
Any issues that an existing customer has reported to your support team
For example, you can quickly compile reports based on the metrics you value the most, ensuring that it takes the minimum time to stay in the loop with the sales team's activity.
Check our piece on how to keep CRM data clean and reliable.
Match lead data and reactions to email campaigns
Unless you're using CRM, you likely have to use multiple different systems to maintain data and send email campaigns. Those systems aren't usually integrated with each other.
This makes it difficult to…
Match specific lead reactions to email campaigns
Personalise follow-up communication
Track the effectiveness of campaigns to adjust them for better results
Not to mention that every time you start a new campaign, you manually copy all the email addresses and input them into your mailing tool. You also have to manually mark email addresses that have asked to be unsubscribed from your mailing list.
It's no way to live.
Take a look at NetHunt CRM.
Not only does it show the status of your email (delivered, read, reacted to), but it also automatically cross-matches it to any lead. This allows users to see whether their emails reach the people you want them to reach.
It's a one-system solution for all your outreach and follow-up needs.
Comfortably track upcoming action items
With spreadsheets, it's difficult to automate your workflow at any significant scale.
Sales representatives spend their time manually doing tasks such as follow-ups rather than contacting new prospects.
This slows down your workflow. Increasingly more manual tasks drain colleague energy, resulting in them sounding tired on the phone with prospects and damaging your reputation.
Imagine! You have 50 leads. One told you "contact me next week", the other "next month", five leads told you "contact me next quarter", and so on. It's simply impossible to remember all of that information. Because of this, many leads simply fall through the cracks of the sales process, never to be contacted again.
With CRM, it is possible to automate those tasks. Let the sales team focus on what's truly important - selling products and services. This not only opens up more time to nurture relationships with existing leads, but also establishes contact with new prospects.
Keep tabs on your sales teams' activity
With a spreadsheet, your sales team's activity remains a mystery even to the management.
How many emails did they send?
How many demos were completed?
What's the win/loss ratio per sales representative?
How many new leads did you generate?
How many deals did you close in a certain period?
Who closed how many?
What amount for?
The only way to know would be to ask them and hope they remember.
Instead, CRM solves that problem by compiling all of those metrics into easy-to-interpret and easy-to-export reports - sales team activity report, sales pipeline report, report for C-levels on the business health, etc.
Use these reports to alter your strategy and fit your buyer persona better, also showing you what agent's need your help to realise their full potential.
After all, nobody is born the perfect salesperson.
Provide reliable sales reports
If you don't have access to accurate sales reports, it becomes increasingly difficult to make accurate sales forecasts, adjust your processes, and analyse data for strategic decisions.
With a spreadsheet, it's challenging to segment data into the categories needed to make an accurate forecast. Your data is simply not reliable enough.
A CRM lets you filter your data based on nearly every parameter, including but not limited to…
Location
Industry
Customer position in the company
Sales manager handling the prospect
Client type
Product type
Chosen time period
This helps compile reliable reports, allowing analysts to predict your company's growth better.
Having data that you can really trust is a crucial component of being able to plan for the future of your company. Good reports don't just highlight things your sales team is doing well - they also allow you to see areas that you need to focus on more.
Some CRM systems, like NetHunt CRM, allow you to generate many different reports for different purposes.
These reports can be both management and forecasting related, such as…
Sales by source: Which sales channels bring the most leads and paid customers
Sales goals: Does your team meets the goals or they are behind
Sales pipeline: See the number of deals on every stage with the expect deal amount
Average time in stage: How long deals spend in each stage
Reason of lost deals: Why deals fall out of the pipeline
Time of a certain deal in stage: Focus on specific deals to get them done
Sales forecast: Gauge the overall health of your business
Here's an extended list of reports to build in a CRM for almost every department of your company.
Keep your database secure
When your entire database can be downloaded without notice straight from a spreadsheet, is it ever secure? Detailed user permissions are simply out of the question.
Anyone with editing privileges can edit any set of data, comment on any set of data, and delete any set of data from your Spreadsheet.
If there's private information like a deal sum, you must create a separate document to make this information accessible only to the right people.
This is just extra hassle.
A sound CRM system helps manage different levels of access for the whole company, ensuring the only people seeing certain information are the people you want to be seeing it.
Privileges are based on parameters such as…
Which tasks they see
Which leads they see
Whether or not they can manage billing information
Report access
Which records a user can delete or export
What fields in the records they see
Whether they can assign records or not
With the CRM system, you can sleep well and be sure that your business oil, aka data, is protected.
The potential for customisation with a CRM is almost limitless, ensuring that you can make the system for you and how you want it to.
---
Admit it.
Spreadsheets were a life-saver in the early stages of your company.
Now you're seeing growth, however.
It's best to move on to something that can scale and grow together with your company.
Implementing a new system can initially seem scary, but it's worth it in the long run. From sales automation to comfortable lead generation, a CRM makes your sales process smoother and easier to scale as you hire more sales representatives.
Make sure you check out our list of the best Gmail CRMs.
Table of Contents
Crack the sales formula with CRM Lab
Twice a month, receive actionable CRM content to your inbox.
Join the
Telegram channel NetHunt CRM
All about CRM and B2B sales.
Join