Clean data is essential for the organisation of your business. You'll be able to segment different customer bases depending on various attributes. It's critical for your pipeline, and having all the relevant information to forecast and report on the health of your business correctly. You need clean data for your own good, for your team's morale, and their day-to-day productivity. Anyway, what's the point in having all that data if it isn't clean? Data analysis is only as good as the data you're analysing.
This article teaches you:
What is clean data?
Clean data is business data that's been collected or cleaned in such a way that corrupt, inaccurate, or duplicate records don't exist. Unclean data includes incomplete, incorrect, inaccurate, irrelevant, or unmatching data records within a data set. Cleaning data can be a long-winded process without the right technology collecting it in the first place or helping to clean it. That technology is called CRM.
What is CRM?
CRM stands for customer relationship management. It's software that - surprise, surprise - helps you manage and maintain business relationships with your customers. At its very core, CRM organises your data, starting with customer data set out into neat profiles and along pipelines. We get more general business data from these customer records and pipelines - revenue, sales velocity, and the rest. With this clean business data, we can reliably report and forecast our business growth.
You're probably using a CRM for your business, and so you should be. Even with all the automation capabilities that CRM offers, you still need to keep on top of it. Sales, marketing, and whichever else teams should all be responsible for their CRM data so they can get the most out of it. This article outlines the tips, tricks, and techniques of keeping clean CRM data.
---
Steps to make your CRM data clean
Hire or designate a CRM manager
A customer relationship management manager specialises in looking after the stuff that looks after your customers. They're responsible for implementing a CRM system, training new features amongst teams, and being in charge of the day-to-day maintenance of the data within the system. Hire a brand new one or designate it to the most CRM-savvy team member. What do CRM managers do?
Update accounts and contacts in a CRM system.
Monitor customer relation strategies.
Recommend strategy improvements.
Build workflows to manage processes better.
Dynamise existing workflows and strategies.
Coordinate meetings.
Tip. A CRM manager can learn a lot from customers, problems they face, and sticking points in the sales process. Think of them as the artist behind your sales landscape. The more inspired they are by what's going on in your sales process, the better the resulting picture will be. They should notice problems, document them, and use them as part of the ongoing CRM process.
"At Abraham Roofing, we have a dedicated team that manages our data quality, including data stewards who are ultimately responsible for ensuring the accuracy of individual records and contacts. This team uses a variety of tools and processes for data cleansing. We also have a Data Governance Council that meets monthly to discuss data quality across the entire company."
- Kim from Abraham Roofing
Take advantage of mass-update features
It isn't easy when you're clicking through client records - one by one - updating data fields from one same value to another same value. Imagine one sales rep left and another joined. All the relevant leads and customers would need to be assigned from the old rep to the new one. Now, imagine that new rep's face when you tell them their first job is to click through the records of 1000 contacts to do it. They'd be out the door quicker than you could say but wait; there's a mass update feature in NetHunt CRM.
Filter all records by the old manager's name.
Select all the records and hit the Mass update button.
Choose the field you want to update - Manager.
Change the value you want to update it to - the new manager's name.
Hit Update and all the relevant records will be re-assigned to your new rep.
Yes, it really is that easy. You'll find most CRM services provide a mass update feature, which can be useful for all sorts of situations. For example, if you decide to add new data points to all your records - like lead source - we can add depth of knowledge to all our records at the same time.
Make a list of required fields
As you input data into a CRM system - well, our system anyway - you can set specific fields to be required. Without required fields being filled, a record will not be able to be created. That's standard across any data input method - from LinkedIn lead generation, to web forms and manual data entry. Which fields in CRM should be required? Well, what do you want to know about your leads?
As a SaaS product, at NetHunt we're concerned about the industry our leads are working in, the size of their company, and - obviously - their name. We need to know all this so that the Customer Success team can tailor our product offer to exactly suit their needs. Our first conversation should be educated. In this case, and most cases, our required fields look something like this…
Full name
Company name
Lead source
Manager responsible
Phone number
Email address
Location
Industry
Company size
But - of course - we recognise the diversity of our business community and the different needs, goals, and processes that put us all in our niches. You might need other required fields in your CRM, but you're feeling a little too tired to think for yourself about them. Not to worry, we've put together a list of custom CRM field ideas that might be a good idea for your company to make required.
Favourite colour
Favourite food
Personal or business birthday
Social media
Previously customer of...
Interest in UGC?*
Anniversery as customer
Product usage frequency
Business goals
*Is the contact interested in participating in user-generated content material?
Automate lead generation and enrichment
One way to eliminate data mistakes, missed fields, and discrepancies between client records is to get rid of human error. Humans can be unreliable, especially when they're inputting lines-upon lines of excruciating data. Attention wavers, but don't sack your sales team just yet. They're good for other things - they'll need to set lead generation and nurturing workflows up and create the persuasive content that goes into them.
Web Forms by NetHunt CRM are completely free and absolutely beautiful. Web forms can be embedded on your website to catch new, negotiation-ready leads browsing there.
NetHunt CRM integrates with Intercom and Facebook Messenger to link chats to records wherever they come from. No conversation gets missed, everything gets noted, summarised, and centralised.
Bulk email campaigns have no sending limit, even though Gmail limits users to 500 emails a day. Utilise your clean data to segment your audience and personalise outreach.
NetHunt CRM integrates with LinkedIn, the best source for business-ready leads on the internet. Add a LinkedIn profile - either personal or business - to a CRM record with the click of a button.
Make sure required fields are the same across different lead generation sources, both inbound and outbound. Similarly, make sure data formatting is strictly the same. It can be easy to lose data hygiene across different generation platforms until we remember that they're all coming into the same system.
Want to discover other ways to generate leads with NetHunt CRM? Book a demo with the Customer Success Team - they're ready, waiting, and the friendliest bunch you'll ever speak to. Hit the link, scroll to the bottom of the page, and choose Pick time for a call!
Once you've generated that data, there's a chance that you'll want to enrich it somewhere down the line. Data enrichment is the process of adding further, relevant information to already-collected data sets. In business, we do this to make our sales processes more practical; we can understand our customer bases better and personalise our outreach even more precisely. We use dedicated technology to carry out data enrichment - to do it manually would be a data entry disaster.
NetHunt recommends Leadfeeder
Leadfeeder identifies the companies that visit your website, how they got there, their behaviour, and their purchasing intent. It also shows the industry breakdown, which helps companies adjust their company and make sure they target the right audience. Leadfeeder also helps determine the best person to contact from a visiting company. Discover more lead enrichment and sales tools here!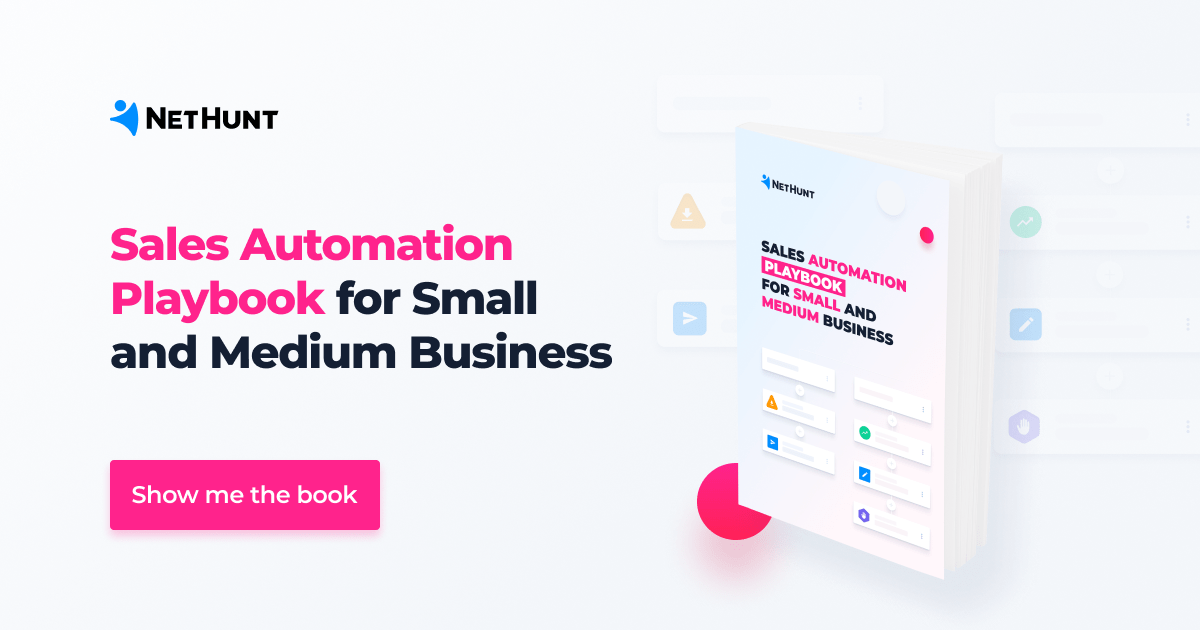 Run regular cleanup sessions
As part of the research for this article, we asked business leaders for their thoughts on keeping data clean. One tip that came up repeatedly was this one - to run regular data cleanup sessions. Lauren Kennedy, Founder at Coastal Consulting, told us all about her company's annual or bi-annual cleanup, removing vast chunks of 6 to 12 months of insufficient data and exactly what they look for.
Remove leads with bounced emails unless they are an active user.
Send a check-in email to contacts that have not engaged in 12 months. If they don't engage in two weeks, delete them.
Send a login reminder to all users who have not logged in to their account in the past year.
Look for all customers that haven't engaged in marketing communication in the past year.
If they use your product functionally but are not building an ongoing relationship with your brand, it's easy for them to leave your product for a similar solution. Look out for this.
Develop a culture of data hygiene
Data hygiene starts with creating standardisation rules to ensure that CRM user input is the same across the board. As a rule, all number-based fields should have a widely understood method of input. Representation of these numerical values should hold a consistent representation so data can be filtered and searched more efficiently and effectively.
Look out for the spelling of salutations; decide whether your business will actually use them. It even goes as far as determining whether your company uses one dialect of a language or another. Do you store data in British English or American English? That's before we even get into the whole thing with dates. Day, month, year or month, day, year? It's a minefield. When you've made all the critical decisions, make them known across your CRM-facing teams.
Finally, run data training sessions with new staff to recognise data hygiene as their responsibility and part of their job. Write a data style guide and offer it as a reference as they get used to the job. The style guide should include rules, formatting, and real-life data examples from your CRM dashboard.
Tip. User-generated data input - like with web forms - is notoriously tricky to standardise. Try to keep short-text answers to a minimum with web forms - long text answers even more minimum. Take advantage of drop-down boxes and check-box answers from your clients to clean inbound data input.
Limit the access of CRM record creation and edit
Things would quickly get messy if each member across every team in your business shared the same access to CRM record creation and editing. Yeah, our differences make us unique and all that cheesy stuff - but they also mean data input would vary from person to person. Have a clear idea of who needs permission for different roles in your system and use CRM admin settings to set them.
"To prevent duplicate records, we only share the CRM access to the senior managers of each department."
- Robin Brown, CEO at Vivipins

NetHunt CRM offers different permissions that an admin can share with any workspace member. This feature provides security, flexibility and ensures data hygiene. Simple.
---
A tidy business is a happy and lucrative business; a tidy business is easy to work for. Looking for a happy, lucrative business? Tidy things up with a NetHunt CRM free trial.
Table of Contents
Crack the sales formula with CRM Lab
Twice a month, receive actionable CRM content to your inbox.
Join the
Telegram channel NetHunt CRM
All about CRM and B2B sales.
Join