Growth is an inalienable part of our lives. We see it everywhere, from the flowers that blossom in spring to our businesses that flourish into titans in their respective fields, maybe even Fortune 500 – reach for the stars. Growth is the aim of the game, and we are here to transform you into pro gamers. So, as much as we would love to talk about flowers blossoming in spring, we will cover the latter - CRM for small businesses.
Growth in the small business environment implies more exposure, clients, revenue and personnel. However, as your small business grows, the processes become more complicated, the customer base is bigger, and the responsibility among the team to satisfy customers is also growing.
This is where CRM for small business steps in to fully harness communication channels, develop and organise their customer base, and make the life of multiple departments easier with automation.
Did you know that 79% of all marketing leads are never converted to sales? Good, now that we have your attention.
Enter: Customer Relationship Management (CRM)
In this detailed CRM for small business guide, we look at what a CRM for small business is, the benefits of implementing one, the features to consider when choosing, and ultimately which systems are available today.
The 'What' - What is a CRM for a small business?
One of the most commonly used terms in today's fast-paced and ever-changing business environment is CRM or Customer Relationship Management.
Its primary purpose of delivering excellent customer experiences through the integration of sales, marketing, and other teams. Besides, CRM software helps small businesses scale by automating processes and freeing up time for strategic activities.
A small business CRM is a lightweight system designed to meet the demands of small businesses and solopreneurs. Because small firms typically do not require the same top-tier, advanced functionality as large market competitors, small business CRM systems are based on a foundation of simplicity and essential capability.
There is no apparent distinction between a small business CRM and an enterprise-level system, but here are some of the most prevalent aspects that distinguish them.

Stripped back functionality. Whereas enterprise-level CRMs include deep analytics and specialised additional modules,  small business CRMs focus primarily on features that centralise, improve, and maintain communication.

Easier to set up. Small business CRM is significantly easier to set up and run than enterprise-level CRM. Because most are cloud-based, all a company needs to do to get started is set up an account, add team members, and tailor the system to its own workflow and processes.

Short learning curve. Because of stripped-back functionality, businesses can start with the functionality that they really need, and then add more once they grow, meaning that they don't have to learn the functionality they don't actually need.
More Affordable. As the CRM business grows to become the most profitable software sector in the world, systems are becoming more affordable. However, the cost differential between small business and enterprise CRM might be hundreds of dollars per month. In addition, some small-business platforms offer free plans with restricted functionality.
Further read: What is a CRM?
The 'Why' - Why is a CRM system important for small businesses?
If you're still wondering whether you need a CRM system or not - wonder no further because you most certainly do! CRM software can do it all, from better understanding your customers' needs to following a potential customer's every move to obtaining analytical customers' insights.
CRM systems help you adjust your sales strategy to get new customers, develop effective marketing channels, and launch activities to retain customers.
And if that's not enough to convince you, take a look at these statistics:
Nucleus Research found an average return on investment (ROI) of $8.71 for every dollar spent on CRM.
According to HubSpot, CRM technologies may boost revenue by 29%, sales productivity by 34%, and conversion rates by a staggering 300%... That's right, 300%!
These figures only scratch the surface of the enormous impact CRM systems have had on businesses in recent years. So in the following paragraphs, we've put together a list of the areas where a small-business CRM helps organise your business and push it to reach its full potential.
Small business CRM analyses consumer purchasing habits. Your CRM dashboard is slap-bang in the heart of your business, with full customer context, purchase history, and client data. With so much information at your fingertips, examining customer purchasing patterns is simple. This allows you to create tailored offers for them and increase their likelihood of returning.
Small business CRM facilitates strong and long-lasting customer relationships. Using a decent CRM solution will help you keep track of your current and potential customers' habits and behaviours. To better understand the purchasing power, patterns, and timing at which customers are most likely to make purchases, data collected via the use of a CRM is essential. As a result of this profiling, you can tailor your products and services to each individual customer, allowing you to create and maintain long-term customer relationships.
Small business CRM makes it easier to create standardised processes. This also allows the sales team to set up a pipeline, so every potential customer goes through the same experience. As a result, the sales team knows every action on every step of the sales pipeline. Furthermore, most processes that do not require human intervention can be automated. This means that each process has its own set of triggers and actions, and the sales manager knows what to do in any situation.
Small business CRM facilitates fast communication. There's loads of different integrations for different CRM systems. If you integrate CRM with multiple communication channels that your customers use, you can significantly reduce the response time. It does not matter where you received the message from – email, website chat, social media – you already have all the information about the client and you are ready to help them.
Small business CRM facilitates a kick-ass marketing strategy. With so much data available, it would be silly not to use it to maximise the impact and scale of your marketing outreach. Store all the marketing leads in the same CRM system and check how they convert into paying customers. Create a pipeline for your marketing campaigns and calculate the ROI for each of them to find out the most efficient marketing channels.
Small business CRM improves customer service. Customers see your company as a single entity. If they speak to Tim on Tuesday and Wanda on Wednesday, they will only remember the brand name and experience they had while using the product. CRM gathers all the information required to resolve a customer issue before a client becomes irate. Then, as your customer base increases, automated reminders and triggered alerts ensure that no one is forgotten.
Small business CRM retains more customers. CRM facilitates customer data collection through a wide range of resources which builds a unified database that aids in customer profiling and enhances lifetime value through tailored retention tactics. CRM helps you identify disengaged customers, automates assessment call schedules, enhances email marketing personalisation and much more. A mere 5% increase in your customer retention efforts can increase profits by between 25% and 95%; you do not want to miss out on these figures!

Small business CRM facilitates big ambition. Full stop.
'To be, or not to be, that is the question.' In other words - Do I really need a CRM for small businesses?

CRM system helps to achieve a wide range of goals - from lead generation to customer retention. CRM, at its core, is a tool for organising the contact's base and keeping track of your interactions with both existing and potential customers.
They help you see the bigger picture; they assist you in understanding precisely what email needs to be sent and when based on where the customers are in their buyer journey and what colleagues have already said to them.
Currently, there seems to be very few boundaries for what CRM can do for a company. From tracking every step of a potential customer to scraping customer data from other sources, you might find yourself asking the same question as your fellow small business owners…
Do I really need a CRM?
Is it really necessary for a farmer to have a tractor? Is a chef's knife truly needed? Is there no need for a microphone, guitar or blue suede shoes for Elvis?
No, not at all.
But if they didn't have those items, they'd all be much less productive at work and make much less money. They couldn't grow if they didn't have them. About 91% of companies with more than 11 employees use a CRM system, compared with 50% of companies employing fewer than 10 people, so whether you have 100 or 10 employees, you will definitely reap the benefits of using a CRM system.
The same holds true for your small business and your CRM system.
Here are 5 simple questions you can ask yourself to find out whether you need a CRM system for your business:
Are you sure your customer base is clean and managers do not contact the same leads?

It's quite easy to spot businesses that do not use a CRM system. Have you ever got a call from various managers of the same company within a few days, offering you the same services. We bet you've got it at least once. This is an indicator of a business that misses a CRM system - the leads are not distributed properly among managers and there are duplicates in the contacts base.
Do you managers never miss a follow-up with the lead?

To keep on track, any small business owner who deals with a wide range of responsibilities must be very organised. However, it's quite difficult to do when you have hundreds of leads to remember. Missed follow-up means a missed sales opportunity and money. Follow-ups can be automated with a CRM, so it's another point 'for' a small business CRM.
Do you know what sales processes are working and what not?

Having a customer base in spreadsheets will never give you any insights about the effectiveness of your processes. What manager sent the most amount of successful emails, what deals stuck in the pipeline for a longer period of time, who generated the biggest number of sales opportunities. If you don't have an answer to any of these questions, you need a CRM.
Is it easy for you to personalise content and offers?

To succeed in today's highly-competitive markets, companies must adapt their messages, content, and offers based on the behaviour and needs of their prospects and customers. If you can't segment your audience into smaller groups and send them relevant offers - you are in trouble; go for a CRM.
Do you use multiple sales tools and the customer information is difficult to aggregate?

You might use a separate tool to send email campaigns, Spreadsheets to store customer data, cold calling tools, and many others and all of them store certain information. If you feel that you don't see the bigger picture and how every activity affects your pipeline, it's time to implement a CRM to aggregate all the data.
The 'What' (again) - What should I consider when choosing a small business CRM
Well, the best part about CRM shopping is that there are hundreds of different platforms out there, and it's likely that at least one matches your business needs. In addition, many platforms are able to accommodate your company operations and streamline them by being adaptable and offering a wide range of integrations.
We have many new clients telling us that they need to migrate from another platform to ours.  Many "simple" CRM systems promise the world, but their customers soon realise that this is a headache for them as they get lost in their functionality.
There's a reason free trials exist. Use them! Before implementing a new CRM system in your small business, give it a test run. Check to see whether all of the following are true…
Easy-to-use
CRM for small businesses must be simple to use, just like anything else in life. To make the day-to-day tasks you already perform more efficient, you shouldn't be required to hold a master's degree in Information Technology. CRM systems for small businesses must be simple to set up, simple to use, and simple to remember. It shouldn't alter your workflow too much, but rather work around it to make it easier and more productive.
Suitable for various departments
CRM should unite all your teams which means that a CRM should fit the processes and requests from sales, marketing, customer success, billing departments, etc. The list may go on and on. It depends on who will use the system.
Covers all the necessary lead generation channels
You, as a business, need to list all the channels that you use to acquire leads. Your CRM system should cover them all. If you use cold email outreach, your CRM should have email marketing functionality such as email templates, macros for personalisation, email tracking, unsubscribe functionality, etc. If you use LinkedIn to get new leads, your CRM should be able to add those leads to a CRM system and grab all the available data from the leads' profiles. NetHunt CRM does it.
Third-Party Integrations
You may have a lot of sales tools and you obviously want them to tie one with another. If you use a lead enrichment tool, you might want to transfer the data to a CRM. If you use a cold calling tool, you want it to proceed with the calls from a CRM and store calls long on a customer record in a CRM. A CRM system might not have the whole sales functionality in the world, however, it may achieve it through integrations. Before embarking on your small-business CRM journey, an excellent place to start is to establish a list of all the different systems your firm utilises and choose a product that connects with as many of those systems as possible.
Customisable
No two businesses are the same. There are many CRM systems on the market, and you'll quickly discover that none of them are perfect for your company's unique requirements. The fact that we're not fortune-tellers means that we can't generate money if we tailor our entire system to a single client. The greatest CRM systems are able to adapt to a company's specific demands.
Cloud-based
Installing a CRM used to entail having a bloke with a toolbelt come to your company and set up a large server, which came with a steep learning curve and required weeks of training to master. Not anymore. Using cloud-based CRM systems is the most current and cutting-edge CRM technology available. All that is necessary is Internet access and a valid CRM subscription. The term "cloud-based" simply implies "easy."
Mobile Access
Working in sales, we spend a lot of the time on the road. It's kind of like being in a rock band, but without the fans, loud music, and booze. So your CRM system for small businesses should offer a native mobile app that gives portable access to all that same juicy data. You should be able to provide customers with a seamless experience, no matter if you're sitting in your office chair or at the hotel bar. At the very worst, your CRM system should offer mobile web browser access.
Security
A company's data is a priceless resource. Therefore, your service supplier must be trustworthy. Before acquiring any CRM system, make sure to thoroughly review the software policies and security statements. Do not hesitate to contact the customer service team if you have any questions!
Wanna know other things to consider while choosing a CRM? Head to this post
Top CRM tools for a small business
There is no one-size-fits-all solution to CRM shopping. There are many different options out there, and you want to get the most bang for your buck. We've put together the five best CRM for small business solutions that might tickle your pickle.
NetHunt CRM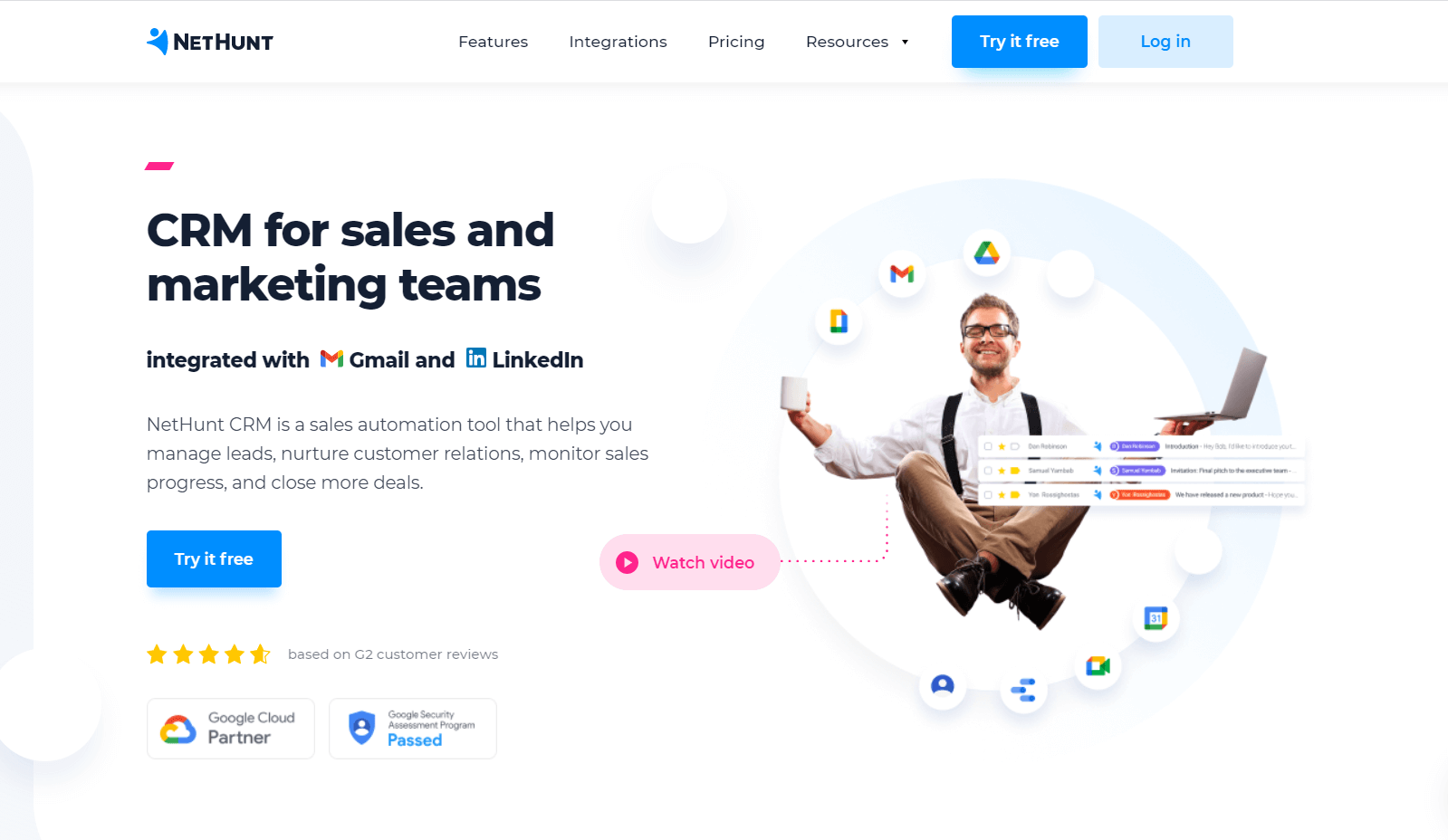 NetHunt CRM is a simple, intuitive, and powerful CRM system built inside Gmail. NetHunt turns any email you receive or send into a record. When an email lands in your inbox, it goes straight into the record for that particular customer to build a full context of where they are at in their buying journey.
While many systems concentrate heavily on sales purposes, NetHunt CRM has a very customisable structure so you can manage almost any type of activity in it; from sales and projects, to customer support and software development. There's a mountain of other functionality. Bulk emails, tags,  automated reporting, automated pipelines, sales automation, integrations with your favourite lead generation source like Intercom, LinkedIn, or Facebook Messenger.
Perfect for small business because…
Seamlessly integrates with Gmail.
Affordable team plan.
Fully customisable to suit your business needs.
How much does NetHunt cost?
✅ 14 day free trial upon initial registration; no credit card required.
💰
Basic
: $24 per user per month, billed annually
💰
Basic Plus
: $34 per user per month, billed annually
💰
Business
: $48 per user per month, billed annually
💰
Business Plus
: $68 per user per month, billed annually
💰
Advanced
: $96 per user per month, billed annually
Check pricing
Try NetHunt CRM for free for 14 days!
Insightly CRM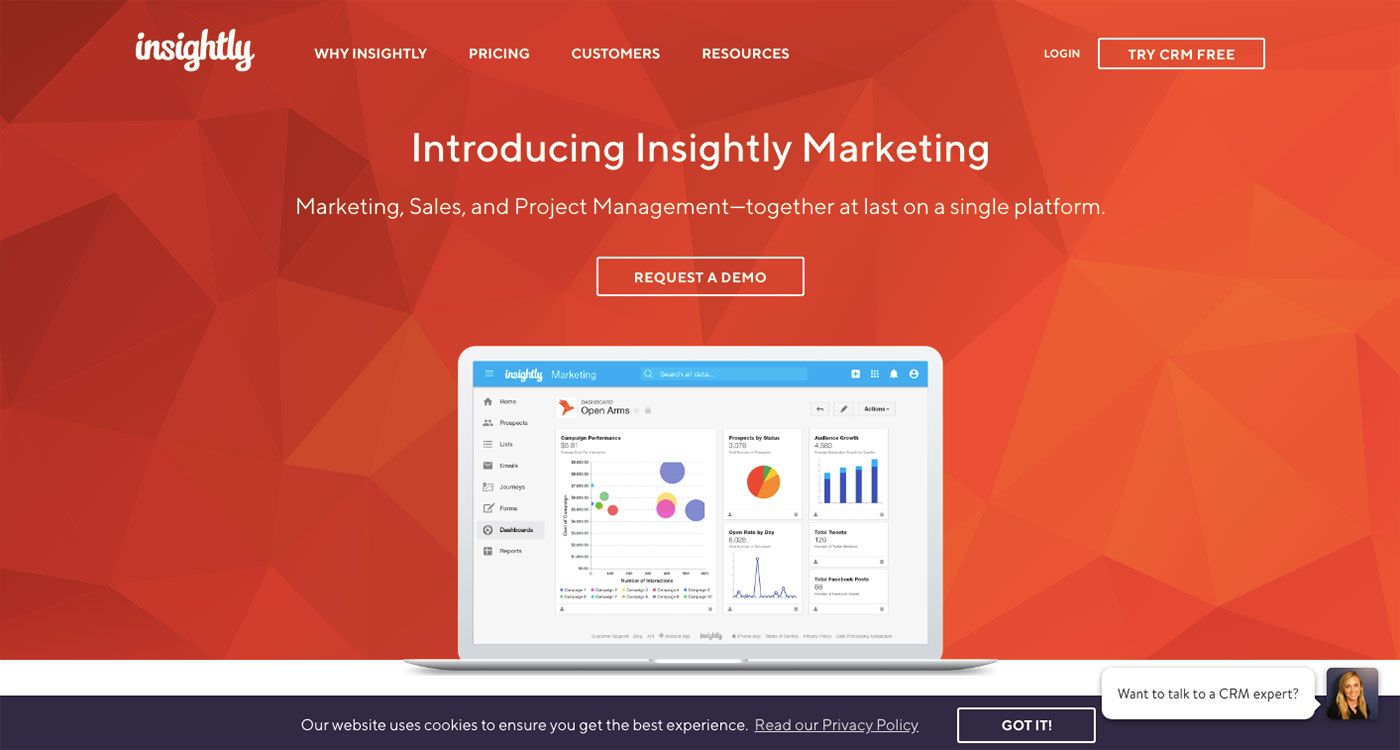 Insightly is a simple small-business CRM solution. Whereas most of its competitors are built around contact management and social integration, Insightly is, first and foremost, built as a tool for managing leads and their journey through the sales pipeline. Insightly's other strengths include its potential as a project management resource and its comprehensive, beautiful marketing dashboard that offers full insight into the successes and failings of marketing campaigns.
The negative aspect of Insightly is that it is so rigid in its usage, meaning there is little room for the customisation that a small business requires when implementing a CRM.
Perfect for small business because…
Free for up to two users.
Simple CRM.
Pre-setup as a project management tool.
How much does Insightly cost?
✅ Free for up to two users
Plus: $29 per user/month; paid annually
Professional: $49 per user/month; paid annually
Enterprise: $99 per user/month; paid annually
HubSpot CRM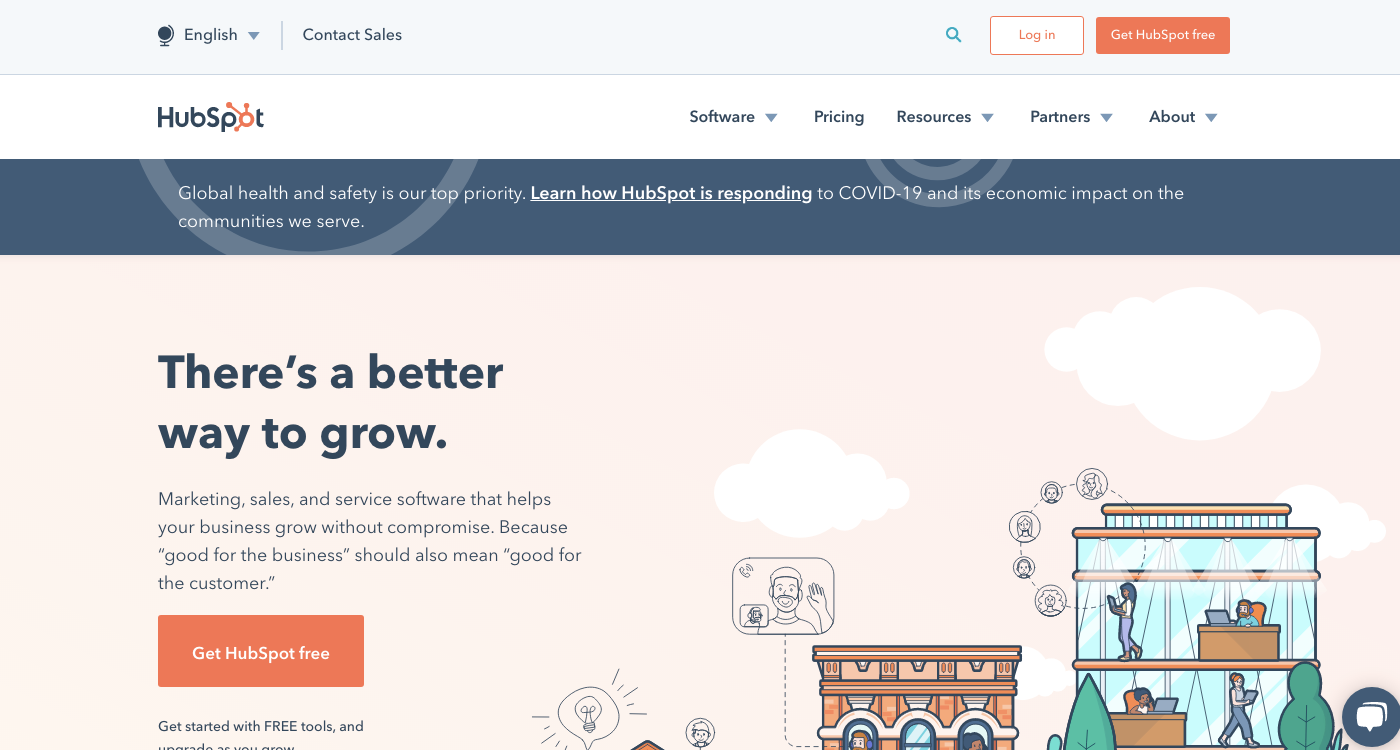 HubSpot is one of the big guns of CRM, so it's a little surprising that it's been included on this list. HubSpot provides you small business with a free system and basic CRM functionality. There's enough functionality to manage your contacts and deal in a card-based layout or, which is probably the most satisfactory feature of HubSpot, to automatically fill in some customer-related data, taken from his or her LinkedIn profile
The interface of Hubspot CRM is pretty straightforward, and manages to display the key customer information where it's needed. The records structure is also flexible, letting you rearrange fields on the f. The CRM features are basic, but enough for a small team.
Perfect for small business because…
How much does HubSpot CRM cost?
✅ Free for unlimited users.
Zoho CRM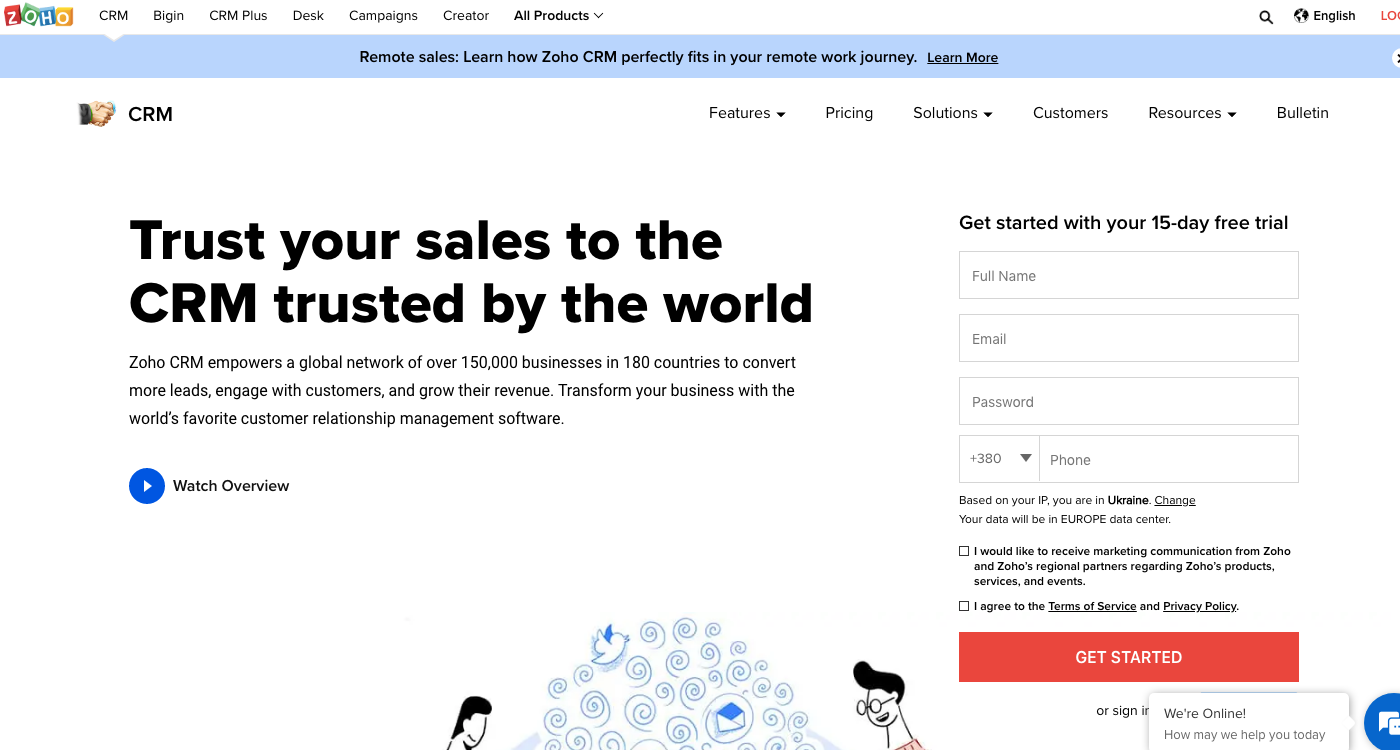 Founded back in 1996, Zoho is a CRM system that has been around the block. This simple, but effective CRM system empowers any-sized businesses with complete customer-cycle management, from lead generation to purchase follow-ups. After so long in the biz, they've nailed quick access to importing contacts and leads into the Zoho system. Despite not being fully-integrated with your working Gmail inbox, the ability to sync tasks, events, and calls with customers between the two systems makes this Chrome extension helpful.
For small business, Zoho probably appeals to you as a free Gmail CRM. But, as your team and list of tasks grows, you'll need to pay more for add-on modules to really get the most out of it.
Perfect for small business because…
Free, but limited plan.
A wide range of native and 3rd party integrations.
Social media-ready.
How much does Zoho cost?
✅ Free version for 'home business', capped at three users.
Standard: $12 per user/month; paid annually
Enterprise: $35 per user/month; paid annually
Pipedrive CRM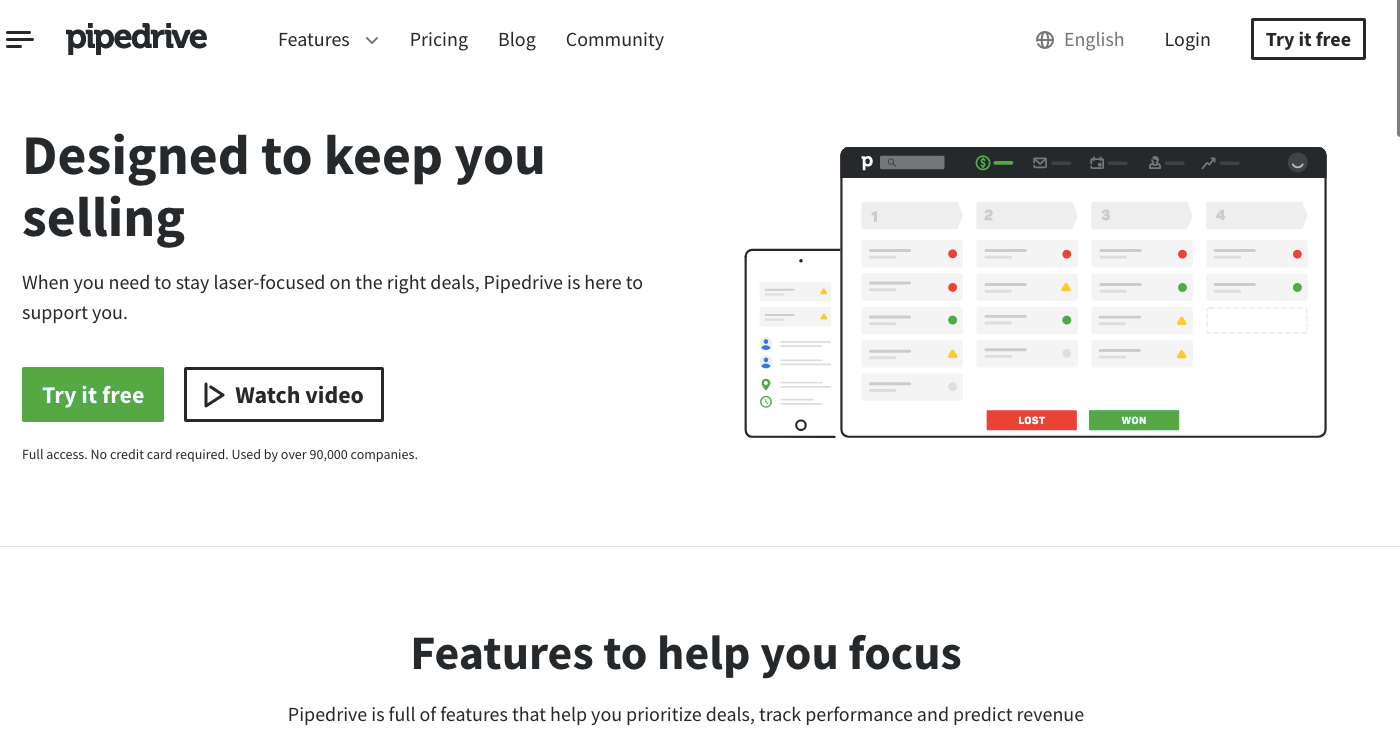 Pretty much everything in Pipedrive CRM revolves around your sales pipeline. Every card in the pipeline view represents a deal, and Pipedrive reflects as much necessary information as possible so you don't need to fully open a deal to view the details. Another aspect is the customisable dashboard that provides sales agents with an overview of their current tasks and a recap of the latest pipeline activity.
Instead of being a fully-integrated Gmail CRM, this is a left-sidebar CRM application that lets users schedule activities, make notes, and quickly add contacts from Gmail to the system. Users are treated to an instant sales history of each contact whenever they open an email thread, providing full context whenever they need it.
Perfect for small business because…
Simple, sales oriented.
Affordable.
Informative activity dashboard.
How much does Pipedrive cost?
✅ 14 day free trial.
Essential: $12.50 per user/month; paid annually
Advanced: $24.90 per user/month; paid annually
Professional: $49.50 per user/month; paid annually
Enterprise: $99.00 per user/month; paid annually
All businesses, regardless of size or industry, require CRM software. CRM software helps companies deliver consistent and engaging customer experiences by integrating sales, marketing, customer support, and operations.
And if you are on a lookout for a sales CRM system (and most probably are as you landed to this page;)) check out NetHunt CRM. Sign up here, first 14 days are on us - https://nethunt.com/
Table of Contents
Crack the sales formula with CRM Lab
Twice a month, receive actionable CRM content to your inbox.
Join the
Telegram channel NetHunt CRM
All about CRM and B2B sales.
Join