Growth. You grow. Trees grow. The universe is growing. Business, hopefully, grows. Everything grows. Growth is the aim of the game. In the small business world, growth means greater exposure, more customers, and more employees. As a small business, growth also involves streamlining and effectuating workflows and organisation.
Enter: Customer Relationship Management (CRM)
CRM is synonymous with growth. Small business and CRM go hand-in-hand; a match made in growth heaven. Coincidentally, the CRM industry recently grew to be the largest software industry in the world, and CRM revenues are expected to reach over $80 billion by 2025. A growing market, that is based on growth, for your growing business. Growth.
In this comprehensive guide to CRM for small business, we look at what a CRM for small business is, the benefits of implementing one, the features you should consider when choosing, and finally which systems are on the market today. All of which can help you grow.
By the end of this article, your business brain will have grown into an encyclopedic database of everything and anything that is small-business CRM.
Do I need a CRM for small business?
CRM technology can do a heap of different things, depending on the system you choose and the integrations you apply to it. At it's very core, CRM is described as an app that helps you manage your relationships with current and prospective customers. They help you see the bigger picture; help you to understand exactly what to email somebody and when, based on where they are in their buyer journey and what colleagues have already said to them. With a CRM, you can automate mundane, repetitive sales tasks and laborious marketing processes to provide hyper-personalised outreach in half the time.
At this moment in time, there seems to be very few boundaries for what CRM can do for a company. From tracking every step of a potential customer, to scraping analytical data with powerful AI, you might find yourself asking the same question as your fellow small business owners…
Do I really need a CRM?
Well, does a farmer really need a tractor? Does a chef really need a sharp knife? Did Elvis really need a microphone, a guitar, and some blue suede shoes? Fundamentally, no. But they'd all be considerably less effective at their jobs and make a lot less money without those things. Without them, they couldn't grow.
The same rule applies to CRM and your small business.
What is a Small Business CRM?
A small business CRM is a lightweight CRM system aimed at satisfying the needs of small business companies and solopreneurs. Small businesses usually don't need the same top tier, advanced functionality geared towards major market players, so small business CRM systems are built upon a foundation of simplicity and basic functionality.
There's no clear line when a small business CRM turns into an enterprise-level system, but here are some of the most common features that differentiate them.
Stripped back functionality. Where enterprise-level CRMs offer deep analytics and specialised features such as app development, small business CRMs primarily focus on features that improve, centralise, and maintain communication.
Easier to set up. Small business CRM is much easier to implement and start running than enterprise-level. Most are cloud-based, and so all a company needs to do to get started is create an account, add team members, and adjust the system to fit its workflow and processes.
Built around smaller teams. In theory, any CRM system can be used by any amount of people. However, small business CRMs are designed and priced to be used by teams of around 5-10 employees.
More affordable pricing. As the CRM market explodes to become the most lucrative software market in the world, systems are generally getting cheaper. The difference between small business and enterprise CRM, however, can be hundreds of dollars every month. Some small-business platforms are even free with limited featurability; most offer free support services for their users.
What can Small Business CRM do?
A CRM system is a powerful tool for business management. Without getting into the details of unique features that different CRM systems have, we've put together a list of the areas in which a small-business CRM can help organise your business and push it to reach its full potential.
Small business CRM facilitates analysis of customer buying patterns. It places full customer context, order history, and client data at the heart of your business, slap-bang on your CRM dashboard. With this data so readily available, it becomes easy to analyse purchasing habits and most popular products between regular clients, and then customise tailor-made offers to them and maximise their potential for future purchases.
Small business CRM facilitates more efficient follow-ups on client deals. Following-up is one of those jobs that nobody wants to ever do, but needs to be done nearly every day. With a small-business CRM system, you can create follow-up schedules to reconnect with leads that have gone cold. In B2B especially, it's rare for a client to be purchase-ready straight off the bat. A time-aware, non-intrusive, personalised message from a real human being could be enough to push them over the line.
Sent a quotation and not received a reply? Find out what to do next!
Small business CRM facilitates fast communication. There's loads of different integrations for different CRM systems. If you integrate your system with your company's communication channel of choice, response time decreases significantly. Customer support teams have exhaustive access to client data. When an email comes in, they can reference this data and use it to solve a problem or query as quickly as possible.
Small business CRM facilitates a kick-ass marketing strategy. With so much data available, it would be silly not to use it to maximise the impact and reach of your marketing outreach. It doesn't matter whether it's cold outreach, bulk emailing, or personal correspondence, CRM helps align your sales and marketing teams to make data-driven communication and decisions easier and more accessible. Most systems offer email outreach featureability such as mail merge, bulk emailing, and pre-made templates.
Small business CRM facilitates superior customer service. To your customers, your business is just one big entity. It doesn't matter if they speak to Jerry on Tuesday and then Wanda on Wednesday, the thing they remember is the brand name and the experience they had. CRM pulls all the necessary data that helps sort out a customer support case before a client gets frustrated. Automated reminders and triggered alerts mean that no customer gets forgotten as your customer base grows.
Small business CRM facilitates standardised processes. When different people work with the same system, document, or spreadsheet, it might lead to discrepancies in data and its formatting. By setting up a CRM system within which every field follows a particular rule, you can eliminate these discrepancies. Your business doesn't have to deal with contradicting information, duplicated data, or segments of client information that simply don't make any sense.
Small business CRM facilitates big ambition. Full stop.
What should I consider when choosing a Small Business CRM?
Well, the best part about CRM shopping is that there are hundreds of different platforms out there, and it's likely that at least one matches your business needs. If not, most platforms are flexible enough and offer enough integrations to bend to fit your business processes and streamline them.
Without blowing our own small-business CRM trumpet, we get a lot of new clients coming to us and telling us that they need to switch from a different platform to ours. A lot of "simple" CRM systems promise the world, but their customers soon realise that this means a headache for them as they get lost in their own dashboard.
Free trials are there for a reason. Use them. Take your new small-business CRM system for a test run before you roll it out permanently. Make sure it is at least all of the following things…
Easy.
Like everything in life, CRM for small business needs to be easy. You shouldn't need a degree in IT to simplify the working processes that you already do every day. CRM for small business needs to be easy to implement, easy to learn, and easy to remember to use. It shouldn't change your processes too much, it should simply work around them to make them easier and more fruitful.
Third-Party Integrations.
The tendency of CRM providers to squeeze as many features into their platform as possible always ends up with an oversaturated, overcomplicated, underused product. Before you set off on your small-business CRM voyage, you should make a list of the different systems your company uses and find a product that integrates with as many of those systems as possible.
NetHunt integrates with LinkedIn Sales Navigator to automate the whole lead generation process. Find out more about LinkedIn lead generation!
Customisable.
No two businesses are the same. You might choose a CRM system that caters to as broad an audience as possible, but you'll quickly find that it still needs fine-tuning to fit your exact needs as a business. We're not fortune-tellers; we wouldn't make much money if we designed our whole system to fit just one company. The best CRM systems are flexible enough to give a business exactly what it needs.
Niche.
There are a lot of niche options on the CRM market that are dedicated to a particular industry. For example, real-estate and CRM go together like cold beer on a hot day. Dedicated CRM for real-estate systems allow realtors to manage deals, integrate third-party property listings, and create brand new listings from pre-made templates.
Check out our three favourite CRM systems for real estate!
Cloud-based.
There once was a time when installing a CRM meant a bloke with a toolbelt coming to your office and installing a big server, a huge learning curve, and weeks of training to learn how to use it. Not anymore. Cloud-based CRM systems are the here and now of cutting edge CRM technology. Gmail CRMs are especially prominent, and all that is required is payment and a Chrome extension download. Cloud-based means simple.
Absolutely everything you need to know about Gmail CRM.
Mobile Access.
Working in sales, we spend a lot of the time on the road. It's kind of like being in a rock band, but without the fans, loud music, and booze. Your CRM system for small business should offer a native mobile app that gives portable access to all that same, juicy data. You should be able to offer customers a seamless experience, no matter if you're sitting in your office chair or at the hotel bar. At the very worst, your CRM system should offer mobile web browser access.
Security.
Data is a precious asset to any business. You need to be able to trust your service provider. Make sure you carefully read software police and security statements before purchasing anything. If you have any questions, don't be afraid to ask the customer support team!
Wanna know other things to consider while choosing a CRM? Head to this post
What is the best CRM software for small business?
There is no one-size-fits-all solution to CRM shopping. There's a lot of different options out there, and you want to get the most bang for your buck. We've put together the five best CRM for small business solutions that might tickle your pickle.
NetHunt CRM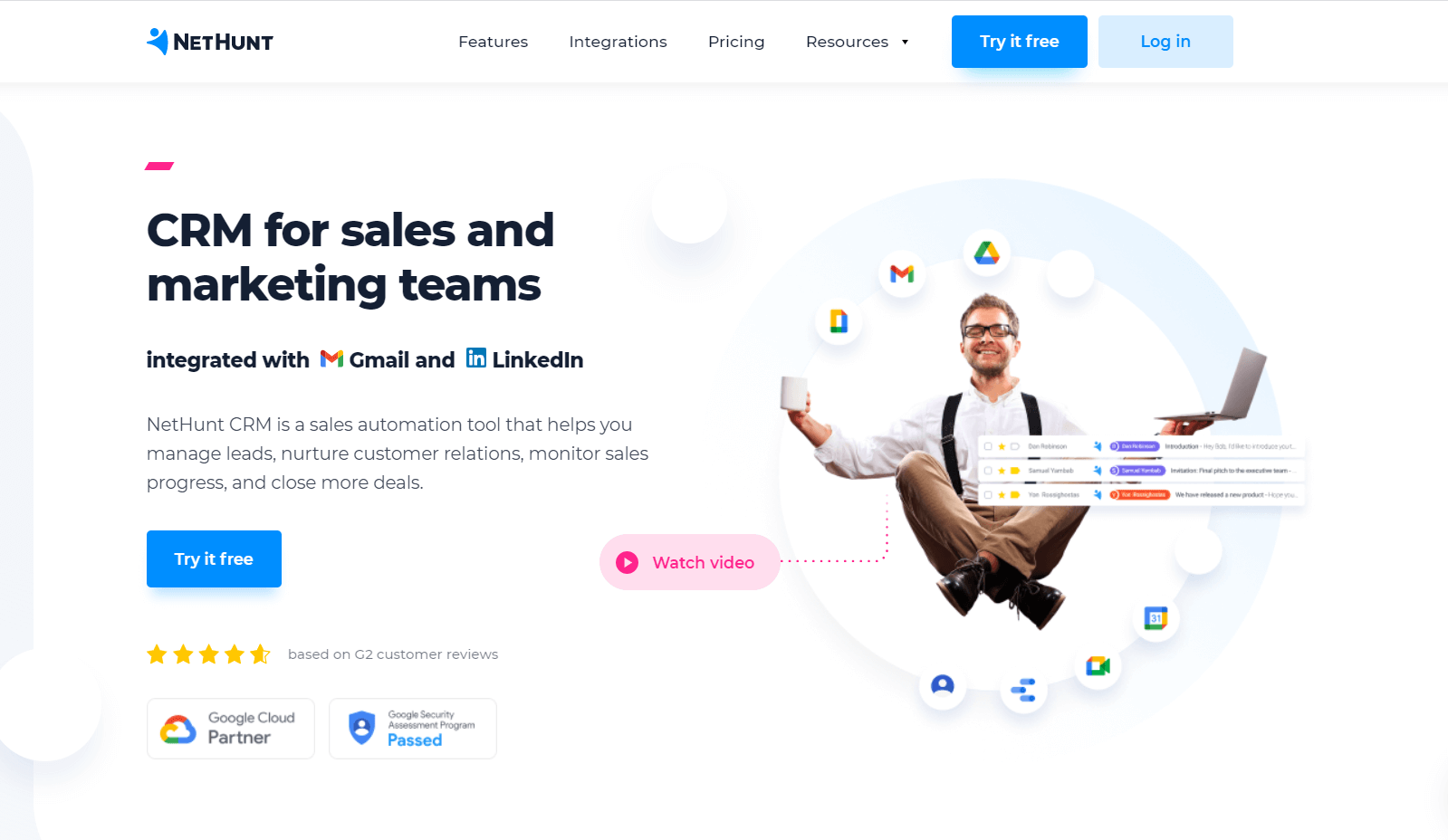 NetHunt CRM is a simple, intuitive, and powerful CRM system built inside Gmail. NetHunt turns any email you receive or send into a record. When an email lands in your inbox, it goes straight into the record for that particular customer to build a full context of where they are at in their buying journey.
While many systems concentrate heavily on sales purposes, NetHunt CRM has a very customisable structure so you can manage almost any type of activity in it; from sales and projects, to customer support and software development. There's a mountain of other functionality. Bulk emails, tags,  automated reporting, automated pipelines, sales automation, integrations with your favourite lead generation source like Intercom, LinkedIn, or Facebook Messenger.
Perfect for small business because…
Seamlessly integrates with Gmail.
Affordable team plan.
Fully customisable to suit your business needs.
How much does NetHunt cost?
✅ 14 day free trial upon initial registration; no credit card required.
Professional: $24 per user/month; paid annually
Professional Plus: $48 per user/month; paid annually
Enterprise: $96 per user/month; paid annually
Try NetHunt CRM for free for 14 days!
Insightly CRM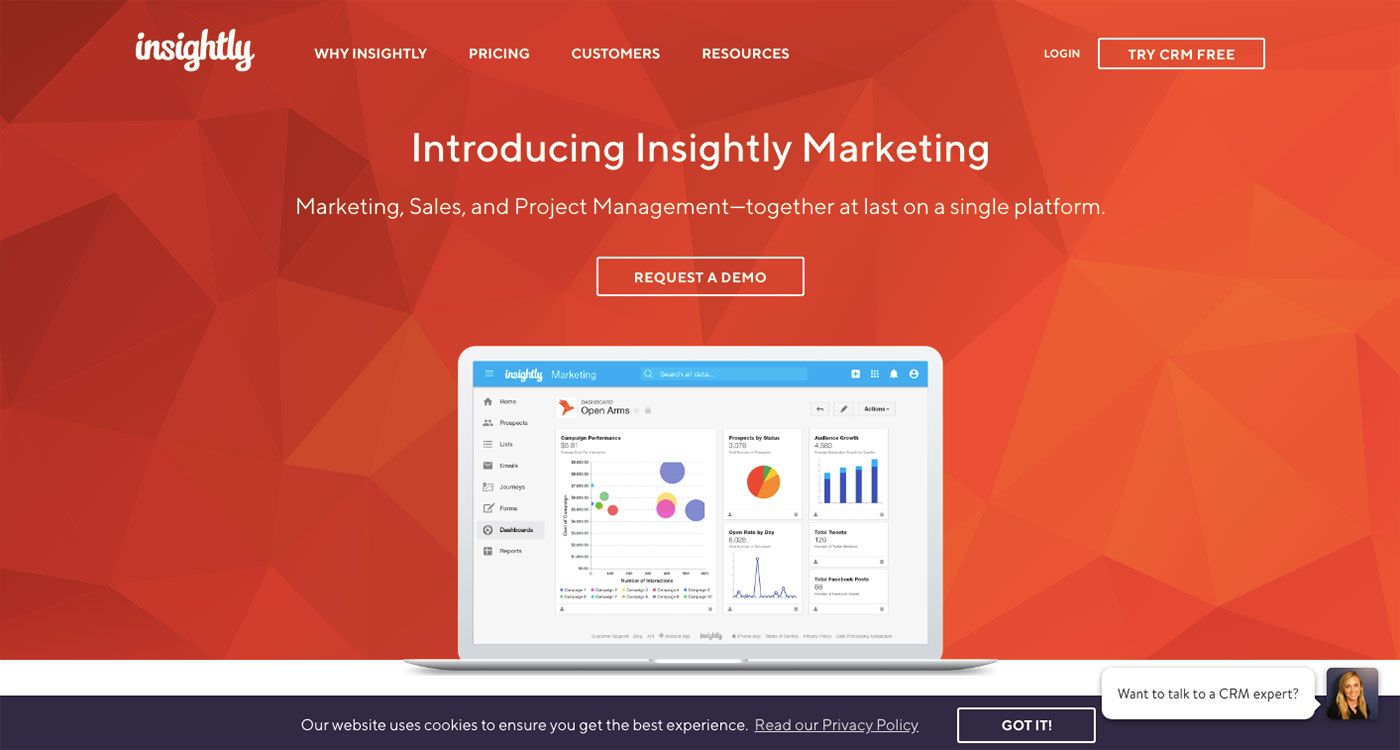 Insightly is a simple small-business CRM solution. Whereas most of its competitors are built around contact management and social integration, Insightly is, first and foremost, built as a tool for managing leads and their journey through the sales pipeline. Insightly's other strengths include its potential as a project management resource and its comprehensive, beautiful marketing dashboard that offers full insight into the successes and failings of marketing campaigns.
The negative aspect of Insightly is that it is so rigid in its usage, meaning there is little room for the customisation that a small business requires when implementing a CRM.
Perfect for small business because…
Free for up to two users.
Simple CRM.
Pre-setup as a project management tool.
How much does Insightly cost?
✅ Free for up to two users
Plus: $29 per user/month; paid annually
Professional: $49 per user/month; paid annually
Enterprise: $99 per user/month; paid annually
HubSpot CRM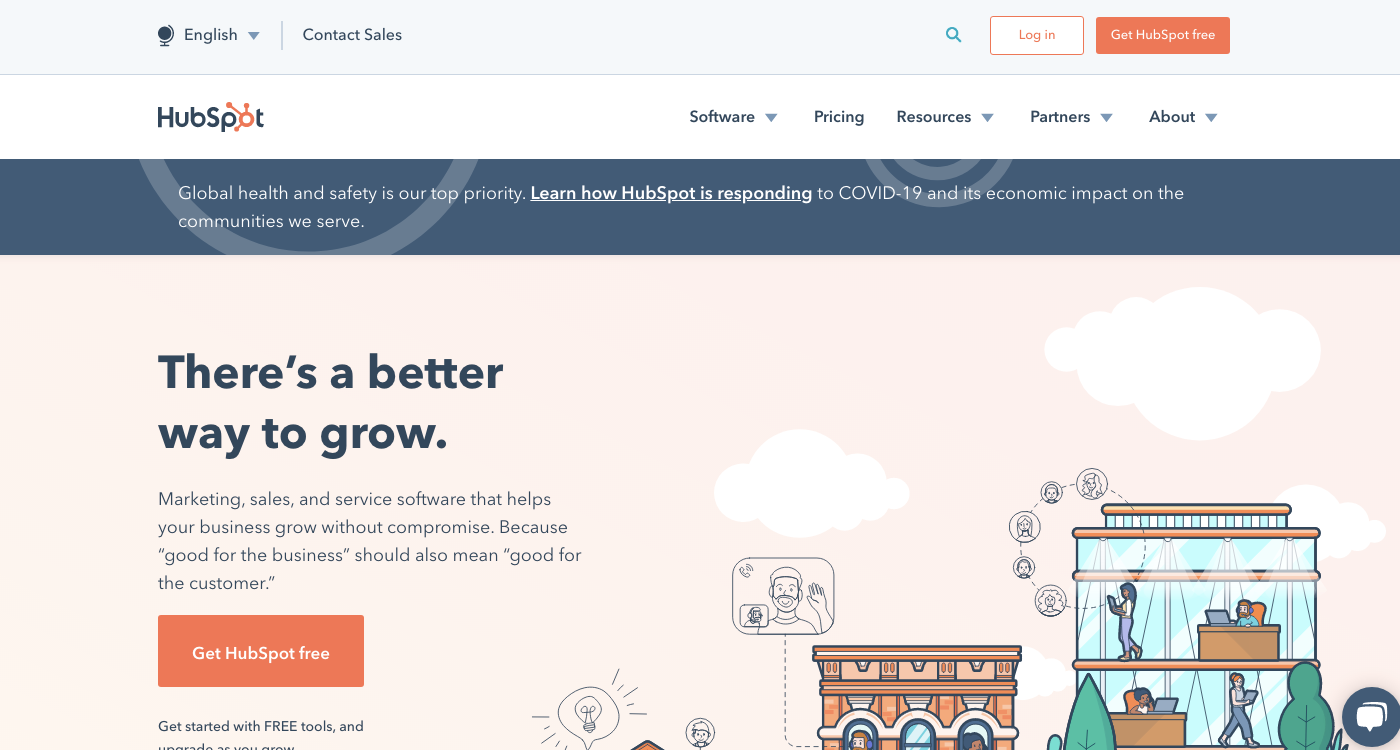 HubSpot is one of the big guns of CRM, so it's a little surprising that it's been included on this list. HubSpot provides you small business with a free system and basic CRM functionality. There's enough functionality to manage your contacts and deal in a card-based layout or, which is probably the most satisfactory feature of HubSpot, to automatically fill in some customer-related data, taken from his or her LinkedIn profile
The interface of Hubspot CRM is pretty straightforward, and manages to display the key customer information where it's needed. The records structure is also flexible, letting you rearrange fields on the f. The CRM features are basic, but enough for a small team.
Perfect for small business because…
How much does HubSpot CRM cost?
✅ Free for unlimited users.
Zoho CRM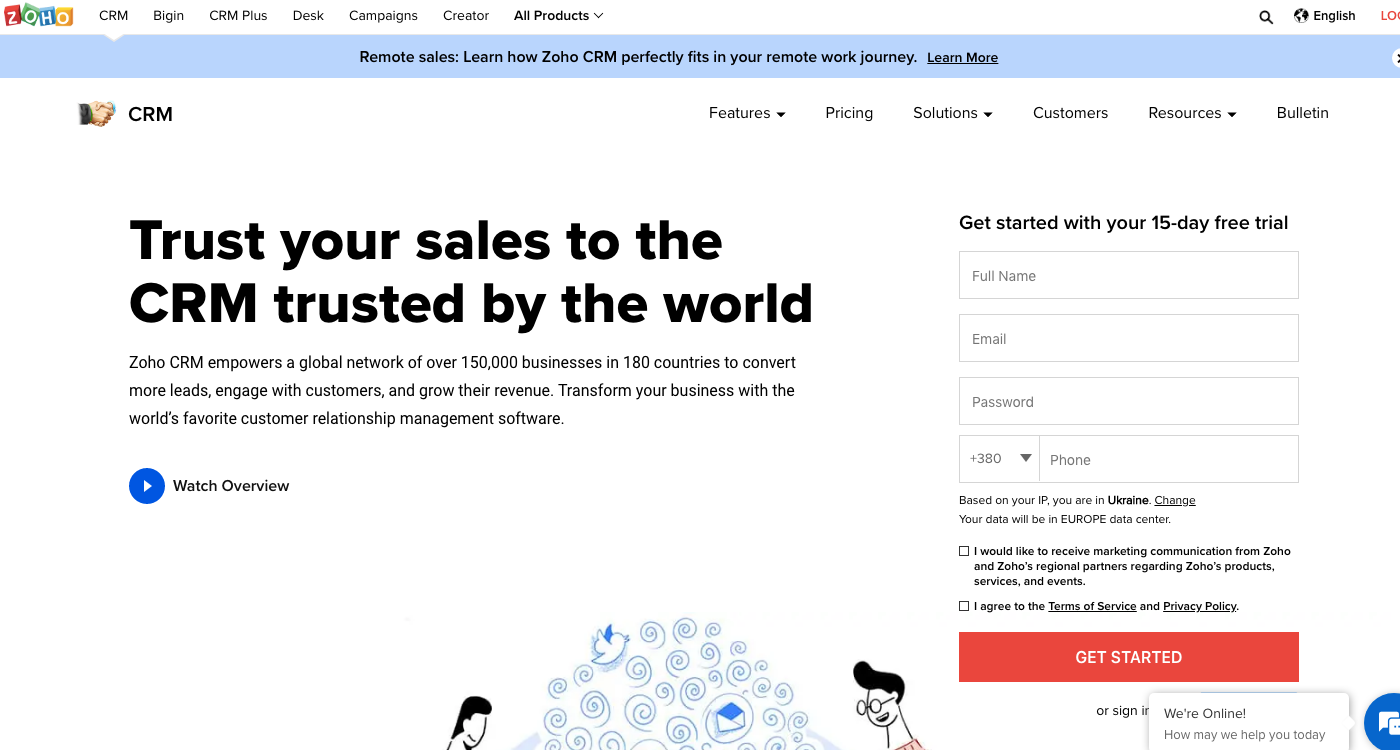 Founded back in 1996, Zoho is a CRM system that has been around the block. This simple, but effective CRM system empowers any-sized businesses with complete customer-cycle management, from lead generation to purchase follow-ups. After so long in the biz, they've nailed quick access to importing contacts and leads into the Zoho system. Despite not being fully-integrated with your working Gmail inbox, the ability to sync tasks, events, and calls with customers between the two systems makes this Chrome extension helpful.
For small business, Zoho probably appeals to you as a free Gmail CRM. But, as your team and list of tasks grows, you'll need to pay more for add-on modules to really get the most out of it.
Perfect for small business because…
Free, but limited plan.
A wide range of native and 3rd party integrations.
Social media-ready.
How much does Zoho cost?
✅ Free version for 'home business', capped at three users.
Standard: $12 per user/month; paid annually
Enterprise: $35 per user/month; paid annually
Pipedrive CRM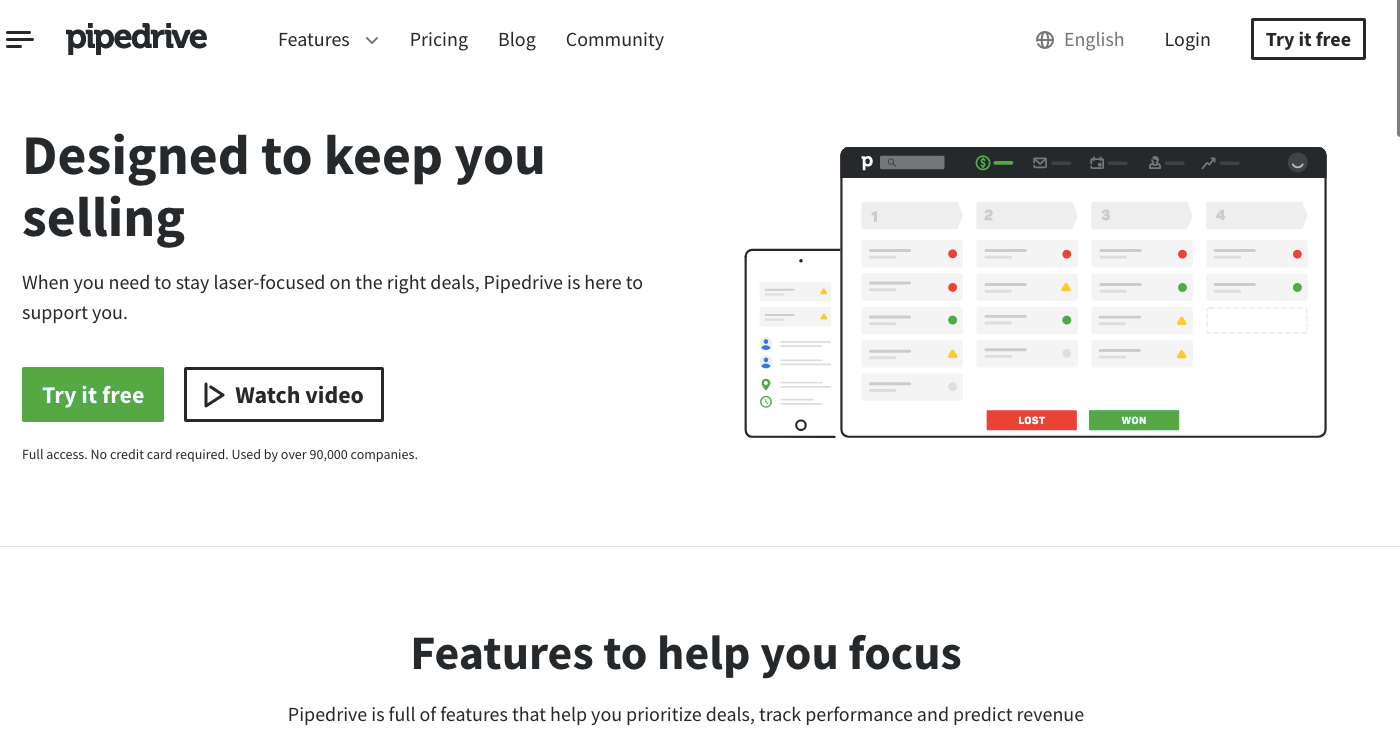 Pretty much everything in Pipedrive CRM revolves around your sales pipeline. Every card in the pipeline view represents a deal, and Pipedrive reflects as much necessary information as possible so you don't need to fully open a deal to view the details. Another aspect is the customisable dashboard that provides sales agents with an overview of their current tasks and a recap of the latest pipeline activity.
Instead of being a fully-integrated Gmail CRM, this is a left-sidebar CRM application that lets users schedule activities, make notes, and quickly add contacts from Gmail to the system. Users are treated to an instant sales history of each contact whenever they open an email thread, providing full context whenever they need it.
Perfect for small business because…
Simple, sales oriented.
Affordable.
Informative activity dashboard.
How much does Pipedrive cost?
✅ 14 day free trial.
Essential: $12.50 per user/month; paid annually
Advanced: $24.90 per user/month; paid annually
Professional: $49.50 per user/month; paid annually
Enterprise: $99.00 per user/month; paid annually
Growth. You need it. CRM software for small business is built for it. Use it.
Become a sales expert with the NetHunt blog
Twice a month, receive handpicked sales and marketing insights into your inbox
Don't forget to share this post with friends and colleagues!