Do you want your marketing agency to make more money? Do you feel like you have the potential to help more clients to reach their marketing goals but can't take up any more new clients because you've nearly exhausted resources managing existing ones?
A simple optimisation of business workflows could give your agency a second wind. All you need to do is invest in a marketing agency CRM, helping you run and grow your business!
Read this article 'til the end to find out why your marketing agency needs a CRM solution and what features must be on your CRM shopping list.
Let's get growing!
Why does your marketing agency need a CRM system?
During the early stages of business development, most small businesses survive on a DIY spreadsheet CRM alone. Of course, it's best to implement a real CRM system early so you have everything under control and don't have to handle data migration later on in the game. But it's not mandatory.
This, however, is not the case for digital marketing agencies. Marketing agencies make money by selling human relationships. They operate both established connections with influencers and media, and future ones such as recognition from the clients' target audiences. It's essential to take control from day one. Take a moment to answer these questions...
Does it take you a while to find relevant data in your database?
Do you have difficulty accessing communication history with clients?
Do you want to improve employee productivity?
Is it difficult to stay on schedule and meet strict deadlines?
Do you have trouble profiling your agency's customers?
Do you lack control and structure for larger marketing campaigns?
If you answered yes to any of those, your current customer relationship management and project management solutions aren't doing it for your digital marketing agency. You're in urgent need of a marketing agency CRM. Here are the key benefits of using CRM for a digital marketing agency…
Optimises lead generation and nurturing processes to acquire new high-profile clients.
Organises customer data, making it clean and reliable.
Helps foster relationships with existing clients to turn them into brand advocates.
Provides opportunities for successful cross-selling and upselling.
Assists teams in staying on top of their workload, making it easier to meet deadlines.
Improves your agency's productivity.
6 useful CRM features for digital marketing agencies
CRM is one of the fastest-growing software markets, meaning vendors offer diverse functionality to outcompete each other, not every cutting-edge technology comes in handy for a marketing agency.
To leverage the benefits of a CRM system, choose a solution that offers the functionality that suits your agency's business workflows and meets your specific needs. We've hand-picked the eight most useful marketing agency CRM features to add to your CRM must-haves list.
Complete customer records for contact management
A CRM system is a repository for contacts and customer data that is important for your digital marketing agency. It stores, organises, and manages contact information obtained from different sources, all in one place. A CRM system allows you to create separate records for every contact in your database before enriching them with relevant information.
The best CRMs for marketing agencies are those that offer extensive record customisation with custom fields. That way, you can contact information such as name, job title, phone number, email address alongside any other details you might need. Some of the custom fields you can create for your digital marketing agency database records include…
Location
Type of service needed
Company size
Website
Links to socials such as Instagram, LinkedIn, or Twitter
Target audience
Main competitors
Strength and weaknesses
Budgets
Make certain fields required in CRM records. Whenever a sales rep adds a new contact to the CRM, they populate the record with relevant details, giving you more information to work with.
CRM software also keeps your database clean. Seek a solution that offers duplicate prevention. You can identify unique fields such as First Name, Last Name, Company to set up duplicate prevention rules. The system notifies you of any possible contact duplicates, allowing you to create the record anyway or prevent the duplicate creation altogether.
You can structure your database by creating folders for different types of contacts. You might want to have a separate folder for clients, influencers, partners and outsourced specialists.
Similarly, if you have multiple deals with the same company, CRM cross-referencing helps. For example, if your client has several campaigns that are taking place at the same time, or offers different products, all of which require your marketing services, you'll want to link all those deals to their record.
Custom views
Marketing agencies need to take care of many different processes simultaneously - partner relationships management, client relationship management, and project management. A marketing agency CRM allows you to create multiple custom pipelines to accommodate each of those processes and bring order to them.
A pipeline for partners
A part of your job as a marketing agency is to develop a strong network of contacts to then use those relationships to promote your clients' businesses. You need to constantly work on expanding your database and maintaining existing relationships. It's important to establish robust connections with PR managers, different media, influencers, bloggers, photographers and other key figures in the field.
Use CRM to create a partner relationship pipeline with custom stages…
For example, "New", "Outreach", "Negotiation", "Solid relationship", etc. Then, create custom views such as Not contacted in X days, Not responded in X days to follow up with those contacts and strengthen your relationships.
A pipeline for clients
Similarly, you can create a sales pipeline for your agency clients and track their progression down the funnel from 'New' to 'Lead' to 'Client'. Here's an example of a sales pipeline in NetHunt CRM…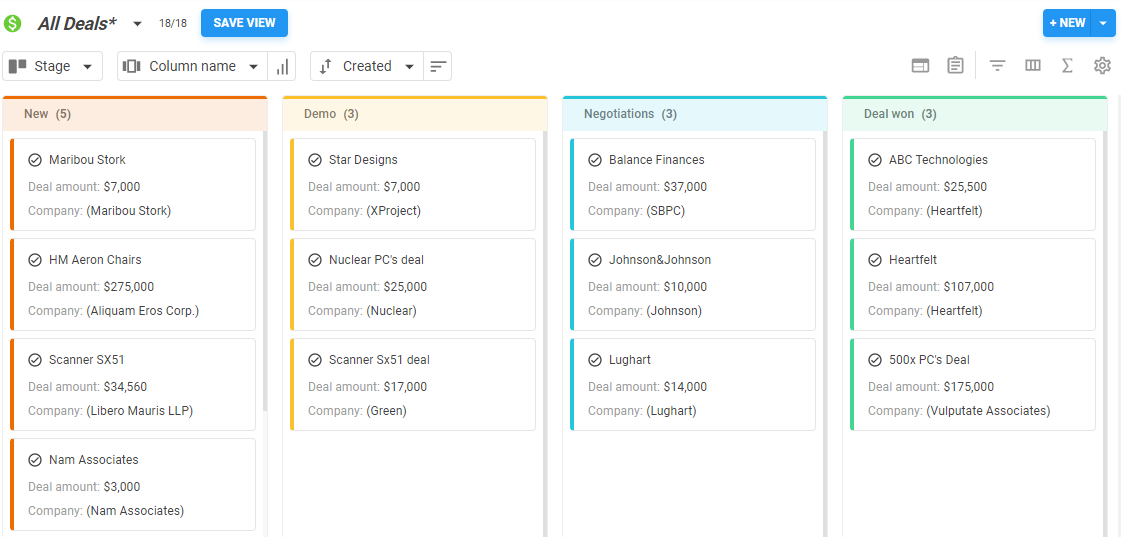 A pipeline for different projects
If your marketing agency has a long-term collaboration with clients, it makes sense to break down your projects into a pipeline that consists of several stages. That way, you gain more control over different processes and get a better chance at meeting strict deadlines.
You can create as many stages as you need for each specific project and assign tasks automatically either on a round-robin basis or to a specific manager the second a deal goes into a specific stage.
Finally, marketing agencies can take advantage of territory filters and custom views based on contact's location...
Here, you may find more CRM views useful for marketing teams.
Third-party integrations
The omnichannel approach is a bang on sales and marketing trend in 2022. Customers don't want to be limited by a single communication channel. Agencies that only talk to their potential clients via email or Facebook messenger rob themselves of sales opportunities. Seek a CRM solution that offers a lot of third-party integrations to make sure you're not one of those marketing agencies. Give your clients the freedom of choice and store all that lovely data.
Improves customer experience. Create the continuity of the conversational experience and make communication more productive.
It speeds up the process. Increase your sales velocity by cutting down the time wasted on communication platform switches.
Collaborative functionality
Teamwork makes dreams work, especially when it comes to digital marketing. With different specialists working on the same marketing project having a shared space to communicate with each other, it makes sense that there'd be an increase in productivity. Here are the key NetHunt CRM features that can help you increase your marketing agency's productivity...
Mentions. Ping team members in CRM to ask them for help or updates. All without having to use any other communication tools.
Shared data. Upload documents, offers, visuals and other data to records so it's available to colleagues at all times.
Shared communication. You can link email conversations to companies, contacts, and deals in NetHunt CRM to make them visible to colleagues.
Calendar sync. Schedule, update, or edit Calendar events with your contacts inside Gmail and automatically link them with relevant customers or prospects in NetHunt.
Tasks. Assign tasks to organise workload and optimise processes within your agency.
Finally, if you're working with external contractors on a project, you can regulate what data they have access to, and what they don't. By setting user permissions, you can control access levels for every user of the CRM system.
Email marketing functionality
If you think that email marketing is dead… Your marketing agency needs a reality check. Email marketing is less dead than ever, and you need to leverage its benefits while it's still hot.
Invest in a CRM solution that offers email marketing functionality. It can be useful to your email marketing agency to both manage relationships with your leads and clients via email, and to run email campaigns for your clients.
Here are the most useful email marketing CRM features to pay attention to...
Email templates. These save you a lot of time and allow you to optimise your communication with clients.
Bulk emailing. Send mass campaigns to leads and prospects or import your client's email database into your CRM and run email campaigns on their behalf.
Email tracking. Understand how your email marketing campaigns perform in terms of opens, clicks and replies. Know whether your messages resonate with the target audience.
Email marketing automation. Leverage the benefits of drip campaigns. For more automated emails ideas, check out this article!
Alternatively, if your marketing agency communicates with leads and clients via messenger apps, you, too, can connect your CRM with your messenger apps of choice to enable effective messenger-based sales.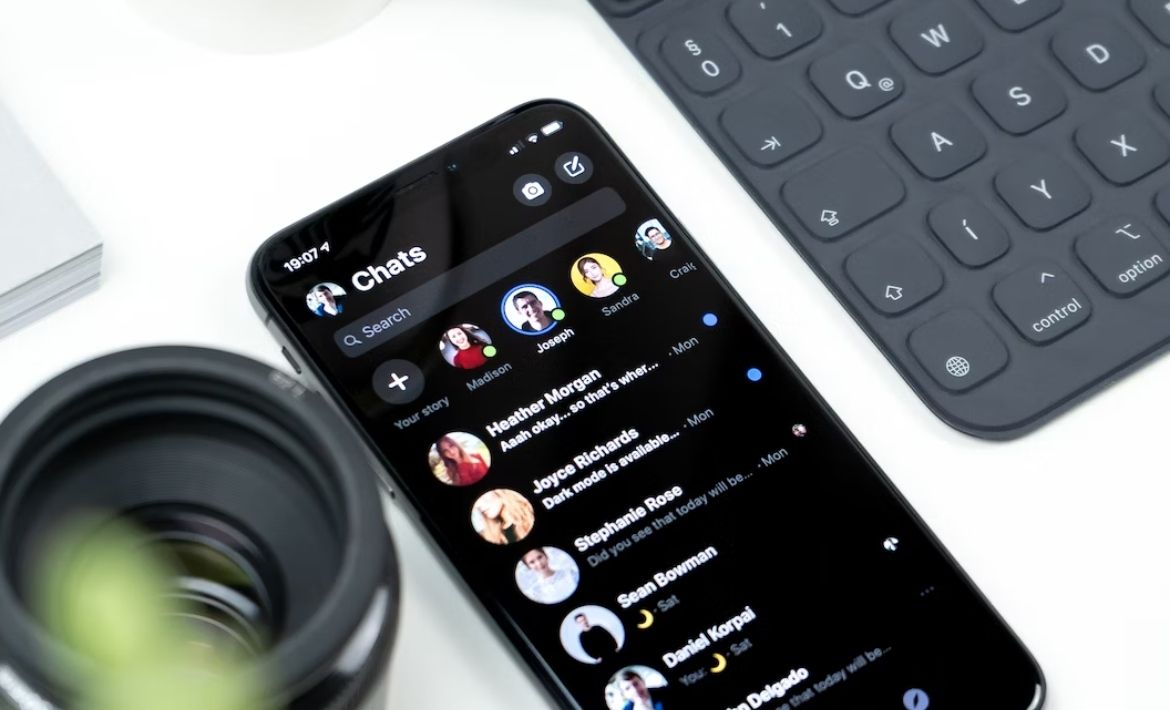 Mobile and desktop version
One of the most prominent peculiarities of working at a marketing agency is that you're often out of the office, working in the field. Negotiating with partners, curating photoshoots, shooting video ads and recording Instagram stories at the spot are all parts of a digital marketing agency employee's workdays. This shouldn't stop you from being in touch with all the other clients.
If another customer drops a message and needs an urgent response, you must provide one. This is only possible when you have all your data at hand with you. It's crucial that you can access all the relevant information on the go. For this reason, you need to choose such a CRM system for your marketing agency that isn't just cloud-based but also offers a well-developed mobile app.
How NetHunt CRM helps digital marketing agencies
From what we've discussed earlier, it becomes apparent that not every CRM works for a digital marketing agency. Good news - there's one that ticks all the boxes! Here's how NetHunt CRM is perfect for your marketing agency...
It's a cloud-based CRM system that offers a mobile app, so it's accessible on the go.
It allows you to build multiple custom pipelines.
It allows you to effectively organise your contact database.
It keeps your database clean thanks to the duplicate prevention feature.
It offers plenty of third-party integrations, including integration with LinkedIn, Facebook Messenger, Slack and DataStudio.
It offers great reporting functionality.
It has extensive collaboration functionality.
It offers email marketing functionality.
It offers sales automation.
NetHunt CRM is not just super-easy to use, but it also has a lovely Customer Success Team ready to assist you throughout your marketing agency CRM journey.
If you'd like to find out more about how NetHunt CRM can help your marketing agency grow, book a demo now!
Table of Contents
Crack the sales formula with CRM Lab
Twice a month, receive actionable CRM content to your inbox.
Join the
Telegram channel NetHunt CRM
All about CRM and B2B sales.
Join