Something is going around.
It's called CRM fever, and the whole world's getting it.
It's time to migrate from the spreadsheet you're using to manage your business and protect yourself with a real business tool.
When you catch CRM fever, this article outlines how to migrate from spreadsheets to CRM.
Signs that you need a CRM
CRM is the fastest-growing software market.
Incrementally more CRM vendors continue to enter the market, offering brand-new functionality and niche solutions.
In the past, CRM software exclusively served the sales departments of large enterprises, but that's not true anymore. Modern CRM solutions can bend to fit your business's needs, regardless of the size of your company or the industry it operates in.
Still, the advantages your business can leverage from using a CRM vary depending on your needs.
It sits somewhere between nice-to-have and need-to-have.
You could do all that hard work yourself, struggle through it and make ends meet, or have a tool in place like a real professional and grow your business organically, reaching for the stars.
You might have CRM fever and not know it. Fear not; there are symptoms synonymous with
You can't find essential customer details when you need them
You have duplicate or contradicting customer data stored in different places
Managing customer databases requires a substantial amount of time and manual work
Client information gets lost
You forget to send follow-ups to prospects and existing clients
You have too many leads to remember interaction history with each one of them
You can't forecast sales and revenue
You lack analytics and have to make decisions based on gut feeling
You can't build a mailing list and send out email campaigns quickly
Your team members can't communicate effectively and work closely on closing tasks
You have a low conversion rate
Your customer retention rate is low
Your customer database is not secure and can easily be hacked, copied or deleted
Check out what a CRM system is
The benefits of CRM over spreadsheets
Is it any wonder that your competitors are probably already using a CRM platform to organise, automate, and grow their business.
The long and short of it is that spreadsheets are used to organise, visualise, and centralise data. CRM does all those things with your data, with the benefit of actually using that data to your business's advantage with outreach tools, automation features, and integrations to bring your whole tech stack under one tab.
You can run your whole business out of CRM.
Everything stays organised under one tab
Odds are your spreadsheet isn't the only thing you're using to run your business. You'll have a whole stack of tools at your disposal. The problem is, they're all over the place, in different corners of the internet. You might even have separate spreadsheets for all your bits. In CRM, everything stays in one place. You can even integrate your tech stack.
Your old customers are better looked after
CRM users can use organised data to personalise and target specific educational materials and offers to existing customers. A deep pool of data from existing subscribers means businesses can see the wants, needs, and obstacles on an account-by-account basis. Marketing, sales, and support teams can use this information to target customers with tailor-made offers for cross- or upselling.
Better lead generation opportunities; more leads, more money
Before sales teams were focused on one channel of lead generation that prospects were present on - email, telephone, socials, and all of that - with CRM, they can spread time and resources more evenly across different lead generation channels... Email marketing, web forms, social media integrations, live chat, landing page generators.
A happier team means a happier business
CRM helps relieve tired sales team pressure. Sales automation technology is a relatively new trend in CRM, but it's already the future. As we stand on the precipice of AI technology doing a lot of our insight and reflection, sales automation helps us get those rubbish, little jobs done, so we've got more time to be happy.
Better cohesion between teams
CRM helps everybody by centralising data that matters. By knowing your customers inside out, marketers can segment their audience and target their messaging directly at the most high-quality leads. Likewise, sales teams can know what to say, when, and where. Even devs can use client records to draw product roadmaps based on logged feedback in the system.
CRM helps gauge the health of your business
CRM systems keep all your data inside, making reporting quick, easy, and automatic. With data from different sources centralised and aligned within NetHunt CRM, you can build a wide range of business reports, such as sales pipeline report, total sales report, sales by customer report, sales by owner report, sales by source report, lost reason report, sales goals report, time in stage report, lead source report, marketing pipeline report, and more!
CRM providers are here to help you learn
With a spreadsheet database, you're making it up as you go along. CRM marketing rejoices in teaching you how to run your business, and there's a lot for your business to gain from CRM provider content marketing. You can learn anything, from how best to organise CRM data, build a spreadsheet CRM, automate business processes, and write subject lines; I could sit here all day and link old CRM Lab articles, but you can go and find them yourself.
More about benefits of a CRM system in our previous article.
How to move your data from spreadsheets to a CRM
1.Choose a CRM provider
Choose NetHunt CRM as your CRM system. NetHunt CRM lives in the cloud and lives in your Gmail inbox.
It doesn't just live in your Gmail inbox - it was born and bred there. It's Gmail through and through, helping users create new client records and deals from incoming and outgoing emails and featuring CRM for sales context next to everything there. The learning curve is smooth and shallow, as NetHunt is built into Gmail, but if you're ever having trouble getting to grips with the system, NetHunt's customer support team is lovely, ready, and waiting to show you the ropes.
Start your free NetHunt CRM trial today
Contact management functionality to store and segment contacts
Multiple sales pipeline management and visualisation
Collaborative functionality such as tasks, mentions, and notifications
Bulk emails, email tracking, custom SMTP, templates, and reporting
Integrations with LinkedIn, Facebook Messenger and Intercom for lead generation
Zapier integration to connect NetHunt CRM with tools you love
Automated lead capture, nurturing, and pipeline management
Drip campaigns to nurture leads automatically
Reporting functionality to create different types of reports
Web Forms by NetHunt CRM
Integration with Google services like Contacts, Data studio, Calendar, Drive, and Chat
🆓 All NetHunt users receive a 14-day free trial of the system 🌱 Early-stage startups can check if they're eligible for the Early-Stage Startup Plan

💰Basic: $24 per user per month, billed annually
💰Basic Plus: $34 per user per month, billed annually
💰Business: $48 per user per month, billed annually
💰Business Plus: $68 per user per month, billed annually
💰Advanced: $96 per user per month, billed annually
Check pricing
Alternatively, if you want to shop around a bit more, there's a list of Gmail CRM systems and CRMs for sales!
Decide which data you need
Take this opportunity to make a clean start at keeping all your spreadsheet data.
Remember! You don't need to migrate all data from existing systems. If you feel like some of the data you have won't serve a purpose in your CRM, leave it behind. Be brave.
Examples include outdated sales reports and customer details, duplicated customer information, and poorly formatted spreadsheets that may clutter your new CRM.
Next, list what you need for your new CRM system.
We'll give you a clue. The recommended, often default structure for CRM data is within separate folders - Contacts, Deals, and Companies. Each folder contains its own set of required fields.
The Deals folder requires a managing rep, priority, primary point of contact, deal stage, start and expected end date, deal volume, and the product that a deal relates to.
The Companies folder organises and visualises data fields such as the name, the industry it operates in, its workforce size, lead source, and the dedicated rep that works with them.
The Contacts folder contains simple data fields such as first name, last name, email address, telephone number, company, position, and social media links.
Standardise your data
Granted, this can be a bit of a tedious task.
You should ensure all your data is prim and proper before moving it into the CRM system.
After all, what's the point in having any data unless it's clean and correct?
All the details are filled in, and there are no data gaps
Email addresses as valid*
Digits and decimals are in a standard format (1 thousand, 1.000, 1,000)
Phone numbers and addresses are in a standard format (+1 777 555-3333, (777) 5553333)
Values like countries are in a standard format (the USA, US, United States)
Search and get rid of duplicate data
Letter case is correct everywhere (contact names, company names)

One of the top tips from this article is to ensure that each data point holds its own field. Instead of a Full Name field (Brian Potter), we'd maintain two separate fields, Chosen Name (Brian) and Family Name (Potter).
*Hunter.io provides a free email verification tool for your business to check whether email addresses in your spreadsheet database are accurate, deliverable email addresses.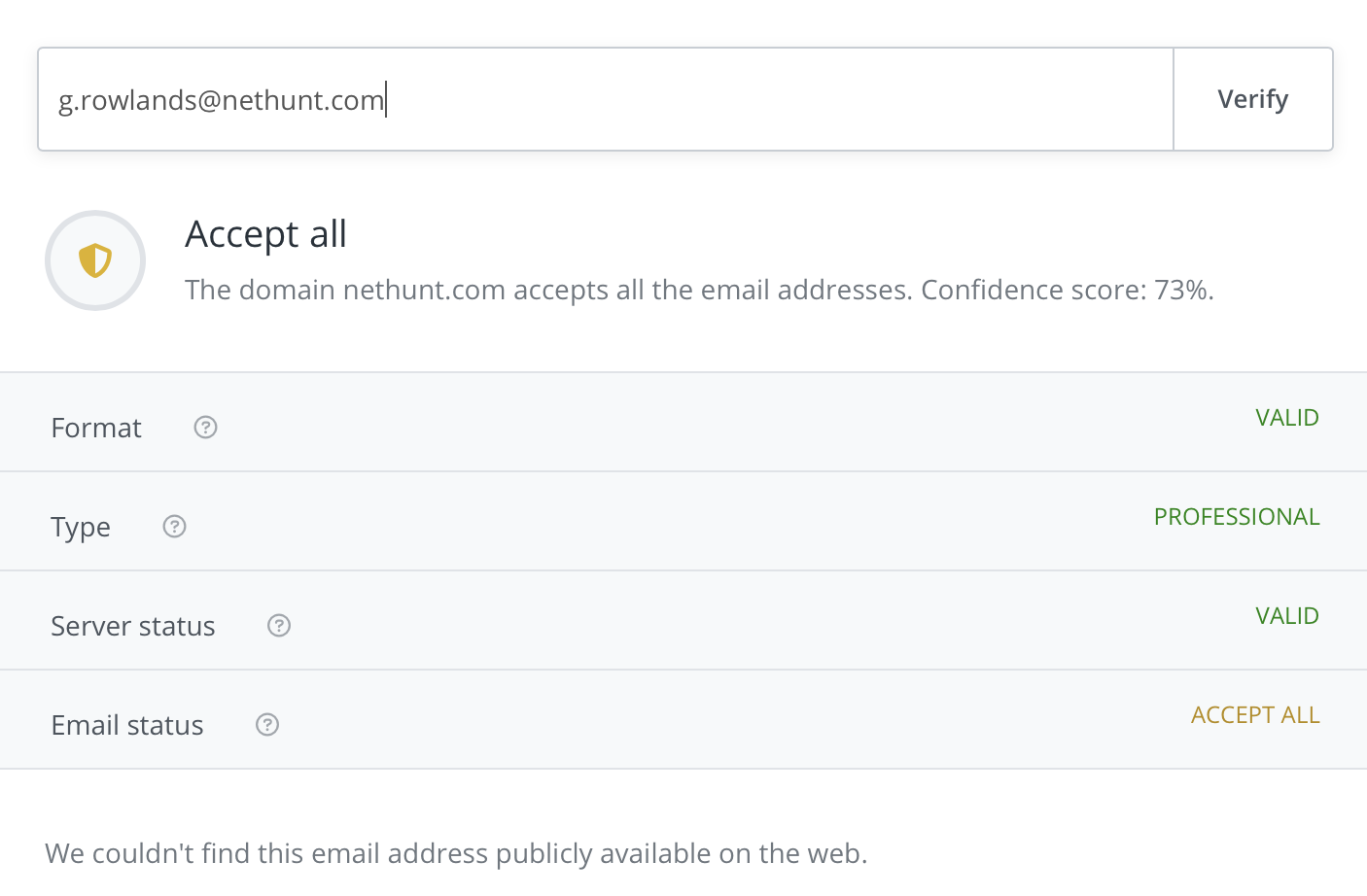 Hit the link and type in the email address you'd like to verify. You'll find out whether that specific email address is valid, what confidence rating the domain holds, the validity of its format, the type of address it is, and the server status. Nice!
Export your data as a CSV file
Exporting your data as a CSV file is the safest, most straightforward way of bringing data out of your spreadsheet database and into your shiny new CRM platform.
It's easy. If Google Sheets is your chosen spreadsheet operator, you'll export your data like this…
Hit File in the top right-hand corner
Hover over the Download option and wait for the dropdown list to appear
Choose Comma Separated Values (.csv)
If Microsoft Excel is your chosen spreadsheet operator, you'll export your data like this…
Hit File in the top right-hand corner of Excel
Choose Save as and then click Browse
Choose the dropdown menu Save as type and find CSV (Comma delimited)
Choose where you want to save it and hit Save
Done right, you've just successfully exported data from a spreadsheet database. Don't get rid of it, though.
A spreadsheet database can be a good backup while your CRM platform is under construction.
5. Import your data to CRM
Importing your CSV file before creating a new folder home for that data is easy in NetHunt CRM. Hold tight; we're nearly there.
Head to your NetHunt CRM workspace in Gmail
Click on the NetHunt logo icon and select the Import data button.
Choose CSV from the Import data menu
Drag and drop the CSV file you've saved into the Upload window
Choose the CRM folder where you want your data to live or create a new one. By selecting an existing folder, you'll receive the option of checking for existing duplicates in your CRM folder once the CSV data has been uploaded
It's time to map your CRM fields. Your CSV data will appear as two columns, with the third column representing their field name in NetHunt CRM. Select which NetHunt CRM fields you'd like to use to hold each column of CSV data
Hit Import
When you import data, you might have CSV fields incompatible with CRM fields. For example, you might have the wrong format of date. NetHunt CRM offers to show and fix mismatched data
Here's an article on how to keep your customer data clean.
6. Integrate the rest of your tech stack
After successfully migrating the data into your new CRM, it's time to connect the other tools your team uses to the shiny new CRM system.
Enabling integrations with third-party apps that your business uses for sales, marketing and other business processes is essential for successful CRM implementation. So, you need to make sure you test all the integrations thoroughly. This can include integrations with…
Lead generation tools
Chat and website messaging tools
Internal communication
Analytics and data warehouses
Project management tools
Documentation tools
Zapier
If you want to find out which platforms NetHunt CRM integrates with, bringing your whole tech stack under one tab, hit the link!
Welcome to CRM, and welcome to your new way of working.
---
CRM fever is no joke. The sooner you implement CRM, the sooner the symptoms are relieved.
Table of Contents
Crack the sales formula with CRM Lab
Twice a month, receive actionable CRM content to your inbox.
Join the
Telegram channel NetHunt CRM
All about CRM and B2B sales.
Join