From sales to the C-suite — here's who'll benefit from using a CRM
It's a common myth that CRM systems, like NetHunt CRM, are only for sales teams. In this article, we're busting CRM myths. Let's look at how various teams within an organisation can harness the power of NetHunt CRM to streamline processes, improve efficiency, and drive growth.
From sales to customer support and even the C-Suite, we'll cover it all.
NetHunt CRM for sales teams
The sales team is the engine that keeps the company moving forward. It's the main revenue-generation team across most businesses. NetHunt CRM can help organise the sales team's workload, making the sales process more effective.
Additionally, it allows your sales teams to enrich their data from various channels.
Features for sales teams
NetHunt CRM offers a shared database for all team members. It allows everybody to easily access all the important details next to a conversation with a prospect or lead. This ensures essential information is always up-to-date and available when you need it most.
Additionally, you can enrich the data in your database from various sources, such as LinkedIn. NetHunt CRM's LinkedIn integration scrapes data, directly from your prospect's profile, into your CRM database.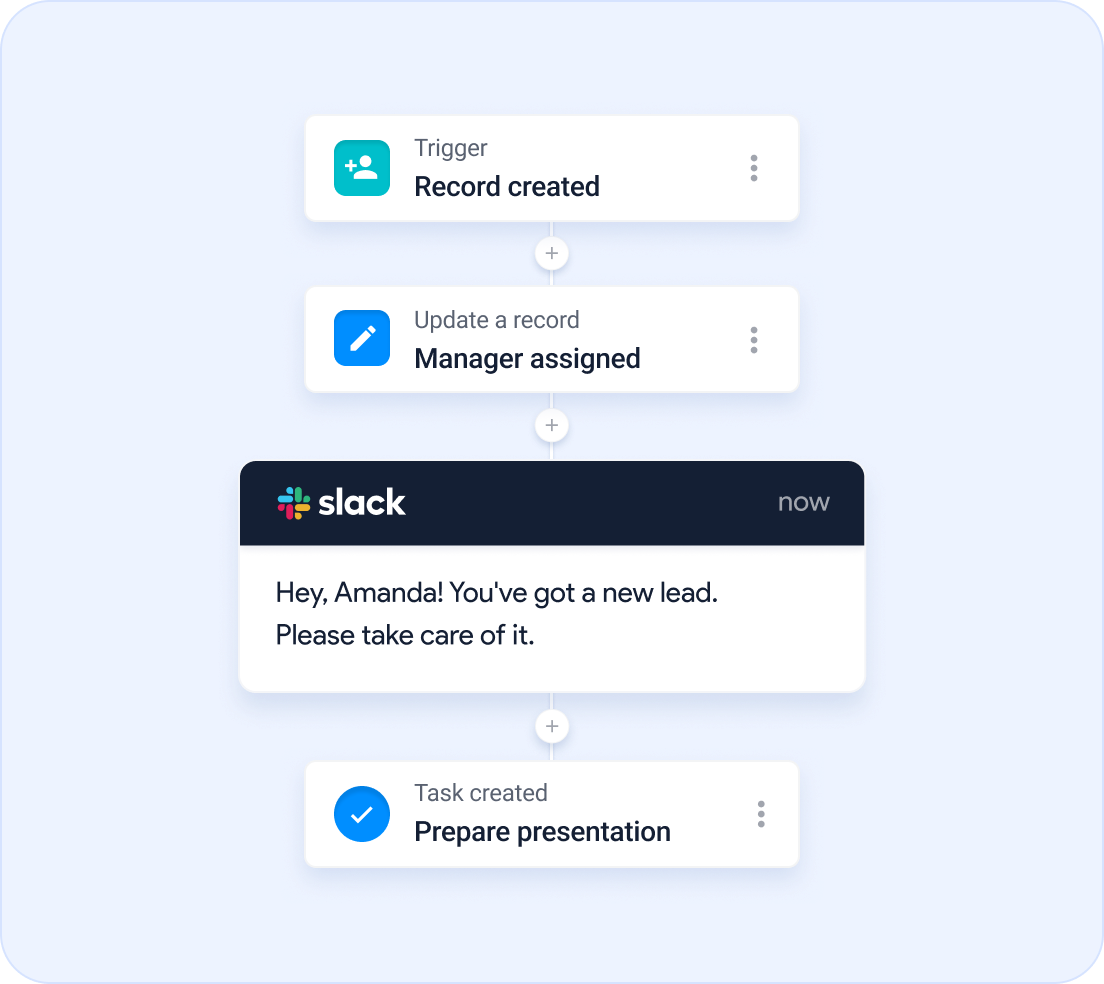 If you communicate with clients through messengers, worry not. NetHunt CRM is completely omnichannel. It offers integrations with popular messenger apps WhatsApp and Facebook Messenger.
NetHunt CRM is also as easy to use as your inbox.
Nethunt CRM's Gmail integration places the full power of a robust CRM system right in the middle of the tool salespeople use the most — their email inbox.
NetHunt CRM is natively integrated with Google Workspace. It lets you schedule, update, or edit calendar events with your contacts right in your Gmail. This integration makes NetHunt CRM one of the best CRMs for sales teams that use Google Workspace as their main work environment.
Did you know your salespeople only spend about 34% of their time actually selling?
Imagine how much larger that number could be if salespeople weren't overwhelmed with routine tasks.
NetHunt CRM is the shortest path to that goal. Due to its robust automation functionality, more routine tasks can be automated. Automating these tasks lets sales teams spend more time on revenue-generating activities; calls with the customers, demos, and negotiations.
The following tasks can be automated by NetHunt CRM:
Lead nurturing
Cold outreach
Follow-ups
Moving a prospect from one stage to another
… And more
NetHunt CRM also offers reminders and daily summary emails to keep you on track. These features are designed to make your sales process more effective.
"Our previous system missed two critical features - workflows to automate our processes and organise prioritisation of tasks, as well as a visually-appealing reporting system to share stats with our clients. NetHunt CRM was a game-changer for us."

Jeoffrey Burton, Performance Manager at Recom
NetHunt CRM also offers integration with LinkedIn, providing an additional channel for sales teams to connect with potential clients and partners. The LinkedIn integration contacts directly from LinkedIn and into your CRM database. Once added to the database, their customer card is enriched with their social media posts, status updates, and any job position changes.
NetHunt CRM also has customisable formula fields.
What are formula fields?
Well, they allow you to automate all sorts of calculations, including sales forecasts and commission calculations. As you can imagine, automating all these calculations helps sales teams better plan and strategise for the future.
NetHunt CRM for marketing teams
Marketing teams are the backbone of any company's growth strategy. They are responsible for attracting new customers and nurturing existing relationships. NetHunt CRM offers a suite of features tailored for marketing professionals, ensuring that your next campaign is well-executed and data-driven.
Features for marketing teams
NetHunt CRM ensures your marketing communications are always relevant, increasing engagement and conversion rates with the help of lead segmentation. Use customisable tags; send targeted and personalised emails by using information from the customer card via macros.
Epom, an ad-tech company, for one, have increased their amount of MQLs by 45% thanks to NetHunt CRM.
With NetHunt's robust email marketing capabilities, you can also send bulk emails, that are both personalised and automated, right from your email inbox! This feature is particularly useful for the following:
Newsletters
Promotional offers
Follow-up emails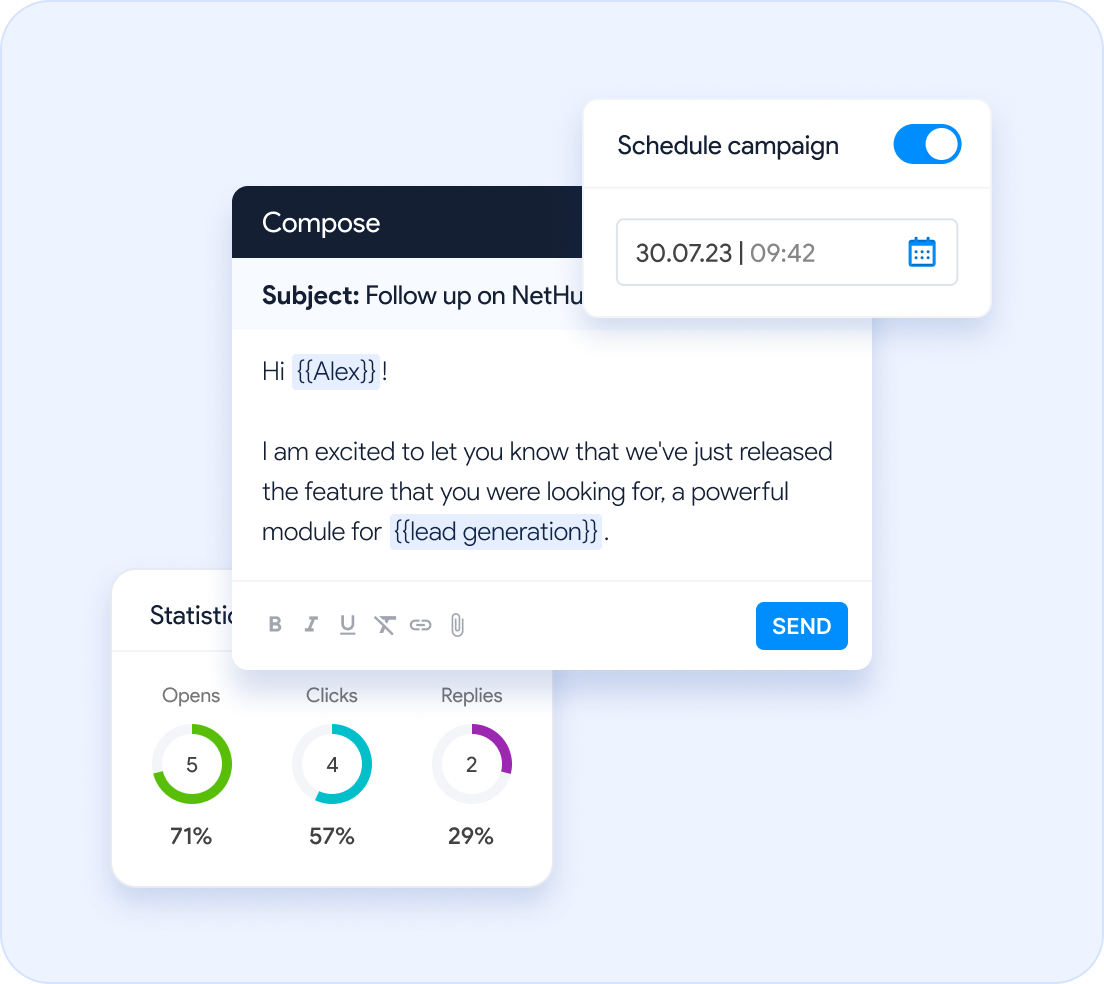 "NetHunt is our go-to tool for email campaigns. It allows us to track performance and segment records effectively. It's also handy for outreach activities, as each email campaign has statistics, such as opens, clicks, unsubscribes, bounces, and replies."

Kate Novatska, Head of Content at Epom
Making sure solid data backs up your decisions is important, to say the least. Without the right data, your decisions become as good as guesswork. NetHunt CRM's robust reporting capabilities turn a sea of data into a puddle of actionable, concentrated insights. As a result, your marketing team can make informed decisions.
NetHunt CRM can also generate reports to be used by marketing teams, such as:
Lead source performance report: Understand where leads come from to allocate resources more efficiently.
Email campaign analytics: Track essential metrics to gauge the success of email marketing campaigns.
Marketing campaign pipeline report: Monitor the progress of individual marketing campaigns for optimisation.
Newsletter subscriber growth: Keep tabs on the growth and engagement of newsletter subscriber lists.
Whether it's managing press releases, or coordinating with influencers, NetHunt CRM keeps all your PR activities organised and easily accessible. How?
Timeline feed: NetHunt CRM's timeline function allows your PR team to always stay on top of their interactions with media outlets. Collecting the entire history of communications, such as call logs, messages, emails, and documents in one place.
Automated workflows: Automated workflows can be set out for when your PR team needs to reach out to multiple different media sources, allowing them to communicate a personalised message to multiple potential partners at once. Additionally, workflows could include follow-ups and automatic status updates, further reducing workload.
LinkedIn integration: NetHunt CRM's LinkedIn integration allows your PR team to see a prospect's posting history right from the customer card. No more refreshing LinkedIn to see if that one influencer has finally posted their post. You just need to open the customer card, and that prospect's recent activity is displayed in the timeline.
NetHunt CRM for customer support teams
Customer support teams are your brand's ambassadors, as your clients' primary point of contact. In a world where customer service expectations continually rise, NetHunt CRM steps in and offers a comprehensive solution to elevate your customer support to new heights.
NetHunt CRM features for customer support teams
Providing your customers with a seamless service experience is crucial. It requires an omnichannel communication approach. This approach allows your customers to contact you through multiple channels.
The most commonly used channels for omnichannel communication are:
NetHunt CRM is designed with omnichannel communication in mind. It allows your customer support team to manage all customer interactions in one centralised workspace. No matter where the conversation starts, it's managed and documented.
NetHunt CRM offers robust integrations with popular tools your customer support team might already use, such as:
"From the first day of testing NetHunt CRM, we loved how customisable it was. Workflows help managers keep track of their tasks and deadlines, ensuring nothing falls through the cracks."

Kyrylo Aleksieienko, Business Analyst at Haski Management
NetHunt CRM's automation features allow you to customise workflows for routine processes like satisfaction surveys and follow-up emails. This frees up your customer support team time, allowing them to focus on helping customers, and less time on administrative drag.
Having a consolidated view of customer interactions is also an important piece in the "stellar service" puzzle. NetHunt CRM's timeline next to each customer card contains the entire history of customer communications, such as:
Emails
Documents
Call logs
Messenger chat logs
Intercom chats
This means customer support teams always have business intelligence on hand, simplifying the thinking process required to come up with a proper solution to customer requests and issues.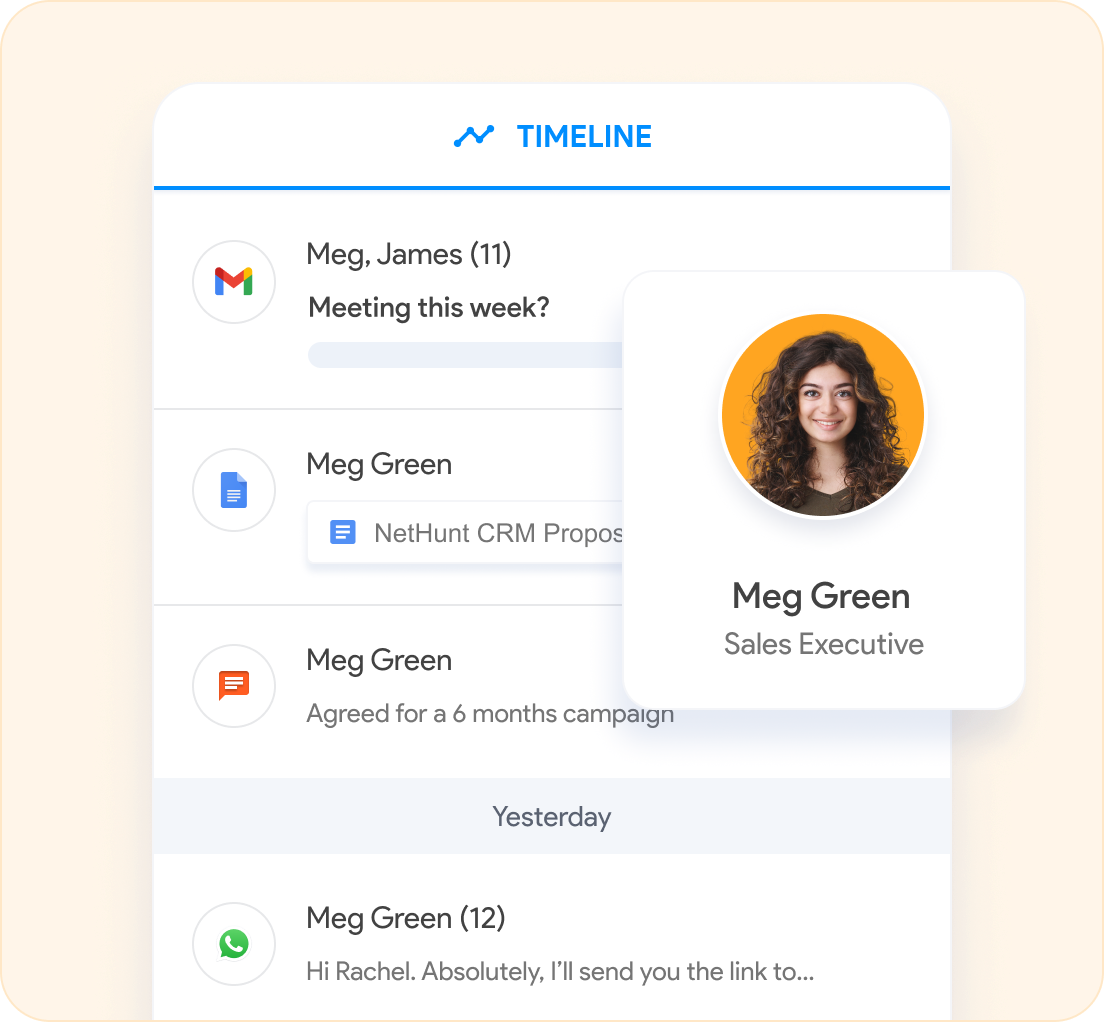 Missed tickets can lead to dissatisfaction and negative reviews. This means that a system to track incoming tickets needs to be put in place, leaving no space for human error. NetHunt CRM's automated notification creation ensures that every customer interaction is attended to in due time. This is a win-win, keeping your team accountable and your customers happy.
NetHunt CRM for the C-Suite
Yes, you read that right. NetHunt CRM is more than just a tool that aids sales and marketing processes. It's also an important addition to any manager's, business owner's, or stakeholder's arsenal of tools, intended to keep a finger on the pulse of your business's processes.
It's also important to strategise for the future and learn from mistakes committed in the past.
In short — CRM is your friend when it comes to building a flourishing company.
NetHunt CRM features for executive teams
The primary, and most obvious way to keep track of your business processes is through reporting. For maximum impact, reports need to be consolidated, reliable, and up-to-date.
NetHunt CRM's reports showcase employee activity, and performance, as well as help you keep a pulse on meeting your sales targets.
"As a business owner, I can now see a better picture of my customers from the start to the end of their journey. When I look into it, I can see exactly which part of the journey they are currently in, and the communications my team has with them."

Scott Ng, Director & Co-founder at OneThreeOneFour
Building a great and successful business requires you to think a step ahead of the curve.
A great example of this comes from Abenteuerreisen, a company specialising in mountain bike tours and trail running holidays. The company uses NetHunt CRM for lead and pipeline management. Abenteuerreisen used Nethunt CRM to automate follow-ups, freeing up time to strategise their next steps.
This shows CRM is an essential tool for forecasting and planning.
"NetHunt CRM gives me peace of mind. When somebody is interested in a trip, a calendar entry is created to remind the back-office team to follow up this prospect in 30 days."

Martin Bissig, Co-Founder at Abenteuerreisen
One of the key benefits of NetHunt CRM is its ability to improve team efficiency.
For example, Abenteuerreisen found that NetHunt CRM's extensive lead and pipeline management features took the heavy lifting off their shoulders, allowing them to focus on their core business activities.
Both OneThreeOneFour and Abenteuerreisen benefit massively from NetHunt CRM. The custom sales pipelines and lead management features have enabled them both to make more data-driven decisions. The effectiveness of business activities improves ten-fold.
"For the photography business, NetHunt is a time saver. Before, I had to compose hundreds of individual emails; now I can do it in a few clicks."

Scott Ng, Director & Co-founder at OneThreeOneFour
I run a small business. Do I need a CRM?
You might be wondering whether a CRM system is just for the big players in the industry.
Let's set the record straight: NetHunt CRM is as much for small businesses as it is for large enterprises. The system comes as a life-saver due to its ability to centralise your processes, as well as providing a full history of customer communications
These factors play a vital part in providing stellar service to customers, securing more deals as a result. A few more reasons NetHunt CRM is the perfect choice for small businesses:
Easy-to-use interface doesn't require a tech wizard to set up
A high-powered feature suite at a pleasant price
Centralised data storage makes it a breeze to find what you need, when you need it
But let's not stop at mere organisation. NetHunt CRM goes the extra mile in offering insights that help you understand your customer base better. This makes it a strategic asset that aligns your sales and marketing efforts, making your processes more effective and your strategies more impactful.
If you're a small business owner still on the fence about investing in a CRM, consider this your nudge in the right direction. NetHunt CRM is the perfect solution for your growth and scaling needs!
FAQs
Which teams can use NetHunt CRM in Gmail?
NetHunt CRM is natively integrated with Gmail, with the full functionality of the CRM system being available right from your inbox. Since all the teams in a business use their email, and every team has some form of value a CRM brings to them, every team can and should use NetHunt CRM as a Gmail CRM.
What companies can benefit from a CRM?
No matter the company size, every business can benefit from implementing a CRM system. After all, why not organise your database, automate your least favourite tasks, improve your sales, and bring many more benefits to your business?
Can I use Microsoft Teams as a CRM?
No. Microsoft Teams, although a powerful and robust collaboration system, is not a CRM system, and was not designed with CRM system capabilities in mind. Using Microsoft Teams underperforms against even the most basic spreadsheet CRM.
Bottom line
Now you see it, a CRM isn't just a one-trick pony for sales teams.
It's a versatile tool that can bring value to every corner of your organisation. Whether you're a small business owner, on the fence about investing in a CRM, or part of a larger enterprise looking to optimise your processes, NetHunt CRM has something to offer for your entire organisation.
Table of Contents
Crack the sales formula with CRM Lab
Twice a month, receive actionable CRM content to your inbox.
Join the
Telegram channel NetHunt CRM
All about CRM and B2B sales.
Join