Networking pays. Social media conquered the internet, bringing the ability to network right to our fingertips. LinkedIn is a social network built specifically for professionals, and LinkedIn CRM integrations make networking even easier.
If you're not using LinkedIn already, maybe you should be. There are more than 706 million LinkedIn users in over 200 countries and at least 47% of those users are active. As the professional social networking site, it is the place to develop leads. Studies have found that it can be 227% more effective at generating leads than Facebook and Twitter.
It's a goldmine for lead prospectors, but trudging through over 706 million profiles to find someone who might buy your product or service doesn't sound very efficient… or possible.
Enter: LinkedIn integration tools for your CRM system.
---
What is a LinkedIn integration for CRM?
CRM integrations for LinkedIn pull all of the juicy data that is in the public domain like job titles, links to contact profiles, company names, and website addresses and send it directly to your existing CRM system at the click of a button. This data is then available to be used to develop leads, convert customers, and make money. Easy.
There are a bunch of benefits that come with LinkedIn CRM lead generation...
Automated lead generation and capture offers clean data.
The days of copy-pasting names, email addresses, and other data into your CRM as lead generation are over. LinkedIn is the social media network to generate lea. A LinkedIn extension for your CRM means you can glean all the publicly available data and tucks it into individual client records in CRM. Nothing gets missed; as long as the information is correct on your new lead's part, it's correct in your system.
Better reporting opportunities for LinkedIn lead generation strategy.
Making a combination of trial-and-error and good business sense, LinkedIn shouldn't be your only source of lead generation. Any business in any industry should generate leads from different places and know which works best for them. Modern CRM systems offer reporting opportunities for this kind of thng. Generate and visualise lead generation data at the click of a button - make good business sense out of it going forward.
It's ridiculously quick.
LinkedIn lead generation is quicker than you can say 'what's the best LinkedIn CRM integration?'; quicker than you could say 'how to generate leads on LinkedIn'. Heck, it's quicker than you can say 'LinkedIn lead generation'. Head to LinkedIn, find a suitable lead, and at the click of a magic button on their profile, they're in your dashboard and on your pipeline. Your next task is to nurture them through drip campaigns - also easy BTW.
A full social breakdown offers better characterisation of leads.
Like Facebook, Instagram, or wherever else you post your holiday snaps, LinkedIn is a social network. The difference is that it's a social network for professionals - people upload their achievements, insights, and other professional bits and bobs. As a lead generator and nurturer, this gives you a huge advantage. You can segment clients and personalise outreach based on what you know about them. Telling someone you like their post is a great icebreaker.
LinkedIn is the best internet platform to generate leads.
I'll say it again for those that couldn't hear me at the back - LinkedIn is the best platform to generate leads. B2B businesses are especially at an advantage, with LinkedIn being a platform where users expect to be reached out to. Users go there to gather business insights and build business connections to further themselves; they upload business profiles where you can figure out exactly where and how your product fits into their stack.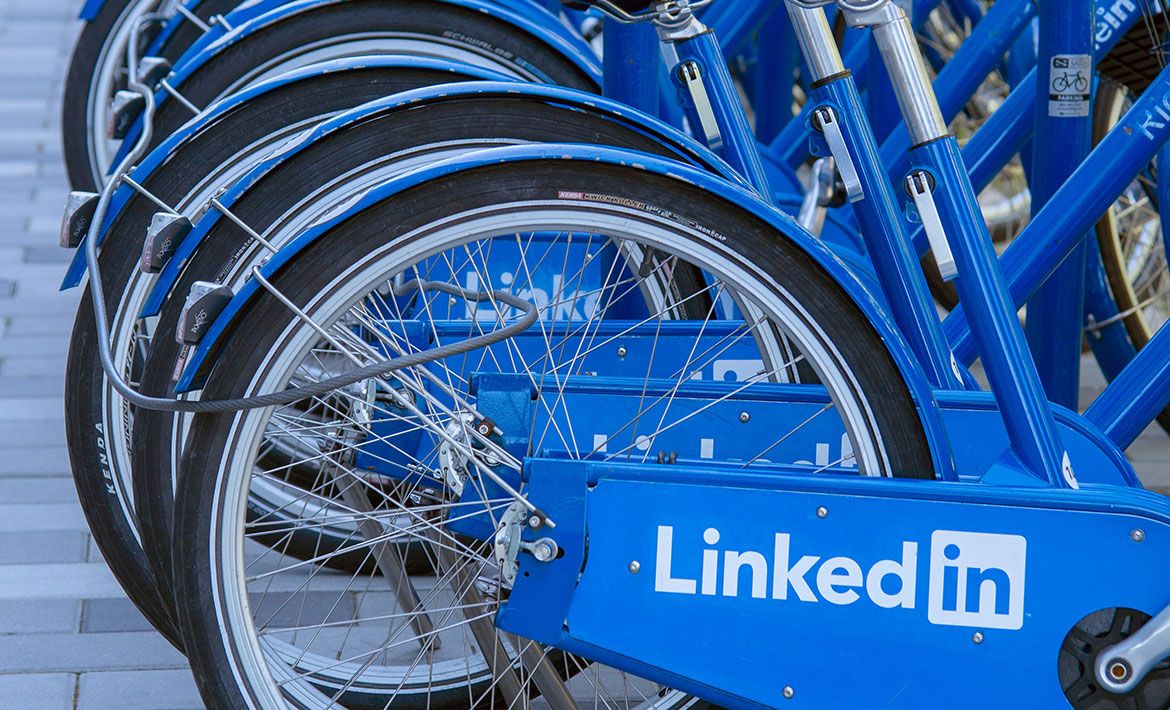 It just works, okay?
The best CRM tools for LinkedIn.
CRM is a huge industry, growing huger. It's the fastest-growing SaaS industry, expected to hit $80 billion by 2025. That means there are a lot of different CRM platforms you can choose from - whether you're looking for something more industry-specific or you're a small business in need of a small CRM - there's something out there for you.
You're spoilt for choice. But if you're anything like me, choice isn't always good. Indecisiveness, sleepless nights, and buyers' remorse are no fun. Let's make choice simple - we've put together just three of the best CRM platforms with LinkedIn integrations.
This next section goes out to all our indecisive lead generators out there…
NetHunt CRM for LinkedIn.
Organise. Automate. Grow.
NetHunt CRM is a fully integrated Gmail CRM. That means it's not just some lousy sidebar integration, with a couple of buttons at the side of your Gmail inbox. Everything happens inside Gmail, as part of Gmail; the whole lead prospecting, generation, nurturing, and conversion journey, up there in the clouds - isn't that nice?
Free trial
Gmail CRM
Email features
Pipelines
Native integrations
Sales automation
Reporting
Mobile
Web forms
Drip campaigns
Automated alerts
Email tracking
Our email features include audience segmentation, bulk emailing, mail merge, and triggered or timed drip campaigns to perfect and personalise outreach. Our pipelines are sexy, and you can have multiple of them if you like. You can bend and flex our system to whichever way you please, and if you can't, then our support team is there to help you do it.
Did we mention sales automation?
Workflows by NetHunt CRM takes the hard work out of working hard. No complicated integrations and no coding experience required whatsoever. NetHunt offers sales automation as a flexible tool that can be bent to fit just about any sales workflow. Nurture leads with automated drip campaigns and bulk emails—set reminders for sales teams to follow up. No leads fall through the cracks.
NetHunt CRM's lead generation features.
When it comes to lead generation, NetHunt's got you covered. We've got the LinkedIn integration, giving you a lead generation button at the top of each LinkedIn profile you visit. When you have added a profile to your CRM, you'll see full context on the right-hand sidebar next time you visit their profile. NetHunt's LinkedIn integration is surprisingly simple.
We've got other integrations, too. Intercom for NetHunt collects all your incoming Intercom chats and pops them into client records; Facebook Messenger for NetHunt does the same. We've got web forms for inbound leads to fill out their data, and we've got excellent email features such as email tracking for your outreach campaigns.
💰 NetHunt offers a 14-day free trial.
💰 NetHunt prices start at $24 per user per month.
How does it work?
Connecting CRM to LinkedIn is easy. As an existing NetHunt customer, all you need to do is head to the Chrome Webstore and download the NetHunt x LinkedIn Chrome extension. Afterwards, install the extension on your Chrome browser and make sure you're signed in to your NetHunt workspace. You can use it with both LinkedIn Basic and Sales Navigator. If you're not a NetHunt customer… well, have a word with our Customer Success Team and get that sorted out, will you?

HubSpot CRM for LinkedIn.
Sales. Established. Support.
HubSpot CRM is forever free for unlimited users and up to one million contacts on a basic level. The HubSpot CRM is built for smaller teams, but as that team grows, they may want to pay for access to HubSpot's other features that offer further opportunities for growth. Surely HubSpot can't be free forever - they've got a business to run! We've got a sneaky suspicion that free HubSpot is designed to offer a taste of their meatier Sales, Marketing, and Service Hubs.
Free version
Gmail sidebar
Email features
Pipelines
Quote management
Scheduling
Live chat builder
Mobile
Reporting
Call tracking
AI insights
Doc management
Alas, to access the HubSpot x LinkedIn integration, you must subscribe at least to the Sales or Service Hubs of HubSpot on the 'Professional' plan of either. You'll also need a LinkedIn Sales Navigator subscription for the integration to work.
HubSpot CRM isn't a fully-fledged Gmail CRM, but it does offer a Chrome extension. The sales package includes deal and client tracking, automatic scheduling, chatbot builders, essential email tools, third-party and Zapier integrations, and call features such as tracking and intelligence.
HubSpot's LinkedIn integration features.
HubSpot is a LinkedIn Sales Navigator CRM integration, allowing users to scrape LinkedIn user information at the click of a button. After that, all that information is incorporated within their HubSpot CRM system. What's more, a widget appears to the side of the LinkedIn profile of any scraped user, giving a brief lowdown contact history and their latest news.
HubSpot presents recommended leads and connections right within the CRM itself. You can send InMails directly from the 'hub' and see news from companies you are connected with. The 'Icebreaker' feature is integrated into the hub. This allows you to view connections, interests, and experiences you share with someone, giving a clearer picture of how to present your company in opening exchanges.
💰 HubSpot CRM offers a free version, but the LinkedIn integration isn't included.
💰 HubSpot Sales Hub 'Professional' prices start at $450 per month.
Zoho CRM for LinkedIn.
Old-timer. Functional. Performance.
It feels like Zoho CRM has been around for ages… because it has. Since 1996, they've been developing a CRM to make your sales and marketing life more manageable. If you're a small business starting, Zoho CRM appeals as a free Gmail CRM. The free version is capped at three users.
Free version
Omnichannel support
Email features
File sharing
Workflows
Cloud storage
Shared calendars
Team chat
Forecasting
Smart assistant
Data alerts
Spreadsheet interface
Sure Zoho has got the basics on lock - organise your contact database, hit them with targeted campaigns, work your way up to a sales push and then deal with the post-sale process when they've converted. But, what we like the most about Zoho's business potential is how good it is as a project planning tool for small businesses.
Zoho CRM centralises project planning. Zoho's project planning potential is enabled through file sharing, better collaboration through feeds, chats, notes, and 1GB of shared storage. All information is updated in real-time, so no team member is left behind. The system also features shared calendar booking and synchronisation.
Zoho's LinkedIn integration features.
Within Zoho's CRM system, there is a good spread of features and possible integrations, and LinkedIn is one of them. This integration needs to be downloaded, for free, from the Zoho Marketplace. Similarly to HubSpot, Zoho's integration scrapes all of its data from LinkedIn's Sales Navigator. Again, you need at least the "Team" licence for Sales Navigator.
With this integration, you gain access to a connection's total LinkedIn activity like updates, roles, news, and associated company information within the Zoho CRM system. Store recent activity within that system as icebreakers for the next time you reach out to them. Have lead recommendations based on your current Zoho database and use TeamLink to see if your team are connected to a prospect.
💰 Zoho CRM offers a 15-day free trial.
💰 Zoho CRM prices start at $14 per user per month.
---
LinkedIn and CRM? A match made in heaven. You'd be daft not to organise, automate, and grow your business with a LinkedIn lead generation strategy built upon a solid CRM system.
Get growing!
Become a sales expert with the NetHunt blog
Twice a month, receive handpicked sales and marketing insights into your inbox
Don't forget to share this post with friends and colleagues!