It's time to elevate your LinkedIn game. Here's all about LinkedIn CRM integrations.
In the realm of lead generation, LinkedIn stands tall as a formidable force. But what if we told you there's a way to elevate your LinkedIn prowess even further? Enter the world of LinkedIn CRM integrations tailored specifically for efficient LinkedIn sales.
In this enlightening article, we invite you to explore the convergence of LinkedIn and Customer Relationship Management (CRM) systems, unveiling three cutting-edge CRM systems for LinkedIn that will propel your lead generation efforts to new heights.
Here's what you'll learn by the end of this guide to LinkedIn CRM software:
That's it, make yourself at home.
Let's get growing.
---
Is LinkedIn good for lead prospecting?
Yes. LinkedIn is a social platform built for professional networking. It facilitates sales teams to find their target audience precisely. There are two types of LinkedIn profile: Company profiles and personal profiles.
B2B businesses can gain a lot by finding out the company they're targeting; their needs, wants, and even an insight into their existing processes. Then, they can target specific decision-makers within that company via their personal profiles.
It's a place where professionals connect with like-minded professionals and organisations; a place where they store and make available all their professional data for sales teams and marketers to build better CRM profiles.
In company profiles you can find important information such as location, industry size, contact information, and content. Personal profiles display names, company names, job titles, locations, and even phone numbers and email addresses... if you're lucky.
If you can't find an email address, take advantage of LinkedIn's native email service. InMail is useful for reaching out to LinkedIn profiles that you're not yet connected with. InMail is a premium feature, and you'll receive a monthly allowance of InMail credits depending on which LinkedIn subscription plan you're on. Learn more about LinkedIn subscriptions.
Alas, if you were to choose just one lead generation channel, it should be LinkedIn.
What is a CRM integration for LinkedIn?
Different CRM integrations for LinkedIn do similar things in slightly different ways.
Generally, CRM integrations for LinkedIn pull all of the juicy data that is publicly available on LinkedIn profile like job titles, links to contact profiles, company names, and website addresses and send it directly to your existing CRM system at the click of a button.
This way, you can generate tons of leads by just a few clicks – CRM profiles will be automatically enriched with data about company or person. So, no manual data entry.
This data is then available to be used to develop leads, convert customers, and make money.
How to generate leads on LinkedIn with CRM (LinkedIn CRM lead generation)
The whole point in developing CRM integrations for LinkedIn is to make lead generation as easy as possible. And when I say easy, I mean in-a-single-click easy. Still, there's a lot of groundwork to be done before you can start generating leads.
Leads don't just come willy-nilly. It's not a question of asking Average Joe 'heyo wanna buy my stuff?' and him saying 'yah, totally'. It's a question of finding relevant people to target your product at; high-quality leads that are going to buy.
Complete your profile
A complete and up-to-date profile for your business is the first impression it makes with all those LinkedIn prospects. Make it coherent, alluringly professional, and shine the brightest light on your product or service. Don't be shy, paint a full picture of your business.
Include your company's URL, which industry it operates in, it's size, and any other information you can include.
In About, you have up to 2000 characters to describe what your company does best. The first 156 characters are especially important, because they appear on Google's preview of your page. After that, you can add up to 20 company specialities. You should use them all.
Company specialities are the dragnet that helps your business get found in LinkedIn searches, so make your net as wide as possible. If you need any more help, check out the LinkedIn profile checklist!
Find leads on LinkedIn
With over 675 million users in more than 200 countries, LinkedIn is a goldmine for leads. The platform has evolved from a simple social network to an omnipotent tool for professionals and brands to drive business results, raise brand awareness, and educate potential customers about products and services. It also supports a plethora of third-party sales tools you might want to look into.
There is a heap of features where potential leads for your product or service hang out - you've just got to know where to look.
View who else is viewing
Find out who viewed your profile
Endorse
Check out lead recommendations
Utilise your own content
Utilise everybody else's content
Join groups
Give and get referrals
Search through advanced filters
Thibaut Souyris shares his tips on LinkedIn sales
Add LinkedIn leads to CRM
At this point, you need to add relevant leads to CRM system and work with those leads effectively. Segment them, reach out to them, and move them dowm the pipeline.
So, let's dive into the list of CRM systems that offer integration with LinkedIn.
3 CRM systems for LinkedIn
We've told you once, we'll tell you again; there are loads and loads and loads of CRM platforms. Choosing your next CRM provider is no easy task. Having got to the end of this article about CRM for LinkedIn lead generation, we can only assume you want to generate leads on LinkedIn.
We've put together a list of three different CRM options; different prices, different features, and different focuses. Read them, check them out, and choose your next CRM system.
---
NetHunt CRM for LinkedIn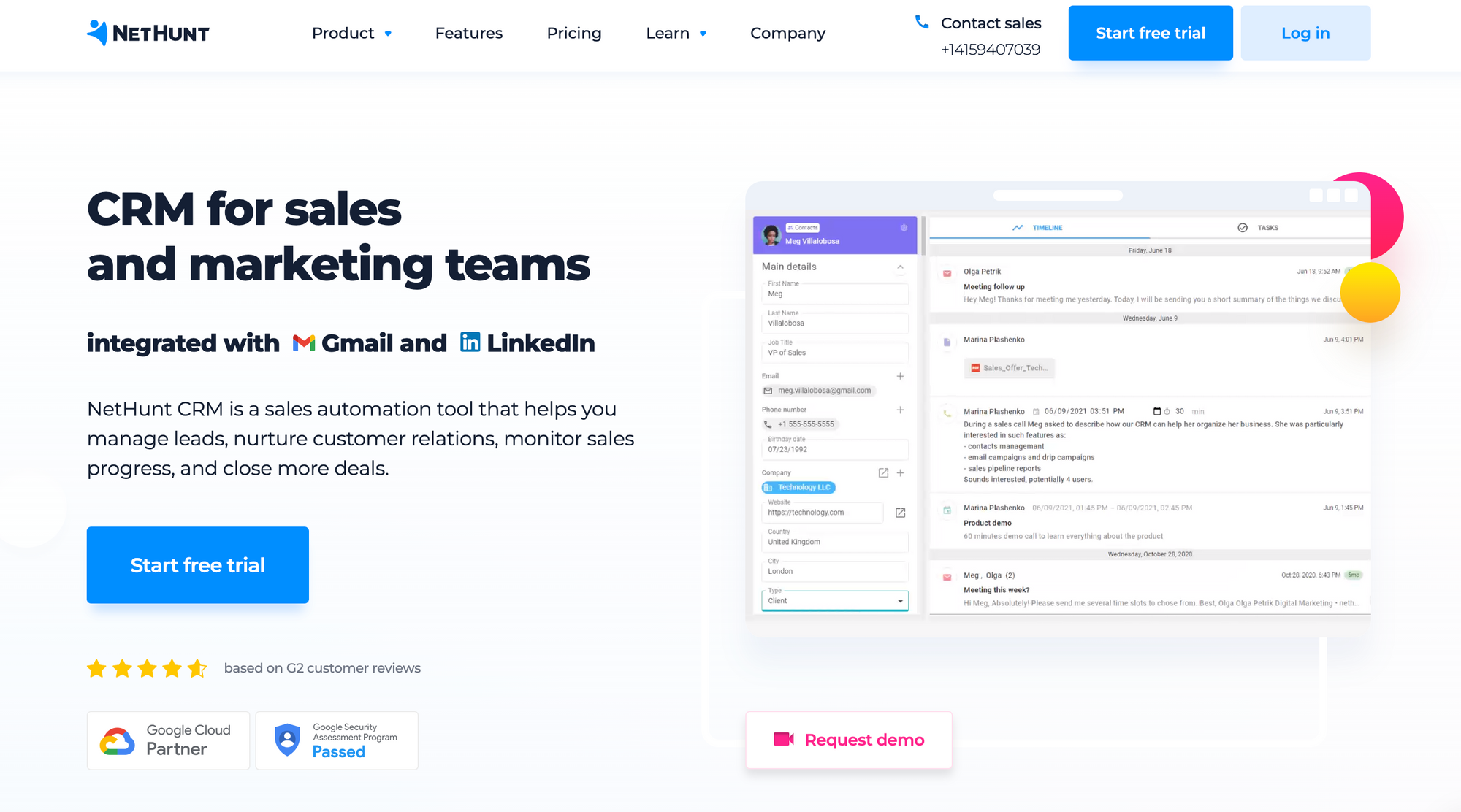 NetHunt CRM is natively integrated with LinkedIn offering a full LinkedIn lead generation feature. With NetHunt's integration with LinkedIn you can:
Add new Contacts and Companies from LinkedIn to CRM in a few clicks
Automatically have all the information from LinkedIn profile in a CRM record: first name, last name, job title, company, contact details, etc.
See on LinkedIn the profiles and companies that are already added to the CRM.
See on LinkedIn all the previous interactions and tasks related to person's profile and company (if they've been previously added to CRM).
Added profiles and companies will automatically have a Source in a CRM record (source: LinkedIn).
How to generate leads from LinkedIn with NetHunt CRM:
2️⃣ Download the NetHunt CRM for LinkedIn extension from the Google Chrome Web Store.
3️⃣ You'll notice a little NetHunt icon next to the LinkedIn profiles you visit. This is the magic button, one hit from which will scrape all of a LinkedIn connection's LinkedIn data into your NetHunt CRM workspace. Any data that's publicly available to you on LinkedIn will be kept tidily as a CRM record in NetHunt CRM with all the matching fields.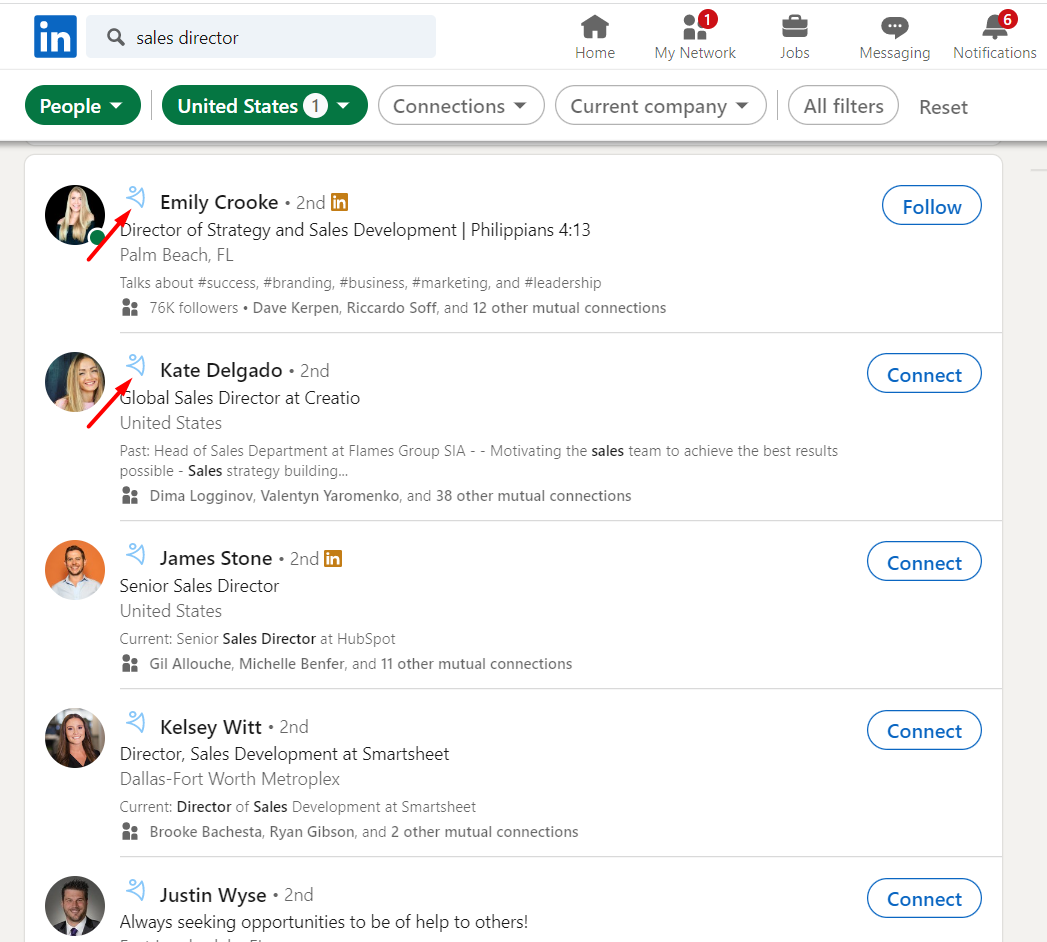 4️⃣ If a lead isn't already in your CRM system, the NetHunt icon will be white. If they're already there - it'll be blue.
5️⃣ You'll know a record has been created when their CRM context pops up on the right hand-side of the screen. There you'll find their CRM data as per the record, a timeline of events related to their CRM activity, and any relevant tasks that need to be completed in relation to their deal.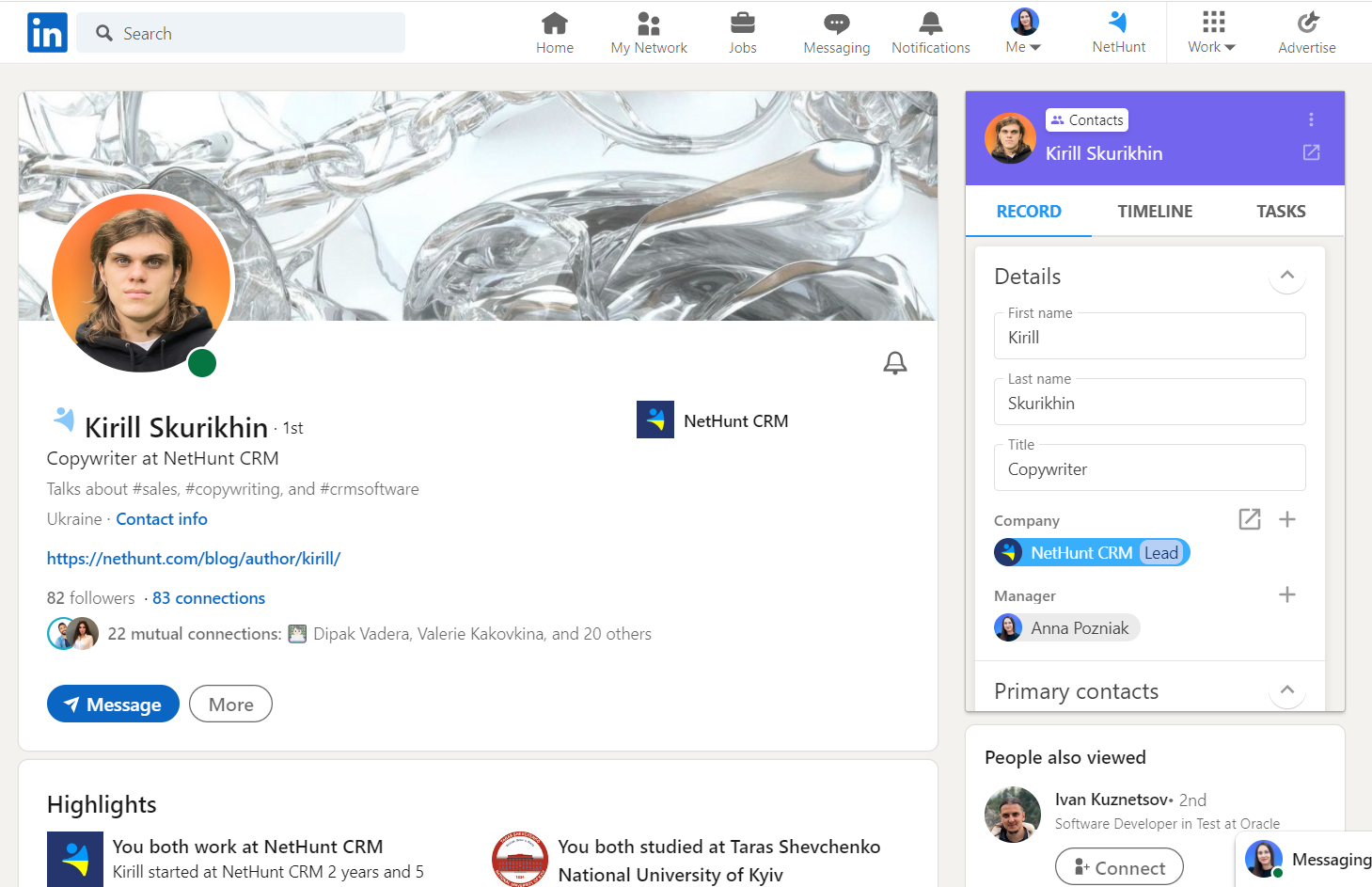 ✅ Et voila! Your LinkedIn lead is generated and captured in the LinkedIn CRM.
This is a full-scale CRM platform with useful LinkedIn functionality. Apart from LinkedIn features, NetHunt CRM offers:
Customer base organisation and segmentation.
Custom sales pipelines to see revenue stuck at every stage and block deals.
Individual emails with custom variables for personalised pitches.
Bulk email functionality: email templates, unlimited sends, mail merge, mail tracking.
Sales automation: from lead capture to sequences, tasks, and notifications.
Integrations with Messenger, Intercom, Google Data Studio, LinkedIn, and more
Reports, analytics, and sales forecasting
💰 NetHunt CRM features a 14-day free trial, pricing starts at $48/month.
Give NetHunt CRM, a LinkedIn CRM, a try!
If you're looking for a Sales Navigator CRM (LinkedIn Sales Navigator CRM integration), make sure to give the following video a watch:
---
Octopus CRM for LinkedIn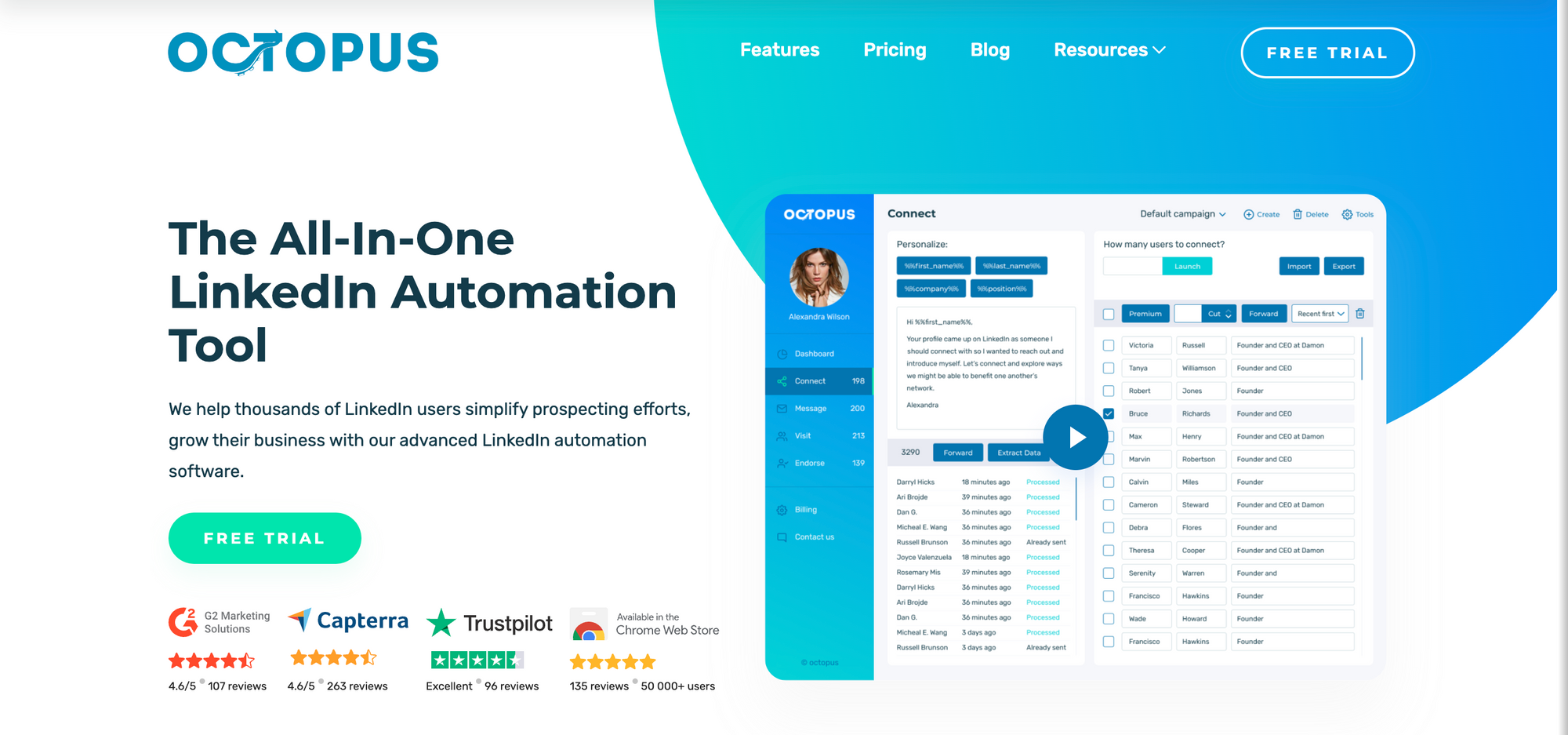 Octopus CRM is a dedicated LinkedIn automation CRM platform.
It helps marketers, business owners, and sales teams conduct lead prospecting, generation, and outreach on a large scale through LinkedIn. Octopus CRM users can reach hundreds of LinkedIn prospects in a day, sending automatic connection requests and messages to specific connections based on LinkedIn's native search function. Scrape CRM leads straight into a LinkedIn sales funnel.
This is LinkedIn for sales at scale.
Bulk connection requests
Bulk messaging between connections
Endorse skills automatically
Look at hundreds of LinkedIn profiles a day
LinkedIn sales funnel
💰 Octopus CRM features a seven day free trial, prices start at $6.99 thereafter.
---
HubSpot CRM for LinkedIn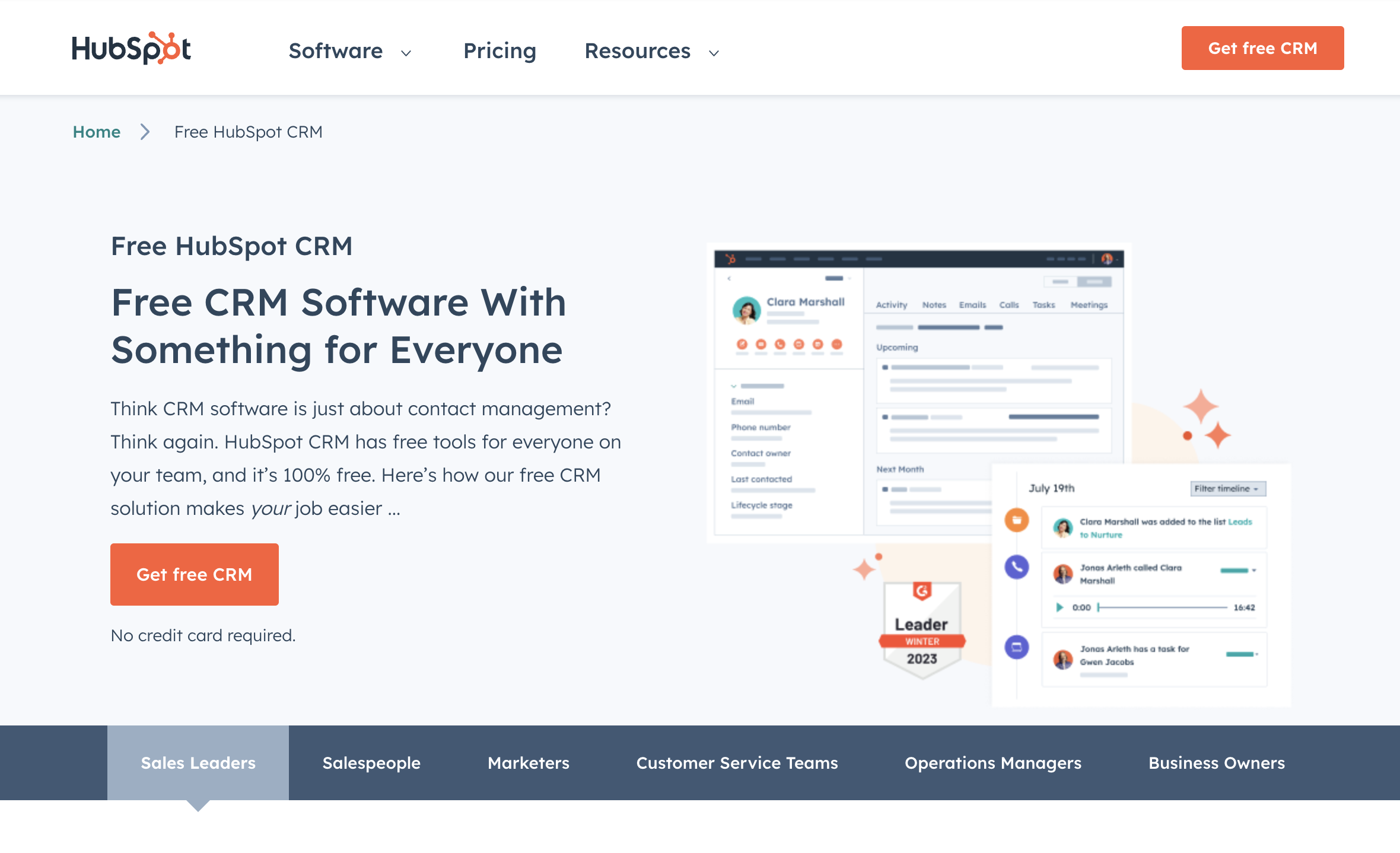 HubSpot CRM is a CRM platform with a LinkedIn integration.
HubSpot is a huge CRM provider. If you want to access their LinkedIn integration, your business needs to be subscribed to either HubSpot's Sales or Enterprise plans. You'll also need a LinkedIn Sales Navigator subscription. HubSpot CRM's LinkedIn integration can't currently import contacts, but you can view LinkedIn data and send InMail from HubSpot's hub.
HubSpot Sales Hub is a big CRM provider with a LinkedIn integration.
Full CRM functionality
Sales engagement tools
Quote and invoice functionality
Reporting, analytics, forecasting
LinkedIn integration
💰 HubSpot Sales Hub prices start at $45; LinkedIn Sales Navigator starts at $99.99
---
Let's be honest here, you need a CRM with a LinkedIn integration for your sales strategy to succeed and grow. Well… you're in luck.
We are a CRM with a LinkedIn integration for your sales strategy to succeed and grow.
You came, you read the article, now try NetHunt CRM for LinkedIn.
Or book a demo with our customer success team, they're gorgeous.
Table of Contents
Crack the sales formula with CRM Lab
Twice a month, receive actionable CRM content to your inbox.
Join the
Telegram channel NetHunt CRM
All about CRM and B2B sales.
Join