By 2025, CRM industry revenue is predicted to reach over $80 billion. It's the fastest-growing software market and it's safe to say, the world has gone CRM crazy.
Your competitors are two steps ahead; they've changed their business with a smart CRM investment. Problem is, you're here. Your Google search was likely 'What does CRM stand for?' or, perhaps, "What is CRM software?", and you're only just dipping your toes into the world of CRM. Each moment you don't know what CRM is, is another moment your competitor has to take one step ahead.
No worries pal, we've got you covered. We're CRM experts.
In this article, we're not only going to answer the question of what that three-letter abbreviation represents, but also explain who can use CRM, and how they can benefit from it. We'll elaborate on the different types of CRM solutions and discuss the key features of them.
All in all, by the time you're done reading this article, you'll know everything about what is a CRM.
Without further ado, let's get into it!
---
What is CRM?
A Customer Relationship Management (CRM) system is a piece of software that allows companies to manage their relationships with leads and existing customers. It's a repository for all a business's customer contacts and data, which gets used by the sales and marketing departments to speed up the sales process and land more deals.
Check out our complete guide on what a CRM is.
Who uses CRM?
Back in the days when business people viewed CRM software as a whim rather than a necessity, there was a belief that it was only good for sales managers. In those dark days, they thought CRM was a useless tool; a waste of time, effort and money. The truth is different.
The truth is that modern CRM systems are versatile software, capable of streamlining a bunch of different business processes and making the lives of numerous departments easier. Let's name a few critical teams that can use a CRM solution to their advantage…
When do we use CRM?
Loads of teams use CRM for loads of different tasks.
We generate leads with CRM
The more structured the lead generation process is, the better-quality leads in your database. Here are a few examples of how you can modernise and streamline lead generation with a reliable CRM solution in place…
New record creation from emails
Strike while the iron is hot. If someone drops you an email, it means they already know your company exists and can potentially be interested in buying your product. As a start-up business at the beginning of your journey, it's easy to manage and sort incoming emails. However, as soon as the inflow of emails increases, it becomes more challenging to take care of all the contacts you want in your database.
Gmail CRM helps to scrape lead data from an email in just one click.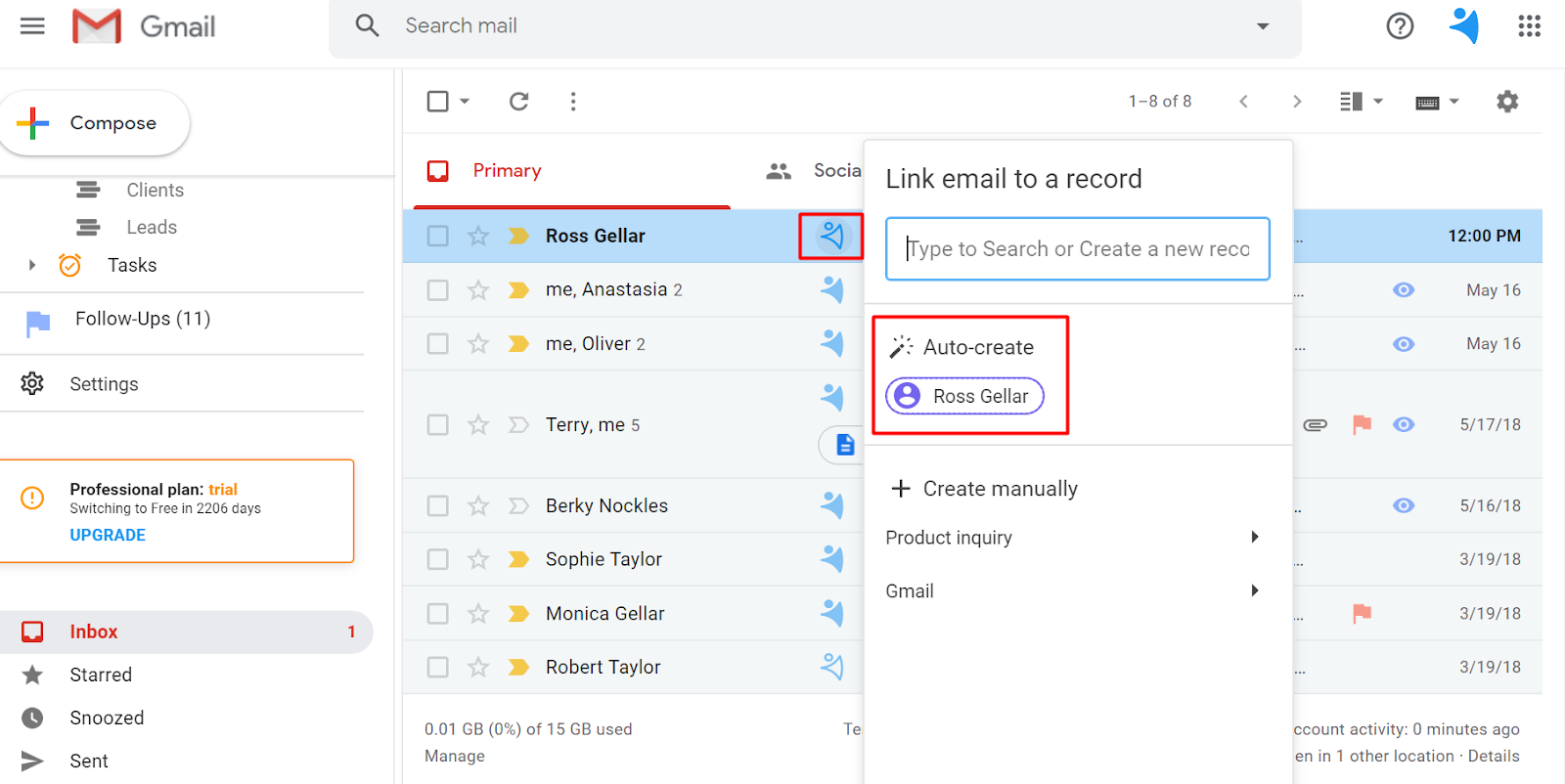 New record creation from web forms
Web form lead generation is a powerful strategy that allows you to enrich your database with high-quality leads. A CRM automates the process, improving the quality of the data gathered. Instead of manually copy-pasting the data from form submissions into your spreadsheet, you can simply configure your CRM to pull and centralise all the field data upon form completion.
New record creation from LinkedIn
Unless you've been living under a rock, you must know how effective LinkedIn is for B2B lead generation. It has native functionality for successful prospecting, allowing salespeople to generate high-quality leads who are likely to convert as paying customers. The only thing that LinkedIn lacks is import automation to your customer database for newly acquired leads.
A couple of LinkedIn leads per day is fine; it's easy to copy and paste all their details into the CRM. It gets a whole lot more difficult with a couple of hundred leads per day. Invest in a CRM that offers integrations that can automate the process for you. NetHunt CRM features an integration with LinkedIn that allows you to add a contact - alongside all of their LinkedIn data - to your CRM in a couple of clicks.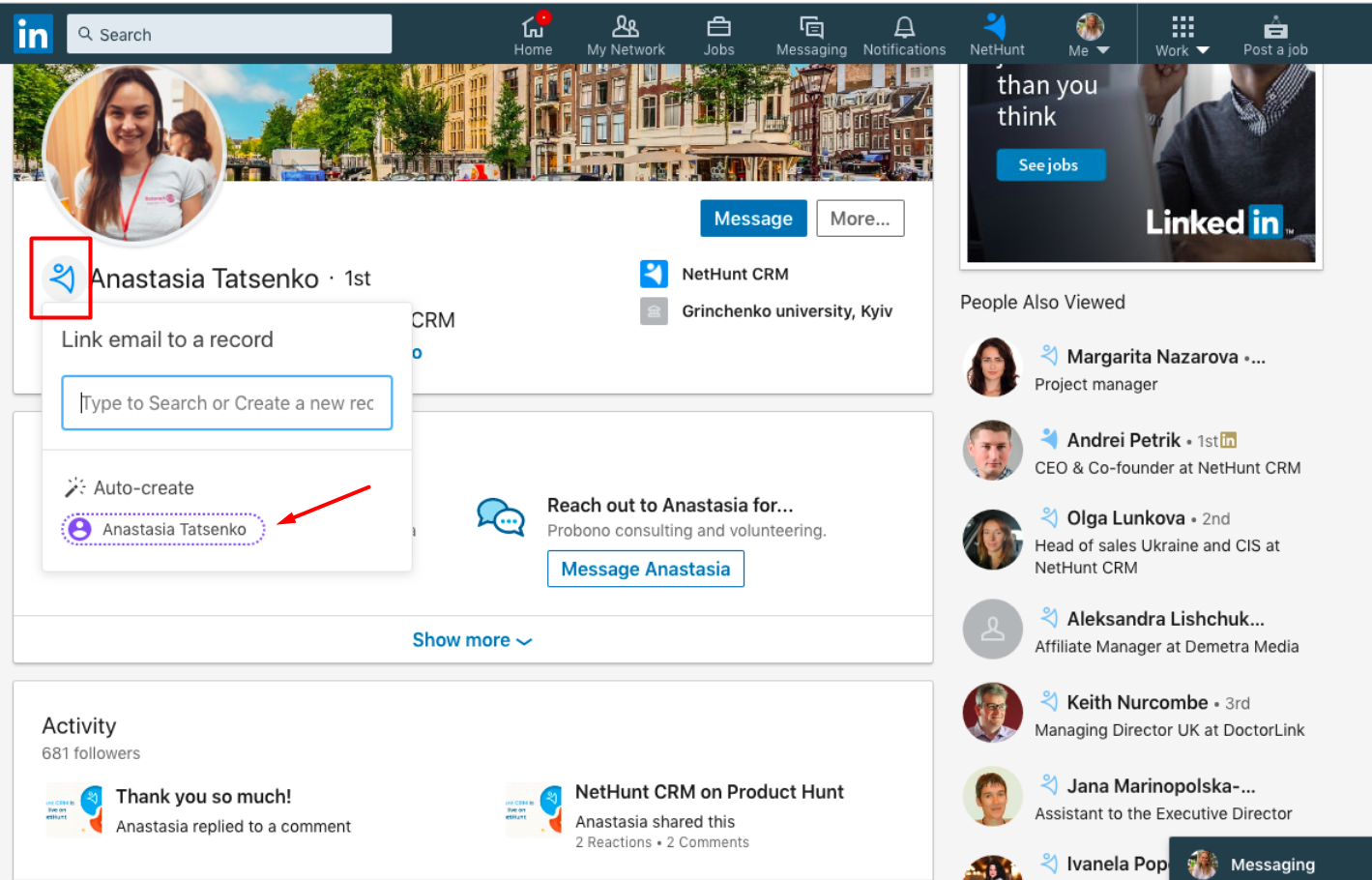 We build better customer relationships with CRM
The difference between a lead that converts and one that doesn't is the quality of the relationship you build with them. Today, relationship marketing is among the most effective marketing strategies that drive revenue. By gaining customer trust, you foster loyalty and turn regular customers into brand advocates. But genuine friendship at scale is difficult, if not impossible. You need the tools to help you do it. Obviously, CRM can improve your relationships with leads and customers.
You can set automatic workflows to congratulate customers and leads with important anniversaries or holidays.
A CRM stores an entire history of communication with leads and customers. You're up-to-date with what's going on, no matter who's looking.
It improves customer satisfaction, reducing response time and improving the quality of customer support.
It increases customer retention. Automated workflows never leave a customer unattended, being there for them at the right time with the right message.
Check out CRM trends for 2022
We report sales with CRM
Sales reporting reaps a bunch of benefits.
It spots and eradicates hindrances in the sales funnel.
It discovers trends and identifies patterns in specific areas of impact.
It brings order to business operations.
It assesses your sales and business performance.
It tracks business activities taking place at your company.
It motivates your sales team, giving them a sense of direction.
It helps calculate commission.
It helps land more deals.
Manual reporting is a time-consuming, complicated process that requires a lot of attention and effort. It's also prone to inaccuracies because the tiniest mistake can undermine the quality of the report you produce. The majority of sales managers seek a CRM solution to do the hard work for them, creating reports automatically.
These CRM solutions can create a wide-range of reports.
Sales pipeline report. How sales opportunities are progressing.
Total sales report. The value of all the deals in the Won stage.
Sales by customer report. See what kinds of customers you sell to.
Sales by owner report. Amount of revenue each of your sales reps brings.
Time in stage report. Speed leads progress down the sales funnel.
Lost reason report. Common reasons why leads and customers churn.
Lead source report. How well each marketing source generates leads.
We build better employee relationships with CRM
If you have any business experience, you must know that a happy employee is a productive one. If you don't... know this. According to a study conducted by the University of Oxford, satisfied workers are 13% more productive. When content with their tasks and working conditions, employees tend to work faster and, more importantly, convert more. CRM systems automate a range of tasks and processes such as manual data entry and data enrichment, letting employees focus on more important, money-making tasks.
Email auto-linking in NetHunt CRM
Our system automatically links all sent and received emails to your CRM's relevant records. All communication with any one recipient is stored in one place, no matter which manager leads the thread.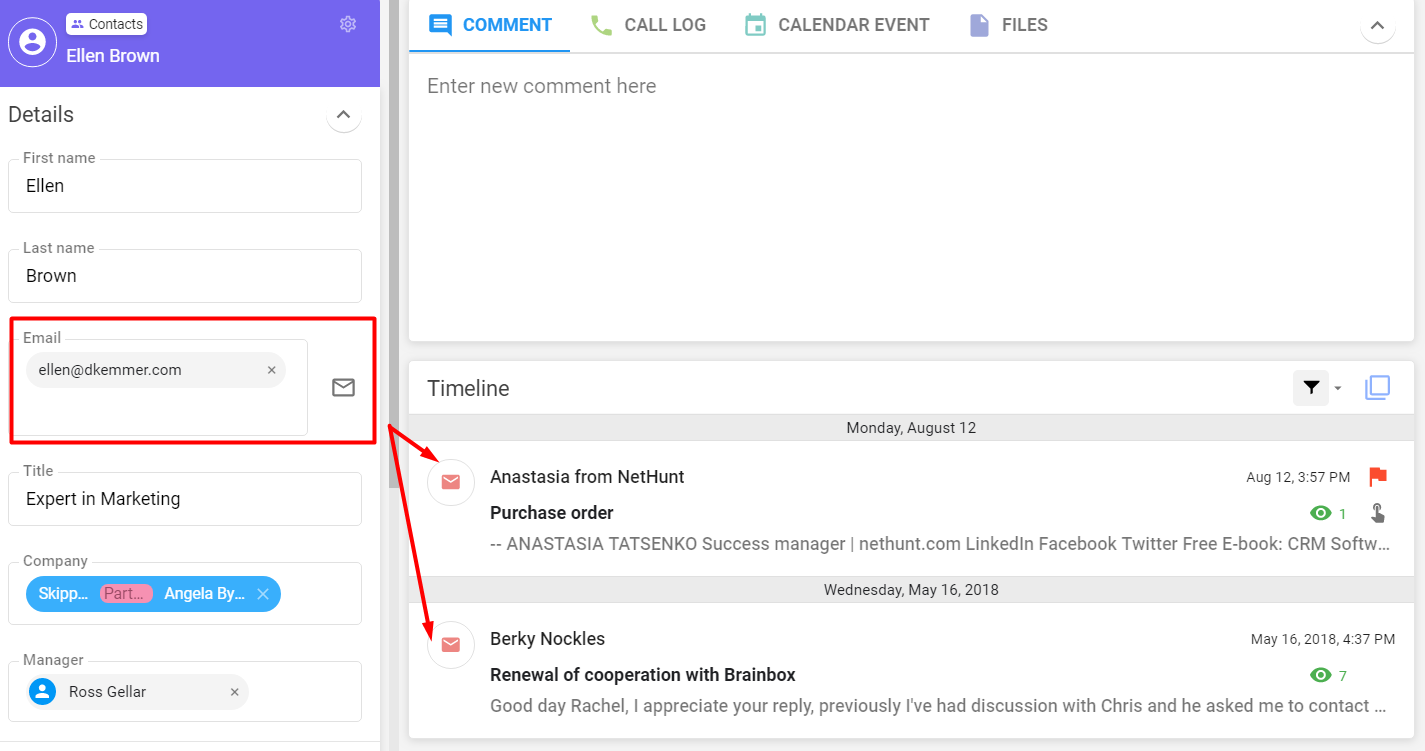 Round-robin scheduling in NetHunt CRM
CRM also allows for a fairer distribution of tasks between employees. For instance, NetHunt CRM offers its users an opportunity to set up a workflow that automatically creates a new task whenever a new lead enters the sales pipeline. It assigns sales reps to it on a round-robin basis.
Real-time collaboration in NetHunt CRM
No matter how well-organised your work group chat is, there still will be days (Friday, per se) when employees are not as prompt with their responses as usual. That's okay, but every slight delay in between terse 'OK's and confused '???'s contributes to an overall slow-down of the process, hindering success. A CRM eradicates this problem by removing the need for requesting data altogether. With the system in place, every employee within your company can access relevant and up-to-date information about the deals and leads and know what needs to be done.
But don't worry, your data is secure. Good CRM systems come with user permission control.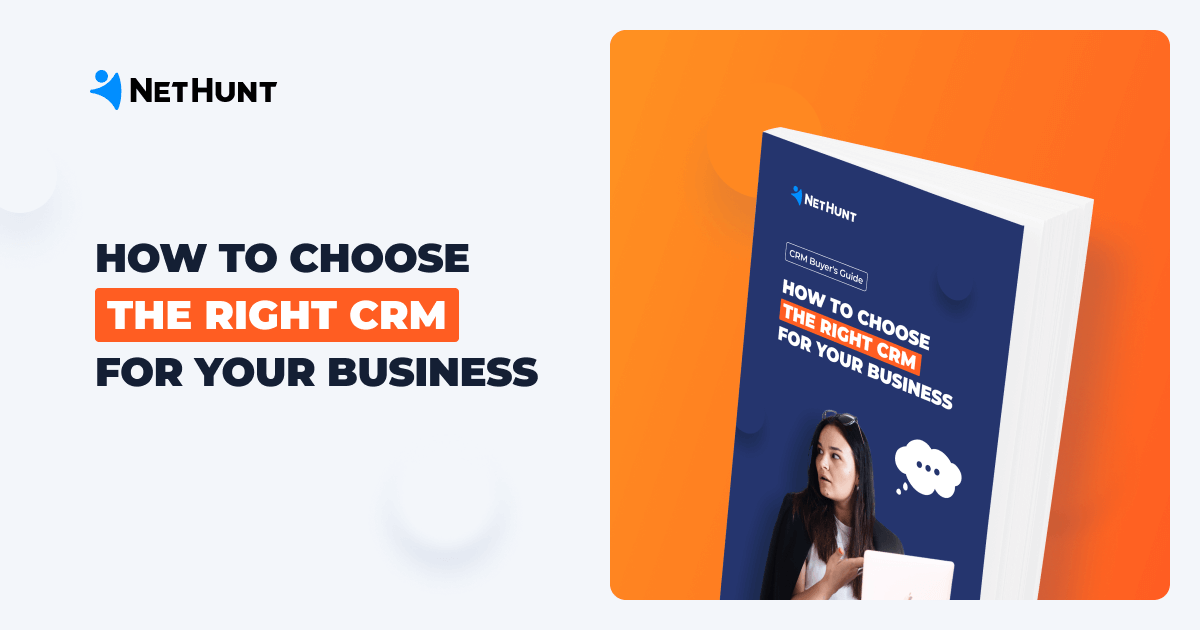 The 3 different types of CRM and key features
The CRM market is vast.
Depending on the processes you want to streamline and tasks you want to solve with the help of a CRM, you might benefit the most from one of the following types of CRM systems - an operational CRM, an analytical CRM, or a collaborative CRM.
Operational CRM
Operational CRMs streamline the collection of customer data, its organisation and effective management. These systems act as a unified repository for all your leads, deals and other relevant customer information. The name of this type of CRM solution stems from their key objectives.
Automate key processes to cut costs and effectuate team activities.
Enhance processes to help provide a superior customer experience.
Operational CRMs focus on the optimisation of different processes within a company, operations. The key, common features of operational CRMs include sales automation, marketing automation, and service automation.
Analytical CRM
While analytical CRM helps gather and store customer data, they aren't used to drive more sales by improving customer satisfaction through the enhancement of experience. Instead, they help businesses with streamlining their back-office operations and evaluating customer behaviour to forecast purchase intention and make data-driven decisions. Here are the key problems an analytical CRM helps solve.
Analyse customer data to offer more personalised interactions.
Identify the most effective sources of lead generation.
Segment target audiences based on a multitude of criteria.
Streamline sales reporting and sales forecasting.
Predict trends and refine sales.
Make data-backed decisions and integrate them into sales planning.
The key features of analytical CRM include marketing analytics, reports and forecast, channel analytics, customer analytics, sales analytics.
Collaborative CRM
The primary goal of collaborative CRM is to enable teams to work together towards meeting a common target. It helps to get rid of silos and helps business people across different departments to augment their efforts by improving the quality of communication channels, interactions, and document management. A collaborative CRM helps businesses to reach their goals in a number of ways.
It streamlines communication between different departments.
It makes information sharing easier.
It helps manage projects, regulate workload, and automate task distribution.
It improves the productivity of employees.
It reduces service costs as it allows employees to automate repetitive work.
It improves customer service and increases satisfaction.
The key features of collaborative CRM include built-in chat, shared data repository, user control, tasks, mentions, record tagging, real-time reporting.
In addition to the three main types of CRM software and the features they provide, it's also possible to single out other, less common CRM system formats such as social CRMs, sales CRMs,  and campaign management CRMs. These focus on managing online communities and digital marketing campaigns respectively. The question is… How does one choose the perfect CRM for their particular business? It's a tough decision.
But, luckily for you, we made it easy.
If you are on a lookout for a CRM system for your business, have a look at the lists that we created:
---
That was your crash course into the world of CRM. Find out more by checking out our other articles and subscribing to our blog newsletter, the CRM Lab.
CRM is here to stay and make your business life easier. Don't resist change. Instead, embrace it armed with the knowledge CRM Lab gives you.
Let's get growing!
Table of Contents
Crack the sales formula with CRM Lab
Twice a month, receive actionable CRM content to your inbox.
Join the
Telegram channel NetHunt CRM
All about CRM and B2B sales.
Join