We don't stop at NetHunt. We're never satisfied; always hungry for more. You thought your brand-spanking new Spreadsheet CRM was good enough, with your contacts and your pipelines ticking along nicely. What if we told you… it's not? What if we told you how to collaborate with your team on your Spreadsheet CRM and how to add an inbound sales channel to it by using forms? What if it's all got a bit too much for your Spreadsheet CRM, and you're not sure if it's time for a change.
Gather round; class is in session. Let's take that Spreadsheet CRM to the next level… and beyond.
---
How to collaborate with colleagues on a Spreadsheet CRM

A major advantage to spreadsheet CRM is that, if it is cloud-based, it is free to be rolled out across your team. Whilst it might not be ideal for larger teams, where hundreds of people are working on the same document at once causing it to slow down; it certainly works for a smaller one. Sharing access to your spreadsheet CRM is as easy as… well, sharing access to a spreadsheet.
The only differences depend on the platform you use.
Apple Numbers
Apple Number is cloud-based. Every user gets 5GB of free iCloud file storage (apps, iTunes, and Apple TV purchases aren't included in this) when they sign up, which is more than enough to get started with. If your Spreadsheet CRM is platformed on Apple Numbers, up to 100 users can view and edit the spreadsheet at any one time.
Sign in to iCloud, then turn on iCloud Drive for Pages, Numbers, and Keynote.
Open your Spreadsheet CRM document.
Click the Collaborate button in the toolbar.
Click Share Options, then choose a restriction option. By default, invitees can edit your document.
Choose how you want to invite others to work on your document.
Click Share, then send or post the message.
The Collaborate button should situate at the top of your document with a tick. This shows how many people have the document open, excluding yourself.
🔒Restrict access to your Spreadsheet CRM🔒
By default, anybody the creator of the Spreadsheet CRM invites can also invite people to view or edit the document. This is dangerous. Your homemade CRM system is going to be at the front and centre of your business, and is home to everything important about it. Your data is a commodity, and there are loads of nasty data bandits out there trying to steal it.
Restrict your document so that only people you invite can view or edit it. Hit Share Options, then if you want only specific participants to access the document, choose "Only people you invite." To open the shared document, those participants must sign in to iCloud or iCloud.com with an Apple ID. If they don't have an Apple ID, they need to create one after the Spreadsheet CRM is shared with them.

Microsoft Excel
Co-authoring is Microsoft's fancy way of saying collaborate on a document. Users can only co-author a spreadsheet if it is stored in OneDrive, OneDrive for Business, or SharePoint Online. So, you'll need to log into your Office365 account and upload it to the cloud before you're able to co-author. It's also worth noting that auto-save must be enabled for simultaneous 'co-authoring'.
You get 5GB of free storage when you sign up for OneDrive, but you can buy more or sign up for Office 365.
Open your file in OneDrive, OneDrive for Business, or SharePoint Online.
Click "Open in Desktop App".
Click the Enable Editing button if your Spreadsheet CRM is in Protected View.
Click Share in the upper-right corner.
By default, all recipients will be able to edit the workbook.
Type email addresses in the address box, and separate each with a semicolon.
Press Send.
🔒There are four levels of sharing access for your Excel Spreadsheet CRM🔒
Anyone affords access to anyone who had had the link sent to them. It doesn't matter if they receive it directly from you or if it had been forwarded by someone else; it doesn't make a difference if they are inside or outside of your organisation.
People in [Your Organisation] gives access to anyone in your organisation who has the link access to the file. That is, if they receive the link from you or anyone else.
People with existing access doesn't actually change access privileges. Instead, it should be used if you simply want to send a link to somebody who already has access.
Specific people affords access to people you, the document owner, specify. Beware that other people might already have access, but only people who these people and others you invite afterwards will be able to use the link once the sharing access has changed.
Google Sheets
At the point of use, Google Sheets is entirely cloud-based. Like we said in the previous part of this diptych, it is the perfect starting point for your Spreadsheet CRM. Sharing your Spreadsheet CRM with Google Sheets is as simple as you'd expect it to be, and there are two ways in which you can do it.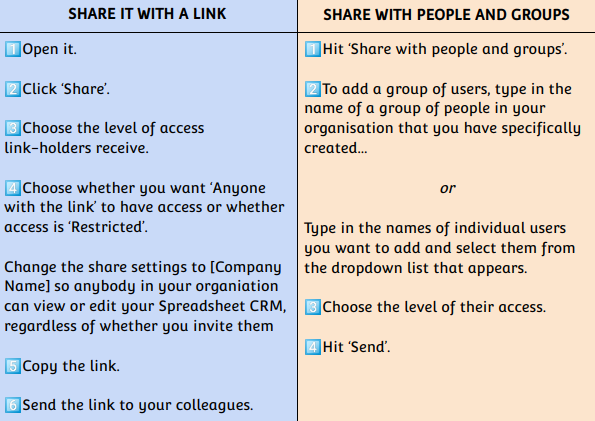 ---
How to add a lead generation form to your Spreadsheet CRM
These days, CRM goes beyond your pipeline and your contact book. CRM these days is the full shabang, even helping you find leads before nurturing them and selling to them. Inbound sales is by far the most trustworthy, effective strategy for generating leads for your business. Somebody once said 'if you build it, they will come'... I'm starting to think they were talking about Spreadsheet CRM.
Use Google Forms
Google Forms is Google's survey platform. You probably already knew that. What you might not have known is that you can link Google forms to your Spreadsheet CRM, effectively automating lead generation. Not only does this develop new, high-quality leads in your database, but it also gives you more honest data with which you can segment your audience.
In doing this, you can understand your leads better, hyper-personalise outreach, and give your business the best possible chance of conversion.
1. Open the Spreadsheet CRM.
2. Hit 'Insert' on the top menu.
3. Find 'Form' and hit it.
4. A new tab should open as a form with the same name as your Spreadsheet CRM. It's down to you to design the form, making the questions specific to the information that you business needs. You'll find that there are a lot of different formats of questions.
Short answer text questions are only useful for essential information. This includes first names, last names, phone numbers, and of course… email addresses.
There's not much difference between Dropdown questions and 'Multiple choice' ones. I just prefer to use Dropdown questions for demographic-based answers because they look a little bit more official.
Linear questions are very useful for getting a grip on a prospect's preferences and opinions. This question type offers the chance to segment and personalise outreach for customers with different likes and interests.
Multiple choice questions are similar to linear questions, in that they offer a good chance to get a grip of prospect preferences.
Checkboxes are 'Multiple choice' questions but with the opportunity for form-fillers to check more than one option.
5. There are three options for form distribution. You can email it out, but first you need to get hold of a prospect's email address. You can share a link, which is handy. Still, the most professional of all would be to embed it on your website.
6. Once a form has been created, shared, and filled out, you'll find a tab added to the bottom of your Spreadsheet CRM. All the answers will be recorded there. Your next job is to enable form notifications, so you'll receive an email every time somebody successfully completes your form.
7. Copy and paste customer responses from your form feedback sheet to your main customer database and enter their details into your pipeline. You've just added an inbound sales avenue to your small business, you entrepreneur you!
Download your copy of The NetHunt Spreadsheet CRM
---
How to know when it's time to ditch the Spreadsheet CRM
All good things must come to an end; what goes up must come down. A carefully and properly implemented Spreadsheet CRM can be the foundation for you to lay the bricks of your business upon. As your business grows, more prospects leads and customers will pass through your homemade pipeline and eventually the foundations will start to crack. Alas if a Spreadsheet CRM is successful, you'll actually stop being able to use it. You're gonna need a bigger boat.
Find out what your sales team can't do with a Spreadsheet CRM
It's time to make the switch to a bonafide CRM system, when…
You're drowning in customer data and you can never find what you need.
Your spreadsheet CRM has started running slowly because so many people are editing it at the same time.
Managing your Spreadsheet CRM starts taking more time than it saves.
Your client relationships have become so deep that you struggle to remember previous conversations and need content on hand.
You can't forecast sales and revenue effectively.
You've discovered better lead generation channels than Google forms and want to take advantage of native integrations.
You lack analytics and have to make decisions based on gut feeling.
Your team members can't communicate effectively and work closely on closing tasks.
Your customer retention rate stops increasing.
Your spreadsheet database is not secure enough and anyone in the company can easily make a copy of it.
You don't have to start from scratch, either. It's easy to make the switch to a fully-fledged CRM system, because automated data import features pretty much do it for you. The following to-do list should see you through your CRM transition nicely. It's only three simple steps, and getting things right at the beginning will save you a lot of manual input further down the line.
Check out how to use Gmail as CRM
✅ Make a list of all the necessary data fields you need in your CRM system.
A bi-advantage of switching your data from one system to another is that it is a chance to do some spring cleaning. Get rid of the data points your business doesn't need, streamlining your new CRM for maximum efficacy. On the other hand, if you find any data points that need filling for a particular record, do a bit of research to get it filled in. LinkedIn is a great place for business homework.
Make a list of every bit of data you want to include for those inside your CRM, such as names, email addresses, phone numbers, companies, positions, relationships; details about their deals, such as title, deal amount, probability, stage, priority, and deadline. Similarly, you need to remember to include company details, such as names, addresses, websites, industries, and team sizes.
✅ Standardise all your data.
Check for absolute consistency across your soon-to-be-exported data. This is the most precise part of the process, and involves going through each field of data in your Spreadsheet CRM and making sure that everything is spot on and matching.
Email addresses are valid (no misspelled words, common format)
Digits and decimals are in a common format (1000, 1.000, 1,000)
Phone numbers are in a common format and country codes are included for international records. (+1 777 555-3333, (777) 5553333)
Values like countries are in a common format (the USA, US, United States)
Get rid of any duplicates.
First name and Last name are in separate columns if you're going to use them separately.
Letter capitalisation is correct everywhere, especially in names.
✅ Export and import the data
Most, if not all, CRM systems require you export your Spreadsheet CRM data to .csv file before you can import it into a new system. to Let's say you're switching to a shiny new Gmail CRM… and let's say that Gmail CRM is called NetHunt CRM *purely for educational purposes*. Our Head of Customer Success Anastasia Tatsenko is about to tell you exactly how to do it.
When you get fiddling with a Spreadsheet CRM, it becomes hard to stop. Considering this is a free tool at the point of use, you can get some pretty sparkling results from it. As a small business, you could benefit endlessly from an organised, visualised pipeline, a one-stop shop for all your customer data, and an automated lead generation form to keep it all ticking over.
Make it clean; make it sexy. And when it all gets inevitably too much, make it a NetHunt Gmail CRM instead.
Table of Contents
Crack the sales formula with CRM Lab
Twice a month, receive actionable CRM content to your inbox.
Join the
Telegram channel NetHunt CRM
All about CRM and B2B sales.
Join