Today, NetHunt CRM announced the expansion of its integrations suite and released direct integrations with WhatsApp and Instagram, transforming the system into an omnichannel CRM solution.
With the integration, NetHunt CRM users no longer have to switch between multiple mobile apps to communicate with leads and clients. From now on, all chats across different channels can be managed from within the CRM interface. The integration also eliminates the need for manual entry of customer data and communication logging.
All messengers are integrated directly into NetHunt CRM, saving businesses the money they would've otherwise used on third-party connector tools to tie multiple systems, and positively affecting the user experience.
"When establishing contact with businesses, customers expect a swift response to their inquiries — 82% of customers want to get a reaction in under 10 minutes, and over 50% of them will opt for the business that responds first. Hence, we believe sales and customer service will eventually move entirely into messaging apps. To ensure this transition is smooth, easy, and effective for our clients, we've developed new NetHunt CRM functionality that transforms the CRM into a truly omnichannel solution." says Andrei Petrik, CEO and Co-founder of NetHunt CRM.
The integration enables NetHunt CRM users to:
Create customer records in the CRM from chats and comments across the messengers in a second.
Link chats to the customer record in the CRM, ensuring conversational experience.
Share access to communication via business profiles on messengers with all team members, ensuring that everyone is on the same page and has access to critical customer information.
Respond to messages from within CRM records and user's Timeline, ensuring that no messages go unnoticed.
Сreate whitelists and blacklists which ensure that your personal chats (with friends and family, for example) don't end up in the CRM.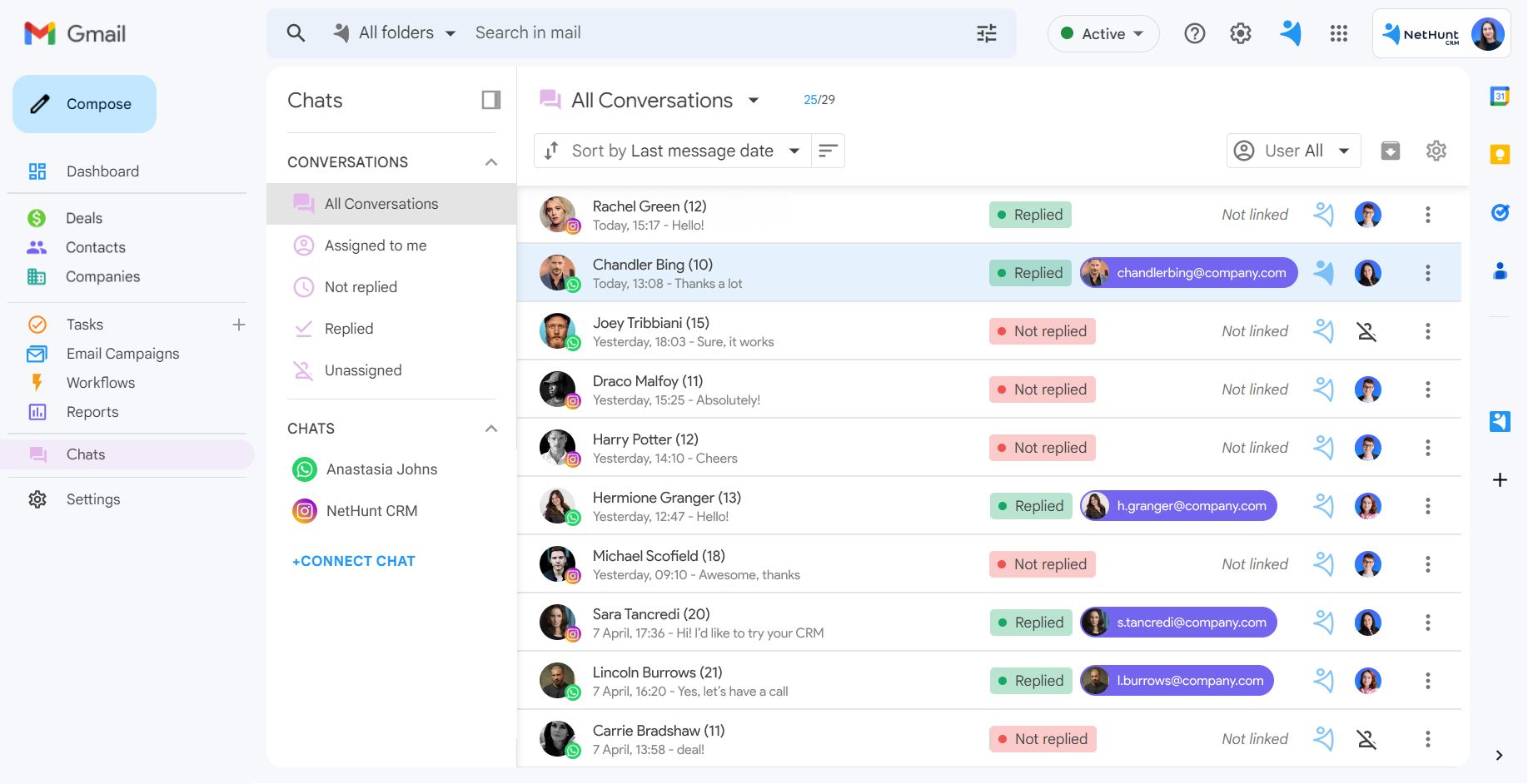 Text, images, videos, voice notes — NetHunt CRM integration with messengers supports all sorts of communication types and styles, no need to limit yourself when chatting with clients.
Andrei also added, "We don't want salespeople to live in the nightmare of switching between emails, calls, online chats, and messengers. Instead, we want them to focus on providing their leads and customers with a stellar conversational experience that remains consistently good across all communication channels. That defines our mission — we want to turn NetHunt CRM into a hub of communications between businesses and their audience. With the addition of direct WhatsApp and Instagram integrations, we are taking this mission to the next level, providing our users with even more channels to connect with their customers."
The next iteration of the NetHunt CRM integration with messengers will provide users with an opportunity to send messages within automated workflows.
The new integrations are already available to all NetHunt CRM users. To learn more about the WhatsApp and Instagram integrations, please visit the NetHunt CRM Help Center
About NetHunt CRM
NetHunt is a sales automation tool built inside Gmail. It helps businesses of all sizes store, manage, and utilise their customer data; nurture client relationships; automate workflows; track deal progress; and move leads more quickly through the sales funnel. For more information, visit https://www.nethunt.com/
Learn more about messenger-based sales and master the art of B2B sales via messenger apps in our articles!
Table of Contents
Crack the sales formula with CRM Lab
Twice a month, receive actionable CRM content to your inbox.
Join the
Telegram channel NetHunt CRM
All about CRM and B2B sales.
Join