Here are the best transaction management systems to manage the entire process from start to finish
Looking for a way to boost your real estate game and streamline your transactions? You're in luck! The world of real estate transaction management has exploded with options in recent years, and we've done the research to bring you the top seven players in the game.
From NetHunt CRM to Open to Close, DotLoop to SkySlope, Paperless Pipeline to Brokermint, and Shaker, we've got you covered with all the pros and cons, key functionality, and prices you need to make the best decision for your real estate transactions.
So grab a cup of coffee and get ready to dive into the world of real estate transaction management!
What is a real estate transaction management system?
A transaction management system for real estate is a software tool designed to help real estate professionals manage the entire transaction process from start to finish. This includes everything from real estate lead generation and initial contact with a client to closing the deal and following up post-closing to maintain a robust professional relationship.
Transaction coordinator software is typically cloud-based, allowing agents and brokers to access the system anywhere worldwide as long as they're connected to the internet.
It's designed to centralise all aspects of the transaction process into one platform, so real estate agents, coordinators, and brokers can easily manage all their deals in one place.
Benefits of transaction management systems: Why do real estate businesses need transaction management software?
Real estate transactions can be complex and time-consuming, with numerous parties involved and a multitude of tasks to manage. Real estate transaction management software, also known as transaction coordinator software or real estate transaction management system, can help real estate professionals streamline and organise their work, allowing them to focus on providing exceptional service to their clients.
Here are some of the key benefits of using transaction management software for real estate businesses:
Increased efficiency. Automating repetitive tasks and workflows, such as sending and tracking real estate contracts, following up with clients, and managing deadlines, saves time and improves efficiency.
Improved productivity. A centralised location for all transaction-related information keeps real estate professionals organised and productive, reducing the risk of missing important deadlines or documents.
Enhanced collaboration between everyone involved in the real estate sales process. Real estate transaction management software enables multiple parties, such as agents, clients, and service providers, to access and share transaction information in real-time, increasing collaboration and communication.
Better customer experience. A well-organized transaction management system can improve the overall customer experience by providing transparency and clear communication throughout the entire transaction process.
Increased accuracy. Automating many manual tasks, such as data entry and document creation, reduces errors and improves the accuracy of transaction-related information.
Improved compliance. Transaction management software can help real estate professionals stay on top of compliance requirements and ensure that all necessary documents are properly executed and stored.
Must-have features of a real estate transaction management system
When choosing transaction management software for your real estate business, you must ensure that the system you implement meets your specific needs and bends to fit your internal processes.
Nonetheless, there's a set list of essential features that a real estate transaction management system should have…
Customisable checklists and workflows for managing transaction tasks
Automated reminders and notifications for important dates and deadlines
The ability to auto-populate contracts with transaction management system data, attach documents to transactions (records)
E-signature functionality for digital signatures and document execution
Communication tools for collaboration and real-time updates (mentions, team members tagging, task assignment etc.)
Mobile access for on-the-go productivity and accessibility
Analytics and reporting features for tracking agents or team performance, filtering transactions by status, type, agent, etc., monitoring the progress of goals achievements
Integration with Multiple Listing Service (MLS) systems for easy access to property information
Customer relationship management (CRM) capabilities for managing client information and communication.
Email templates with personalisation (mail merge) and mass emails
Integration with popular real estate software and tools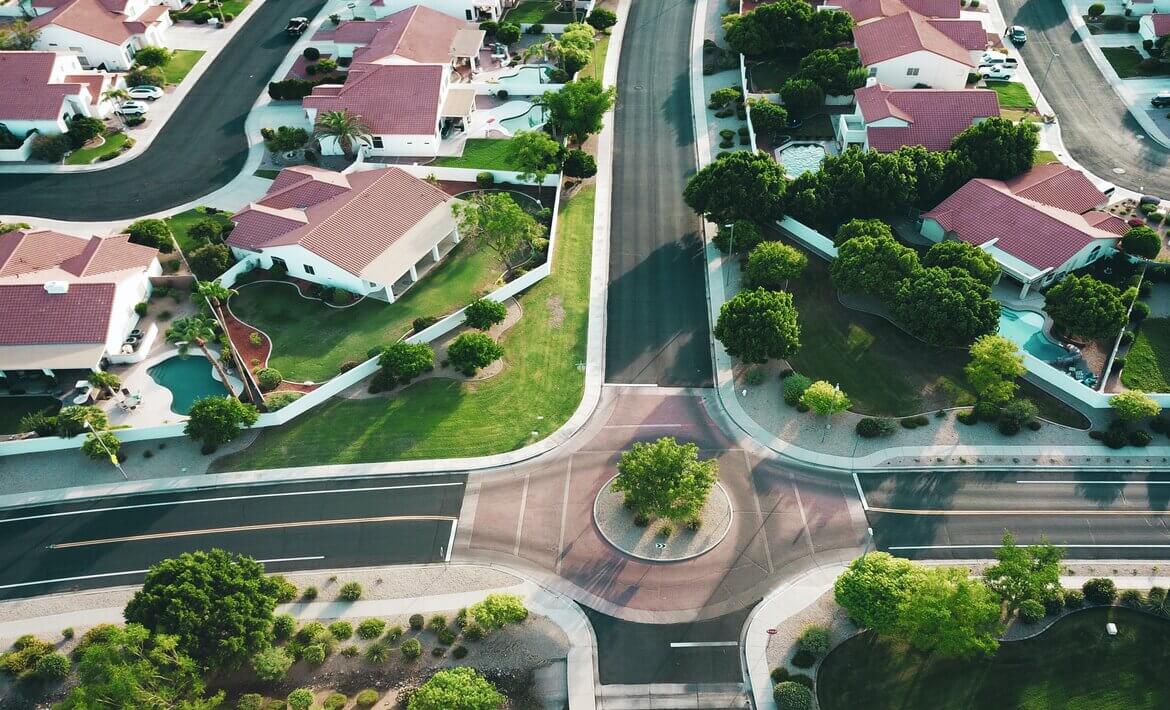 The best real estate transaction management software: 7 transaction management systems real estate agents need to know
To make your search for a real estate transaction management system more manageable, we've compiled a list of the seven best transaction management real estate software pieces. Read on to find the system that'll be a match made in heaven for your business; instantly see the list of its functionality, pros and cons, and the price your real estate agency will have to pay for the service.
NetHunt CRM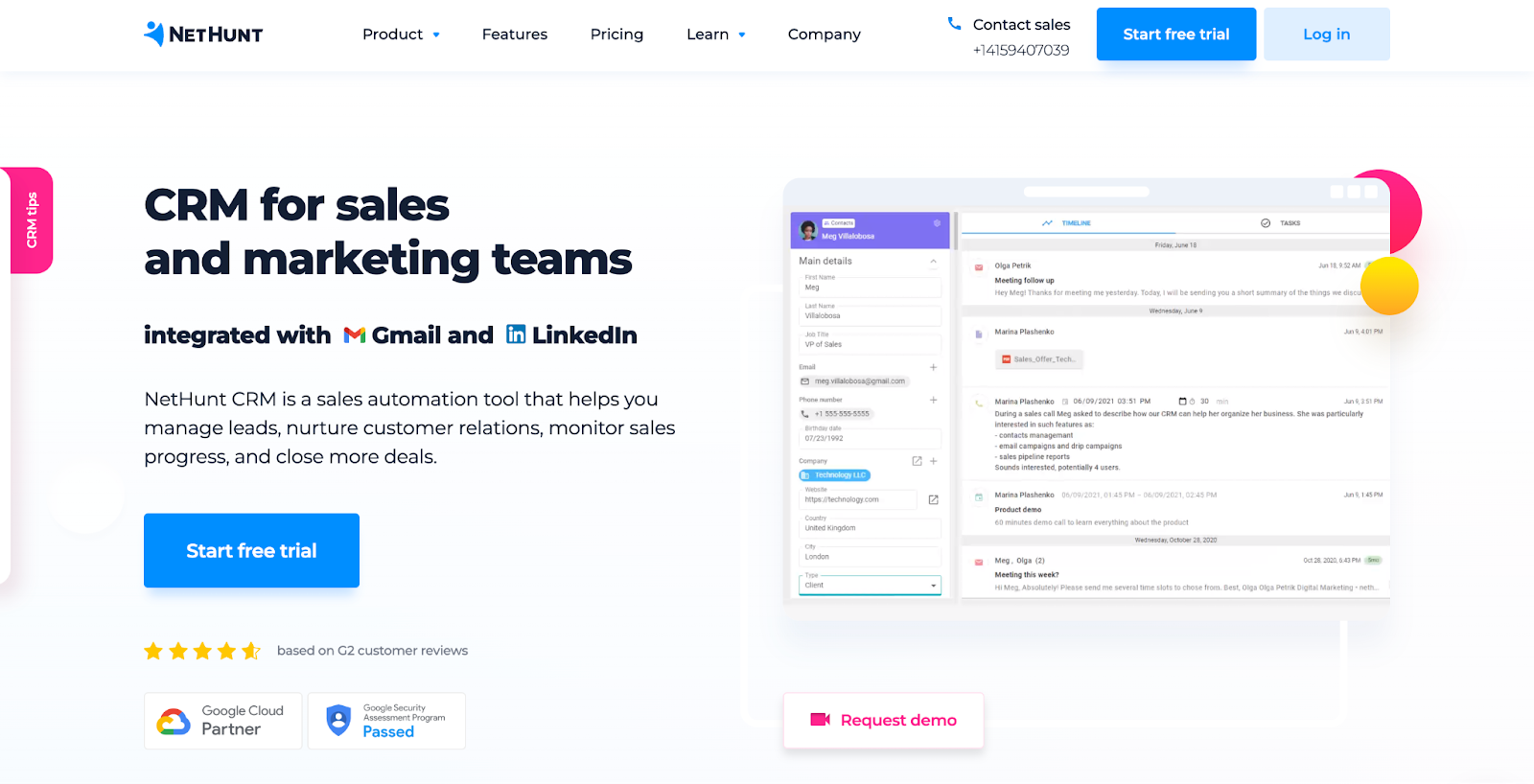 NetHunt CRM is a powerful CRM and transaction management software for real estate businesses that lives inside your Gmail inbox. It allows its users to manage their real estate transactions, organise their contact base, automate business processes, streamline reporting and analytics, and centralise communication with leads and clients across different channels in a single space.
Founded in 2015, NetHunt CRM has quickly become a popular real estate CRM among real estate professionals.
"I love how customisable the folders and workflows are - you can really build anything you want! Now my company is organised, automated, and my team communicates in the same place, so everyone knows what's going on at all times."
🗣️ Julianna Satterly, Co-founder of Manifest Solutions
NetHunt CRM can boast quite a large selection of valuable features…
Contract auto-population with NetHunt's data
Ability to store documents in client records
Contact management functionality to store and segment contacts
Transaction pipeline management and visualisation
Collaborative functionality such as tasks, mentions, and shared databases
Email marketing functionality like email templates, bulk emailing, email tracking, and reporting
Integrations with LinkedIn, WhatsApp, Instagram, Facebook Messenger and Intercom for lead generation
Web forms to get leads from website, or for all parties in the transaction involved to gather necessary info
Zapier integration to connect NetHunt CRM with tools that you love
Workflow automation functionality such as automated lead capture, automated task assignment and distribution, and notifications/reminders
Drip campaigns to nurture leads automatically
Reporting functionality to create different types of reports
Integration with other Google services like Google Contacts, Looker Studio, Calendar, Google Drive, and Chat
Pros of NetHunt CRM
✅  Task management functionality allows to keep track of transaction deadlines and assign tasks to colleagues
✅  Visualised pipelines provide invaluable insights into deal progress
✅  Transaction workflow automation saves time and ensures every step of the process is standardised
✅  Auto-population of contracts with NetHunt's data & the ability store documents
✅  Fully customisable solution that bends to fit your real estate business's specific needs
✅  Email marketing functionality allows to send personalised emails in bulk and assess their performance
✅  Seamless integration with Google Workspace, Gmail, LinkedIn, Looker Studio, Instagram and WhatsApp
✅  Integrations with Zapier, Make, and Apiant
✅  Affordable solution
✅  Reporting functionality allows you to identify your best lead sources, filter transactions by status, type, agent, etc.
Cons of NetHunt CRM
❌  Doesn't offer direct integration with MLS
❌  Doesn't have direct integration with e-signature tools
❌  Limited functionality of the mobile app compared to the desktop version
NetHunt CRM pricing
💰
Basic
: $24 per user per month, billed annually
💰
Basic Plus
: $34 per user per month, billed annually
💰
Business
: $48 per user per month, billed annually
💰
Business Plus
: $68 per user per month, billed annually
💰
Advanced
: $96 per user per month, billed annually
Check pricing
There's also a free trial period — for 14 days, you get to use NetHunt CRM for real estate transaction management for free, and see which functionality you need, and which you don't need.
How to download NetHunt CRM for transaction management
To start your free trial period, head over to the NetHunt CRM website and register for the system. No credit card is required!
Give NetHunt CRM a try — the first 14 days are on us!
Open to Close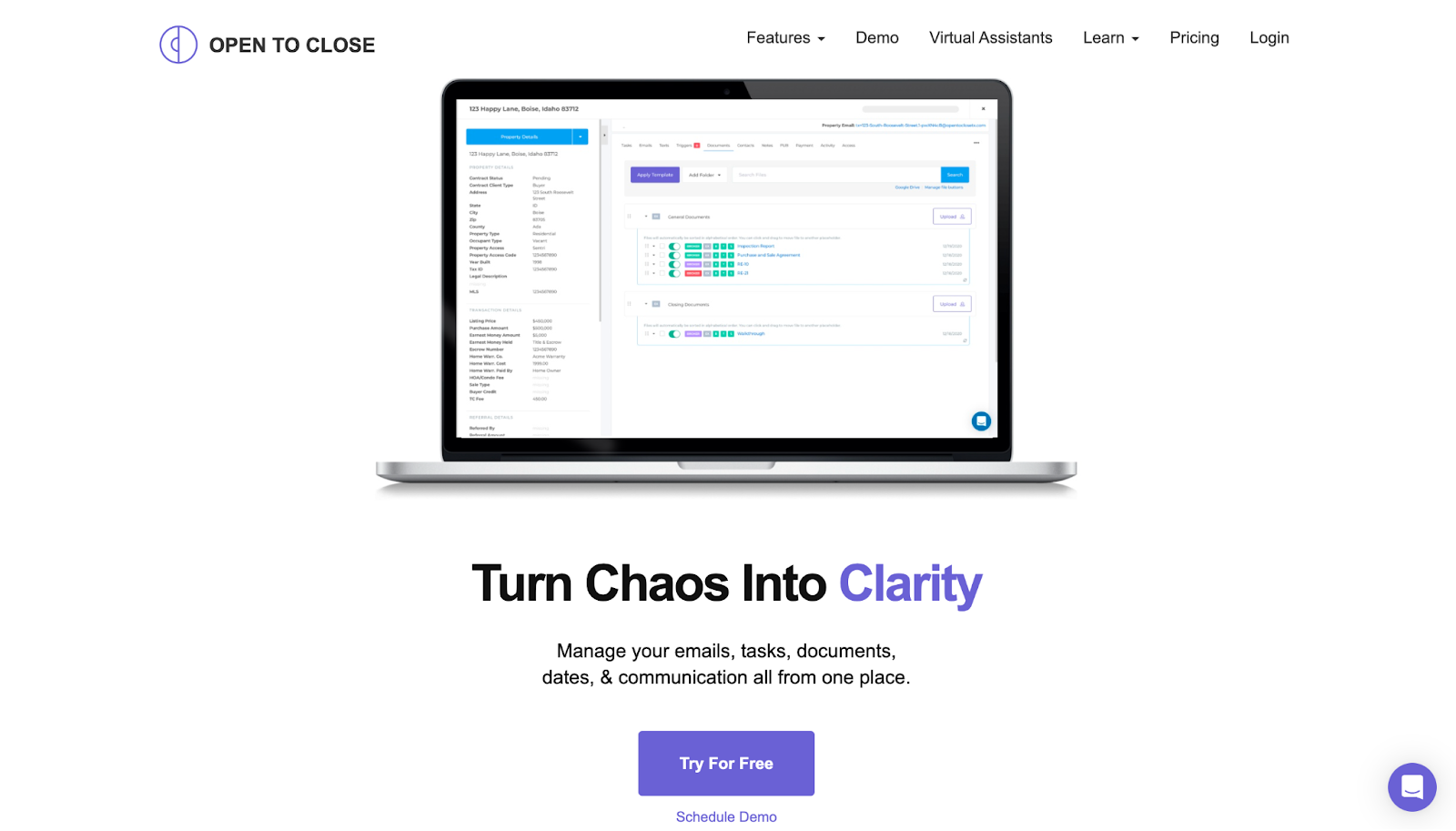 Founded in 2020, Open to Close (OTC) hasn't been around for a long time. Nonetheless, it's already established itself as a top-notch transaction management system that helps real estate agents and brokers "turn chaos into clarity".
Open to Close is a comprehensive transaction management tool designed specifically for real estate businesses. It's a cloud-based platform that offers a complete solution for managing the real estate transaction process from start to finish. This innovative tool allows real estate agents and brokers to streamline their workflow, reduce paperwork, and save time and money.
One of the standout features of OTC is its user-friendly interface. It's intuitive and easy to use, even for those who are not tech-savvy. With Open to Close, real estate agents and brokers can easily create and manage their transactions, upload documents, and track their progress.
Some of the most noteworthy features of Open to Close include…
Numerous integrations: Google Workspace, Microsoft, Follow Up Boss, SkySlope, DotLoop, Brokermint, Stripe,
Automation functionality (the ability to create automated triggers, smart blocks, and scheduled emails)
Customisable intake forms (by tailoring the fields, contacts, and documents based on the answers provided, each intake form has the ability to become completely dynamic)
The client and agent portal, where clients can view a timeline of important dates, tasks, documents, and contacts, as well as send direct messages back and forth to the real estate agent handling the transaction.
Task management functionality, including the ability to create multiple task pipelines
Property templates
Document management functionality
Collaborative functionality and the ability to set up team user permissions
Contact management functionality
On top of that, Open to Close also offers a mobile app, allowing its users to access their real estate transactions on the go.
Pros of Open to Close
✅ Secure document storage: Open to Close uses advanced security measures to ensure that all transaction documents are stored securely.
✅ Efficient task management: Open to Close's task management features allow real estate professionals to stay organised and on top of their to-do lists.
✅ Extensive customisation of the platform.
✅ A number of important for real estate businesses integrations
✅ Functionality to calculate commissions on each transaction
✅ Emailing functionality
✅ Potent task automation functionality
✅ Mobile accessibility
✅ Customer support available via live chat, email, and Facebook Group
Cons of Open to Close
❌ Limited integrations: Although Open to Close offers an open API and integrates with Zapier, enabling users to connect it to many different services, the number of direct integrations is quite small.
❌ Limited reporting: Open to Close provides basic reporting and analytics, but may not offer as much detail or customisation as some other transaction management systems.
❌ High price: Open to Close is a transaction management tool on the pricier side and can often be out of smaller real estate businesses' budgets.
❌ Some features are only available to Pro and Scale subscription plan users.
Open to Close pricing
Grow: $99 / month; includes first user, each additional user: $69 / month
Pro: $199 / month; includes first user, each additional user: $69 / month
Scale: $399 / month; includes first user, each additional user: $69 / month
Open to Close offers a free trial period. If you want to try this real estate transaction management software before committing to it, you're entitled to up to 15 free transactions.
How to download Open to Close for transaction management
If you want to give Open to Close a try, you can sign up on their website.
DotLoop
Screenshot of the DotLoop transaction management system website homepage
DotLoop is one of the biggest names in the real estate transaction management software market. Founded back in 2009, it was acquired by Zillow Group in 2015.
According to DotLoop, their mission is "to create enjoyable real estate transactions by bringing together people and software so agents can deliver a superior client experience".
Despite the mission being quite ambitious, DotLoop seems to be right on track achieving its goals. The transaction management system boasts a 4.2 G2 rating, and was named the 2022 Leader in the Real Estate Transaction Management category with an overall score of 99 out of 100 by GetApp.
Thanks to the vast functionality this real estate transaction management software offers, it's a great fit for all real estate professionals: brokers, individual agents, and real estate teams.
Some of the key features of DotLoop are…
Deal management functionality
Audit trail
Listing management functionality
Compliance management functionality
Automated workflows
E-signatures
Task and document templates, task lists
Document editor
Integrations with real estate CRM software, accounting and marketing platforms
MLS and Association feeds
Collaboration tools
DotLoop is also particularly well-known for its live dashboards and reporting tools that give real estate managers 360-degree insight into their business processes.
Pros of DotLoop
✅ Allows buyers and sellers to access the real estate portal without having to sign up for DotLoop
✅ Excellent collaborative functionality that allows everyone involved in the real estate transaction process to work together
✅ Ability to create customisable document and task templates that improves efficiency and saves time
✅ Provides an option for audit trail
✅ DotLoop tracks compliance with automated workflows and custom tasks
✅ An impressive number of relevant integrations
✅ MLS and Association feeds, which can be accessed on DotLoop's free version
Cons of DotLoop
❌ Some users complain about the quality of customer service provided by DotLoop
❌ Phone support is only available to Premium users
❌ DotLoop has a steep learning curve, making the transaction management system non-suitable for less tech-savvy real estate agents
❌ DotLoop charges a $600 setup fee for training
❌ The real estate transaction management solution is on the pricier side, making it inaccessible to smaller real estate businesses
DotLoop pricing
Unless you're an individual real estate agent looking to purchase DotLoop, you'll have to contact the sales department of this real estate transaction management system vendor directly. They'll provide you with a quote based on the size of your team, the functionality you seek, etc.
DotLoop Premium for real estate agents is priced at $31.99 per month.
How to download DotLoop for transaction management
If DotLoop sounds like a real estate transaction management software right up your alley, you can register for the product on the platform's website.
Once you sign up for the system, you'll receive 10 free Loops (transactions) to test the system and see whether you want to stick around.
SkySlope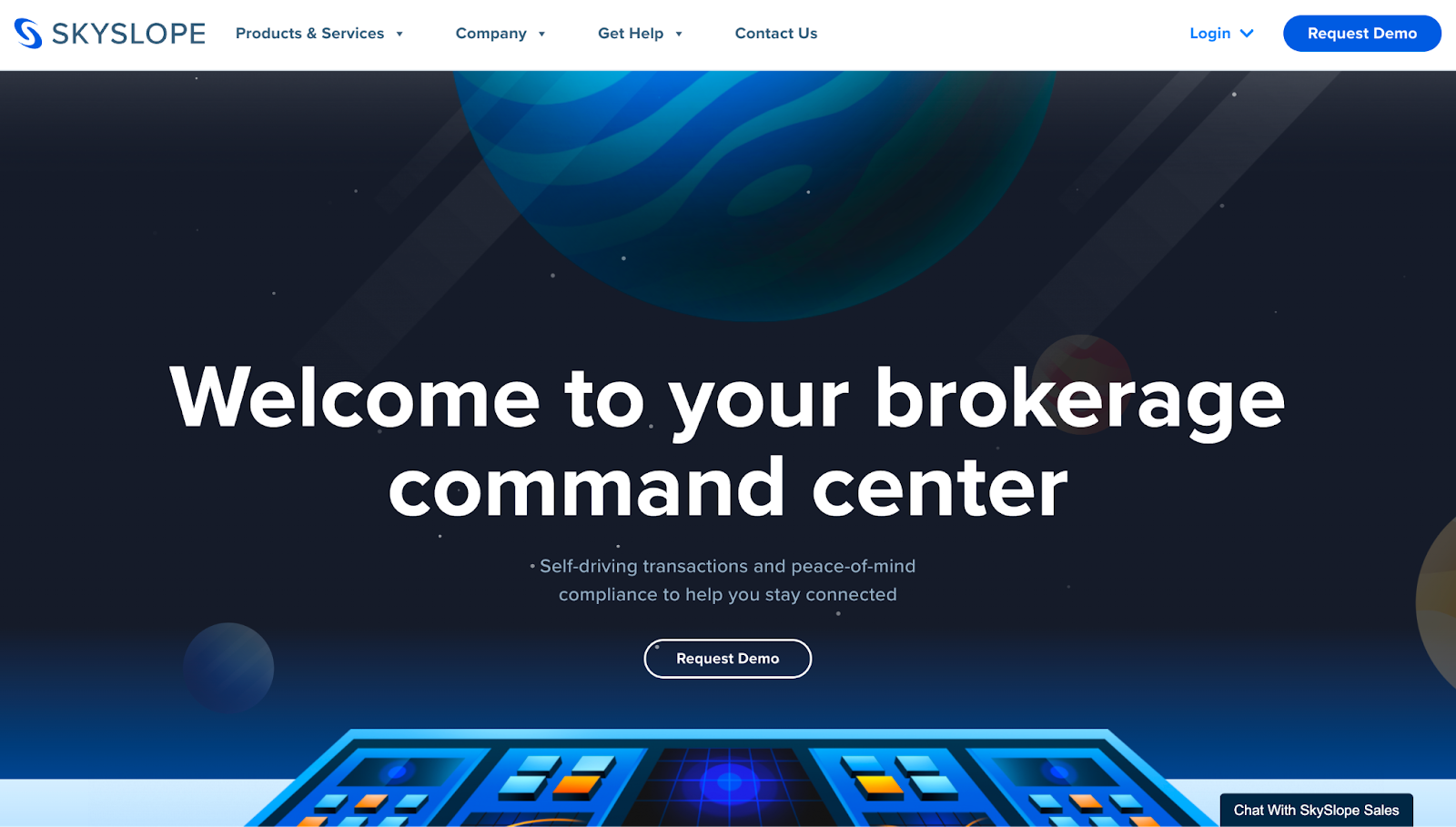 SkySlope is yet another big name in the real estate industry. Founded back in 2011, this transaction management system has quickly become one of the most popular solutions on the market. Today, it has the biggest market share in the industry and serves over 650,000 real estate professionals across the U.S. and Canada. The number of real estate transactions SkySlope successfully manages exceeds three million transactions annually.
The vendor aims to create solutions that reshape the real estate industry by building the most potent autonomous real estate transaction platform.
With the aforementioned ambitious goal in mind, the real estate transaction management software vendor has implemented several valuable features. Some of the best of them include…
A secure and robust e-signature tool, DigiSign
Transaction management functionality
Integrated forms
Contact management functionality
Listing management functionality
Document management functionality
Quick Audit file review
Customisable real estate transaction checklists
Reporting & analytics, including market share statistics and compliance tracking
Broker dashboard
Pros of SkySlope
✅  SkySlope Forms templates save time, reduce redundancy and simplify client contract signing
✅  Unlimited cloud-based document storage
✅  Can be integrated with third-party tools like Google Calendar and Microsoft Outlook
✅  Offers robust customer support via different channels: email/Help Desk, phone, 24/7 Live rep, and Knowledge Base
✅  Offers an intuitive, user-friendly mobile application
✅  All user interactions are stored in a digital log to ensure compliance.
✅  SkySlope Forms are automatically uploaded and pre-filled with MLS data pulled from the MLS
Cons of SkySlope
❌ Small businesses operating on a tight budget may find the cost of SkySlope software to be a hindrance
❌ The task manager is rather clunky and only offers limited functionality
❌ A steep learning curve
❌ There's no free trial, and you must commit to an annual subscription straightaway
❌ There are significant setup fees
SkySlope pricing
There's no official information regarding the SkySlope prices on the website. Real estate professionals looking to implement this transaction management software need to contact the vendor directly to get a quote.
How to download SkySlope for transaction management
It seems like you can't just register for the product and start using it right away. You need to first get in touch with a SkySlope sales representative — you can request a demo through the SkySlope website.
Paperless Pipeline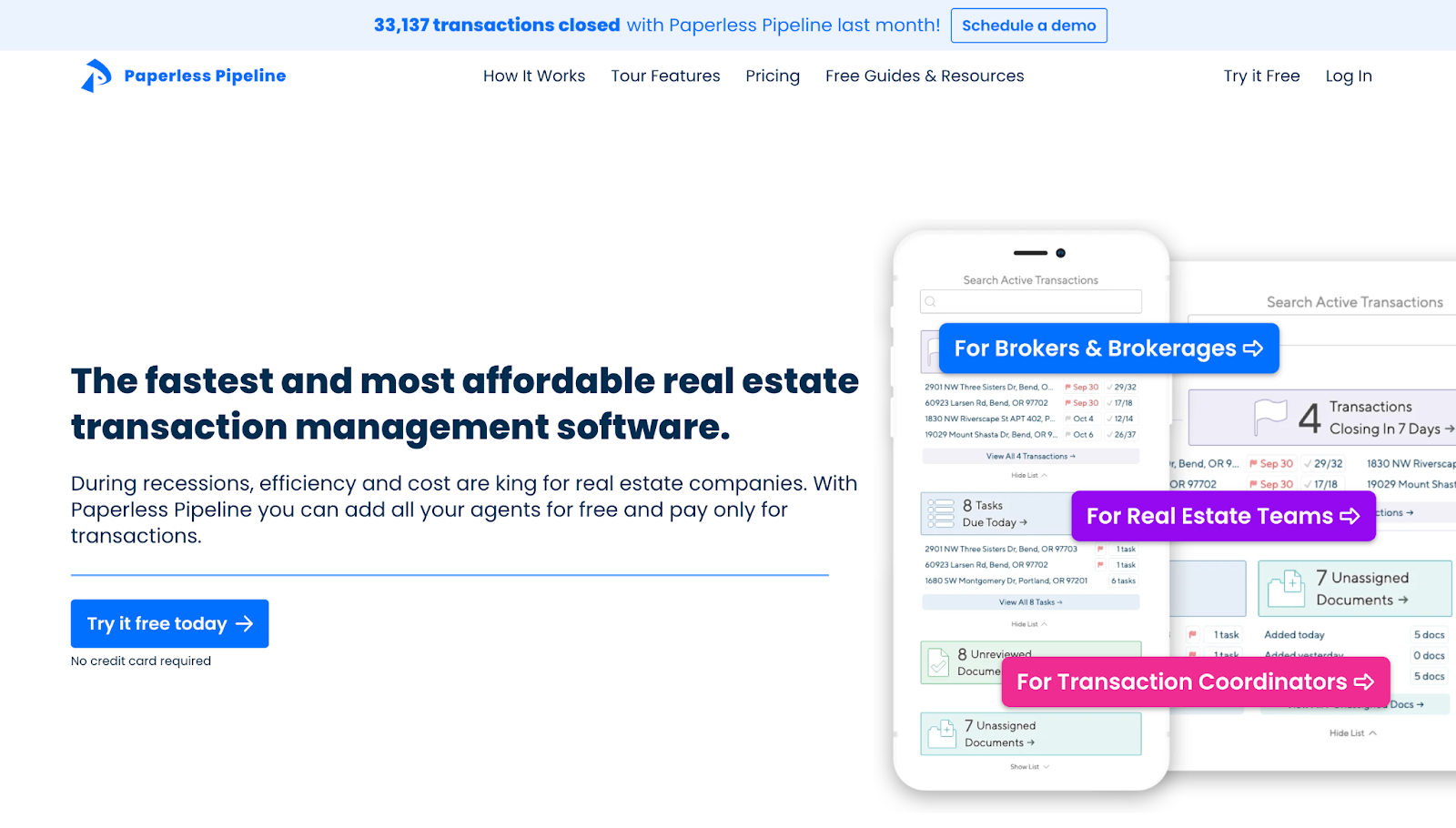 Paperless Pipeline is a web-based real estate transaction management system designed to help real estate businesses streamline their workflow and reduce paperwork. It offers an all-in-one solution for managing real estate transactions from start to finish, allowing users to easily create, manage, and track transactions in a centralised and secure online platform.
Paperless Pipeline boasts its flexibility and scalability. The system can be customised to fit the unique needs of each business, with the ability to create custom transaction checklists, define custom workflows, and even create custom branding for the platform. Additionally, the system is designed to handle high transaction volumes, making it an ideal choice for businesses of all sizes.
Paperless Pipeline provides an extensive range of features that aim to help real estate professionals be more efficient at work:
Customisable transaction checklists that can be automatically applied to real estate transactions based on the type of deal, the side, the location, and each separate stage or status
Automated due dates on tasks based on the listing date, acceptance date, option period, contingency due dates or completion dates
Custom real estate transaction reports
Automated notifications whenever new documents get uploaded
Document changes trail
The ability to set up several separate locations with their own admins, agents, checklist settings, and more
Individual user customisation of the system interface
Integrations with third-party apps
Pros of Paperless Pipeline
✅ Offers free monthly backups of all real estate transactions so you can be sure your backlog is safe
✅ Free trial period, no credit card required
✅ Flexible plans allow you to upgrade or downgrade your plan easily
✅ Offers separate workspaces for different teams, offices and departments, all managed from the same software
✅ Increased productivity thanks to automated assignment of due dates for tasks
✅ Free training, free setup, extensive free support
✅ Powerful search and filter options that provide custom transaction views and instant transaction reporting
Cons of Paperless Pipeline
❌ No built-in document signing functionality
❌ An administrator must edit an incorrectly typed address as the user cannot directly edit it
❌ A steep learning curve
❌ Limited workflow automation functionality
❌ No direct integrations
Paperless Pipeline pricing
The pricing model of Paperless Pipeline is based on the number of new transactions initiated by a brokerage each month, also known as the monthly production:
5 transactions — $60
10 transactions — $120
25 transactions — $160
40 transactions — $200
80 transactions — $280
150 transactions — $360
250 transactions —$460
If your real estate business makes over 250 transactions per month, there's also a Paperless Pipeline Unlimited plan. You get 450 new transactions for $630/month every month; each new transaction after 450 is $1.40.
How to download Paperless Pipeline for transaction management
To start using Paperless Pipeline, you need to register for the product and set up an account. You can do this on the Paperless Pipeline website.
Brokermint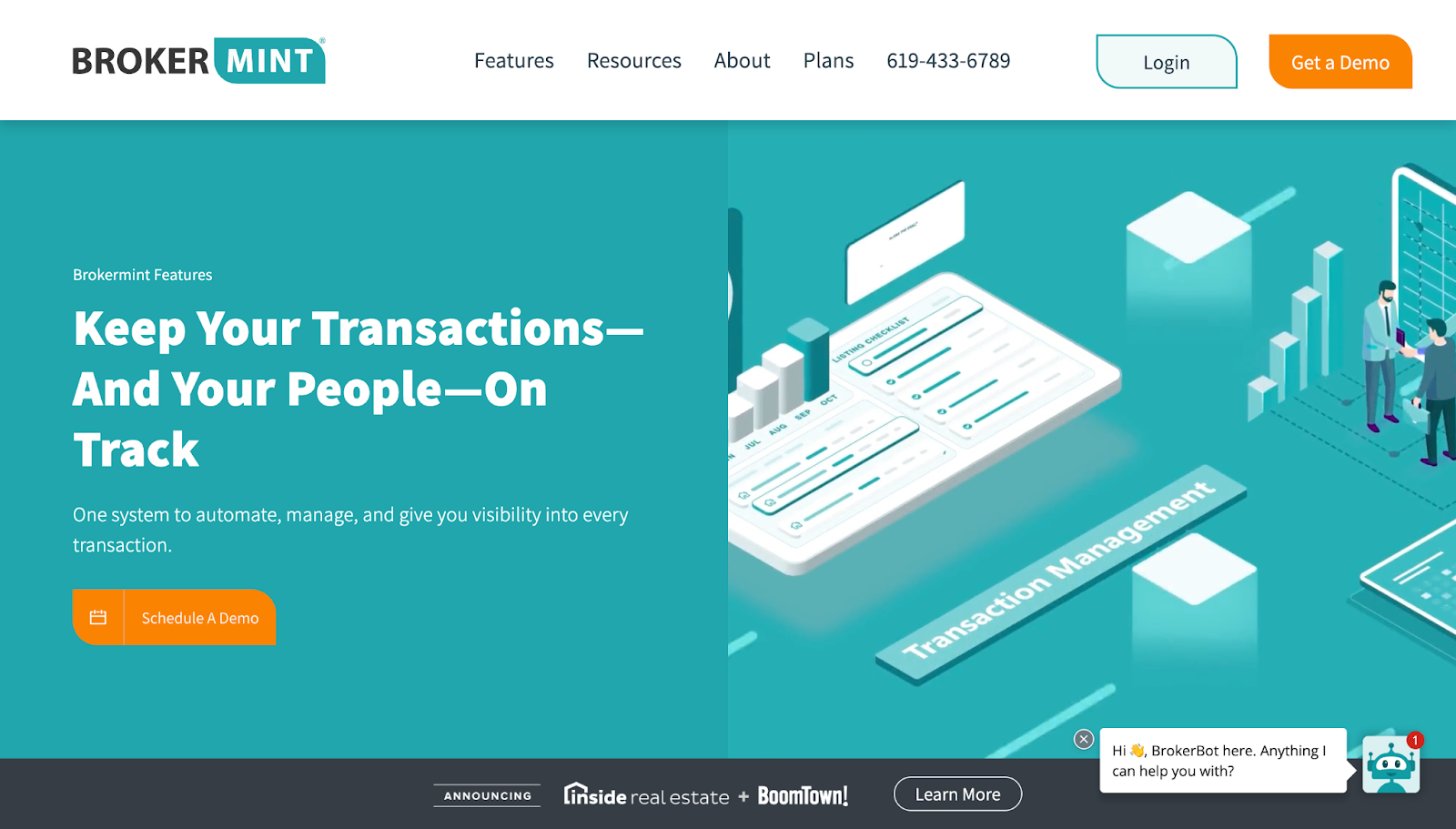 Brokermint is a comprehensive cloud-based solution designed to simplify the residential real estate back office.
This platform is popular among over 1,500 brokerages, serving over 65,000 agents and processing over 400,000 transactions annually.
Brokermint was established in San Diego, California, in 2014 with the aim of revolutionising the real estate industry by offering advanced Transaction Management and Commission Automation. Over time, the platform has grown to include Accounting, Agent Management, Reporting, and other features.
Brokermint's success as a start-up was attributed to its partnership with its customers, listening to their feedback and building a platform that caters to the needs of small agencies as well as established brokerages. This core value remains intact even today.
Key transaction management features of Brokermint include…
Tailor-made Checklists
eSignature functionality
Pre-populated templates on state and local forms
Task management functionality (to-do lists, reminders, proactive alerts, and a snapshot of your daily tasks)
Automated documentation of transaction records
Full view of your transaction pipeline
Reporting & analytics
Many integrations include those with Boomtown!, Propertybase, Inside Real Estate, Wise Agent, Dropbox, Google Workspace, Follow Up Boss, accounting services, etc.
Mobile app
Pros of Brokermint
✅ The pipeline feature provides insight into the transaction progress and helps to spot any stalling promptly
✅ Collaborative functionality allows users to work together efficiently
✅ Signature verification time stamping
✅ Task management tools allow you to stay on track and ensure that no deals fall through the cracks
✅ Built-in document editor that allows merging, splitting, and renaming documents
✅ The tool allows centralising everything in one place
Cons of Brokermint
❌ The mobile app is not as advanced and easy to use as the web version of this real estate transaction management software
❌ Some users have reported issues with Brokermint's customer support, including slow response times and difficulty resolving issues.
❌ Limited level of customisation
❌ Lack of detailed reports
❌ No free trial period
Brokermint pricing
Simple Start: Starting at $99 / month
Standard: Starting at $169 / month
Enterprise: Starting at $239 / month
How to download Brokermint for transaction management
To get started with Brokermint, you need to book a demo with a Brokermint sales representative. You can do that on the real estate transaction management software vendor's website.
Shaker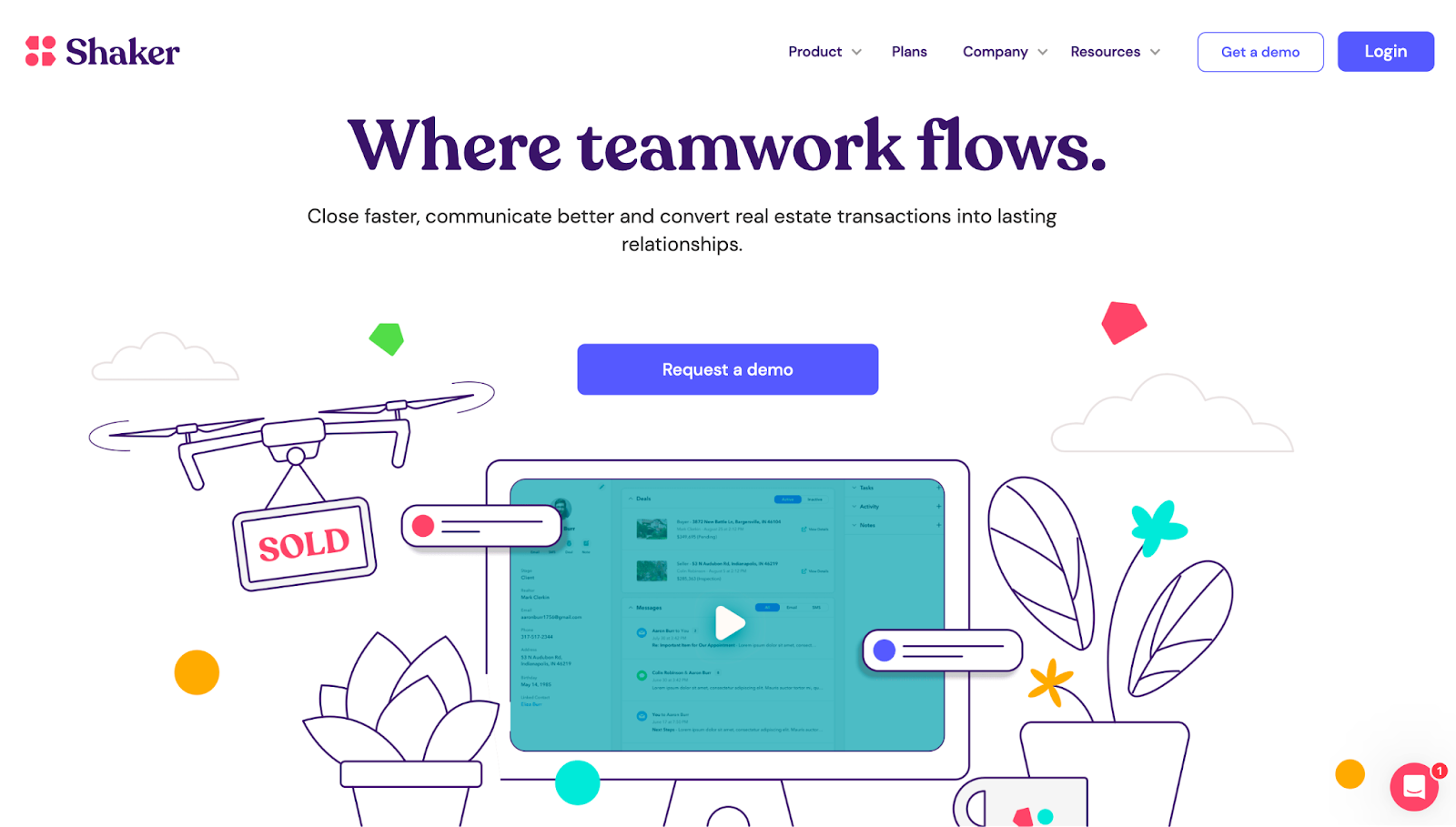 Shaker.io is a comprehensive CRM and transaction management platform designed specifically for real estate teams. It aims to enhance and streamline the entire home buying and selling process from start to finish, and even beyond to lasting client relationships. Shaker's tagline, "Close faster, communicate better and convert real estate transactions into lasting relationships", emphasises their focus on creating an exceptional experience for all parties involved.
The most noteworthy features of Shaker include…
Contact management functionality, including database segmentation with the help of custom tags
The ability to trigger birthday and anniversary emails, or export lists for mailing
Branded client portal
Document checklists and storage
Reporting functionality
DocuSign & Dotloop integrations
Mobile app for agents on-the-go
Synchronised email and calendar
Collaborative functionality
Visual Deal Pipelines
Transaction timelines
Task management functionality
Pros of Shaker
✅ Integration with MLS
✅ Features are intuitive and easy to navigate
✅ There are concierge onboarding services that shorten the learning curve immensely
✅ The branded client portal allows the creation of a personalised experience for your clients during the transaction process
✅ Integrations with DocuSign eSignature, DocuSign Transaction Rooms, Dotloop, Gmail, Google Calendar, Realtor.com, Zapier and hundreds of Multiple listing services (MLS)
✅ Offers flexible plan management options
✅ Automation of repetitive emails and text messages saves a lot of time
Cons of Shaker
❌ The number of integrations is limited
❌ Cost of the real estate transaction management software isn't transparent, as you have to contact a sales rep to find out the price of the solution
❌ Premium Support is a paid add-on package
❌ No free trial
Shaker pricing
There's no information regarding the Shaker.io prices on the website — each real estate business looking to implement the solution needs to contact the vendor to get the quote.
There are 3 different plans:
Essentials
Advanced
Brokers
How to download Shaker for transaction management
To register for the transaction coordinator software, you need to first schedule a demo on the Shaker website.
---
In conclusion, real estate transaction management systems have become essential tools for any modern real estate business. The benefits of these systems are numerous, including increased efficiency, better communication, and improved compliance.
In this article, we've highlighted the seven best real estate transaction management systems, each with their unique pros and cons, key functionality, and prices. Whether you are a small brokerage or a large enterprise, there is a transaction management system out there that can meet your needs and help take your business to the next level.
Table of Contents
Crack the sales formula with CRM Lab
Twice a month, receive actionable CRM content to your inbox.
Join the
Telegram channel NetHunt CRM
All about CRM and B2B sales.
Join