We've got a real estate lead generation bonanza coming up - this is just the start, giving any startup/ wannabe realtors the essential real estate lead generation strategies for the real estate agency. Let's get growing!
---
Web forms
A web form is an area of your website where visitors can fill out their own information, send it off to you, and usually get something in return. There are loads of different purposes for web forms that you can put on your website. As a real estate business, they're the perfect inbound lead generator. Simply set one up to embed, pop-up, or standalone on your website and let the real estate leads come to you.
Real estate lead generators can set up multiple web forms for different sections of their website. For house-buyers and browsers, they might set up a property enquiry form for users to signal their interest so they can set the ball rolling in the house-buying process. Similarly, real estate leads might want to approach your real estate agency to sell their house. Web forms are an ideal way to register their interest.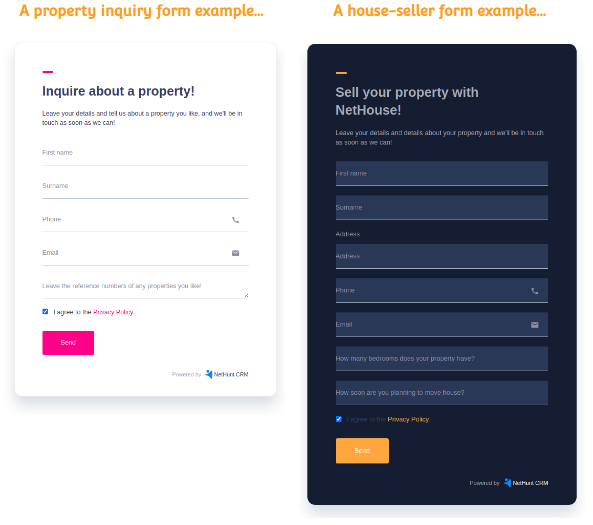 Like what you see?
NetHunt offers free web forms with no registration required! Choose a template or start from scratch. Select your fields from all sorts of options and personalise them entirely to what you need. Choose the style of your web form, the colours, and how to share it. Absolutely beautiful and completely free, forever!
In the end, all those real estate leads who send off your form end up in your CRM system, ready to either sell their house with or buy a home from your real estate agency!
Email marketing
Email marketing is another NetHunt classic. As a customer-centric, convenient, easy, and cheap way of prospecting for real estate leads, they don't come much more effective than real estate email marketing. Real estate newsletters are a tried-and-tested method of putting your brand out there. They can cover a range of different topics, from financing and mortgages to local housing highlights. Here are a few more ideas...
Local market insights
Client success stories
Property showcase
New property listings
Feature local vendors
Buyer/ seller resources
A long read
Blog roundup
Event promotion
Absolutely Everything you Need to Know about Email Marketing
Let's take the local market insight real estate newsletter idea. With insider knowledge about local and broader real estate knowledge, your agency can develop thought leadership in its sphere and the local community. This kind of content is beneficial for property investors looking into the long term affordability of putting their money into the property market.
Email marketing is mostly about maintaining an existing customer base. This may not seem like real estate lead generation, but increased brand loyalty of existing customers tends to end with better referral rates for real estate agencies. Build your subscriber list, learn what they like to read about, segment the lists based on content tastes, and fire out actionable, informational content for subscribers to enjoy.
Referrals
Building a trusted name for yourself means users have no fear of coming to you. As long as you do business correctly, everything is above board, and your estate agents are personal and helpful - the referrals come. Any real estate agent worth their salt will tell you of the importance of developing real estate referrals. Whether you're new to the biz or an old-timer, build a referral program now.
82% of all real estate transactions come from repeat and referral business.
- [Buffini + Company]
File this one as: easier said than done. Whether property-buyers give them or not depends, to some extent, on how engaging your post-purchase care program is. After all, after the purchase, customers are more likely to refer to your real estate company. If you've never asked for a referral before, it can feel a bit tricky; maybe even awkward. You should know it's just business, baby.
But that seems a tad forward… maybe even slimy. You can set up an official discount-for-referrals program. You can use social media as a simple way of asking for referrals. You can give your own referrals to local tradespeople, or you can ring people as they did in the old days. Whichever way you choose, there are some ways of greasing up the wheels of your real estate referral program.
Why not send your customers a happy-house-buying-anniversary card, either by email or by post. As an added personal touch, have it hand-written and hand-signed. You can apply a similar idea to birthday cards and seasonal greeting cards. Failing that, pop them a text when you're passing through the area asking them how things are going in their new place.
Events
Real estate events are an effective real estate lead generation tool for first-time home-buyers and wannabe property investors, especially. They work in the same way as email marketing to spread industry insight and knowledge in return for a loyal base of customers. Real estate events are more challenging to put together than email marketing but bring higher-quality real estate leads.
As mentioned, staying on top of community events is an excellent way of attracting attention to a realtor's site and social media pages. But sometimes, that isn't enough, so further involvement in your community is a great way to establish yourself as a local presence while creating a positive reputation around your name.
In the post-2020 real estate world, your chosen event is more than likely to be a webinar. Webinars are top; we've held a few at NetHunt over the past year. They're free, they're remote, and they're ready-made website traffic even before you consider the amount of real estate leads you can generate with them. Webinars can hone in on a specific type of lead, depending on the topic which it addresses.
Consider these real estate webinar ideas for your next online event!
Steps towards buying a home
How to be a good landlord
How to budget a mortgage
Preparing for an open house
First-Time Buyers 101
How to evaluate a home
Finding a good family home
Why is my house not selling?
What makes a good area?
People invest a lot of money and trust into estate agents. They're either entrusting you with hundreds of thousands of pounds or with their families' lives and upbringings - most of the time both. They deserve to make an informed, reliable decision with estate agents; they deserve the best. A well-run webinar is a window for potential clients to see your agency's professionalism.
Social media ads
Social media ads seem to be the most effective B2C lead generation tool for this young decade. The millennial world and its dog spend their time scrolling through Instagram, and it's the same story for the older generation for Facebook. This presents a fantastic opportunity for estate agencies to present suitable properties to those actively browsing the market quickly!
59% of millennials now use Instagram regularly. But only 11.9% of realtors are using it regularly as a lead platform.
- [Placester]
Above everything, people want to see the house they're about to buy before they go on and have a look at it in person. Instagram is, obviously, a platform for sharing photographs. Instagram ads can be targeted at a specific group of users who have interests in certain things - maybe it's the area you're selling a house in, a direct competitor, or a search that they've made recently.
It works like this...
A potential property buyer browses Facebook or Instagram for real estate in a particular area. You can target your ads at those users based on specific keywords and attributes. Whenever users browse their Instagram feed or stories, your ads will appear as part of a targeted ad campaign. Create a landing page for these users with a web form attached.
Facebook ads for real estate have a much larger catchment and different lead dynamics for your real estate business to target. Instagram is part of the Facebook ecosystem. If you've got a working ad campaign on one, you can simply use the same ads on the other by updating the ad's placement settings. A lot of leads are generated across different industries using social ads.
Cold calls
Granted, this one's not for everybody. The truth is, cold calling can work, but it can be a tricky and lengthy activity to engage in. Cold calling has changed, and there are better ways to engage in it now.
The spray and pray approach to cold calling is dead. There's no point in calling up somebody and asking whether they want to buy a house; they probably don't want to. These days, cold calling somebody who has shown some interest - they've downloaded a guide, filled in a web form, or subscribed to a newsletter - is likely to feel motivated and charmed by a call from a friendly realtor.
But, there are a few rules with cold calling. The best time to call is on a Wednesday, between 4 pm and 5 pm. You should try not to stick to a script and crack a joke or two to break the ice. Ask open-ended questions, and if you are calling after some activity - try to contact the prospect within an hour. Finally, if your cold-caller says no - then that is the end of the conversation, do not persist.
---
With our strategies, you'll be able to generate plenty new real estate leads. But that's where next piece of advice rolls in — to manage your deals, you need a reliable real estate transaction management system.
Table of Contents
Crack the sales formula with CRM Lab
Twice a month, receive actionable CRM content to your inbox.
Join the
Telegram channel NetHunt CRM
All about CRM and B2B sales.
Join