You're struggling with manual sales tasks taking too much time. You want to make day-to-day sales processes more effective and more efficient… but don't know how. Wouldn't it be marvellous to concentrate on what matters, making your over-complicated sales rep life much, much simpler. Alas, there is something so marvellous.
Sales automation is a modern day rep saviour, and at least 33% of modern sales processes can be automated - requiring no human intervention at all.
If your administrative tasks take too much time, keep reading. In this article, we'll teach the basics on sales automation, study its benefits, understand the sales processes that can be automated, preach the best practices to implement sales automation, and discover how to automate sales processes in a CRM system.
Let's get automating!
---
What is sales automation?
Generally speaking, there are two ways to automate sales processes.
General sales automation most often happens within a Customer Relationship Management (CRM) system. It refers to the automation of different data-driven processes such as segmentation, scaled and personalised email outreach, and reporting.
These are tasks that were traditionally completed in a spreadsheet application - yet another platform for sales reps to use and learn.
Sales workflow automation is the delegation of repetitive, mundane sales tasks to sales automation software. It saves time, helping sales reps and managers focus on more important tasks that you can't automate, such as closing deals and building personal relationships. Workflow automation is built in a workflow builder.
NetHunt CRM's workflow builder looks like this.
This is a sales automation workflow for payment reminders. This one is split into 3 branches. The first one stops once the payment is received. The second one sends payment reminders with a certain frequency. The third one creates a task to manually follow-up as the client misses payment.
A workflow builder is the platform upon which it becomes possible to automate sales processes. CRM users can build workflows step-by-step, starting with a trigger and setting different actions and helpers depending on that action.
There's no need to be a coding buff to automate your sales workflows - just a knowledge of processes, a good workflow builder, and a little bit of imagination.
The list of automate-able workflows is growing…
Email drip campaigns
Move leads along the pipeline
Set alerts and notifications for sales team
Create to-do tasks to human-level interaction in the sales process
Delegate leads to different managers
With the automation of data prospecting and generation, unparalleled organisation with CRM's database functionality, and the subsequent automation of what we do with that data - the segmentation, the outreach, and the reporting, sales automation - within CRM presents an explosive opportunity for sales reps and managers to get on top of their work.
Why is sales automation good?
CRM sales automation is a flexible and easy way to implement customer relationship automation for your business. The benefits it offers are boundless.
A reliable database packed with contact data
Sales automation in a CRM system lets you create a database with all the information on your leads and clients you might need.
Automate data import, generation, and enrichment. Build client profiles from incoming emails, social media, web forms, and other sources; enrich that data from different sources on the internet.
Rich data helps build personalised sales workflows and connect with prospects, leads, and customers on a more human level. Automation makes database building easy.
NetHunt CRM for LinkedIn is a social CRM extension. It generates new CRM records and enriches existing ones with data pulled straight from LinkedIn. Sign up for a 14-day NetHunt CRM free trial, download the extension from the Chrome Webstore, and book a demo with our Customer Success Team to learn how to use LinkedIn with CRM for your business!
A well-managed sales pipeline
Build and manage your sales pipeline with the help of sales automation. Automatically move leads and clients through the pipeline based on pre-set events or behaviours.
For example, you could create an automated workflow for moving deals through the sales pipeline.
Whenever you receive a response to an email drip campaign, an automated CRM workflow can automatically change the status of a deal from contacting to negotiating.
Maybe a lead signs a contract to buy your product or service; maybe you receive a notification on a payment made - the deal status automatically changes to won and that customer can enjoy your pre-set post-sale retention workflows.
A standardised sales process
A standardised sales process means each lead and customer being subject to the same sales process as each other while they move along the sales pipeline. Every lead or prospect has access to the same outreach and nurturing.
It helps the sales team filter out low-potential leads, saving time they would otherwise spend on nurturing leads that are unlikely to buy. It lays the foundation for success.
In fact there are more benefits to a standardised sales process than you can shake a stick at…
Sales reps understand what they need to do for each lead
An understanding of where the sales process can improve
Clarity in revenue forecasting
"B2B companies that defined a formal sales process experienced 18% more revenue growth compared to companies that didn't"
Source: Vantage Point Performance and the Sales Management Association
A sales team with the time of day
In a roundabout way, sales automation helps the sales team do less but get more done.
Increasing the productivity of your team is important in any sphere of business, not just in sales. Sales automation software achieves this by giving employees more working time to complete more lucrative tasks; research their leads, build strong relationships, and make more meaningful proposals.
It also can't be ignored that sales automation also helps reduce employee stress by offering more time for simple pleasures like a cup of tea and a biscuit. I can get behind that.
A better idea of what's going on
A sales report provides sales managers with an overview of all the sales processes and operations carried out by a business. It acts as a reflection of various trends occurring in sales and gives an insight into the different steps of the sales funnel. Moreover, it also contains analytical information regarding the performance of all the sales executives on the team.
NetHunt CRM's Google Data Studio (GDS) integration syncs all your CRM data with GDS. From there, you can create beautiful dashboards with all kinds of charts and tables offered by GDS or third-party partners. The data, reports, and charts then continue to sync automatically with your CRM data, so you've always got a view of the bigger picture for your business. Find out more.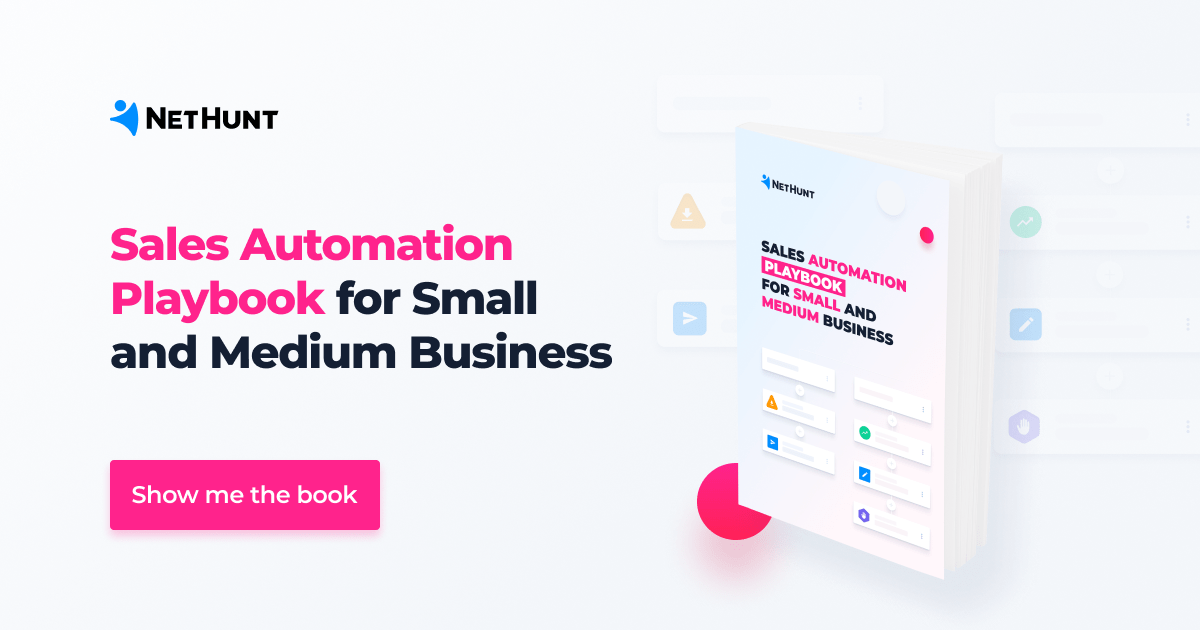 Which sales processes can we automate?
Sales automation can benefit everybody in an organisation - even the marketing and support teams - and can be utilised at every step of the sales pipeline.
Lead prospecting
Every B2B sale starts with lead prospecting. Prospects are the people that might be interested in buying your product or service. If they show any interest during the lead generation phase - the first point of outreach - they rightfully become leads. If they're the right buyer for your product, they convert to customers. Alas, every sales process starts with lead prospecting.
Finding prospects is never easy. With dedicated sales automation software, it becomes much smoother. Leads can be automatically prospected from different sources.
Personalised cold email outreach
Web forms for inbound prospecting
Email marketing
Email marketing is a fabulously effective way of generating and nurturing leads before they buy a product. It's a very direct form of marketing, using email to promote a business's products and services; it involves sending any number of things from product announcements, discounts, audience education, or other services to a pre-set list of recipients.
Email marketing will always work as long as everybody owns an email address.
So ignore the naysayers, email marketing still works. It's customer-centric, free, convenient, and with sales automation features in CRM… It's easy!
Triggered drip campaigns based on customer behaviour
Mail merge for instant, mass personalisation
Email tracking and reporting
Unlimited email sends in a day
Shared email templates
Pipeline management
There's not much point in a sales pipeline if it's not managed correctly. As your business grows, more prospects, leads, and customers enter your pipeline; you've got more sales reps and you're making more sales.
That's good, but it's easy to get bogged down in so many names, numbers, and contracts. Automatic pipeline management minimises this risk.
Notifications in chat platforms for when anything notable happens with a deal
Move a deal to the next stage of the pipeline automatically
Trigger task creation when manual intervention is required
Sales reporting
Sales reporting used to be strictly conducted through spreadsheets. These days, dedicated software such as CRM automates sales reporting. CRM sales reporting offers an all-seeing overview of what's going on in a business.
With all data captured, stored, organised, and used within a CRM system, nothing is missed and everything is surfaced through sales reporting.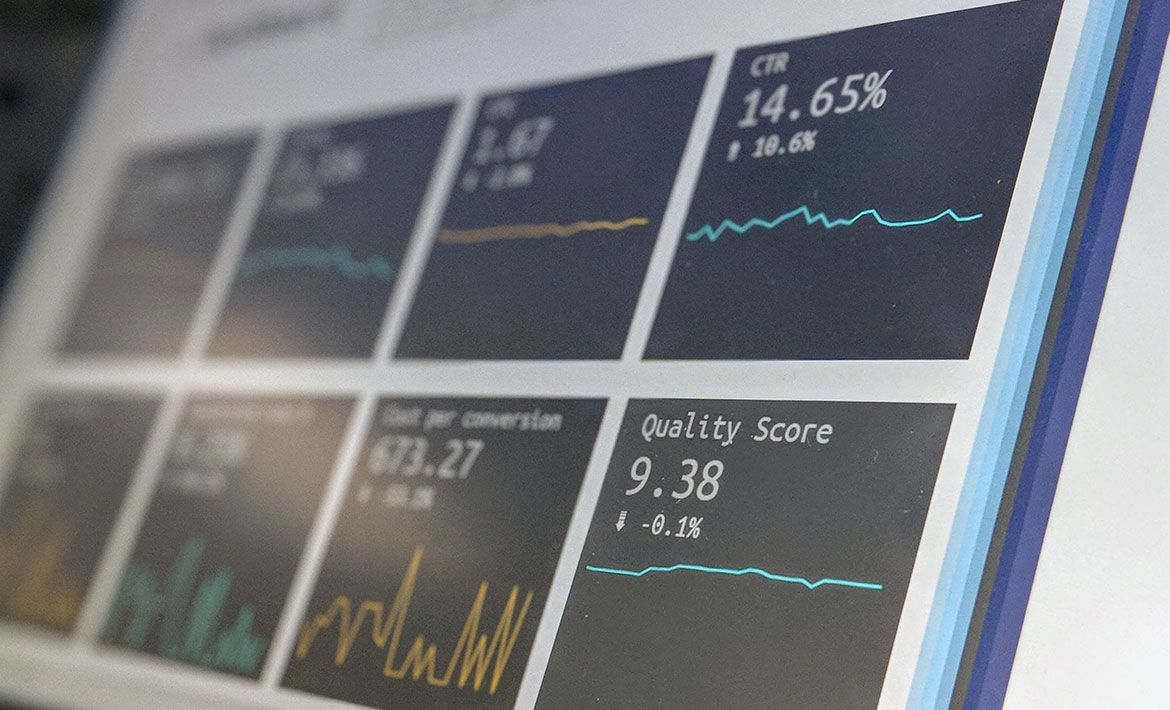 Lead prioritisation
Not all leads are equal. Some have a higher buying intent combined with a generally more immense business value and are inevitably more valuable to your business than others.
The different types of leads depend on where in your sales process they enter your pipeline. With the automatic help of a CRM system, your job is to rate leads based on how ready they are to buy.
Lead scoring is the process of assigning a numerical value to leads based on their readiness to buy. In modern CRM systems, it's an automatic process. A CRM platform looks at all the attributes, behaviours, and pre-conditions of a particular lead and assigns them a number.
Lead distribution
In NetHunt CRM, there are two options for lead distribution. Of course, you can manually assign leads to sales reps as you see appropriate. Alternatively, our sales automation software can assign leads on a round-robin basis. This means they'll be allocated without prejudice or starvation, evenly between individual sales reps. Watch the video and learn how to do it.👇
Sales automation best practices
Not sure where to start to implement sales automation? No worries, we've got you covered. Here are the best practices on how to automate your sales processes.
Choose a CRM system with sales automation
A CRM system is the best and most balanced tool for sales automation. Do not overlook its opportunities when you decide to automate your sales. Review the market with the help of such websites as Capterra and G2. Optimize your website using on-page optimization examples here.
Filter the reviews for CRM by features, pricing options, user, and deployment. If you're still not sure…
Simply choose NetHunt CRM. Workflows by NetHunt is one of those beautiful workflow automation builders we were talking about earlier. We've got features for prospecting, generation, nurturing, and all that stuff. In fact, this whole article is based on what NetHunt CRM can do. If you like that, like this - book a demo with the gorgeous customer success team.
Create workflows to automate tasks
Let's take a look at another example.
A welcome email is sent and then the workflow is split into two branches. The first branch sends a follow-up email to those who haven't replied. The second branch moves a lead to the next stage in the sales pipeline if a response is received, before sending a Slack message to alert salespeople.
Low quality leads might require a little bit more butter to slide them down the sales pipeline. This example is lifted from a real-life NetHunt CRM workflow. It's automated outreach for low-quality leads. They're cold right now, but we're putting them in the microwave and heating them up.
Don't over-automate
At the heart at every good sales process lies two things: Personalisation and automation.
Unfortunately, these two things are very different from each other. Personalisation requires… well, a person. It's the human touch, making sure you engage your customers, build a relationship with them, and build a foundation for cooperation way into the future.
Automation doesn't require a person - it's automatic; it's all done by a robot.
It's tempting to automate every sales process, set your office chair to recline, and watch the hard work get done for you.
Even more tempting with personalising automation features such as mail merge, audience segmentation, and lead enrichment. Don't do this, it's a bad idea. It's important to maintain a human touch.
Automation is designed to offer a helping hand in sales… not do the sales for you.
Look after automated processes
Sales automation is automatic - just set and forget… right?
Wrong. If you don't check your automated processes, something might go wrong. Imagine crucial data gets deleted and workflow is left to run without it.
A workflow might not be working at all if an inexperienced person has made it. Worse, you might be sending duplicate emails to the same person.
Sure, automated processes should work alright if set correctly, but it's still important to keep an eye on them from time-to-time. There might be obvious errors, or there might simply be things you could do better.
A/B test different variations of your sales workflows; figure out which reports are most useful for your business. Your business should practice a unique sales process; sales automation works differently for everybody.
---
Want to try a CRM to kickstart your sales automation processes? Choose NetHunt CRM - subscribe for a 14 day free trial, book a demo with our customer success team, and see how it works for your business.
If you want to learn more on the topic, download the brand-new Sales Automation Playbook!
Table of Contents
Crack the sales formula with CRM Lab
Twice a month, receive actionable CRM content to your inbox.
Join the
Telegram channel NetHunt CRM
All about CRM and B2B sales.
Join