It's safe to say that there isn't a better way to facilitate sales than LinkedIn:
Of all leads generated from social media, 80% of B2B leads come from LinkedIn.
LinkedIn offers quality leads as 4 out of 5 members on the platform are in charge of making business decisions.
43% of salespeople attributed their sales to LinkedIn.
All in all, if you're not using LinkedIn for sales, you should start now. And if you don't know where to start, read this article - we'll take you through all the essential steps of LinkedIn sales, from finding a lead to closing a deal. Buckle up and dive in!
Step Zero: Preliminary preparations
Starting at step zero is usually the best place to begin. Even though the LinkedIn sales process traditionally starts with finding leads for your subsequent nurturing activities, you can't get there without doing some groundwork first.
Imagine the following scenario…
You've recently bought a house and are now trying to renovate it. You've decided not to outsource this job and do everything yourself. The first thing on your list is to change the ugly, stone-washed wallpaper that's been there since the dawn of time. The plan of action is simple: you buy the wallpaper that fits your aesthetic vision and hang it on the walls. Or is it? It turns out, there are a couple more steps you need to do before that. If you want your wallpapers to stay on the walls and look neat, you need to:
Scrape off the old wallpapers
Measure the walls to know exactly how much wallpaper you need
Research and buy the best primer and glue
Prime the walls
Then and only then will the results of your work be eye-candy and stay strong for decades.
Now, let's draw a parallel between the aforementioned example and your business.
The same way the walls need cleaning and priming, your LinkedIn profile needs to be prepared for sales outreach, too. No one is going to take you seriously if your profile looks dodgy and unprofessional, especially when the competition is high and every little detail can be a dealbreaker.
According to science, we make up our minds about things and people within the first seven seconds of meeting them. Want it or not, we do judge by the looks - face, gestures, posture, clothes.
On the internet, your LinkedIn profile is the face of your business. So make sure you make a good first impression. Otherwise, you won't have a chance to make the second one.
At Step Zero, you're required to ensure your LinkedIn profile is in the top-notch shape for all the subsequent steps of the selling journey. Here's a list of all the elements that you need to consider:
Profile element
Things to do
Headline
Add a value proposition in your headline. It's the first thing people see when they encounter your profile, so tell them why exactly your business might be of interest to them.

Creatively explain what your business does or how you help clients (e.g., "helping businesses manage relationships with their clients with the help of a CRM solution").

We use this one: NetHunt CRM blends entirely with Gmail, placing a powerful CRM right in your inbox.

Just make sure you stay within the 120 character limit.
Profile photo
Profiles with photos receive a 40% higher InMail response rate. Use a professional headshot or a high-quality business logo. Use a photo editor to ensure maximum quality.

Pixel size is between 400 (w) x 400 (h) pixels and 7680 (w) x 4320 (h) pixels.

Although you can adjust the photo when uploading, it's best to use a picture that doesn't require much cropping.
Background image
Upload an industry-specific and brand-specific background image so your prospects know your business is relevant to them.

Pixel size is between 1584 (w) pixels x 396 (h) pixels.
About
In 2000 characters, you need to further elaborate on who you are, what you offer and what differentiates you from the competition.

It's a great place to include industry-specific keywords and optimise your profile for the search engines.

For better SEO, add up to 20 company specialities from the list. We use Customer Relationship Management, Gmail, and G Suite apps.

The first 156 characters are especially important because they appear on Google's preview of your page.

When optimising your LinkedIn profile for sales, you need to make sure you keep your LinkedIn sales goals in mind and adjust all the elements accordingly.
Check out this article to learn more about sales planning and how to set actionable and successful sales goals.
Once your LinkedIn profile is all dolled up and you know exactly what you're doing, you can dive into the active stage of the selling process.
Step 1: Finding leads on LinkedIn
We've said it before, and we'll say it again, LinkedIn is prospecting heaven.  It's a known fact that the platform is virtually made for people to connect, which makes it extremely appropriate for all the salespeople looking for potential customers to add to their database.
However, with more and more businesses trying to leverage the benefits of using LinkedIn for sales, the competition grows tighter and calls for salespeople to implement more unconventional lead generation strategies in addition to the already existing traditional methods.
Here are some of the most fruitful LinkedIn lead generation strategies for your business:
1. Connections breed connections
If you've recently closed a deal with a customer that you've acquired from somewhere other than LinkedIn, they can still aid your LinkedIn sales strategy.
Referrals are believed to be one of the most valuable forms of marketing, especially if you're running a B2B business. Let the numbers speak:
People are four times more likely to purchase from a business when referred by a friend or a colleague.
Referred customers' life-time value (LTV) is 16% higher when compared to non-referred customers.
Customers acquired through referrals have a 37% higher retention rate.Referred customers have an 18% lower churn than customers acquired by other means.
The more people you have in your LinkedIn network, the bigger reach you have. Every new connection you acquire on LinkedIn is an open opportunity, let alone when this connection is someone who's witnessed your professionalism and was left satisfied by the experience they had with your business.
Once you build a robust network of connections, you can commence with LinkedIn content marketing and draw your target audience's attention to your business with valuable posts. We've talked plenty about developing a content marketing strategy on LinkedIn in this article.
Check expert tips on LinkedIn lead generation
2. Join LinkedIn Groups
Considering the fact that LinkedIn is a social media platform, it's only natural that people gather in communities there to discuss relevant news, share their experiences and connect with like-minded individuals. Traditionally, they do so in appropriate LinkedIn groups.
Those are the promised land for salespeople trying to find prospects on the platform. Because the groups are private by default, you can expect to find a higher quality of lead in them as everyone joins them willingly and deliberately.
There are two ways in which you can use LinkedIn groups for finding leads. You can either create a group of your own, or take advantage of an already existing one: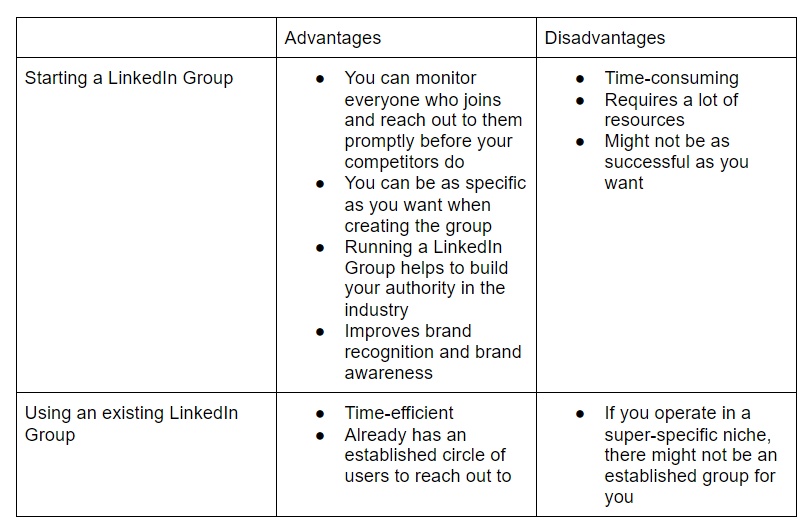 NetHunt's Hot Tip
If you choose to look for leads in already existing LinkedIn groups, don't limit yourself to just one group. There are likely several communities with a similar agenda, and you should be active in all of them for maximum reach. Small groups limit your lead potential, but big ones mean your message can get lost.
To generate leads using LinkedIn groups, either use the 'Discussion' tab at the top of the group's homepage and post questions, comments, or statements to get your voice heard; or monitor other members' posts to see if anyone could be interested in your product and reach out to them directly.
3. Check Who Viewed Your/Someone Else's Profile
When someone views your profile, you can automatically assume they're interested in your business and whatever it is you have to offer.
LinkedIn understands that, so the platform makes the salespeople's lives easier by offering them access to the 'Who Viewed Your Profile' tab. You can go through it and reach out to the people who've already visited your profile.
LinkedIn Basic members can see up to five people that showed interest in their business on LinkedIn, while LinkedIn Premium offers an unlimited view of who has been snooping around. On top of that, you also get access to information about trends in viewership and industry representation.
The best thing about LinkedIn is that it doesn't just let you see who viewed your profile, but it also gives you an insight into who else people are viewing. The 'People Also Viewed' section displays 10 potential prospects that are very similar either to yourself or the profile that you are already looking at. Long story short, once you find one lead, it's basically raining leads. Especially since the section gets updated regularly, there's a rotation of fresh faces every month, so you shouldn't worry about having a steady flow of leads to generate.
The next two LinkedIn lead generation strategies are only available to LinkedIn Sales Navigator members. We've covered in detail the difference between available LinkedIn plans in this article. But, spoiler alert, if you want to be at the top of the lead generation game, it's worth investing in the subscription ;)
4. Advanced Search
The advanced search feature is one of the key reasons LinkedIn salespeople purchase the LinkedIn Sales Navigator subscription. Compared to the native search tool LinkedIn offers, the advanced filters are a total game-changer.
You can tailor your search and narrow it down to specifics using the numerous filters Sales Navigator offers. Have a glimpse at what you can take advantage of:
Individual filters
Company filters
Company size
Company headcount growth
Company type (public, private, non-profit, etc.)
Company revenue
Company (current/past/past or current/past not current)
Department headcount growth
Exclude contacted leads
Fortune (listed on Fortune 50/100/500)
Exclude saved leads
Headquarters location (by region/state)
Exclude viewed leads
Headquarters location (by postal code)
First name
Hiring on LinkedIn
Function
Industry
Group membership
Job opportunities
Industry
Number of followers
Last name
Recent senior leadership changes
Leads following your company
Relationship (companies where your connections work)
Leads mentioned in the news
Leads with recent job changes
Leads with recent LinkedIn activity
Leads with shared experiences/commonalities
LinkedIn member since
Location by region/state
Location by postal code radius
Posted content keyword
Profile language
Relationship (1st, 2nd, 3rd degree, group member)
School
Search within my accounts
Seniority level
TeamLink connections
Title (current/past/past or current/past not current)
Years at current company
Years in current position
Years of experience
5. Lead Recommendations
It just doesn't get better than this. That's all we have to say about Lead Recommendations. Lucky LinkedIn Sales Navigator members get access to an unlimited selection of potential leads based on your sales preference, your search history, and your interactions with different profiles. You know what they say about opportunities like that, be there or be square.
Above, we've only mentioned the most popular LinkedIn lead generation strategies. But if you want to get the upper hand in the lead generation process, you can turn to other, more unconventional methods…
To find even more creative ways to generate leads on LinkedIn, give this article a read.
Step 2: Getting leads' data from LinkedIn
Great job! You've found the people who could be interested in your products and are ready to hit them with an offer of their lives. But to maximise the effectiveness of your subsequent actions, you need to collect all the newly generated leads. Once they're centralised in a CRM system, they can be managed and nurtured.
Now, there are two ways in which you can do that...
The Traditional Way
There's not much to say about this one. You go to the lead's LinkedIn profile, you check the data they've shared with the platform by checking the Contact Information tab or scrolling down to the About Section, and you… copy and paste it into your CRM system. Their first and last name, their current job title and company they work for, their email, etc. - lots of information to add to the database.
Speaking of emails… Here are a couple of tools that can help you to find LinkedIn users' email addresses:
LinkedIn Email Finder by GetProspect. Free. This Chrome extension allows you to easily find verified email addresses of LinkedIn users, It works with both B2B and B2C emails.
Clearbit. Free 100 credits per month. Another Chrome extension that lives inside of your Gmail inbox and lets you find verified email addresses. Just click on "Find Emails" and just plug in someone's company name with either their first name or job title.
Skrapp.io. $39 per month billed annually. A Chrome extension that allows you to see your LinkedIn leads' information and save it.
Of course, you could hire a junior sales manager to handle the manual data entry and enrich your database with all the glorious leads you find on LinkedIn. But at the end of the day, we live in the 21st century and one of the biggest sales trends nowadays is automation. So why not make your life easier and get all the necessary data in a much more time-efficient and productive way. The Nethunt way!
Further reading: 3 CRM integrations for LinkedIn
The Better Way
Delegate the dirty work to a dedicated tool. After all, that's what they exist for.
NetHunt's LinkedIn Integration is one of the best tools for automating LinkedIn lead generation as it has a variety of features that can make your life easier.
First of all, NetHunt shows you whether or not the profile you've encountered is already in your system. If the icon is grey, it means the lead hasn't been captured yet and you should work your NetHunt magic ASAP!
To create a new Contact in your CRM, just click on the NetHunt icon next to a person's name. This record will be added to the Contacts folder in NetHunt. NetHunt icons (and thus an opportunity to add a lead) are available not only on a person's profile but almost everywhere on LinkedIn: home page, search, recommendations, etc.
When you add a new Contact or a new Company from LinkedIn to NetHunt, their profile will be automatically enriched with the details that are available to you as a user: picture, first name, last name, company, title, email, phone number, Skype id, Twitter handle, birth date, link to the LinkedIn profile.
Step 3: Engaging with the target audience
Once you've added your LinkedIn leads' contact information into your CRM system, it can be tempting to fire off your sales outreach message straight away. But… it can be creepy. It's like sliding into someone's DMs on Instagram. In 99 cases out of 100, the recipient will just screenshot the attempt and send it to their friends' group chat. Not efficient whatsoever.
Instead, you should warm up your leads a bit at first. Establish a connection with them via means other than direct messages. Introduce yourself to them, make yourself known to them. Here are some ideas regarding how you can do it in the least creepy way possible:
Like their posts. Likes are the smallest gestures of endorsement on social media but they get the job done. If you're consistent in your liking, you'll quickly establish your business persona in the minds of your leads.
Comment on their posts. If you want to make an impression, leave a comment. People remember who they converse with, especially if they find the conversation mentally exciting, useful or fruitful in any other way. If you've singled out a lead, it means they are a part of your target audience and are posting about the things you have expertise in. Give valuable advice, and you will be remembered.
Give Skills Endorsements. This one is cheeky but it gets the job done. If you see someone is good at something they do, give them the recognition they deserve. People love to have their egos boosted, so don't miss out on an opportunity to flatter them. Just don't go overboard and endorse every skill they have. Cajoling isn't the way to go.
In fact, everything is only good in moderation. The best way to tackle pre-sales outreach engagement is not to overdo it. Otherwise, it'll come across as if you were trying too hard. You can master the art of social selling by checking out our article. Good luck!
Step 4: Sales outreach via LinkedIn
One of the best ways to reach out to your target audience via LinkedIn is by using InMails. Once you've warmed up to your leads and know them a little better, you can send them a message via LinkedIn's native messaging system.
In your first message, you should introduce yourself and straightaway give a reason why they should keep on talking with you - a value proposition is just asking to be placed in your first message.
The best way to engage your leads in the first message is to personalise it. To do that, we recommend using Crystal.
Tool of Choice: Crystal
"Crystal uses Personality AI to accurately identify anyone's behavioural patterns by analyzing text samples, assessment responses, and other attributes. It then uses that information to facilitate more effective communication, stronger one-on-one relationships, and better decision-making."
Essentially, you get access to the summary of who your lead is and what kind of message they're most susceptible to. This Chrome extension provides you with a high-level view of the personality, accompanied by a quick tip for interacting for 10 profiles/month for free, or $29/month. This tool is definitely worth investing in as it suggests the things you should say as well as the dos and don'ts of the conversation.
However, in the age of tight competition in the business world, you want to maximise your chances of getting noticed. That's why we recommend implementing a multi-touch sales outreach strategy and expand the circle of platforms you use to communicate with your prospects.
For instance, you can use email marketing. Check out our extensive email marketing outreach guide to let you know how to arrange it in the most effective way possible.
Further read: LinkedIn prospecting messages [28 templates]
Step 5: Closing sales
Once you have a steady connection with your LinkedIn leads, you can take it a step further and set up an automated email sequence to nurture them.
NetHunt CRM offers a beautiful feature called Workflows that takes the hard work out of working hard. All you have to do is design an email sequence that will win your lead's heart and press the 'ACTIVATE' button.
Check out our follow-up emails article to find out more about what to write in your email sequence, and set up the Workflow.
Workflows offer a wide range of different triggers and actions, so you can customise your workflow in a variety of ways and do a variety of jobs. Just choose the combination of triggers and actions that serve your purpose and enjoy the results.
Here's a list of triggers available in NetHunt CRM's Workflows: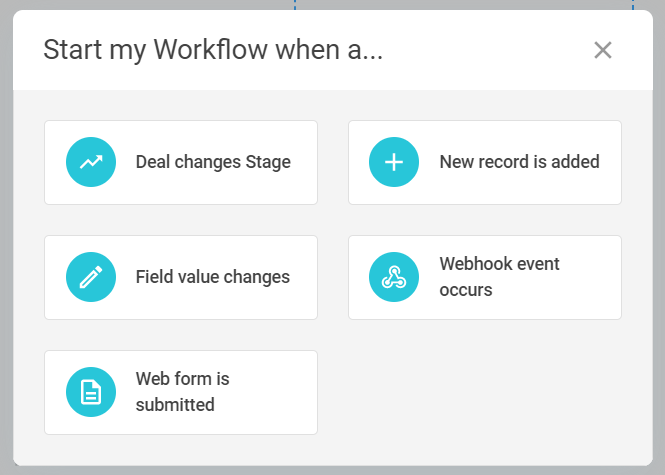 And here are all the actions that can be done once the trigger is triggered: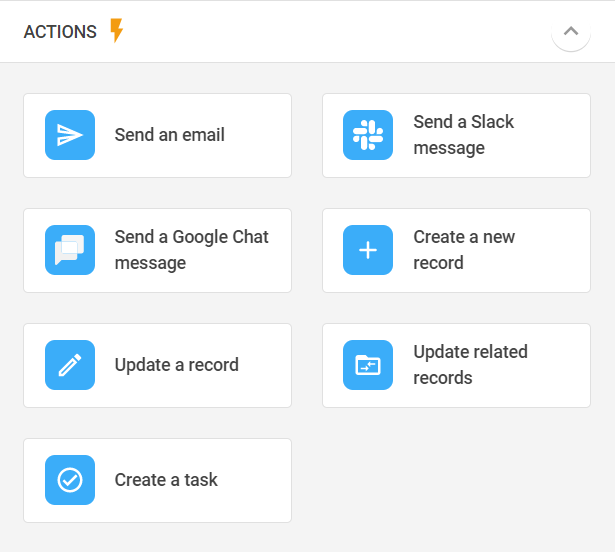 On top of that, you can make your sequence even more specific and tailored to your business process by using the appropriate helpers: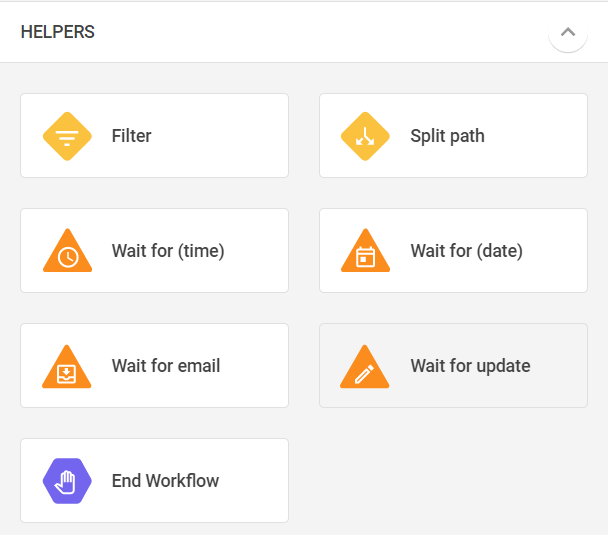 If you're looking to set up a lead nurturing email drip campaign, you should choose the 'New Record is Added' trigger that would set off the whole sequence, and 'Send an email' as your action.
You can add as many emails as you want into your sequence and make it as branched out as needed. Here's just an example of what your LinkedIn lead nurturing can look like: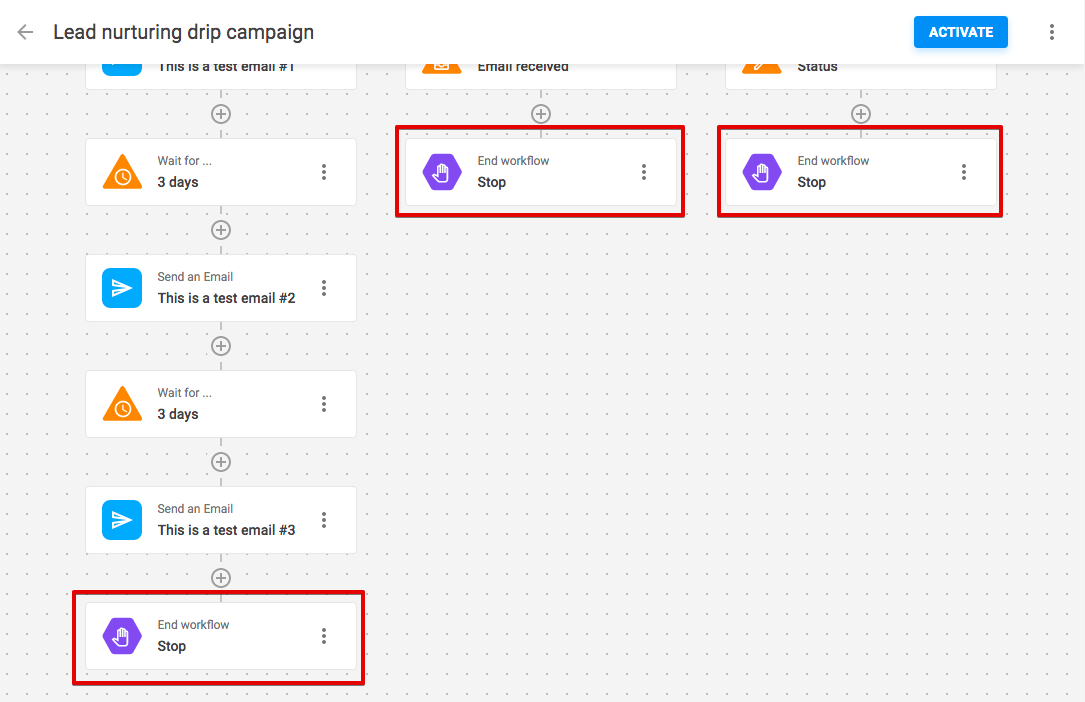 Sit back and wait for the sales to roll in.
Step 6: Measuring results
Oh, wait… No, don't sit back. Your LinkedIn sales process needs a logical ending. You need to measure the results of your work and adjust the strategy if needed.
In NetHunt CRM, create a custom view to see all the leads that came from LinkedIn, and check whether or not their nurturing led to conversion into customers or not. To do that, filter by lead source (Linkedin) and check out the number of leads generated from LinkedIn that were won or lost during a certain period of time.
---
Voila. You know everything you need to know about LinkedIn sales, so don't waste another second and start your journey right now, you have all it takes.
Let's get growing!
Table of Contents
Crack the sales formula with CRM Lab
Twice a month, receive actionable CRM content to your inbox.
Join the
Telegram channel NetHunt CRM
All about CRM and B2B sales.
Join