To be honest, selling is hard. There're a lot of factors that influence how successful your sales efforts are. Even if your sales pitch is irresistible, you still might not get a response you were striving for right away. According to InsideSales, 50% of sales happen after the 5th follow up. And here's another piece of stats from HubSpot to think about — the average sales rep only makes 2 attempts to reach a prospect.
Salespeople make a fatal mistake. They equate communication with potential customers to personal relationships. Remember: your lead is not your crush, here you don't risk seeming like an annoying stalker. Being a company, your emails usually go undetected. It does pay to be persistent: each next email doubles your chances to get at least noticed. However, the window of opportunity begins to close at six attempts, so use follow-ups wisely before persistence turns into inefficiency.
What is a Sales Follow-up Email?
A follow-up email in sales is a message that sales reps are sending to their prospects if they get no response to their initial email, or if the previous answer was 'no'. Sending sales follow-up emails is an effective way to engage or re-engage your prospects in a conversation that might eventually lead them to a closed deal.
Although writing a great follow-up that'll make an impact on your lead or customer is quite a tough task, it's an absolutely possible one. You just need to keep in mind the main characteristics intrinsic to a follow up that makes a difference and adjust your sequence accordingly.
Here are the key qualities every successful follow-up cadence has:
Personalised. It's important to ensure that the message you send is tailored to the receiver and their specific needs. If you don't take the peculiarities of your previous communication into consideration and just send a generic follow-up, you risk losing your lead's interest and decreasing the chances of receiving a response. Go beyond sticking a macro-generated first name in the body of your follow-up email - contextualise your sequence.
Simple and readable. Make sure your follow-up email is straight to the point and doesn't confuse the reader. It's best to stay away from a graphic design-centered layout when creating a sales follow-up email. Those feel automated and mass-sent, which defeats the purpose. Moreover, don't go overboard with your CTAs - stick to just one so you don't baffle your recipient.
Short(er). As a rule of thumb, your follow-up messages should be shorter than the first email in the sequence. You don't need to restate everything you said in your initial email, but rather bump it up in the recipient's inbox or provide some extra details to prompt them to reply to you.
Respectful. You're asking your email recipient for the favour of taking some sort of action when sending them a follow-up - make sure you're polite with your ask and use the appropriate language in your copy.
Valuable and customer-centric. The follow-up must be beneficial not only for your business but also for the recipient. There needs to be a clear reason why you're sending this email and how it can make a difference for the person receiving it. Communicate the value of your offer with the content you send.
Timely. You need to make sure your follow-up reaches the recipient's inbox at the right time - when they're most susceptible to it.
Success of your sales follow-up is determined by the timeliness of your email. If you send the right message to the right contact but do that at the wrong time, your follow-up won't drive the desired results.
When you have a lot of leads in your pipeline, it's difficult to send follow-ups to all of them manually. You will either waste all your resources on ensuring that leads receive the appropriate messages at the right time, or miss out on valuable sales opportunities. If you forget to send a follow-up on time, there's no point in sending it later, when the recipient has already lost track of who you are.
The best way to overcome this problem is to automate the follow-up process using software that offers the email automation functionality. For example, NetHunt CRM's Workflows feature allows you to set up automated email sequences that send the right emails to the right people at the perfect time.
That way, you won't have to worry about hitting the 'Send' button and can focus on analysing the content of your emails and how they work for your audience.
You simply need to come up with the content for your email sequence and decide on the timing for your follow-ups. Take advantage of the variety of different helpers such as wait time (Wait for Time and Wait for Date) and filters to adapt follow-ups based on user behaviour and customise the perfect workflow for your business!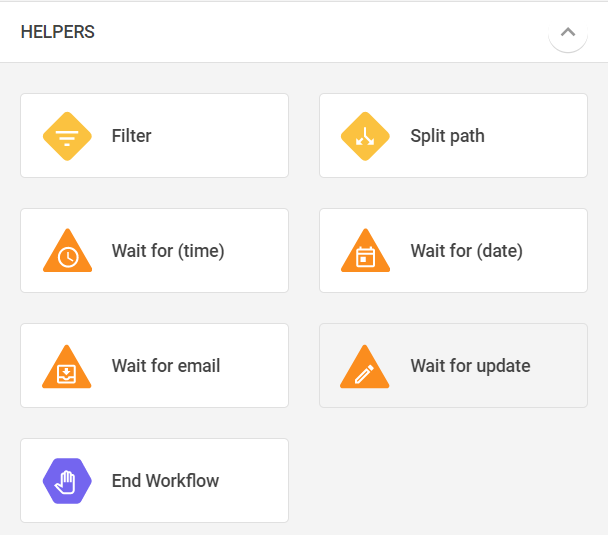 Here's an example of how your lead nurturing email campaign can look like with NetHunt CRM: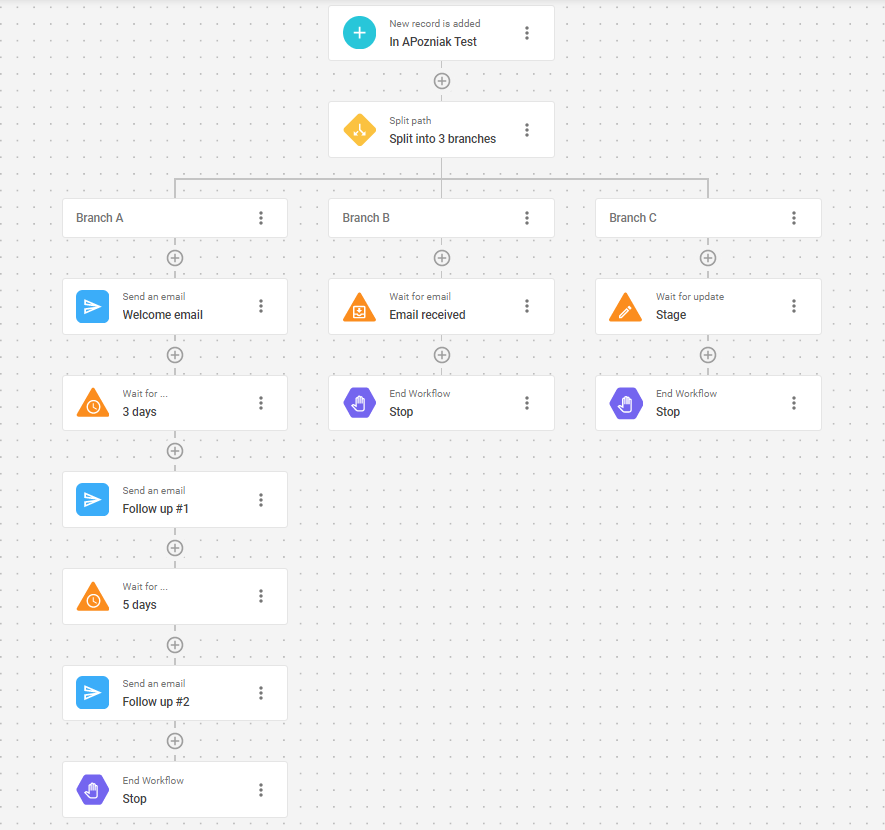 Never miss a sales opportunity with NetHunt CRM's automation feature.
Try it for free and set up your first follow-up sequence today!
5 Sales Follow-up Strategies Backed with Examples

"Sending Value" Follow-up Strategy
If something didn't work out, that could be because you didn't give a prospect enough details about you, and they were too busy or shy to ask for more information. Believe it or not, a lot of people are scared of looking incompetent.
A good way to follow up is to send some useful materials to the prospect to spark more interest in your products. An appealing subject line only adds up to the probability of being finally noticed and appreciated.
Template #1:
Email Subject: Ideas about [lead's goal or problem]
Hi [Name],
How is it going? I know I haven't heard back from you yet but I'd like to provide some assistance. Just thought I'd send you the materials that might help with [a problem that the company is facing at the moment]. Here are the links:
[links or information]
I was also hoping to schedule a brief conversation to discuss your current business positions and how [your company] could help [lead's company] grow. When are you available next week?
Best,
[Your name]
Download the Extended Follow-up Sequence
Why is this a good strategy?
It shows the understanding of prospects' problem;
It gives value instead of idle wows;
It's a good start for a long-term professional relationship.
2. "Team Discount" Follow-up Strategy
Another way to craft a sales follow-up after no response and finally hook the prospect is to provide a group discount. This one is relevant when you're sure that your product may be useful not only for one person from the company but for several of them.
Template #2:
Email Subject: Hit revenue goals with [your product] [team discount inside]
Hello, [Name]!
We've noticed that our product/service might be interesting for your peers as well. It can improve [insert something that needs improvement and can be solved by your product] and help your company hit revenue goals.
And guess what? We offer a 10% discount for your team! If you like the idea that we're suggesting, we'd be happy to discuss it in detail.
Sincerely,
[Your Signature]
Download the Extended Follow-up Sequence
Why is this a good strategy?
You offer a discount, which makes your product very attractive to the user;
At the same time, you propose a team discount, which means that they will pay you more at once;
You encourage the user to visit your website and explore your products.
3.  "Never Too Late" Follow-up Strategy
This strategy shows you how it's possible to send a follow up to someone you wanted to talk to but couldn't reach. It gives you a second chance to schedule a meeting or a phone call with a prospect.
Template #3:
Email Subject: [Name], trying to connect with you
Hello, [Name].
Unfortunately, I couldn't get in touch with you on the phone earlier today. I was calling to discuss [insert the brief description of the offer].
However, the voicemail told me to try reaching you again [enter the date and the time]. Till I do, you can contact me here or at [insert a cell number].
Sincerely,
[Your Signature]
Download the Extended Follow-up Sequence
Why is this a good strategy?
It's short and gets down to business;
The message shows respect for your prospect's time and privacy;
At the same time, it helps you to contact the right person faster.
4. "A Quick Survey" Follow-up Strategy
Another way to remind the prospect of your existence and get some data on the efficiency of your email is to send a pop-quiz in your follow-up. Make it short yet catchy, and the higher conversion rate is guaranteed.
Template #4:
Email Subject: Shall our conversation keep going [Quizz Inside]
Hi [Name]
Just wondering: are you interested in receiving our emails in the future? You may be busy as hell for writing a long response, so all you need to do is to send one number:
1 — I am unavailable now, follow up again sometime.
2 — I am not interested in your solutions.
3 — Can I find out more about the offer?
Thank you for your time!
Sincerely
[Your Signature]
Download the Extended Follow-up Sequence
Why is this a good strategy?
It's brief and requires only a sec to reply;
You show some respect by helping them to save time;
People love polls and interactive content.
5. "Hot on the Trail" Follow-up Strategy
Don't forget to follow up on your prospect shortly after your business meeting or even a phone call. That's the best way to build upon your further partnership and show your interest in further communication.
Template #5:
Email Subject: Meeting Recap and Our Next Steps
Hey [Name],
Thanks for the time today, based on our conversation, there is definitely a strong fit for [your company] and [prospect's company]. Here's a summary of the features we discussed, and the steps we need to take to accomplish our goal.
Objective: Discuss monthly growth figures to determine wins, losses, and areas to improve (for example)
Conversation points:
[Point 1]
[Point 2]
[Point 3]
Action points:
[Point 1]
[Point 2]
[Point 3]
Next meeting: Thursday, 8/16

[Your Signature]
Download the Extended Follow-up Sequence
Why is this a good strategy?
You establish a stronger bond between you and a prospect;
You remind them about pain points that need an immediate solution;
You schedule the next meeting right away after the first one.
Our list of only five sales email templates is not exhausting. You can get into 1000 and 1 of any possible situations that require your follow-up. So it may and will happen that you find yourself crafting a follow-up email from scratch. In this case, you might want to use the best practices that will help you to stay atop. Here they are.
---
Five templates is far from being an exhaustive list, but it's a good place to start. Once you understand the logic behind these strategies and get in the habit of creating impactful follow-ups that generate actions, you'll be able to craft the perfect sequence for your specific situation.
Suggested read: The 10 common mistakes in follow-up emails
Now you're almost fully geared up to send successful follow-ups and win way more prospects than before. We say "almost" because one essential detail is missing here: a tool that will help you schedule follow-ups and stop losing leads scattered throughout your pipeline.
This tool is a CRM. This software makes your sales process simpler by allowing you create email templates, visualizing your sales funnel, and even automating your follow-up sequence.
You probably already know about CRM and its benefits for SMBs. And now close your eyes and picture this: the pipeline, follow-up schedule, contact history — all of these reside in your Gmail. Just see whom you need to contact today and follow-up the right people in one click.
Building follow-up sequences in Gmail is not a dream anymore. It's a reality.
Interested in how it looks like? Sign up for NetHunt CRM for free and see everything with your own eyes!
Become a sales expert with the NetHunt blog
Twice a month, receive handpicked sales and marketing insights into your inbox
Don't forget to share this post with friends and colleagues!