With 2023 being just a couple of days away, it's time to make a list of New Year's resolutions.
Do you want to close more deals next year? Do you want to spend less time on manual tasks? Do you want to become an industry leads and a recognized expert?
For every sales manager out there, the goals will vary. We've tried to put together the ultimate list of New Year's resolutions for salespeople who want to generate more sales. Take one or all; bringing even a single promise off this list to life will give your business a boost!
---
1. Set SMARTer goals
New Year's resolutions are a way of planning ahead. But if you want your business to grow in the upcoming year, you need to take sales planning seriously.
Every year, quarter, and month, you should sit down with your team and discuss  objectives for the upcoming period and outline how you plan to achieve them. This gives you a clear sense of direction, motivates your team, prepares your business for potential problems, and helps pick the right strategies to meet sales targets.
To leverage the benefits of planning, you should only set SMART business goals. It's essential for everything you aim for to be specific, measurable, attainable, relevant, and time-bound.
Imagine we were setting a SMART goal for 2023...

❌ Get more sales

✅ By the end of 2023, increase the volume of sales by 5% in comparison to the 2022 fiscal year by increasing the number of return purchases
You should also distill  sales activity goals to shorten the sales cycle. Instead of spreading yourself too thin, cut the number of goals you're seeking to achieve to bare minimum and focus on what matters.
When setting goals for your business, ask yourself the following questions...
Which activity goals are essential to moving forward?
Can I simplify any of these goals?
Can I combine any of these goals?
2. Commit to understanding why
No matter what happens to a deal — win it or lose it — you should understand why it happened. This way, you can pinpoint the commonalities in wins and losses have, and either focus on keeping those shared threads or getting rid of them.
There are a couple of ways in which you can get to the bottom of a past prospects' decision...
Focus on creating sales reports

There are multiple sales reports you should look into to understand why leads acted in a certain way. All Deals Won and All Deals Lost offer insight into how many deals were closed and how many went south. You can understand which products, buyers, sellers and markets are more likely to yield results. Finally, they also provide you with information on where exactly stalling occurred if any.

Ask your customers directly

A remarkably low number of companies interview customers directly to learn the motivation behind choosing their product. This is a mistake; customers are equally as invested in buying as you are invested in selling the product. When approached correctly, they'd be more than willing to share their observations with you.
3. Get more referrals from existing customers
If you want to leverage the benefits of referral marketing, ensure you do everything possible to prompt an existing customers to recommend your business to their network.
First, focus on improving the quality of customer experience you provide. This includes establishing better relationships with existing customers, maintaining them, and being proactive when it comes to customer success.
Then, design a referral program that offers existing customers incentives to introduce new customers to your business. According to information from Software Advice, more than 50% of people are likely to give a referral if offered a direct incentive, social recognition, or access to an exclusive loyalty program.
Further read: How to get high-quality referrals from your customers
4. Improve personalisation
In 2023, personalisation is even hotter than it was before. As customers become more aware of the amount of data they share with businesses when surfing the internet, they want to receive benefits for it.
In 2023, personalisation extends beyond simply mentioning a customer's name... although it's a good place to start. If you want your business to stay afloat, you need to keep up.
Resolute to warm up your cold outreach in the upcoming year! Make sure you collect more information about prospects and leads to provide them exactly with what they need, instead of hitting them with generic offers.
Ideally, look into the personalisation capabilities of AI and ML. It might sound scary, but it's where the business world is headed. Don't miss out on a chance to be at the frontier of the market.
5. Get to know leads and customers better
If you want to personalise sales and marketing efforts, you need a solid basis for customer segmentation. You must know more than just a lead or customer's first name.
Take time to build a serious relationship with every single person in the sales pipeline. When they feel like you're a friend, they trust you more and are more likely to buy from you a second time. There are numerous ways in which you can learn more about your leads and customers...
Set up email drip campaigns
Send out a questionnaire
Talk to them over the phone
Invite them to an online or offline event
Invite them to join your community
Connect with them on social media
Grow your professional network on LinkedIn
Since we've already touched on the subject of social media, make the promise of growing your professional network in 2023. Spoiler alert: the easiest way to do it is to bring your LinkedIn profile to life.
The world of sales is tight. After a while, everyone knows everyone. And the more people you know, the higher your chances of getting through to a potential client are.
In 2023, you should pay more attention to LinkedIn sales and LinkedIn outreach, in particular. It's the top platform for B2B lead generation: it's filled with high-value leads and it offers splendid native features that open up a lot of sales opportunities for salespeople.
But to leverage the benefits of LinkedIn, you need to cooperate with the platform. Commit to making a connection with at least one person every day, and by the end of the year, you'll have 365 new sales opportunities.
Give a read to our article on how to write high-converting prospecting messages on LinkedIn
7. Become a thought leader
The best performing salespeople aren't those that promote their product, but the ones that promote their industry. If you want to raise awareness and sales, you need to be the first name that pops up in their heads when they think about the product or service you offer.
Becoming a thought leader also proves your expertise in the field and improves  credibility.
Here's what you can do...
Actively post on LinkedIn: stats, opinions, tips, market research
Contribute with quotes to expert articles
Participate in webinars as a speaker
8. Implement a suitable CRM system
Sales and CRM go hand-in-hand, but only when they are a good fit for each other.
While your sales team definitely needs a CRM system, there are a couple of nuances to consider when choosing the solution.You need to find the CRM that works best for your particular business workflows.
This means exploring the options available to you, jotting down the must-have features you need, and asking your team for their functionality preferences.
Check out our CRM from A to Z guide on how to choose the right CRM for your business!
9. Refresh the CRM regularly
It's not enough to simply purchase a CRM solution and call it a good job; it's not a set-and-forget sort of of technology. For it to work and boost your business performance, ensure you regularly update and clean it. Only with fresh, accurate data will your CRM give you the results you expect it to bring.
In 2023, make sure that every member of your team is on the same page when it comes to using CRM. They should be comfortable and confident with the system.
There are a few strategies that can accelerate the CRM adoption rate at your company...
Train the team to use CRM
Explain the benefits of using the system
Lead by example
Encourage teamwork
Set KPIs that can only be tracked in CRM
Learn more about motivating your team to use CRM in our article
10. Keep up with the latest sales trends
Competition drives innovation.
If you want your business to stay relevant and successful, keep tabs on all the latest sales trends. As a rule of thumb, those hopping on emerging trends get the first-movers advantage. So, if you see a trend you could implement, don't hesitate to do so.
Find out all the biggest sales trends of 2023 in our article.
11. Automate as much of your sales as possible
We've already entered the era of automation, so sales automation is no longer a want but a need.
Companies that incorporate high-level automation into their sales process generate around 16% more leads compared to those that incorporate low-level or no automation.
61% of businesses leveraging automation reported exceeding revenue targets in 2020.
Another stat in favour of sales automation is that nearly two-thirds (64.8%) of reps' time, on average, is spent in non-revenue-generating activities. Almost an hour of sales rep time is spent on administrative tasks every day.
To improve the satisfaction of your reps along with their productivity, you should automate your sales. To find out how, check out our Sales Automation Playbook.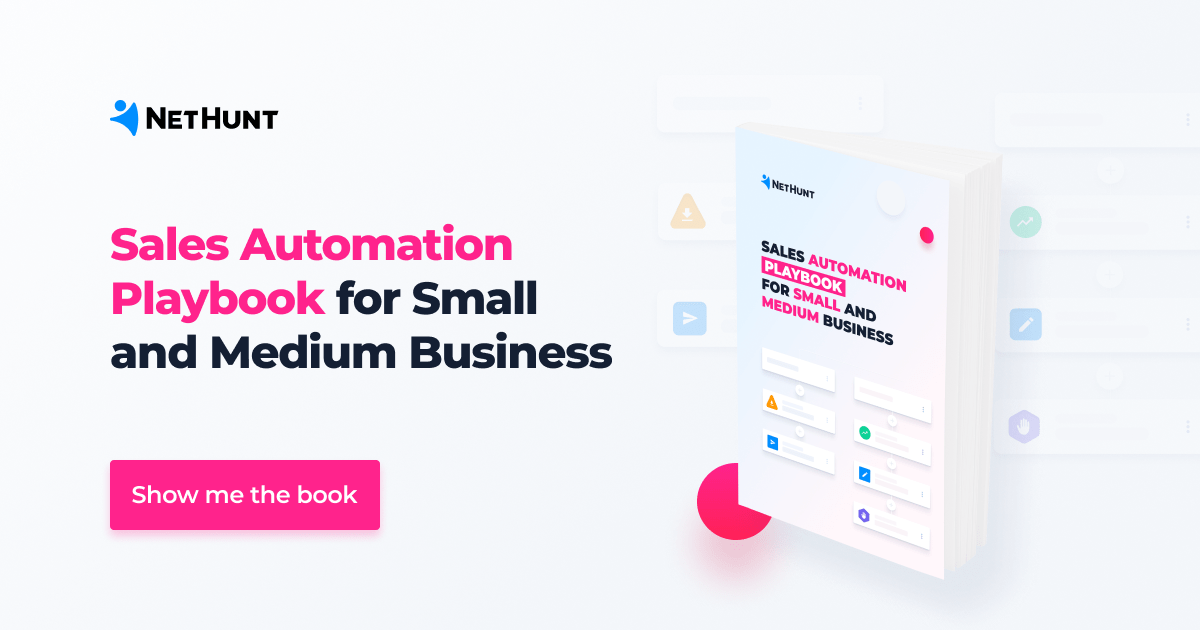 12. Find more effective ways to coach your team
Your company's sales success heavily depends on how skilled your sales team is. As a sales manager, you need to help your sales reps grow and improve their performance.
In 2023, dedicate some time to team meetings and 1:1s where you'd focus on your reps' achievements and losses, and teach them how to sell better. To do this...
Conduct regular performance reviews
Use CRM data to identify where the majority of leads fall off and explain to your team how to convert from that stage better
Find out how to coach your sales team using CRM data in this article!
13. Get better at objection handling
If a lot of your deals flop further down the sales funnel, it's likely that your team could use some sales objection training. In 2023, go through your CRM database and analyse all the deals that you didn't win to see the reasoning behind the rejection. Then, write all the sales objections down and come up with rebuttals for those.
Luckily, with our guide to objection handling and ready-made rebuttals, your business has a headstart.
14. Keep learning more about the industry
Subscribe to newsletters, attend webinars, start a course.
Even if you've been in the industry for years , you shouldn't get too cocky. There isn't such a thing as knowing too much.
In 2023, you should work on improving your sales skills and industry knowledge so that you can both stay at the top of your game and pass on your expertise to your team.
Make sure you subscribe to the CRM Lab newsletter for bi-weekly CRM insights and sales tips!
15. Improve time management
Finally, stop procrastinating! While it can be tempting to have a couple more minutes to rest, you should keep an eye on your goals and allocate your time wisely. Some things to try in 2023 to improve your time management...
Schedule your day; plan your tasks
Stick to one task at a time; multitasking is less productive than you think
Limit email checking to one or two a day
---
We can't wait to see your growth in 2023 — happy new year! 🎉
Table of Contents
Crack the sales formula with CRM Lab
Twice a month, receive actionable CRM content to your inbox.
Join the
Telegram channel NetHunt CRM
All about CRM and B2B sales.
Join