Many salespeople feel left behind by their industry. Everyone else seems to have more knowledge, resources and connections than they do.
This problem can be avoided with the help of networking.
But figuring out where to start with networking can be challenging with so many tips and strategies floating about. That's why we've put together this comprehensive guide on how to make the most of sales networking.
In this article, we'll explore some of the most effective networking tips and common mistakes to avoid. We'll also provide real-world examples of successful sales networking and show you how you can apply these insights to your own career.
If you're ready to take your sales networking to the next level, read on for our expert tips and advice.
What is sales networking?
Sales networking is all about building relationships that can help grow your business.
It's just like making new friends, but with a professional twist. By connecting with people who might become customers, referral sources, or mentors, you can create new and better opportunities to increase sales and expand your reach, as well as pick up a bunch of valuable tips.
There are many ways to network in sales, from attending industry events and joining professional groups to using social media and email to reach potential customers. It's all about getting to know people, building trust, and showing them the value of what you offer.
Networking is essential for success in sales, as it can help you find new leads, get referrals, and stay up-to-date on the latest trends and best practices. By building a solid network of contacts, you can establish yourself as a valuable resource in your industry and open up new doors for your business.
Why do salespeople need to network?
Salespeople need to network because…
It is essential for building relationships and creating opportunities that can increase sales and revenue. By expanding their network, salespeople gain access to new prospects, referrals, and potential partners who can help them achieve their goals.
Networking also helps salespeople establish mutual trust with prospects and customers, which can be crucial for closing deals and securing long-term business relationships.
Networking can provide valuable insights into industry trends, customer needs, and competitors, which can help salespeople refine their sales strategies and stay ahead of the curve.
Overall, networking is an essential component of sales success, and salespeople who invest in building and nurturing their network are likely to achieve success and profitability.
How to make the most out of sales networking: 5 best practices, tips, and tricks
Although necessary, sales networking can be tricky if you don't know what you're doing. Don't worry, we've got you covered with best practices when it comes to sales networking.
Choose who you want to connect with
Obviously, when building your network of contacts, you need to pay attention to the people you're looking to connect with. Some variables that you should keep an eye out for when looking to connect with someone…
Job position
Industry
Geographic location
Experience within the industry
Social media presence and online reputation
Current initiatives that the potential connection is working on
Decide on communication channels
Deciding what channels you will use to build your network is also essential.
Most professionals use LinkedIn to build their network, but limiting yourself to one channel can be a hindrance rather than a benefit.
Some other communication channels that you could use are…
Referrals
Real-life networking events
Social media
Once you decide on the channel, it's time you start reaching out to new people. That is a challenge in and of itself. You need to make sure you know how to do it the right way to get maximum responses.
Here's how to reach out to new people depending on the communication channel you decided…
Referrals
The best and most efficient way to build your network is by asking your existing connections to introduce you to new people:
Identify potential referral sources. Start by identifying the contacts in your network who might be able to provide you with referrals. Look for people who are in a position to introduce you (and your craft) to their network.
Reach out to your existing contacts. Once you've identified potential referral sources, reach out to them and ask for their help. Explain what you're looking for and why you think their referrals could be valuable.
Make it easy for them to refer you. Provide your existing contacts with all the information they need to refer you effectively. This might include a brief overview of your professional services, a summary of your product, your contact information, and any other relevant details.
Follow up and show gratitude. When you receive referrals from your existing contacts, be sure to follow up promptly and show your gratitude.
Build relationships with your new contacts. Once you've been introduced to new contacts through referrals, take the time to build relationships with them. Nurture these connections and look for ways to add value to their lives.
Here is a short rundown of the best way to get referrals from our listicle of 9 ways to get high-quality referrals.
1️⃣ — Start with a warm introduction
Starting with a warm introduction is a powerful way to establish trust, demonstrate respect, and build relationships when reaching out to a new sales contact that was referred to you by an existing contact in your network.
It can help to create a positive and engaging environment for the conversation and set you apart from other salespeople.
Mention the name of the person who referred you and explain why you're contacting them. For example...
💬 "Hey there, [Name]!

I hope this message finds you doing fantastic. I was thrilled to learn about you through [Name of Referring Contact] and wanted to reach out and introduce myself.

My name is [Your Name], and I work as a [Insert Your Role or Position]. I specialize in [Briefly mention what you do or the service you provide], and I am always eager to connect with like-minded individuals.

I would love to learn more about your work and explore if there's anything I can do to support you. If you're available, I'd be happy to chat at your convenience. Let me know what works best for you, and we can take it from there.

Thanks for considering my request, and I look forward to connecting with you soon!

Best regards,

[Your Name]
2️⃣ — Keep your message brief and to the point
Explain what you do and why it might interest the person you're contacting. Try to avoid using technical terms that might be confusing to someone who is not familiar with your industry.
Show that you've done your research by personalising your message. Mention something you find cool about the person or their company, or reference a recent news article or social media post. This helps build rapport and makes your message more memorable.
3️⃣ — Provide value
If you don't provide any value to the person you're trying to connect with, they wouldn't be inclined to build a connection with a random person.
Explain how having you in their network can help the person or their business, offer more information if they're interested.
Avoid being pushy or aggressive, as this can paint you in a negative light, and affect your online reputation as a whole.
4️⃣ — Follow up
If you don't hear back from the person you're reaching out to, don't be discouraged. Follow up with a friendly message a few days later to see if they had a chance to review your message.
If they're still uninterested, thank them for their time and move on. If they are interested, respond promptly and provide the information or support they need.
Real-life events
Attending sales or marketing events is a great way to build your network.
One could even argue that the whole point of those events is to network. The people that attend these events are most open to building new connections during the event, so it's critical not to miss the chance.
Here are the best tips for attending these networking events that will help you garner more connections…
Research the attendees and the event itself. Find out who will be attending, what their job title and company are, and what topics will be covered. This will help you prepare talking points.
Dress appropriately for the event you're attending. If it's a formal event, wear a suit or dress. If it's a more casual event, dress business casual. Your appearance can have a significant impact on the first impression you make, so be sure to dress to impress.
Bring plenty of business cards to hand out to people you meet. Be sure to include your name, job title, and contact information on the card. This will make it easy for people to follow up with you after the event. Printing business cards will set you back a few bucks, but it's well worth the connections you will garner.
Smile, make eye contact, and be approachable. People are way more likely to approach someone that looks friendly and open than someone that gives off Zuckerberg vibes. Don't be afraid to start a conversation with someone you don't know. Ask them about their business or what brought them to the event.
Listen more than you talk. Ask open-ended questions and let the other person talk about themselves. Everyone loves to talk about themselves, and listening to them will help you to build a connection and make the other person feel valued.
After the event, follow up with the people you met. Send a friendly email or LinkedIn message thanking them for their time and offering to connect further.
Make sure you bring up something you talked about at the event to jog their memory.
With NetHunt CRM, there's no need to worry about manually transferring all the information from the business cards of your new connections into the CRM. Just download the NetHunt CRM mobile app and make use of the business card scanner functionality.
Log into your NetHunt CRM workspace using your mobile device.
Head to the Contacts folder.
Press on the ➕ sign in the bottom right corner of the screen.
Click on the rectangle with 4 corners.
Scan the business card.
The system will automatically create a new record in the database and enrich it with the data it managed to detect on the business card.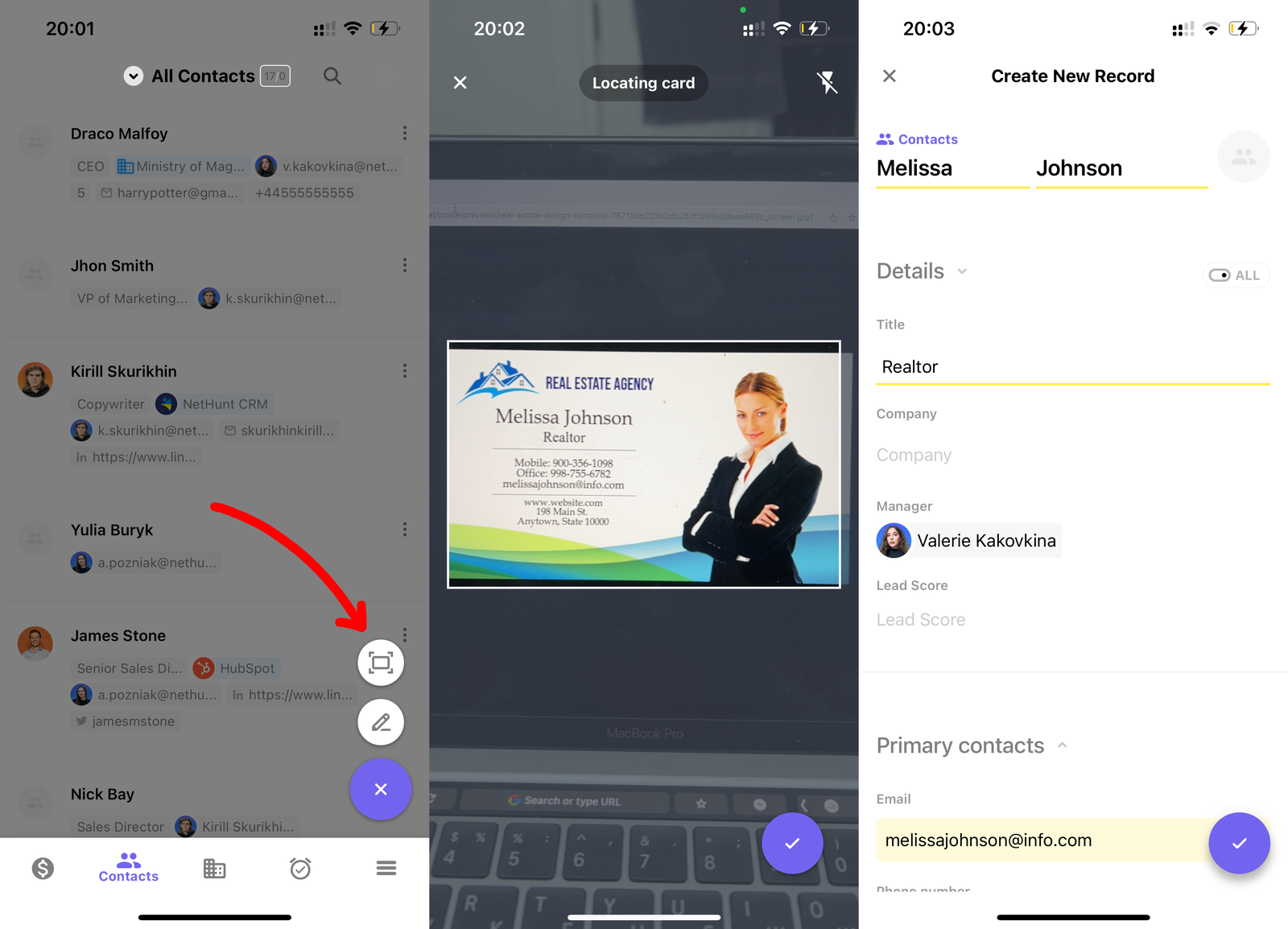 If you're looking for an excellent event to attend, try one we mentioned in our article on the best marketing and sales events of this year.
Alternatively, if you want to brush up on your skills and attend a training event, try a sales training program, which will be more geared towards building up your skills. Spending time working alongside someone else is a great way to build lasting connections.
If you're in management, there are sales management training programs available, too — be sure to check them out!
Social media
Social media is a powerful tool that has changed the way people interact with each other. Slack and LinkedIn are super powerful tools for finding new connections. However, there are some things you need to keep in mind…
LinkedIn is a great place to connect with other professionals in your industry. Join relevant groups and engage in discussions, share your own insights and expertise, and connect with people who you think would be a good fit for your network. Remember, it's not just about sales and closing deals — it's about building a lasting network.
Slack is another great platform for connecting with others in your industry. Look for Slack groups focused on sales, such as RevGenius, Belkins B2B Sales & Marketing Pros. Join in the conversation, share your own tips and tricks, and be open to learning from others. This will bring you connections.
Facebook may not be the first platform that comes to mind when you think of professional networking, but there are plenty of groups out there that are focused on sales and business. Look for groups like "Sales Best Practices" or "B2B Sales and Marketing" and engage with other members. Remember to keep things professional. Although this is Facebook, no cat memes or baby photos in sales groups please!
Thanks to NetHunt CRM's integration with LinkedIn, you can turn LinkedIn profiles into contact records in the CRM in no time.
Simply click on the NetHunt CRM icon next to your new contact's name, and the system will offer to create a record in the database for you. All the publicly available data will populate the record automatically.
Find the best time to initiate contact
Imagine this. You're sleeping in your comfortable bed, in your warm blanket, and then you get a call. Sucks, right?
It's the same feeling with sales networking. If you try to contact your potential new client/friend/mentor, it's important to keep the timing in mind.
What we mean by this is…
Keep timezone in mind. It might be midday for you, but your new connection might be in a timezone where it's late evening.
Keep their current work or life challenges in mind. For example, if your new connection posted that he's overburdened at work, it might not be the best time to reach out and add another challenge to his list.
Message them early in the morning or in the evening after work. You don't want to distract the potential contact from their work routine.
According to research by RingDNA the best times to contact someone in the morning lies between 10-11 a.m, with the worst time being anything before 10 a.m. According to the same research, 6 pm is also a great time to contact your new connection:
🗣️ Source
Follow up regularly to establish a meaningful relationship
When you establish a new connection, you want to build a long-lasting relationship..
Business relationships are just like friendships. You need to keep up, otherwise the whole thing will fall apart.
Following up can be stressful, we get it. But what differentiates new network connections from friendships is that they're more of a "work thing" so you can use all the tools you want to streamline it.
Use a tool to take your follow-up game to a new level.
NetHunt CRM is that tool. Here's how to use it to follow up…
Create a record for your connection. Enrich this record with any additional data you feel is important by utilising the Notes function in the timeline.
Create an automation that will automate task creation to follow up with your new connection occasionally.
Alternatively, if you're feeling particularly forgetful (or lazy), you can automate the follow up process itself, too. Create a sequence similar to the one below, and NetHunt CRM will handle everything on your behalf!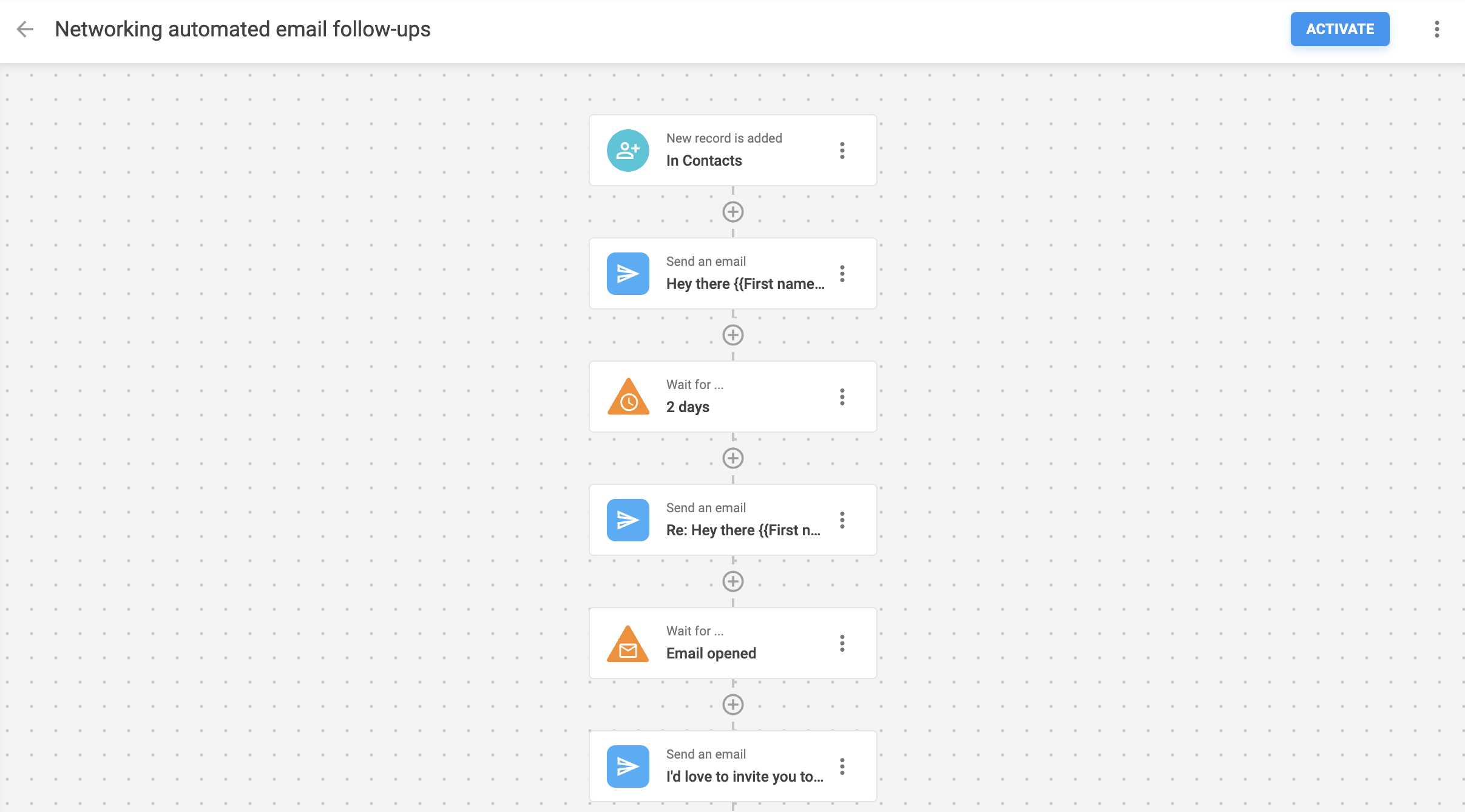 Utilise CRM software to manage and nurture your network
If you want to expand your network and prevent your hard-earned contacts from going cold (and, eventually, churning), you need to make sure you pay enough attention to building and maintaining your relationships.
The easiest way to keep things exciting between you and your network is to use a dedicated tool that streamlines contact management and nurturing processes. A CRM system.
Create a separate folder in the CRM and populate it with the contacts of people from your network. Once you do that, you can...
Add tags to segment your network
Build a "relationship pipeline" for the contacts in your network
Create custom views and send targeted, hyper-personalised mass-emails to a specific segment of your network
Log every detail of your conversations across different channels with the contacts in your network so that you're always atop of your communication
Set tasks and reminders to celebrate relationship milestones, etc.
Mistakes to avoid when sales networking
Networking is an important aspect of sales because it allows you to make connections and develop relationships with potential clients.
However, it is critical to approach networking strategically and avoid common mistakes that can stymie your success. In this section, we'll look at three common blunders to avoid when engaging in sales networking activities.
Don't be too salesy
Yes, you're a salesperson. Having "don't act like a salesperson" as a tip might seem confusing. But this is something applicable to pretty much any sales process.
You need to act more like a person and less like a salesperson to increase trust with a new connection.
As a matter of fact, here's why acting too salesy is a mistake…
It may appear insincere or pushy
It can turn people off and make them less willing to work with you
It may give the impression that you are desperate or needy
It can overshadow your ability to form genuine relationships
It may result in a poor reputation in your industry
Don't ghost your new sales contact
t's no secret that ghosting sucks. Nobody likes to be left on read. When your new connection attempts to contact you, make sure you answer. If you can't answer immediately, just make sure you get back to them ASAP.
If you still think that ghosting isn't that bad... First of all, ew.
Second of all — here are a few things that will make you change your mind…
It damages your professional reputation and credibility
It shows a lack of respect and consideration for the other people's time and effort
It can harm your chances of future business opportunities
It creates a negative impression of your communication skills and reliability
It can lead to missed opportunities and lost sales.
Don't take without giving
Wow, we're really giving out life lessons in this article.
Any relationship, whether it be friendship or a professional relationship. Your connections have a lot of value other than monetary value. You should do the same for them.
If they need help, help them. If they are experiencing a challenge you know how to navigate, let them know. If they're on a tight budget, give them a discount.
Things like this will help you build rapport with your new connection and truly cement your relationship with them.
---
Successful sales networking is all about building authentic relationships and adding value to others. By avoiding common mistakes such as being too salesy or ghosting your contacts, you can set yourself up for success and cultivate a strong network of connections.
So go forth with confidence, armed with the knowledge and insights you've gained from this article. Make meaningful connections that can help drive your sales career forward.
Happy networking!
Table of Contents
Crack the sales formula with CRM Lab
Twice a month, receive actionable CRM content to your inbox.
Join the
Telegram channel NetHunt CRM
All about CRM and B2B sales.
Join