We've referred to LinkedIn as the 'prospecting heaven' on multiple occasions in our blog.
It definitely is! There are lots of opportunities for lead generation that this social media platform offers to both B2C and B2B businesses.
But there's even more to it than you could imagine. Apart from being a source of meaningful business connections, LinkedIn is also a valuable channel for content marketing.
Don't think so? Read on to find out what makes LinkedIn suitable for content marketing and how to build a robust LinkedIn content marketing strategy to improve your brand awareness and boost your business' lead generation processes.
In this article, you'll learn:
What is LinkedIn and why use it for content marketing?
LinkedIn is a business-oriented social media platform aimed at bringing professionals together. It helps like minded business people to connect with each other, exchange expertise and even collaborate. Similarly, it helps businesses alike to establish themselves in the market and generate leads.
The latter can be achieved in a gazillion different ways (check out our article on creative LinkedIn lead generation ways), but if you want to be sleek and smooth, your strategy of choice should be LinkedIn content marketing.
Often, marketers overlook the importance of implementing the multichannel approach for their content marketing strategy and only focus on one content medium. However, these days, LinkedIn is as important of a content distribution channel as Facebook and Instagram, if not more so.
Here are just a few benefits of LinkedIn content marketing:
LinkedIn has an impressive user base of 660 million users, with over 250 million of them being active on a monthly basis. Such an extensive pool of users allows you to suggest you can reach out to a broader audience and, subsequently, generate more leads with your content.
The composition of the LinkedIn user base is diverse, but it mostly consists of decision drivers. In fact, every 4 out of 5 people on LinkedIn "drive business decisions". There are 61 million "senior-level influencers" on the platform. [LinkedIn]
LinkedIn's nature makes it easy to get your content seen. Thanks to the connections web structure and the fact that all of your followers see the posts you interact with, you can easily promote your content further. Every single week, content in the LinkedIn feed is seen 9 billion times. [LinkedIn]
LinkedIn makes up more than 50% of all social traffic to B2B websites and blogs.
It helps you to build your brand image, establish credibility and expertise, and become a thought leader.
A Step-by-Step Guide Into the Process of LinkedIn Content Marketing
Step 1. Preliminary research
Just like with any other marketing activity, thorough research lays in the very foundation of your LinkedIn content marketing strategy.
While you definitely can just take a shot in the dark and hope for the best, there's no guarantee that the content you produce that way will generate you any leads. In order for your actions to be successful, they need to be specific and targeted, which is only possible when you back them up with statistical data and substantial research.
Before you start the process of ideating and content creation of your own, it's essential to structure your efforts by understanding what works best for your target audience. You need to set clear objectives for your LinkedIn content marketing strategy, profile your target audience, go through the practices your competitors employ to benchmark, and map out a plan of action.
Set clear objectives
The ultimate goal of any for-profit organisation is to make money. It's the OG driver behind everything businesses do.
However, despite being motivational, profit generation is rarely a SMART objective to set. Due to being incredibly vague and generic, it's nearly impossible to achieve. It gives you a sense of direction but doesn't necessarily tell you the steps you need to take to get there. In order to succeed, you need to break the big goal down into more specific, measurable and manageable chunks.
That's why the first thing you need to do when developing a robust LinkedIn content marketing strategy is to set clear and SMART (Specific, Measurable, Attainable, Relevant, Time-bound) objectives. For instance, you can ask yourself the following questions to start determining the desired outcome of LinkedIn content marketing:
Do I want to build a community around my brand?
Do I want to increase my brand awareness?
Am I trying to promote my products or services?
Am I trying to deal with Top of the Funnel (TOFU) leads or Bottom of the Funnel (BOFU) leads through the means of LinkedIn content marketing?
Does LinkedIn marketing fit into the broader digital marketing strategy? If so, how?
Chances are, you will answer 'yes' to the majority of these questions. Fair enough, they're all relevant and important. You need to assess how these goals compare against each other in terms of their potential and how they fit into the realm of LinkedIn capabilities. Then, you can decide which one of them has the most impact on your business.
Remember, you can't be building your LinkedIn content marketing strategy separately from the rest of your marketing plan. You also need to make sure that it aligns well with your broader digital marketing strategy and improves your business performance.
Once you identify your main goal, you can start thinking about the metrics that will help you understand your performance once the strategy is implemented. The most common LinkedIn content marketing strategy metrics are:
Conversion rate, including CRT.
Impressions.
Engagement rate (likes, comments, shares, etc.).
Followers.
Find out what your audience wants
Once you have your goals in check, you can start thinking about how to achieve them. Considering that people are always in the centre of your business performance, the next step you need to take is to find out who you're going to target with your LinkedIn content.
When it comes to LinkedIn marketing, you need to be very specific about who you want to reach with your content. While it can be tempting to focus on various topics to cater to a wide range of different demographics, it's best to stick to just one main segment.  
Depending on the results you want to achieve through your LinkedIn content marketing efforts, your target segments will vary. For instance, if your main goal is to convert more BOFU leads, you will need to optimise your content for the companies' decision-makers. Alternatively, if you want to increase brand awareness, you'd be looking at lower levels employees:
People on lower levels are generally after tactical information.
Those in the middle are looking for data that can influence those above them in order to validate their actions and decisions.
Chiefs at the top are searching for ways that they can take the business to the next level.
By identifying the relevant segment, you'll develop a more well-targeted strategy and, therefore, produce content that will perform better.
🔥 NetHunt Pro Tip: Make sure to use both the demographics and the firmographics when segmenting your B2B audience on LinkedIn. To produce highly relevant content that performs well, you need to consider the industry, location, performance, company size and other potential clients' factors.
Find the best content-type fit
It's not enough to just know the needs, wants and interests of your target audience. You also need to choose the content type that allows you to appeal to those in the most efficient way.
You have many choices when it comes to establishing and diversifying your content range as LinkedIn supports plenty of different content types and formats.
Depending on what your target audience expects to receive, as well as on what you want to achieve with each of your publications, you can benefit from the following content types supported by LinkedIn.
LinkedIn articles.
Shockingly enough, less than 1% of LinkedIn users have published an article on LinkedIn. This is a huge missed opportunity for everyone who hasn't hopped on the trend.

LinkedIn articles is a piece of long-form content that is similar to blog posts and that you can create through LinkedIn's integrated publishing platform. It supports all kinds of embedded content such as videos, images and even basic HTML code. You can format it to align with your brand style, which makes LinkedIn articles perfect for branded content.

On top of that, if you choose to create native LinkedIn articles via LinkedIn Pulse, you acquire a chance to get your articles featured in the daily or weekly news. This is extremely helpful for the businesses trying to grow their network and increase their connections.

LinkedIn statuses.
Unlike articles that only enjoy a tiny amount of creators' recognition, text and image posts aka LinkedIn Status Updates are one of the most popular LinkedIn formats. They're short, catchy and let you get straight to the point without having to fiddle around with set-up and intros.

Even if you've only ever used LinkedIn for personal purposes, you must already be familiar with this format - these are the posts that inhibit your homepage feed.

There are several variations of the standard LinkedIn Status Update. For instance, you can utilise the feature to celebrate an occasion, offer help, create a poll, etc. This will unlock additional functionality and make your posts better-targeted.

🔥 NetHunt Pro Tip: Your LinkedIn statuses are limited to 700 characters on company page posts, and 1,300 characters for statuses on individual accounts.
Document posts.
While document posts essentially classify as Status updates, it's not fair to put them into the same category as they serve different purposes.

This format allows you to share files of different formats such as PowerPoint files, Word documents or PDFs directly in a post on your feed. When you do that, the viewer of such posts gets a chance to preview the file there and then, open it in a new window and download it.

Video content.
Video is one of the hottest trends in both marketing and sales in 2021. Video content is believed to soon escape the realm of YouTube and branch out to other platforms. In fact, 59% of executives say that if text and video are available on the same topic, they're more likely to choose video! So, it's only natural that you'd want to make videos a part of your LinkedIn content marketing strategy.

LinkedIn Stories.
Up until recently, stories as a format have only been intrinsic to strictly visual platforms such as Instagram and Snapchat. Today, with the popularity of time-limited content being on the rise, LinkedIn, too, has introduced its own version of short snippets of content available for only 24 hours.

It's still an emerging content type on LinkedIn, so it doesn't have a lot of use cases. Currently, LinkedIn stories are only available for viewing and creating from the app. However, that's exactly the charm of it. You can easily become an avant-garde LinkedIn content marketer if you risk experimenting with different storymaking strategies.

You just need to remember that due to the association with Instagram and Snapchat, a lot of people perceive this format as unprofessional and somewhat childish. Therefore, you need to make sure you filter the stories you post and that it fits well into your existing brand image.

---
It's not just different content types that you can use in your LinkedIn content marketing strategy. On top of deciding on the 'what' part of the equation, you also need to decide on the 'where'. You can mix and match different content sharing opportunities to find the best channels to spread your content.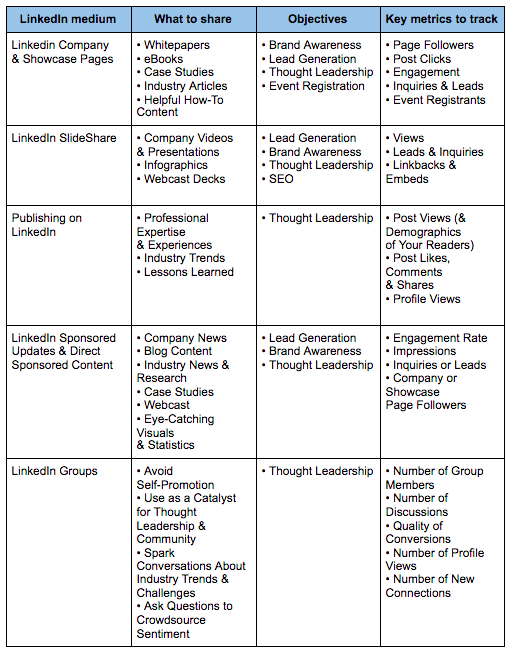 Step 2. Ideation and creation
Now that you know who you're targeting with your LinkedIn content and how you want to present it to your target audience, you can move on to the next step - ideation and creation of the relevant content.
First things first, you need to come up with the topics you're going to cover in your LinkedIn content.
In order to hit the sweet spot, you need to make sure you take the following things into account:
You regularly refer to your target audience profile to find the topics that are relevant and interesting for them
You are all up-to-date with the industry trends to reflect on the innovative ideas and solutions in a timely manner and further establish your thought leadership
You continuously expand your professional knowledge and accumulate industry expertise to present regular ideas from an unusual viewpoint
You keep up with the latest social and media trends so that you're able to make your publications more relevant to today and generate more engagement by surfing the hype wave
Even with all that in mind, sometimes, it can still be difficult to ideate content. Here are some of the sources of inspiration you can turn to for help:
Goldmine the comment section.
Find out what your competitors are talking about.
Go to Reddit and Quora to see which questions require immediate answers.
Give your old content a second life by presenting it in a different format.
One of the best approaches to adopt is to structure content in topic bubbles. The algorithm is pretty straightforward: you come up with the pillar topic that's relevant to your business and then generate several subtopics that link back to the OG topic. After that, you can further elaborate on each subsequent subtopic and create a whole web of interconnected content.
🔥 NetHunt Pro Tip: To keep your LinkedIn content brand-specific, remember to include case studies, anecdotal stories and pre-boarding publications every now and then. A great idea is to dissect your business success (and failure) stories.
To do that, you need to brainstorm, create mind maps or… Just delegate the task to the dedicated tools. The choice of topics is as logical as it is creative, so you can rely on the analytical software to provide you with the most highly demanded topics to produce your LinkedIn content on.
Tool of Choice: LinkedIn Pages Toolkit
Several years ago, LinkedIn Pages Toolkit introduced its famous Content Suggestions feature that quickly became LinkedIn content marketers' best friend. This feature allows you to discover the trending with your target audience topics and articles.
To access the Content Suggestions tab, click Manage page on your Page's feed and select 'Content Suggestions' in the top-left corner of the screen.
There, you'll find three different sections, Audience, Trending Content and Engaging Articles. To begin your search for ideas, you can simply refine your target audience by their location, seniority, industry and job function.
Alternatively, you can make use of User-Generated Content (UGC). UGC is a collective name for all the content created by users. This could be articles, videos, images, posts—anything. UGC is a brilliant way to drive engagement and get your brand more exposure.
Once you have a range of ideas for your future content, it's time to start creating it! Here, the sky's the limit - you can create whatever content you think is right for your business and your audience. NetHunt always wants you to succeed, so we've compiled a list of general guidelines for LinkedIn content.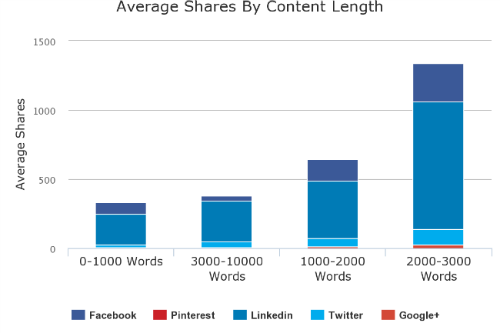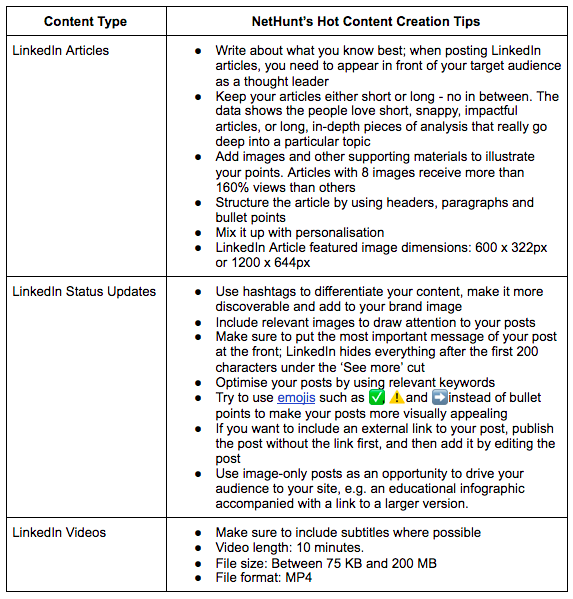 Finally, always make sure all the content you share with your audience is of the highest quality possible. To double-check that, you can always turn to tools!
Tool of choice: Hemingway
The Hemingway App is a great tool for anyone who works with text. So, if texts are a part of your LinkedIn content strategy, make sure to give this tool a try. It's designed to polish your writing and make it flow better. The app helps to identify and fix common errors that bring down the quality of your prose: confusing sentence construction, overuse of weak adverbs, excessive passive voice, etc.
Step 3. Sharing and promotion
You need to remember that the main purpose of your LinkedIn content strategy is to create the content that gets seen. Therefore, it's not enough to just produce an outstanding piece of content. You also need to share it and promote it for the target audience to get a good taste of it.
The first thing you need to know about sharing your content on LinkedIn is that there needs to be a schedule. You can't just fire it off at random times and hope for the best. Instead, you need to develop a posting schedule to effectively doze your content and deliver it at the right time.
For instance, your LinkedIn content marketing strategy can benefit from you knowing how often and when it's best to publish your content:
Status Updates - 2-3 times a day.
Long Form Publishing - 1-2 times a week.
Don't be too stressed out by the whole posting schedule thing. Luckily, you can automate your posting with the use of tools.
Tool of choice: Hootsuite
Hootsuite is a tool for social media marketing management, LinkedIn included. It allows its users to keep their LinkedIn presence active and structured by efficiently scheduling all their content ahead of time — manually, automatically, or in bulk.
On the Hootsuite dashboard, you can see all your scheduled posts organised in a form of a posting calendar. It gives you a chance to move around your posts and develop the best timing strategy.
---
Although the LinkedIn algorithms are quite good at delivering your posts straight to the audience that's interested in them the most, your connections, if you want to reach out to a wider audience, you need to put some extra effort.
There are several places to look if you want to bring more visibility for your content. The most popular one being, of course, LinkedIn Groups. Those are the candystore of LinkedIn content promotion. You can easily market your content to the hyper-targeted audience that those Groups consist of, and grow your followers base.
Beware though, you don't want to be spammy with your promotions. To avoid that, make sure to follow a couple of rules:
Read the group's rules about promoting content before you do anything.
Promote other people's content as much as you promote your own.
Don't promote too often.
Avoid using the words "I", "me" or "my".
🔥 NetHunt Pro Tip: LinkedIn Pods are the secret weapon of virality, so use them to your advantage and improve your content's engagement rate.
Some groups are more effective than others. LinkedIn Pods are special private LinkedIn Groups that are focused on one thing: engaging, liking, commenting on other people's content.
There are two types of pods: manual and automatic. Manual pods can be found all over the internet, predominantly on Reddit and Facebook. Every day there is one giant thread for engagement, where people exchange links to their posts and wait for engagement to roll in. Automatic pods do the same things but, you guessed it, automatically. They help you to find people that have relevant interests as you, while also giving you a chance to filter pods by location and find the best fit for your industry.
This ties in with the idea of promoting your LinkedIn content outside of LinkedIn. You can share links to your posts on your other social media platforms, too!
Step 4. Lead collection
Finally, considering that the main goal of any content marketing strategy is to generate more leads, you need to make sure you effectively capture the leads you've managed to attract with your glorious content.
Here, lead capturing automation tools are your best friends. More specifically, your one and only NetHunt LinkedIn Integration.
Check out 3 CRM integrations for LinkedIn
Tool of Choice: NetHunt LinkedIn Integration
This Chrome extension allows you to add new leads from LinkedIn to NetHunt CRM in just one click. Once converted, you can automatically enrich their records with key data such as profile pictures, first names, last names, companies, role, email addresses, phone numbers, Skype IDs, Twitter handles, dates of birth, LinkedIn URL... and so much more.
Dos and don'ts of LinkedIn content marketing
✔️ DO keep your LinkedIn content consistent with your brand - while it's important to keep up with the trends, don't do so at the expense of your established brand image.
✔️ DO mix and match different types of content - sticking with just one can quickly become old.
✔️ DO learn your target audience's needs and wants.
✔️ DO optimise your content for search - use relevant keywords and hashtags.
✔️ DO use appropriate tools to streamline your LinkedIn content marketing processes.
✔️ DO promote your content platform-wide and beyond.
❌ DON'T write LinkedIn articles directly in the built-in LinkedIn Publisher.
❌ DON'T publish content sporadically.
❌ DON'T spam your connections with content.
❌ DON'T employ User-Generated Content without users' permission.
Better late than never, so make sure you hop on the trend and start using LinkedIn's content marketing opportunities for your advantage.
Better early than late, so start acting on it now. NetHunt has provided you with all you need to develop a sexy LinkedIn content marketing strategy. Just a couple of tweaks here and there, and you can harvest your first results.
Table of Contents
Crack the sales formula with CRM Lab
Twice a month, receive actionable CRM content to your inbox.
Join the
Telegram channel NetHunt CRM
All about CRM and B2B sales.
Join