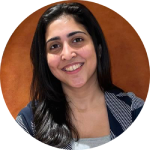 Freya Laskowski is the founder at SERPManaic, an SEO agency. She is a quoted contributor in several online publications, including Business Insider, Fox Business, Yahoo Finance, and the Huffington Post. She also owns CollectingCents — a personal finance blog that she grew from the ground up.

Twitter
Email
Undoubtedly, competition for business owners has increased significantly over the years. According to Census.gov, almost 3.5 million new business applicants have been filed in 2022, so it should not be a surprise that business owners need to find new and innovative ways to stay ahead of the game.
The question that many business owners find themselves asking is how they will stand out from the rest of the crowd. What makes them a step above the rest?
Thankfully, the answer to those questions could lie in implementing Business-to-Business (B2B) Demand Generation.
But, if you are not sure what that means... Read this article to find everything you need to know about B2B Demand Generation, its benefits, best practices, and pitfalls.
What is B2B Demand Generation?
B2B Demand Generation is the process of converting untapped businesses into prospective customers. It is a specific marketing strategy that builds brand awareness, increases traffic to a business's website, and secures new leads for potential customers.
According to recent stats...
68% of businesses struggle with lead generation.
So, imagine the success a company may find by using B2B Demand Generation to create high-quality prospects.
Consider B2B Demand Generation the art of making a business attractive to other companies by increasing brand awareness through public relations and free tools.
This kind of demand generation makes businesses need you through integrated marketing approaches when they did not know they even needed you.
What are the benefits of B2B Demand Generation?
Many times, customers have not shown interest because your company is not on their radar, but a successful B2B Demand Generation strategy will directly translate into potential customers.
Below are three positive outcomes of implementing a B2B Demand Generation Strategy.
Increase brand awareness
Customers want to know the company that they are considering purchasing from. A good marketing campaign does not just bring new visitors to your website. It should make your brand stand out from other brands.
An easy way to create trust in a company is to have a campaign that results in customer reviews. The potential clientele is bound to read the reviews, which impacts their perception of the company.
The law firm, M&Y got creative with its brand awareness strategy and chose to provide niche-specific information on its website. As the lay reader searches for the difference between a lawyer and an attorney, they find the answer in M&Y's blog post. Although the information provided is not directly selling their services, it increases awareness of their brand.

Another way is to sponsor a strong social media campaign that allows your brand to be seen by strong leaders, influencers, and others who will bring more credibility to your brand. Once these individuals recognize your brand publicly, it will steadily create more positive brand awareness.
Improve the quality of sales leads
A good B2B Demand Generation strategy will bring higher quality leads into your sales funnel.
So, instead of wasting their time on nurturing leads that may not translate into sales, your sales team will embrace the leads that are likely to convert into paying customers.
💡 To keep up with these leads, however, your company should invest in an excellent CRM system.
That way, your business will be able to keep tabs on every step of the sales process.
Moreover, with a reliable CRM solution in place, you can boost the quality of your database as every interaction with leads will be automatically recorded in the CRM — you can rest assured that no data will fall through the cracks.
As a result, customer will have the greatest customer experience possible.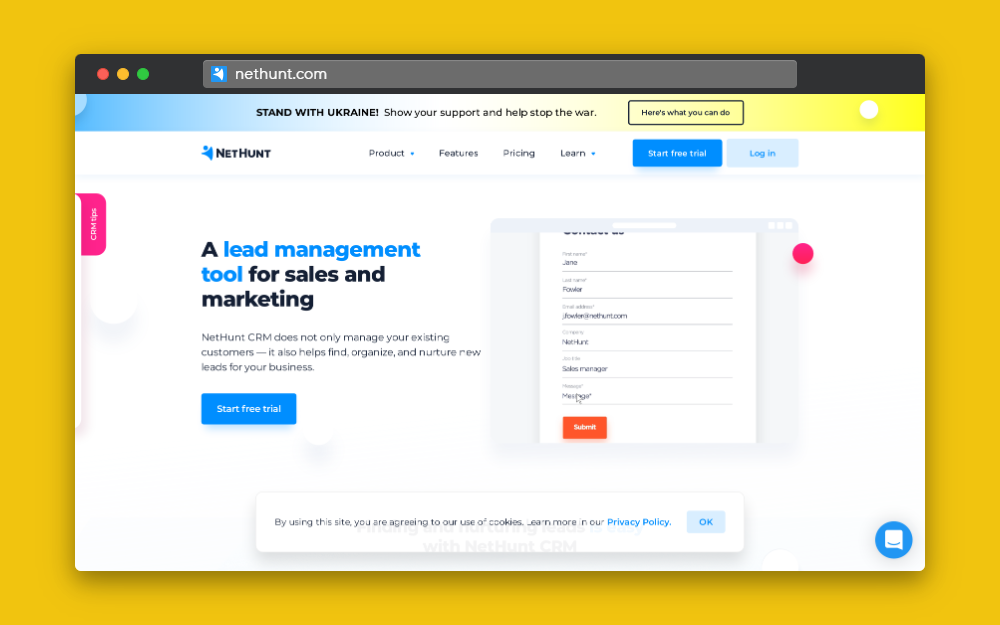 ➡️ Find out how to speed up your response rate with a CRM strategy and stop losing leads in our article.
Increase revenue
Customers want to purchase a product from a company they trust. Therefore, it should not be a surprise that...
57% of consumers are prepared to pay more to purchase from a trusted brand.
If a company can establish itself on the market as a trusted brand, that will directly impact its revenue not only by an uptick in customers but by being able to raise its prices and profits as well.
Top 5 strategies for B2B Demand Generation
Now that you have seen how important B2B Demand Generation is, you might be wondering how you can create a superb B2B Demand Generation Strategy.
The truth is that there are numerous strategies that a brand may implement, from high-end social media campaigns and influencer marketing to direct mail. Here we will cover the top 5 strategies you should implement for B2B Demand Generation.
Public Relations
Allow your brand to show its face. With an effective public relations campaign, your brand's leadership could be featured in videos, news, or even on television.
Keep your eye on trending news and find a way to pitch an idea to the media that will showcase your brand. Once a pitch is accepted, allow your company to shine.
Webinars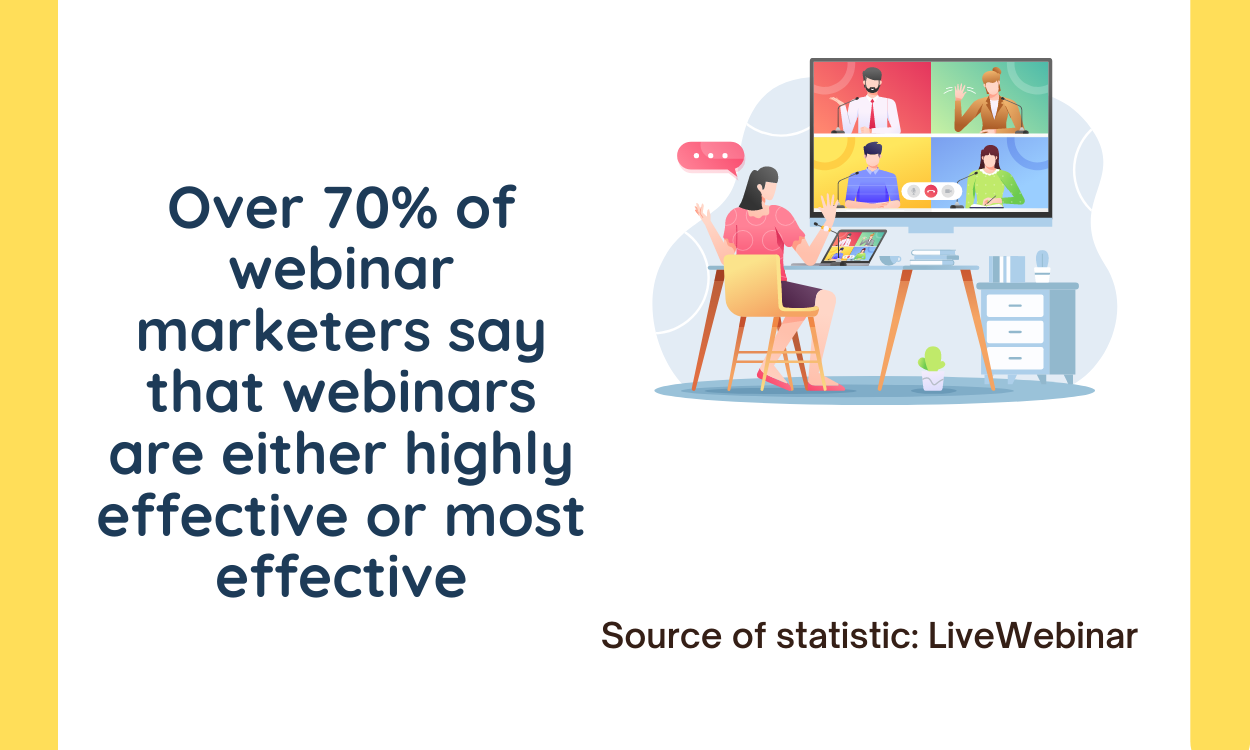 Provide free webinars that will effectively guide other companies in their niche. For example, if a paint company wants to reach designers, they could host a webinar on trending designs for that quarter. In their webinar, they would include paint color options from their brand, but the focus itself would be on the design aspect.
Live events
Host a live event such as a one-day market niche conference for other businesses. Make the experience memorable by having interactive activities, fun games for icebreakers, and excellent networking opportunities. A successful event will leave a sweet spot in their minds and elevate their brand perception.
Free Tools
Stand out from other brands by providing content and free tools for others. Customers love free things, and it is an excellent way to attract customers and allow them to experience your brand.
If your brand involves online technology, you could offer a portion of it for free. For example, suppose you have a website for integrated social media posting. In that case, you could provide some free posts a month. That way, the customer receives a free tool and a feel for your product's work.
You may also consider offering free templates, online books, or even a free course that is niche specific. Customers become more knowledgeable about your brand as they become interested in the free tools.
Podcasts
A survey of 300,000 listeners found that 64% of listeners bought something a podcaster recommended on their show.
So by featuring a market niche podcast, your brand can reach a whole new level of new prospects.
Best practices in B2B Demand Generation
Without a doubt, there are numerous strategies that a company may implement for B2B Demand Generation. However, while creating a demand for your brand, you should also focus on the best practices with each approach.
Below are the top three best practices you should consider when generating B2B demand.
Target videos, events, and webinars for continuing education units (CEU)
Make your brand stand out by offering videos, events, and webinars where participants may earn CEUs.
Market your brand so that the CEU event will also include key information on your brand while captivating the audience.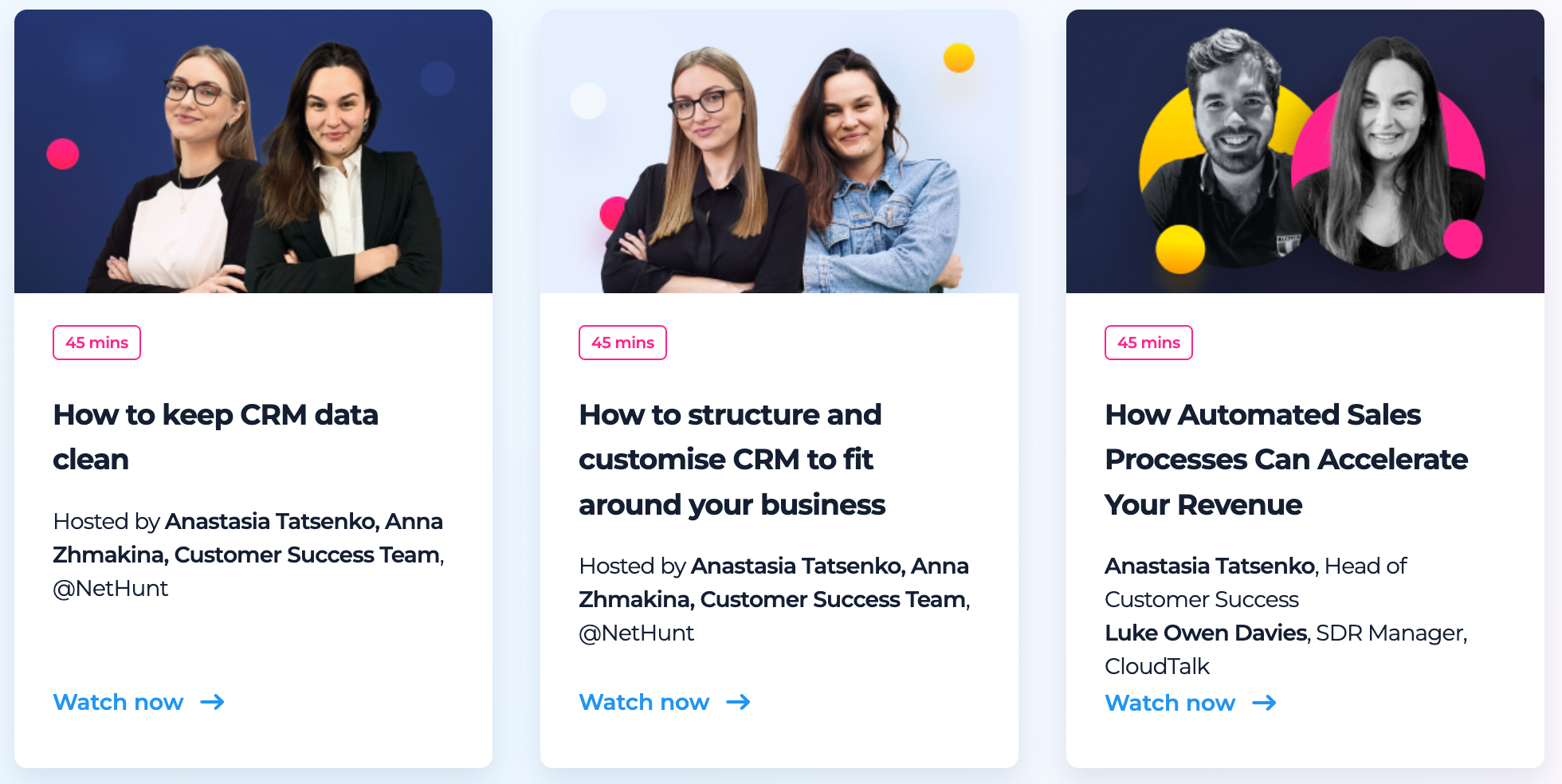 ➡️ Check out our collection of on-demand webinars about CRM, sales, and email marketing.️
Create case studies to increase market authority
Increase brand awareness by creating case studies that will increase market authority.
Provide data relevant to other brands, so they will run across your brand and see your authority in the market when searching for information.
A case study should be a detailed study of something that someone faced and how they overcame the difficulty or found a solution to a problem. It should also involve a thorough explanation and a resolution so others may learn from the study.
When creating a case study, consider unique information relevant to your brand.
Here's a great example of a customer story by NetHunt CRM. They've created a landing page dedicated entirely to their customers, Recom, and how they used NetHunt CRM to:
Get 20-25 more quality leads a month
Enjoy a fivefold increase in the number of clients
Saved 2 hours per employee weekly with automations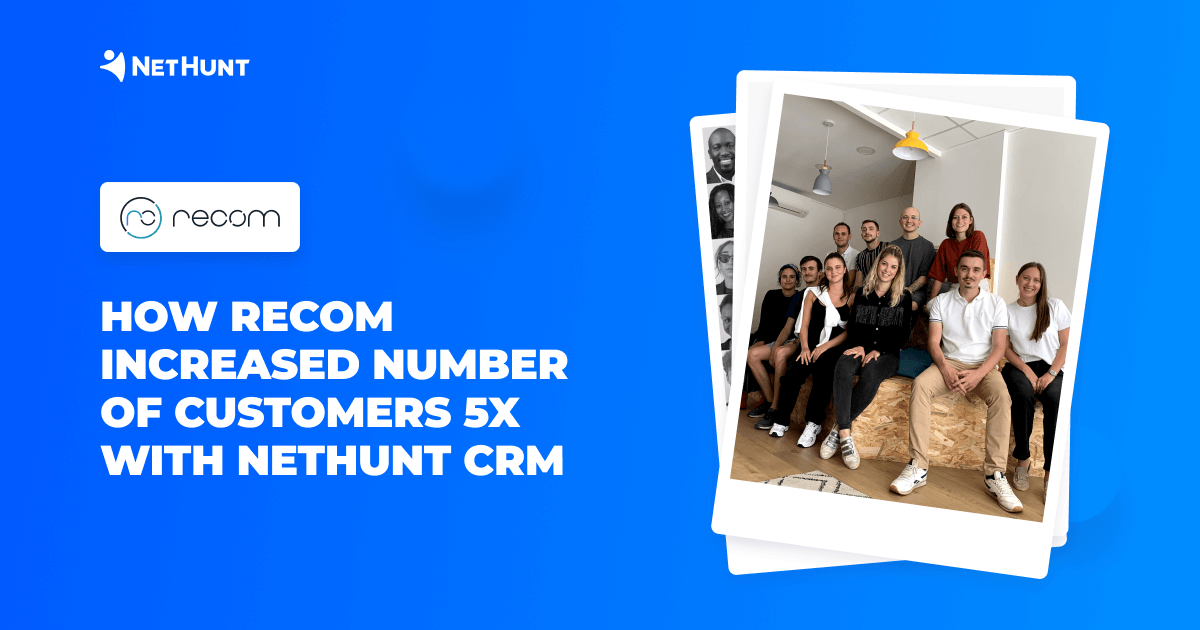 Devote time and energy to email marketing
When there are 4 billion daily e-mail users and 77% of marketers have seen an increase in email engagement, e-mail marketing is not a practice that should be thrown aside.

Rather, a brand should heavily invest in e-mail marketing campaigns as it has proven success rates time and time again.
If starting an e-mail marketing campaign seems too daunting, know there are excellent tools to make this practice run smoothly.
For instance, NetHunt CRM allows you to create and save email templates, send emails in bulk, track their performance, and automate email marketing from the comfort of the CRM system.
This becomes possible thanks to NetHunt's email marketing functionality and seamless integration with Gmail.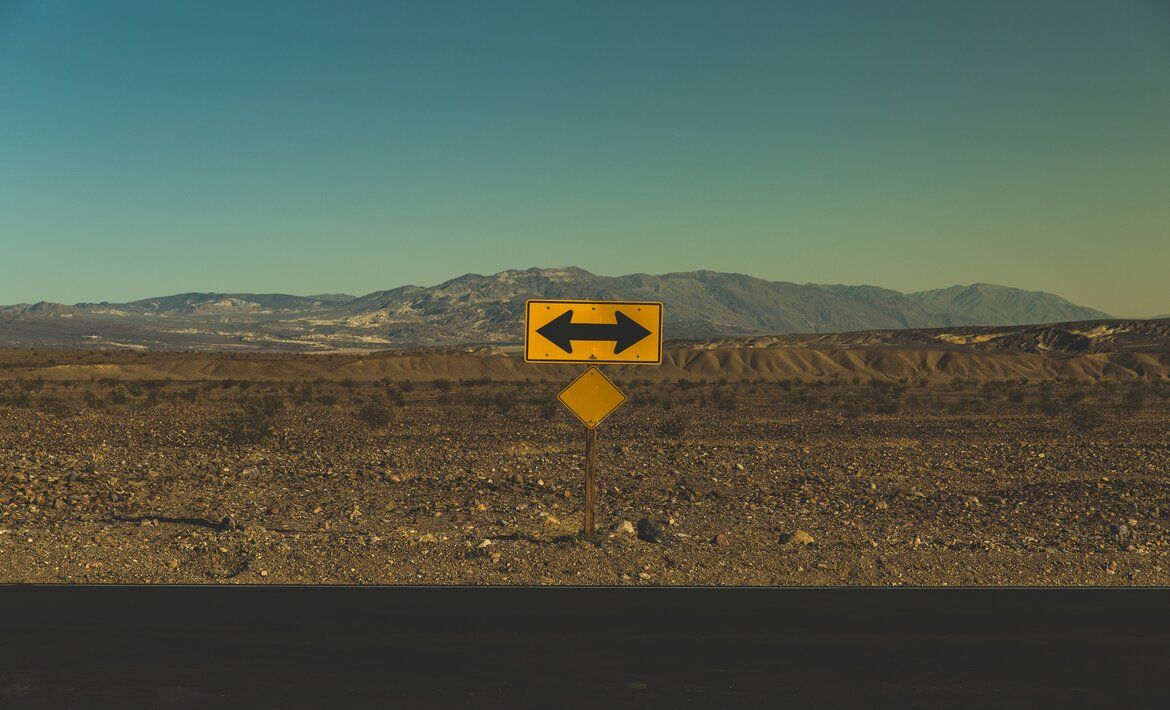 Top 3 pitfalls in Demand Generation
So far, we have seen excellent strategies and practices to implement for a successful B2B Demand Generation campaign. The question that may remain, however, is what things a brand should avoid doing when creating a campaign.
Here are the top 3 pitfalls in demand generation and how to avoid them...
Not knowing your audience
If you are not sure what market you are targeting, creating a specialized B2B Demand Generation strategy will be impossible.
Know who your market is while you are still in the planning stages of your campaign.
Establish a buyer persona to facilitate who you are targeting.
If that means that you might have more than one campaign, that is fine. Each campaign must be tailored to a specific audience.
Not measuring strategic methods
Regardless of your chosen strategic method, you should always monitor the outcome.
Do not just assume that your campaign was successful.
Instead, gather data to ensure that the campaign was impactful and had significant success. Otherwise, you may continue repeating a campaign that was not effective as you thought it might have been.
➡️ Check out our Ultimate Business Metrics Cheat Sheet.
Not providing free resources
Every brand should provide some free resources for the public and other brands. If a company is not investing time and energy into creating some free resources, it is missing out on an excellent opportunity to generate more business demand.
An excellent example is an article on Law Rank that provides ranking factors for law firm SEOs. This brand targets marketing within the law industry. They wrote an intriguing study on SEO and ranking factors for law firms to reach new customers. As customers read the blog post to improve their SEO knowledge, they also become more familiar with the brand.
What is the difference between lead generation and demand generation?
As we have seen above, demand generation is where a company creates a need for others to use its brand. This method creates brand awareness which will eventually translate into high-quality leads.
Lead generation, on the other hand, uses campaigns to reach specific prospects and turn them into leads.
While demand generation turns strangers into prospects, lead generation turns prospects into leads and customers. Both generations are necessary and feed into each other for the result of having more customers.
Final thoughts on how to succeed at B2B Demand Generation
For a business to find new prospects and build its brand, it must invest time and effort into B2B Demand Generation.
By implementing campaigns and creating awareness for its brand, a company will have successfully created a need for others to use its brand.
Table of Contents
Crack the sales formula with CRM Lab
Twice a month, receive actionable CRM content to your inbox.
Join the
Telegram channel NetHunt CRM
All about CRM and B2B sales.
Join