Successful drip campaigns offer a 119% increase in click rate compared to regular email marketing campaigns. Impressive, isn't it?
But how exactly do you know if your efforts are fruitful? The only way to know whether you're doing it right is to know what 'doing it wrong' means. To assess the performance of your drip campaigns, you need to know how to measure results accurately.
NetHunt is here to help!
What is a drip campaign?
A drip campaign is a marketing strategy that involves dissemination of information to leads in small portions (aka drips), over time.
Nowadays drip campaigns are mostly executed through email marketing, which allows us to classify drip campaigns as an email marketing strategy. Drip marketing allows marketers to break up large blocks of information into smaller bits and ensure continuity of communication with leads.
Too often, drip email campaigns are confused with trigger emails. While both of them are enabled by a specific action taken by a lead, a trigger; there's a difference between the two.
You can learn more about drip campaigns, different elements that comprise a successful drip campaign, why you need to consider setting up one, and how to do it here!
A successful drip campaign can accommodate your business's needs in different ways:
It increases revenue. A relevant, well-designed drip email campaign drives revenue 18 times faster than mass emails do.
It's time-efficient. While designing a drip campaign takes up a lot of time, it also saves up a lot of time in the long run. Once you've set everything up, drip campaigns work automatically without the need for constant control and attention.
It enables up-selling and cross-selling. If you go beyond converting existing leads and start offering related products, you can score more return custom and increase sales significantly.
It helps with lead nurturing. Engaging, high-quality, on-demand emails establish a strong bond between a business and its leads. Over time, with continuous good content, this warms up leads to the company and helps convert them into customers.
It boosts brand awareness. Since drip campaigns are continuous, they help the business to stay in touch with its leads and be on their minds at all times. The formula is extremely straightforward: the more you think about something, the more you talk about it. So, drip campaigns are just perfect for prompting leads to spread the word about your business.
The problem is, it's unlikely you'll feel these benefits from just one drip campaign.
It's tempting to get the most out of it in one go, but the chances of going overboard and falling into the scope-creeping trap are high. You need to be sensible and specific about what you want to accomplish with each drip marketing campaign. To do that, you need to set goals for your campaign.
How to set goals for a successful drip campaign?
Your drip campaign needs to have a purpose. Launching one without having a clear idea of what task you want to complete with the help of a drip campaign is a telltale sign of failure. Without direction, you wouldn't know when to stop because you wouldn't know if you achieved success. Going on and on is not only exhausting, but also very expensive. Think about how much an endless drip campaign is going to cost your business.
Therefore, you need to understand what exactly you need a drip campaign for. To get a general idea, you should ask yourself the following questions before you start preparing your next drip campaign:
Which areas of my business need improvement?
Can these improvements be made through a drip marketing campaign?
What do I want to achieve with my campaign?
How can I achieve my goal through a drip campaign?
Once you have these questions answered, you should have a more concise picture of what your primary goal is. Typically, the most common drip campaign goals are:
Customer up-selling or cross-selling
User on-boarding
Lead nurturing
Increase conversion
Improve customer experience
Build a sales pitch
Generate sales
Decreased ad spending
Automate the renewal process
This list is, of course, not exhaustive and you may use drip campaigns for other reasons. However, regardless of the goals you set, you need to remember that your objectives need to be SMART — Specific, Measurable, Achievable, Relevant, Bound.
With this in mind, an example of a poor drip campaign goal would sound something like this:
❌ 'To make more money'
While it's achievable and certainly relevant, it lacks specificity and therefore can't really be measured. Similarly, it's not specific in its time-frame.
On the other hand, a well-worded campaign goal should sound like this:
✔️ 'To increase free to paid conversion by 20% by the end of 2020'
Essentially, it talks about the same thing as the first goal but is much more detailed and comprehensible.
How to measure results of your drip campaign?
SMART goals must be measurable. Then and only then will you know that you've achieved the results you were seeking.
The two main reasons for analysing the results of drip campaigns are:
To compare effectiveness. A penny here, a penny there, and all of a sudden you're spending thousands of dollars on something that doesn't bring results. Even the most generous companies have their limits when it comes to budgets, and you don't want to waste money. Analysing the success of your drip campaign allows comparison against the effectiveness of other campaigns. This helps determine whether you should continue your efforts, cut down the expenses, or invest more time and effort into drip marketing.
To pinpoint a need for improvement. If you don't track your drip campaigns, you can't tell if your efforts are paying off. If you launch campaign after campaign, without measuring its performance, you risk missing out on a lot of opportunities that you would've noticed otherwise.
The Ultimate Drip Campaign Metrics Cheat Sheet
Drip campaigns are one of the most quantifiable marketing methods. They're easy to track and can be analysed without too much guesswork. There are set metrics that offer valuable insight into your campaign to assess its success.
All drip campaign metrics can be divided into two categories: traditional and strategy-specific. The first group is intrinsic to email marketing and can be applied to track all email marketing campaigns, including drip marketing campaigns. The second group focuses primarily on drip campaign goals, allowing us to understand the effectiveness of our drip campaign marketing efforts specifically.
Open rate
Open rate is the indicator of how many of your emails get opened by their recipients.
Open Rate = Emails Opened / Emails Sent – Emails Bounced
However, the open rate itself doesn't tell you much about your business' performance. To access your drip campaign, you should compare the figure against the average email open rate.
Depending on the industry, average email open rates vary from 15.22% to 28.46%.
Saying that, the lowest acceptable open rate is usually about 20%. If your emails are getting opened by more than 20% of the recipients, you can boast having a healthy, well-optimised drip campaign. Anything below that indicates there's a problem.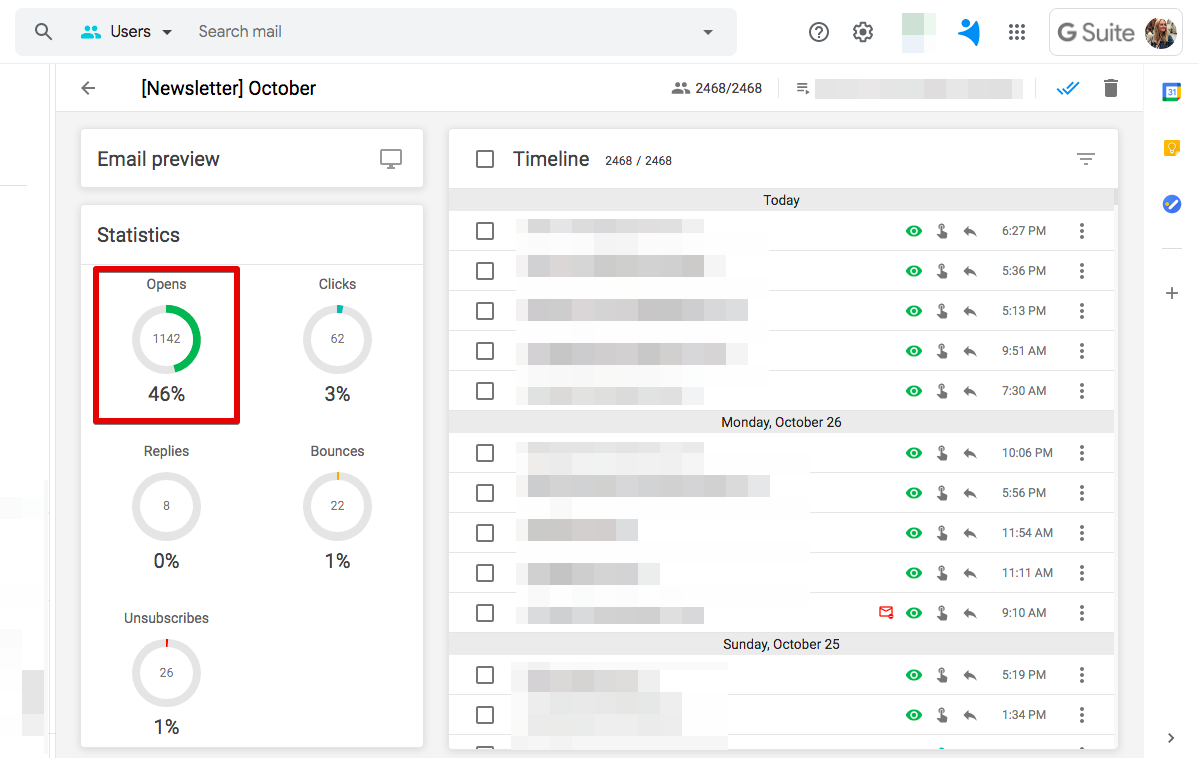 Some of the most common issues associated with low open rates are the wrong time of sending, weak subject lines. The dealbreaker could be the fact you send your emails to a large, untargeted audience or you're not all set with your list segmentation.
You need to remember that it's not about the quantity but rather about the quality of your contacts.
If you're 100% sure your segmentation is on point and you're targeting the right audience but the open rate is still below 15%, you should rethink the way you write your subject lines. Get your copywriter to put some effort into creating a catchy and engaging subject line.
Watch more: [Email Marketing Tutorial] How to Write Catchy Email Subject Lines.
Click rate
Where open rate is all about the effectiveness of your subject line and how well you capture your subscribers' attention, click rate is more about how enticing you are for them to take action. It reflects on the percentage of subscribers that clicked on the link in the body of the email. Click rate is considered one of the key indicators of a drip campaign success.
Click Rate = Number of Clicks/ Total Emails Sent – Email Bounces
There are a lot of factors that can determine the click rate of your drip campaign. These include the size of your email list, the type of content you share with your subscribers, and the position of the link in the copy of the email.
The higher your click rate, the more engaging and relevant your content is for recipients.
A healthy click rate is above 15%.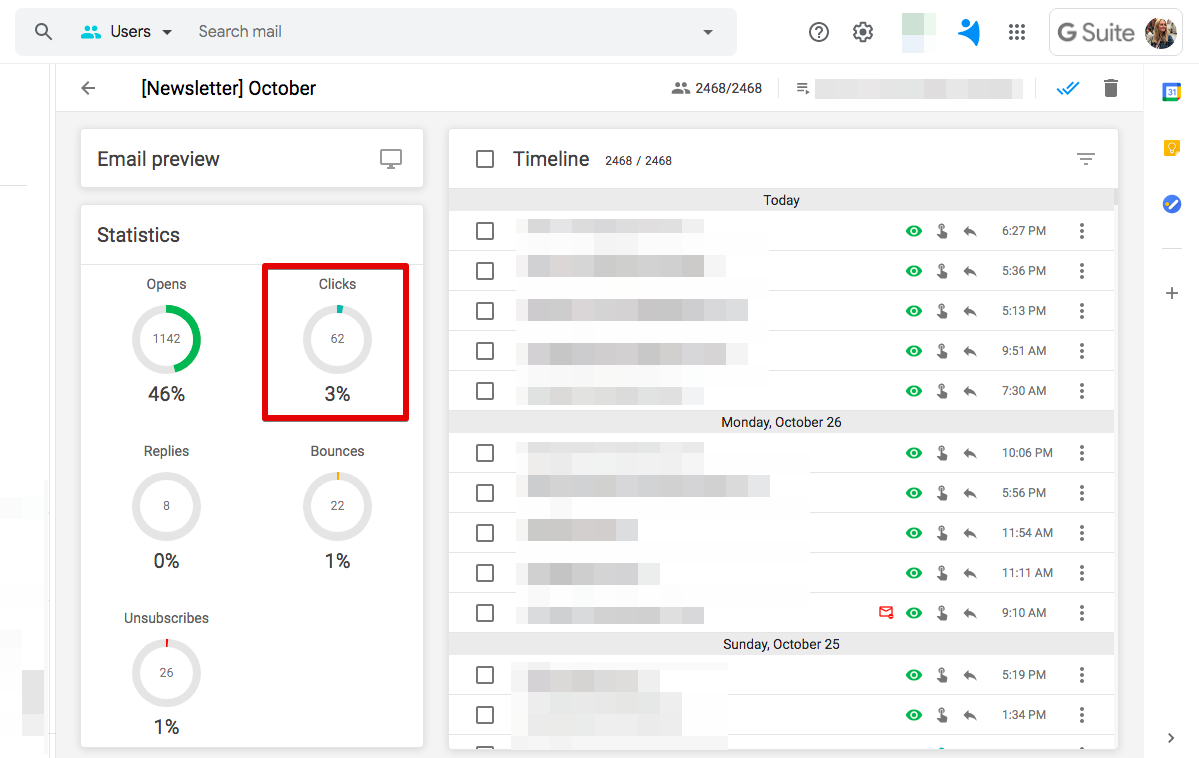 If your campaign shows results better than this, the content you send to your subscribers is well-received and engaging. If not, there could be any number of problems.
Some of the most common fixes to the low click-rate problem are:
Adjusting the frequency of emails within your drip campaign
Improving the personalisation of your emails
Ensuring your links are accessible to all recipients, including those using mobile devices to check their inboxes
Learn how to track emails in Gmail in this NetHunt article!
Response rate
Response rate allows you to analyse how actionable your Call-To-Action (CTA) really is, and whether your emails succeed at prodding your leads towards the next step of the drip sequence.
Response Rate = People Who Replied / Emails Sent – Emails Bounced
There isn't a set benchmark for response rates. They're usually used in combination with open rates. If your open rate is high but you're getting little to no replies, it might be a signal that your subject line doesn't match the contents of your email, you failed to personalise the email, or the copy is simply too long.
Find out how to write emails that get responses here!
Bounce rate
If you're positive that your emails are hot and engaging, but you still don't get the desired effect from sending them out to your mailing list, don't lose hope too quickly.
It might be that your emails don't get the attention they deserve because they merely fail to reach their recipients. There are several reasons why a message can bounce, such as the email address your subscribers provided is fake or no longer active or there's a spelling mistake either on your or on their side.
Bounce Rate = Bounced Emails / Total Recipients * 100%
You should keep bounce rate to the minimum. If your bounce rate is higher than 5%, it might be time to review your mailing list and get rid of the bouncing contacts.
Unsubscribe rate
This one is not good for the skin; a certified ego crusher to talk about... let alone to measure. Still, it's important to know whether subscribers unsubscribe after your drip campaign; if yes, at which stage they do it.
Unsubscribe Rate = (Number of Email Addresses who Unsubscribed / (Number of Email Addresses Sent – Number of Email Addresses Bounced)) * 100%
The unsubscribe rate helps visualise if you need to change tactics and nurture leads more at the times when they're most prone to ditching you.
Suppose you want to gain a better insight into the performance of your drip email marketing. Why not step away from traditional metrics and analyse more drip campaign-specific ones.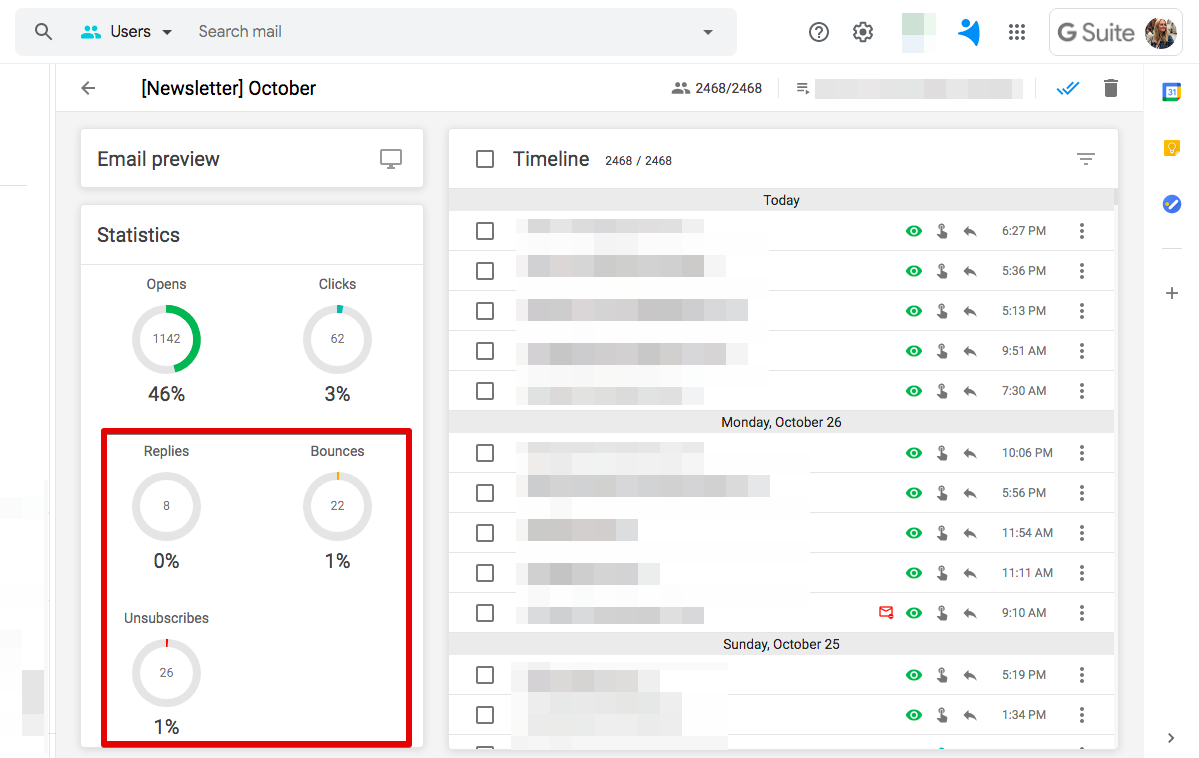 Value and Cost of Leads per Drip Campaigns
For any for-profit business, the end goal of all activities is to generate as much profit as possible. To do that, they need to not only maximise your revenue, but also to keep their costs in check. It's important to assess how much every single lead costs to understand whether the right choices are being made.
Conversion rate over time
It's best to only have one goal per drip campaign. Otherwise, it'll be difficult to keep track of all the actions taken within it.
However, regardless of the main drip campaign goal, there is also a supporting goal, too. That is, to prod the lead further down the sales funnel. Hence, it's possible to measure conversion rates for every drip campaign.
Example. You are sending out a drip campaign that consists of four emails offering to try out a new product. All of them share the same goal - to convince customers to make a purchase. Once the action is taken, customers stop receiving the next emails from the sequence.
It makes sense to measure conversion rate over time, as opposed to the conversion rate of each individual email in the campaign. If the last couple of emails don't get much traffic, you've probably managed to convince subscribers to purchase early. On the contrary, if your last email gets too much traffic, it means you weren't effective in designing the campaign message.
End-to-end conversion rate over time
While it's good to know the conversion rate of drip campaigns, your end-goal is always the end-to-end conversion of leads. Each successful drip campaign takes you closer to achieving this goal.
End-to-End conversion rate represents the level of conversion of leads between different stages of the buying journey. Every stage of the funnel comprises different drip campaigns aimed at moving a lead further down the funnel.
This metric allows you to calculate the real ROI for campaigns, enabling analysis of leads' behaviour at different stages of the funnel.
The best tools for measuring drip campaign results
It's important to not only know metrics, but to be able to measure them accurately. If you're running a small business that doesn't have too many customers, you can manage everything manually. However as soon as you start scaling up, you'll quickly see that there's an array of issues associated with manual data tracking.
To measure the results of your drip campaigns accurately and correctly, you should automate the process and delegate repetitive tasks to dedicated software.
A dedicated CRM system (NetHunt!)
CRM systems automatically measure drip campaign results. Most metrics associated with drip campaigns are comparable, so they need to be monitored continuously to be interpreted.
While you can do it by yourself in a spreadsheet, there's a way more effective tool to organise your workflow - a dedicated CRM system.
Considering the fact you work with emails, it's best you opt for a CRM system that can be fully integrated with your inbox so that you wouldn't have to switch tabs too much; one that offers  a clearer view of your marketing campaign efforts.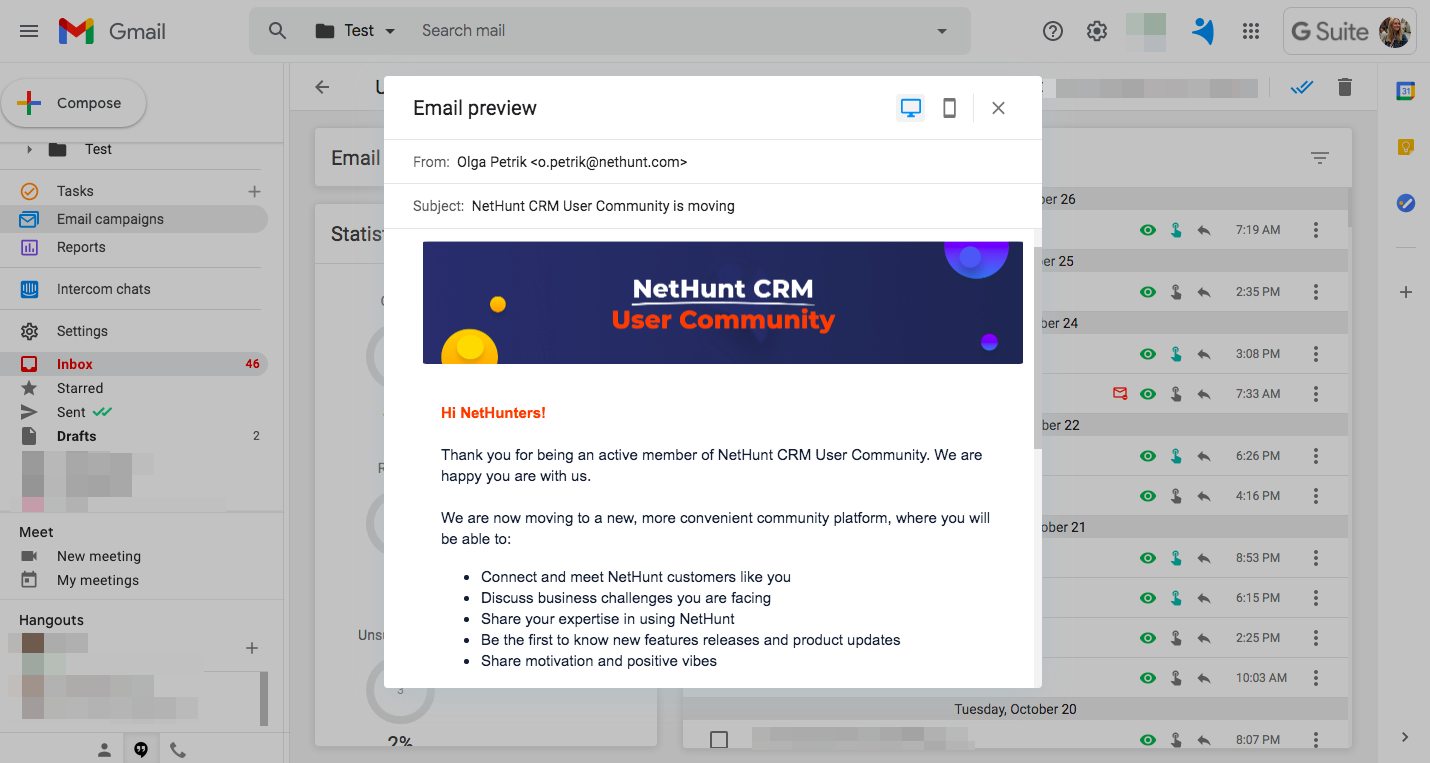 On top of that, you also need to find CRM software that gives the option to create a 'funnel view'. This helps differentiate between different stages of the customer journey, and allows you to calculate end-to-end conversion rates quicker and more efficiently.
Ahem, did someone say Gmail CRM? A 14-day free trial, and as little as $24 per user per month after.
Campaign Monitor
Another great tool for automating your drip campaign monitoring is Campaign Monitor. It's one of the most popular email service providers that make email marketing a thousand times easier. This tool offers wide functionality, including list management and customer segmentation, reporting, and analysis.
The best thing about Campaign Monitor is the fact it enables A/B testing for your drip campaigns, which can help you immensely with establishing the most efficient solution for your business. Finally, Campaign Monitor boasts rich reporting capabilities and the ability to personalise customer journeys, both of which are perfect for calculating the drip campaign success metrics.
The pricing starts at just $9 per month!
MailChimp
MailChimp is a known name in the world of email marketing, and it got its hype for a good reason.
Originally, MailChimp was more of a drip campaign builder, but the tool has recently extended its capabilities for tracking results of the drip campaign. It offers an impressive range of various post-campaign analytics that automates drip campaign analysis.
The pricing starts at just $14.99 per month!
Whoever said email marketing is dead, must have not heard of drip campaigns. They are a goldmine, pushing your business to the higher echelons of your market. Only if you know how to optimise it well, though.
If you don't want to stay in the shadow of the competitors who nailed their drip campaign assessment, start measuring the results now!
Table of Contents
Crack the sales formula with CRM Lab
Twice a month, receive actionable CRM content to your inbox.
Join the
Telegram channel NetHunt CRM
All about CRM and B2B sales.
Join