CRM stands for Customer Relationship Management.
So, it's obvious that this tool plays an important role in ensuring customer satisfaction, providing high quality customer service, and helping customer support reps solve customers' problems more effectively.
In this article we're talking about the numerous ways in which CRM software can be useful for the customer service department.
→ Learn about how the marketing team can use CRM for their processes in our previous article from the Not only for sales series.
Use CRM to automate the onboarding process
The quality of your onboarding process determines the likelihood of your users staying with you after their trial period is over. Therefore, you need to get the most out of the trial period and use this time to teach your new customers everything about your product, what it can help them with, and how they can maximise the benefits of using it for their company.
When you only have a couple of new clients every now and then, it's easy to provide them all with first-class onboarding, especially if you have a dedicated customer support representative working on this task. However, when your user base is growing, it becomes challenging to onboard every customer personally.
That's when a CRM system comes into play - check out what a CRM system is.
Not every step of the onboarding process can be automated; it still requires human supervision and participation (CRM systems can't conduct demo calls with customers yet). Nonetheless, with the help of a CRM system, you create an effective onboarding process flow and automate everything that can be automated. For example:
Email sequences
Tasks for managers to check on progress
Inactivity with onboarding to trigger another email sequence
Pipeline stage change (if an event occurs, i.e. payment)
This way, every customer will go through a standardised customer journey and gradually learn about your product.
Here's what you need to do for this:
Determine the goals of the onboarding process. This will help you understand what parts of it can be automated and for which segments of customers.
Break down your onboarding process into a series of steps. Ideally, you should provide information about your product in digestible chunks that won't overwhelm the customer.
Create an onboarding automation flow, including automated emails and tasks for customer success reps.
Here's an example of the welcoming, onboarding email sequence all new NetHunt CRM customers get in their inbox once they sign up for the product: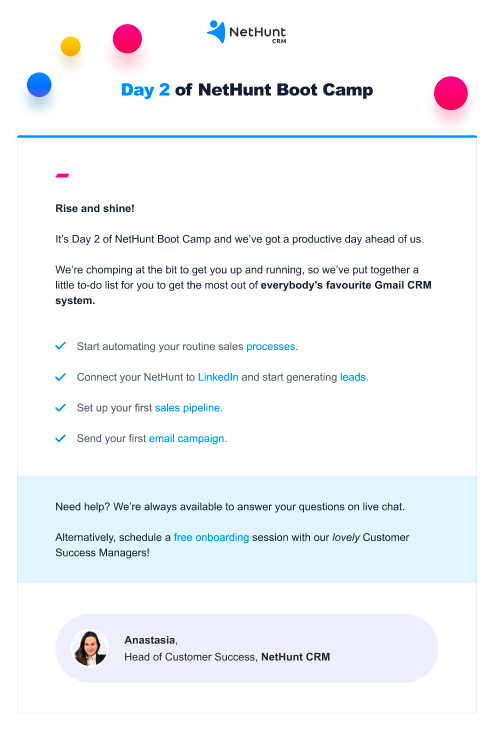 → For more detailed information on how to write Welcome emails, check out this article.
Moreover, you can also use CRM software to personalise the onboarding process for different customers depending on their initial needs, their pain points and key requests, characteristics of their respective businesses, etc.
To do this, you need to add specific tags to the customer's record in the CRM and craft different onboarding sequences for different cases (for instance, focus more on specific use cases and functionality). Then, once a new customer enters the sales pipeline, the system will trigger a specific onboarding workflow based on the tag in the record.
Use CRM to build relationships with your customers
Winning a deal is only half the battle won. Once you've acquired a paying customer, it's essential to continue building a robust relationship with them so that they turn into a loyal customer and a brand advocate of yours.
A CRM brings order to your relationship-building activities and ensures that you stay attentive to your customers, their progress, and the moments they share with your product and your business.
To improve the quality of your customer service, you should take a proactive approach and reach out to your customers before they encounter a problem with your product or service. Not only will that take the strain off your customer support team, but it will also help you stay on top of your customers' minds.
Here are a couple of things you can do with the help of your CRM system to ensure that you're on good terms with your customers at all times:
1.Send out a customer satisfaction survey after X days of them using your product.
Use the CRM to create a custom workflow for all the customers that have been using your product for a certain period of time:
Stage Won ➡️ Wait for X days ➡️ Send an Email
Once the stage changes to Won and a certain number of days pass, the system will automatically send out an email with a request to fill out a customer satisfaction survey where they could rate their experience with your product, ask any questions, or request a call with a customer service representative.

2. Celebrate milestones you share with your customers.
After your customer has been using your product or service for a certain number of days, has achieved a specific goal with the help of your product or service, or has been active in the product for a specific amount of time, congratulate them on it!
Use the CRM automation functionality to notify your customer service reps when a customer reaches one of such milestones to contact them or set up a trigger-based email sequence for the CRM to send out an email independently.
3. Congratulate your customers with holidays.
Ensure you stay attentive to your customers' holidays and other notable dates (for example, their anniversary or company's anniversary) and send out an electronic card with wishes. To do this, you need to fill out all the relevant information in the customer's record in the CRM and set up a workflow to send out an email when the time comes.
On top of that, you should also congratulate your customers on other holidays such as Christmas, Easter, Thanksgiving, etc.
4. Take your relationships offline.
If you want to deepen your bond with valuable customers even further, make sure you offer to arrange offline meetups with them whenever you're in their area.
To do this, you need to create a custom view with all the customers in a specific area and check to see who's available for an in-person hangout whenever a customer service rep is nearby.\
→ Check out how to implement a customer success approach to win more deals.
Use CRM to ensure continuity of your communication with customers
Modern customers are very demanding, and all of them have their specific preferences when it comes to choosing the most convenient channel for receiving customer service.
While email traditionally remains one of the most popular communication channels, many customers are interested in contacting customer service on social media, messengers, live chat, and phone.
Moreover, many customers don't want to limit themselves to a single channel, either. They want to be able to switch from one channel to another, with the customer service being consistently good across all of them.
Imagine the following scenario…
You're a customer who's trying to solve a problem with the product. You're working from the office desktop computer, communicating with the customer support manager via the work email that's only accessible on-site.

On your commute home, you're still determined to get a solution to your problem by the end of the day. You want to continue the conversation with the customer support manager from your phone, via Facebook Messenger.
It would be frustrating to have to describe your problem again, wouldn't it? You'd want to carry on with the conversation without taking any steps back. Any other scenario would be a waste of your time and negatively impact your customer experience.
A CRM system helps businesses to enable omnichannel customer service and let customers switch from one communication channel to another when talking to the customer support manager.
By choosing a CRM system that integrates with many third-party apps, you can ensure that all the conversations get logged into the system regardless of the channel where they take place, and all the accounts are interlinked.
The more integrations your CRM supports, the more seamless, smooth, and, overall, positive experience your customers will have.
Use CRM to speed up the response time
According to the research of 1,000 companies conducted by SuperOffice, the average response time to respond to customer service requests is 12 hours and 10 minutes.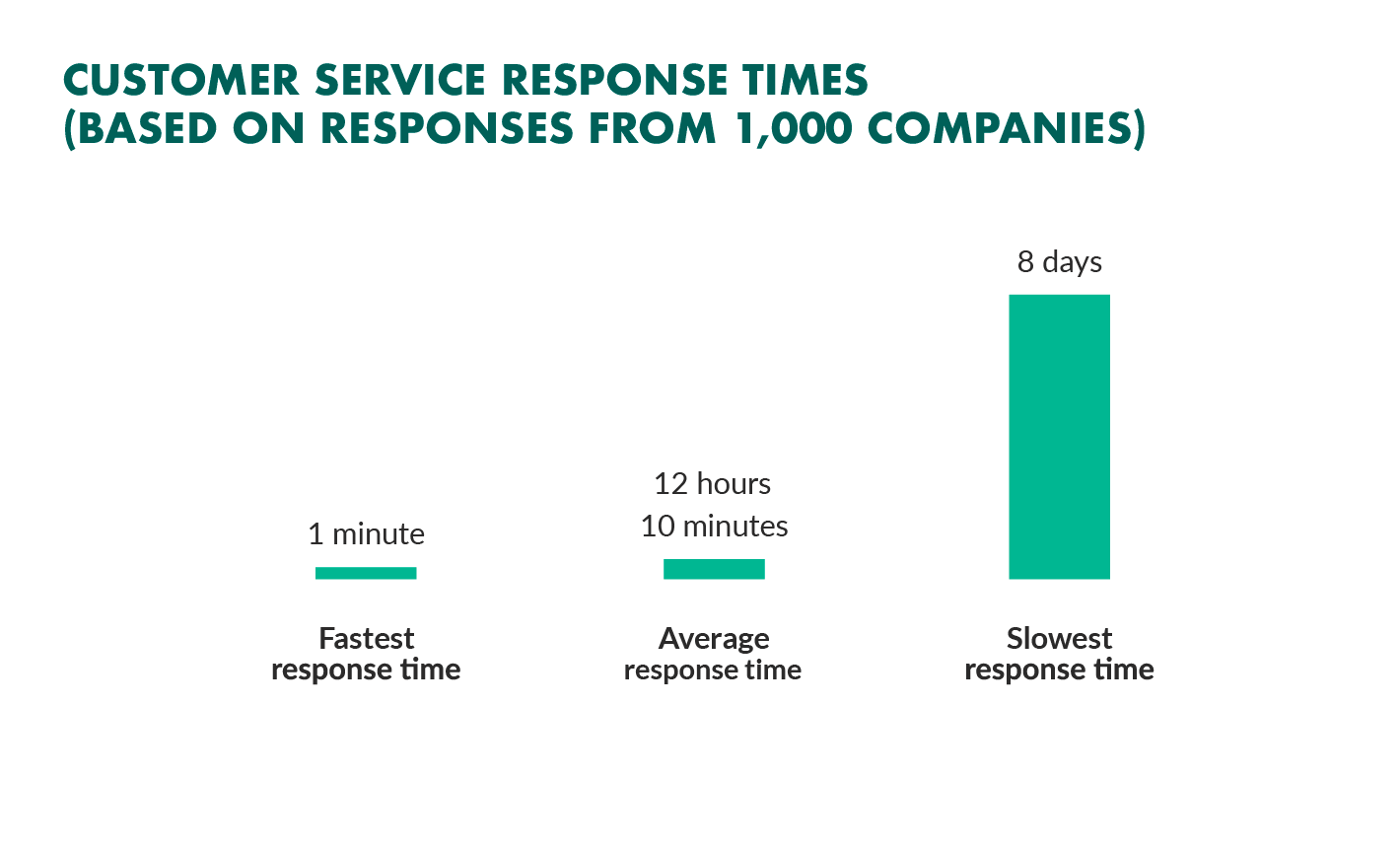 At the same time,
46% of customers expect companies to respond faster than 4 hours, and
12% expect a response within 15 minutes or less.
So, if you want your customers to stay satisfied, you must promptly react to their customer support requests.
A CRM system is a great tool to help you with that:
1.Set up automated notifications.
It's essential that your customer service managers are aware of a new support request coming their way the second it lands in the inbox.
To make it possible, you should create an automated workflow in your CRM that would send out a notification to the manager responsible for the particular customer who filed a support request. Ideally, you should set up a workflow that would send out several notifications via the most popular communications channels your customer service managers use, e.g. Google Chat, email, Slack, Telegram, etc.
Watch a quick tutorial on how to create a workflow like that in NetHunt CRM:
2. Make use of canned responses and email templates.
When the clock is ticking and every second counts, you shouldn't waste any time at all! After being in customer service for a while, you'll notice that clients encounter similar problems that can be eradicated with similar solutions.
Make a list of all these problems, write a series of customer support responses to them, and save them in your CRM as email templates.
Alternatively, if you don't want to send a template as a whole, you can still automate bits and pieces of your writing routine by using canned responses and text shortcuts.
Add the most common phrases to your CRM and save time writing them!
3. Set up time-based email alerts.
As a rule of thumb, customer service representatives aim to respond to customer requests straightaway. However, this is not always possible. There are different scenarios when some emails can get left behind.
For instance, you could be waiting for some additional information before you can respond in full, or perhaps there're more emails in the customer service queue than you expected.
As a customer service manager, you need to ensure that none of the customer requests goes unattended, no matter the situation. Even if you can't react to an email from a customer on the spot, you need to make sure you provide a response within a reasonable timeframe.
To do this, make use of time-based alerts and have your CRM send you a reminder regarding an unanswered customer request just before the time is up.
4. Send out automated responses.
Similarly, if you're experiencing an increased stream of customer requests that you can't deal with as quickly as you'd like, you should still let your customer know that their email was received and their problem is being resolved.
Create an automated workflow in your CRM that sends out an email explaining that you can't get back to your customer with a solution at the moment but will drop them an email as soon as possible.
Just make sure to personalise your email with the use of macros and other elements of personalisation so that your email doesn't sound robotic.
And remember…
"Improved customer service can be achieved by using a CRM help desk ticketing system. This system allows internal teams inside the company to assign client accounts to specific staff members. It can also organise all tickets and cases to guarantee that client complaints are answered quickly and with recorded notes."— James Crawford, Co-founder of Deal Drop
Use CRM to prioritise support tickets and resolve issues more effectively
First Contact Resolution (FCR) is one of the customer service's most critical performance metrics. It refers to the portion of customer queries resolved at the first point of contact (email, live chat, social media, or phone calls) as a percentage of the total number of queries processed across these channels.
On average, the First Call Resolution industry standard for a good FCR rate is 70% to 79%.
As a rule of thumb, the higher your FCR rate is, the more satisfied your customers are with your brand, and the less time you have to spend on duplicating efforts, trying to satisfy the same customer using multiple channels, resources, and interactions.
Similarly, if your FCR rate is low, customers have to invest an outsized effort in resolving their queries. In the most extreme cases, a low FCR rate can even lead to customers getting too frustrated with your service and dropping off.
CRM software provides customer service managers with full context, letting them get to the root of the problem quicker and, therefore, provide customers with more accurate, effective solutions to their problems. No matter who was handling the customer before — them or their colleagues. All the data is right there, organised in one place.
A CRM contact record contains all the information regarding each customer and their respective deal, including the history of communication between the customer and the business, their initial requests, their pain points, a brief description of the processes they're using the product to streamline, and in-depth documentation of all the previous customer service requests.
On top of that, CRM software like NetHunt CRM allows you to create and manage support tickets.
As a CRM user, you can create a separate folder for your customer support team within the CRM and store all your customer support tickets there. All the customer requests from different channels (website, emails, etc.) will go into this folder and get sorted into separate columns according to their priority. Then, you can also set up a workflow that will automatically send a message or an email to the assigned customer support manager when a new request appears in the folder.
Use CRM to determine patterns
CRM is a great tool for analytics, too. Customer service teams can use CRM data to see all the customers that reached out to them with support requests and spot patterns if such exist.
For example, you can go over all the customers that experienced a specific problem and see what characteristics they have in common.
Then, you can create a rule in your CRM and highlight all the new customers that have similar characteristics and focus on covering specific points (the ones that tend to worry such clients the most) when onboarding them or conducting calls later on in your relationship.
Use CRM to coach your customer support team
Finally, you can use your CRM software data to improve the quality of your customer service by training your customer support team.
Make use of the extensive reporting functionality of your CRM software to generate customer support activity reports, reports on the success of your customer service efforts, etc.
Whenever you spot a customer that churned, go over their record in the CRM and check all the interactions the named customer had with your customer service team:
See how quickly your customer support managers responded to the support requests
See whether or not the customer had to follow up on their request
See how many times your customer had to communicate with the rep before their issue got resolved
See the contents of your customer service representative's emails
Listen to the recordings of the calls
Based on all this information, see where your customer service representatives require additional training and provide them with it.
If your customer support department is on the way to organised processes, high-class customer service, and increased loyalty, you are welcome to try NetHunt CRM. The first 14 days are on us!
Table of Contents
Crack the sales formula with CRM Lab
Twice a month, receive actionable CRM content to your inbox.
Join the
Telegram channel NetHunt CRM
All about CRM and B2B sales.
Join