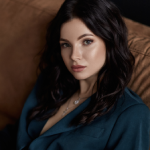 Nataliia Polomkina is an Outreach Specialist at Mailtrap Email Delivery Platform. Passionate about building a high-functional email infrastructure, resolving deliverability issues and wandering in galleries.
Transactional emails play a crucial role in the marketing of any e-commerce business.
They increase engagement, sales, brand awareness and customer trust.
In this article we're going to explain why it's essential to pay attention to transactional emails, explore the 8 key types of transactional emails a business has to use to lead a customer to a purchase, and share the best tips for putting together transactional emails.
Why are transactional emails important?
Through a set-up API email sender, transactional emails are automatically sent out in response to a user's action. Before jumping to why this type of emails matter, let's discuss how they differ from marketing emails. Here are the key differences between the two:
Transactional emails
Marketing emails
Are triggered by a user's action
Are sent regularly
Aim at confirming an action
Aim at promoting a product
Are sent to a single user, regardless of their subscription
Are sent to subscribed users in bulk
Transactional emails have extremely high open rates — depending on the type of transactional email, the average open rate is 30%: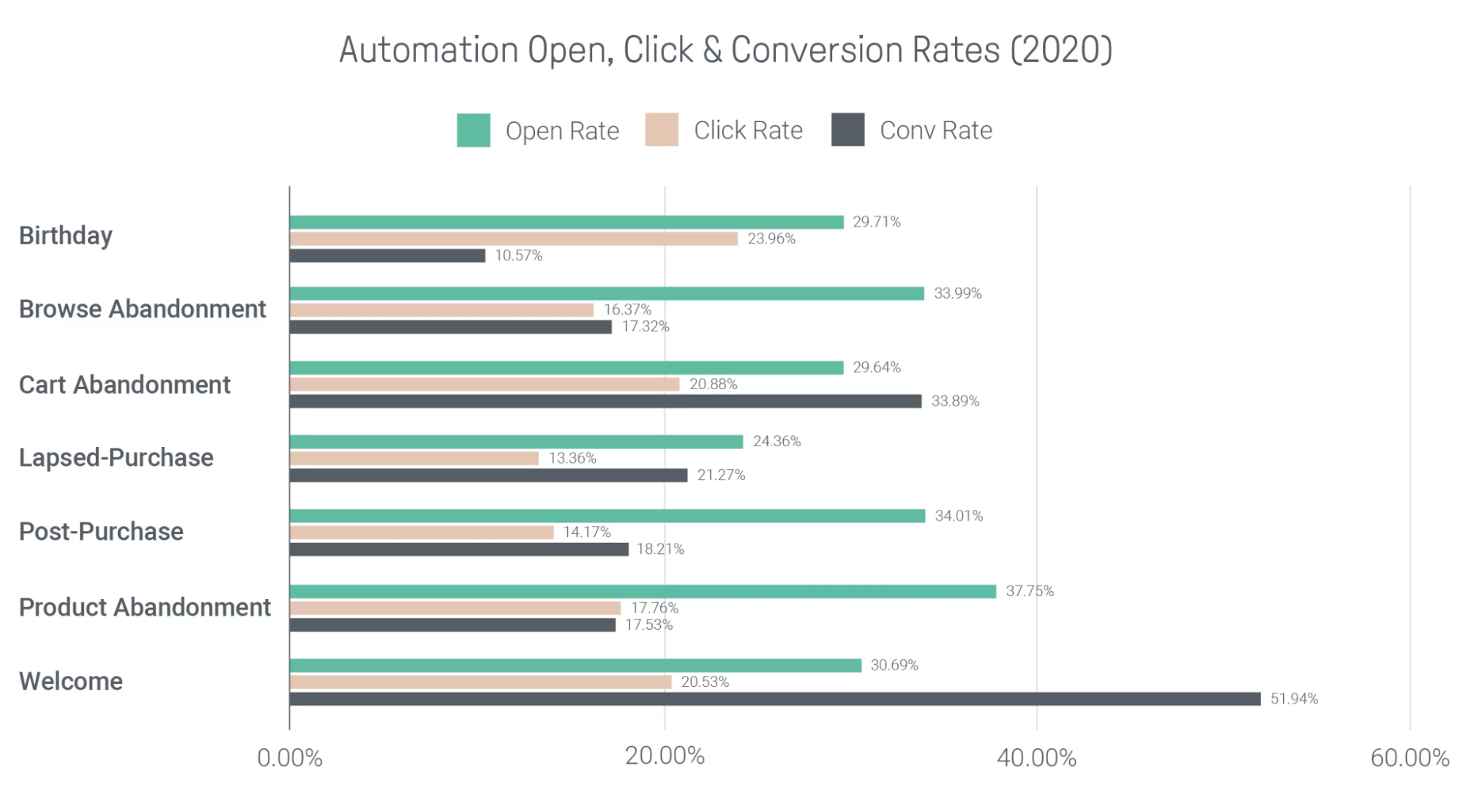 So, how exactly do transactional emails and their high open rate benefit a business?
1. Higher Customer Engagement & Sales
Because transactional emails are triggered by a user's action, they are personalised. And personalised emails make your customer feel valued, leading them to shape an emotional connection with your brand. This can translate into higher loyalty from their side shown as website visits, activity on your social media and store purchases.
Since the primary goal of the email is not to promote but to inform, you can use them to introduce complementary products to those the user has ordered or offer discounts and referral codes, which are likely to drive sales in the future.
2. Better Brand Awareness
Transactional emails are a great way to make your brand familiar to the customer, especially new leads. By designing a distinctive template that reflects the style of your brand, the view of your email will speak for itself and, over time, become recognisable for recent customers.
3. Growing Trust
Transactional emails give customers clarity on each step they're making by confirming that they did everything right. This means there's little to no space for confusion and feeling lost for the customer, which translates into a positive user experience with your brand. So, transactional emails create clear communication and predictability.
Because customers receive a reply on each of their important steps and actions, they feel the presence of dialogue between them and your brand, which allows them to rely on the fact that they can reach out and will be heard and replied to.
8 transactional emails to close the deal
While there are different kinds of transactional emails, some are just essential for your business. Here are 8 examples of the most important transactional emails.
1. Registration confirmation
Registration emails are emails a user receives after signing up on your website or application, subscribing to your newsletter or registering for your event. Usually, this email contains a confirmation link or code for the user to activate their newly created account.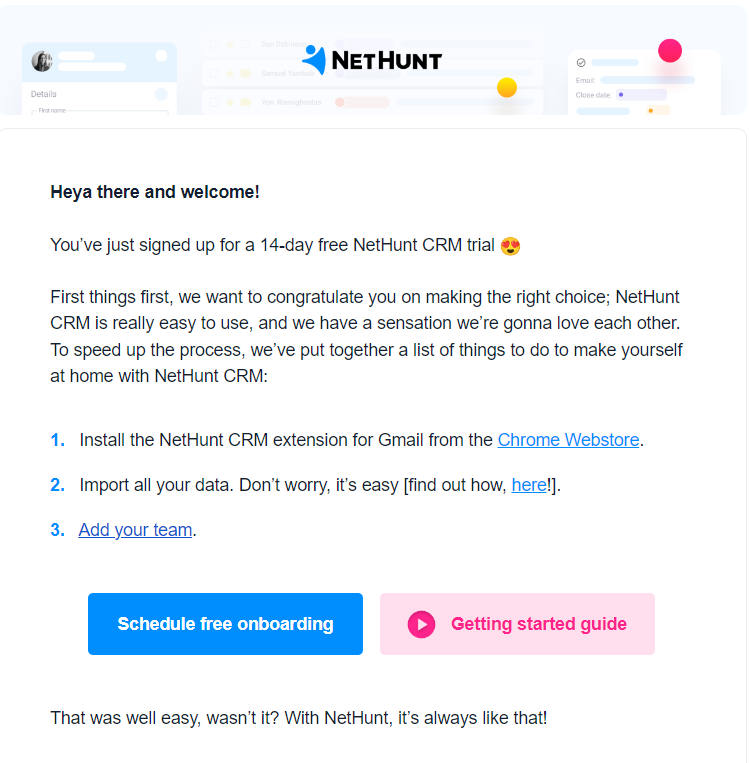 Registration confirmation emails are beneficial both to you and the user. For you, they provide security by validating the accounts and decreasing the risk of fraud. The users, in turn, get an enhanced customer experience by getting a response from you on their registration.
2. Welcome email
Welcome email follows the customer's successful registration on your website. After they have successfully confirmed their email, you respond by welcoming them to your store or app.
➡️ Check out our guide to welcome emails.
Besides greeting the new customer or user, welcome emails can also provide some useful information. For example, you can invite the user to start their onboarding process and get started with your application. Or, you can introduce your best-selling products so that they go to your website to check the products out.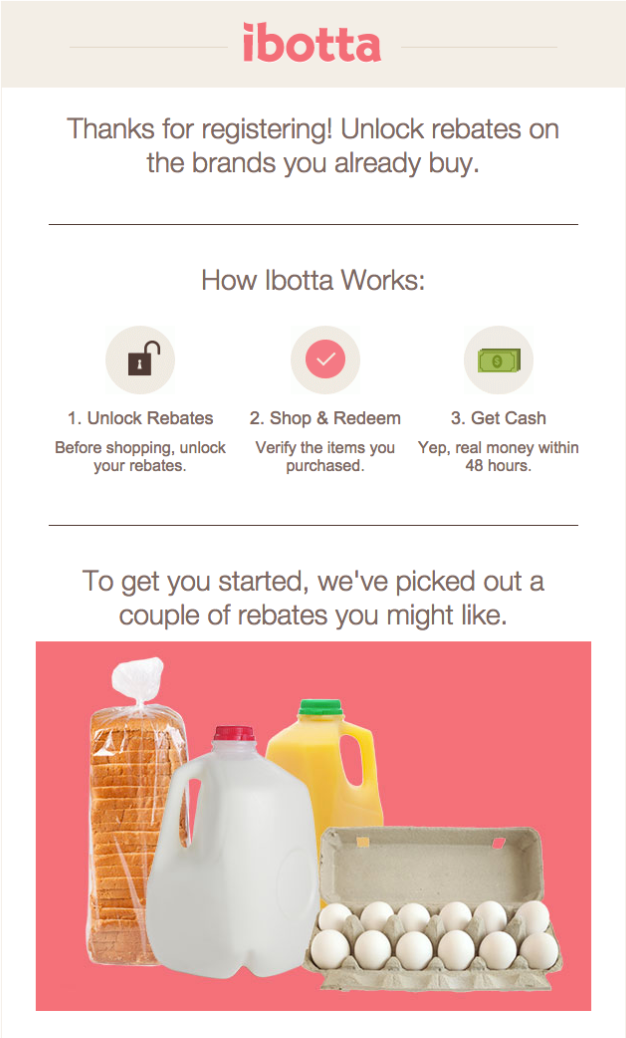 Another frequent practice when it comes to welcome emails is offering the user a welcome gift. This can be a promo code to save on their first purchase, a free service trial or a gift added to their first order — this way, you encourage them to start buying.
3. Cart abandonment
A customer receives a cart abandonment email if they leave the website after adding a product to their cart. Because the customer doesn't end up checking out and completing the purchase, the brand should give a little extra push to encourage them to finalise the order.
With this being said, transactional emails of this type are extremely important for e-commerces, especially since their open rate is 45%.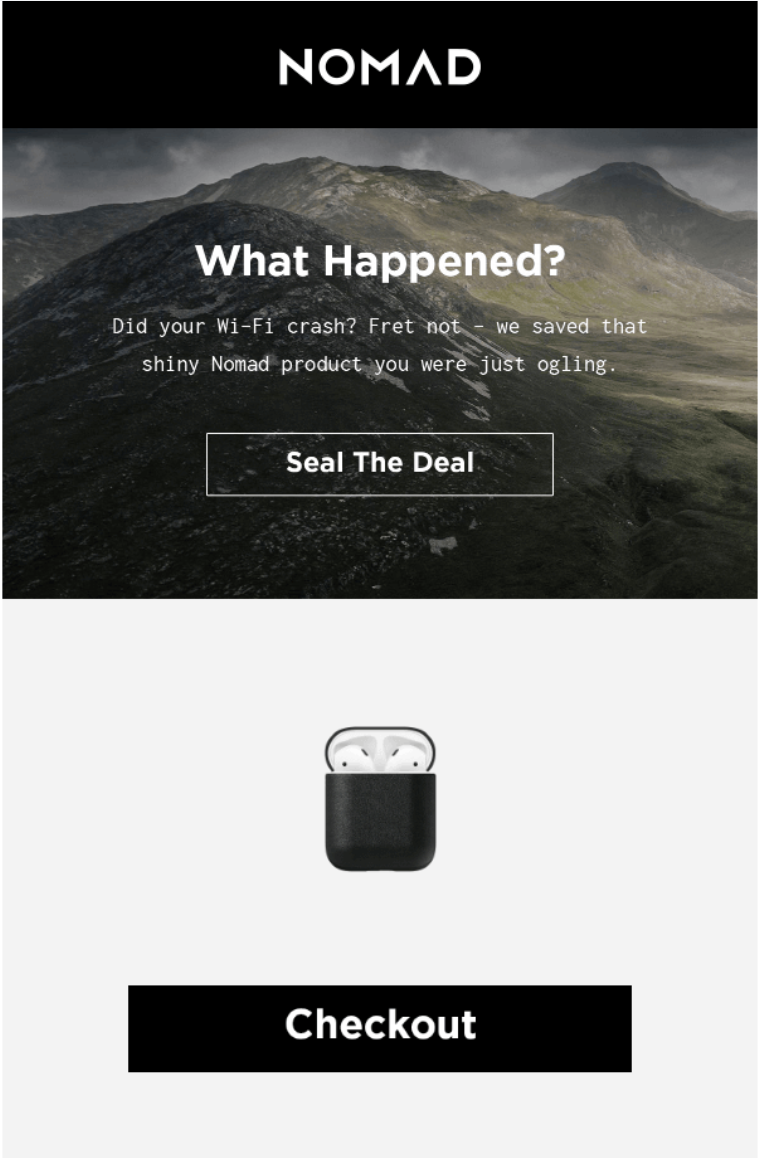 Be sure to make it extremely easy for the customer to go from the email to the checkout — include the images of products in their cart and a direct link to finish the order. You can also offer a limited-time discount to add a sense of urgency and push them to place that order as soon as possible.
➡️ Learn more about automating the post-sales push in our article. ️
4. Order confirmation
Order confirmation emails are extremely important for customers — brands send them after a person places an order to confirm that it was placed successfully and has been accepted.
With an open rate of 70%, order confirmation emails give customers a sense of security with your business since they can be sure that they'll soon receive what they paid for.
At the same time, this type of transactional email is useful for the customers because they receive a receipt for their order, the products they bought and other details on the order.
Additionally, you can provide information on how to contact the support team in case of any issues and a referral link or promotion for the next order. This will potentially get you more orders from this customer or their network.
5. Shipping confirmation
When you ship the order, it's nice to notify the customer about this next step via email. This transactional email shows that you're working on their order and have actually progressed to shipping it.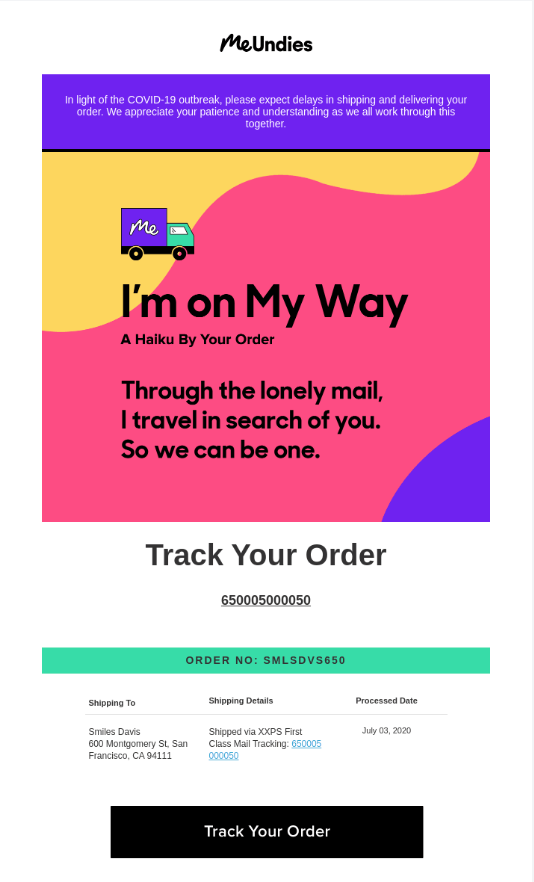 In shipping confirmation emails, it's best to include a full list of the products ordered, a tracking number and an estimated delivery date so that the recipient can plan on when they receive the products.
6. Delivery notification
When your customer's order is delivered, sending an email to the customer to notify them about the delivery can be helpful. The email lets them know that they can pick it up, which adds a backup notification in case they miss one from the delivery service.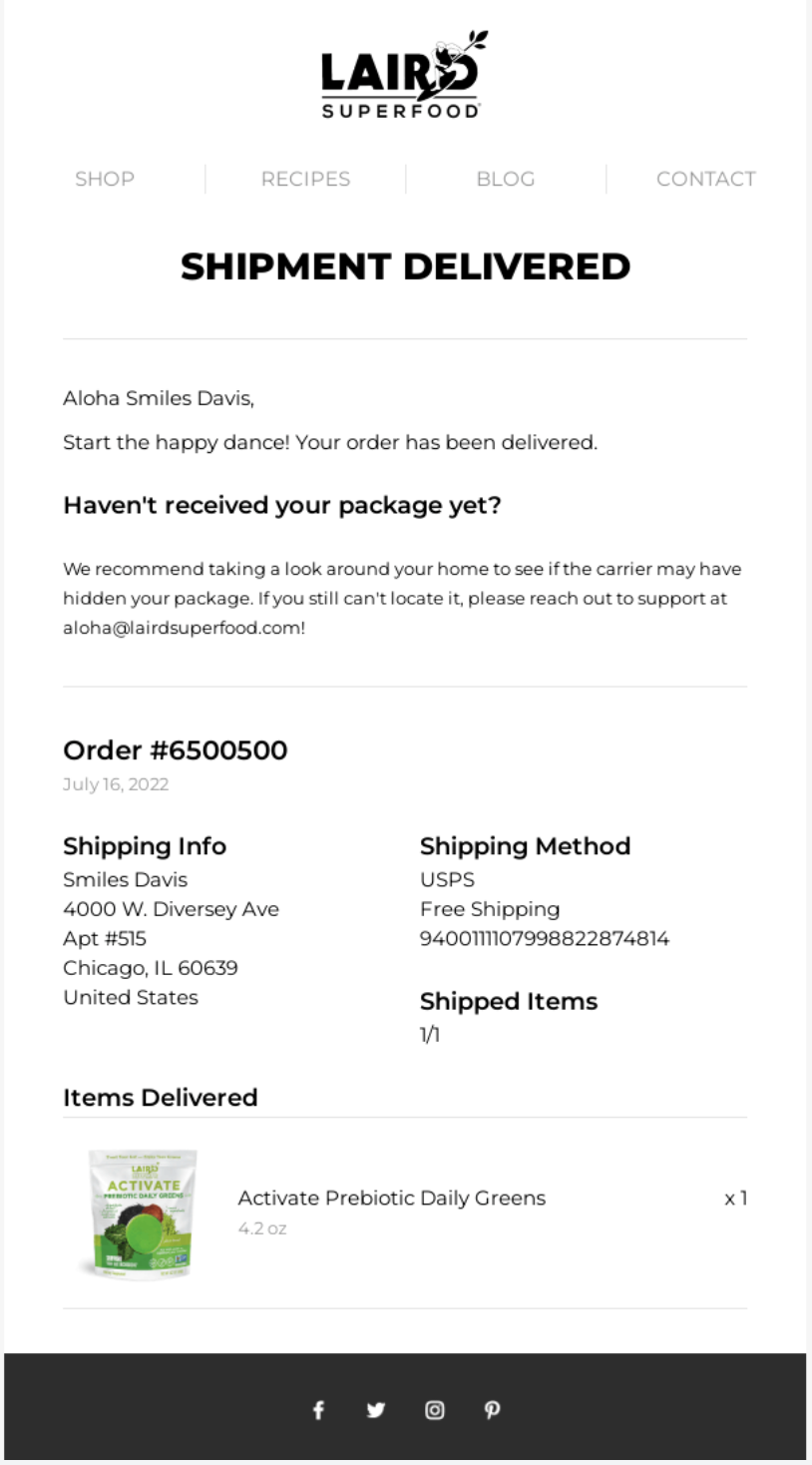 If the package was picked up by someone else, you avoid the customer's dissatisfaction with you and help them resolve the issue quickly, which is why you should include your contact information in this email. And even if no issues occur with this order, the customer will know that you are open to helping them at any time.
Besides, you can use this email to introduce new products, encourage to write a review or refer your store to a friend. The email also shows that you know where your shipments are as they travel, showing you as a responsible brand that cares about its customers.
7. Reminders and alerts
Transactional emails with reminders and alerts are another way to show your customers that you care. The emails can remind your customers about anything — from their anniversary with your website to the upcoming reward expiration date to automatic subscription renewal coming soon.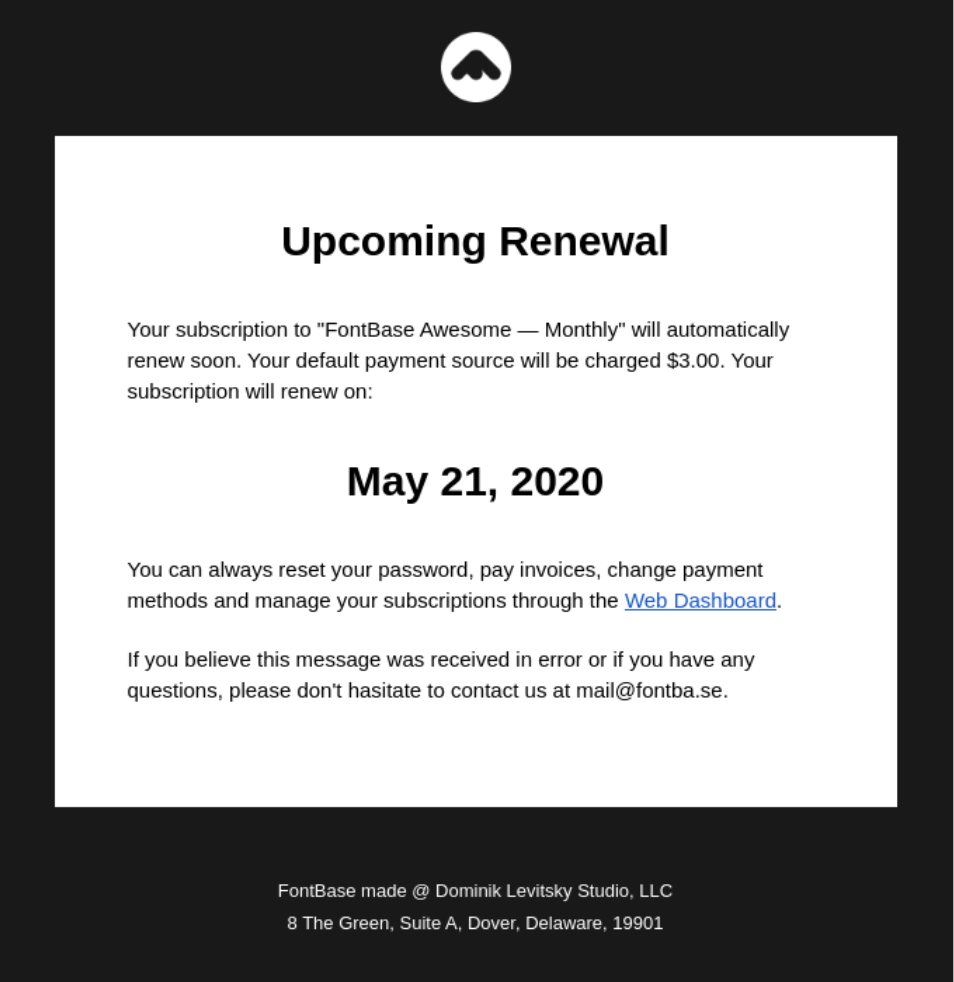 Reminder emails are critical if you run a loyalty program. In this case, your customers should be reminded about their bonus points expiring soon so that they can spend them, which results in sales for you.
8. Password resets
Lastly, password reset transactional email is rather technical than creative but is a crucial one for your business. Password resets are requested by users in two cases, either when they can't access their account because they've lost or forgot their password or someone is trying to log into another user's account.
A password reset email helps a user access their data like order history, saved products, as well as payment and shipment information. At the same time, these emails prevent accounts from being breached.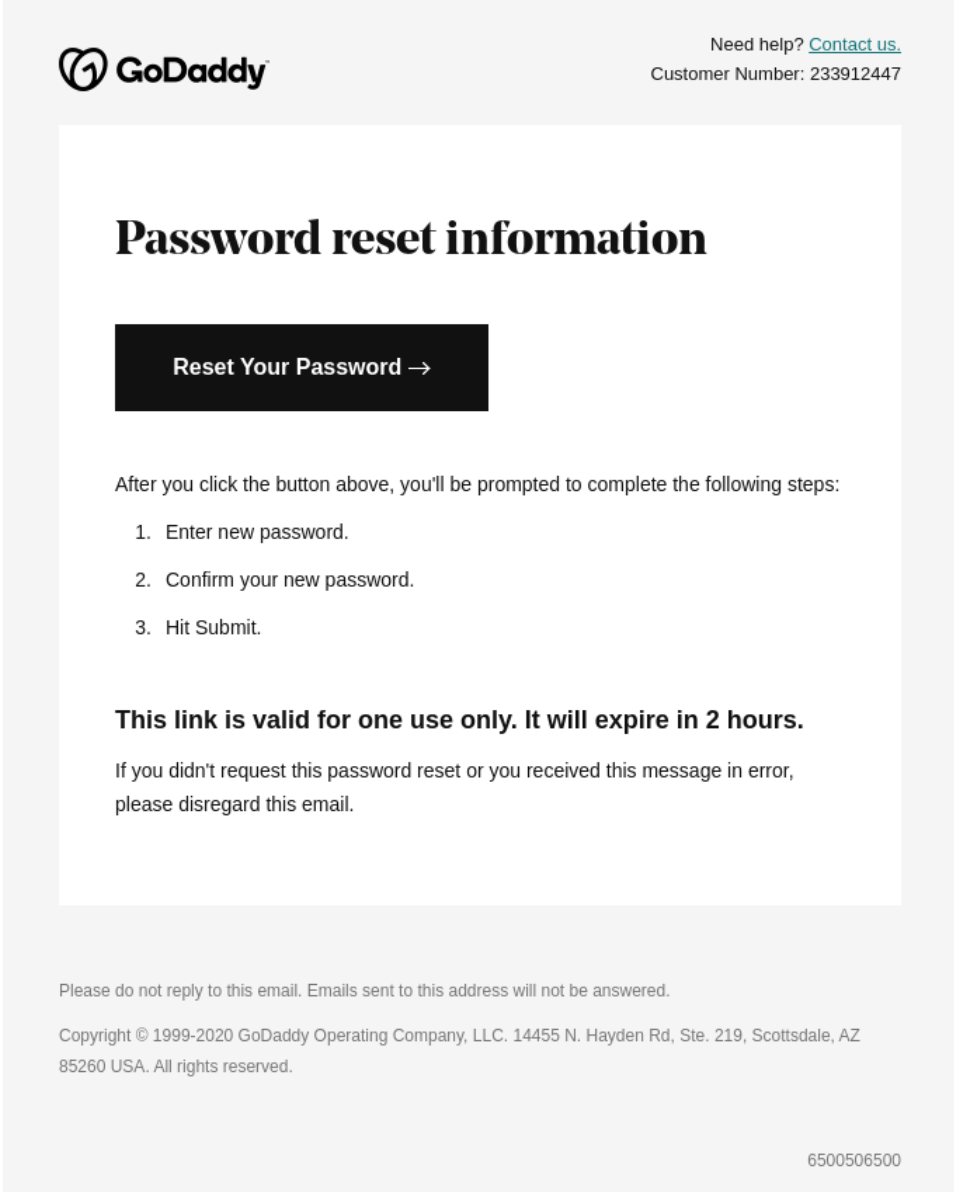 The email has to be concise and contain clear instructions on how the user can change their password. Usually, it's best to include a link or clickable button to lead the user to the password reset page. For security reasons, make sure that the link expires after some time.
Also, you should let the customer know how to report if they didn't request to reset their password since this means that their account may be at risk.
How to build transactional emails that convert
Now that you know what transactional emails a brand should send, let's discuss the best practices for creating them.
1. Write a clear subject line
Subject line is the first thing your customer sees, even without opening the email. So, make your subject line straight to the point — use the purpose of the email as your subject line, i.e., 'Order confirmation.' Since users expect this kind of email, there is no need to overcomplicate it.
➡️ Learn how to write email subject lines that will get your emails opened in our article.
2. Design your emails with your brand voice in mind
If you want your email to increase your brand awareness, keep the design in the style of your brand.
➡️ More on the use of emojis and GIFs in emails in our guides — give them a read!
Also, make sure all your transactional emails are consistent in terms of brand identity to make a lasting impression and become recognisable to the recipients.
➡️ Find out more about color psychology in email marketing here.
3. Make your emails mobile responsive
Since almost half of the emails are opened on a smartphone, it's crucial to make your emails display as intended on different devices. This means that the text should be formatted well, the images need to fit the screen, and the CTA must be visible at a glance.
4. Use automation to improve your transactional Emails
Use tools for email automation to streamline the personalised sending of your transactional emails.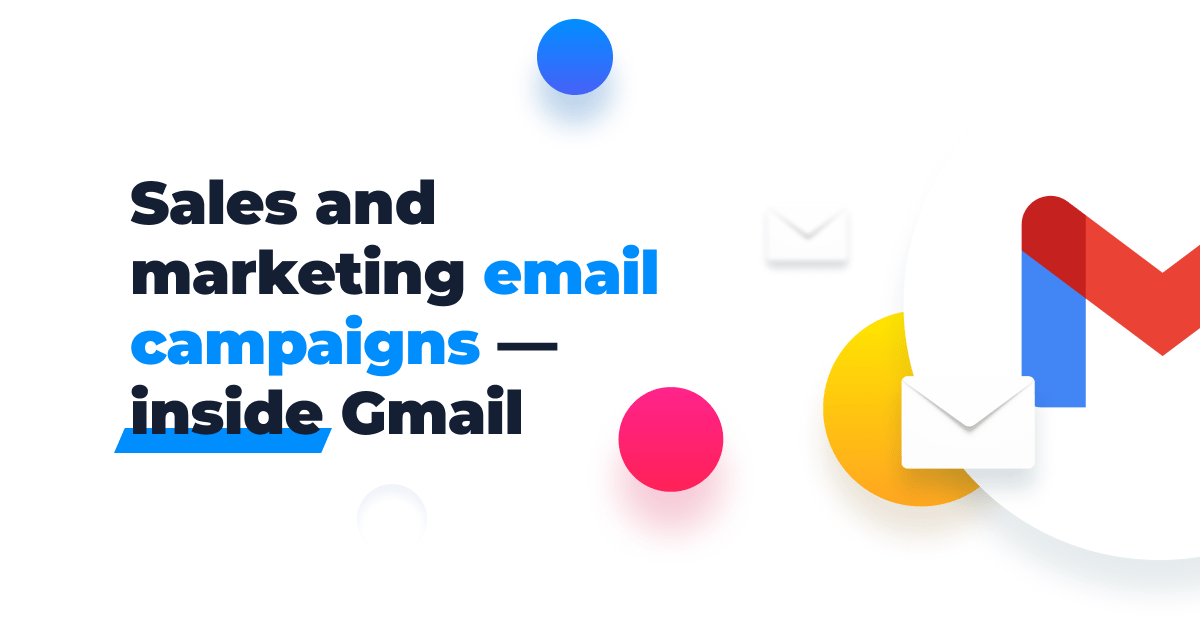 By integrating tools like NetHunt CRM, you get the following capabilities:
Webform capturing to collect more data on your visitors and get new subscribers
Contact records updated in real-time
Drip campaign set-up
Algorithm-based lead journey
Alerts on customers' actions and replies
Besides, automating your transactional email workflow helps stay consistent and provide an excellent user experience.
Find more information on CRMs integrated with Gmail and the list of the best CRM solutions that offer an integration with Gmail in our article.
Wrapping it up
Transactional emails are an important type of email for any business and significantly differ from marketing emails. They increase customer engagement, sales, brand awareness and customer trust. There are 8 most important types of transactional emails for a business to use when striving for growth.
Table of Contents
Crack the sales formula with CRM Lab
Twice a month, receive actionable CRM content to your inbox.
Join the
Telegram channel NetHunt CRM
All about CRM and B2B sales.
Join