Here's how to follow up a client after quotation so that you can finally receive an answer
You've meticulously crafted the perfect quotation, outlining your services, pricing, and value proposition. With a sense of accomplishment, you hit the "send" button, eagerly awaiting the client's response. Days pass, and the silence grows deafening. Sound familiar? We've all been there. The art of writing a follow-up email after sending a quotation is a delicate dance, a fine balance between professionalism and persuasion.
How long should I wait before following-up with a customer that I have made an offer to?
A good question, but unfortunately not the right one. With so many conflicting factors affecting why a lead hasn't responded to your quote, this question doesn't go deep enough. They might need time to think, they might need to wait for approval, they might have spilt tea on their keyboard, or they might have simply deleted your email. The list goes on and on and on....
Instead, you should ask yourself how to follow-up a client after quotation, so that you finally received an answer. By the end of this article, you'll be armed with the tools and techniques needed to transform a mere email into a powerful catalyst for client engagement and business success. Get ready to craft captivating follow-up emails after sending quote or proposal!
In this article, you'll learn:
Alas, these are the 11 commandments of an effective quotation follow-up email, and loads of lovely follow-up templates at the end of the article for you to use.
---
Tips for follow-ups after quotation
Automate it with CRM
Before we get into the theory of no-reply follow-ups, we should lay down the practicalities. You can automate the whole follow-up process with a sales automation CRM; from template creation, to mail merge, to a set-time trigger for when the email is sent. It's easy to set up in an intuitive workflow builder, and it's only ever going to make your life easier. Here's how.👇
1. If you haven't done so already, sign up for a NetHunt CRM free trial. Our customer success team is lovely, ready, and waiting to give you a free product demo. They'll learn all about your business and tell you exactly how our versatile system helps you smash goals and attain growth.
2. Hit the Workflows tab in your left-hand sidebar of Gmail or NetHunt's desktop app. You'll be greeted by our tidy workflow builder, where the automatic follow-up magic happens.
3. Choose your starting trigger. This'll set off your workflow, and the follow-up is sent whenever that condition is met. Hit ADD A STARTING TRIGGER, which will always be the same in this situation. We want our email to be sent when a deal has moved from Presentation to Negotiation on our pipeline. Typically, this is when we will have made our offer to the client.
4. Step by step, it's time to build your workflow. After choosing our starting trigger, we need to take our first step. In this case, the first action is to wait. Exciting, we know. After three days, we're going to give our workflow builders the choice by splitting it into three branches. Branch A takes the action to end the workflow when we receive an answer - we don't need to follow up.
Branch B is our follow-up sequence. After three days, one email is sent automatically to remind the recipient about our offer. Again, we'll wait for another three days before splitting the workflow path again. If an email is finally received, we'll end the workflow. If not, we'll send "Another quick follow-up" to see if we can get a response. If not… It looks like we're giving up.
5. Hit 'Activate' in the top-right corner of the workflow builder, and your workflow is ready to go!
But that's not all...
We can set our follow-up workflows to send based on different triggers. For example, an automatic follow-up can send after a client has shown little activity on their account in recent days. On the other hand, we could a set task to be created for a hand-typed follow-up rather than a pre-set template. What about an alert pinged to our reps to remind them the same thing. Workflows are flexible, so the possibilities are endless.
Do your homework
Three words to send a nostalgic shiver down anybody's spine. My guess is that you've sent your quotation to a prospect that you know quite well and had more than one conversation with. However, as with anything in sales, you've got to put more in to get out a result you want. Thankfully, doing your homework doesn't mean Biology, Geography, or God forbid… Algebra. In the sales world, homework means research, and it makes sense.
Doing your homework means...
finding the kingpins of a company and opening up a direct line with them;
finding out which factors might influence a company's decision-making process and which information they might need to make that decision;
and then adjusting your message to suit it;
finally, it means asking follow-up questions for further information that might benefit your business in the future.
If you do your homework properly, you can craft a highly-personalised follow-up and maximise your chances of at least receiving a reply.
NetHunt's Hot Homework Tip
LinkedIn is your first port of call when it comes to professional research. It's a who's who of the business world, and with a little bit of digging you can find the management structure of just about any company you need.
Reference your previous email
This one is probably obvious, but definitely important. When your prospect first opens your follow-up email, they might not remember your previous email. In fact, it might have gotten completely lost way back in their inbox, wedged between an unopened discount flight newsletter and a Facebook notification from their mother-in-law. You should remind the recipient about the quotation you previously sent.
Include details such as the date of submission and any important specifications mentioned in the proposal. This serves as a reminder and helps the client easily locate the original document.
Suffering from writer's block? Here are some examples of what you can say...
"Following up on my previous email about…"
"In reference to my offer…"
"Just checking in to see if you had a chance to have a look at my offer."
"Re: my offer…"
"I sent an email on [date], and I'm interested to know what you thought about it…"
"As per our previous correspondence..."
Write a killer subject line
According to Invesp's research, as many as 69% of recipients send a message to spam based on its subject line alone. You've got as few as two seconds to impress somebody enough to have them open your email. Use them wisely.
Your subject line needs to be catchy enough to stand out, but precise and relevant enough to address what needs addressing.
Find more amazing ideas for your subject line here!
The perfect subject line is between six and ten words long, uses urgent vocabulary, and sometimes emojis (but not too many).
DO NOT WRITE IN CAPITALS, your open rate decreases by 30% when you do. Finally, going back to our hot homework point, emails are way likelier to be opened with a sprinkle of personalisation, such as a name, in the subject line.
Length and tone
In many ways, writing a quotation follow-up is a lot like writing a cold email. Nobody wants to read your  lifestory and plans for world domination. These guys are busy; we all are. Do us all a favour and keep it between 50 and 125 words. It's important to express your idea, sure. But it's just as important to maintain your recipient's attention. Get to the point.
The tone of your email needs to be similarly un-selfindulgent. It can vary depending on the industry or role that a recipient is in, but it should remain consistent throughout the same email. It needs to be suitable for who you are emailing and how personally you know them. If you're not sure (do your homework!), it's best to stick to a friendly, but formal tone.
Did you know?
The optimal level of readability for an email is just 3rd grade. Keep it simple.
Pull the trigger
Trigger words are common words and phrases we can include in an email, that are proven to boost recipient attention. Understanding and implementing subtle psychological triggers can take your email campaigns to whole new levels. When writing a follow-up email to a client after a quotation, stick a couple of triggers in there to set your recipient up before you knock them out of the park.
NetHunt's Top Trigger Tips
Limited stock — Free — Easy — Limited time — Imagine — Premium — Secret — Deal — Save money — Get results — Future — Expiring now — We — Guarantee — Discover — Inspire
Trying to squeeze all of these triggers into your existing quotation follow-up email would be silly. In fact, doing so could lead to your emails going into spam. It's important to use these words where they naturally fit, are relevant, and write your message around them. The whole point of a psychological trigger is that it slips under a recipient's conscious radar. They should be implemented as subtly as possible.
Have time on your side
The best time to send a follow up email regarding a quotation is 3 - 5 days after the original email was sent
Find a good balance. Appreciate that this could be a big decision for your recipient, and they might take some time to mull it over. If you send it too early, you might force them into a decision too soon; too late and you might lose them forever. Believe it or not, there are other metrics to consider such as the day of the week, the time of day, and the exact hour on the clock. Check it out…
The best day to send an email is Tuesday, then Wednesday, followed by Thursday.
The most common time of day for people to check their inbox is between 5am - 6am.
A random time is better than a rounded one, better to send at 5:16am than at 5am on the dot.
NetHunt's Time-Saving Tip
In 2019, Google added a long-awaited productivity feature that lets users schedule to send their emails. Read more about that and other features, here!
Alternatively, you can automate your follow-ups by scheduling them as a sequence of drip emails. Not only does drip email marketing allow you to stay relevant and timely with your communication, but it also saves you up a fair share of your time. Drip campaigns are easy to set up, especially with NetHunt's 'Workflows' feature.

Set a super CTA
Sending follow-ups to prospective clients is part of your sales pipeline, so you should always ask yourself the same question -- what am I trying to achieve here? With your quotation in the previous email, your aim was obviously to sell something. The point of your follow-up might be different, and can vary from case-to-case.
For example, you might aim to provide more information to tip the scales in your favour, you might want to schedule a face-to-face meeting to show that you mean business, or to offer a discount to sweeten the deal. Whatever your goal is, make it clear. Choose the primary objective of your follow-up email and craft your message around it.
Your objective should be summarised in the final part of your email as a Call-to-Action (CTA), a short phrase that directs your customer into the desired next action.
NetHunt's Super CTA Tips
A CTA should be no longer than a sentence. Even though it's so short, there are a few things you can do to make it pop, rather than plop.
Use a strong, active verb: discover, hit me up, respond
Be clear: book a free demo in and I can show you the ropes!
Use first-person perspective: you need to see what we can do!
Be enthusiastic: use an exclamation mark!
Further Reading: Tips for writing a killer CTA!
Prepare to persuade
So, your lead opened the email, agreed with everything inside, had a little chuckle to themselves, and then signed off an order for thousands of units for your product...
Yep, and then you woke up and ate your cornflakes. That would be a perfect world. But as we know, sales isn't a perfect world. In fact, it's a bloody-hard-work world. You need to be ready to fight; armed with the tools you need to persuade your lead that you're the best option on the market. At NetHunt, we call it the PPPP rule… preparation prevents poor persuasion.
Reiterate the unique value and benefits that your product or service offers. Emphasize how your solution aligns with the client's goals and objectives, and how it can positively impact their business. This helps to reinforce the value of your quotation.
Always be prepared to persuade by…
Having answers to additional questions your customers might ask.
Clearing space in your diary for a live demo session or face-to-face meeting.
Having extra content such as blog posts, videos, and how-to guides ready to share.
Example: "Our proposal is tailored to meet your specific needs, providing [specific benefits]. With our expertise and track record of successful projects in [relevant industry], we are confident that our solution will help you achieve [client's goal]."
Track your follow-up emails
Email tracking is the process of gathering data from sent emails, and then using that data to make informed business and marketing decisions. It offers two insights:
First, if a recipient has opened their email, at what time, and even what device their email was opened on.
Second, it informs users whether links and attachments in their email get clicked on.
Here's what it looks like in NetHunt, but you can basically use any email tracking software out there to get email insights for you.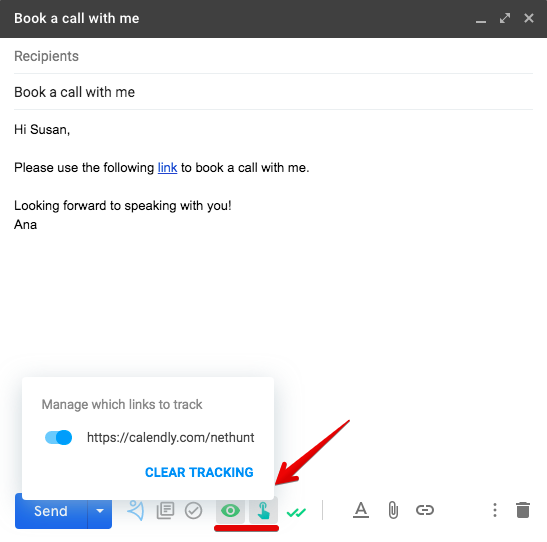 Learn how to track emails in Gmail!
Don't be pushy
While we encourage you to send a reasonable number of follow-ups, it's important to know that some people don't like saying no. You might not have received a reply, simply because of your recipient's aversion to 'no'. Don't fret, there are plenty more leads in the sea. It's better to spend your time on a lead who wants to say yes, than one who simply can't say no.
Conclude the email by expressing your appreciation once again and reiterating your commitment to providing excellent service. Provide your contact information and encourage the client to reach out to you with any further inquiries.
Example: "Thank you once again for considering our proposal. We are eager to address any concerns or questions you may have. Please feel free to contact me directly at [your email address] or [phone number]. I look forward to the opportunity to work with you and contribute to your success.
Follow-up after-quotation templates
If you've still got writer's block, we've still got your back. At NetHunt, we stop at nothing in our never-ending quest to soothe e-pains across the internet. We've put together five examples based on five (pretty general) use cases. Simply replace the fields in bold with information for your particular company.
#1 When you're ready to book a live demo in to push them over the line.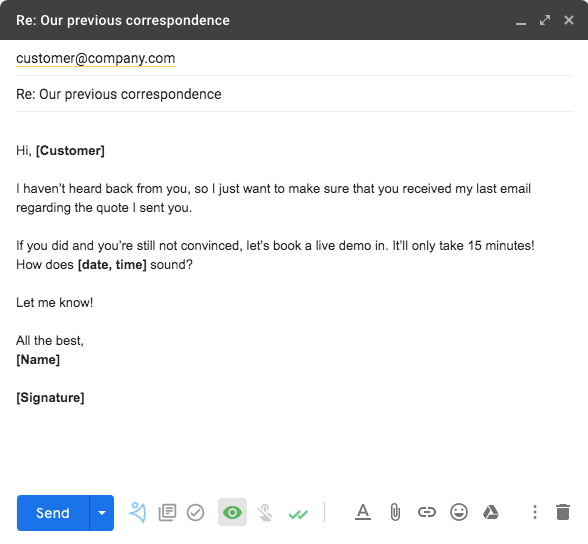 #2 When you want to apply some friendly, time-based pressure.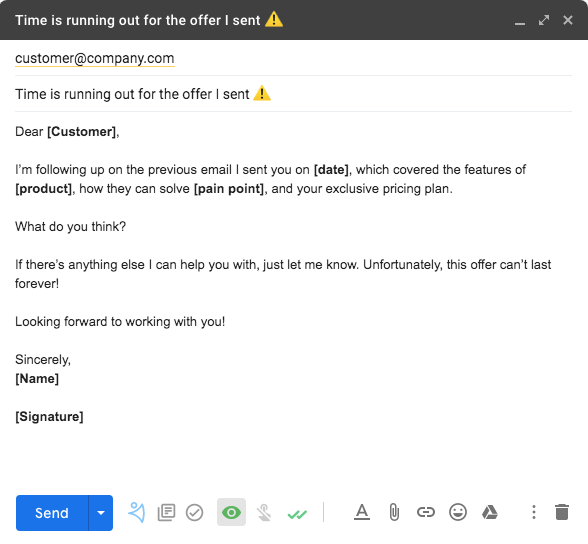 #3 When you've got all the answers, but no questions.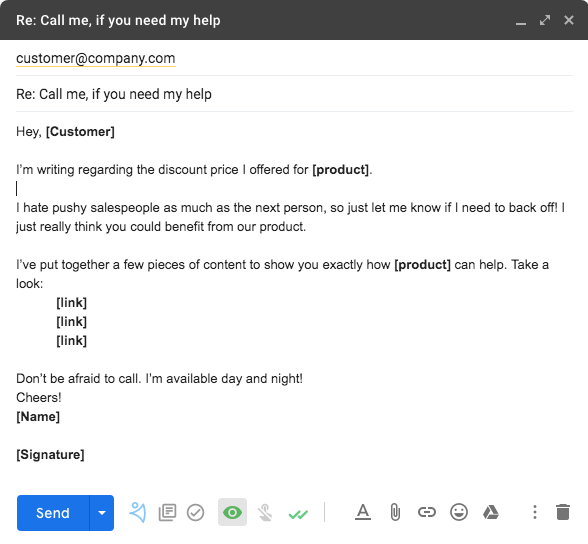 #4 When you're the nicest sales rep in town.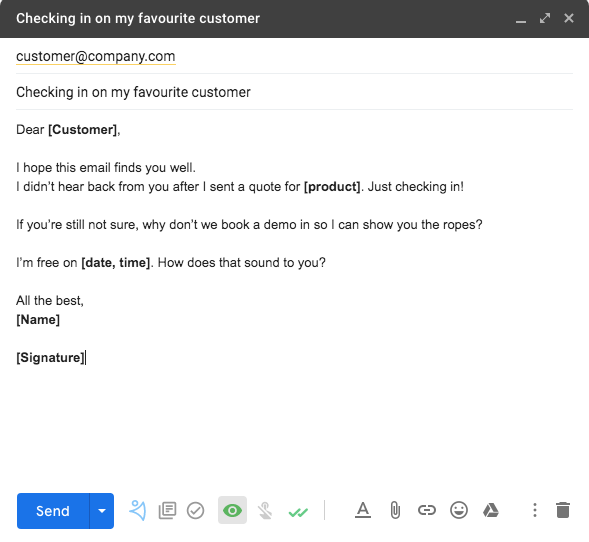 #5 When all else fails, try everything.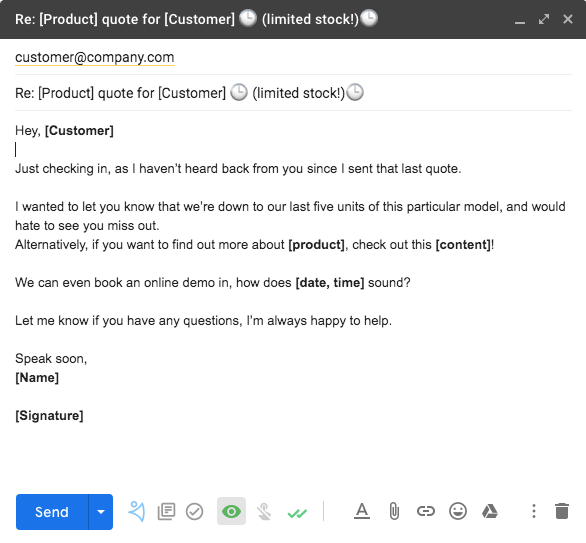 Want to send personalized emails in bulk? Try NetHunt CRM for free
Writing an effective follow-up email after sending a quotation is crucial for maintaining client engagement and increasing the chances of securing the deal. By employing these tips and utilizing the provided templates, you can create professional, personalized, and persuasive emails that will impress your clients and help you achieve your business goals. Remember, effective communication is key to building strong client relationships and driving business growth.
Table of Contents
Crack the sales formula with CRM Lab
Twice a month, receive actionable CRM content to your inbox.
Join the
Telegram channel NetHunt CRM
All about CRM and B2B sales.
Join