Think about starting a real estate newsletter? Here are some ideas and examples.
In the past, real estate agents would advertise their services in local newspapers. Now, with the world going digital, the best way to promote your real estate business is to leverage the benefits of email newsletters.
Read this article to the end to find out why you'd want to start with real estate newsletters, which are the best ideas for your newsletter, and which tools to use to bring those ideas to life.
---
Why real estate email newsletters?
Email marketing is irreplaceable for real estate agents, but not all types of email campaigns are equal. Some of them are more versatile than others; easier to adapt to your business model and real estate brand.
One example of an email campaign for real estate is an email marketing newsletter. Its deployment has several benefits.
It's scalable. You can easily send updates to thousands of home-buyers, sellers and renters.
It's easy to personalise. Customise newsletters in many ways; tailor emails to the segments you target.
It drives traffic. Place as many CTAs as you want to grab readers' attention and invite them to visit your website.
It establishes expertise. Let your subscribers know you're a knowledgeable realtor and that they can trust you with their money.
It raises brand awareness. When email subscribers find information helpful, they share it with their network and make your brand known further.
It generates sales. Eventually, real estate newsletters drive conversions.
But to find those benefits, your email newsletter needs to be good. That's where the next section of this article comes in.
Know the rules.
To leverage the benefits of email newsletters, you need to build your strategy to be different from other real estate agents' email content. Their beauty is that they come in all shapes and sizes - there are no limits to your creativity. You just need to make sure that your email marketing service provides you with all the functionality necessary to bring ideas to life.
From there, it's free rein… as long as you stick to the following rules.
Build an overarching strategy around your main objective.
It's okay to switch from one email newsletter format to another now and then; keep your email subscribers engaged. Ensure you keep a record of the content you disseminate to make sure you don't contradict yourself in email newsletter campaigns. It doesn't matter whether you're most interested in driving more traffic to your site, generating referrals, or establishing yourself as a real estate thought leader through the means of email marketing. You need to stay true to your objective and make all your newsletters contribute towards achieving that goal.
Make your real estate newsletter a must-read by adding value.
While it's understandable that the end goal of all your efforts is to generate more sales and improve your real estate business positions, it shouldn't be noticeable. Your email subscribers don't want to feel like they're being milked like cash cows in their own inboxes. They should get something out of your emails too. Then and only then will they be incited to keep opening whatever it is you send their way.
If you want high open rates, you need to focus on being a regular in your email subscribers' inboxes. If you consistently deliver good content and stay on top of your subscribers' minds, they won't have reason to ignore you. As long as you have enough high-quality content to share with your subscribers in your real estate newsletters, it's all Gucci...
If you don't, don't worry. NetHunt is here to give you a helping hand - we have a selection of the top 7 hottest, most versatile real estate newsletter ideas for you to borrow.
The hottest real estate newsletter ideas and examples.
#1 - Listing Alert Newsletters
The difference between top realtors and just-okay realtors is how they see listing alerts. The latter consider listing alerts as the finished product itself. They only disseminate them to win more deals and sell a property, but that's not how top real estate agents should act.
Instead, they use listing alerts to establish a strong connection with their existing and future clients. A high-performing listing alert newsletter is capable of achieving three goals.
Increase awareness and interest in your inventory.
Hint at competence as a real estate agent.
Activate passive leads by providing upfront value.
However, you need to remember that the only way to make your listing alerts newsletter successful is to make it relevant to subscribers.
To produce a relevant newsletter, you need to find out as much information about your leads as you can. Your knowledge of them should extend beyond just knowing their names. Instead, you should give answers to the most obscure and detailed questions about what they're looking for, understanding their interests exactly.
Are they keen swimmers?
Can they afford a balcony?
Do they have kids? If yes, how old are they?
Would they be interested in a property with a big garden for their dog?
Do they need a fireplace?
Are they open plan or closed books?
The list of questions is endless. The more you know, the easier it is to hit subscribers with listings they'd pay attention to. How does a real estate agent know all that information?
Well, there are a few tricks...
Integrate your CRM with Internet Data Exchange (IDX). Integrating your website platform with a real estate CRM system allows you to see which properties leads view and save, so you can determine their price range and other critical real estate preferences. Then, you can customise your listing alerts newsletter to feature their dream property.
Gather segmentable data from every source. Make sure you stick with an omni-channel approach when it comes to collecting information about leads. Use different techniques such as quizzes and questionnaires to gain a deeper insight into their preferences. Record call, email, and website data. Everything.
Log every little detail. Keep tabs on every interaction. It could well be that once you get to know your leads better, that piece of information would turn out to be integral and add more value to your offer. A great way to ensure every detail is accounted for is to automate the data capture process with the help of a CRM solution.
But what can you do if you haven't interacted with your leads yet? Well, you could send them a generic listing update and use it to gather more information. Something like this, from Nethomes Real Estate Agency - the best real estate agency in the world!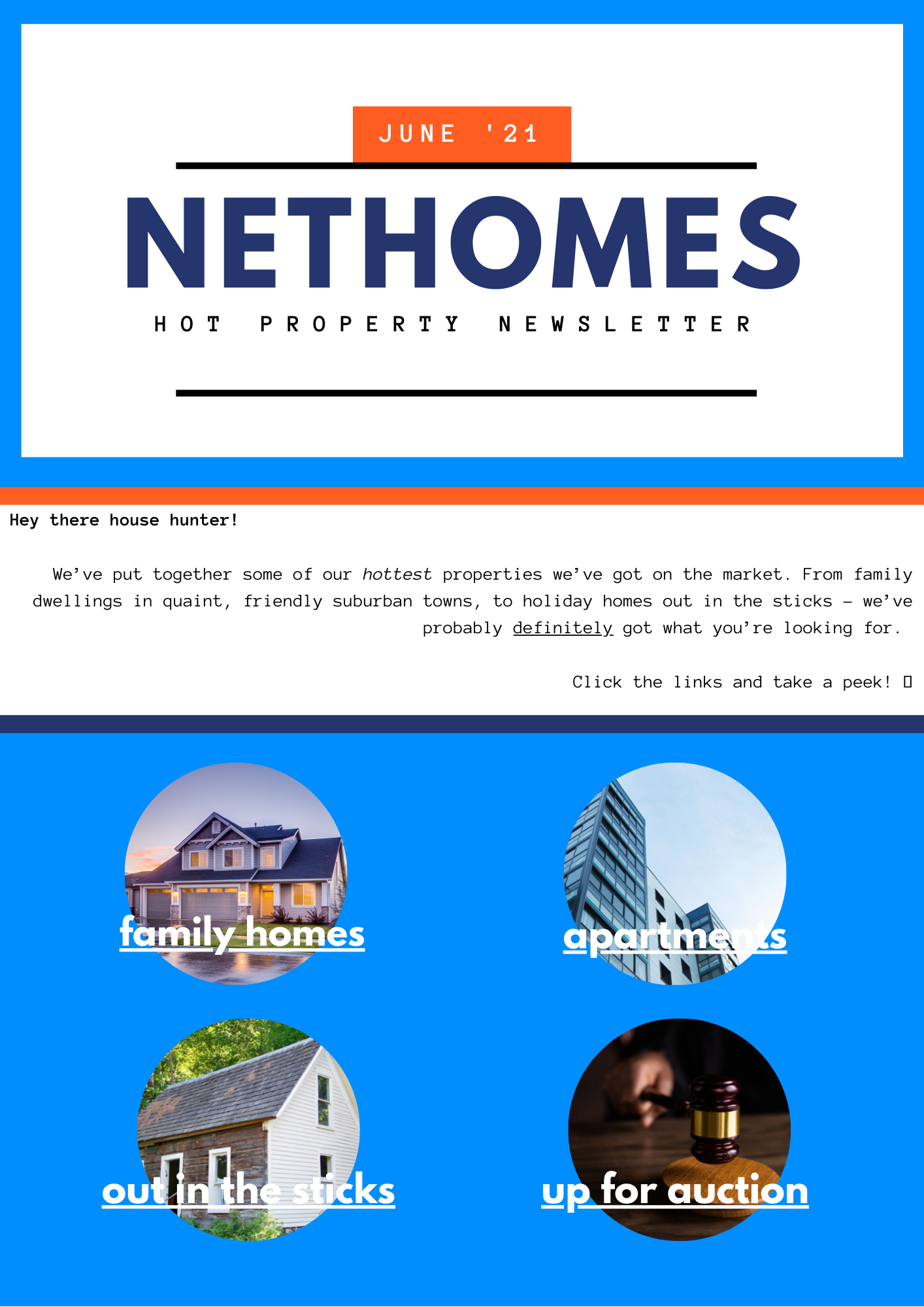 In this email, listings are grouped by home-type to help leads narrow their search. As they click on one of the links, they self-segment according to their preferences.
#2 - Quiz Newsletters
Gamification is a big email marketing trend in 2021. We have a full-blown article that talks about the different types of games you could include in your emails to make them stand out from the competition. There's a heap of benefits associated with gamifying your real estate newsletters.
Email gamification boosts email open rates. When you announce a game in the subject line of your email newsletter, people can't help but be curious about what you have in store for them. Hence, they click on the email and instantly increase your chances of winning the conversion game. Besides, interactive content generates almost twice more conversions than passive content.
Email gamification increases engagement levels. The more fun your email is, the more time your email subscribers spend interacting with it. The longer your subscribers focus their attention on your email, the more they notice, and the more susceptible to CTAs they become.
Email gamification helps you gather more insights about your email subscribers and use that data to segment them according to their real estate preferences and interests. It also builds brand awareness. Despite being a hot trend, it's not that widespread, especially in real estate. You can easily benefit from the first-mover advantage and establish yourself as an innovator.
NetHunt's Hot Tip
Quizzes help gather data and offer an actionable form of content with relatively little preparation!
Quizzes give you data. You can use the answers your email subscribers pick to build your relationship with them. Here's how you can harness the power of quizzes in newsletters for real estate buyers, sellers and renters.
Buyers quizzes. Gauge your buyer's tastes by considering their choices in quizzes. Then, fine-tune your listing alerts offers.
Seller quizzes. Try sending a "Do you know how much this house is worth?" quiz and easily engage prospects with advanced market knowledge.
Passive leads. Re-engage inactive leads with a fun, attention-grabbing quiz. Tailor future newsletters after they complete quizzes to keep them hooked!
Check out Nethome's quiz newsletter, which is actually just advertising their quiz!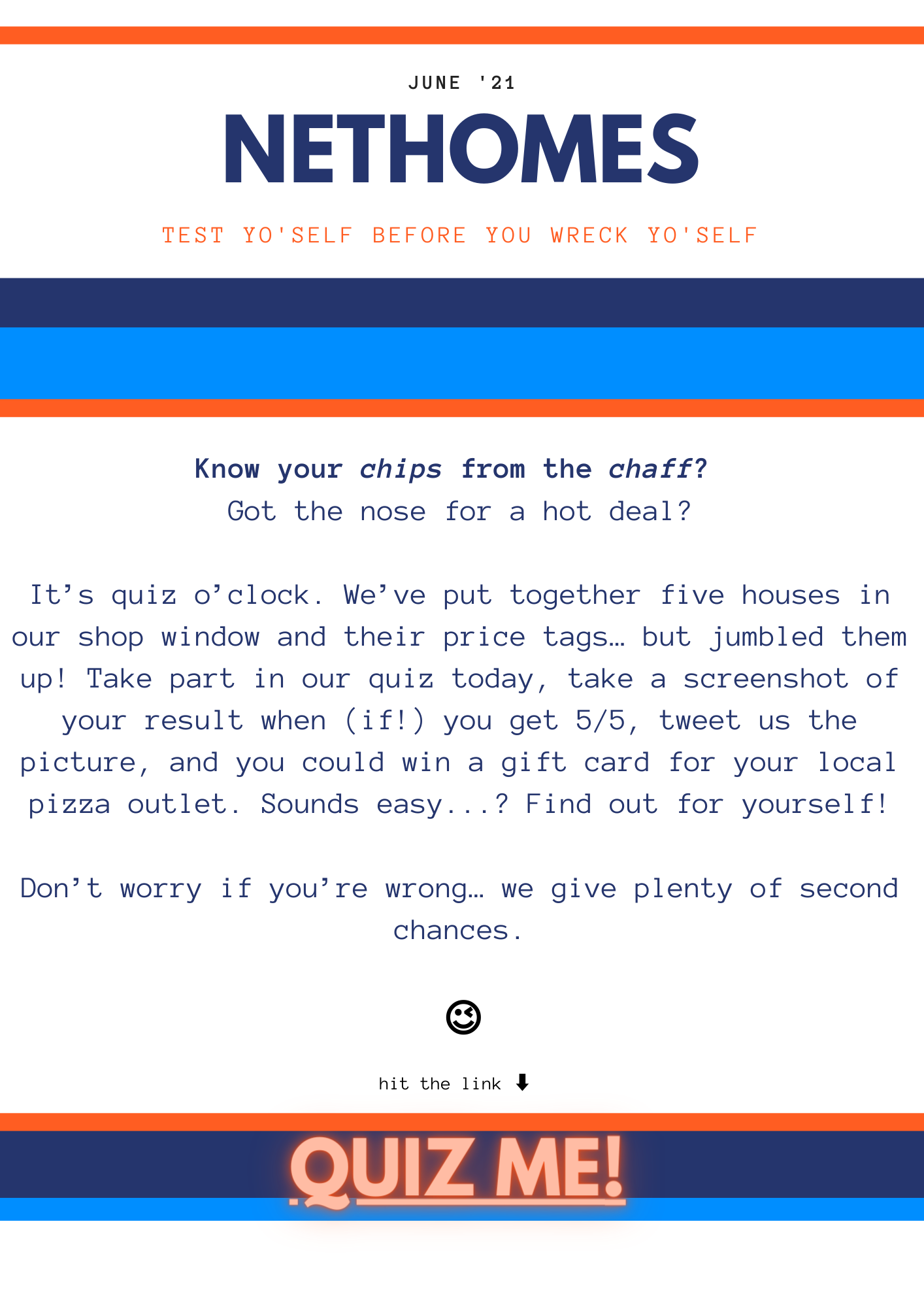 #3 - An event roundup.
A roundup of noteworthy events in the local area is a great way to both warm up your leads and make them trust you more. They show you're genuinely interested in providing value to your audience and not just exploiting them for your advantage. Moreover, they're actually helpful.
A great example of a real estate newsletter under this category is My Tampa Agent's 'The Tampa Bay Weekend Bucket List' campaign. It was booming before the COVID-19 hit. Even after lockdown, when it was transformed into 'Stay At Home Weekend Bucket List', it saw high open rates because it provided value.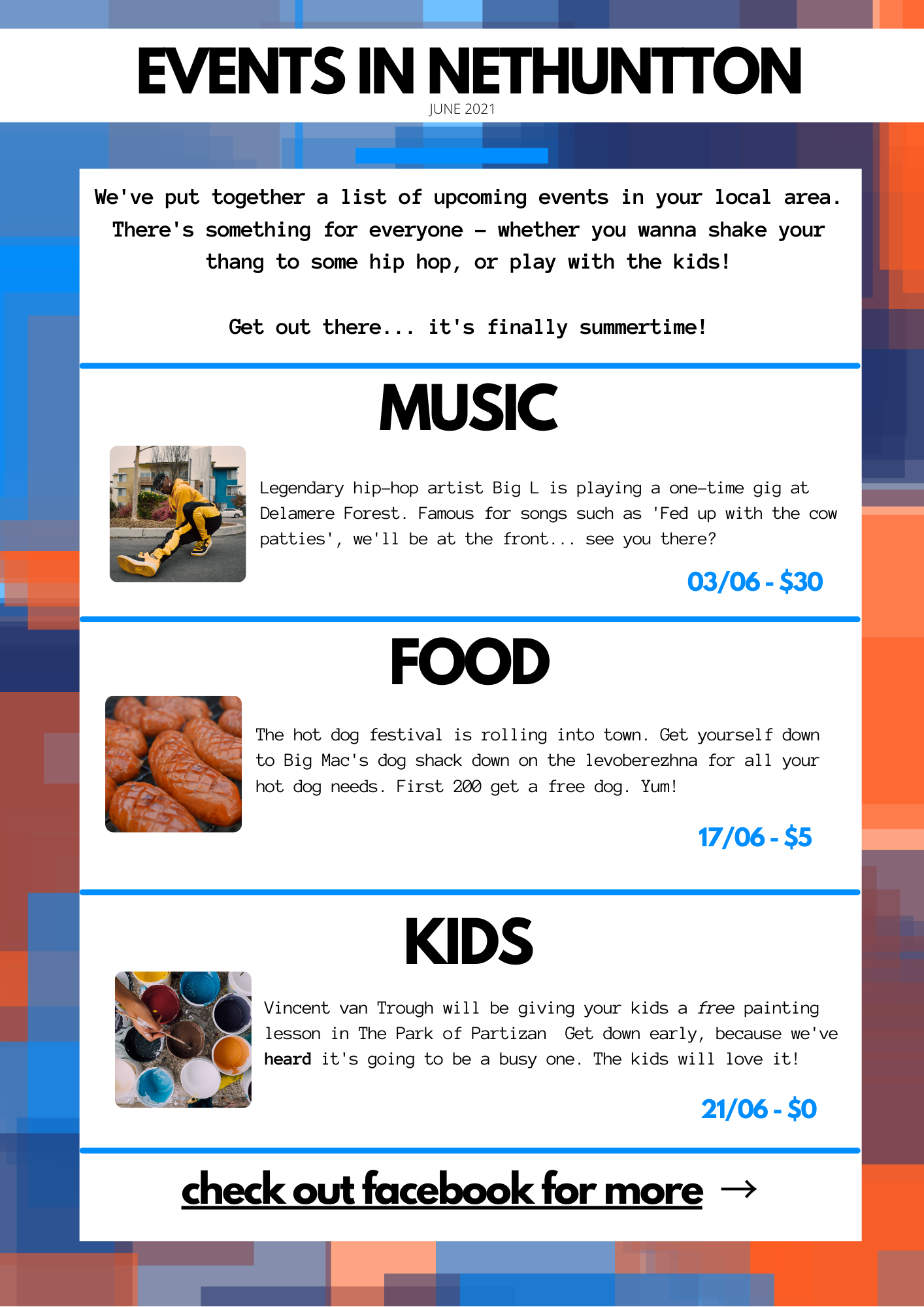 Drone videos. According to a study by Soldbyair.com, a huge 83% of home sellers prefer to work with agents who use drones. Adding a single drone video newsletter to your listing marketing plans can help your sales fly.
Anthony Malafronte, the lead agent at My Tampa Agent, commented on the success of his real estate newsletters.
'Those emails get opened. They know that's us. We're taking the time to put it together every week. They know I sell real estate. I don't feel the need to tell them to use our platform to talk about how good or bad we are; it's about building community.'
The best thing? They get the conversation going and positively affect the reply rates of your email campaign. As more people learn about the value you deliver with a newsletter, they tend to share their tips. Local events might even start reaching out to you with whatever they're hosting.
#4 - Market update newsletter.
I'm not sure what kind of person you are, but I'm the type to go online to check the ratings for every product or service I purchase. Why do I bother? Well, I like cheap things. Similarly, if I were to buy a house, I'd want a real estate agent that knows their market and can get me a sweet deal. You need to make sure you showcase your expertise to get more clients.
The easiest way to establish yourself as a knowledgeable real estate agent is by sending email newsletters with the latest market updates. Nothing screams 'I know what I'm doing' louder than being up to date with all the latest developments and trends in the industry and effectively communicating them to your audience.
Just bear in mind that every real estate agent tries their best to educate their email readers on the latest shifts and pricing changes. That's why you need to brainstorm how to differentiate your market update newsletter from the ones your competitors send.
Here's one we made earlier.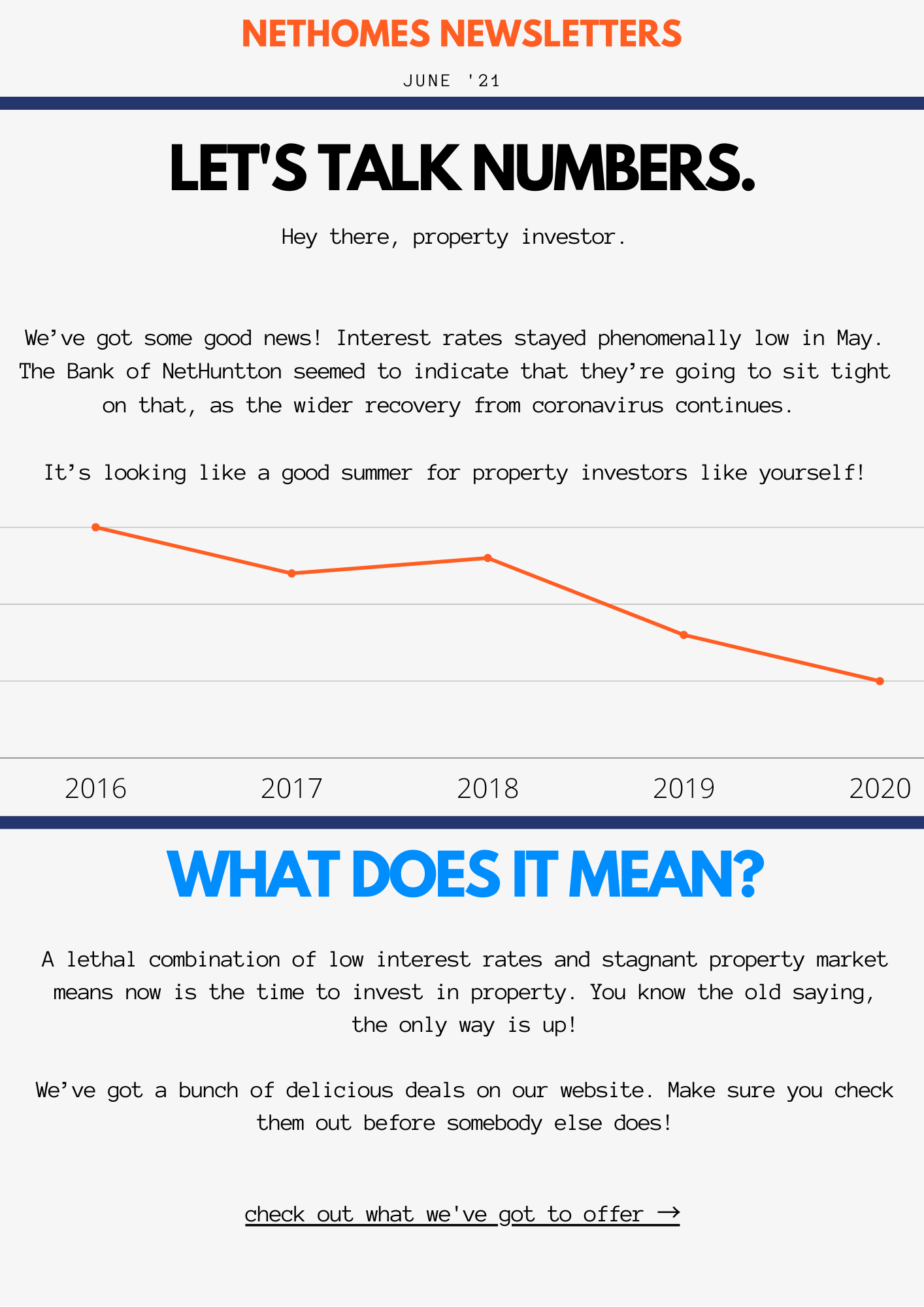 #5 - Video in your newsletters.
The rise of TikTok has proven that video format is the star of the 21st century. It's one of the most effective ways to boost your newsletter's engagement levels and make your real estate newsletter stand out!
Including a video in your email can increase click-through rates by up to 300%...
- Forbes
The cool thing about videos is that they're versatile. You can turn to video marketing at every stage of your leads' journey, even after they complete a purchase.
Here are just a few  video marketing ideas you can use in your real estate newsletters.
Drone videos. According to a study by Soldbyair.com, a huge 83% of home sellers prefer to work with agents who use drones. Adding a single drone video newsletter to your listing marketing plans can help your sales fly.
Video tours. Email newsletters including video tours are great for re-engaging quiet buyer leads. Realtors can showcase their personalities and properties in a matter of minutes, if not seconds.
Market updates. You don't have to be boring with market update newsletters. Instead of bombarding email subscribers with figures and reports, take a few minutes to record yourself talking through the key changes.
Personalised videos. Congratulate new homeowners, check-in with past clients or ask for reviews. It only takes a couple of seconds, and you can earn extra brownie points by saying their names!
Educational videos. With a blog, writing articles can be very time consuming… trust me, I'd know. It feels wasteful only to use that research once. Why not give it a second life and repurpose your articles into educational videos for email subscribers to enjoy? Easy.
#6 - Informational newsletters
If nothing noteworthy is happening in your local area or within your market, you can still deliver value to email subscribers.
Now and then, dedicate a real estate newsletter to educating subscribers on burning real estate questions. There are millions of topics to cover - just pick the one most relevant to readers who you're sending it to.
This made up example from Nethomes offers a list to first-time buyers who might be a little bit flustered with the house-moving process. It doesn't divulge too much information, it just looks nice and directs the reader to the blog if they want to find out more.
Simple but effective.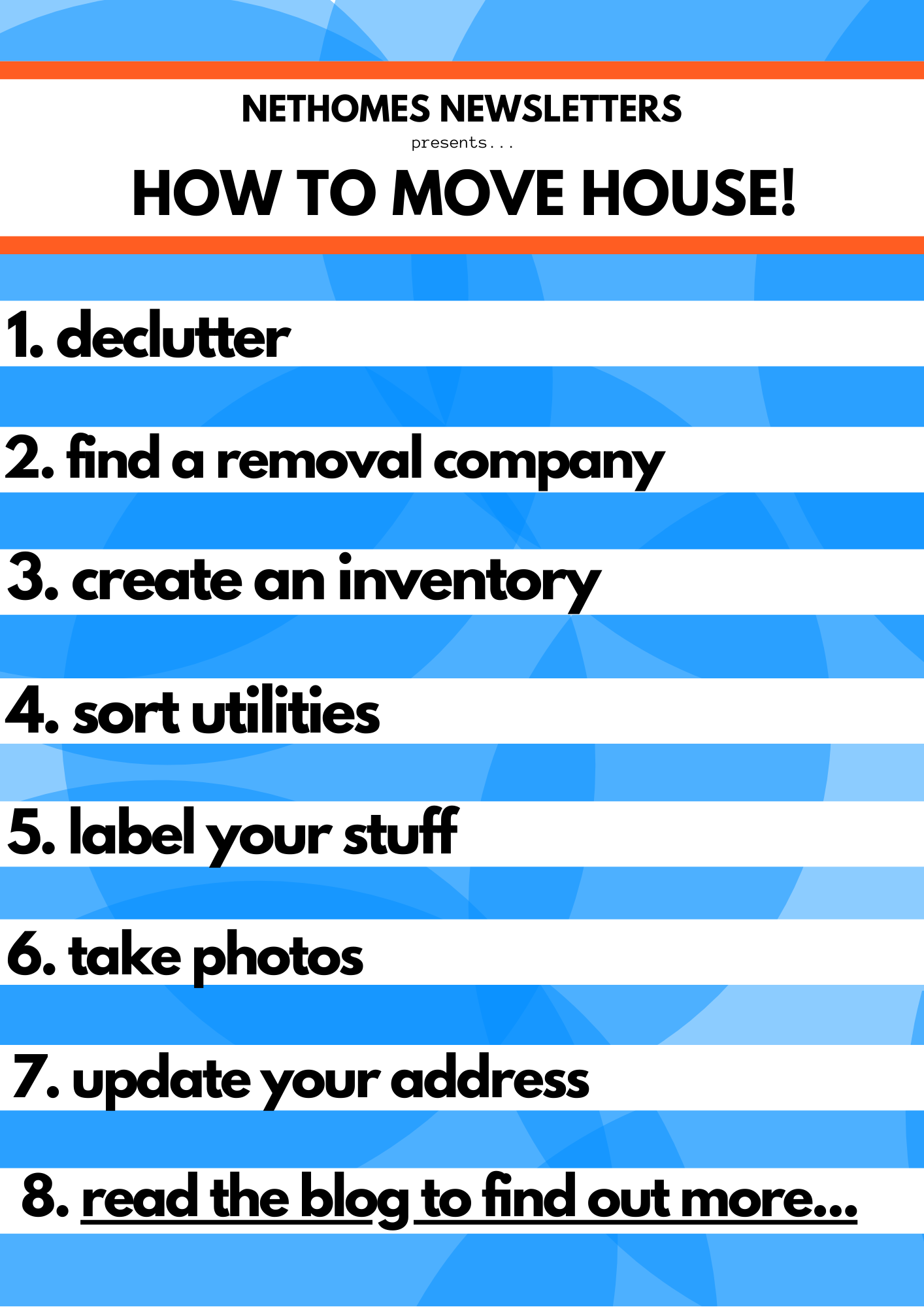 #7 - Customer success stories
Another big trend in the world of sales is user-generated content. It's a fact that people trust people, so when you don't have anything to say, ask your clients for a word or two, put it into a nice customer success story, and share it with your email subscribers. Boom.
Not only do you provide your readers with engaging pieces of content, but you also deepen your bonds with the customers by asking for their feedback and showing it off to the community. Besides, it's nice when people are nice to you.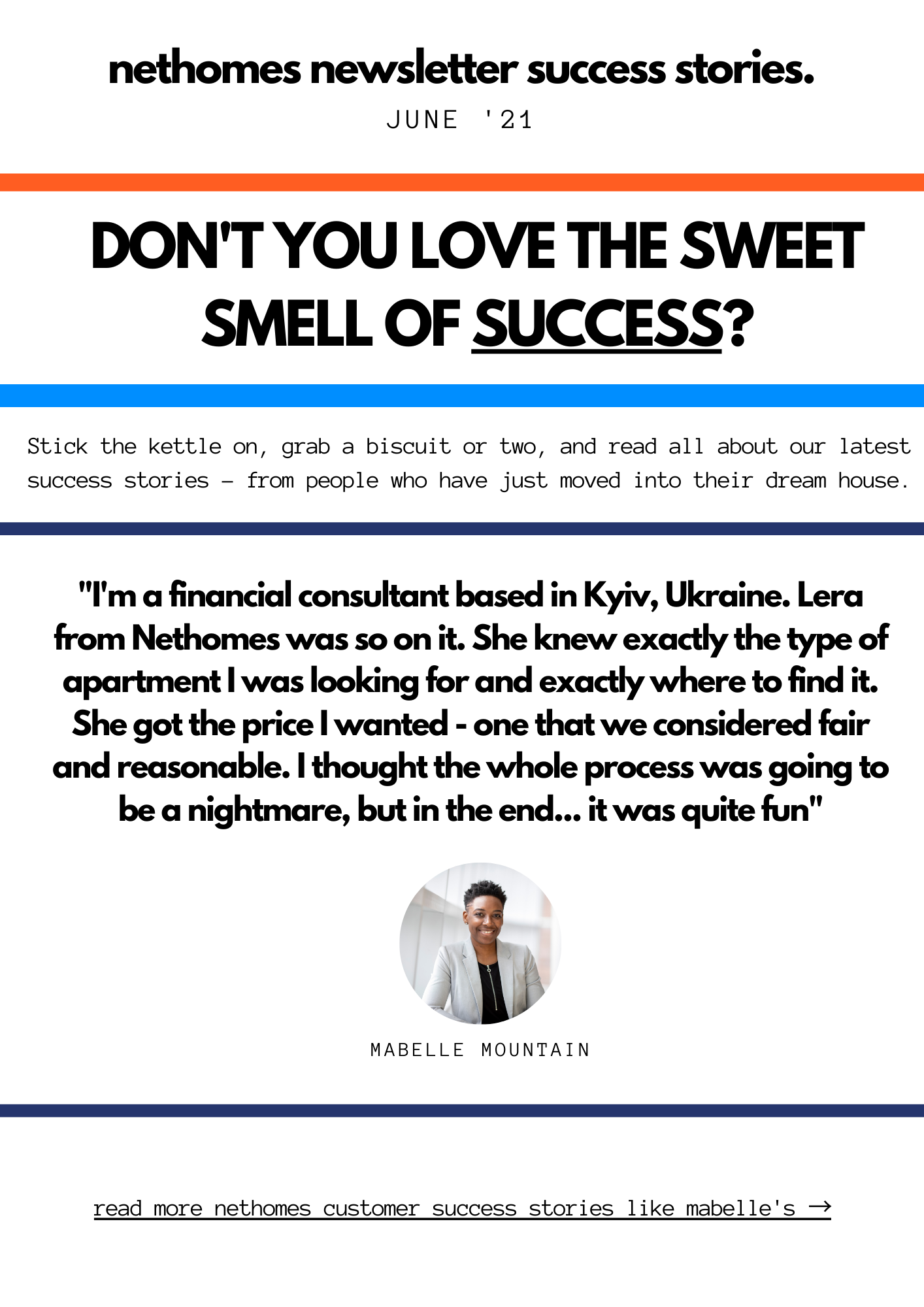 Check out NetHunt success stories for inspiration!
---
Real estate newsletter tools
As a final word, just don't forget that email marketing is a highly competitive strategy. That means you need only to use reliable and trustworthy tools to produce and send your newsletter campaigns. The quality of your newsletter can either make or break its performance.
Here are some trusty email marketing tools.
Figma
One reason businesses embrace email marketing is that it allows them to use colours, fonts, and logos to build a strong brand image. That's why your real estate newsletter design is absolutely essential for the overall success of your email marketing campaigns.
Your tool of choice for designing beautiful real estate newsletter templates and elements of it is Figma. It's a cloud-based, on-premise platform that enables businesses to create custom web designs and share prototypes among team members.
One of the best things about Figma is that it's easy to use. The design of this tool is highly intuitive and user friendly, so even without being an adept web designer, you'll easily find your way around the solution. If not, there are thousands of plugins available for your convenience.
Automate the annoying repetitive design tasks through the use of public and private plugins. There's one for everything: stock imagery, flow diagrams, colour accessibility, charts, icons, and more.
Animation.
A modern pen tool.
Drag and drop.
Search and filter.
Extensive templates.
Free version available - $12 per user, per month after.
MailChimp
MailChimp is a big name in the world of email marketing - in 2020, this all-in-one marketing platform scored a place among Top 20 Campaign Management Software and Top 20 Email Marketing Software.
One of the best uses of MailChimp for your real estate newsletter campaign is the tool's HTML email template builder. It's a drag and drop tool that allows you to build beautiful templates in a matter of seconds. You just need to pick one of the create template options...
Themes contain pre-designed templates for you to edit by adding minor changes.
Featured layouts contain recommendations for the types of content to include in your campaign.
Basic layouts provide you with a blank layout to build a branded email template from scratch.
Code your own section allows you to insert a custom-made HTML code to create a template layout.
Once you're done building your real estate newsletter template, you can save it in your personal template library and either send your campaign from within MailChimp or export it into a different email marketing app.
Free version available - $9.99 per month after.

There are other Mailchimp competitors if you'd like to take a look.

NetHunt CRM

Of course, it wouldn't be possible to run a successful email campaign if you don't have your data organized and your email subscribers segmented. The easiest way to manage your real estate leads and clients' data is to delegate this task to NetHunt CRM.

Our solution is a perfect balance between powerful and easy-to-use, despite offering extensive functionality that can streamline many of your business processes. NetHunt CRM doesn't take ages to wrap your head around. In fact, it lives inside your Gmail inbox, so it's likely that you already know your way around and are familiar with the interface.

Some of the most prominent features of NetHunt CRM for real estate marketers include contact segmentation, bulk emailing, email tracking and email marketing automation features. You can group  mail subscribers to target them with hyper-personalized newsletters, create and store email templates, import HTML email templates, set up email drip campaigns, send an unlimited number of emails (in Gmail itself, you can only send 500 emails per day) and track the performance of your campaigns.

14 day free trial available - $24 per user, per month after.

---

Let's get your real estate business growing!

Table of Contents

Crack the sales formula with CRM Lab

Twice a month, receive actionable CRM content to your inbox.

Join the
Telegram channel NetHunt CRM

All about CRM and B2B sales.

Join