Building a robust and extensive mailing list is important. However, no matter how good your mailing list is, there's no practical use in it if you don't utilise it correctly. The primary reason for acquiring all those email addresses is to send out outstanding email campaigns. In today's world, when email marketing is more competitive than ever before, this means focusing on both the contents and appearance of copy.
Even the best copywriters need a designer companion to help them craft remarkable emails. Fortunately, Mailchimp can be that companion, allowing marketers to craft high-quality email templates and send out campaigns with minimum effort. If you know the tricks, of course!
In this article, you'll learn:
NetHunt has compiled a little handy guide for building remarkable email templates in Mailchimp, helping you get on top of your email marketing game. Let's go.
Why should you go with a Mailchimp custom email template?
Mailchimp offers a wide range of standard templates. They're easy to edit, they look professional, and there are a lot of them. What a dream! Why not just use them and get it over with?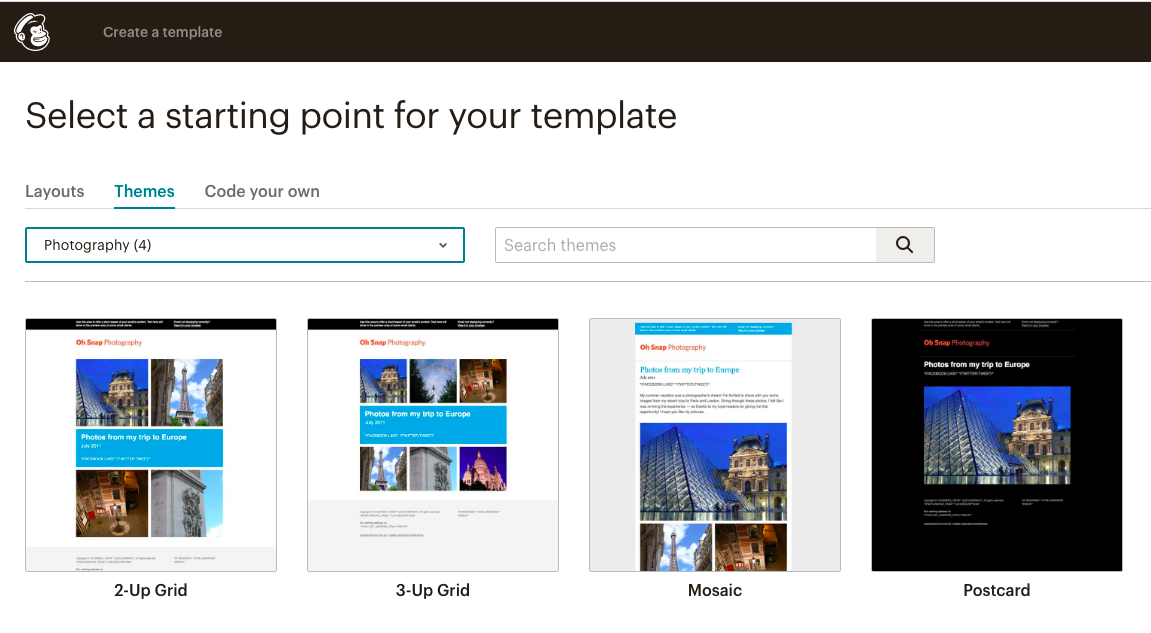 If you're reading this article, you probably already know the answer. While extremely crisp and professional-looking, Mailchimp built-in templates are quite generic. There are certain limitations to how much you can change within them, which means there's a high chance of your emails looking like they've been copied.
To get the most out of your email marketing campaign, you want to differentiate yourself from the competition. One way to do this is to build your brand identity and establish a brand persona through email marketing. However, it's difficult to achieve this through standard templates. There's only so much you can do to incorporate your brand into them; customising templates is the only solution.
How to design a beautiful email template in Mailchimp
The customisation process is straightforward once you wrap your head around the basics. The whole thing can be conveniently broken down into four essential steps for you to follow.
Before you start… do you want a professional designer?
Finding a professional designer to complete the task for you isn't a bare necessity. If you're reading this article, I can only assume you're interested in mastering the craft yourself.
If you have the budget for that, however, I strongly recommend you hire a professional to deal with it. While Mailchimp boasts extensive functionality that makes it easy to decorate email campaigns, there are always limitations to how far DIY hustle can get you. Even if you have an eye for beauty and detail, and unless you have years of experience and expertise in design, it's likely you'll face difficulties on your way to a breathtaking email template.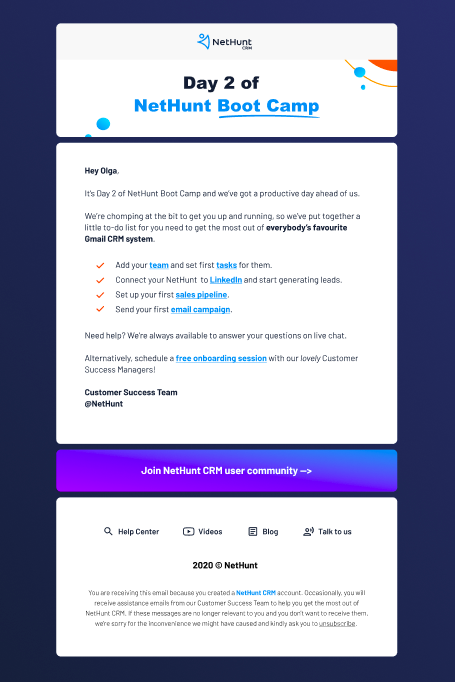 If you're down to do all the hard (yet fun) work yourself, however, let's have a look at how you can excel at crafting a beautiful Mailchimp template.
Drumroll, please!
Step 1. Decide on the end goal for the email marketing campaign
The worst thing is to dive into an email marketing campaign without any preliminary research. No matter how well you think you know your audience, there's a chance they're looking for something else. You need to be absolutely sure of what your audience is interested in when checking their inbox. There're lots of emails out there, so to get your email opened, you need to stand out. One way to do that is to get your subscribers list segmented, which allows for significantly more precise targeting.
Every day, the average businessperson receives around 121 emails per day.
To build a powerful Mailchimp email template, you need to know what you're aiming for. You need to start off by thinking backwards; identify the goals you want to achieve with your campaign, then come up with how to facilitate that. Usually, once you settle down the reason you want to send an email out to your email subscribers, you'll know exactly the kind of email you're looking to spread.
The most common email marketing campaign goals are:
To welcome new mailing list subscribers (the welcoming campaign). Gaining a new subscriber to your mailing list is a wonderful achievement that you need to celebrate! Preferably with a series of welcoming emails. These are aimed at introducing yourself, showcasing your brand and building the foundation of your future relationship with the subscriber. Therefore, welcoming emails need to be highly informational, consistent with your brand image and, ideally, contain a block for all your related media contacts.
To promote new products (the promotional campaign). A promotional campaign is the backbone of your email marketing strategy as it often generates the most leads. These campaigns aim at introducing products and persuading the subscribers to purchase them. It's important for these campaigns to provoke emotions and leave a lasting impression. Therefore, promotional email campaigns are often filled with attention grabbers, memorable slogans and other elements capable of leaving the recipient of such email curious and longing for more.
To congratulate subscribers with a holiday (the seasonal campaign). Seasonal campaigns help you to build a better relationship with your leads. After all, nothing brings people closer together than celebrating a holiday! With seasonal campaigns, one of the key rules is to effectively match the style and the voice of your campaign with the theme of the holiday in question.
To raise brand awareness (the newsletter). While a regular digest of your company's latest news and updates isn't necessarily an email marketing campaign, it does serve a purpose of its own. By spreading the word about what you're up to, you help your business to establish itself in the minds of your mailing list subscribers and educate them about your company. Often, these emails are purely informative, so they're the most branded of the bunch - you can finally focus on you.
To re-engage leads (the re-engagement campaign). On average, email lists decay by about 25-30% on a yearly basis. In order to level email list churn, you need to reach out to inactive subscribers and make them an offer they can't turn down. This campaign is meant to show your business in the best light possible to re-attract the subscribers that are no longer responding to your email marketing efforts. Hence, it needs to be bright and have a lot of value for the subscribers you target.
Of course, the aforementioned list of email marketing campaign goals isn't exhaustive and can go on an on, and on! Depending on the action you want your mailing list subscribers to take upon receiving your email, you'll be looking at different templates. For instance, if you simply want to remind your target audience about your brand and re-engage customers who could've potentially stepped away from your brand, you'll need a colourful, responsive copy...
On the other hand, if you'd like the recipients of your email to click on a link, or even purchase something, you have to make the template as concise as possible. You're aiming for an email copy that is centred around a solid CTA; short, bright and grabs the attention immediately! You should also incorporate the colour theory into email design, and use colours that prompt people to take action. It's all about integrity.
Apart from giving you the idea of what your email template looks like, deciding on the end goals of your email campaign also gives you a sense of direction. Once you get the gist of how you want your email to impact its readers, you can measure whether it was successful or not. Besides, knowing what you want to achieve, will make it easier to decide on the best method of delivering the message. In some cases, a regular email campaign is the answer. In other ones, however, it's better to launch a trigger-based drip campaign to build a continuous brand-customer relationship.
Step 2: Search for References
Once you've got your goals down, you should already have a rough idea of what your Mailchimp template is going to look like. Great news! But also… a problem. Even if you're an exceptionally creative marketer and can genuinely say that you think outside of the box, your ways are probably not so unique! A thousand and one other marketers are also thinking outside of the box.
The last thing you want to happen when designing the Mailchimp template of your dreams is to waste precious time and effort reinventing the wheel. No matter how great your template is, if it already exists and is in use, it won't get the hype it deserves.
Therefore, the next step on your path to crafting a beautiful Mailchimp template is to look for references online. In fact, it can kill two birds with one stone. Firstly, you take your time to analyse the market and make sure you don't accidentally plagiarise someone's idea. Not only would that be illegal, but also ineffective. Secondly, after going through enough email templates, you can form a better idea of what's hot and what's not, and adjust your own template to fit the current trends. There's nothing criminal in using someone else's work as inspiration.
There are several ways of where you can source your inspiration from:
The sneaky way. If you want to always be up to date with what your competitors are doing email marketing-wise, there's an option for you to do that. Identify all the companies you compete with and sign up to their mailing lists. This way, you'll be receiving all the industry/niche examples promptly and right inside your inbox.
Just make sure you're not using your corporate email address for that. While it isn't that big of a deal, it's still slightly weird for you to be stalking them. Besides, if you use an alternative address, the chances of them unsubscribing you from their mailing lists are significantly lower.
The old-school way. If you aren't fond of the idea of relying exclusively on your competitors' email campaigns to provide you with inspiration, you can mix it up and fire off a good old Google search. You'd have to think about the specific search requests to look up yourself, depending on what you're interested in.
The structured way. Pinterest is the holy grail of all designers! It doesn't get better than that - no matter what kind of visual content you're seeking, it'll inevitably be on Pinterest. This platform draws in artsy people from around the world to share their creations and source inspiration for their next projects. You can both look up the specific type of templates you're interested in by typing it in the search bar, or join dedicated Pinterest groups or follow other users' Pin Boards for email campaigns of all kinds. Some of the best boards to start your Pinterest journey are NetHunt's Email Design board and Email Design Inspiration by Campaign Monitor.
The easy way. You can widen your horizons by subscribing to services that focus on collecting the hottest email marketing campaigns from all over the internet in one place. That'll save you lots of time and provide you with a decent curated list of references. Some examples of websites like this are 99designs and Really Good Emails.
If you're stuck and don't know where to start, you can always rely on us! Here's our compilation of the best email marketing campaigns of 2020.
Step 3: Structure email template elements
You have your goals written out in front of you, and you've gone through thousands and thousands of different email templates to see what your competitors are doing. Finally, you've successfully identified elements of their emails that could be a great fit for your copy. Now, it's time to combine that knowledge and get down to business.
It's essential to map out the hierarchy of your Mailchimp email template before you start designing specifics. Otherwise, there's a high chance of you losing focus and doing too much. When too many things are aimed at grabbing attention, none of them do. Save all your outstanding ideas for separate email templates!
For instance if you want your readers to focus on a picture of your product, don't distract them from it. Give them a chance to admire it by placing it in the centre of your template, while making the rest of the elements less noticeable. They can still be there, just resized to not steal the spotlight from the main part.
Regardless of the goal of your email campaign, your email layout needs to naturally funnel readers' eyes through the advantages of the offer you're making to create desire and toward strong CTAs that motivate response. If you place all of the components of your email to visually peak at your CTA button (either through using hero images - the ones covering the whole width of the page - or through perching the CTA in the first fold of the mail), you can improve your conversion rate immensely.
Below is an example of how visualising an inverted triangle through the use of hero images and proper text formatting can make your CTA button pop:
Alternatively, you can experiment with your textual hierarchy and add several CTA buttons to have at least one per email fold like Emeals did:
With that in mind, here's the basic structure of an email template:
Email header;
Email body (can contain different types of content, including text, static images, gifs, and videos);
Call-to-action;
Email footer.
Each one of these has to follow certain guidelines to be effective and contribute towards the overall looks of the final template. Let's look into the dos and don'ts of each of them.
Email header and footer: DOs and DON'Ts
Email readers are awfully similar to college professors grading essays: sometimes, they can't be asked to go through the entire copy, so they skim through it quickly, focusing only on the beginning and the ending. That's why it's essential that you get the header and the footer in their best shape!
DO:
Include your company logo or name into the header of your email template. This will help your readers to quickly identify the sender of the email, which, in turn, has positive effects on your brand awareness.
Use the same header and footer across all your campaigns for consistent branding.
Use your footer to include contact information, additional resources such, and opt-out links.
DON'T:
Overload your header and footer. Adding too many components to it can distract your email recipients from 'the meat' of the email and diminish the value of your campaign.
Add too much navigation into your header and footer. Keep it simple with just a couple of 'up' and 'down' buttons.
Email body: DOs and DON'Ts
When it comes to the email body, there are a lot of things to consider - it's the 'meatiest' part of your copy, with lots of factors that could either make or break your email template.
It's your decision which elements to include into the body of your email template. You can experiment with unusual formats and compose your email entirely with gifs (I strongly recommend against this, though; no matter how fashion-forward it may sound, there are lots of technical complications associated with this decision). You can abolish text altogether and insert videos (including just one video in an email can lead to open rate increases of 6%) to spice it all up. You can stick to the old-school view and focus your attention on text. It's all down to you!
However, with the most traditional components of the email body being text and image, these are the ones I'll cover next.
DO:
The best text to image ratio is 60 to 40.
Add ALT-text to your images so that readers could see what you incorporated into your copy even if the image itself fails to load.
Stick to the JPEG format, avoid PNGs (not all browsers and email services load them), go easy on GIFs.
Save images at 72ppi/dpi and optimise for the web to minimise the loading time of your emails.
Use headings and subheads to maintain visual organisation.
Shorten URLs.
DON'T:
Include long blocks of text in your email. Instead, break it into several concise paragraphs.
Use a single image with all your info placed on it - many email clients won't automatically display images, and there's a chance it won't be loaded at all.
Don't use a dark-colored background for your main content area.
CTA: DOs and DON'Ts
Your CTA is essentially the reason why you send out an email in the first place. All the effort you put into designing your email templates boils down to one thing: to get the recipient of the copy to make an action you want. Therefore, it's important you don't mess up an otherwise perfect template with a lousy CTA.
DO:
Ensure the CTA button is easy to click on, make it large enough for readers to not miss it.
Make the colour of the CTA button different from the rest of the email elements.
Keep your CTA short and actionable; it needs to be a clear direction rather than a vague suggestion.
Place it above the fold.
DON'T:
Put too many CTAs into one email. Overloading a copy with even one too many could end up being too distracting and result in worse conversion. As a rule of thumb, 2 or 3 is a good amount.
Deviate from the subject of your email. It has to be aligned with the rest of your copy.
You should also pay attention to the layout of your future email:
Single-column layout. This layout allows you to create minimalistic emails that aren't too cluttered with content and can deliver the message in the shortest possible time. They accommodate minimal eye movement thanks to the simplicity of the email flow and work best for leveraging the small mobile screen width.
Two-column layout. This layout implies the separation of your content into two different sections. This layout is more suitable if you're working on an email template aimed at desktop devices. The two-column layout leverages the habit of people to scan information in the 'F' pattern as the main contents are placed in a zig-zag pattern.
At last but not least, this about the fonts you use in your email templates. It's advisable to:
Not use more than two different fonts in a single email copy;
Stick to the size body copy fonts at 14- to 16-point, headline fonts at 22- to 24-point for best readability;
Go for simple, easy-to-read, web-safe fonts that would definitely render correctly on all devices and be legible. For example: Open Sans, Helvetica, Courier, Raleway, Droid Serif, Arial, Tahoma, Times New Roman, Georgia and Trebuchet MS.
Step 4: Make sure to utilise professional tools for designing your email templates
Don't forget to make sure you're familiar with all the tools that can help increase the quality of the final product. If your idea is genuinely good, execution is secondary. Since our goal is to produce a beautiful Mailchimp template, not just an okay one, it's best you avoid using Microsoft Paint as your software of choice. Besides, if you're merely trying to craft a template for your regular campaigns and not a one-in-a-lifetime offer, there's justification for putting all the effort you can into ensuring your template stands out!
I personally recommend using Adobe Photoshop for all your designing endeavours. It's a classic; it can really up your game. You could turn to Mailchimp's internal editor, but sometimes this comes across as being lazy. There are certain limitations to what the built-in editor allows you to do.
For instance, Mailchimp handles content via "blocks" with edges that can never be crossed. It might not sound like a big deal at first, but every little thing counts when you're trying to outdo your competitors! If you want to go beyond what Mailchimp functionality offers to its users, it's best to combine Mailchimp with other tools.
Another great tool to make your Mailchimp templates pop is Figma. It's a cloud-based vector graphics editor and prototyping tool that allows you to create dynamic and modern designs for your Mailchimp email templates. Thanks to the fact it's primarily web-based, it's great for teamwork and allows for better real-time file collaboration.
Besides, it's also packed with different features (both traditional ones and unique):
A modern pen tool
Instant arc designs
Auto Layout feature
Plugins for design automation, etc.
The first three Figma projects are free. However, as soon as you see for yourself how powerful this tool is, you'll want to create more and more! The prices start at $12 per editor/month billed annually.
If Figma is a little out of your budget, you might want to have a look at its closest competitor - Sketch. In fact, Figma was inspired by Sketch's success, so they share a lot of features.
Some of the best features Sketch offers to its users include:
Smart layout
Design consistency features (reusable components, colour variables and styles)
Vector editing with pixel-level precision
Prototyping
However, thanks to the fact that Sketch is more established, you can get it for as little as $99 one-time payment.
Step 5: Building an Email Template in Mailchimp
Finally, with all the previous steps sorted out, it's time to put everything together and create a beautiful email template in Mailchimp! Thanks to the intuitive interface of Mailchimp, it's easier than it sounds.
All you need to do is:
Go to your email campaigns by clicking the Campaigns icon.
Select the Email templates tab and click on the Create Template button.
You can now choose whether you'd like to choose one of the existing layouts and themes or code your own.

Themes contain pre-designed templates that you only need to complete with minor details.
Featured layouts contain recommendations regarding the types of content to include into your campaign.
Basic layouts provide you with a blank layout you can build from scratch without any suggestions or interventions.
Code your own section allows you to insert a custom-made HTML code to create a template layout.
Once you've selected the template type you want to work with, you'll be redirected to the next stage of the template creation process, where you can drag and drop content blocks into your template layout. Here you can add and format text, images, files, and other content as needed.
To insert a content block into your email template, you can simply click and drag it from the menu on the right side of the screen. Content blocks are dynamic, so you can move them around (both vertically and horizontally) within the layout. To move a block, click and hold the handle in the top left of a content block, drag the block to where you'd like it to go, and release.
Mailchimp guides you by highlighting the section where you're about to move your content block into (Preheader, Header, Body, Column, and Footer), and automatically changes the style preferences if you move content from one section to another.
You can change the appearance of your elements in the Style tab. There, you can make changes to font type and color, text alignment, button appearance, etc.
You can also add the previously created design elements from other tools and apps.
To delete a content block, simply click on it and click the Trash icon.
When you're done editing your template, click Save and Exit. The system will ask you to name your template. After that is done, your newly created email template will appear in your Saved templates library.
Once you're content with the email campaign template you've created, you can move onto sending your emails out! You can either do it directly from within Mailchimp or via Gmail if you export your template. You can read more about how to send mass emails in Gmail here.
---
Mailchimp is a great tool to power creativity when it comes to email marketing. It has outstanding functionality, which allows you to do outstanding things. By simply adding a bit more 'you' into email templates, and customising them, you can get the most out of your mailing list!
Table of Contents
Crack the sales formula with CRM Lab
Twice a month, receive actionable CRM content to your inbox.
Join the
Telegram channel NetHunt CRM
All about CRM and B2B sales.
Join