Jeff Bezos has a huge pie; the biggest one in the world. If you want a slice of his pie, it's actually not that difficult to get one. In fact, it's easy. Amazoners are filling their boots with Bezos pie by conducting their business through Fulfillment by Amazon (FBA). In turn, his pie gets bigger; theirs do too.
What is Amazon FBA?
Fulfillment by Amazon (FBA) is an Amazon seller solution that helps your business reach more customers and gain better market traction by providing Amazonian benefits like super-fast Prime delivery and easier access to European markets. In turn, this increased reach generally means more sales. Amazon leaves you to do all the glamorous stuff like marketing your product and watching the money roll in, whilst they fulfill the order, post it out, and the other nitty-gritty, little jobs that nobody likes doing. It sounds good, because it is.
You sell it, we ship it.
How does Amazon FBA work?
Principally, sellers use the FBA programme to expand the geography of their sales, reaching places that they wouldn't be able to reach on their own. But on top of that, they don't need to deal with shipping and returns seeing as everything is based at an Amazon Fulfillment Centre. In fact, sellers can provide an all-round better customer service experience, because they don't have to worry about providing it.
Amazon offers full 24/7 support through live chat, telephone, and email; from trained, experienced operators.
FBA also offers the best chances for business growth. Amazon is a huge marketplace, where 197 million people go every month to buy anything you could imagine. With a sprinkle of search engine optimisation (SEO) and a nod from the algorithm, your product can be number one in the search results. That's the good stuff, exposure.
It sounds... perfect for sellers.
It does. But, like anything else in this cruel life, there are downsides. Namely, it costs money. You need to pay a fulfillment fee (a flat fee per unit sold, based on the product type, it's dimension, and its weight), as well as a storage fee (charged per cubic foot per month).
Likewise, the sales taxes associated with selling through Amazon can be off-putting, especially for first-timers. Obviously, each state in the US has its own rules when it comes to tax collection. This makes things complicated, because even though your business operates in one state, Amazon's fulfillment centres are located all over the place. Your products can be shifted between them at any time to meet demand.
Beyond that, there's still work to do on your part. Apart from the photos, the descriptions, keeping on top of the ever-changing SEO trends, and other jobs related to making your product look good; your primary concern as an FBA seller is to find a supplier for your goods.
This is the exciting part, where you start to feel like a real-life entrepreneur. You can find a supplier anywhere. Literally. But it really depends on the specific product you're selling. Here are just a few ideas for where to go to find a supplier for your business.
Visit trade shows.
Visit the websites of trade shows you cannot attend.
Google wholesale suppliers in your local area.
Ask fellow traders which suppliers they use.
Find out where your favourite products are made.
Research local craftspeople for unique, handmade products.
As your bit-part Amazon business grows, and as you morph from a part-time bric-a-brac seller to a full-time, online entrepreneur; the numbers will go up but you'll get bogged down. Don't worry, this is to be expected. Thank heavens for the 21st century, and all the technology that can help us.
Dedicated software for your FBA Business
Funnily enough, Customer Relationship Management (CRM) systems don't just help you manage your customers. Besides, as an FBA seller, Amazon already does that for you. They can help you keep on top of your growing lists of orders and suppliers, too. Let's take a look at some of the non-customer relationship management tasks that a CRM system can do for your FBA business.
Organise potential suppliers down a pipeline. This shows where you are in negotiations, such as if they are a lead, whether they have been contacted, and whether a deal has closed.
A one-stop address book for all your contact information, as well as a full communication history between the two parties for full clarity of context between your team.
Get on top of profitability data. CRM systems allow you to compare your orders against imported data of sales you've made to understand the profitability of your business.
Various sales channels, aggregated. You're not bound to Amazon, after all. You can use CRM in a more traditional sense and keep all your data in one, single place; you can even create different pipelines for different channels.
Bulk emails and drip campaigns can help you schedule emails to go out at specific times, making sure you can keep supplier conversations on your terms.
Mobile apps for CRM can help you manage your business on the go, keeping all your data in your pocket.
Users and rights management. Maybe one day you'll have a team, and this feature helps you give access to the right members of a team as and when they need it.
We're not exaggerating when we say that CRM can do anything. The market for both dedicated and general CRM systems has exploded recently, and is expected to top a whopping $80bn in combined revenue by 2025 (source: SuperOffice). For you, humble Amazoner, that means there are a lot of options out there to choose from.
Amazon FBA-suitable software
We've taken three different types of Amazon-suitable CRM systems for an FBA spin to see how they fare against each other.
NetHunt CRM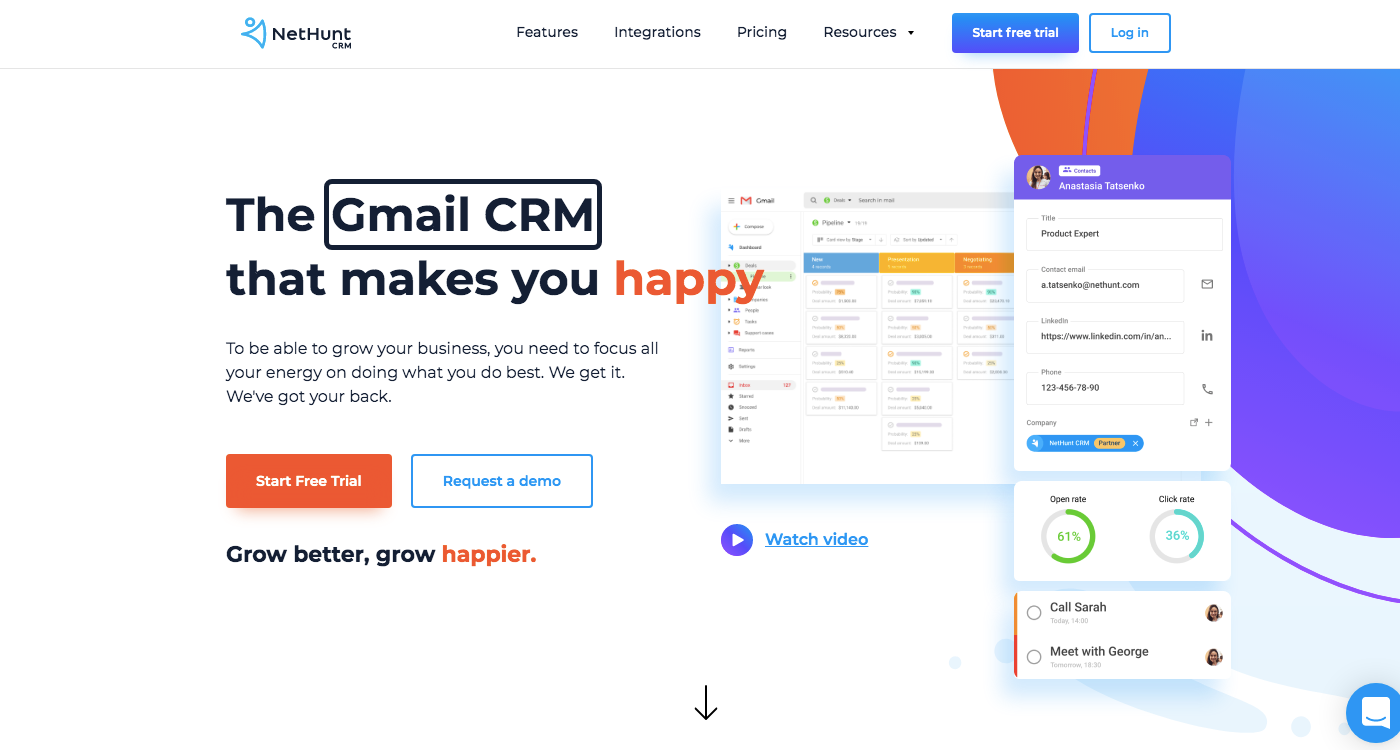 NetHunt CRM is a Gmail CRM. That means it lives inside your existing inbox and is as easy to implement and learn as possible. Our neat and tidy little system is fully customisable, so you can bend it to fit your business. It's built around Records, whereby a user creates a Record and logs all the information, emails, and whatever else within it.
FBA sellers will benefit from comprehensive pipeline management, the ability to track multiple marketplaces at the same time with those pipelines, and the segmentation feature that separates different suppliers depending on what they supply. We love productivity, and automated tasks and reminders help you stay focussed on exactly what needs doing and when. Meanwhile, the mobile app keeps your business in your pocket at all times.
As if that's not enough, you can integrate a heap of different apps to NetHunt via Zapier. Did I say heap? I meant a mountain. There are over 2,000 different, integratable apps, and rising.
How much does NetHunt CRM cost?
✅ 14 day free trial upon initial registration; no credit card required.
💰
Basic
: $24 per user per month, billed annually
💰
Basic Plus
: $34 per user per month, billed annually
💰
Business
: $48 per user per month, billed annually
💰
Business Plus
: $68 per user per month, billed annually
💰
Advanced
: $96 per user per month, billed annually
Check pricing
Vendrive CRM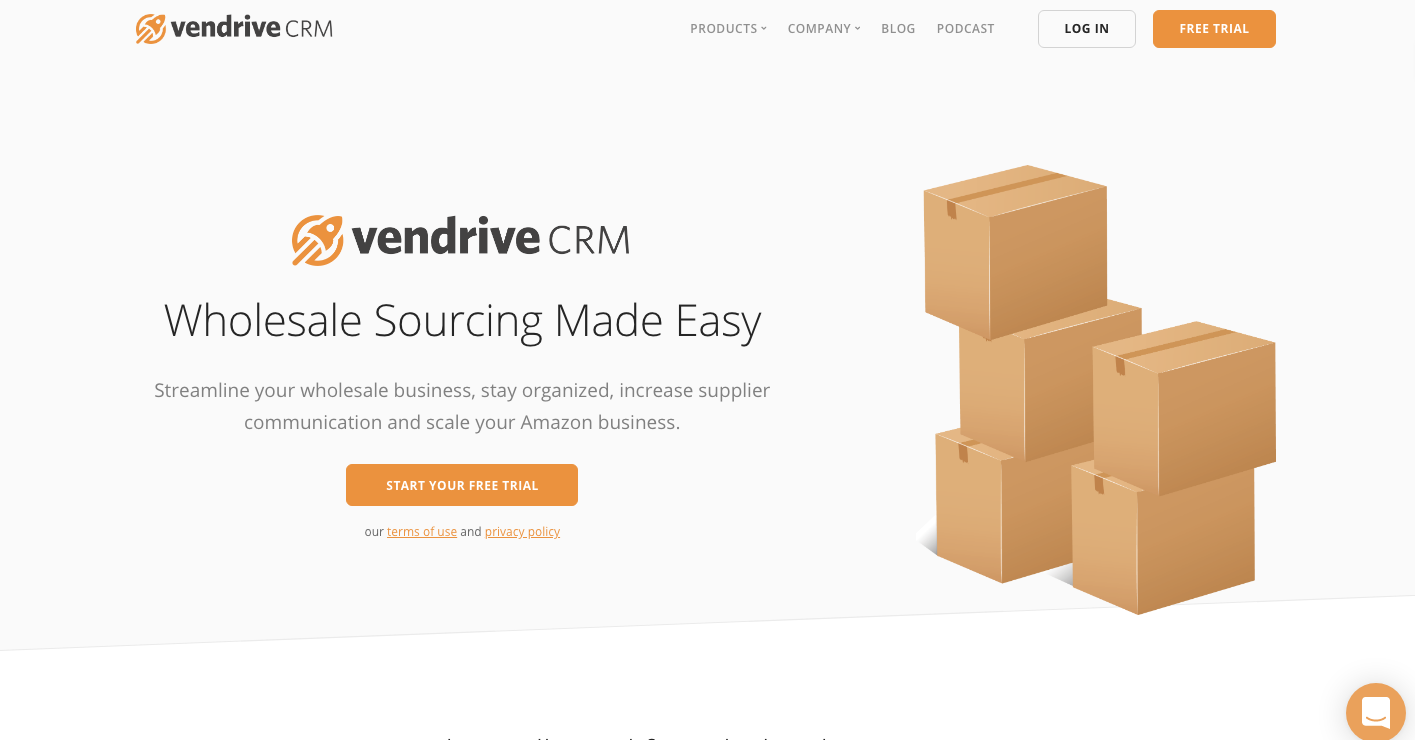 Vendrive CRM is a dedicated CRM system for Amazon sellers. They promise to help you  "streamline, stay organised, increase supplier communication, and scale your Amazon business...".
Vendrive's central dashboard helps you keep on top of both your suppliers and your products. You can visualise a supplier pipeline, which will help you understand exactly which suppliers you need to reach out to and who you're waiting to hear back from. The product tracker gives comprehensive Amazon product analytics for both your own products and your competitors', with access to price indexes, popularity rank, simulated profit margins, and supplier price.
The downside? Vendrive is a very dedicated Amazon CRM system, so it is limited in its featurability. For example, it's not yet possible to track other selling avenues that you might be pursuing.
How much does Vendrive CRM cost?
✅ 14 day free trial upon initial registration; credit card required.
Standard: $27 per user/month; paid annually
Brightpearl CRM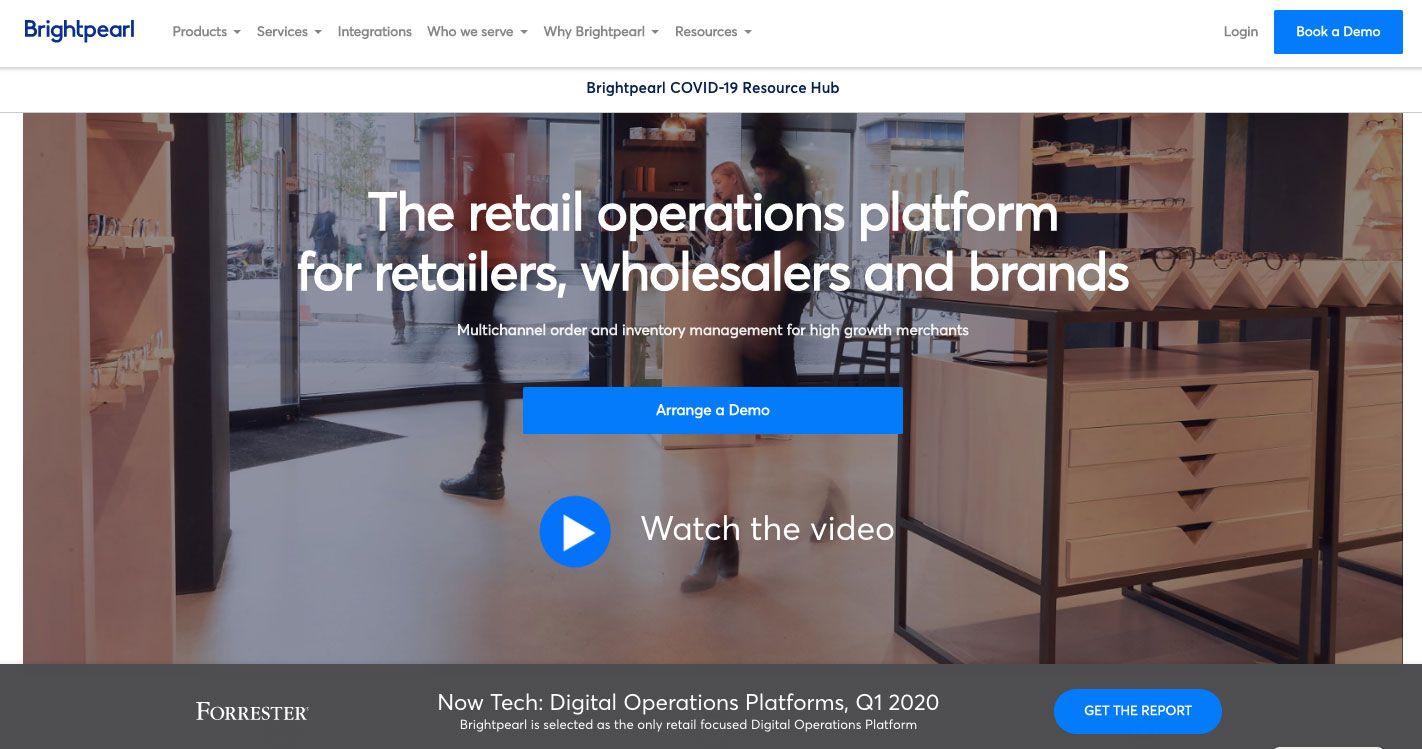 Brightpearl is a dedicated retail CRM platform. They promise to help you "automate and accurately target email marketing and develop a coordinated customer-first approach". Sounds familiar.
Brightpearl offers integrations with the different sales channels that you might be using, including eBay, Wix, Shopify, and of course, Amazon. With this, you can sync all your concurrent inventories and orders in one place to maximise sales potential and eliminate the risk of over-selling. All your orders automatically go into the Brightpearl CRM system, including the FBA ones.
On top of that, you get more traditional CRM features such as contact timelines, email records, segmentation and tags, and automated reminders to contact suppliers when they've been left out in the cold a little bit too long.
How much does Brightpearl CRM cost?
❌ No free trial or free version available.
❌ Pricing is on a price-by-quote basis, you'll have to contact Brightpearl to find out more.
We wish you luck on your Amazon FBA adventure, intrepid seller. It's important to remember that as Amazon keeps to their side of the deal by fulfilling your orders and sending them out, you shouldn't just sit on your ass doing nothing. You need to keep organised and on the ball with an eye to scaling your business. A CRM system is specifically designed to help you do that.
When you've finally got a slice, enjoy the pie. It's delicious.
Table of Contents
Crack the sales formula with CRM Lab
Twice a month, receive actionable CRM content to your inbox.
Join the
Telegram channel NetHunt CRM
All about CRM and B2B sales.
Join