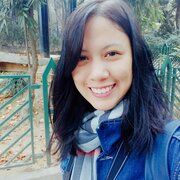 Mary Paulene Omae San Miguel is a content writer for RingCentral, a leading provider of global enterprise cloud communications, video meetings, collaboration, and contact center solutions. She has a Bachelor's degree in Journalism and a great passion for learning foreign languages. She also has previously written for GreyCampus, Pixpa, and Pixpa MeetFox.
Most businesses understand the importance of data. However, many of them don't know how to use that data to their advantage.
Using data in sales has shown great results. Studies reveal that companies using data-driven sales strategies are up to 6% more profitable than their competitors.
If you want to implement an effective, data-driven approach, you'll have to decide which type of data you'll be using.
In this blog post, we discuss what first-party data is and how salespeople can use it to win more deals.
---
What is first-party data?
In general, there are three types of data. First-party data, second-party data, and third-party data.
We can set them apart by looking at data ownership; by understanding who has the legal rights and control over the information.
When we talk about first-party data, the company itself is the owner. This data type refers to first-hand information collected by a company through direct interactions with its customers or audience.
On the other hand, second-party data and third-party data are information obtained by a company from other sources.
The owner of second-party data can be a company's trusted partner.
Example. UCaas provider RingCentral has an exclusive partnership with Mitel, a Canadian telecommunications company. In this case, partner companies RingCentral and Mitel can have an agreement to share and exchange data that are beneficial to both parties.
Meanwhile, third-party data is owned by data aggregators or organizations that collect information from various sources: Websites, apps, and plug-ins. Examples of popular third-party data providers are Salesforce, Adobe, and Snowflake.
To get this type of data, you need to purchase it from a data provider.
Benefits of using first-party data
First-party data offers a host of benefits for B2B companies. Let's discuss the top three advantages of using this type of data for an organization.
🧐 Customer insight
Businesses that use first-party data gain a greater understanding of their customers and prospects. This is because first-party data is more accurate and reliable than other types of data. It contains more information such as their purchase history, demographic information, and contact information.

💰 Cost-friendly
Collecting first-party data is free. Simply ask for consent from your customers and prospects, and then you can get the information you need from them. This way, you ensure compliance with data protection regulations like GDPR and CCPA.

🎯 Targeted sales campaigns and improved response rates
Your sales campaigns will be better-targeted and more relevant with first-party data. This means you'll be able to reach more of the right people with your messages, which increases the chances that they will engage with your brand.
Sources of first-party data
Businesses can collect first-party data offline and online. Here are a few ways…
Surveys
Surveys can be conducted online, in-person, or via phone call. Make sure questions are open-ended, encouraging respondents to provide enough detail in their answers to glean the information you need from responses.
The more personal and tailored your surveys, the better they'll engage customers. By making them individualized to each person who submits a response, you are able to ask questions that tap into what matters most. At the same time, your business receives important feedback on what customers find valuable about your product or service offerings.
If you want to know why customers buy from your store, post-purchase surveys and customer satisfaction surveys give you the opportunity to learn what they think about your products and overall customer journey.
Lead generation forms
With lead generation forms embedded within landing pages or ads, salespeople can collect more information about their prospective customers, making it easier for them to reach out and convert those leads.
If you want to increase conversion rates, customize lead forms for every campaign.
Example. A user visits a product's landing page, the form should be relevant to that specific product.
Your lead form should be mobile-friendly, featuring as few fields as possible for better accessibility and readability. Make sure that your headline and CTA button are bold or color-contrasted so that users can easily understand what the form is for.
CRM software
"91% of companies with more than 11 employees use customer relationship management (CRM) software"
🗣️ SuperOffice
CRM software is a central hub for customer data, recording and storing every customer interaction in the system. Here's some information salespeople can see in their CRM and use for their campaigns…
Name of contact
Customer demographics (age, gender, address, status, job)
Email address and contact information
Purchase history
Total number of times they've visited your website
Social media channels
Did you know that there are now 4.88 billion internet users worldwide? It's crucial for businesses to have a digital presence and offer social media customer service.
It's likely that your customers and prospects are active users on Facebook, Instagram, Twitter, LinkedIn and other social networks.
How to create an effective first-party data strategy
If you want to build an effective first-party data strategy, there are three steps to get started.
You can collect first-party data by looking at your brand's social media engagement. See who likes, shares, and leaves a comment on your social media posts. You can even integrate surveys and forms in your live chat to collect information and feedback.
Define business objectives and audience segments
The first step to effective selling is defining your business objectives and audience segments. Without a clear understanding of what you hope to achieve and who you're trying to reach, it becomes difficult to make your sales campaigns successful.
Be specific with your goals. For example, you might want to…
Improve customer service with omni-channel support
Promote your new product by collaborating with social media influencers
Increase customer retention by offering loyalty discounts
Once you've decided which goals to target, it's important that you create customer profiles for each type of customer. This betters your understanding of their needs and wants.
Here's a sample template of customer profile from HubSpot CRM...
Implement fun, creative ways to collect data
User registration is one of the most common ways for businesses to collect information. It's simple, when someone registers on your website, they're giving you permission to collect their personal data.
However, some users find it a hassle to fill out a form. That's why you should think of fun ways that will encourage them to go through the process.
Here are three data collection ideas that you can follow…
🚪 Gated content
When they sign up, they receive exclusive, free materials from your business. In the example below, the user receives a free eBook from RingCentral, a unified communications provider, after submitting the form. It's better to only ask for a few important details so that users don't find it time-consuming.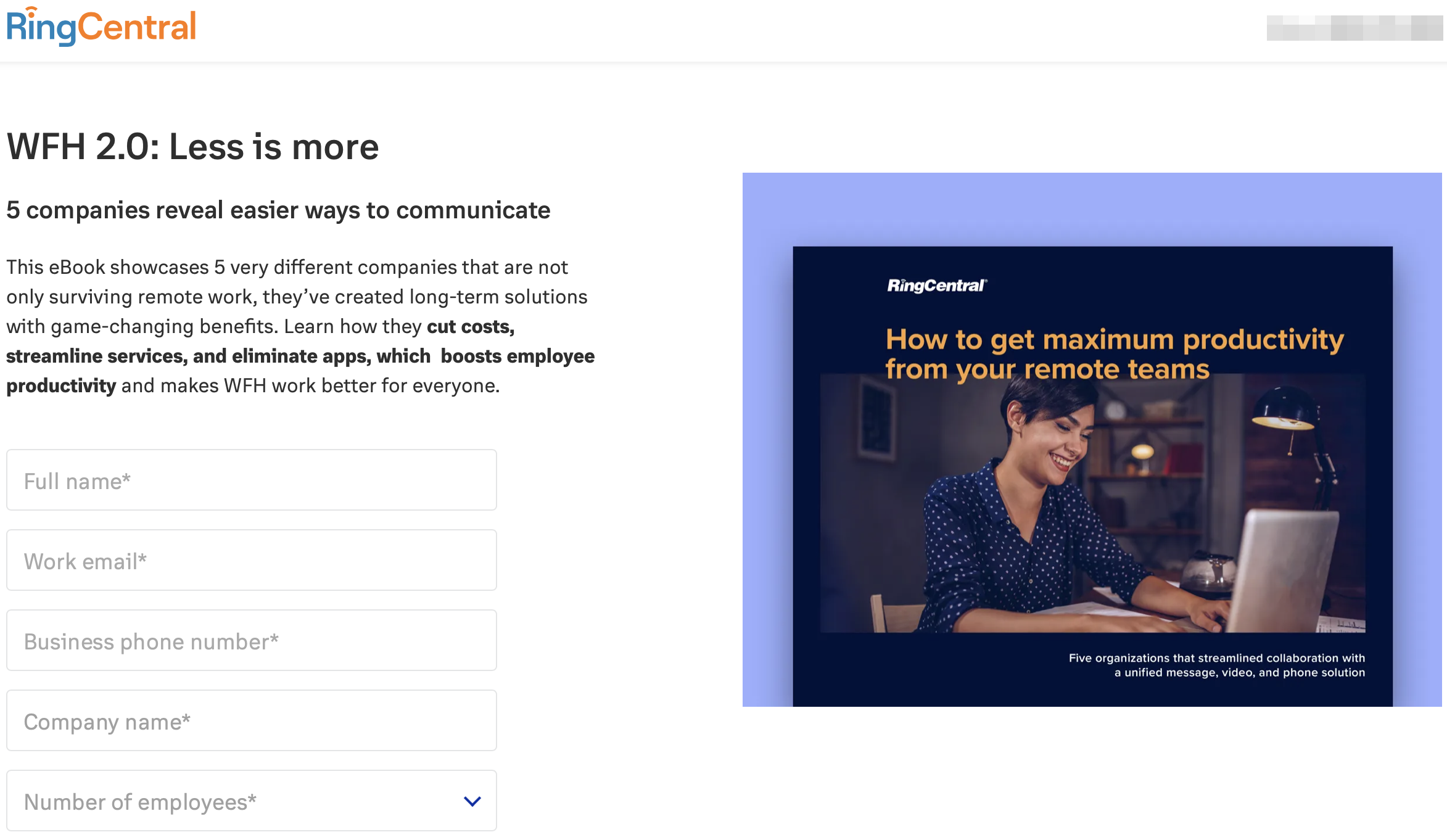 🕹️ Games
With a little creativity, you can make your customers feel valued and entertained. Offer puzzles to solve or challenges that they must overcome to get the winner's prize - an extra percentage off their purchase!

🤖 Chatbots
If you want to be accessible to customers and prospects 24/7, consider a chatbot. You can use a virtual customer service line on your website to answer questions and concerns that leads and customers may have at any time. This allows you to keep track of what they want while also helping them resolve issues quickly and easily.
Invest in tools and ensure data security and compliance
In this digital age, businesses are leveraging different tools for different purposes. Investing in an integration-friendly tool allows you to unify all data sources and maximize all of your business app features, such as data analytics, and storage and management.
Always check if the software has data security compliance certification such as HIPAA, PCI DSS, and SOC. This prevents any kind of data breach in the future.
How to use first-party data in sales?
Now that you understand the value of first-party data, it's time to use it to develop personalized messages, make specific offers, run targeted ads, and other effective sales campaigns to increase revenue.
Here are five examples of how brands are using first-party data in sales…
Loyalty Programs
Customer loyalty programs are a great way to get your customers, who have already shown interest in your brand, to get more involved with your brand. A reward system encourages them to keep coming back for more.
Let's take a look at global technology company IBM's B2B loyalty program called IBM VIP Rewards. Using gamification, IBM business partners or clients can earn reward points by completing various fun challenges.
They can earn points by writing blog articles, taking a survey, or doing any other activities they choose. Then, they can redeem their points for rewards such as gift cards or private sessions with IBM experts. With this loyalty program, IBM partners can learn more about IBM products and services and earn rewards along the way.
This encourages them to continue doing business with IBM and even invite other businesses to do the same.
Promotional codes and discount coupons
Promotional codes and discount coupons are a win-win situation for customers and businesses. Customers can get what they want at an affordable price, while businesses can generate more revenue.
Example. When SaaS solution provider Gainsight launched its subscription-based online media platform Pulse+, they offered a ⁠50% discount for the first year of their subscription to those who sign up before May 31st, 2019.
What's more, subscribers gain access to…
Customer success courses and certification
VIP and discounted ticket prices for Pulse events worldwide
New expert-level content monthly
With this strategy, Gainsight's new prospects or clients can explore the Pulse+ platform at a lower price. Then, they can renew their subscription if they want to continue their access to a variety of materials from Gainsight.
Personalized content or offers
B2B companies can use first-party data to create personalized content materials or offers.
To this end, you could analyze search queries - a list of phrases and keywords users enter in search engines to find a specific thing - and develop Google Ads campaigns based on the queries with high search volume.
On Facebook, you can take advantage of the location targeting feature.
With this, you can run Facebook ads and reach your target customers based on locations such as country, region, or city. If you want to find clients that are near your physical office location, you just simply set and adjust the rules for Facebook ad targeting. Aside from location, you can personalize ads based on the following criteria…
Demographics: Age, gender
Interests: Hobbies, favorite food
Behavior: Purchase history, device usage
Connections: Include or exclude people who are connected to your Facebook page
Enhanced CRM profiles
CRM software providers like NetHunt aim to help build customer profiles, nurture customer relationships, and close more sales.
Customer profiling helps learn more about your customers to provide a more personalized experience for them. Customer profiles could show which products they buy most often or which topics they are most interested in hearing from you via social media channels. Enhancing CRM profiles by collecting first-party data can help you meet and even exceed your customer expectations.
Multi-touch attribution
Multi-touch attribution is the process of determining how much each customer interaction leads to a conversion. Mapping the customer journey from pre-sale to post-sale is crucial to identifying which touchpoints are effective and which ones need more improvement.
Here are some examples of customer touchpoints…
Company website
Social media
Phone call
Email
Sign-up forms
Referrals
With access to first-party data at every interaction throughout the customer journey, salespeople can make informed decisions about future sales campaigns, which can increase the success rate in converting leads into customers.
---
First-party data is essential for all types of businesses because it allows them to better understand their customers. By collecting and handling customer data effectively with a CRM platform like NetHunt, businesses can improve customer relationships and boost sales.
To learn more about the benefits of having CRM software, start a free trial today.
Table of Contents
Crack the sales formula with CRM Lab
Twice a month, receive actionable CRM content to your inbox.
Join the
Telegram channel NetHunt CRM
All about CRM and B2B sales.
Join