Day-to-day, we get asked a lot of questions in the NetHunt office. It doesn't matter whether they come through email, over the phone, via our Facebook community, during a webinar, or anywhere else… we love them. We love flexing our Gmail CRM muscles and showing off everything we know about the thing that gets us going the most.
A wise person once said knowledge is power, so let us empower you.
What is Gmail CRM?
Gmail CRM or Google CRM) integrates directly into your inbox and brings powerful CRM functionality to your favourite email platform.

Small businesses choose Gmail CRM because it helps them focus their attention on caring for, and nurturing, their clients and leads. CRM integrated in Gmail is designed to remove all the boring, routine, manual stuff and lets you focus on the single most important aspect of your business — customers.
At a basic level, customer relationship management (CRM) software is a method of managing and maintaining company interactions with current and potential customers in one, single place; giving parallel access to each member of a team. It helps businesses to engage new customers, retain existing ones, gain valuable insights, and facilitate the cooperation of their teams.
There was a time, way back, when CRM meant having engineers in to install servers in the broom cupboard of an office, thousands of dollars worth of up-front costs, and weeks of training to help staff come to terms with a huge change in their daily routines. Companies needed to adapt to CRM, rather than CRM adapting to companies.
Thankfully, the CRM industry has put those dark days behind it. In recent years, CRM software has become a relatively cheap, but indispensable tool for modern businesses across a spectrum of different industries. CRM has especially become much easier to implement alongside existing business processes, thanks to the emergence of a trend in Gmail CRMs. With over 1.5billion active, daily users across the world, it's no secret that Gmail is the world's favourite webmail platform. Some genius, somewhere, some day, thought to themself…
Hey, Gmail is so simple, with such an intuitive interface, why don't we just attach a CRM to it..?
Boom. Gmail CRM was born, taking the meaning of user-friendly to a whole new level.
Read more: The complete guide on what a CRM system is
What are the core features of a Gmail CRM?
It's a great paradox of modern business that as companies try to simplify things, they only complicate them by installing more and more systems. Despite having a slew of different features for the different arms of a business, the whole point of having a CRM inside Gmail is to keep things within the same tab. We believe that one of the most honest metrics by which you can gauge a company's efficiency is by counting how many different tabs their workers have open.
For a company in general...
The great benefit of a CRM for Gmail is that you can bend and fold Gmail into whatever you want it to be. Whole teams feel the freedom of complete customisation, which is not available as a standard Gmail user. Everybody and anybody is able to import existing data into Gmail from just about any source possible, and export it out of Gmail whenever they need to. Finally, CRM for Gmail makes sure that each team is on the same page with shared access to tags, notes, and communication history on each client or lead that comes into an inbox.
As part of a sales team…
You feel the convenience of visualised pipelines inside Gmail. From that pipeline, the best CRM systems offer users the chance to automate reports to both gauge the health of a pipeline and determine whether users are on track to reach their goals, all from within Gmail itself. Finally, forgetful sales representatives are relieved from forgetful mistakes, with the chance to set triggers for notifications and reminders. All that, along with automated invoicing, API, and email campaign functions mean you'll never miss another beat on a lead, without having to leave your inbox.
As part of a customer support team…
Ticket generation can be attached to incoming customer emails, so they are easier to sort, respond to, and eventually close. It doesn't matter whether a query comes in via social media, telephone, email, or wherever else, they are all maintained in the same, centralised Gmail system for everybody to see. This shared knowledge base means full customer context is available as soon as another query enters anybody's Gmail inbox.
As part of a marketing team…
Gmail CRM fits seamlessly into the workflow of any marketing department. Primarily, marketers should use a Gmail CRM to improve lead generation opportunities with third-party integrations, and to have more power and reach in their email marketing campaigns. A well-implemented, properly-used CRM system offers the ability to research shared context and information about leads and then contact them through bulk emails and mail merge features. Automated reporting features then allow marketing teams to see what works and what doesn't.
Which features should I look for, when choosing a Gmail CRM?
You'd be forgiven for wanting your new Gmail CRM system to go above and beyond the core features we've spoken about above. Before you spend your hard earned money on that subscription fee, you should make sure it has at least some of the following standout features so you can get the most return on your investment.
Integrations
Odds are that if you're running your business out of Gmail, you're probably using other G Suite apps such as Contacts, Sheets, Hangouts, and Drive, etc. If this is the case, you should check whether the Gmail CRM you're about to subscribe to fully integrates with G Suite programmes. Otherwise, you might find yourself doing things the long way round.
Psst! In fact, a lot of CRMs natively integrate with a lot of the platforms you're already using, like Data Studio, MailChimp, LinkedIn, and loads, loads more!
Email features
What on Earth is the point in having a CRM that lives inside your Gmail inbox, if it doesn't use all the fantastic features of Gmail to their full potential? Make sure your Gmail CRM has automatic email logging, email tracking, email campaigns and analytics, an unsubscribe feature, email templates, and drip campaigns so you can maximise the value and reach of your email campaigns.
Automation
Automation is a beautiful thing, and one of the key advantages of having a CRM work for your business. Find out if your Gmail CRM allows you to automate your processes, minimise the amount of routine tasks you and your team need to do, and frees up a substantial amount of time for you to focus on what matters most — clients and leads.
Pipeline and lead management
A Gmail CRM should make it much easier to keep an eye on contacts with prospects, leads, and clients; as well as visualising where they are in the sales pipeline. A good Gmail CRM structures your sales cycle, defines different pipeline stages to make it clearer which actions need to be taken, automates reports to forecast sales, helps identify potential bottlenecks and problem points, and helps you monitor your team's productivity to find out who's hot or not.
Download free e-book on Choosing the Best CRM for Your Business.
Collaboration
Teamwork makes the dream work. Hopefully, you're not doing this alone, otherwise you wouldn't get very far, very quickly. Your Gmail CRM needs to help you foster effective communication between yourself and your team, partners, and clients with features such as mentions, file and information sharing, task management, and shared calendars.
Flexibility
There is no one-size-fits-all CRM system. It's important that your new Gmail CRM can bend and adapt to fit your exact business needs. It should be fully customisable in terms of pipeline structure, segmentations, and files so your business gets the most out of it. If something needs changing, it should be easy to change!
Which processes does a Gmail CRM help automate?
It's no secret that increased automation can help a business reach new heights. In sales especially, where there are lots of niggly jobs to get completed throughout the day, increased sales automation can help streamline entire processes, taking stress off employee shoulders, and giving them more time to do things that make money.
CRM for Gmail is the great automator across four different areas.
Prospecting
Gmail CRM integrations make it super simple for prospectors to find new customers.
Sales prospecting is the process of looking for potential clients in order to grow consumer bases and increase revenue streams. Any sales rep will tell you that, in the past, it was an ardent, long-winded process that often took them to a dead end.
With a Gmail CRM integrated to lead prospecting software or sources, prospectors can simply cultivate the data they need on the prospects they find, and get them moving along the pipeline as quickly as possible.
NetHunt's LinkedIn and Sales Navigator integration is an example of this.
Marketing
With a Gmail CRM, marketers can work directly out of their inbox.
A CRM system can manage marketing processes and campaigns across multiple channels. With the right marketing automation tools in place, users are able to target segmented lists of customers through email, social media, and, if you still live in the year 2001, SMS.
CRM for Gmail means marketers can identify their audience, design perfect content with templates, and trigger actions based on a schedule or a customer's behaviour right out of their inbox. There's no need to click through long lists of clients, manually entering their details, and writing seizure-inducing lines of HTML code. You don't even need to press send, CRM automation software does everything for you.
Pipeline
CRM for Gmail places the sales pipeline at the centre of your inbox and everything you do.
By automating their pipeline, sales and marketing teams can visualise a lead's movement through the funnel all the way to that magical nirvana – conversion. By setting up triggers down the pipeline, they can create alerts and actions, taken automatically, to push prospects into a desired movement. For example, a client might have been sitting on the interest stage of a pipeline for too long. An automated prompt is set up to remind a rep to give them a call or fire off a follow-up email.
Having full control of your pipeline means that a prospect never slips through the cracks, no matter where they are in their sales journey.
Data
Data entry is boring. It takes time, effort, and brainpower that could easily be spent elsewhere.
Gmail CRM helps automate various aspects of data entry and management across different business processes. With a CRM, importing data couldn't be easier; it doesn't even matter where you're importing it from. Finally, there's no need to duplicate data across different systems, because everything is all there, visible in the same place.
Having all that customer data in one place means shared customer context is always on hand, whenever anybody needs quick access to it.
Why should I use an inbox-integrated CRM?
By its very definition, CRM is designed to streamline and simplify processes across a business. Google's dedication to design simplicity, combined with their comprehensive productivity tools in G Suite and beyond, makes Gmail and CRM a match made in heaven.
You should employ a Gmail-based CRM because…
It improves lead generation, especially when used with native integrations, and maximises the success of marketing campaigns out of Gmail.
Marketing teams are afforded full access to data to fully personalise and segment marketing campaigns from their Gmail contacts.
It facilitates closer alignment between marketing and sales teams.
It helps speeden and collaborate the response time for customer queries and complaints coming into Gmail, social media, phone, or wherever else.
You're probably already using Gmail, so why not maximise its range of features with a CRM extension?
It tracks the performance of all existing staff, helping drive momentum and results.
It can help manage the recruitment process for HR professionals, acting as a huge database for incoming job candidates which can be tagged as soon as they land.
It can automate birthday wishes for both customers and employees, with the ability to set automated trigger email responses for special days.
It offers analytics based on the central method of communication in business - email.
You'd be daft not to.
Which types of business benefit from a Gmail CRM?
Freelancer
As a freelancer, your skills are the job but the customers are your business. Because they work alone, freelancers need to work extra hard to maintain organisation. A Gmail CRM organises the business side of freelancing, leaving you to focus on producing the best product or service you can for a customer.
Freelancers mainly benefit from having CRM features such as contact and task management, scheduling, automated reminders, update notifications, email marketing, invoicing, accounting software integration, and reporting features inside the free-to-use Gmail inbox.
Gmail CRM can help freelance businesses grow quickly, into much more than just a freelance business.
Small and Medium-sized Business
As a small or medium-sized (SME) business, it's important to invest time into the business activities that provide the biggest dividends. These days, more and more small businesses implement CRM systems to help boost their sales, understand their customers, and improve their workflows.
The main benefit of CRM for SME is that it helps streamline sales and boost revenue. With CRM for Gmail, lead management becomes easier, and users can capture leads from different sources and track them through the entire sales process without leaving Gmail. Armed with a database full of brand-spanking new contacts, SME businesses can start reaching out using automated marketing features.
SME businesses gain a deeper understanding of their customers and the trends within their own, internal markets. CRM is particularly useful for small businesses with longer sales cycles, and the constant connection to data means each interaction with customers is fully informed. SME businesses find it easier to gently push their customers through the whole sales cycle.
Finally, it doesn't matter how small a business is - there is always room for improvement between sales and marketing processes. Manual processes suck, and most SME businesses don't have the workforce to do them efficiently. CRM for Gmail helps these businesses create workflows that help everybody in their team stay on the same page, whether it's follow-up automation, customer onboarding processes, or anything else.
Enterprise
Lots of CRM names have 'enterprise' subscription plans. These are designed for larger, more complex businesses who have many different customer-facing departments, but are speaking to the same customers. Client databases need to be robust, comprehensive, and accessible for larger businesses, especially ones who have more than one sales or marketing teams. CRM for enterprise helps larger companies maintain a single, uniform line of communication both between teams and towards customers.
Enterprise CRM is much more expensive than standard CRM because of the time and effort involved with adapting it and deploying it across a whole company.
What are the signs that I need a CRM integrated with my Inbox?
Distancing myself from the voices in my head, who are screaming "because it just bloody makes sense!", I've put together five broad examples of the indicators that tell you when it's time to switch over to a Gmail CRM.
1. Your in-house CRM is a liability, it sucks up valuable resources.
An in-house CRM seems like a brilliant idea; an opportunity to build a system around your business, the way you see it. But as soon as the IT department gets into the nitty-gritty of it all, it quickly turns into a waste of time. The maintenance and development cost, in terms of manpower and finance, eventually end up going through the roof. Furthermore, it can get really fidgety trying to integrate an in-house system to third-party programmes. What's the point? Simply integrate a ready-made CRM with Gmail.
2. CRM adoption and usage between employees is low.
It comes as no surprise that CRM only works if it's used. For a lot of employees, it might feel like just another system to remember a password for, log into, and update. An inbox-integrated CRM is easy to implement, and the fact that it blends entirely into an existing inbox means the learning curve on these systems is tiny.
3. You've got tab fatigue from dipping in and out of different programmes.
Maintaining dozens of different programmes takes a lot of time and money. Even worse, your computer is running at a high CPU which just slows everything down further. On a good day, you might have your inbox, an automated pipeline tool, email drafting software, and any number of client databases open at the same time. Even something like a bulk email, that should be so simple, ends up taking hours out of the day. Save yourself a headache, and just integrate a comprehensive CRM system with your Gmail inbox.
4. There's a clear disconnect between different teams, even though they're working with the same leads.
You're stuck in the middle of a tug of war between the marketing and sales teams, and to make things worse customer support are trying to pick up the pieces. The constant friction, finger-pointing, and lack of cohesion inhibits business and growth. Having all your different teams working out of different systems means they're working with different means, and will meet different ends. A Gmail CRM helps to limit disparities between different teams, and keeps them all on the same page, working towards the same goals, with mutual accountability.
5. Customers disappear without so much as a goodbye.
Having so many different systems, between different teams and processes creates cracks. Leads fall through the cracks, and your customer retention rate ends up being nothing short of pathetic. On a single system, whereby each team within an organisation can carry out their specific duties, no leads fall through the cracks. Their whole journey is made through the same system, from generation, through nurturing, and all the way to purchase. Nothing gets lost.
What are the top 10 Gmail CRMs?
CRM for Gmail is a bustling marketplace, and there are heaps of different options for you and your business to choose from. At their core, they all offer similar CRM functionality, but they all start to differ when it gets to things such as design, integrations, and price. Generally speaking, there are two different types of Gmail-integrated CRM.
A fully-integrated CRM system that fits into and works as part of Gmail.
A partially-integrated CRM system that works parallel to Gmail. This type is more of a Gmail add-on, and usually comes in the form of a sidebar.
The following list is a who's who of the Gmail CRM world; a top ten of our favourites, including their core features and the pricing.
NetHunt CRM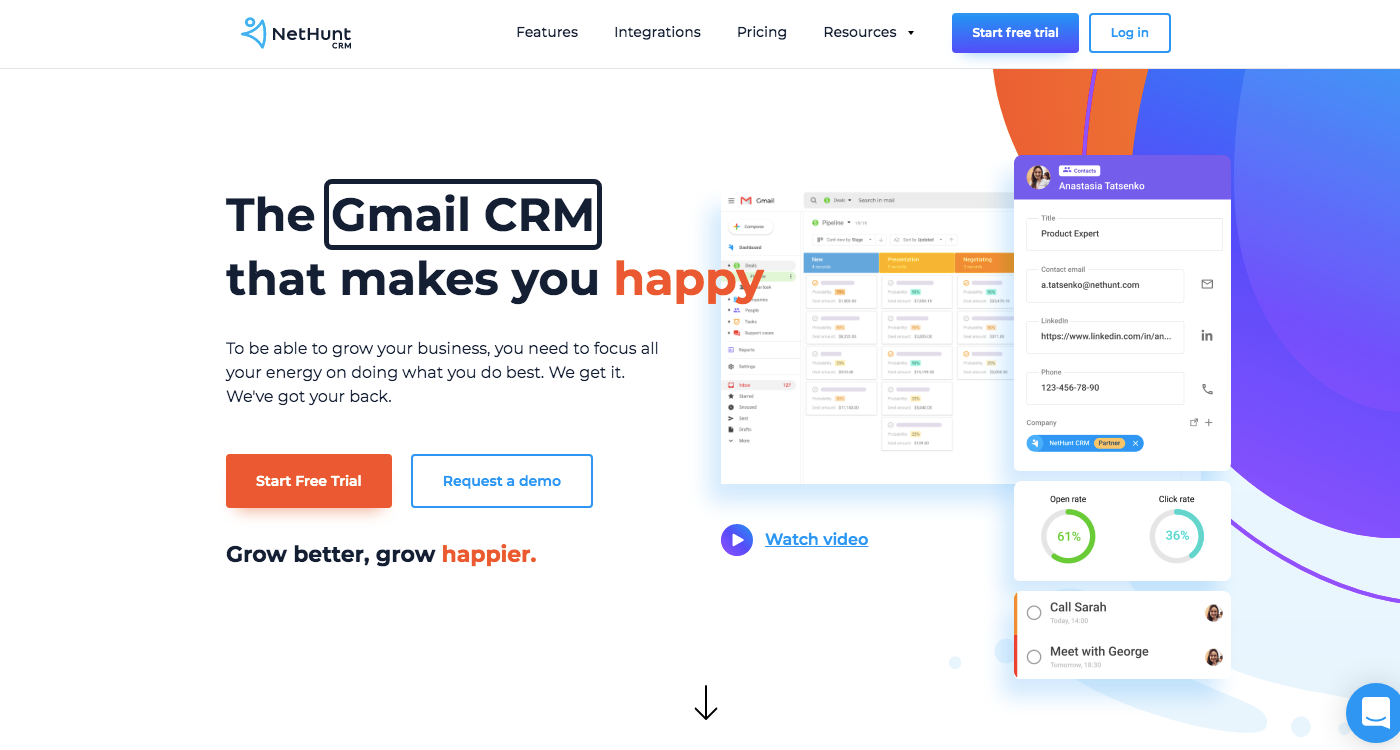 NetHunt doesn't just fit into Gmail, but was built inside it. NetHunt is a Gmail CRM that turns your favourite email service into an unparalleled, fully-fledged, fully-customisable CRM system. The whole platform is simple, and intuitively built around 'Records', a collection of communications, tasks, and relevant files, that are attached to different 'Contacts', each placed along a visualised and prioritised pipeline. Workflows are automated and the bulk email feature allows users to send mass, pre-templated, segmented marketing campaigns straight out of a Gmail inbox.
Without any unnecessary tab switching or window minimising, NetHunt offers the simplicity and customisation that a CRM system should offer. It is an intuitive, flexible system with native integrations to LinkedIn and Sales Navigator for maximum lead generation and enrichment featurability. NetHunt offers all the CRM capabilities you could ever ask for, right inside your existing Gmail inbox.
How much does NetHunt cost?
✅ 14 day free trial upon initial registration; no credit card required.
Basic: $24 per user per month, billed annually
Basic Plus: $34 per user per month, billed annually
Business: $48 per user per month, billed annually
Business Plus : $68 per user per month, billed annually
Advanced: $96 per user per month, billed annually
Check pricing
As the CEO of an early stage start-up, you can contact the NetHunt team and discover whether you're eligible for a special price plan. No wonder the internet is going crazy for the best CRM for small business!
Streak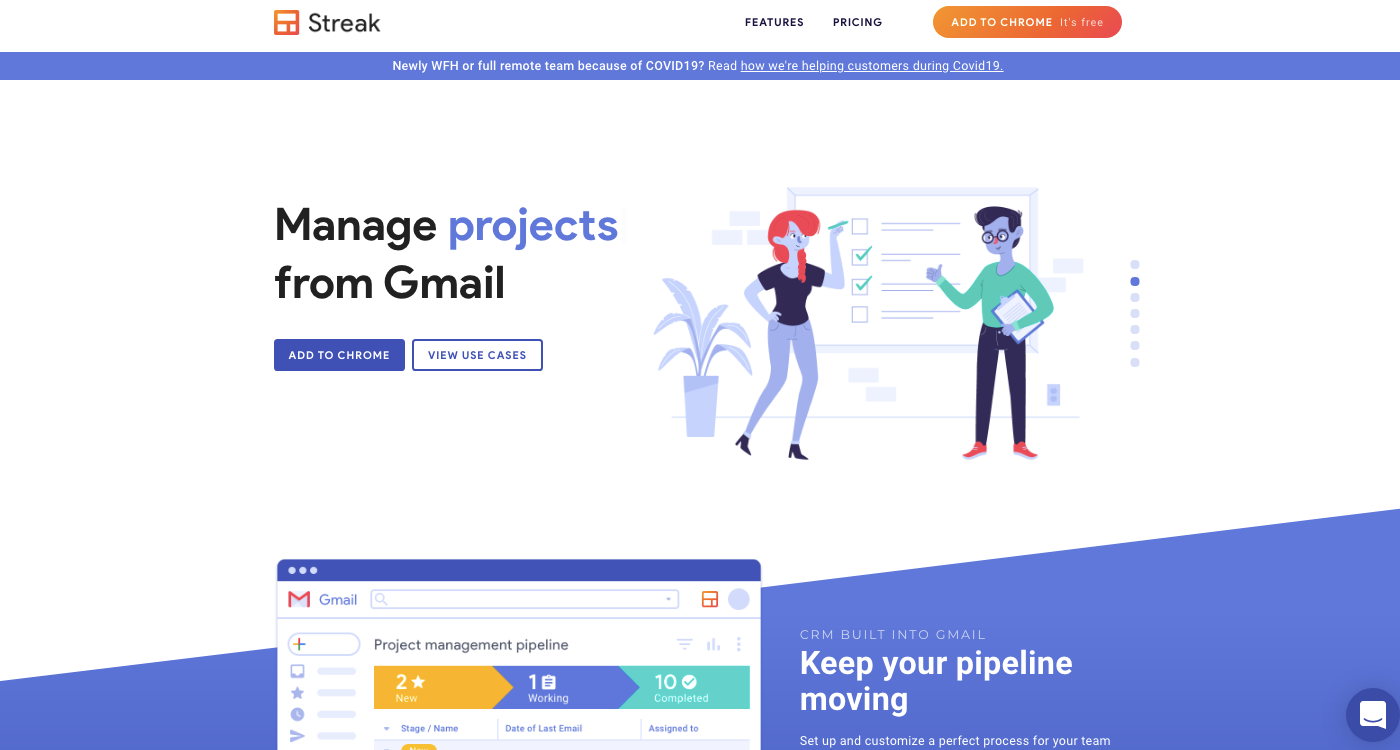 Streak CRM for Gmail is yet another CRM system that is fully-integrated with everybody's favourite web mail platform. Like NetHunt, it lives inside your Gmail inbox on both web and mobile, and offers full G Suite integration. You'd be forgiven for calling it just another Streak email tracker, but Streak CRM goes further and aims to provide an 'organic version of your existing workflow'. You can see how they are working towards that end with lightweight, but juicy pipeline and lead generation features such as customisable workflows, smart searching, filtering, grouping, tracking, data capture, and loads, loads more.
Streak for Gmail is a lightweight CRM companion, offering the most primitive add on functionality to your Gmail inbox. It's a good option for smaller businesses and smaller teams within enterprise companies. They don't offer a free trial, but they do offer a free version of their platform with very limited featurability.
How much does Streak cost?
✅ Streak offers a free, basic version of their system, with basic CRM features.
Professional:
$49 per user/month; paid annually
Enterprise:
$129 per user/month; paid annually
Agile CRM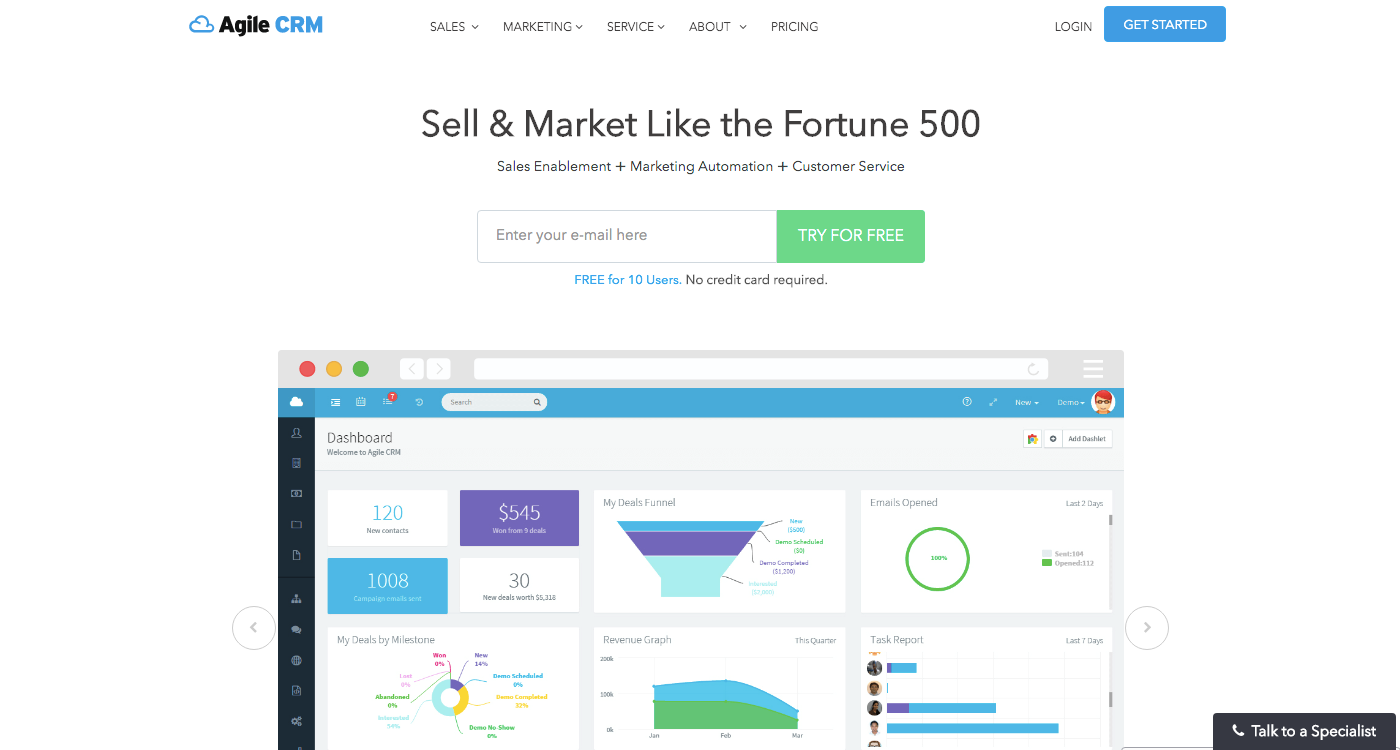 Agile is a Chrome Extension, rather than a fully-integrated CRM system. Despite the lack of total immersion, it does offer streamlined communication between Agile system and Gmail on two separate tabs. The two-way contact synchronisation lets users access the same contacts, with the same information and context, across two different systems. On top of the usual CRM dashboard features such as pipeline, reporting, and task management, Agile's unique features include a '360° contact view' for access to a chronological list of every email that has ever been sent between a lead and a company, and 'campaign membership' which lets users check on campaigns that different contacts are part of.
Agile positions itself in the market as a CRM for small businesses who need general sales, marketing, and service automation. Their price is certainly appealing to those groups.
How much does Agile CRM cost?
✅ Free for up to 10 users.
Starter:
$8.99 user/month; paid biannually
Regular:
$29.99 user/month; paid biannually
Enterprise:
$47.99 user/month; paid biannually
HubSpot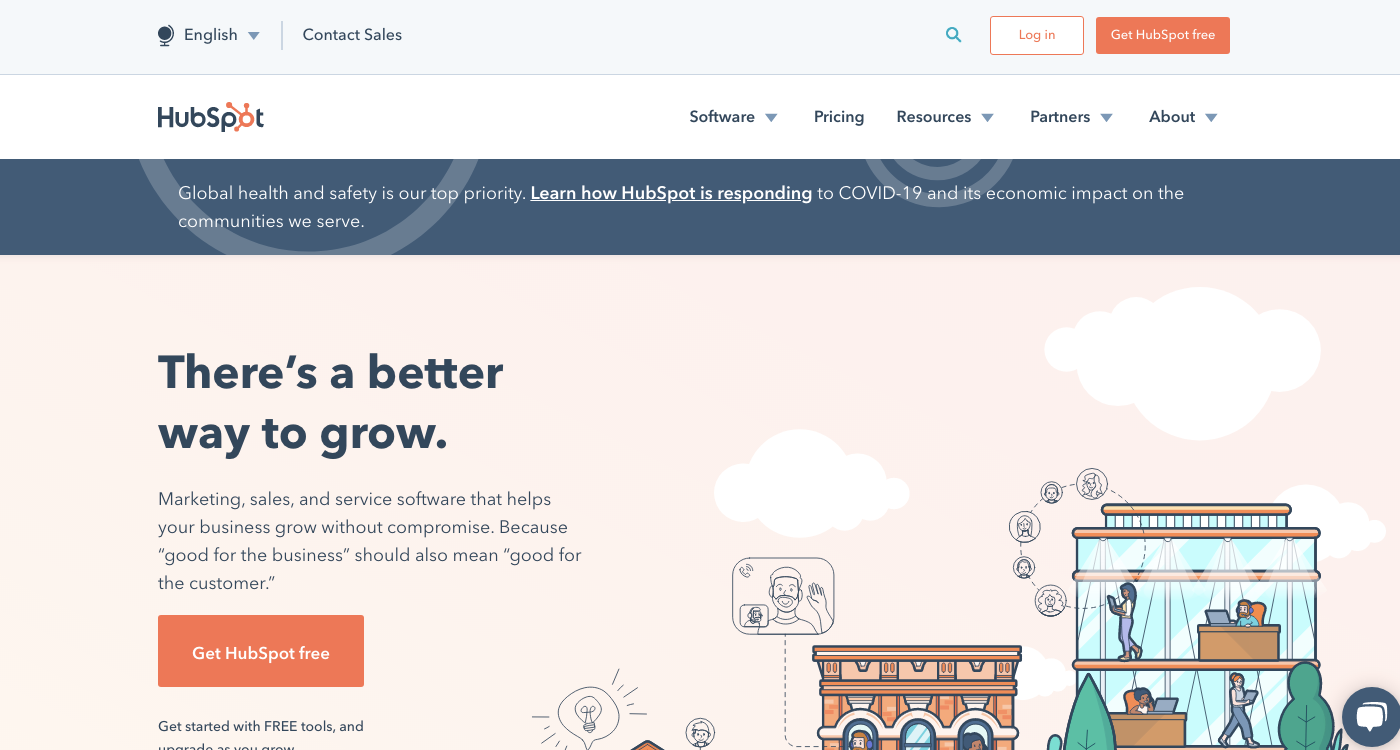 It's no secret that HubSpot is one of the big guns of CRM, so it's natural that it is included in this list. Despite not being a fully-integrated Gmail CRM, it does offer a Chrome Extension like most of the other options. It's a choice for companies who, obviously, want to spend less time logging and maintaining data: offering full pipeline management to keep things ticking over, full customer context on the left hand sidebar, leads in the same place for everybody in a team, automated outreach with customisable email templates, and mobile access… for free!
The HubSpot CRM is built for growing teams, but as the team grows they may want to pay for access to HubSpot's other features that offer further opportunities for growth.
How much does HubSpot cost?
✅ Free for unlimited users.
Copper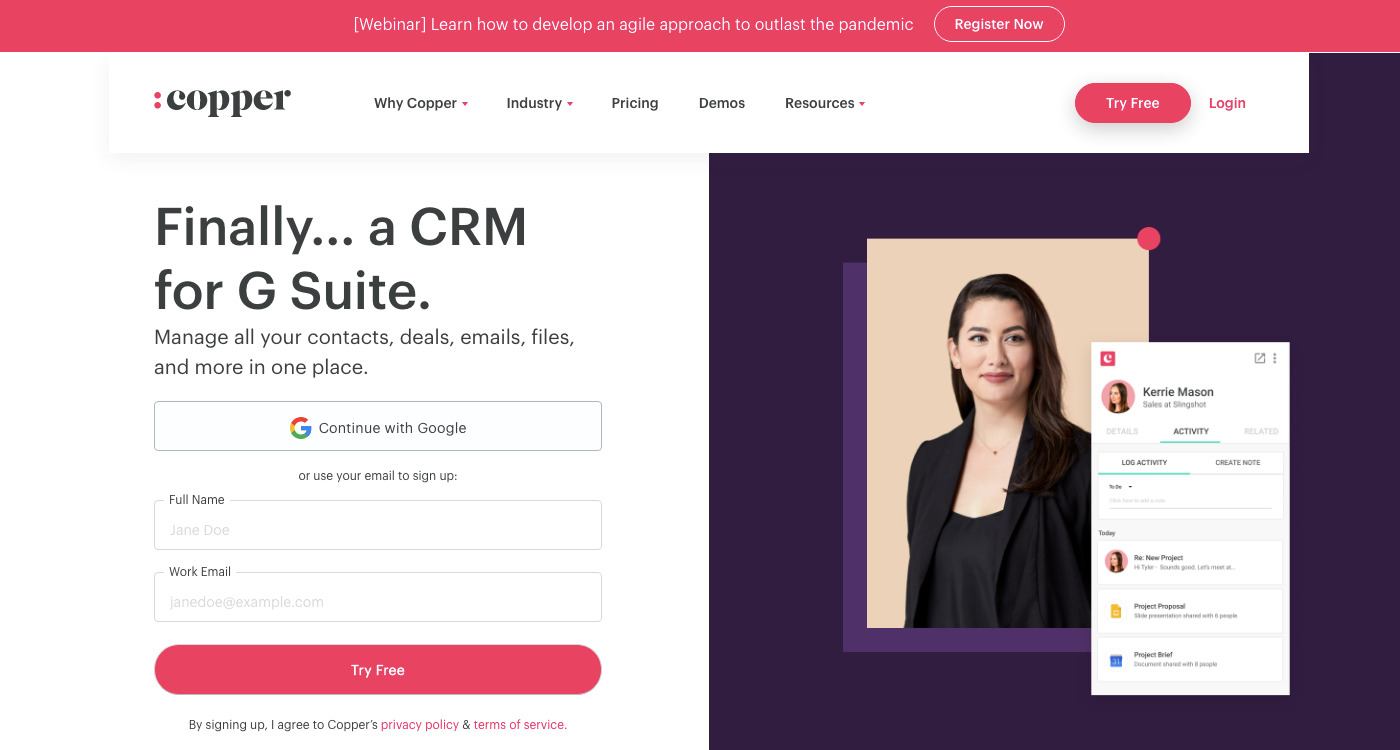 Copper has been built with the same design as G Suite, through a programme called Google Material Design, and blends effortlessly into Gmail. As expected, this CRM offers quick access to an overview of customer data and context inside your inbox. Emails, calls, events, and other productivity documents are automatically recorded, so teams spend less time manually inputting data. On top of general streamlining and native integrations such as MailChimp and Slack, Copper also features AI-driven capabilities that are useful for teams who want to automate tedious, time-consuming tasks.
Despite 'living in Gmail, the way we do', Copper's drawback is that it is not fully integrated with Gmail. All those features that I have spoken about are only available as a  sidebar.
How much does Copper cost?
✅ Copper offers a free trial; no credit card required.
Basic:
$19 per user/month; paid annually
Professional:
$49 per user/month; paid annually
Business:
$119 per user/month; paid annually
Zoho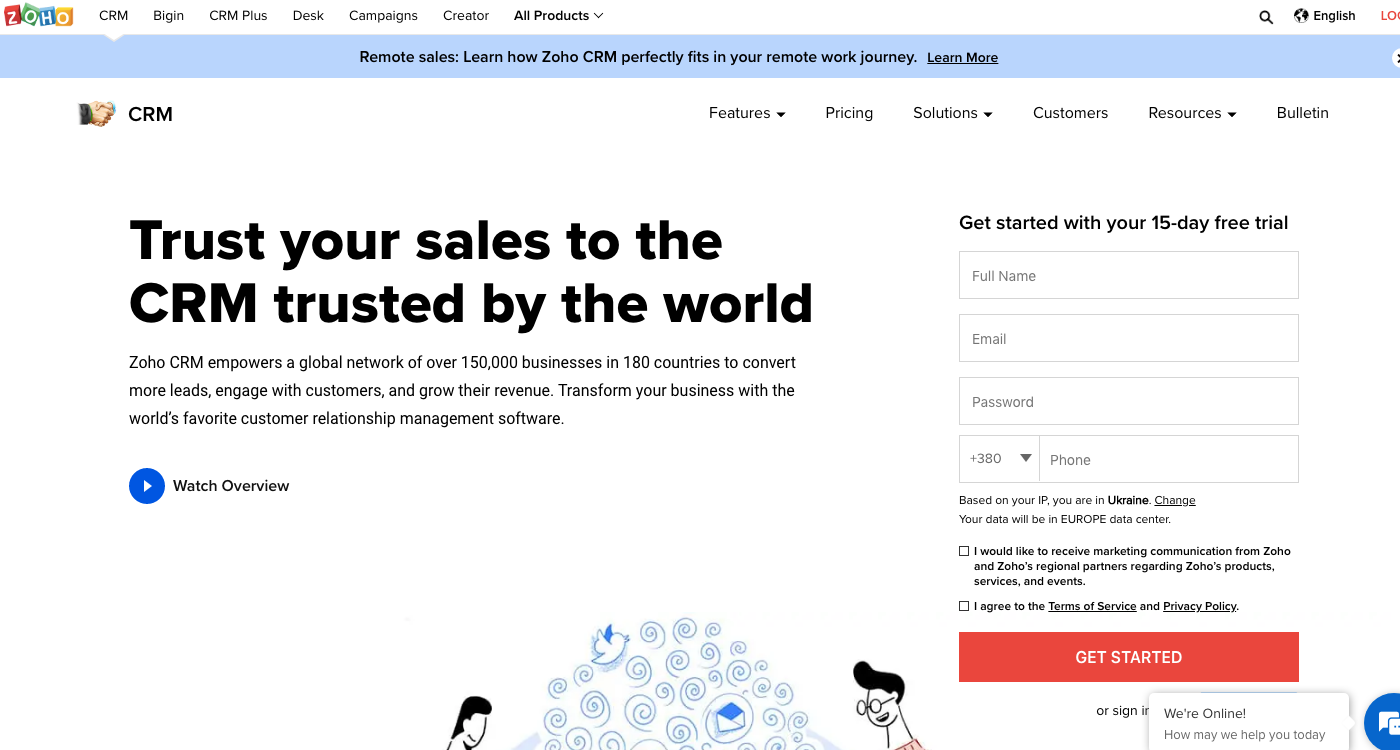 It's fair to say that Zoho have been around the CRM block a few times, having been founded way back in 1996. This simple, but effective CRM system empowers any-sized businesses with complete customer-cycle management, from lead generation to purchase follow-ups. After so long in the biz, they've nailed quick access to importing contacts and leads into the Zoho system. Despite not being fully-integrated with your working Gmail inbox, the ability to sync tasks, events, and calls with customers between the two systems makes this Chrome extension helpful.
If you're just starting out, Zoho probably appeals to you as a free Gmail CRM. But, as your team and list of tasks grows, you'll need to pay more for add-on modules to really get the most out of it.
How much does Zoho cost?
✅ Zoho offers a free version for 'home businesses', capped at three users.
Standard:
$12 per user/month; paid annually
Enterprise:
$35 per user/month; paid annually
Arcade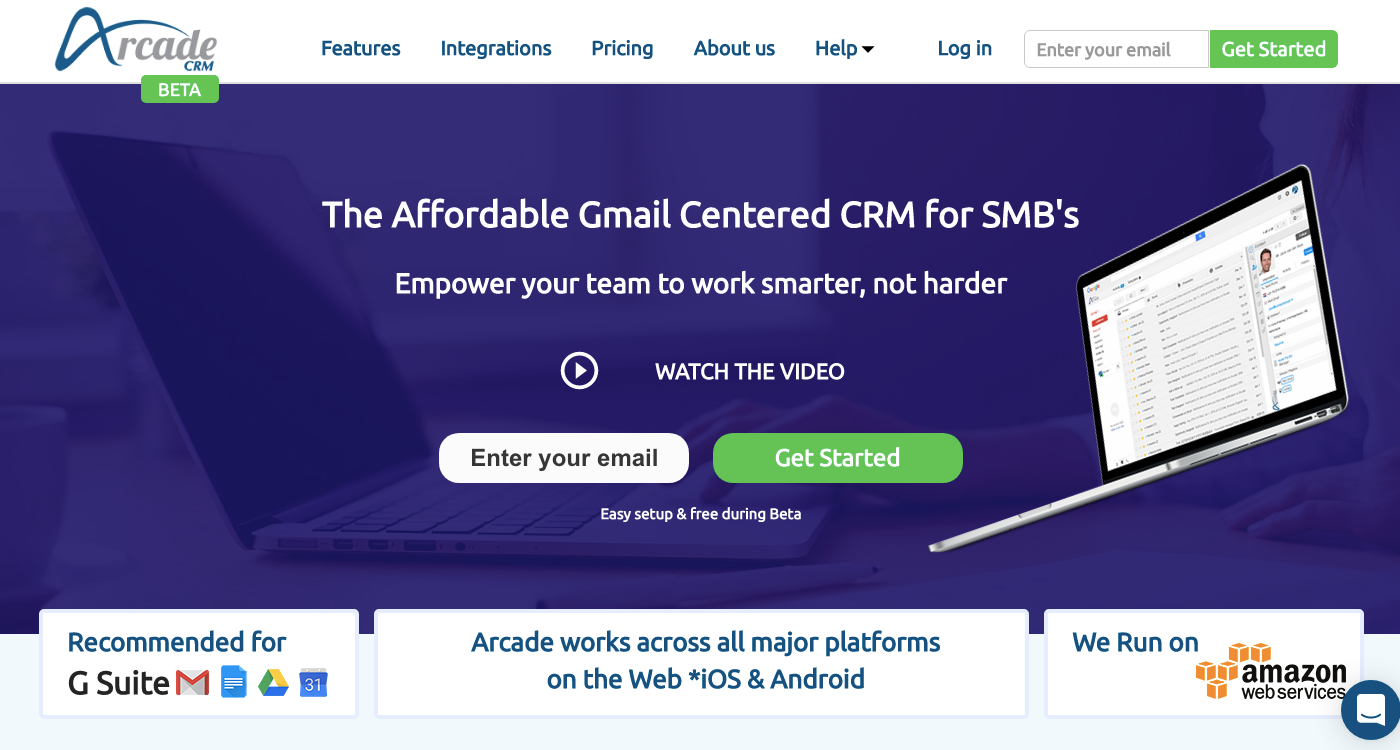 Arcade for Gmail is a Chrome Extension that offers a basic Gmail CRM for small and medium businesses. Features such as contacts, pipeline, calendars, task and document management, and sales reports are all as expected. Arcade's unique feature is VOIP calling, whereby users can log calls manually and then automatically import and export numbers, scripts, and logs.
Arcade is simple, as is reflected in its pricing plan.
How much does Arcade cost?
✅ Arcade offers a free trial.
Standard:
$12 per user/month; paid annually
Pipedrive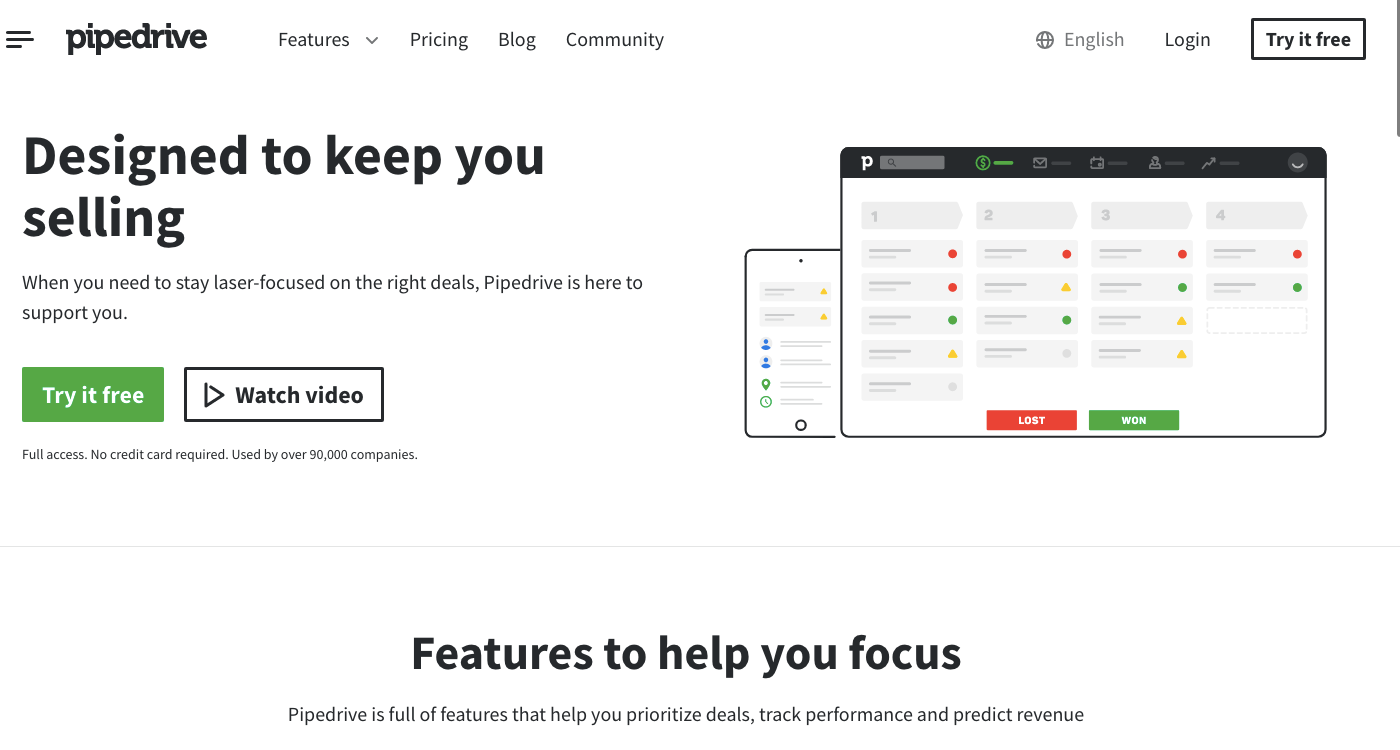 As you might expect from its name, Pipedrive CRM's aim is to speed up and improve sales processes. Instead of being a fully-integrated Gmail CRM, this is a left-sidebar CRM application that lets users schedule activities, make notes, and quickly add contacts from Gmail to the system. Users are treated to an instant sales history of each contact whenever they open an email thread, providing full context whenever they need it.
Despite a pricing structure at the higher end of our spectrum, Pipedrive currently has over 100,000 paying customers across 155 different countries. Sales teams across the globe are drawn in by its simple, powerful sales solutions.
How much does Pipedrive cost?
✅ Pipedrive offers a 14 day free trial.
Essential:
$12.50 user/month; paid annually
Advanced:
$24.90 user/month; paid annually
Professional:
$49.50 user/month; paid annually
Enterprise:
$99 user/month; paid annually
Capsule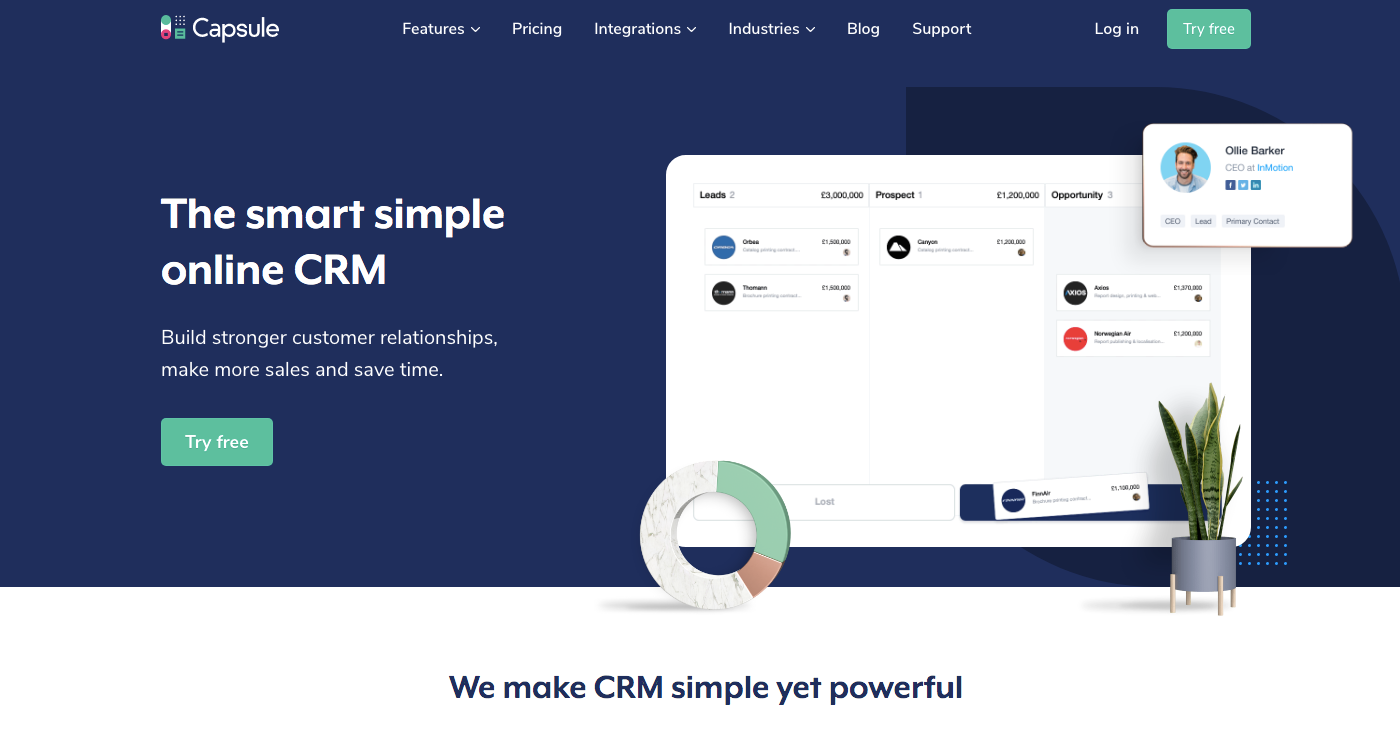 Capsule is a Gmail integration that offers a sidebar host with a bunch of useful CRM features. Despite not being fully integrated, that left-sidebar offers standard CRM features such as conversation threads, customer details, sales opportunities, and follow-up reminders. It integrates with G Suite, Data Studio, MailChimp, and Zapier for nice, helpful sales automation.
Capsule is a simple, customisable CRM built for small and growing businesses, who need to organise customer data.
How much does Capsule cost?
✅ Capsule offers a 30 day free trial of the Team subscription.
✅ Capsule offers a free version capped at 250 contacts, for up to two users.
Professional:
$18 per user/month; paid annually
Team:
$36 per user/month; paid annually
Nutshell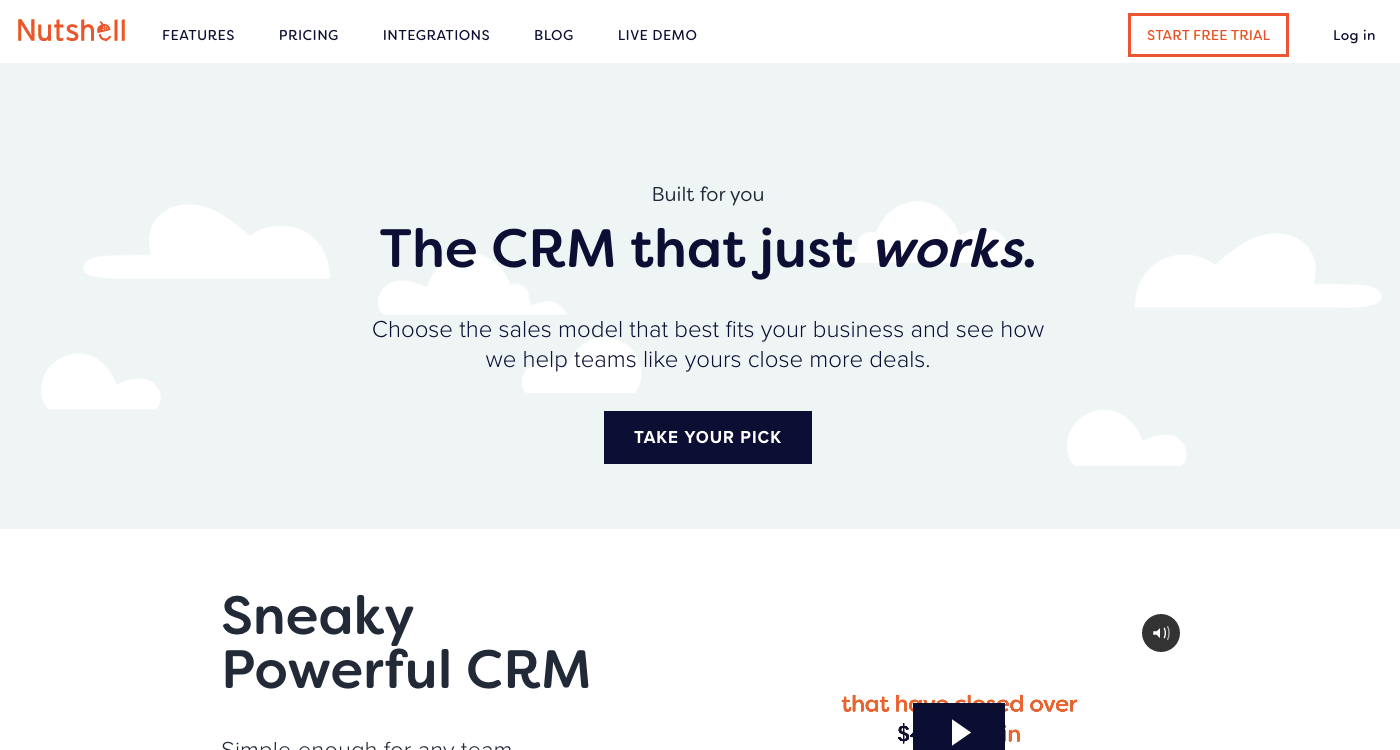 In a nutshell (ha!), Nutshell is a Gmail sidebar integration known for its simple, intuitive interface. You can save emails to Nutshell, sync Google contacts and calendar activities, create tasks, and track communication timelines, notes, and shared email threads. Nutshell has won awards for its features, time-saving integrations, unlimited data storage, and top-of-the-line customer support. Everything is synchronised automatically, so tired sales reps can focus less on what they hate (data entry), and more on what they love (making money).
Nutshell's simplicity can be both a curse and a blessing. A lack of native integrations means it's not as customisable as other options on this list. But the fact that you can simply sign in with Google credentials is a big, simple plus for Google immersion.
How much does Nutshell cost?
✅ Nutshell offers a free trial.
Starter:
$19 per user/month; paid annually
Professional:
$35 per user/month; paid annually
---
Table of Contents
Crack the sales formula with CRM Lab
Twice a month, receive actionable CRM content to your inbox.
Join the
Telegram channel NetHunt CRM
All about CRM and B2B sales.
Join