How to Write a Follow Up Email to Client after Quotation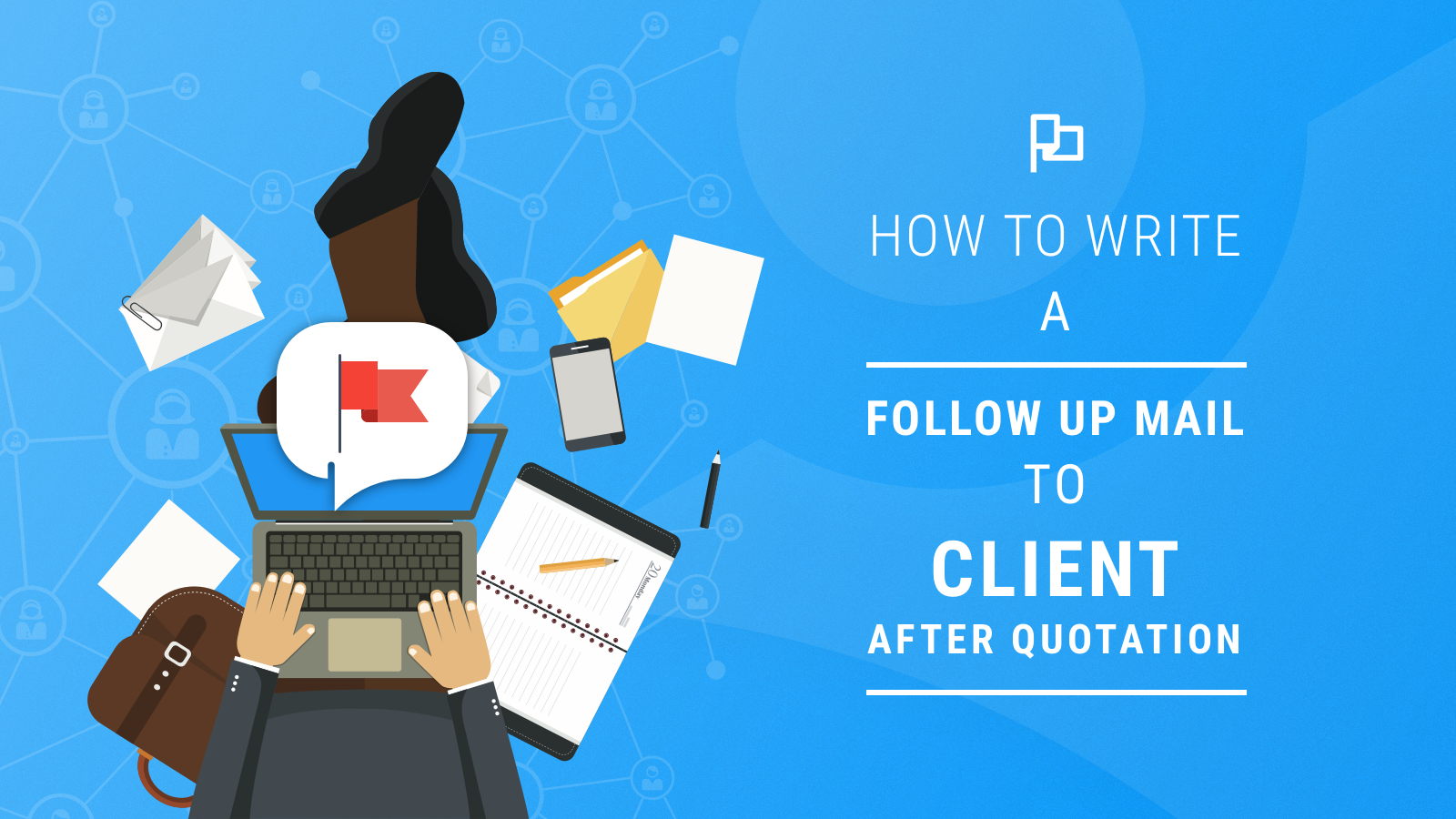 Running a business is all about communication with a client. If a seller supports a regular contact with clientage, the sales will likely increase. However, it is not an axiom. Such an interaction can be performed in various ways including emails. Especially given that it is the most common way of communication in the current century.
And what about the contact with a potential customer? The concept remains unchanged, i.e. the more attention is applied the more chances for success you obtain.
In this case, a follow up email to a client after sending quotation seems to be a good option to maintain interaction. In fact, as soon as a service/product was introduced, the next step should include a reminder to brush up the provided data. Anyway, first things first.
Table of Contents
1. Follow up quotation letter definition
Dialogue with a lead begins with a quote or quotation. This document comprises all relevant information regarding the goods or service for sale. It is a kind of formal statement that certain items are available in a specified form, for a particular price, and on established terms.
For example, your company offers moving services. A regular quotation for such type of business consists of hour rate, an extended list of services, guarantee terms, contact details and other essential info. So, this set of data comes first. After that, a quotation follow up letter can be created and sent.
This kind of a message is designed to strengthen relationships with the client, as well as to whet the appetite for the proposed service/product. As a rule, it comes in the form of soft-core inquiry of the necessity to provide any additional data to the first letter.
Metaphorically speaking, the quote is the first date while the follow up after quote letter is the invitation to go out again. Therefore, this attempt should be careful and polite with a moderate level of intensity. Otherwise, you will come across as rude.
2. Reasons to follow up after quotation
Before creating such an email, let's clear up why it is so crucial to send a clever follow up message to a client after quotation? Why not just wait for the client's response and be ready to close a deal? Well, it is a possible but not effective option since waiting can (and in most cases is) extremely time-consuming. So here are the main reasons to send such a letter and thus speed the things up according to Jobber Academy:
1. Winning more clients
Only the sellers of one-of-a-kind or exquisite products/services can boast with a continuous flow of clients. If your business has plenty of competitors, the situation is the opposite: you have to fight for each customer. And the best way to attract one is to be proactive.
It is quite possible that a scope of daily activities can make a client forget about your quotation. The email inbox is gradually filled with new letters and your quote lumps down. As a result, the lead loses the sight of your offer. In that case, follow up after a quote letter is a gentle reminder about the attractive offer from your side.
2. Exceptional client service
Do you think that client service begins only when your service/product is sold? Not at all. The first contact with the lead is the initialization of your relationship. Hence, he or she is getting an idea of your client service upon the reception of the initial letter or phone call from you.
It is especially relevant in terms of tough competition on the market since all your rivals strive to keep your behind by grasping your lead's attention. Do not let it happen and show your interest in each potential customer to build strong relationship.
3. A lead is worth each invested penny
Probably, your company spends a fortune on diverse types of advertising. All these expenses are designated to communicate to people who have not purchased anything from you. Otherwise speaking, if you are ready to spend money without any guarantee to recover it, why not to use a free solution of winning leads' attention. A professional quote follow up email won't cost anything but can be much more impactful than hours of commercials on TV and plenty of web advertising.
4. Practically an effortless solution
It is evident that following up does not require any special resources. Once you have sent a quote, you have 50/50 chances to close a deal: a lead is either interested or not. If he/she is, then you should take the final step and send a reminder. Your lead may hesitate and need a call to action. Avoid being obtrusive but do not let him or her forget about you. Three days is enough time to think the proposal over. Therefore, upon the expiry of the said period, you should make your move.
Also, always remember not to lose heart if your follow up email to a client after quotation did not work. It is a common practice to send up to three letters with different intervals (usually, one week). Chances are that one of them will be efficient.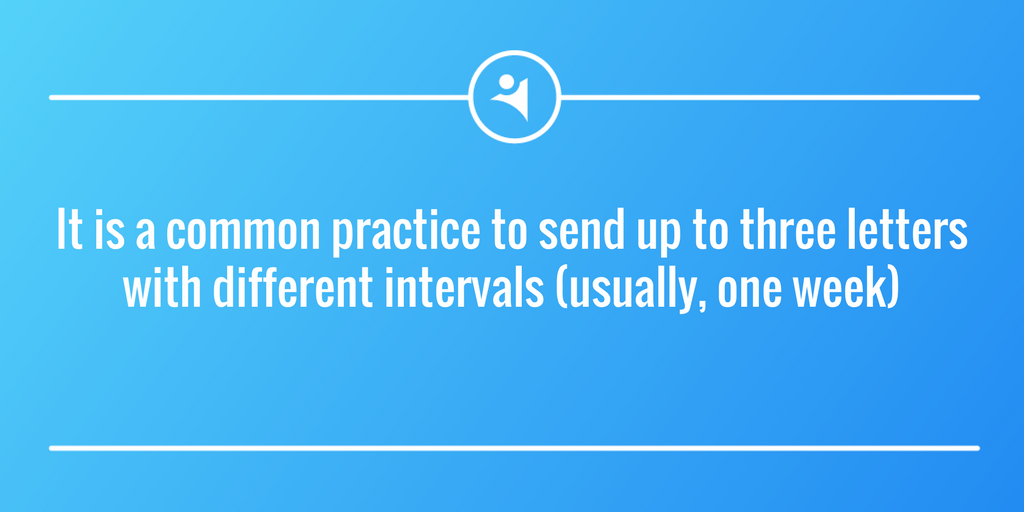 3. How to write follow up email after quotation
Since you already know the purpose of following up, it is also necessary to learn how to create it. If anyone claims that such kind of emails is ineffective, this person is probably not aware of the proper concept of writing it. The next five steps will take you through composing a decent quotation follow up email.
Step One: "Objective Determination"
Any call-to-action is based on a certain pursued objective. In case of a quote, the objective is generally to sell. Nevertheless, your price offer may require some additional explanation or detail that are better to provide during a meeting. So, pick the objective and craft your letter around it.
Step Two: "Reference"
It is the most normal thing now when a lead forgets about your previous letter and has no idea who you are and what you need. Hence, it would be better to remind or emphasize your initial quote. Interaction with the lead needs to be restored in his or her memory. Such phrases as "Following up on the letter…" or "In reference to…" are considered to be a good introduction to the follow-up email.
Step Three: "Clear Purpose"
People receive dozens or hundreds electronic letters per day. So it's important for them to understand exactly what you want in your request. Any unclear intentions are unwelcomed since they lack a straightforward call-to-action. If the purpose is to sell, say it. Otherwise, you can spoil your reputation. Even if the lead is unwilling to buy something now, there is still a chance to interest him or her in the future.
Step Four: "Email Subject"
According to statistics, an individual needs a couple of seconds to decide if he/she wants to open the received email or not. As a rule, the decision is based on the virtue of the subject line. In other words, this essential element of the electronic mail must be appealing. Text in the line should be short, topical, and clear. However, you will always be able to find a number of sophisticated prompts how to increase the level of this element on the web.
Step Five: "Timing"
It was already mentioned that three days is an adequate period to wait until sending a quote follow up email sample. Consequently, you have another two attempts to succeed. If you failed to turn a lead into a client, do not be frustrated at once. A short reminder with a frequency of one time per three months is a good practice. All things come to he who waits.
4. Sample follow up letter after quotation
Are you tired of theory? Then here we offer to your attention an example from Letters.org of a follow up letter after sending quotation.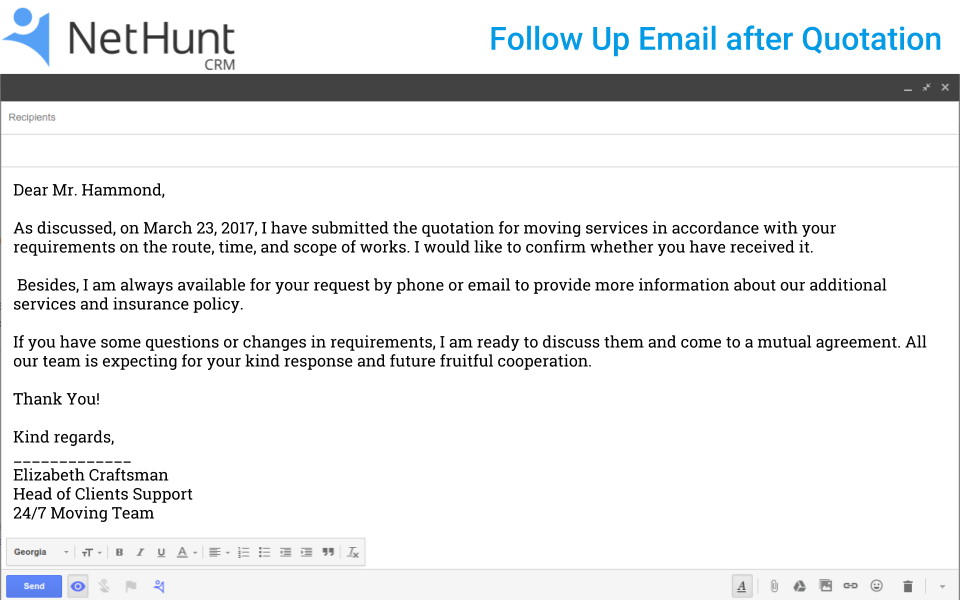 5. Tips for writing follow up emails
In conclusion, we want to offer some tips that may be characterized as triggers to spark the lead's interest in your quotation:
Limited Period Offer: if the lead thinks that he/she can miss the deal, the value of your offer will grow.
Honesty: being honest is always an advantage, especially if you show real vulnerability.
Specific Facts: people like numbers when they need to make a choice. Certain statistical data can raise the value of your offer.
6. Conclusion
Having read this article, you are now aware of the importance of maintaining relationships with clients from the moment of the initial contact. Using this simple technique, you have the opportunity to increase sales volume and attract more leads via email. You already know why and how, now, it is time to make it happen. Alos, go check out this incredible article by Alison Doyle for The Balance for more examples of follow up emails.